DIY Christmas Art That Lights Up
Last Updated on October 25, 2022
We wanted large-scale holiday art for our family room. So we made this DIY Christmas art that lights up! It's so magical at night.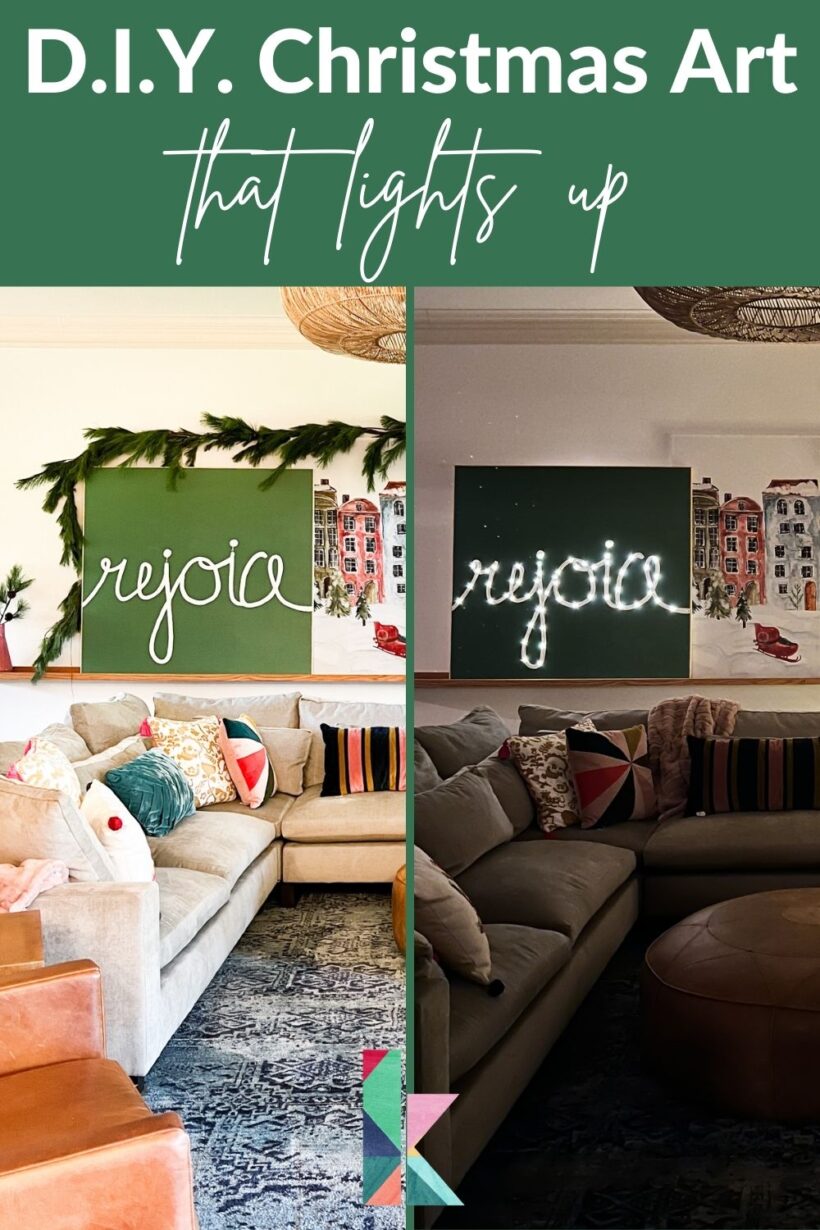 Hey friends! If you follow me on Instagram, you've probably already seen a preview of this project. And you may have even followed along on my Instagram stories as I built it. And now I've finally gotten around to writing up this full tutorial for you. This art project is awesome because you can make it in any size, shape, color, etc. You customize it to exactly what you need! We needed ours to be BIG so that it could sit on this DIY art ledge that we made several years ago. And it turned out even better than I imagined. Read on to learn how to make your very own.
Thank you to DAP Products for sponsoring this post. This post contains affiliate links for your convenience. Click HERE for my full disclosure policy.
DIY Christmas Art Tutorial
I encourage you to watch the short video below for a really good overview of this project first. Then read the step-by-step written instructions below.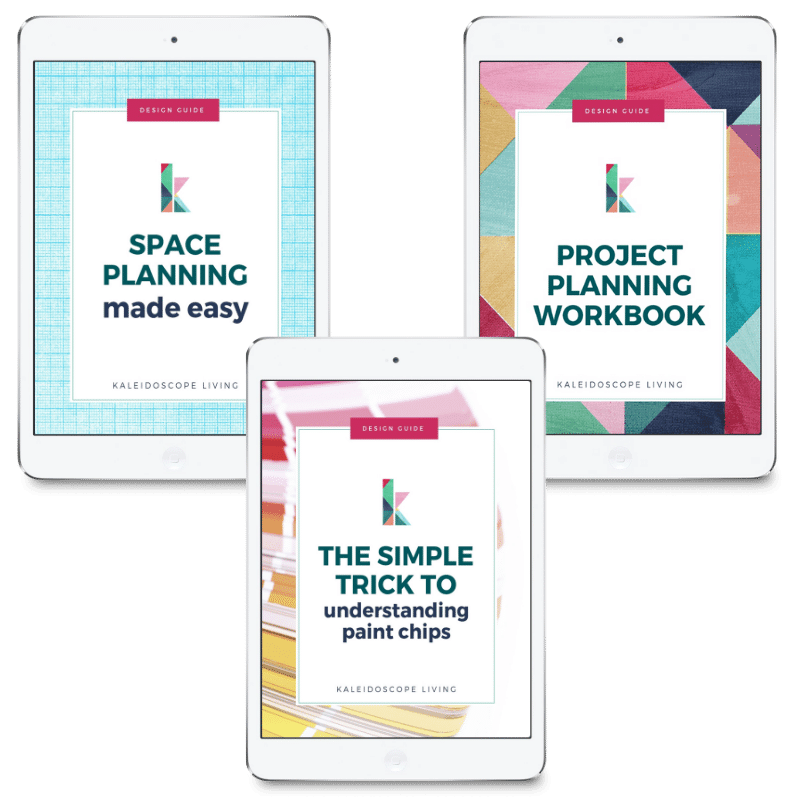 Get my FREE design guides when you subscribe!
Materials Needed:
Steps:
1) Cut your plywood to the size you want your art to be. We used a scrap piece of plywood that was 52″ x 48″ so we didn't even have to cut it!
2) Paint your plywood whatever color you choose. I used this pretty green color.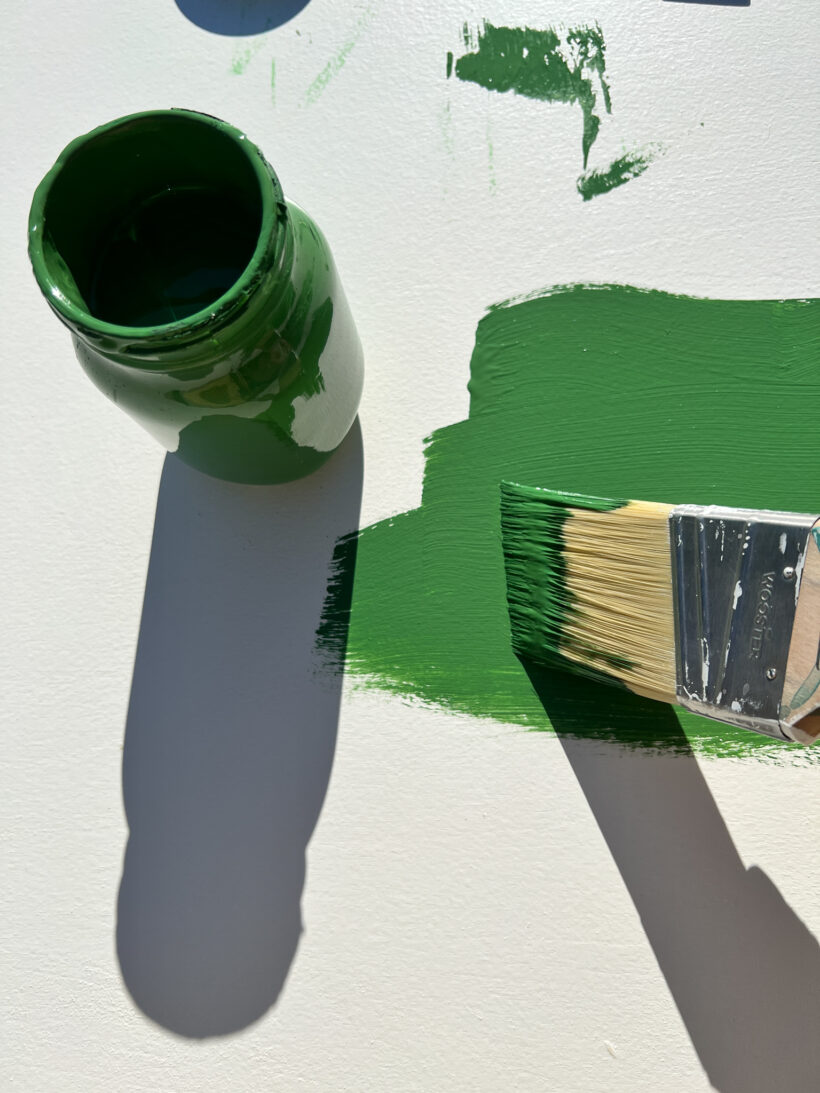 3) Once your paint dries, sketch out whatever design you want. I used chalk to lightly draw out "Rejoice" until I was happy with it. Chalk is great because you can just wipe off any mistakes if you need to!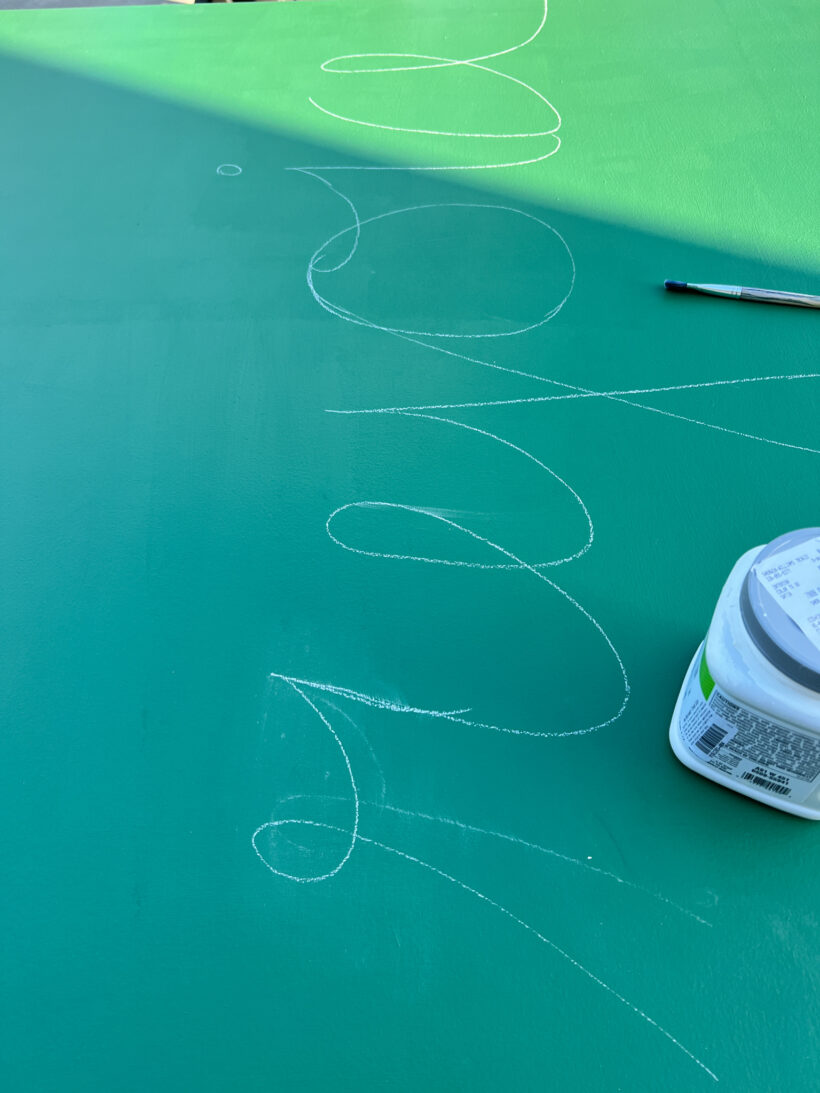 4) Once you are happy with what you have sketched out, use an artist's brush to paint over your chalk lines. I used a white sample paint that we had laying around. Since it wasn't great quality paint (sample paint never really is), I had to paint over the "Rejoice" three times. But it was quick and easy! The photo below is how it looked after 1 coat of the white paint.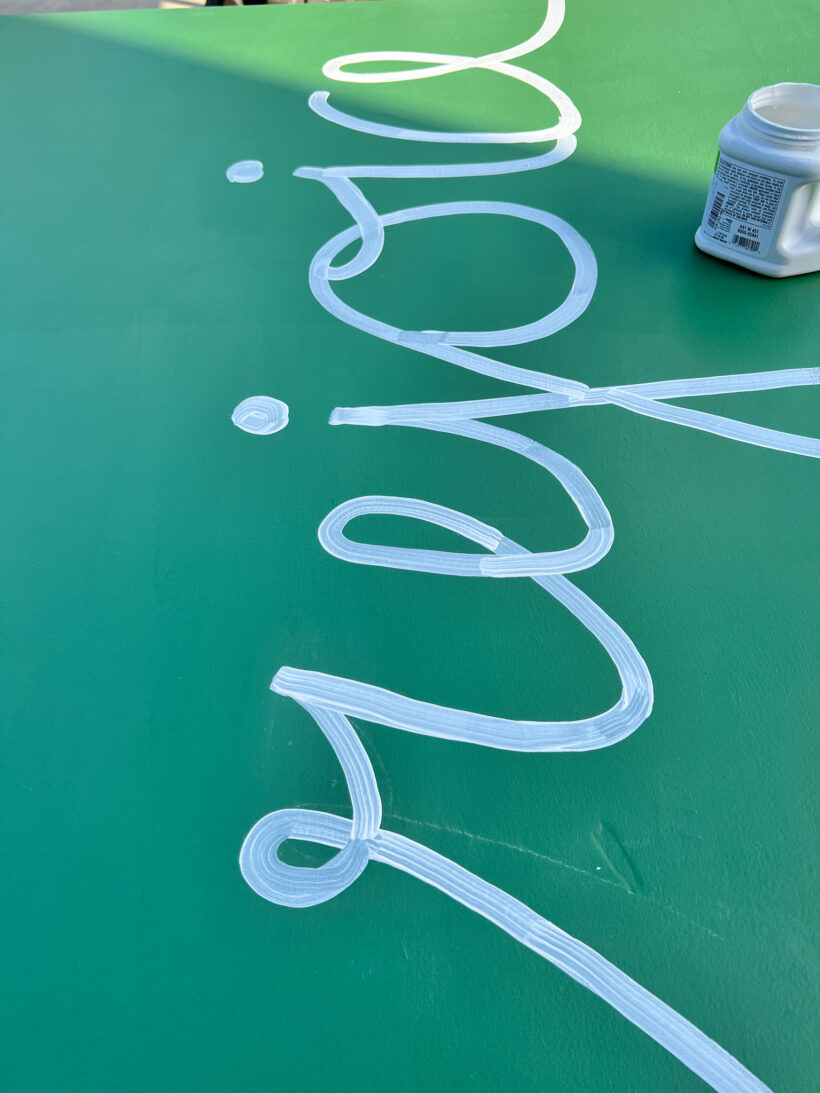 5) Once all of your painting is done and dry, you can frame out the edge of your DIY Christmas art with the wood lattice strips. Cut them to length. We decided to keep the natural pine, but you could paint or stain them if you prefer. We use a simple butt joint to keep it easy! You want to attach the strips so that they sit flush with the front of your plywood. This means the strips will overhang the back of the plywood, which will hide the battery packs for the lights once you attach them :) We attached our strips with a brad nailer, but if you don't have one, you can use the method I share in this post.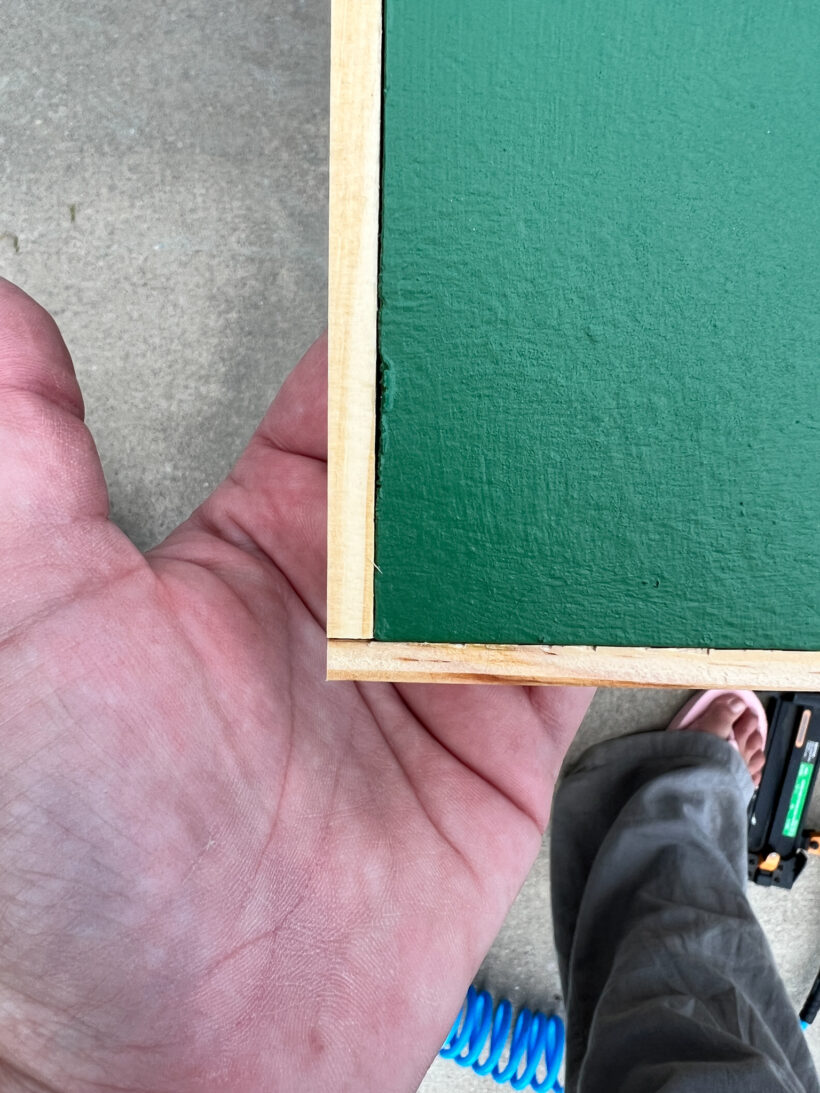 6) Use DAP Plastic Wood X to patch any nail holes. Sand smooth once dry.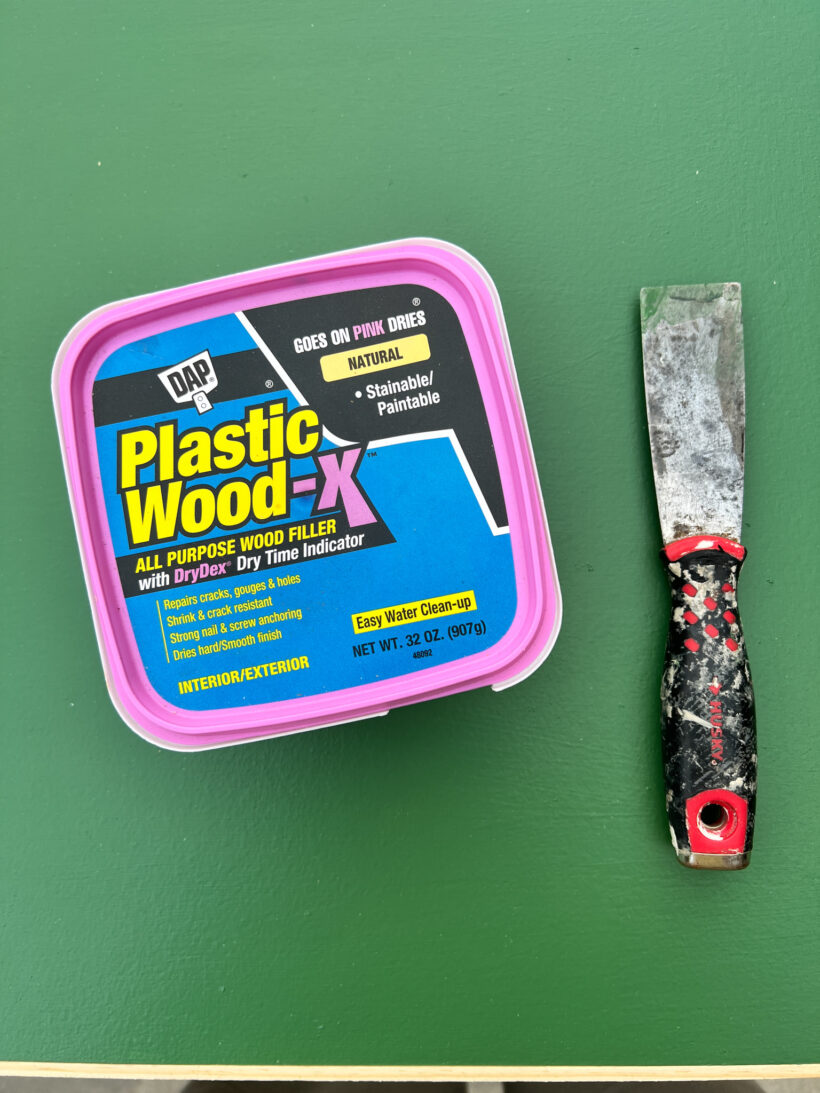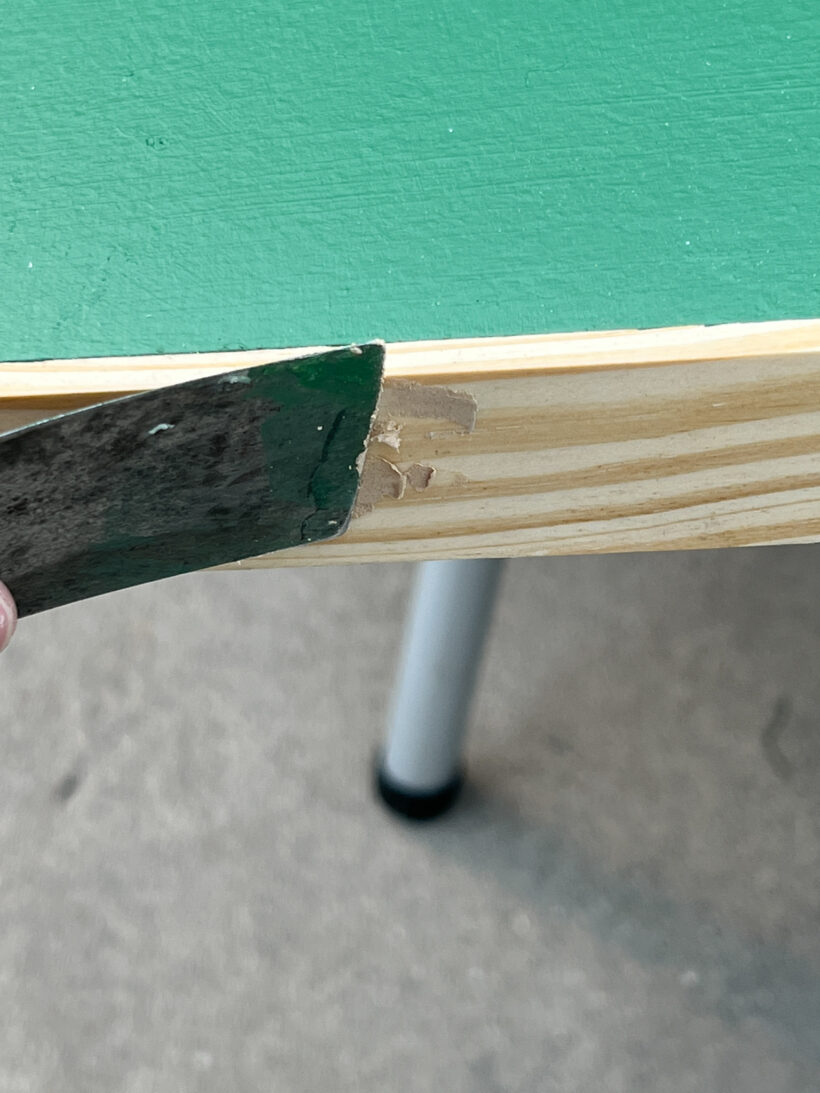 7) Now it's time to attach your lights! Start by drilling 1 small hole near the edge wherever your design begins or ends. Thread the dewdrop light strand through the hole so that the battery pack remains hidden on the backside of your plywood. Attach it with a hot glue gun or tape.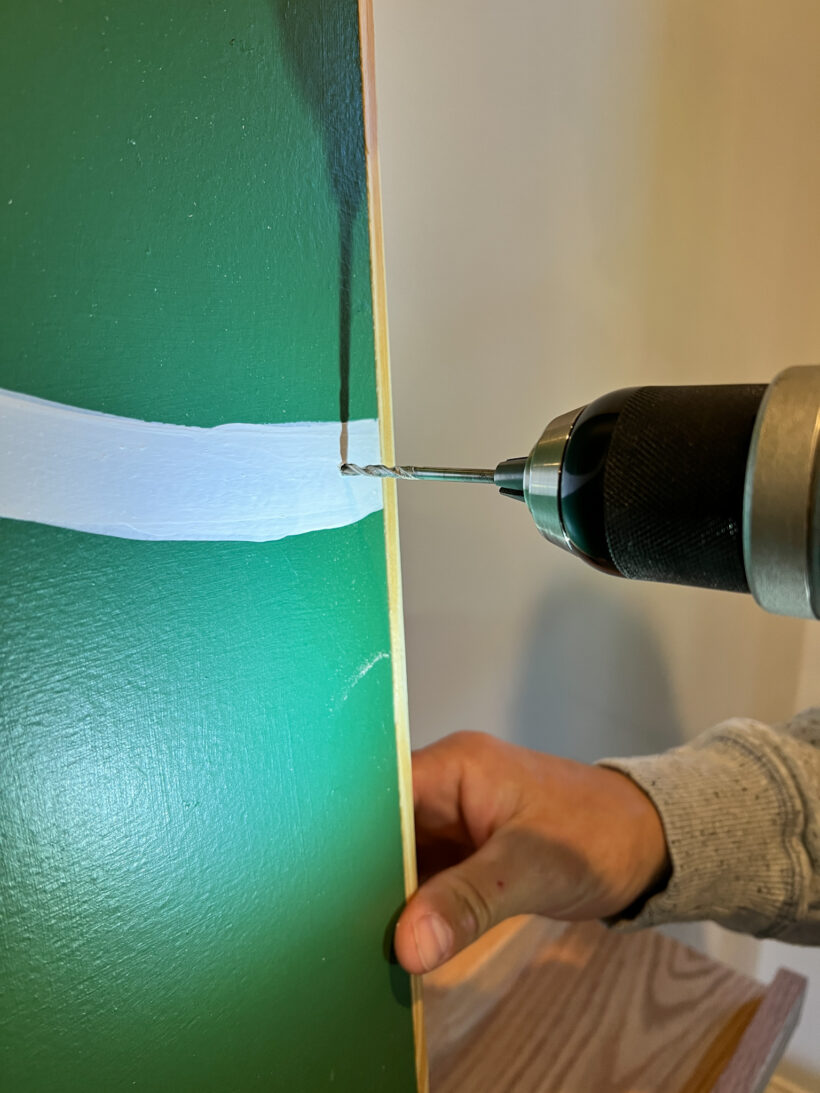 8) Run your dewdrop lights along the center of your design. Add a drop of DAP RapidFuse Ultra Clear underneath each light and press the light into place. It's important to use this glue so that it dries perfectly clear! No one wants to see dabs of hot glue or regular glue all over their art! Then tape the wire on each side of the light to hold it in place while the glue cures. Repeat over and over again until you are done. We had to drill 2 more small holes to thread additional light strands through because our art is so large. So we have a total of 3 battery packs glue to the back of our art. Fortunately, the lights we used have a timer so they run for 6 hours automatically every day.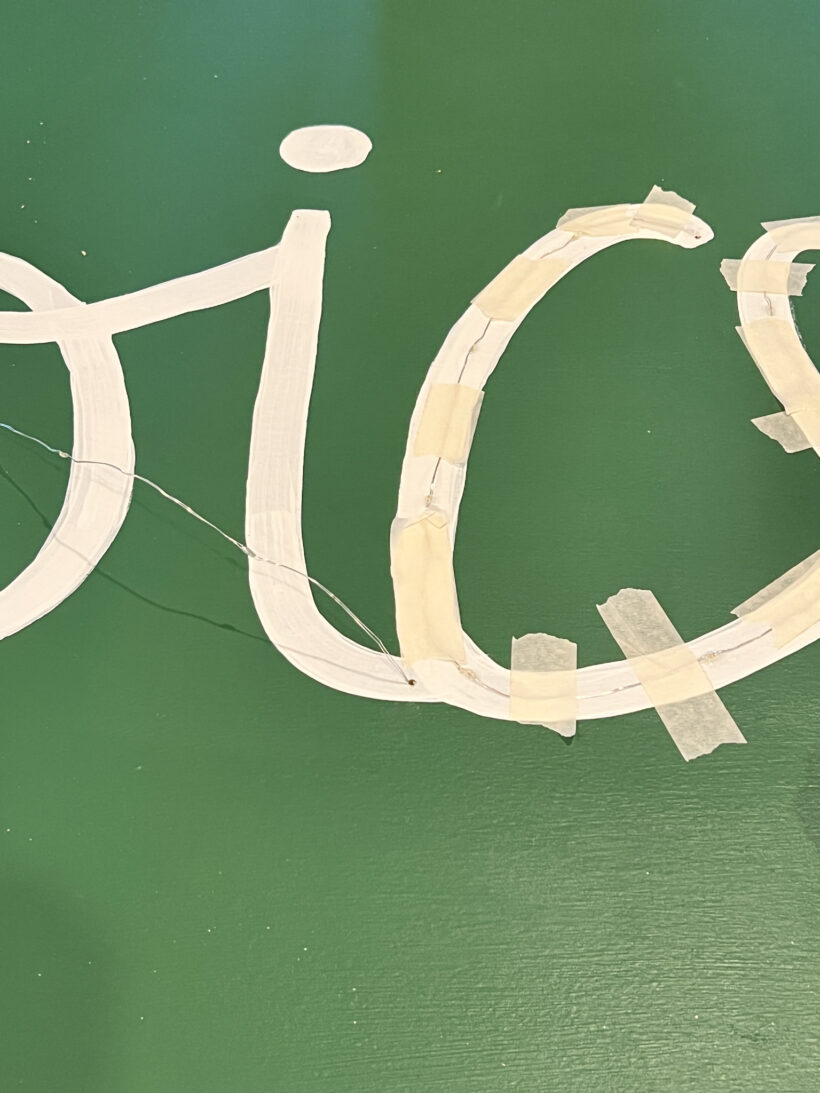 Easy peasy!
We are so, so happy with how this DIY Christmas art turned out! We can't wait to use it for many, many years to come! This is how it looks at night.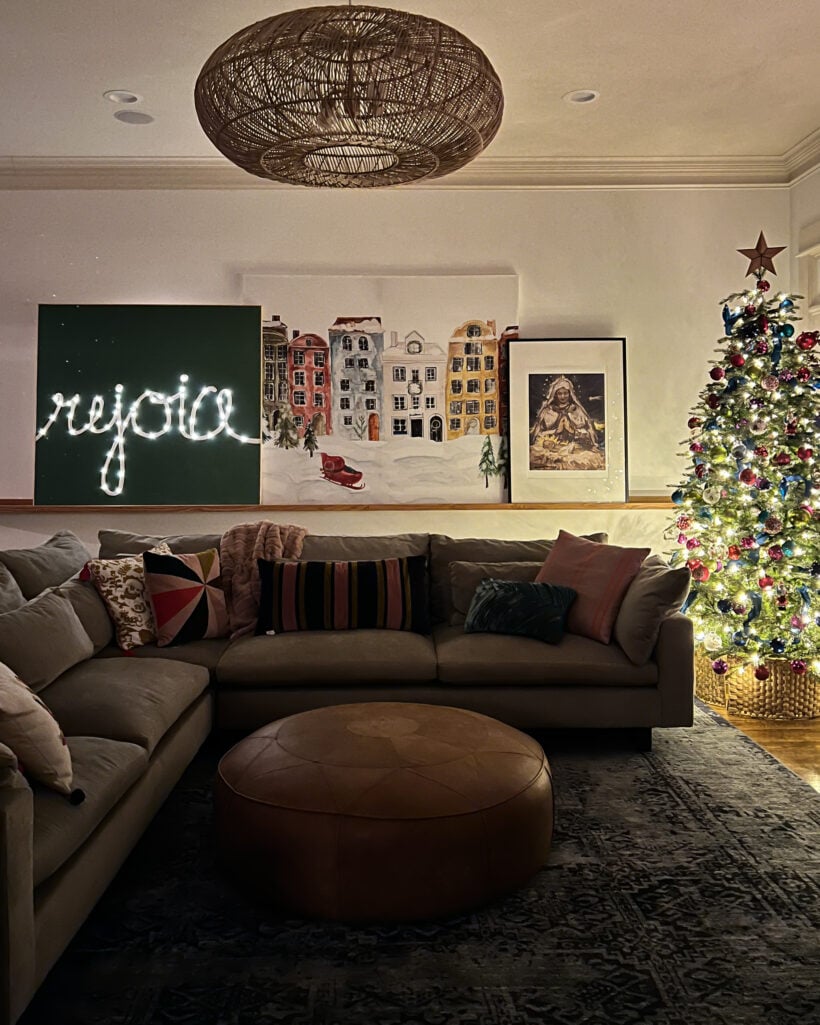 And here's how it looks during the day when the lights aren't on. I absolutely love it both ways!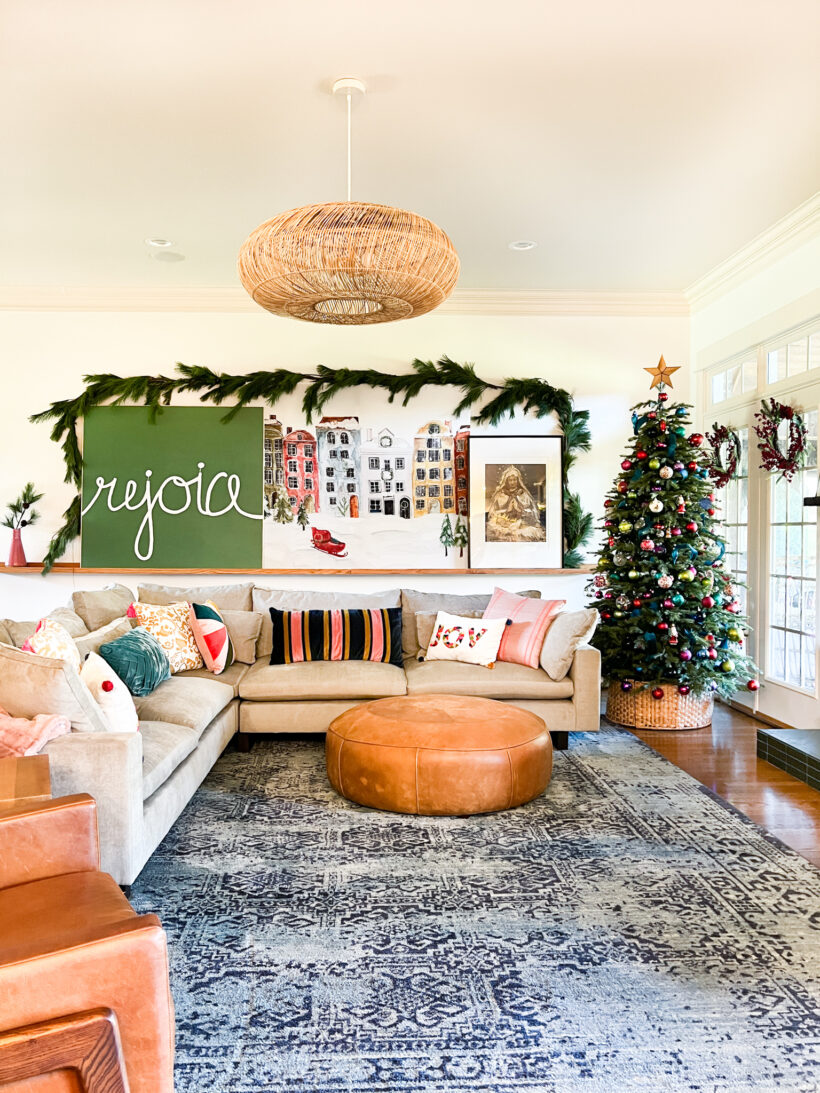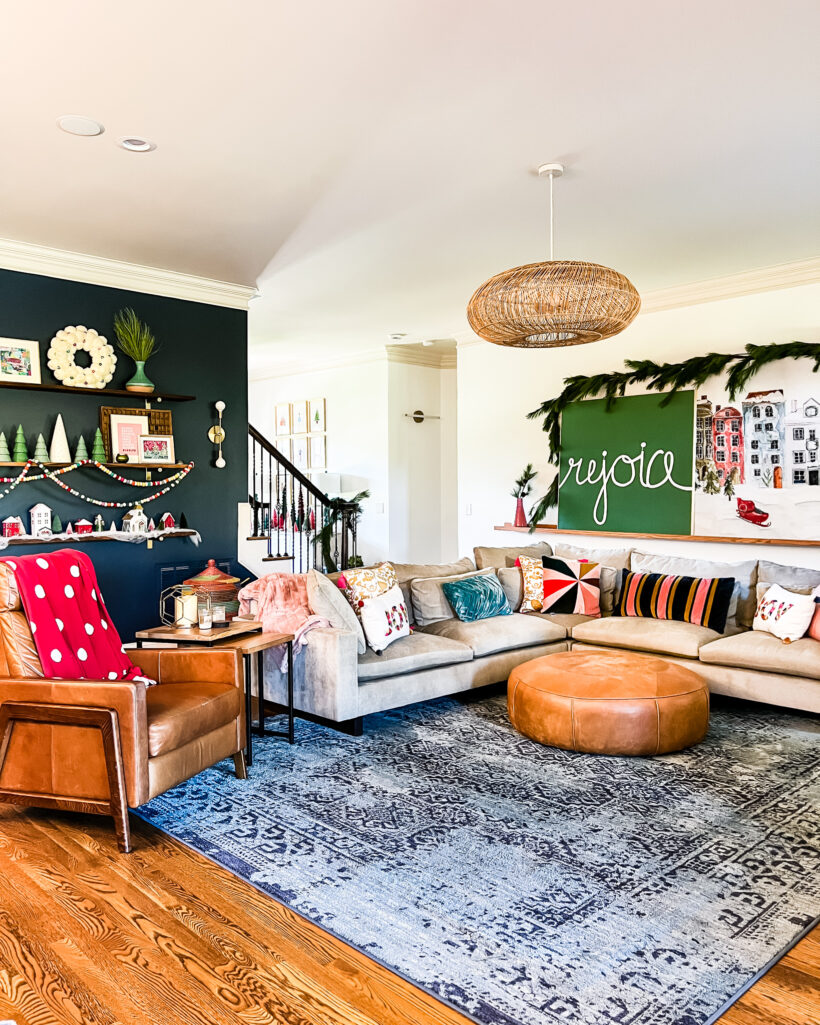 What do you think?! You can check out more of my Christmas posts HERE. And you can find the tutorial for our super long DIY art ledge here.
Other posts you may enjoy:
Wondering how I approach transforming rooms and spaces in our home? Check out Designer in a Binder®.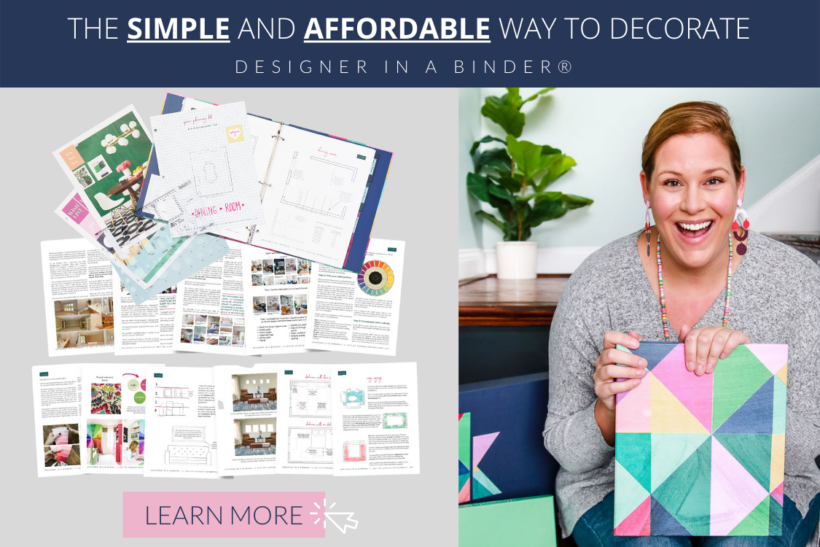 And if you want exclusive content and behind-the-scenes sneak peeks, be sure to subscribe before you head out!