How to Make a Gift Bag from Wrapping Paper
Last Updated on November 29, 2022
Do you ever have a weirdly shaped gift that you have no idea how to wrap? Or do you ever find yourself without a gift bag when you need one? Fear not. You can make your own DIY gift bag from wrapping paper. These DIY gift bags are so easy to make and I think they are even cuter than store-bought options! Learn how to make a gift bag from wrapping paper with this easy tutorial. It only takes a few simple steps and is the PERFECT solution for oddly shaped items!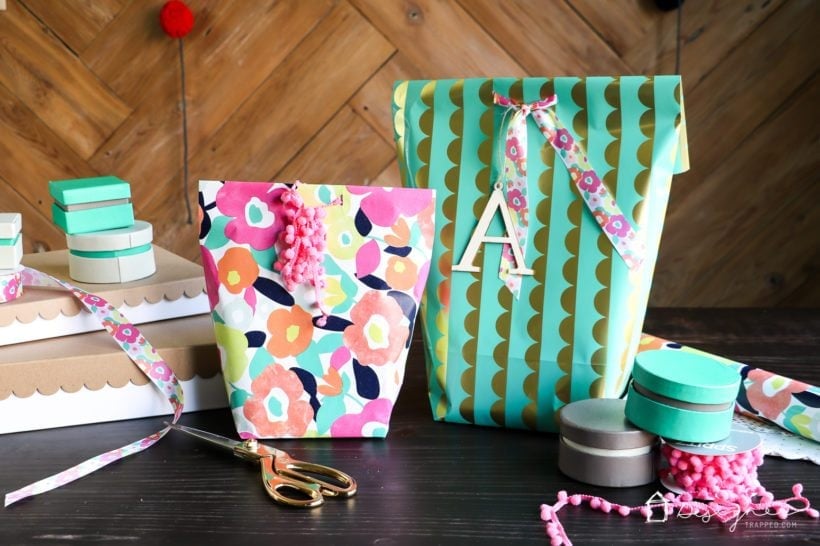 I wish I could take credit for this idea, but I saw a video on Facebook around Christmas that I believe was posted by The Today Show (or another morning show) demonstrating how to use gift wrap to make a paper bag for your present. I was captivated and amazed. And I have tons of beautiful wrapping paper, while beautiful gift bags aren't that easy to come by.
This post contains some affiliate links for your convenience. You can read my full disclosure policy here.
How to Make a Gift Bag from Wrapping Paper
If you prefer to watch a video to learn how to make a gift bag, check out the short video I put together. If you prefer written step-by-step instructions, I've included those as well :)
Materials Needed to Make a DIY Gift Bag
Steps to Make a DIY Gift Bag
Time needed: 10 minutes
Determine how much wrapping paper you need.

Roll out some of your wrapping paper on a flat surface and place the oddly shaped item that you want to wrap on top of it. Make sure you use enough paper to cover the item. Cut your wrapping paper to size.

Fold and tape the sides to begin forming your gift bag.

Place your paper face down on your table. Fold the right and left sides in until they meet in the middle and overlap some. Tape the seam.


Fold the bottom.

Now it's time to start forming the bottom of your gift bag. Fold the bottom of the wrapping paper up as high as you need to to ensure the bottom of the bag is wide enough to hold your gift.



Fold the base of your gift bag into a triangle shape.

This is the trickiest step in how to make a gift bag, but I promise it's easy after you do it once! Separate the two pieces of wrapping paper and flatten out the corners to create a diamond shape.






Finish and tape the bottom of your gift bag.

Last step! Fold the top and bottom corners of the triangle you formed toward each other to form a diamond shape and make creases. Tape all of the seams.



Open your bag and fill it.

Your gift bag is ready to be used now! Open it and flatten the bottom against whatever table or surface you are working on. Double-check all your seams to ensure they don't need more tape. Then place your gift inside.

Fold top of your gift bag.

Once your gift is inside (you can use tissue paper to fill it out if you need it to), fold the top flap of the bag over to the backside. Use your hole punch through the top of the bag for the ribbon of your choosing.





Finish it off with ribbon.

Thread ribbon through the holes you created, tie a pretty knot or bow and even add a gift tag if you like!
Now you know how to make a gift bag from wrapping paper! How cute are these DIY gift bags?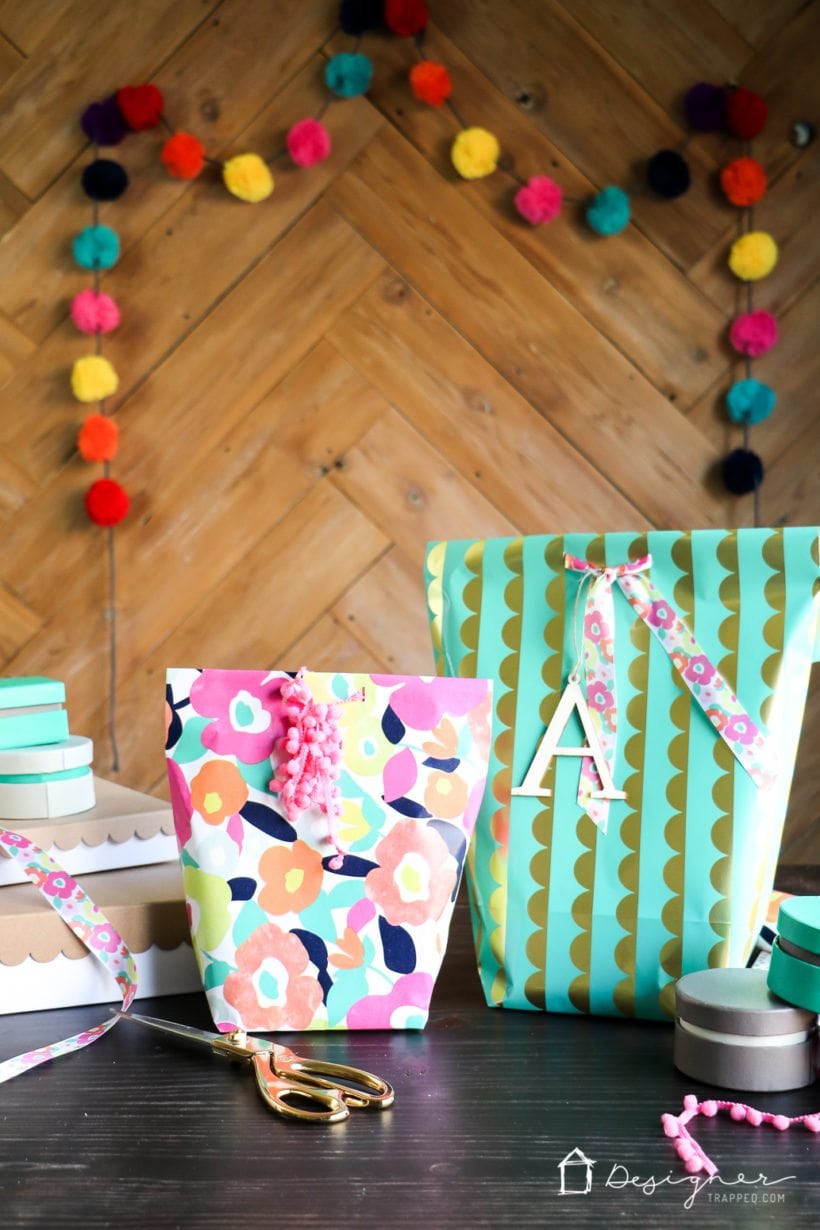 What do you think? Just a few easy steps to creating the perfect wrapping paper bags. Now that you know how to make a gift bag, will you ever buy gift bags again?! I don't think I will.
Want some great ideas for beautiful wrapping paper? Below are some of my favorites. I love high-end paper for this project. Even at a higher price point it still makes a more affordable bag. Also, it tends to be thicker paper and I can find amazing unique and different patterns. Some of these options come in a roll of wrapping paper or in packs of single sheets (which are even faster and easier)! Grab a few of your favorites and keep them on hand to make your own quick and easy DIY gift bags.
Scroll and click on any image for full product details.

Wondering how I approach transforming rooms and spaces in our home? Check out Designer in a Binder®.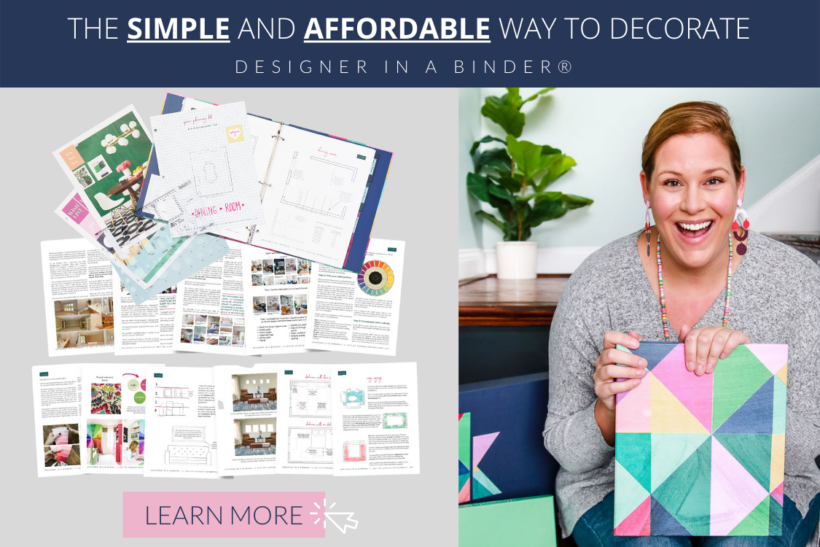 And if you want exclusive content and behind-the-scenes sneak peeks, be sure to subscribe before you head out!