The Absolute Best Housewarming Gift Ideas
Not sure what to get your friend or family member for their housewarming party? Or are you searching for a traditional housewarming gift to give a new neighbor? It can be tough to find the perfect gift that is both practical and adds a touch of personality to the new home. Fear not, because I have rounded up tons of housewarming gift ideas, including traditional and unique options. There's something for every taste and budget in this list.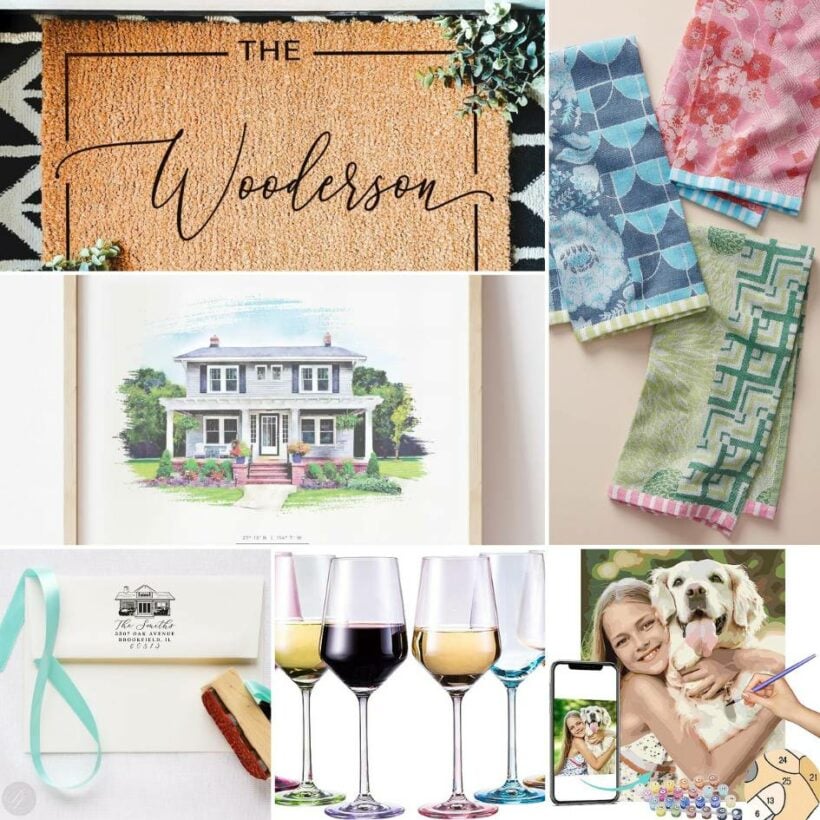 I am in a season of life where so many of my friends and family are moving. So I've been thinking about housewarming gift ideas a lot lately. Whether you have parents who are downsizing, family relocating for work, friends moving to their dream house or a new neighbor who you are just meeting for the first time, finding the perfect housewarming gift can be tricky. But I've rounded up more than 30 ideas to help you on your hunt for a great gift!
Unique Housewarming Gift Ideas
Traditional Gift Options
If you aren't feeling any of the above housewarming gift ideas, consider these:
Indoor herb garden kit – For the person who loves to cook or appreciates fresh greenery, an indoor herb garden kit is a gift that keeps giving. Choose from a pre-made kit or put one together yourself.
A planted pot – A stylish pot with a beautiful plant is always a good housewarming gift. Choose a low-maintenance plant so that anyone can easily care for it!
Scented candles – Candles are a classic housewarming gift for a good reason. Choose a set of scented candles with relaxing aromas, such as lavender, vanilla, or eucalyptus, and watch your friend's stress levels melt away.
Wine bottle holder – If the new homeowner is a wine connoisseur, consider gifting her a unique wine bottle holder that doubles as a decorative piece. You can find options that hold one or multiple bottles.
Rustic serving tray – Bring a rustic and cozy feel to your friend's place with a wooden serving tray that she can use to entertain guests or display her favorite items.
Set of decorative pillows – You can never have too many pillows! Consider a set of soft and plush pillows with colorful covers to add a touch of comfort and texture to the living room or bedroom.
Customized family portrait – Give your friend something truly special with a customized family portrait that features her, her partner, and her furry friends. You can commission a painter or illustrator online or find someone locally.
Recipe book stand – If she enjoys cooking and collecting recipes, a recipe book stand is a thoughtful gift to help her keep her pages organized and upright while she cooks up a storm.
Cozy throw blanket – Soft and cozy, a luxurious throw blanket is the perfect gift to get your friend or family member through chilly nights on the couch. Look for blankets made of natural materials like wool or cotton.
Cookbook – If your friend has just moved out for the first time, a cookbook can be a great way to kick-start her culinary journey. Consider a cookbook with easy-to-follow recipes for everyday meals.
Coffee table books – If your friend loves to read and decorate, consider gifting her a set of coffee table books that showcase art, photography, fashion, or design.
Customized map – Put your friend's new home on the map – literally – with a customized map that highlights the area and features landmarks or personal memories.
Mug set – A set of stylish mugs is a practical and pretty gift that can be used every day. Choose from a set of muted colors, bold patterns, or playful quotes.
Coasters – Protect your friend's furniture from spills and stains and gift her a set of coasters that match her decor.
Cheese board and knife set – A cheese board and knife set is a gift that your friend can use for elegant gatherings or casual nights in. Look for a set made of bamboo or marble for added durability.
Wine stoppers – Keep your friend's wine fresh and her bottles organized with a set of wine stoppers in fun shapes or colors.
Cookbook stand – Make cooking more convenient for your friend with a cookbook stand that holds her recipe book and keeps it at the right angle.
Funny kitchen apron – If you're looking for a gift that breaks the ice and brings a smile to your friend's face, consider a funny kitchen apron with a pun or joke on it.
There you have it – over 30 housewarming gift ideas that are both practical and thoughtful. Whatever your budget or your friend's taste, I hope you found some inspiration in this list to make her new home a happy place. Remember, it's the thought that counts, so put your heart into it and have fun shopping for the perfect gift!
And if you want exclusive content and behind-the-scenes sneak peeks, be sure to subscribe before you head out!