10+ Best Gifts for Crafters: What Every Crafty Person Needs/Wants!
Last Updated on November 7, 2022
The best gifts for crafters and makers may not be obvious to everyone, but with this ultimate gift guide for crafters and makers, anyone can find what they need/want!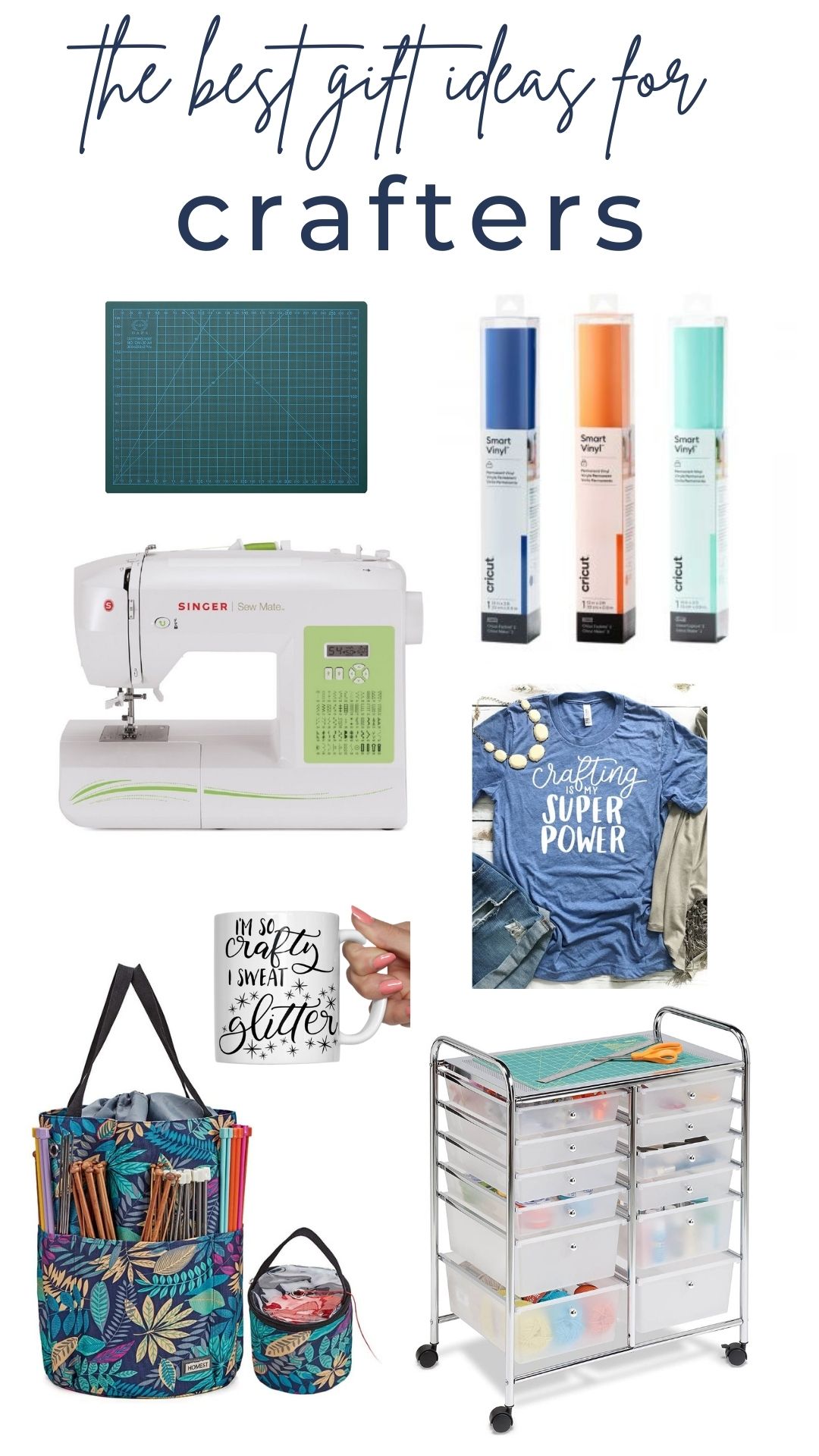 Hello friends! If you are anything like me, you are starting to think about your holiday shopping. AND your friends and family are probably starting to ask you about what YOU would like for yourself. Well, I am here to help. Whether you are shopping for a crafty person or you are the crafty person and need some ideas of what you would like, this list of best gifts for crafters should help! So, without further adieu, let's check out my top gift ideas for crafters and makers. These awesome items will help you make all kinds of DIY crafts. FUN!
This post contains some affiliate links for your convenience. Click here to read my full disclosure policy.
Best Gifts for Crafters & Makers
Let's start out with the big stuff. These first two items are fairly expensive, so they may wind up being your ONLY gift, but trust me–it would be well worth sacrificing other gifts!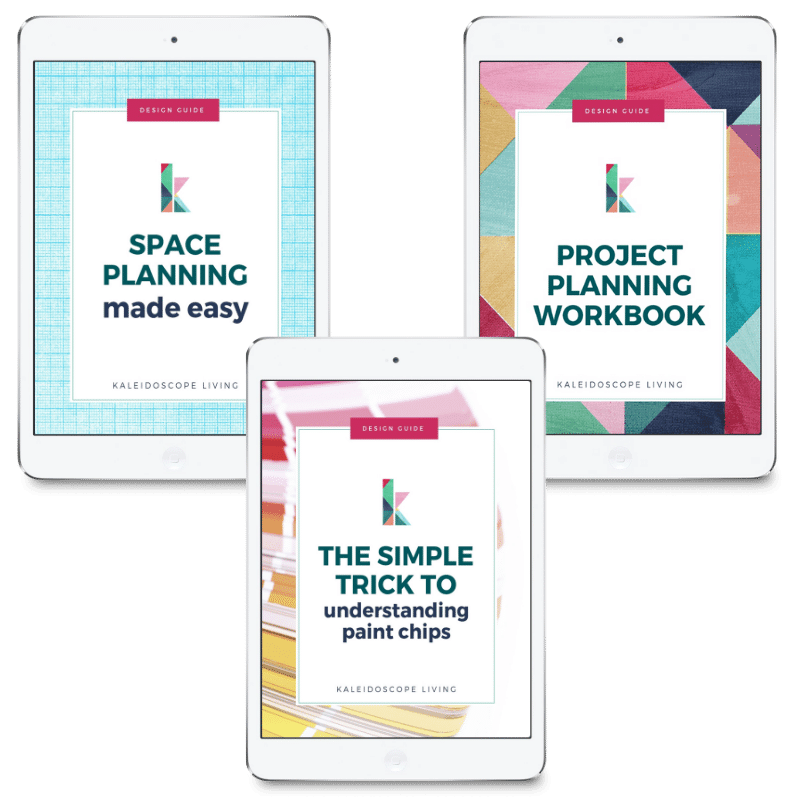 Get my FREE design guides when you subscribe!
#1: Cutting Machine– This is going to sound dramatic, but I really do not know how I lived without my cutting machine. YOU GUYS! The things you can make with a cutting machine are limitless. You are limited by your time and imagination–that's it. These miracle machines can make your craft dreams come true!
Don't know what a cutting machine is? Let me explain. This is what it looks like.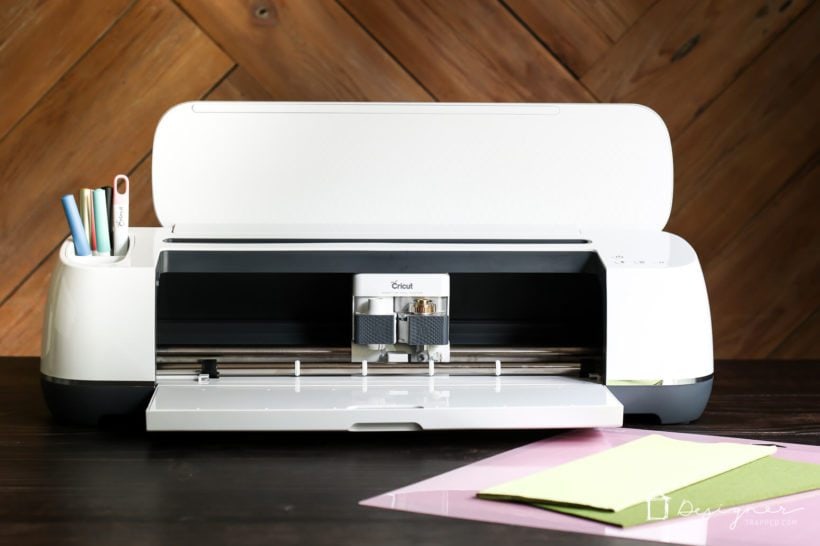 It is a machine that works with your computer. You design things in your computer and then your cutting machine cuts it out of all sorts of materials, like paper, vinyl, fabric, leather, even lightweight wood! So amazing!
I have the Cricut Maker (that's the one that is pictured above). You can read all about my comparison of Silhouette vs. Cricut machines in this post. I have used both, so it's a thorough comparison to help you decide which is best for you! The Cricut Explore Air 2 and the Silhouette CAMEO are two of the most popular cutting machines (I have used both of those), but my love affair with the new Cricut Maker runs deep because it can cut a much broader range of materials, including fabric, leather, wood, etc. You can read my full review of the Cricut Maker in this post.
#2 Sewing Machine– Three years ago my big gift was a new sewing machine and it's definitely one of the best Christmas gift I can remember receiving. I used to think I hated sewing. I DREADED taking my sewing machine out to do anything with it. Then my old one started acting wonky, so Joe bought me a new one for Christmas. Turns out I didn't hate sewing… I just hated my old sewing machine. My new machine is a total game-changer. It has a drop-in bobbin and is a dream to work with. I still won't say that I love sewing, but I do enjoy it now!
This is very similar to the sewing machine that I have. I really love mine, and it looks like this one does many of the same things!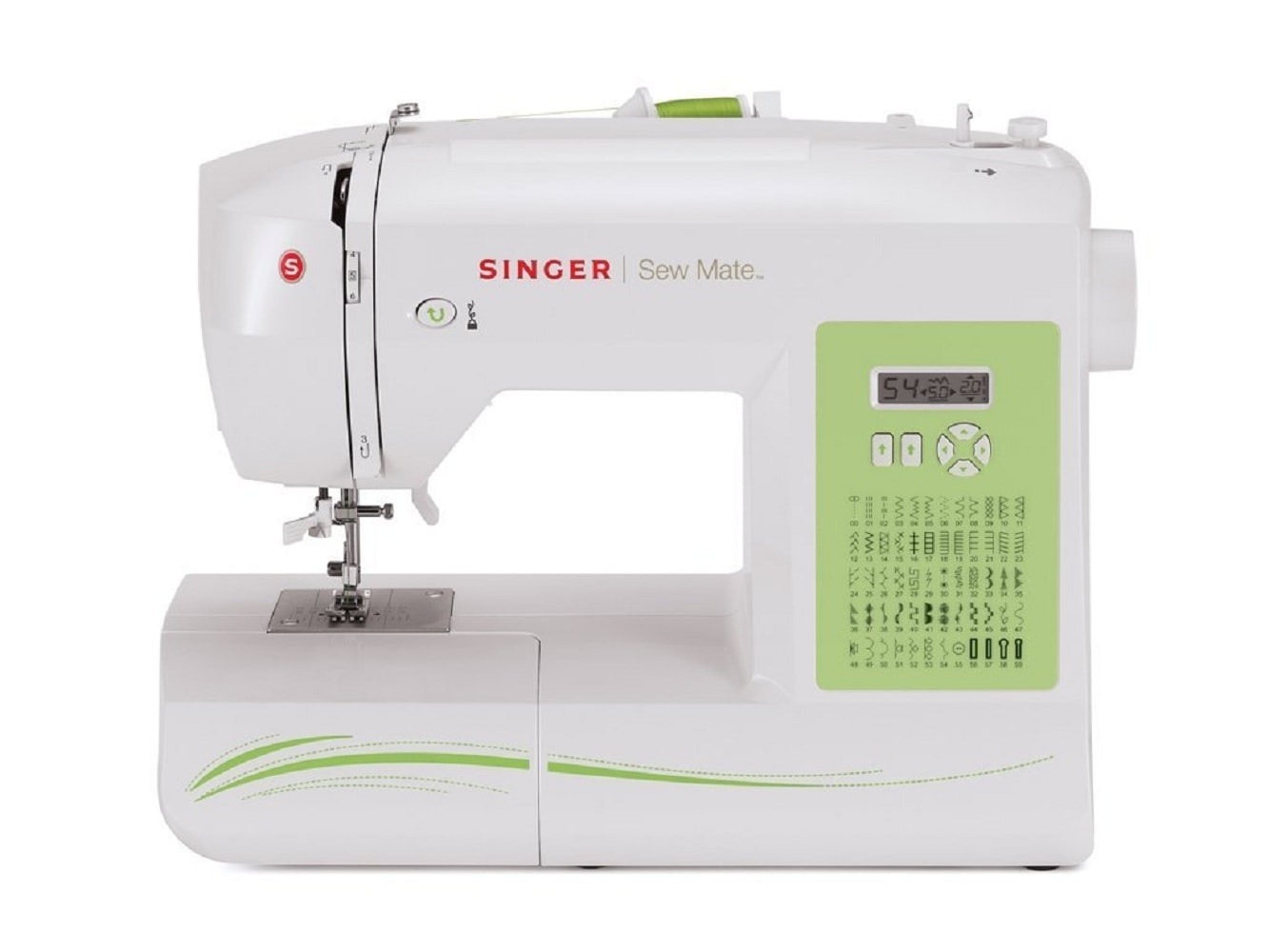 #3 Self-healing cutting mat– I received this for Christmas last year and it's one of those things that I didn't know I NEEDED until I got it! I used to use a thin cutting mat from Ikea when I cut items with a craft knife and I have cut all the way through more than once (and yes, that does mean I damaged the surface underneath–oops!). A self-healing cutting mat solves that problem. Plus, it's got a grid so that you can easily cut straight lines to the size needed. They come in a variety of sizes, but for the serious crafter, bigger is better :) If you have a crafter in your life, she will love to add this to her stash of tools and supplies.

#4 A Craftsy class– This one will earn you major cool points and bragging rights, trust me! I mean seriously, would your wife, mom or daughter ever expect you to sign them up for a fun, crafty class?! I took a cake decorating class years ago and loved every minute of it. You can sign your loved one up for a craft class online at Craftsy. They have classes in sewing, baking, photography, painting, quilting, cake decorating, drawing, knitting, etc.! Search through classes here and pick one you think she will love. Or, if you are the crafter in the family, be sure to mention to your friends and family how much you would love to take a class at Craftsy. Fingers crossed they take the hint!

#5 A gift card to her favorite craft store- This may seem impersonal, but TRUST ME, any crafter will be head over heels happy to receive a gift card to their favorite craft store. Joann and Michaels are pretty safe choices :)
#6 Craft storage– More craft storage is also on my wish list this year. But I don't want ugly plastic bins. I want cool, unique and functional craft storage and I bet the crafter in your life does, too! There are loads of super cool and practical craft storage items out there, like this awesome cart.
And there are some super cool artsy options, like these vintage metal storage bins. LOVE THEM!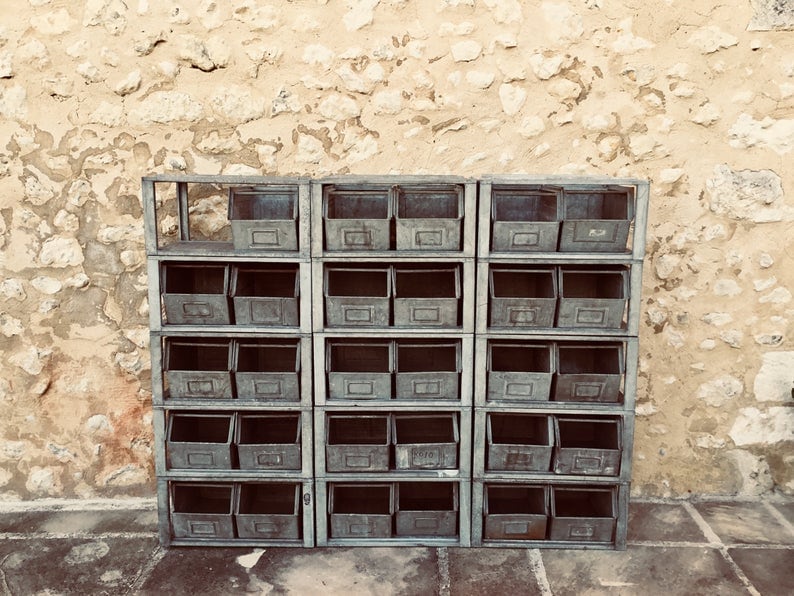 #7 Yarn Tote Kit– If you have a knitter or crocheter in your life and they don't already have one of these, get it for them–they will love you even more than they already do! I plan to learn crocheting this year and this bad boy is on my list of supplies to get me started (along with a Craftsy class to get me started). I don't have time to deal with tangled yarn. Just sayin'. This one is also perfect for staying organized!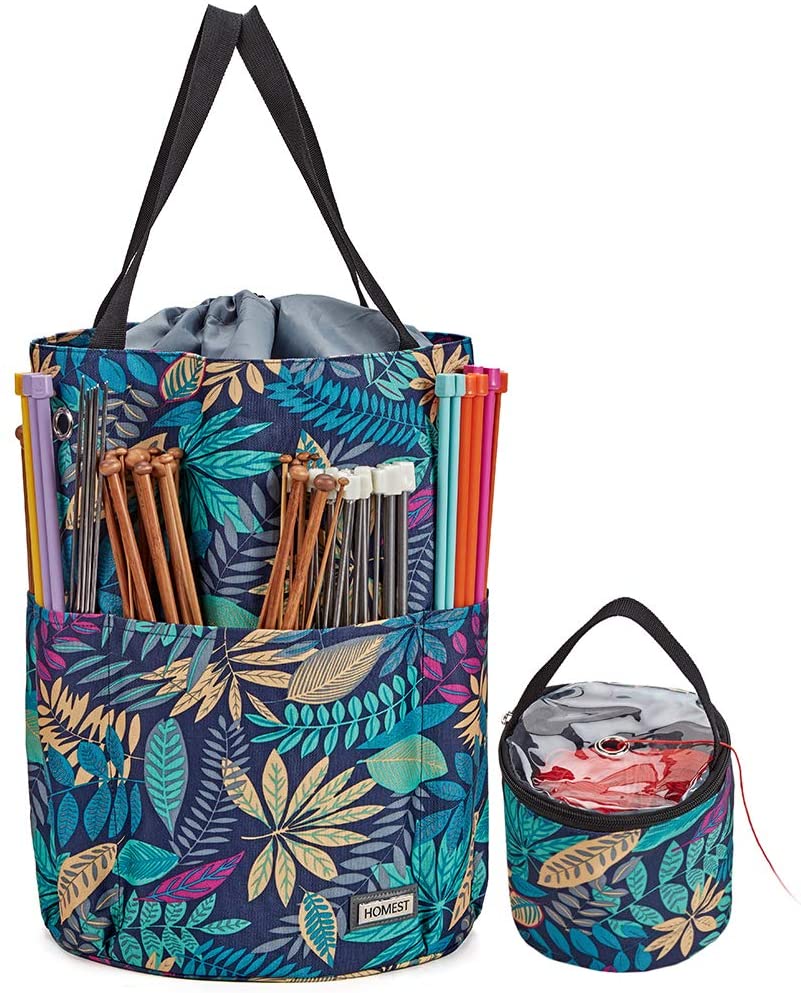 #8 Cutting machine supplies– The owner of a cutting machine will never turn down or get bored with new supplies for their cutting machine (be sure the supplies are compatible with their particular cutting machine). A selection of vinyl, sketch pens, cardstock, foil embossed papers, faux leather, iron-on transfer, etc. will make the crafter's heart happy. Joe, if you are reading this, think stocking stuffers :)

#9 Screen printing kit– How fun is this?! Screen printing is a printing technique where a mesh screen is used to transfer ink onto a substrate (like fabric), except in areas made impermeable to the ink by a blocking stencil. It's a technique that has been around for decades but is usually only available to commercial operations because of the equipment needed. But NOW a regular ole' consumer like you and I can do it at home! Now, I have to say, using a cutting machine with iron-on transfer strikes me as far less complicated. But iron-on definitely gives a different look than screen printing, so if the crafter or maker in your life wants to screenprint, then screen printing they shall!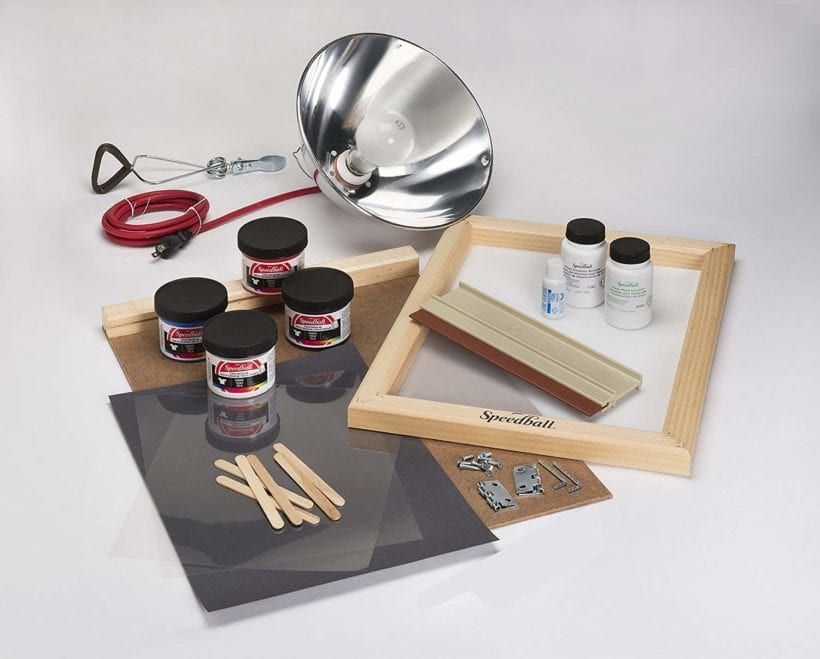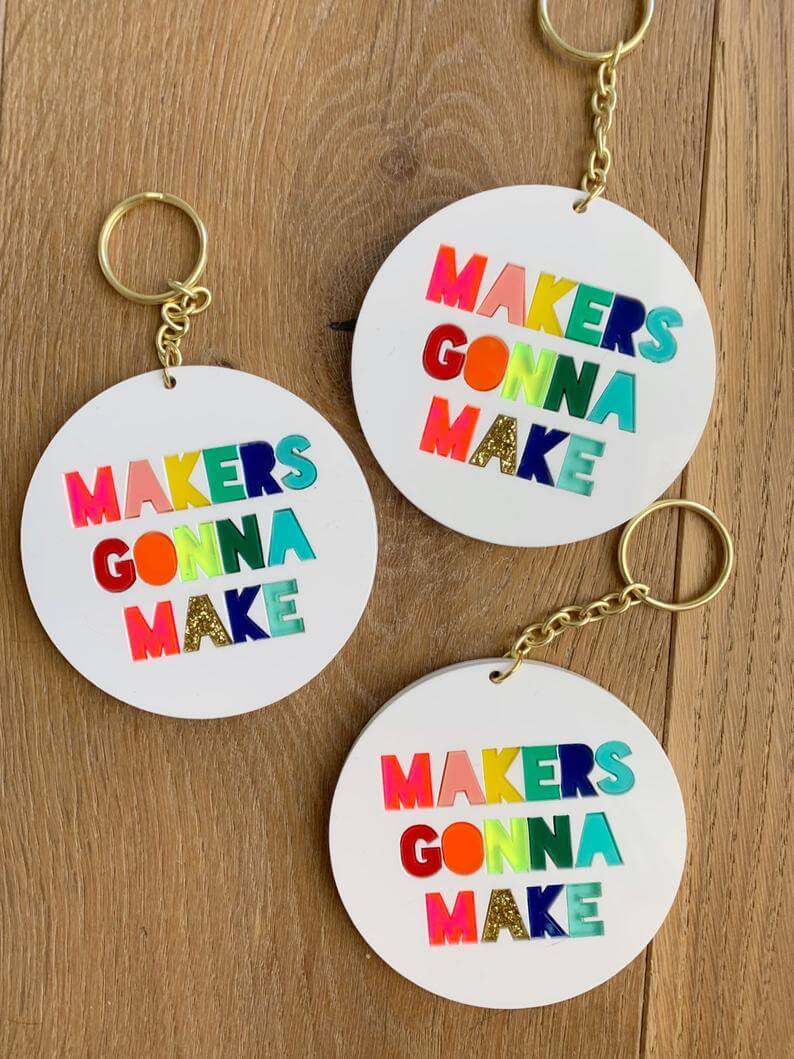 #10 A personal gift to show that "understand" them- There are loads of novelty gifts for crafters, like mugs, t-shirts and bags. This "makers gonna make" keychain speaks to my maker heart and it is rainbow :)!!!
And this shirt… all the yeses!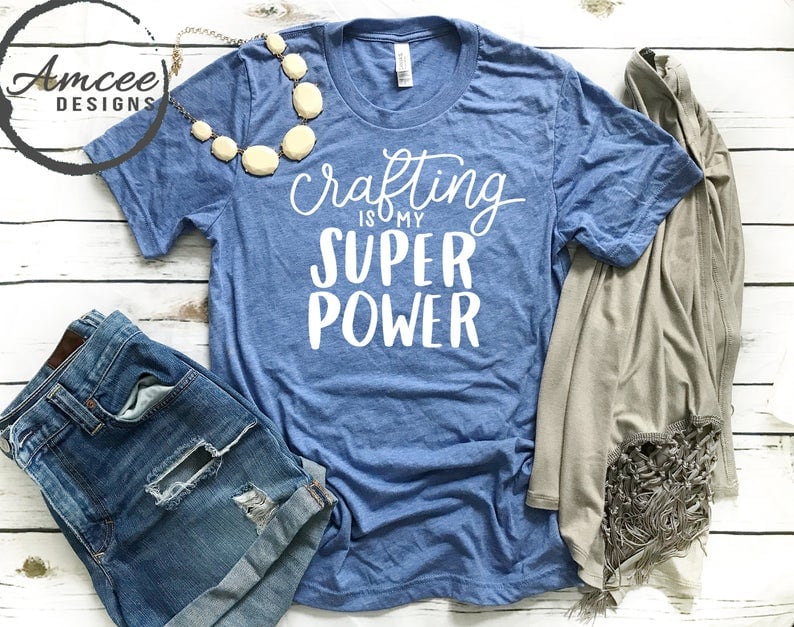 This mug is perfection. I don't know a single crafter out there, myself included, that wouldn't get a kick out of this :)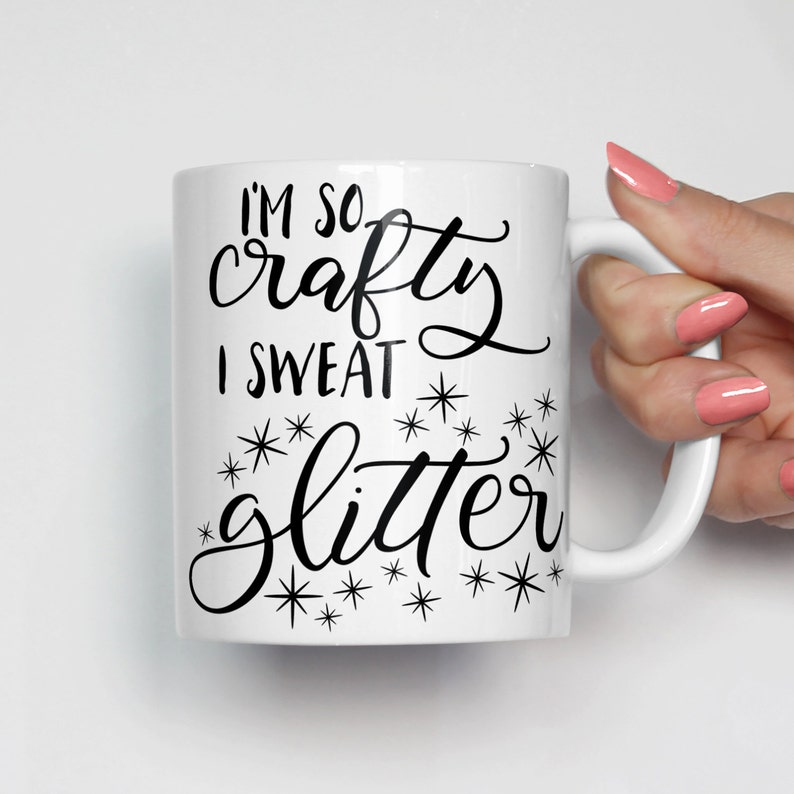 #11 Some awesome craft books- Maybe I am old-fashioned, but even with all the amazing blogs out there and crafts floating around cyberspace, I still like to read actual books with paper pages about crafts. Chances are the crafter in your life will too :) Here are some great options.

What do you think? If you are a crafter, are you feeling inspired to make your holiday wish list now? If you are purchasing for a crafter, are you relieved to have some good ideas?
Other posts you may enjoy:
Wondering how I approach transforming rooms and spaces in our home? Check out Designer in a Binder®.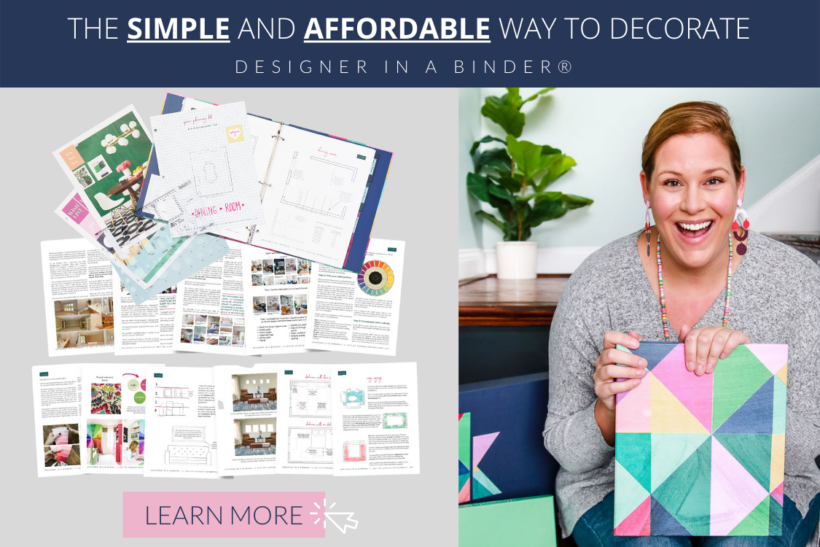 And if you want exclusive content and behind-the-scenes sneak peeks, be sure to subscribe before you head out!