Part 2: 2021 Colorful Christmas Home Tour
Last Updated on March 3, 2022
I'm excited to share Part 2 of my 2021 Colorful Christmas home tour. Today I'm sharing our bedrooms and a few other special areas all decked out for Christmas.
I hope you enjoyed Part 1 of my colorful Christmas home tour yesterday–if missed it, you can find it here! In Part 1, I shared most of the downstairs of our house. Today I'm excited to show you our bedrooms as well as the upstairs hallway.
This post contains affiliate links for your convenience. Click here for my full disclosure policy.
Check out Part 1 of our 2021 colorful Christmas home tour HERE!
I've included image links to some of the Christmas decor you will see in our home throughout this post. I've also included a big, comprehensive product gallery at the end of this post that I hope will help you find things you are looking for.
Let's take a look at the bedrooms first. We don't go all out in our bedrooms. And we didn't decorate our girls' bedrooms at all until they were old enough to start begging for some touches of Christmas in their rooms (it began at age 7). But now we all enjoy having some Christmas decor in our rooms.
First up is our bedroom. I added this art print above the bed, some old garland and these colorful Christmas tree pillows. That's it! Amazing how much a few simple pieces can make a room feel like Christmas.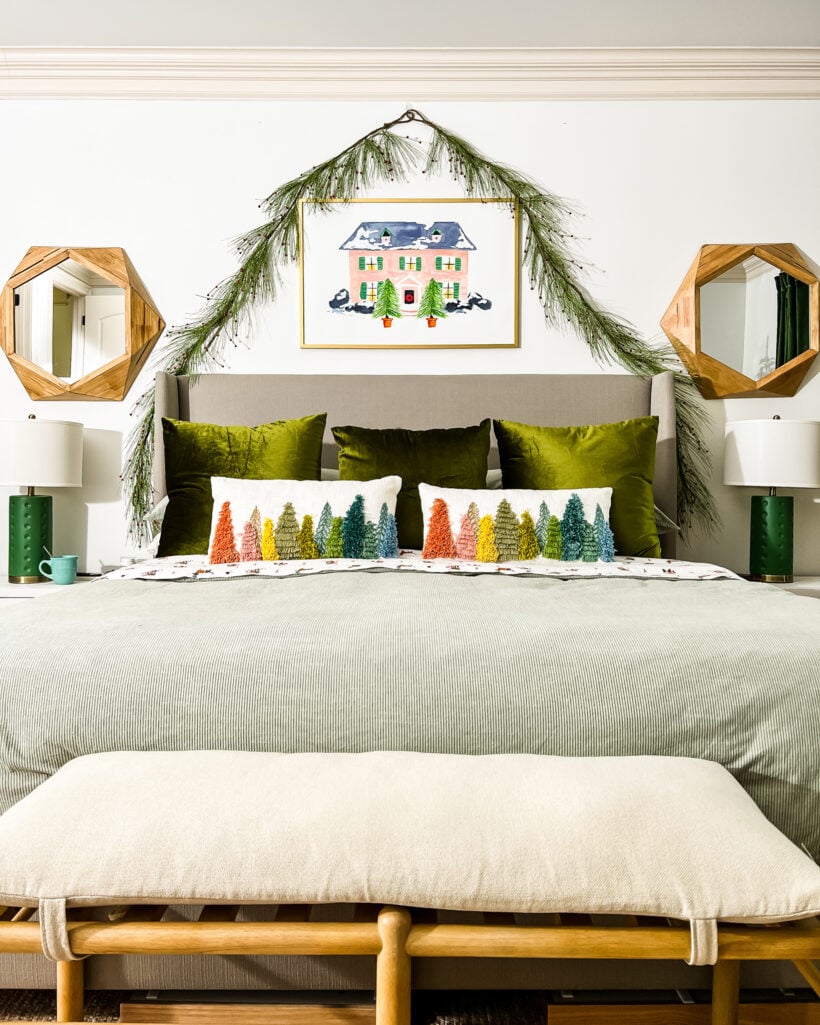 And this is the first year any of us have used Christmas sheets, but when I found these for $35 at Target, I couldn't resist. I mean, they have DOGS on them and they are a nice quality flannel. I love, love, love them. You can kind of peek them in the photo below. (And if you are a regular reader, you'll notice we finally found this new rug for our bedroom–we love it).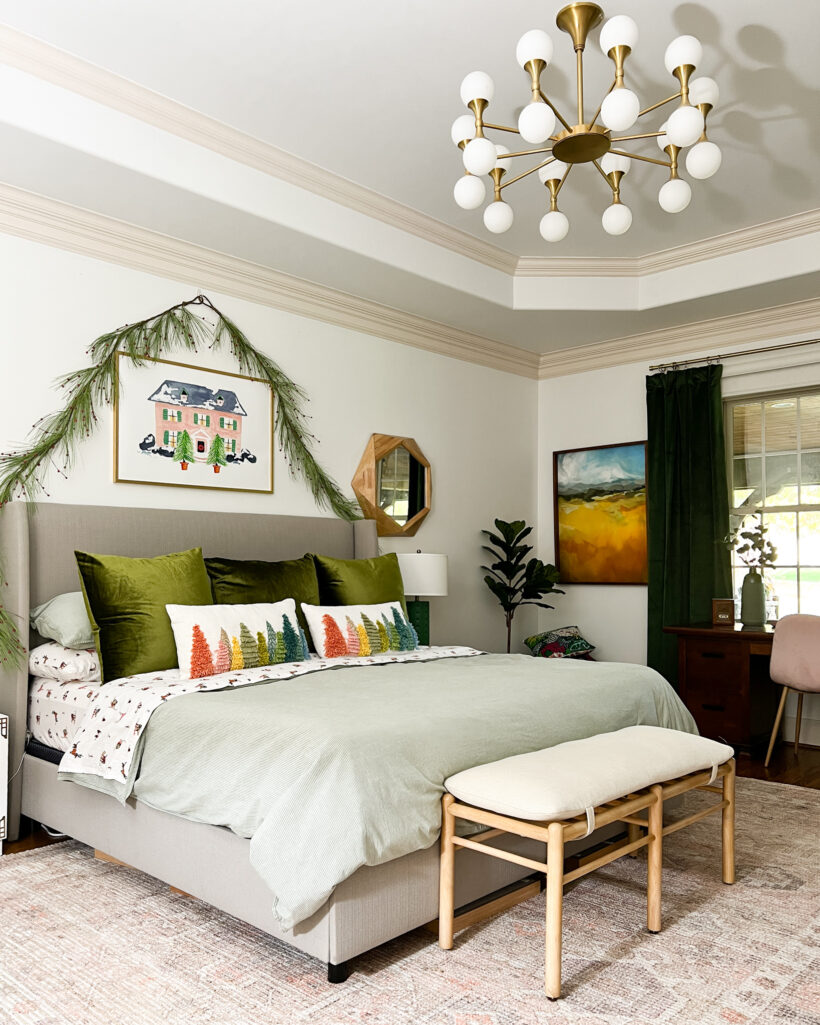 Scroll and click on any image below for links everything

I'll admit that I didn't plan on this Christmas tree being in our bedroom. I originally bought it (it's a GREAT price) for the coffee nook area I shared in Part 1 of this tour yesterday. But it was just too wide for that area. So I snagged it and put it in our bedroom and I'm in love. I love this style of tree naked, so I don't think we'll ever add ornaments or anything else to this one. It's just too perfect the way it is. And having the glow of Christmas lights in our room as we wind down at night is AWESOME.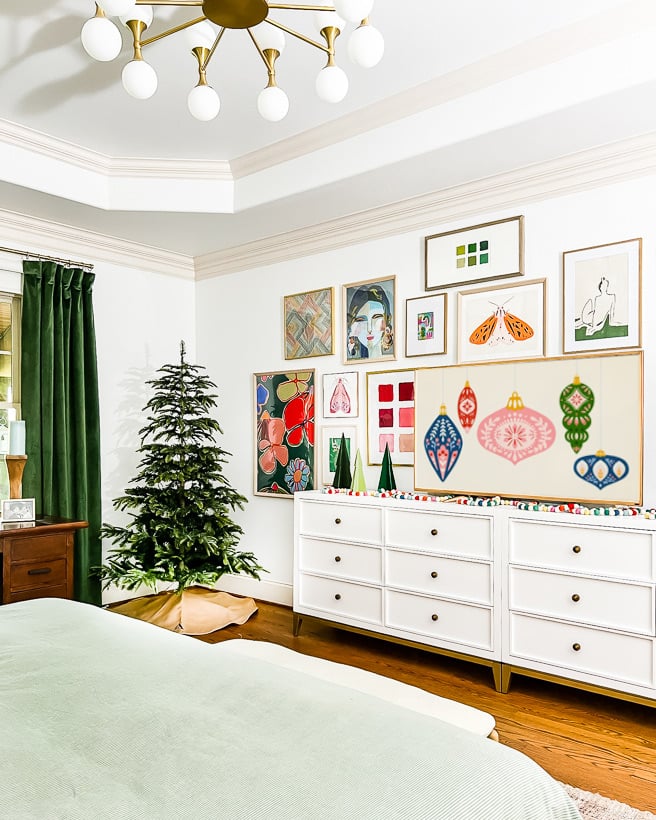 Scroll and click on any image below for links everything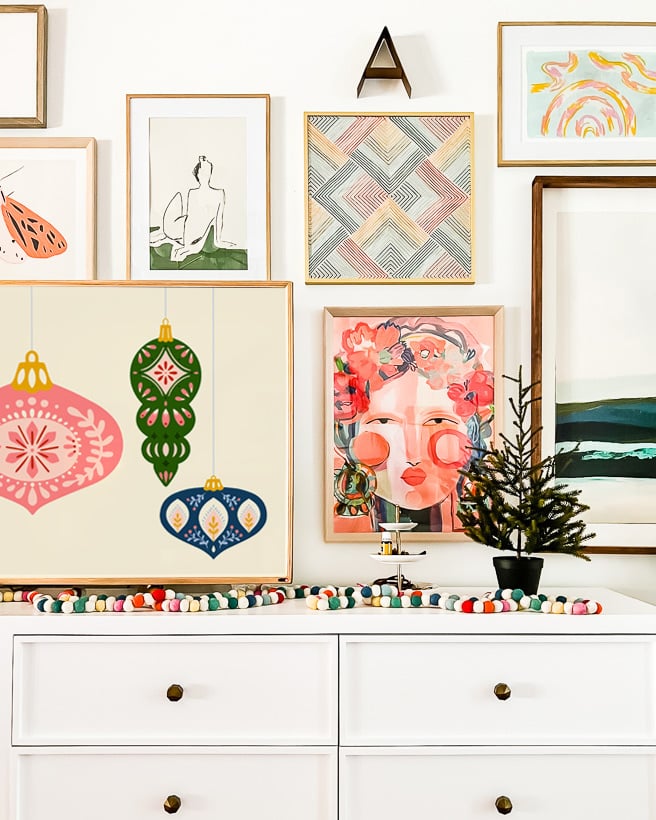 I also added this digital art to the smart TV in our gallery wall–how cute is it?! And it only cost me $.82. Less than a dollar for some holiday cheer?! Yes please. You can read all about how I gave our basic smart TV the look of a gold frame AND how to display art on any smart TV in this post.
Now let's take a look at Avery's room. As you know, Avery doesn't love a lot of color, and I respected that for her Christmas decorations as well. So this is the least colorful Christmas decor you will see from me. But I still think it's beautiful, and it's so Avery. She LOVES it. Before you ask, I've had that plaid stag head for years and years so I don't have a link for it–sorry! You can find the print above her bed HERE.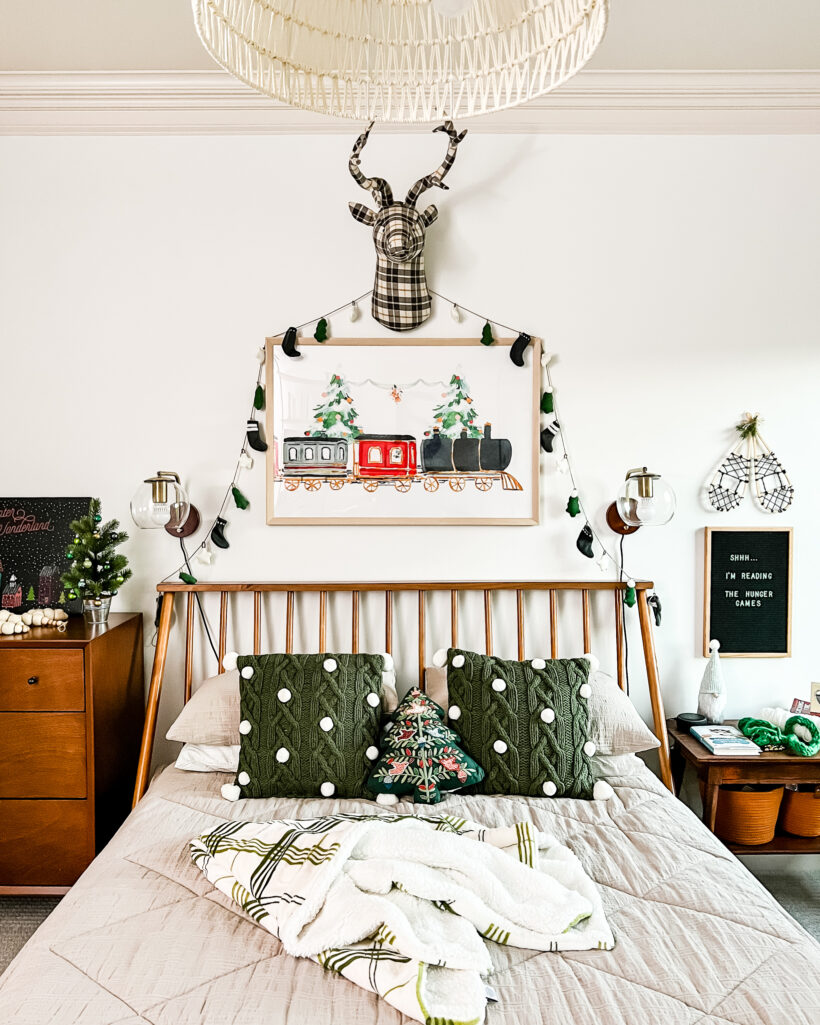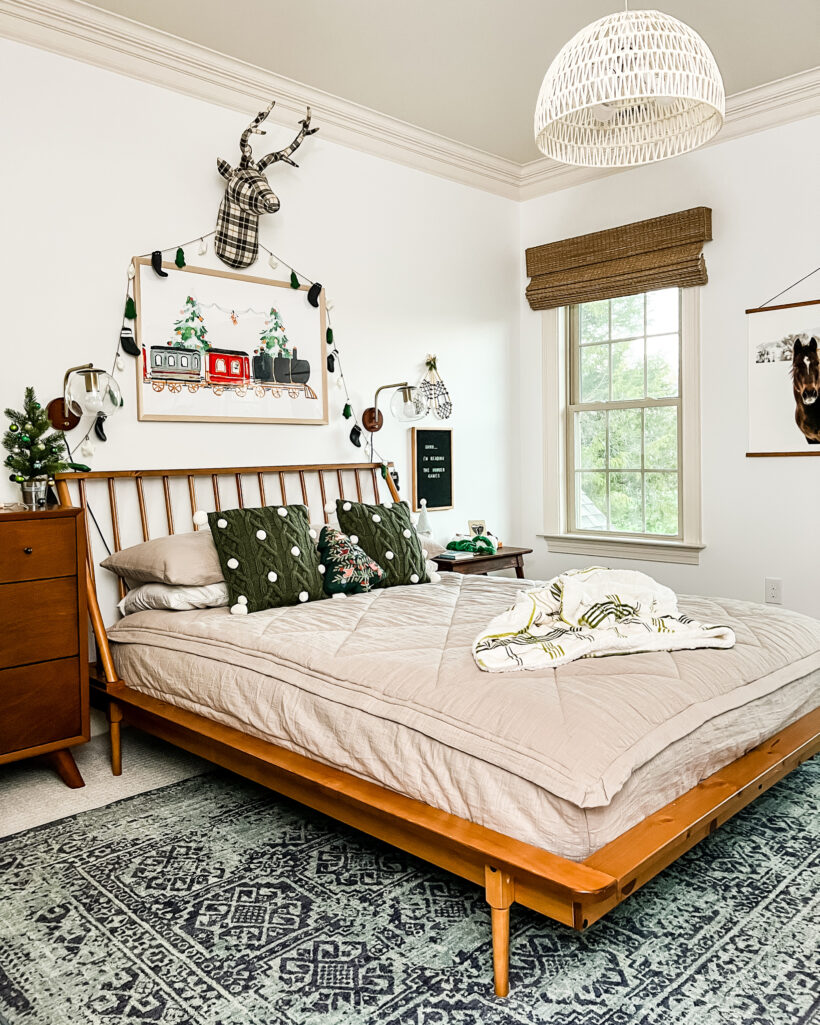 Scroll and click on any image below for links everything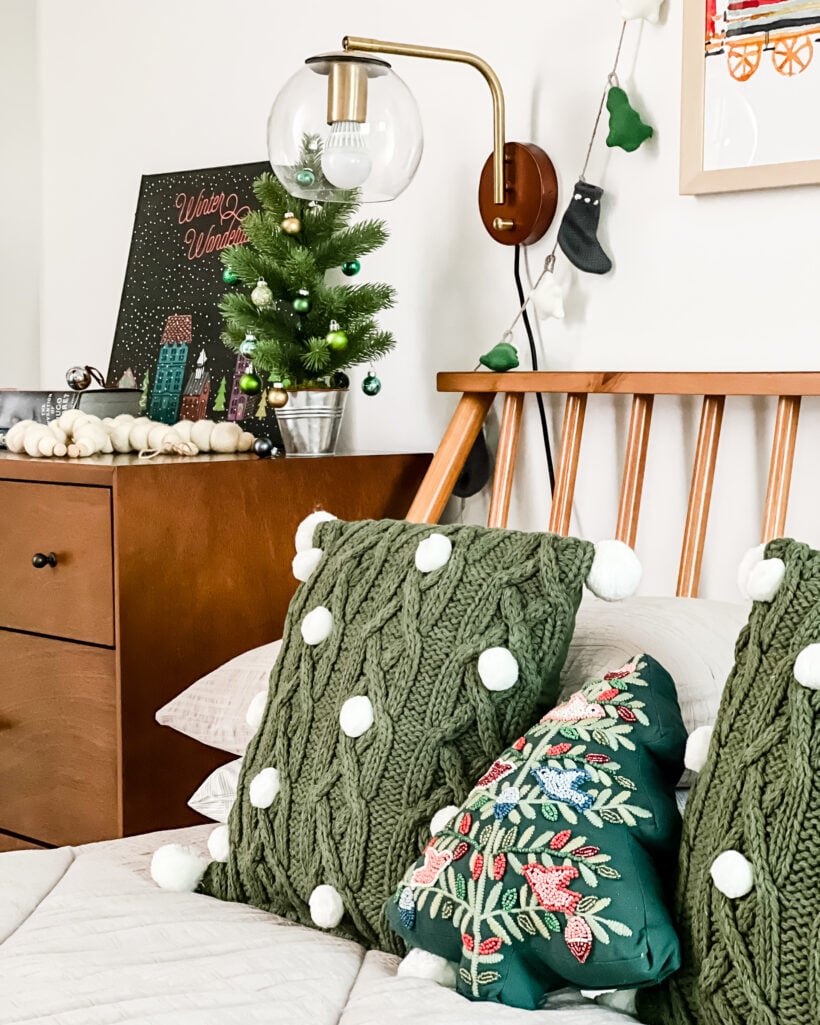 Attley's room is next. Y'all know she is my COLOR LOVER so her room looks drastically different from Avery's room! It's tough to notice Christmas decor against her beautiful wall mural, but I did add some felt snowflakes (that are actually placemats) and this garland that lights up above her bed and she loves having it on at night. Can you see it? It's more noticeable in person, but in photos the wall mural almost acts as a camouflage! And of course, I had to get this pillow for her when I saw it.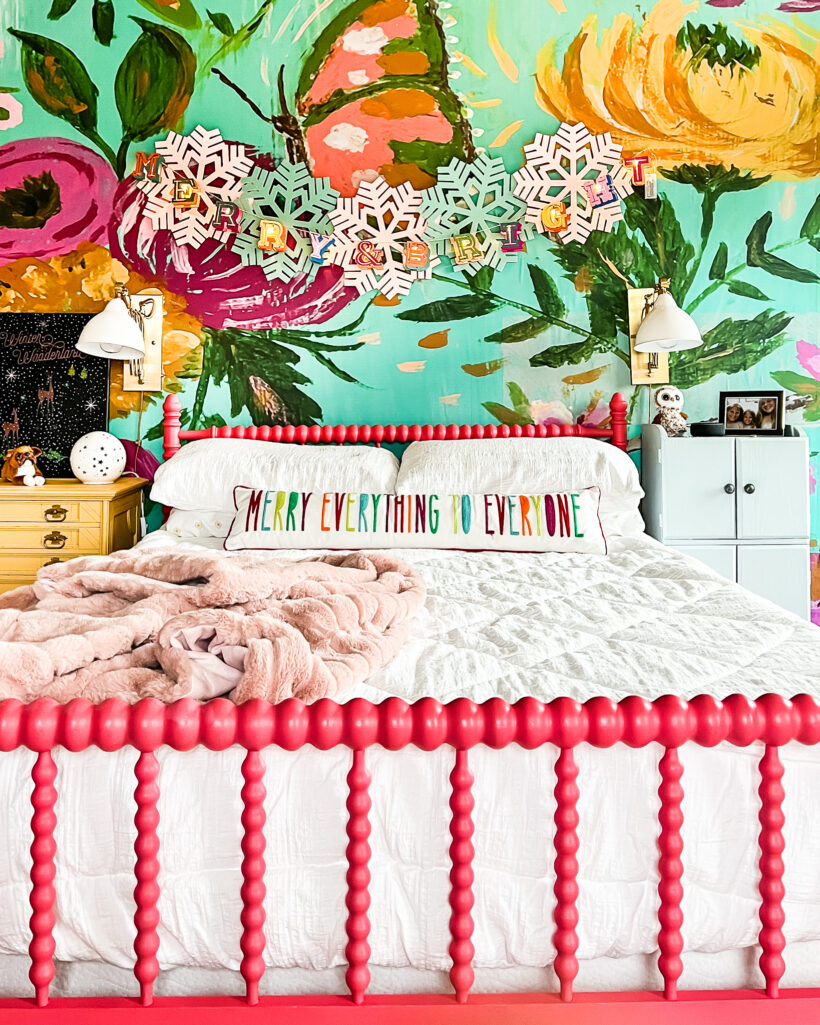 I added some really cute letters that spell out MERRY on her desk bookcase.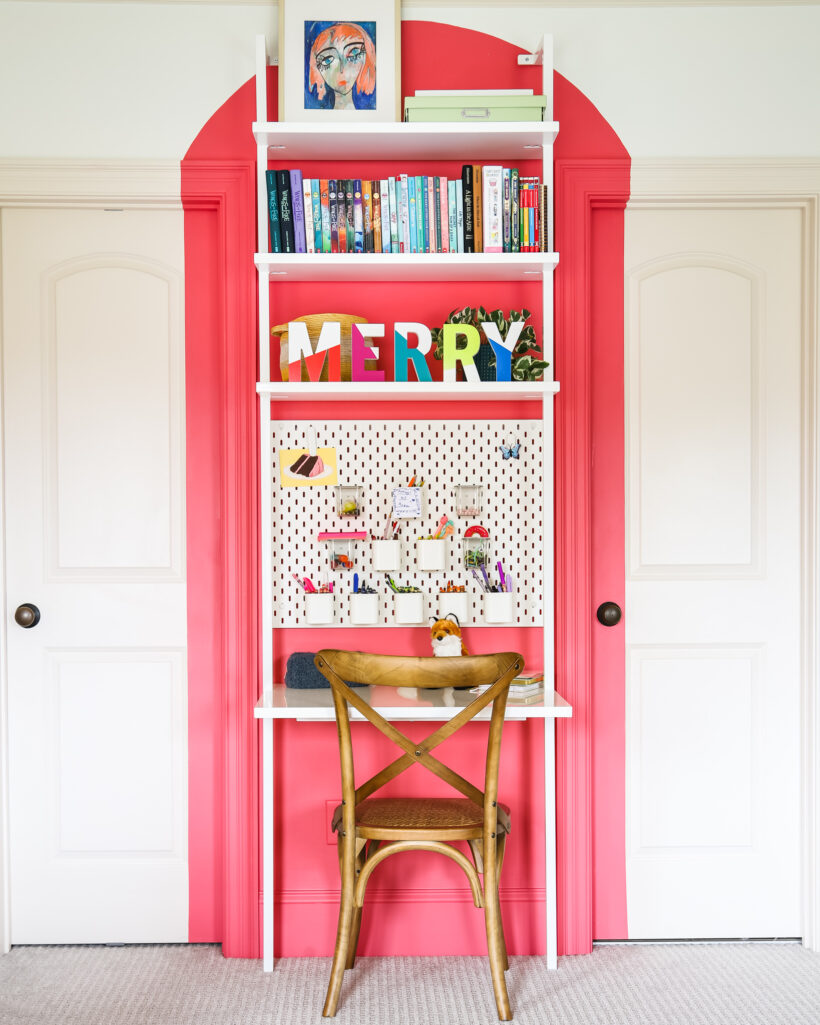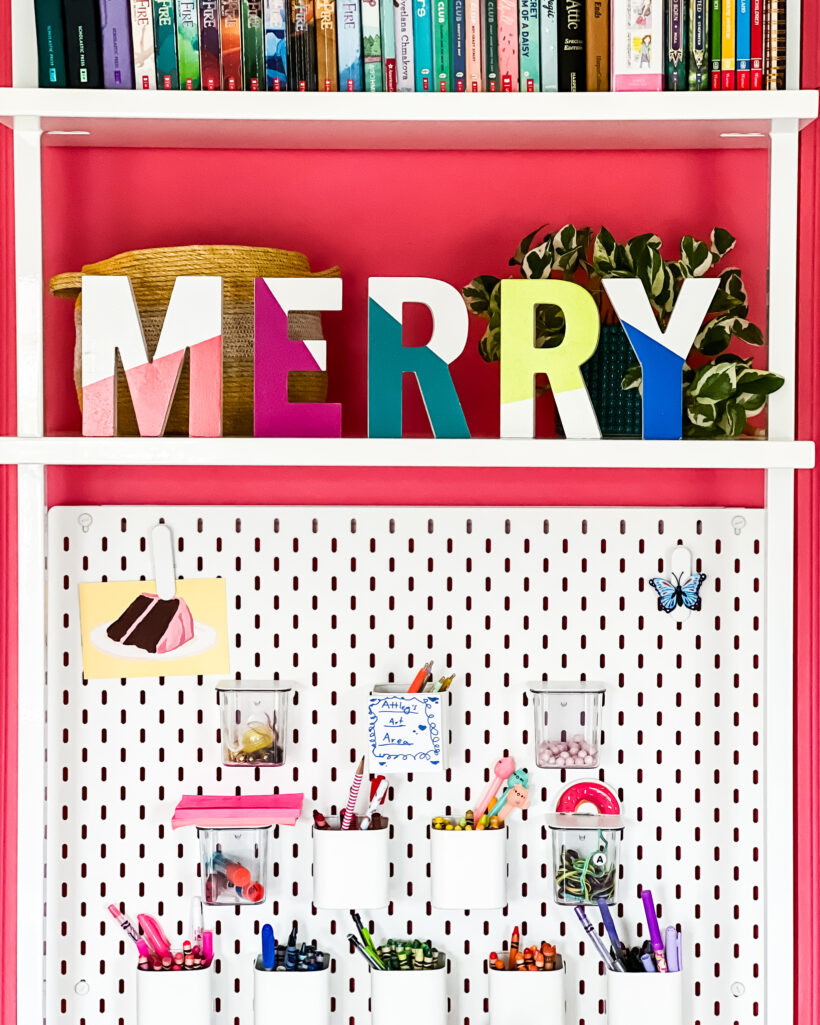 And just like Avery, she has a tiny tabletop tree as well as some chalk art she made a couple of years ago on her bedside table.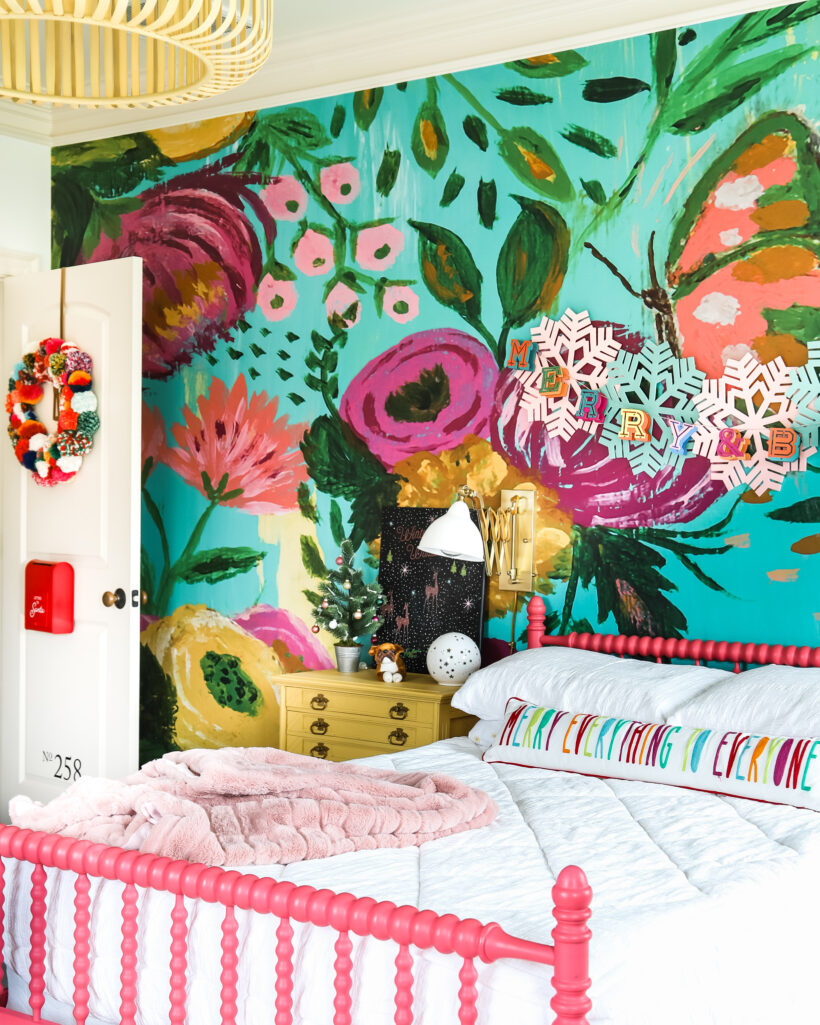 Scroll and click on any image below for links everything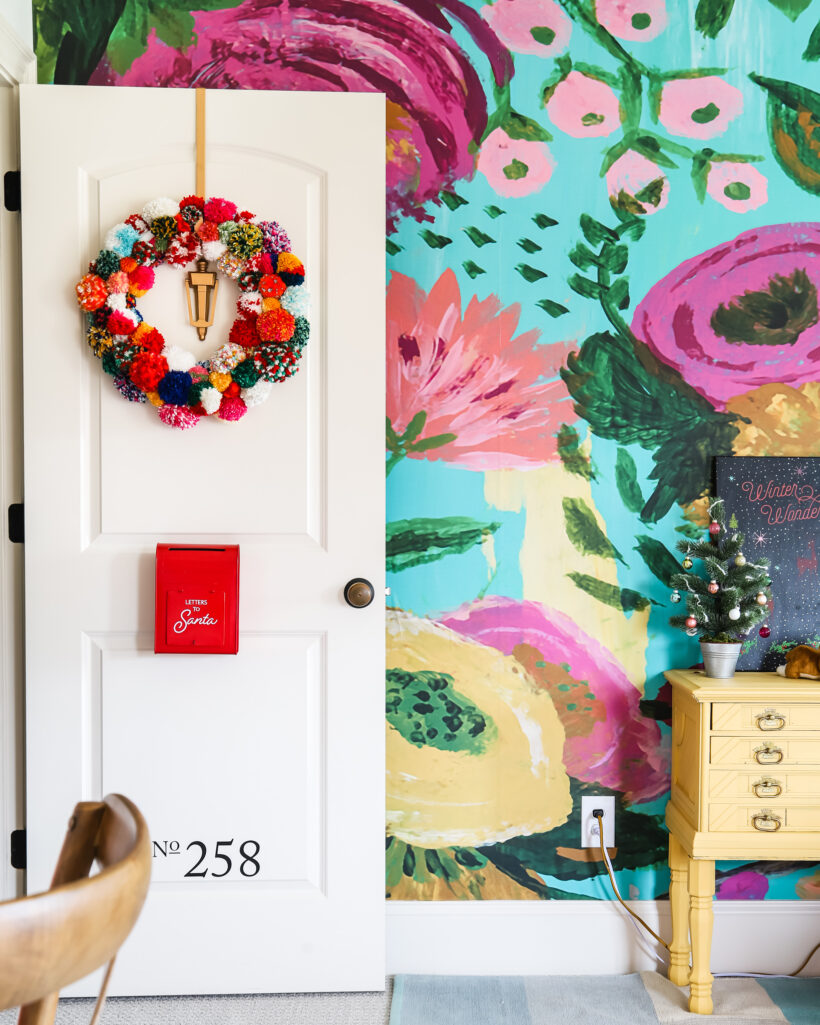 That leads us perfectly into the hallway. If you missed our super unique hallway makeover, here's what you need to know… I decided it would be super magical to make the girls' bedroom doors look like exterior doors to apartments or townhouses. Most everything will stay up year-round, but it was also SUPER fun to decorate for Christmas! You can see lots more photos and read all the details about the hallway makeover here. You can also watch a recap of it in the video below.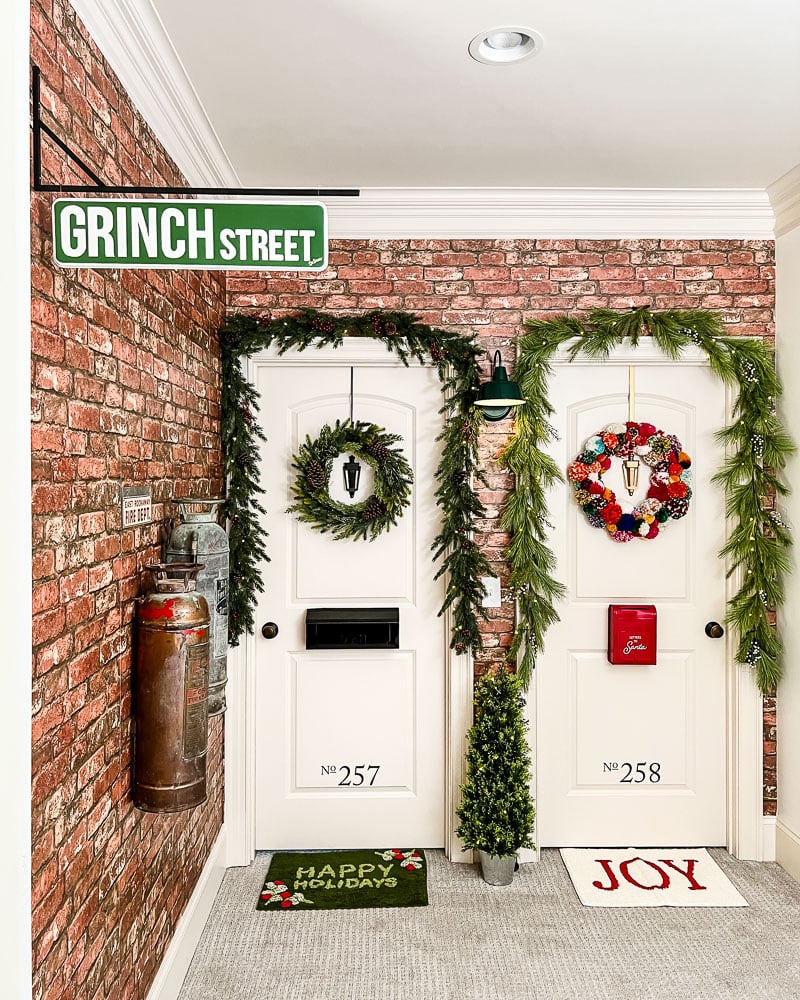 Scroll and click on any image below for links everything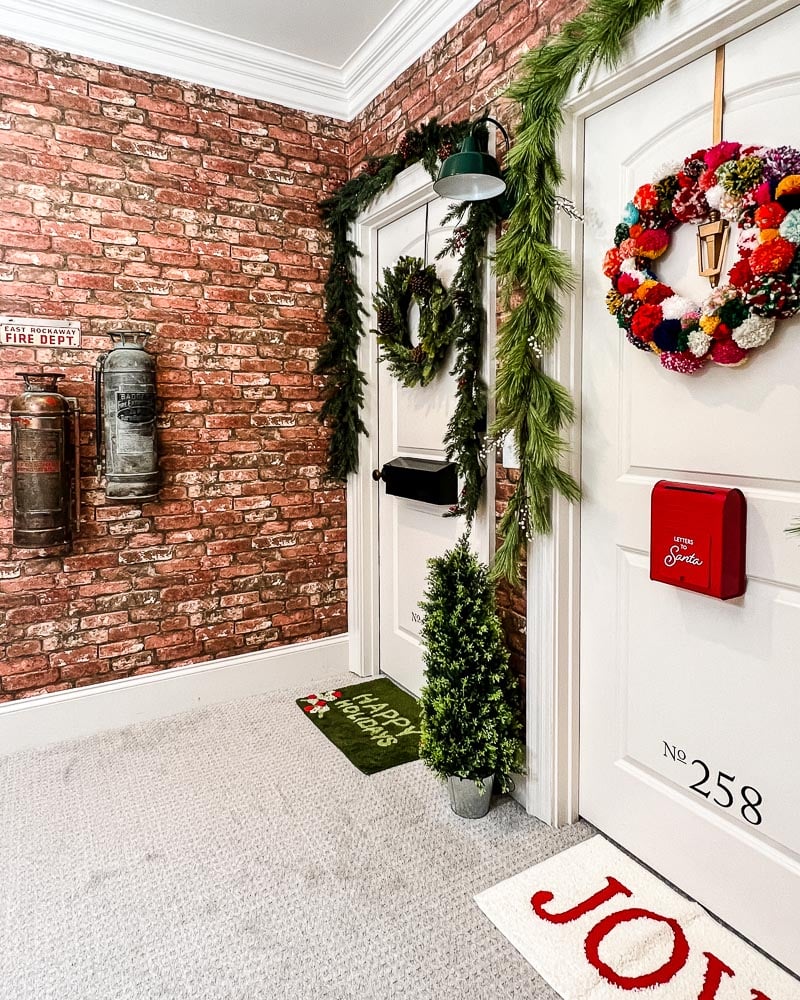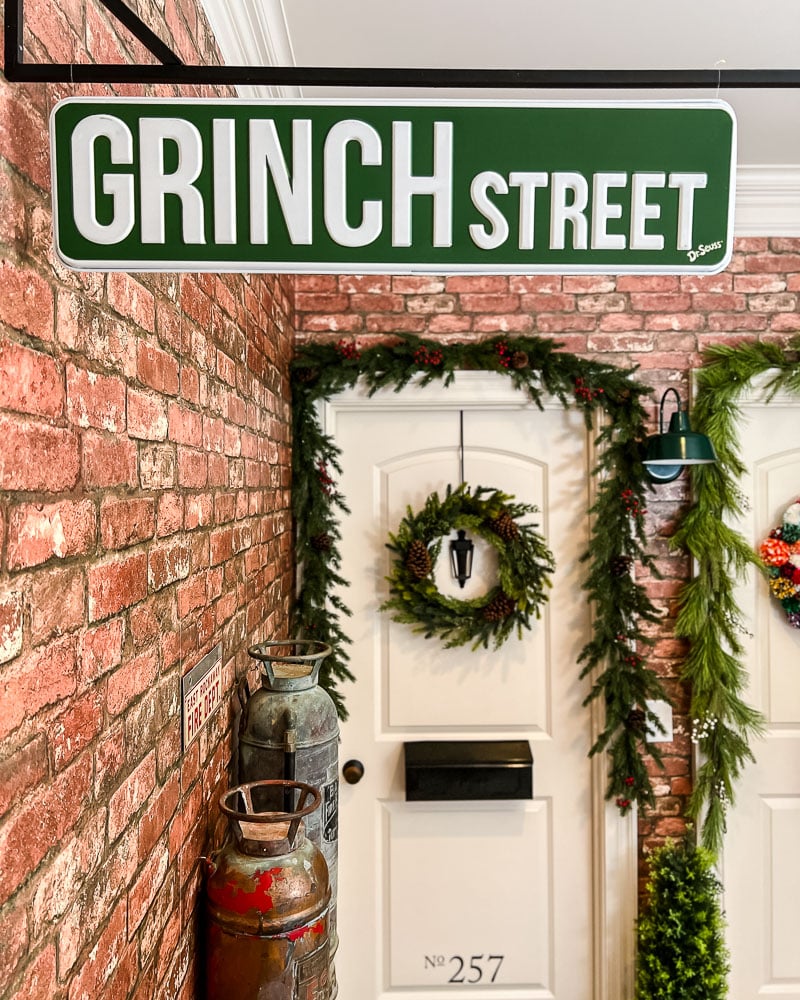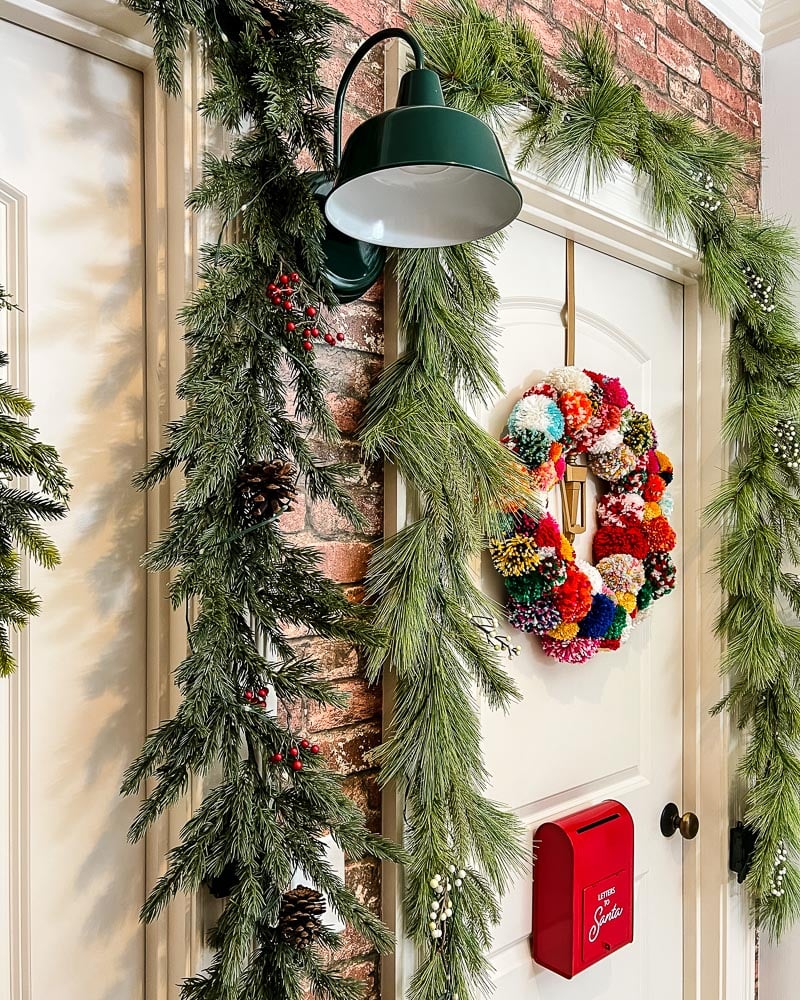 That brings us to our last stop in this tour, which is the hallway landing. One of my favorite things that I did for Christmas this year is swap out the photos in our gallery wall for photos from all of our past Christmases with our sweet girls. I also added Attley and Avery's growing nutcracker collection (we started giving them each a nutcracker for Christmas a while back).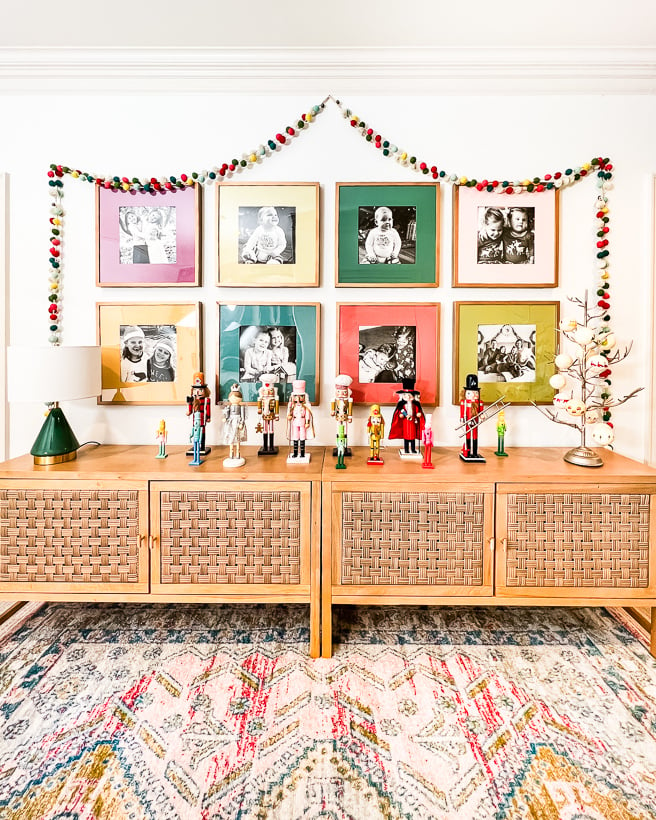 Scroll and click on any image below for links everything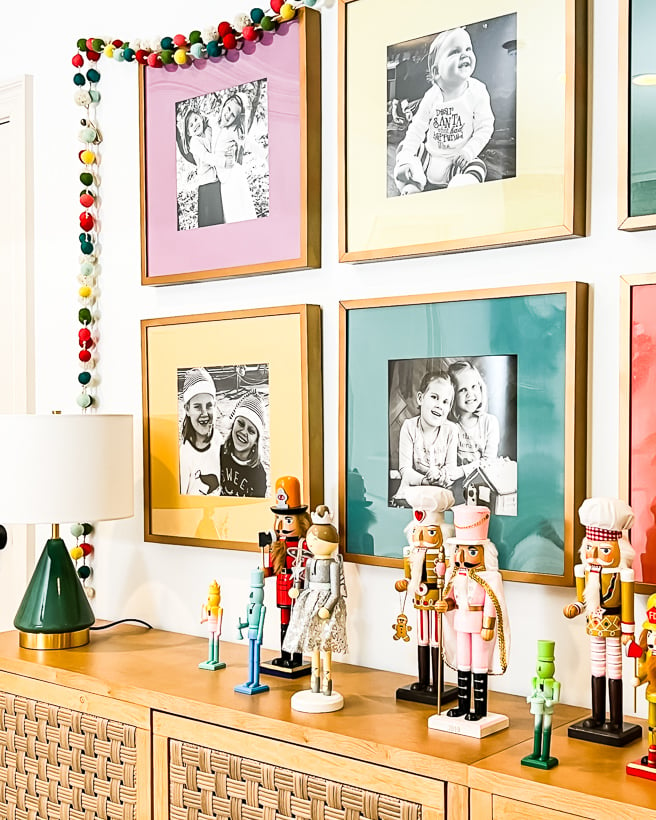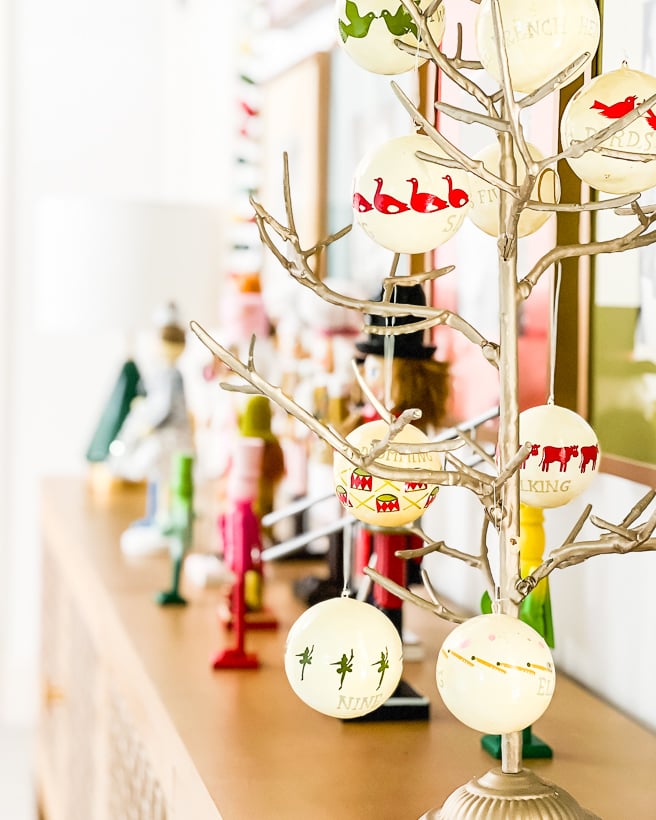 That's it! As promised, below you can find a product gallery that includes most of the Christmas decor you've seen today. It will also include some decor that was shown in Part 1 of my Christmas home tour yesterday :)
Scroll and click on any image below for links everything

Check out Part 1 of our 2021 colorful Christmas home tour HERE!
I'm still hoping to put together a short tour of our outdoor spaces all decorated, but since they still aren't done I don't know if that will happen, lol! I'm also hoping to put together some of my favorite nighttime photos before Christmas. We shall see if I can get it all done.
Thank you SO MUCH for stopping by and taking this tour! Before you head out, subscribe to become a VIP so you can get lots of freebies including some of our awesome Christmas art printables!
Wondering how I approach transforming rooms and spaces in our home? Check out Designer in a Binder®.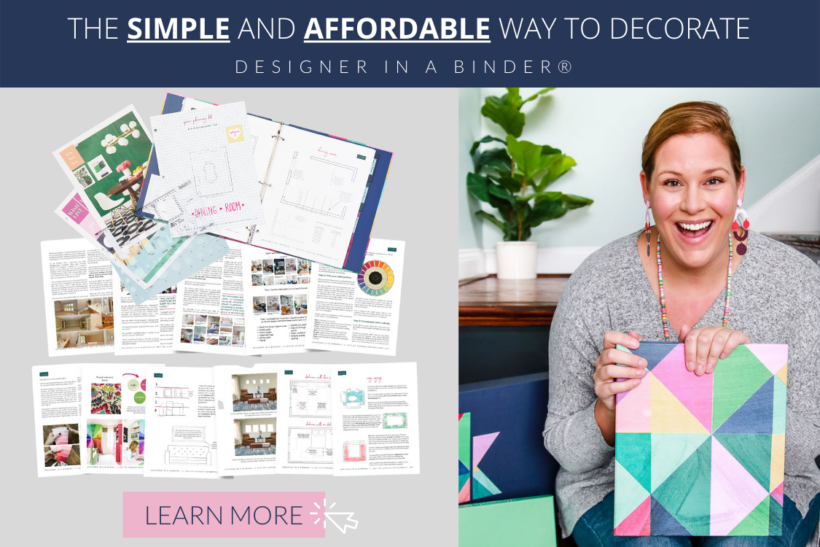 And if you want exclusive content and behind-the-scenes sneak peeks, be sure to subscribe before you head out!