How's It Holding Up? DIY Painted Kitchen Cabinets Update
Last Updated on August 10, 2021
Do cabinets that weren't sanded or primed before they were painted stand the test of time? Find out how our DIY painted kitchen cabinets have held up! All your questions (and some you didn't know you had) are answered.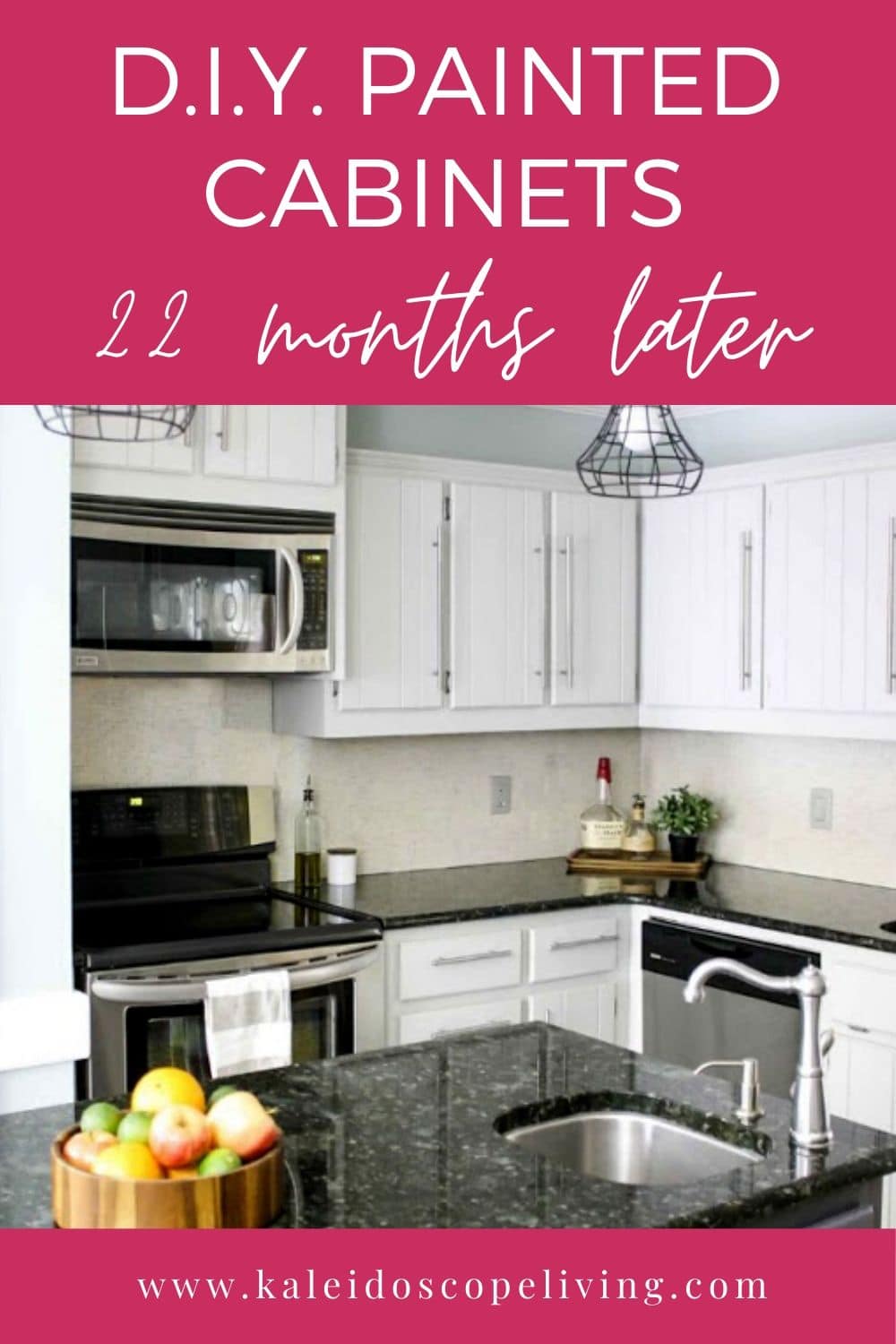 This post has been a LONG time coming! I get asked at least 20 times per week how our DIY painted kitchen cabinets are holding up and today, I am going to tell you! But first, let's explore why people are so darn curious. I am pretty sure it's because our DIY painted kitchen cabinets were done without sanding OR priming. Yep, that's right! We wanted professional results with the least amount of work possible and that's exactly what we got. You can see our step-by-step tutorial on how to paint kitchen cabinets without sanding or priming here. And if you are new to my blog, here's a side-by-side comparison of what I am talking about.

Now, let's answer those BURNING questions about our DIY painted kitchen cabinets that people keep asking me.
How are they holding up?
Y'all, these bad boys are holding up BEAUTIFULLY. I've put together a video tour to show you just how serious I am. You can check it out–just scroll down a bit further.
Can you still see the wood grain?
Yes, but it doesn't bother me one bit. I have some good footage of how much you can see the wood grain in the video, so be sure to check it out.
Are they easy to clean? Does cleaning them damage the finish?
They are SUPER easy to clean and it doesn't damage the finish at all. Want proof? Watch the video :)
Did you sand between coats of paint?
Nope!
Did you sand between coats of the topcoat?
Nope!
For the proof that the cabinets are still holding up beautifully, watch the video below (the video will play after a brief ad).

ADDED September 2018: Now, I know there are LOTS of you out there that are going to read this and think it sounds too good to be true and/or have a zillion other questions that I can't possibly answer in one blog post. We still get questions about this post almost every single day (in fact, it's the reason I finally had to turn my blog comments off a while back). Because though I detailed exactly how we transformed our oak cabinets with gray paint, people wonder how the process will work on different cabinets with different colors. So we got questions like…
Can I use this to paint my laminate kitchen cabinets?
How do you think the white paint color would work on my very dark cabinets?
Can I use this paint this over existing painted kitchen cabinets?
Did you REALLY not sand in between coats?
How much pressure do I need to apply when I use the deglosser?
How are your painted kitchen cabinets holding up now that it's been almost 5 years?
So after seeing the need to address all these questions and after countless requests, I finally decided to create a video training series for those of you that have questions and concerns that just can't be answered in a single blog post.
My video series, Total Cabinet Transformation, is now available. If you want to update your kitchen, but can't afford to replace your cabinets or hire a painter to paint them for you, this is the training for you. It's short but thorough. In about an hour, you will know everything you need to transform your kitchen cabinets the "lazy" way. Minimal effort. Maximum results.


So there you have it! Y'all, there is no question that we would do this project again. We got such a beautiful result for such a tiny amount of money and the results are long-lasting! So if you are on a budget but want to update your kitchen, be sure to check out our step-by-step tutorial on how to paint kitchen cabinets without sanding or priming here. You won't regret it :) Oh, and if your husband or wife is skeptical, just show them the video. Hopefully, the video will convince the skeptics.
That's it for today folks. Be sure to check out how our $20 DIY concrete vanity is holding up also–just click here.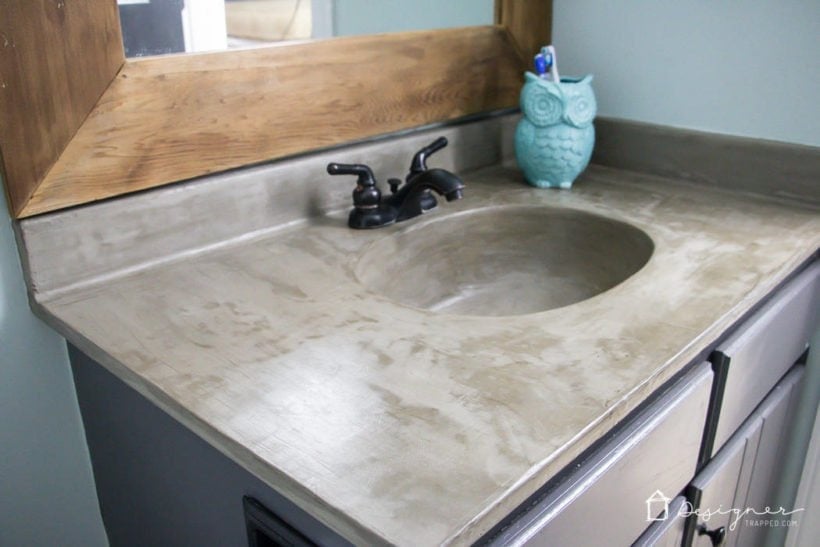 And you can check out the rest of the details of our $700 total kitchen makeover here and here.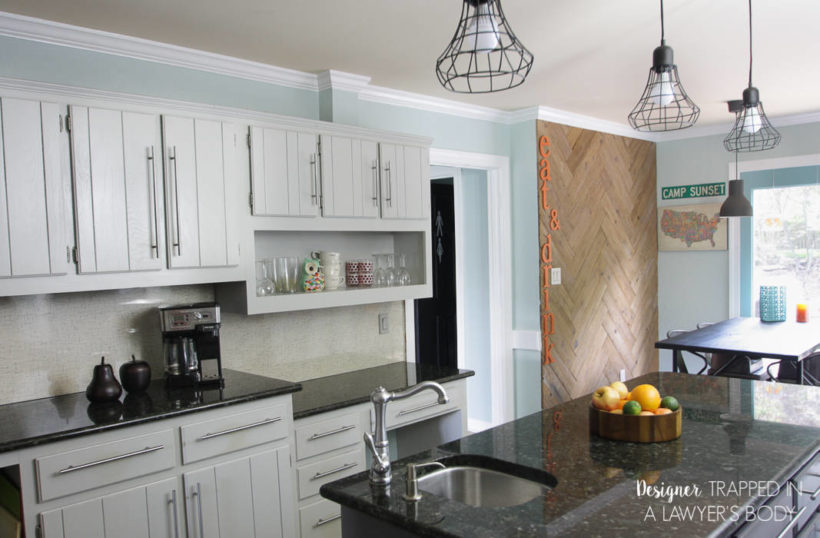 Update 2020: Our kitchen cabinets held up BEAUTIFULLY until we renovated our kitchen in 2019. Want to see the what it looks like today? Click here for the full renovation. We had such a great experience painting our own cabinets that I painted Thea's cabinets when we gave her kitchen a budget makeover. For another easy way to paint your cabinets take a look at our tutorial here: How to Paint Kitchen Cabinets the Easy Way (2 days, no packing). And you can see her total kitchen transformation for under $1000 here.
Want even more amazing design and DIY guides? Click below and become a Kaleidoscope Living VIP! You get access to all of this with one simple password.

[mv_create key="1″ type="list" title="Most Popular Projects" thumbnail="<a href="]