How's It Holding Up? DIY Concrete Vanity Update
Last Updated on February 27, 2022
Wondering how our DIY concrete vanity is holding up? Well, we have all that info for you PLUS info on a small tweak we made!
Hey friends! I FREQUENTLY get asked about how certain DIY home decor projects we have tackled are holding up. So, I thought it would be fun to run a "How's It Holding Up?" series on the blog for the next couple of weeks. Kind of fun, huh? First up we are going to talk about our DIY concrete vanity, a project that we completed when we updated our powder room and how it has held up since we originally completed the project about 18 months ago (in August, 2014).
As a reminder, THIS is what we started with in our old powder room.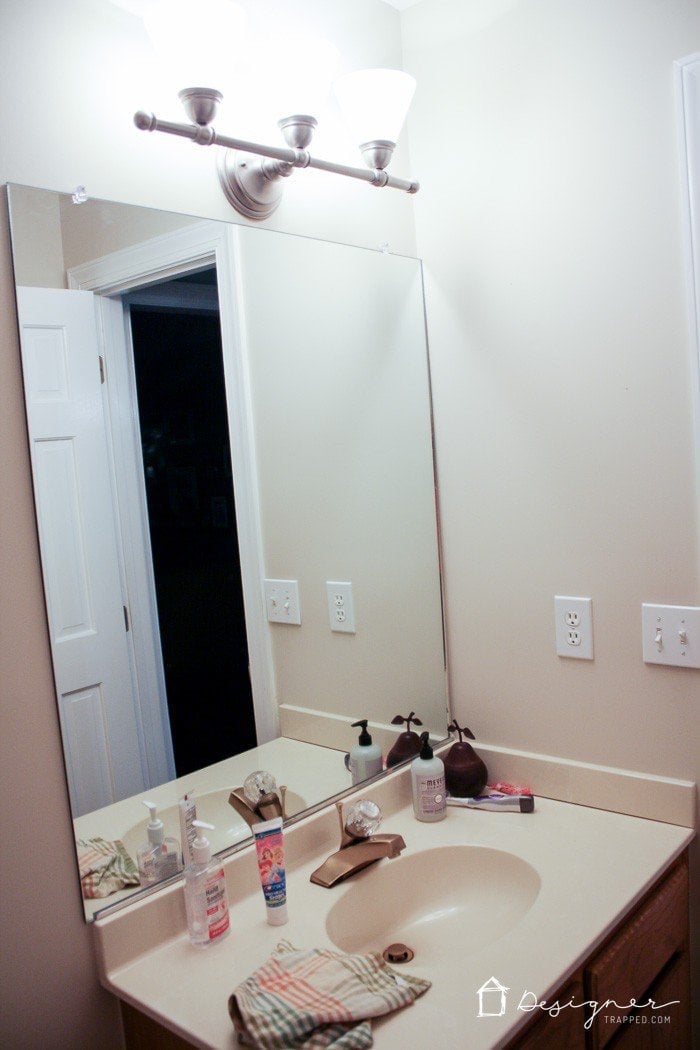 Oh yeah! See that super sexy cultured marble vanity and builder-grade mirror?! Not to mention the super orangey oak cabinet base?! Well, as usual, we were on a budget when we updated our powder room, so we needed a really economical solution to update the vanity. We had great success when we created our DIY concrete fireplace, so we thought we'd give it a try on our vanity. We LOVE concrete :) But y'all, I had NO IDEA if it would work. I mean seriously… Who smears concrete all over their sink? This girl.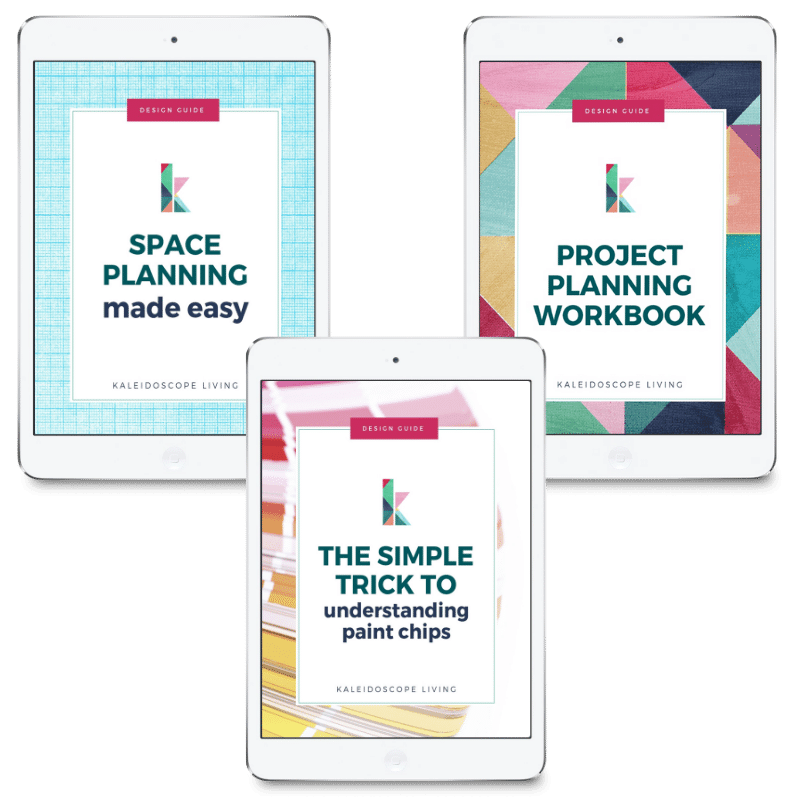 Get my FREE design guides when you subscribe!
It TOTALLY worked. This is what we ended up with!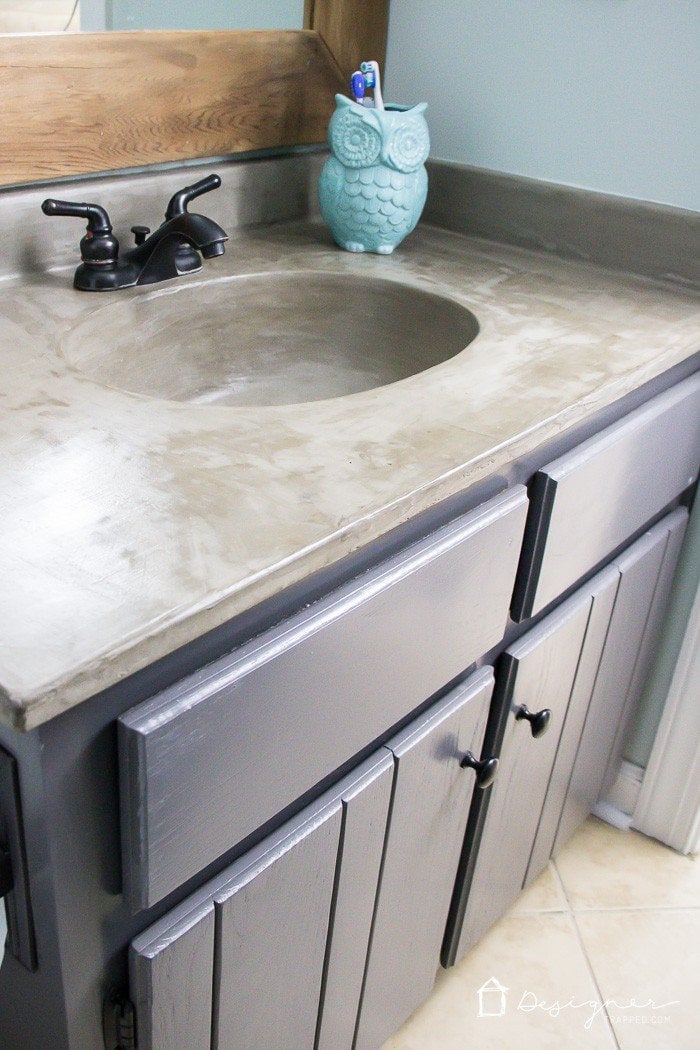 It's hard to believe that's the same powder room, isn't it?!
***** Looking for the full tutorial for the DIY concrete vanity overlay? Click HERE. *****
DIY Concrete Vanity Update
Long story short, the DIY concrete vanity has held up phenomenally well! But there is one tweak that I need to share with you. If we had to do it all over again, we would have left the drain IN PLACE and applied the concrete around it. Why? Because we did ultimately get some discoloration around the drain, presumably from water seeping in under it and darkening the concrete. You can see what I mean in this photo–look closely around the drain (sorry for the terrible photo quality–the photo below and the tutorial photos were shot with a phone camera at night)! The good news is that if you have already completed this project, it's a pretty easy fix! Just follow the instructions below.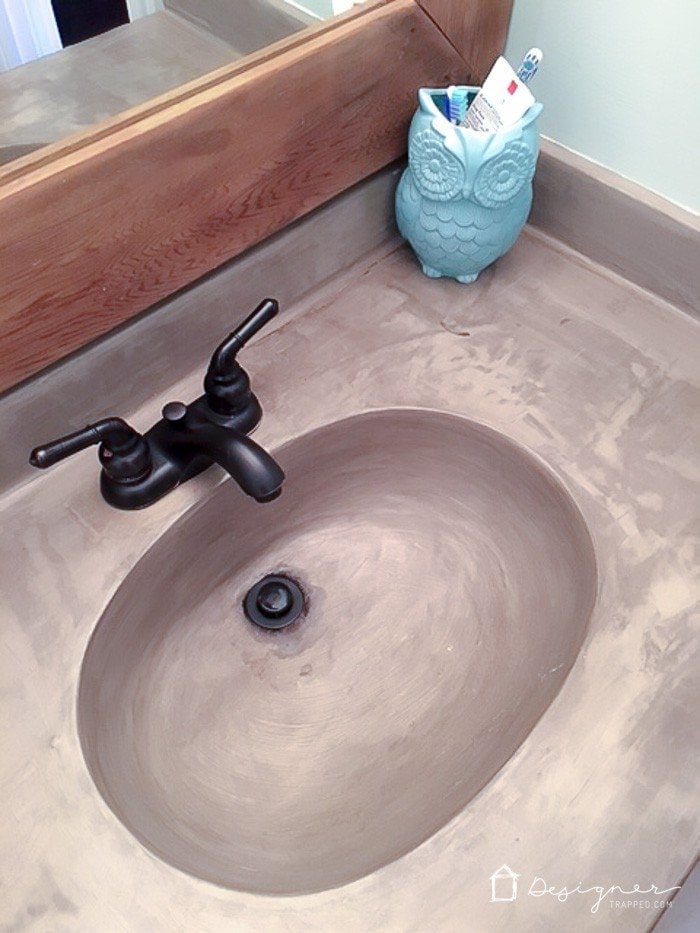 How to Correct Any Darkening Around the Drain of Your DIY Concrete Sink Overlay
1) Use a utility knife to score the concrete overlay around the rim of the drain.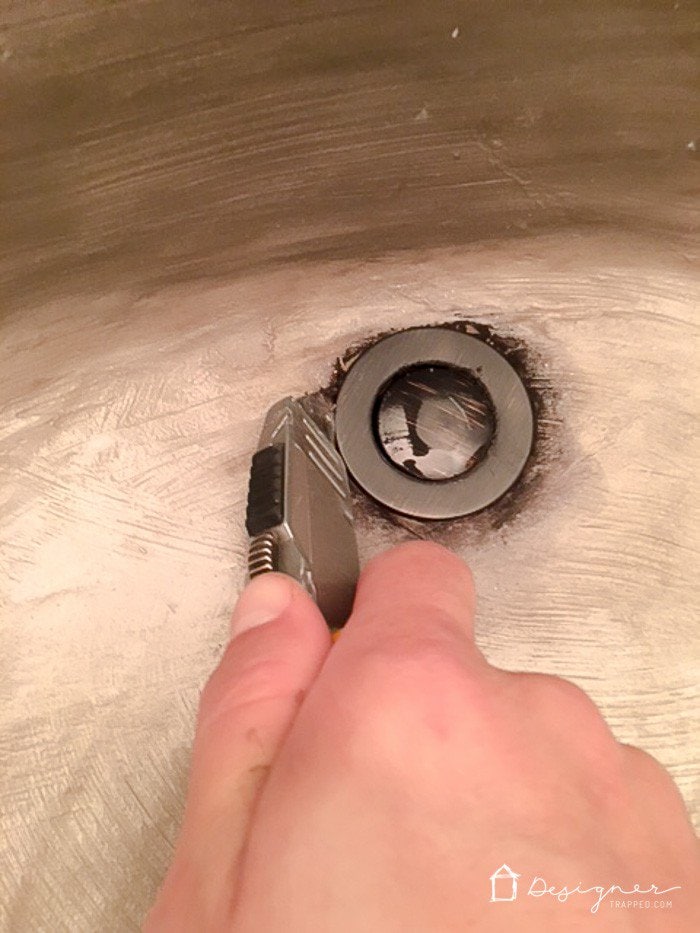 2) Remove the drain and continue scoring along the circle that you made around the drain with your utility knife until you are able to break away the concrete that was sitting under your drain. Don't worry–the circle doesn't have to be perfect, but it does need to be slightly larger than the drain itself.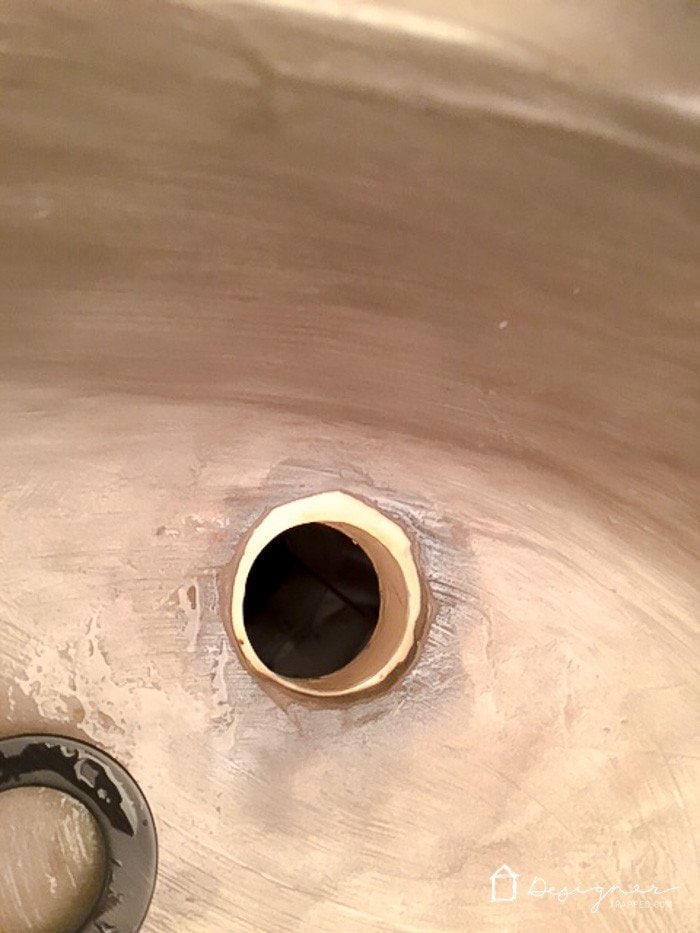 3) Re-install your drain.
4) Mix up your Ardex Feather Finish to a pudding-like consistency.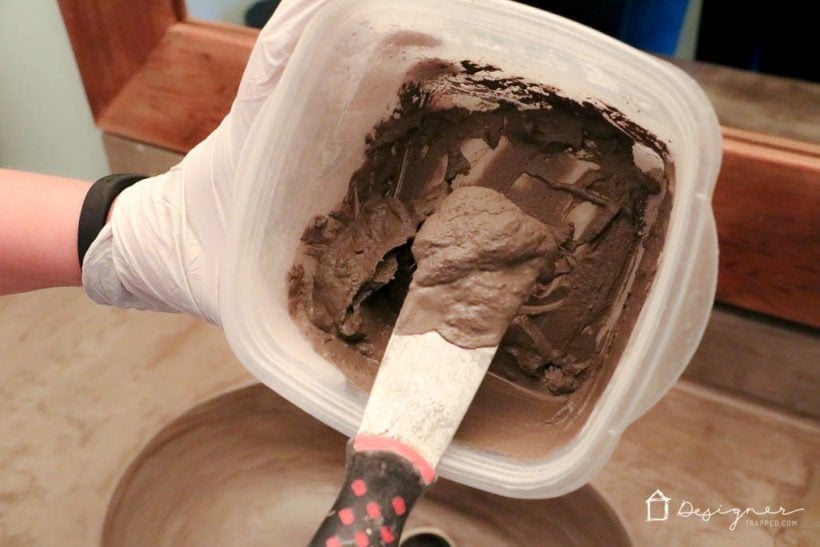 4) Use your finger to apply the concrete around your drain, being sure to overlap it on the surface of the drain ring slightly. Don't worry about making a mess. You can easily wipe any excess off the drain!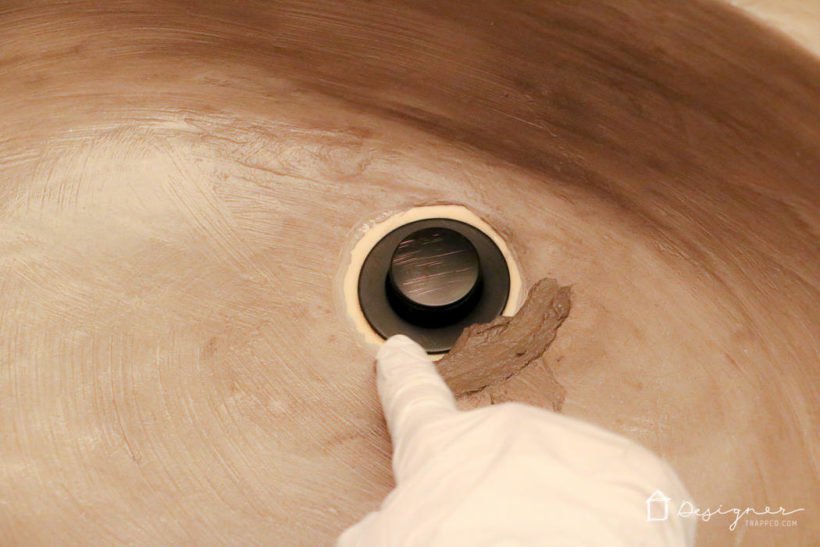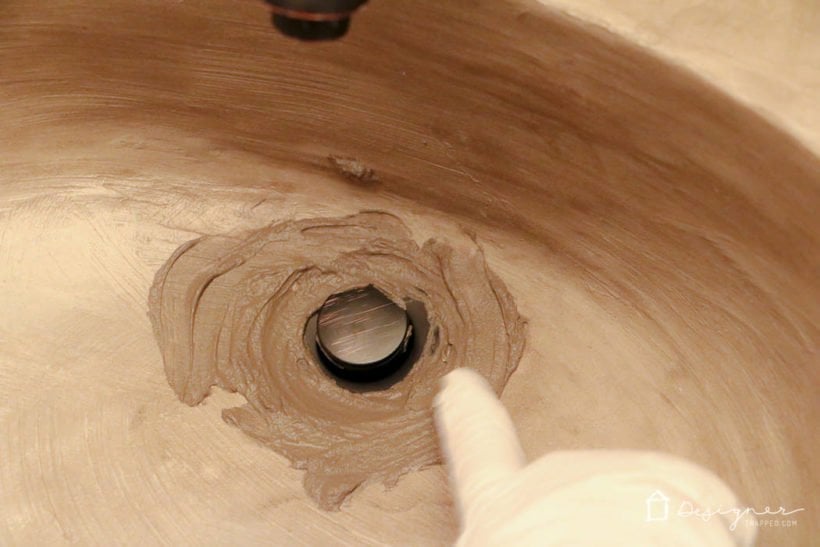 5) Use a damp paper towel to remove any excess concrete from the drain and to make the "circle" of concrete as smooth and even as possible.
6) Use your hand to wipe a small amount of concrete all over the sink basin. This will simply help even out any color differences that may result from adding new concrete to old.
7) Allow it to dry (overnight, if possible). Repeat steps 4-7 at least once. You really want to be sure that you have enough concrete around the drain–this may take 2 or 3 very thin layers. Allow the final coat to dry overnight.
8) Apply your Quickcrete sealer. This is the FIRST time we have had to re-seal the vanity and we only re-sealed the sink basin. I recommend following the directions on the package. We added 3 coats of sealer, be sure to get great coverage around the drain.
That's it! We "tweaked" ours about 2 months ago and it's PERFECT! No more discoloration around the drain. Wooo hooo! Here is what it looks like present-day after we tweaked the drain issue.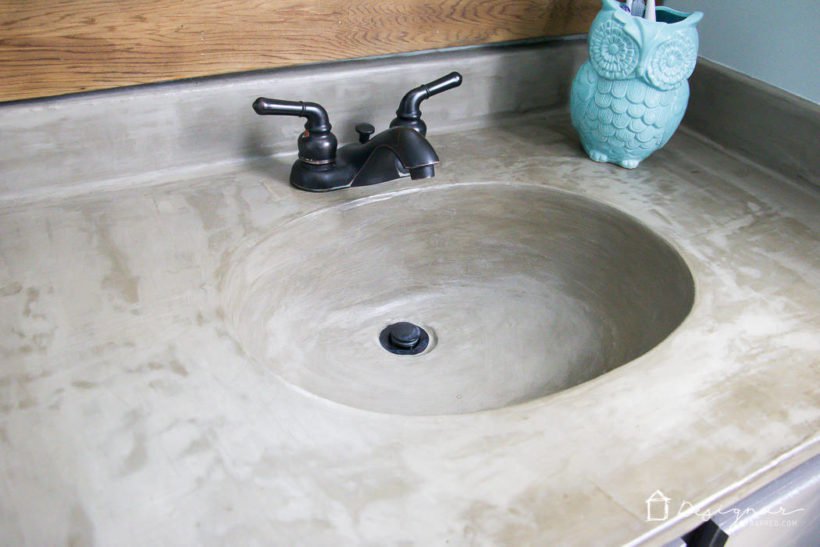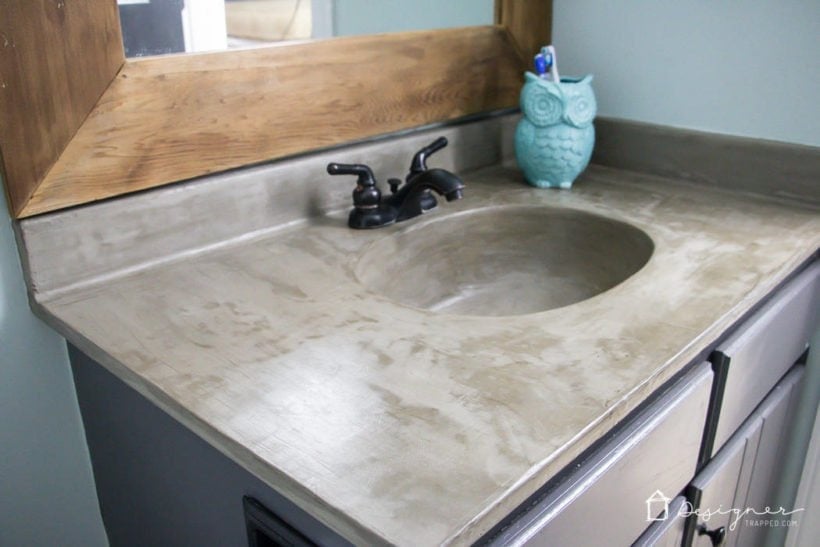 Would we do it again?
A million, zillion times YES! Y'all, this cost us around $20 and we love it! Even if we hadn't tweaked it, the slight discoloration around the drain would NOT prevent me from doing this again! But it is 100% perfect with the tweak. So, so happy with this project!
I've put together another video for you about this project–it includes an answer to the very popular question of "how do you clean it?" Enjoy!
Other posts you may enjoy:
Wondering how I approach transforming rooms and spaces in our home? Check out Designer in a Binder®.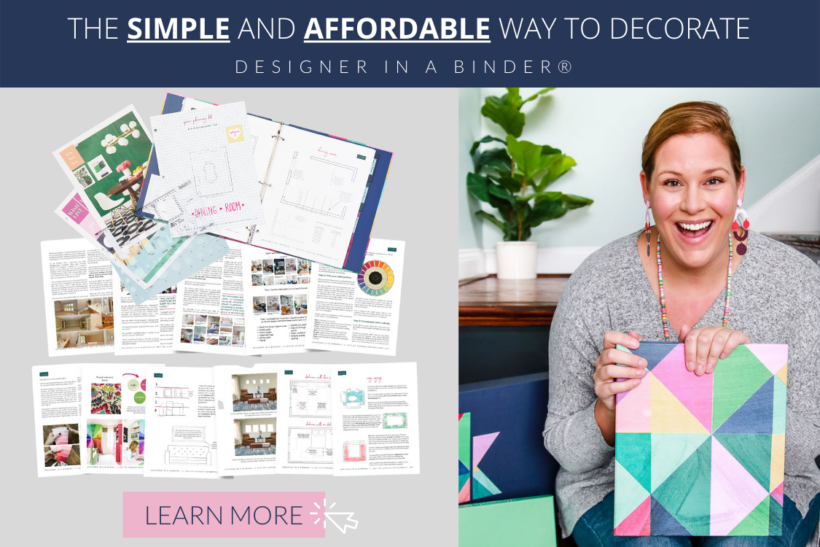 And if you want exclusive content and behind-the-scenes sneak peeks, be sure to subscribe before you head out!