Clever Dorm Room Hacks to Maximize Your Space
Dorm rooms are usually small with limited options for storage and organization. But there are clever ways to make the most of the space! These dorm room hacks will make your room feel more spacious and organized. With just a few tricks you can make the most out of your limited space.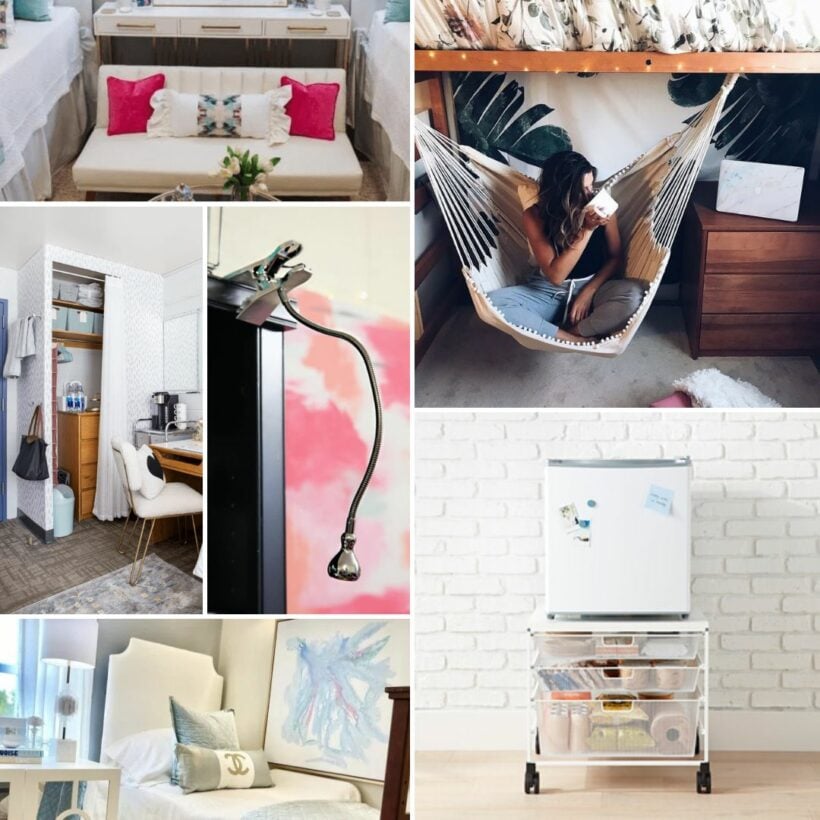 Genius Dorm Room Hacks
There are lots of dorm room decorating ideas out there. But what about ideas for storing and organizing all your your things in one-half of a tiny dorm room?! College can be stressful enough without worrying about a cluttered dorm room. With a little creativity and the right tools, your dorm room can feel like a cozy instead of cluttered and messy.
Under the Bed Storage
The bed is by far the biggest thing in your dorm room, so utilizing the real estate underneath it is key. Grab a pack of bed risers and put these tips to good use.
Add Drawers and Cubes
Once your bed is raised up, you can use all kinds of smart storage ideas to keep your stuff situated. Sliding a small dresser, a storage unit with cubes, and a rolling cart frees up SO much floor space making your room feel less crowded! You can also use the space for laundry baskets, a trunk, and bins with lids.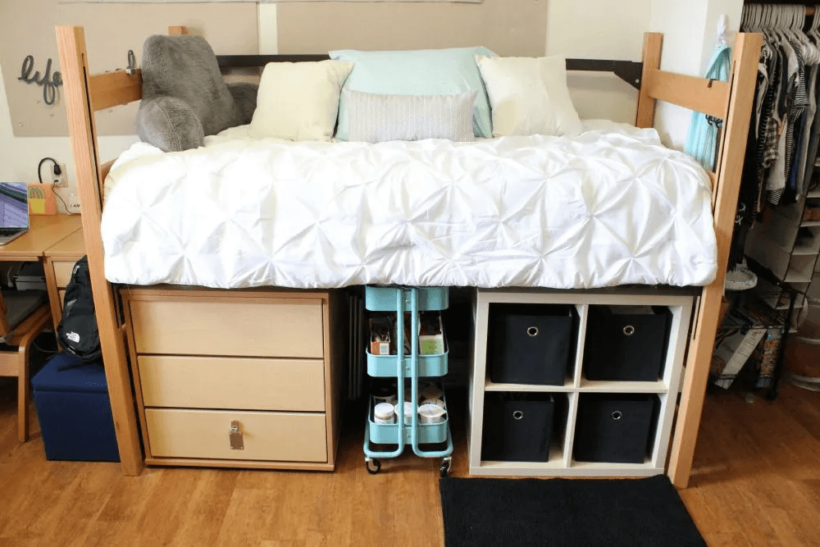 Hide Your Storage With a Long Bed Skirt
Hide the mess under your bed with a long bed skirt! Back when I was in school there were not a lot of options. These days a college student can easily find the perfect print and style to use as a screen for all kinds of under-the-bed storage. I was amazed at all the different styles and lengths you can get bed skirts in specifically for dorm rooms. I have made a DIY bed skirt and it is not too hard!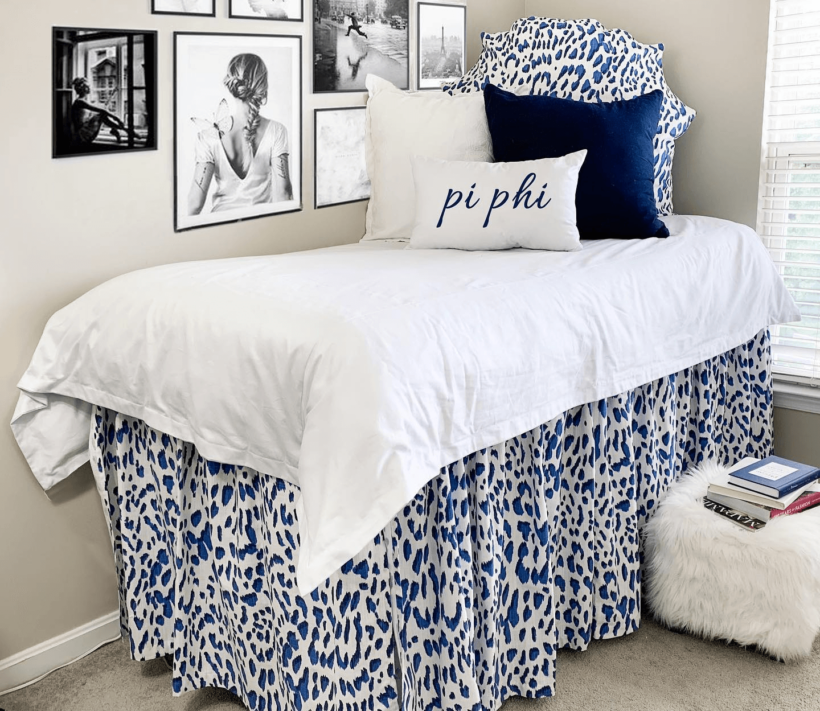 Add Interest With Temporary Wallpaper
Wallpaper has come a long way in the last 10 years. I am constantly amazed by the creative wallpaper ideas I see. Peel-and-stick wallpaper is one of my favorite college dorm room hacks because it is totally temporary and it comes in a million different prints and patterns.
Peel and Stick on the Wall
I am not sure why, but it seems like the walls of most dorm rooms are an awful color that hovers somewhere between brown and beige. I am sure it is meant to be universal and easy to decorate with, but it is really just sad. Installing removable wallpaper to cover it up is genius! This may be one of the best dorm hacks ever for improving the overall style of your space. This black abstract spot paper creates a visual difference between the bed area and the dresser, but you can also do the entire wall if you wanted!
Wallpaper Behind the Desk
Fun tye-dye wallpaper on the wall and on the drawer fronts makes the desk area of this room feel separate. Putting it up like this may feel like a hassle on move-in day, but the end result is awesome! They coordinated their accessories to match and it is the perfect place for homework and studying.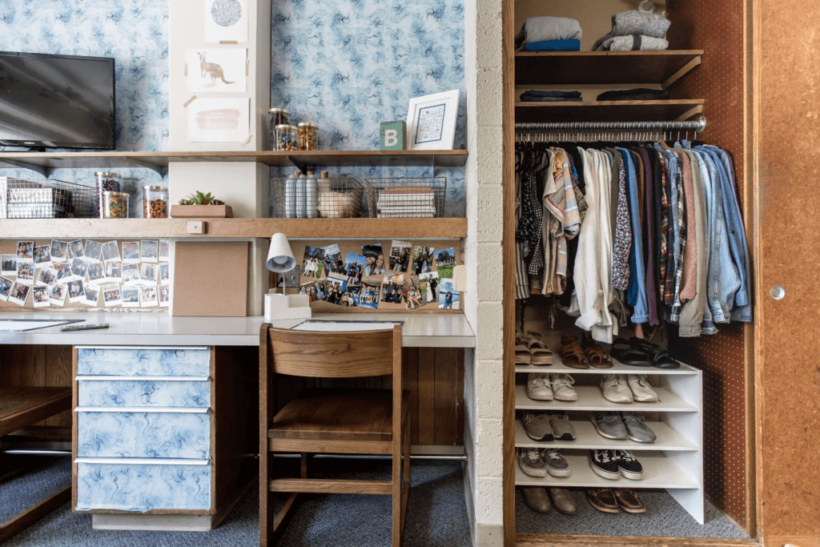 Cover An Open Closet With Curtains
A lot of dorm rooms have open closets because doors that open and close can take up a lot of floorspace. But it's easy to hang a curtain to cover the closet with a simple tension rod. This closet was an ugly purple and didn't match the mood of the rest of the room, so this designer mom covered the entire thing in a pretty pattern. Now it blends right in and looks perfect! They also added a simple white curtain that can be closed. So smart!
Smart Storage Solutions
One thing every student learns during their freshman year in the dorm is that some kind of organization system makes dorm life so much more pleasant. When you are sharing a very small space with a roommate, getting creative is the only way to go.
Storage Bins in Closet
Maximize your closet space with baskets and bins! Having coordinating storage makes the space look neat and gives you a spot for everything. Adding labels makes it all easy to find and eliminates needless digging around to find an extra cord for your phone or the extra command hooks your mom insisted you would need! This student added an extra cube system for more storage, which is perfect for smaller things like accessories or underwear and socks.
Refrigerator Storage Cart
Often, in a dorm room, there is no great spot to store food. I love this idea for getting the mini fridge off the ground while also having a spot for your snacks, essentials, and "kitchen items." I double all carts can handle the weight of a mini-fridge, so keep that in mind if you want to go this route.
Smart Kitchen Storage
This is such a simple hack, but it gets the job done! Just a fabric organizer made to go over mini-fridges, it hass a spot to hold everything! Utensils, snacks, and dishes all have their own pocket, similar to a shoe organizer but made specifically for your dorm refrigerator.
Rolling Cart for Necessities
Rolling carts have tons of uses in a dorm room. There are one of my favorite utilitarian storage pieces because they are also cute. You can find them in fun colors, different widths, and different heights. Here it slides in and out from under the bed, but I have seen them as a bedside caddy in a dorm which is also smart! These are also great for toiletries and makeup so you can easily access what you need.
Over-the-Door Organizers
Another great hack to create space-saving storage is to add over-the-door shoe organizers. Hang them over your closet door to store shoes, accessories, or even extra toiletries. You can even use them to store small snacks!
Clever Lighting Options
Fluorescent lights are standard in dorm rooms, but adding your own lighting makes the space more study-friendly and much more inviting.
DIY Overhead Lighting
Don't just settle for the awful overhead lights, DIY your own! I have used the cordless light DIY trick and it works so well. This designer made a super cool boho-style chandelier and it is hard to believe this is a dorm room!
Clip-on Light
Add a clip-on light to a shelf or your bed frame to give your eyes a break. These are key for being able to read or work in your own space without bothering your roommate! I love this sleek one but there are so many great options.
Puck Lights
Using puck lights inside a closet or wardrobe makes finding things so much easier! It is also great for getting ready in the dark when your roommate is sleeping. These stick right up and are so easy to use.
Cool Furniture
Every dorm room comes with the basic furniture you need to survive, but adding in some special pieces allows you to have more room to store things, hang out and enjoy the space.
Add a Futon
A futon pulls double duty in a dorm room, so if you have space it is a no-brainer to add one. One tough thing about a dorm is there are not a lot of places to sit except on the beds to socialize and there is nowhere to sleep but the floor if you have a friend from out of town. Add a cute little futon and you get the best of both worlds!
Headboard Shelving
Adding shelves as a headboard to your bed is genius! These add vertical storage, which is always a win, and they give you a spot for fun decor, mementos, books, and other small items that need a special spot. You can also add lighting like the clip-on or puck lights above to make a cozy reading and study spot!
Hammock
Lofted beds have lots of extra space underneath and adding seating in that open area is a smart use of the space. I love that this student added a fun hammock chair! It looks great with the boho leaf wall treatment and brings fun to what can be a really boring space. She has tips for hanging one yourself.
Cubes for Extra Storage Space
Another versatile piece of furniture are storage cubes. It has become a trend to add these to dorm decor and I understand why. They actually pull triple duty–extra seating, a step stool to get into beds on risers, and extra storage space! Such a smart dorm room hack. Not to mention they look awesome!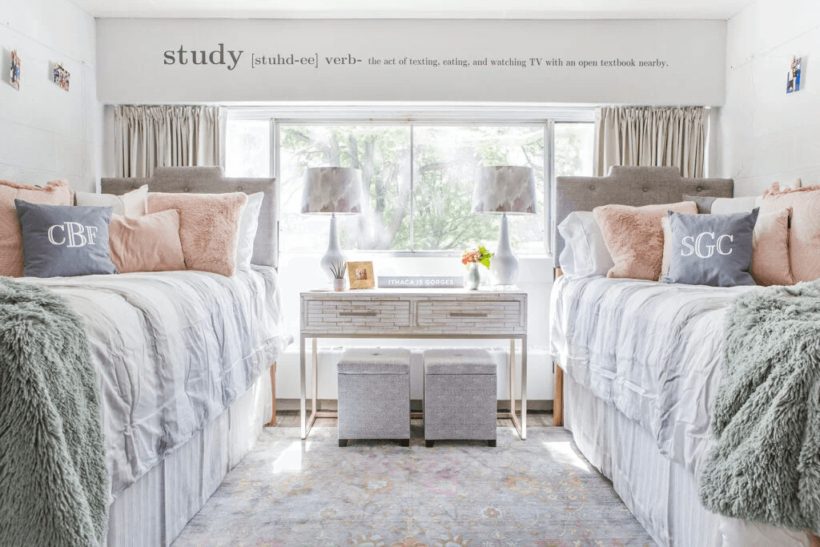 Desk Hutch
Vertical storage again for the win! Lots of dorm rooms come with a desk that has an attached hutch, but if yours does not, definitely add one. This simple piece of furniture gives you tons of extra storage without any extra floor space. You have spots for school supplies, makeup, framed pictures from home, and decor! They also help to create a study nook that will help keep your area separate from your roommate's area.
Dorm Headboard
This idea was new to me, but it is amazing. There are hacks out there to add a headboard to your college-issue dorm bed. Not only is it so much cuter, it is also SO much more comfortable. There are options with velcro command strips for hanging or ones that attach to the bed. Adding a headboard instantly transforms your room, making it feel more like home and less like a sad box with no personality!
How excited are you to try these amazing dorm room storage hacks and decorating ideas? Don't settle for an unorganized boring room. Make the most of your space. After all, it is all yours for a whole year!
Other Posts You May Enjoy:
Wondering how I approach transforming rooms and spaces in our home? Check out Designer in a Binder®.
And if you want exclusive content and behind-the-scenes sneak peeks, be sure to subscribe before you head out!