Small Closet Organization Tips and Tricks
Last Updated on August 10, 2021
Have a house full of small closets that leave you feeling frustrated? These small closet organization tips and tricks will help you maximize every inch of space!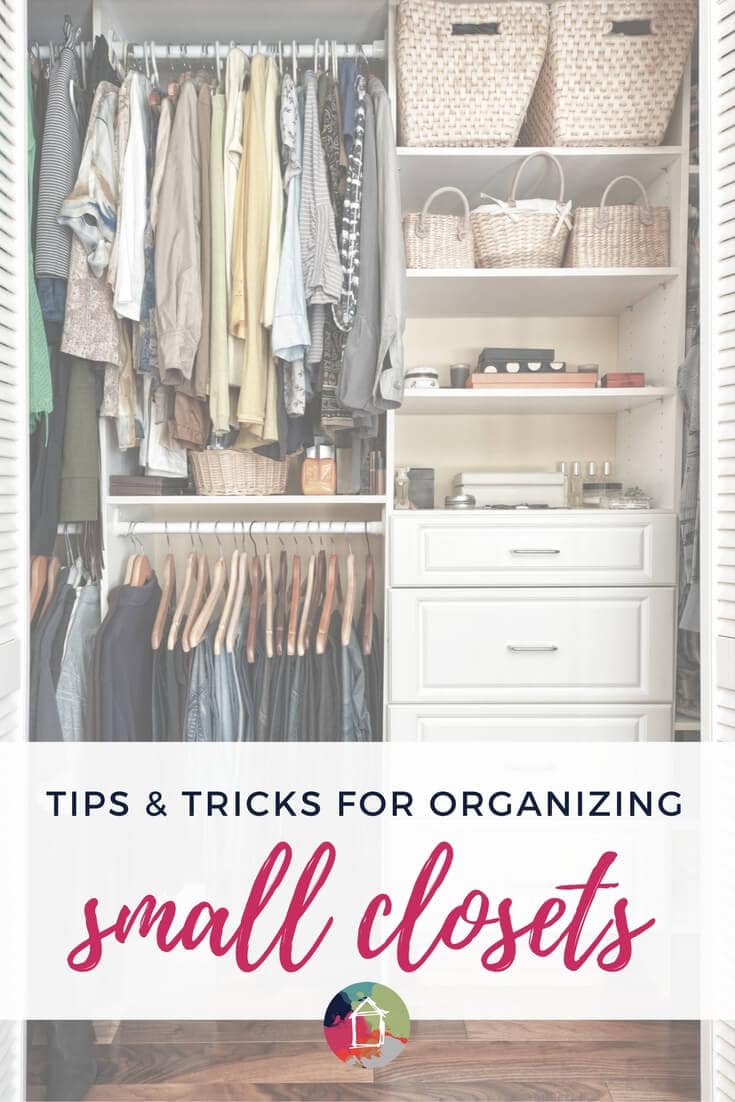 Do you wish your life was more organized, but you don't know where to begin? I'd like to help. My name is Pam Hoepner. I'm a librarian, professional organizer, and mom to teenagers, so I spend a lot of time keeping things organized! My organizing company is called The Economical Organizer because I know you really can organize your home so that it's neat and decluttered for very little money, because I have done it myself. At my blog Life, Creatively Organized, I share easy and inexpensive organizing and DIY ideas, as well as fast, family-friendly recipes because I want to help other women become more organized and less stressed, so they can live more joyfully.
If you have a tiny closet, you might think it's impossible to make it functional. In this post I'd like to share my favorite easy and inexpensive ways to help you organize your small closet, so it will be neat and tidy. And I'm using my own closet as the example.
Small Closet Organization Tips and Tricks
Weed out items you no longer wear.
This can be the most challenging (but necessary) part of organizing your closet, especially if it's a small one. Here is what I have my clients do when we are working on their closet. Take out ALL of the hanging clothes. Look at each piece and decide whether or not you want to keep it. Is it stained? Itchy? Hard to iron? Only matches 1 dry-clean-only skirt? Have you worn it recently? Be realistic. If someone else can use it, bag it up and donate it. If it is damaged beyond repair, use it for cleaning rags or throw it out. Now, hang the remaining items back in your closet, BUT turn the hangers around backwards. In 6 months, do another inventory of your closet. Are there still items hung backwards? This means you haven't worn those clothes in 6 months! Why not go ahead and donate them so someone else can benefit from them? The added bonus, of course, is that you gain even more space in your closet. A win-win, in my book.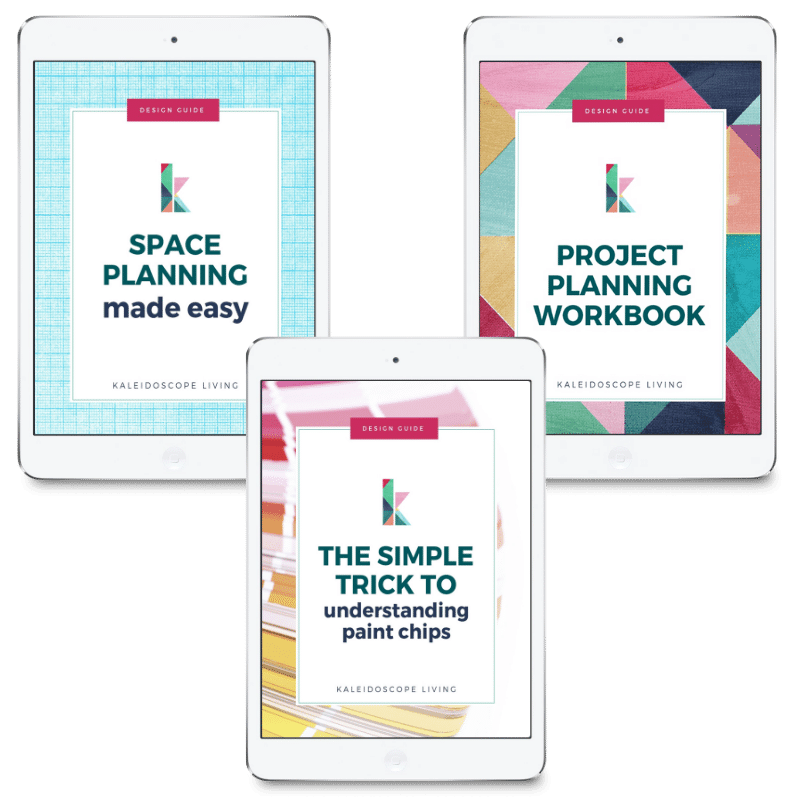 Get my FREE design guides when you subscribe!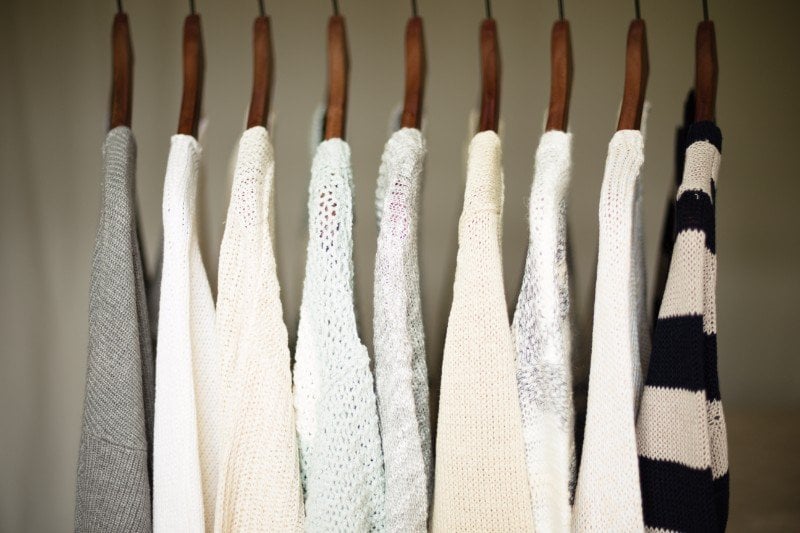 Add a second closet rod.
Adding a second rod is a fast and efficient way to instantly double your hanging space. You can hang wire shelving, which I recommend because it also adds a second shelf that is great for storing folded sweaters and jeans. They are quite easy to install and inexpensive. But, if you find that level of DIY intimidating, you can simply purchase a wooden closet rod at your local home improvement store. Many times they will cut it to length for you for free. Simply hang the rod from your existing rod via rope or chain. This works great in children's rooms, where siblings share a single closet, or when your preschooler wants to get dressed by themselves, but can't reach the higher rod, leading to frustrated tears (for both of you).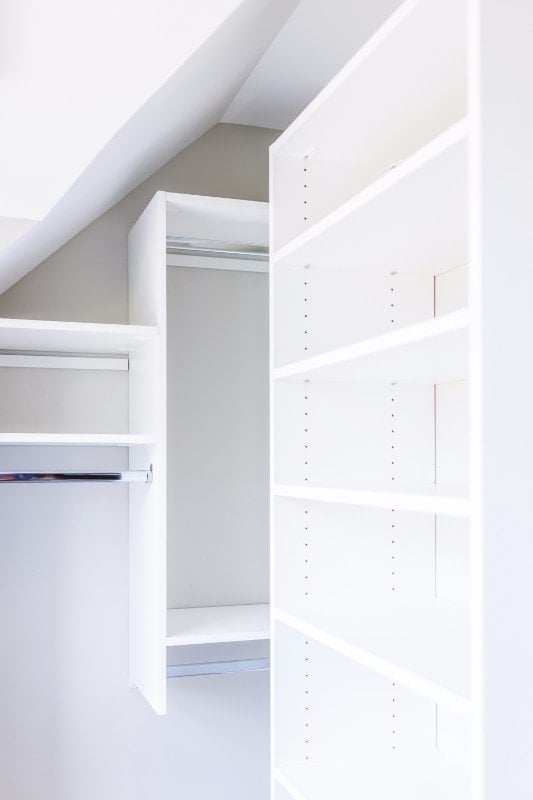 Add even more space with pop tops.
I have found it saves time in the morning if your clothes are categorized in your closet. Personally, I have my business clothes on one rod and casual clothes on another. If you have specific items you wear together, thread a pop top (from a can of soda) over the hook of a hanger to create a "double" hanger. Hang the second item through the hole in the pop top. This way the suit skirt and blazer, etc. can be hung in one space. Your outfit is together and you save hanging space, too.
Keep shoes organized.
I live in Florida. We tend to wear a lot of sandals and flats here. They can really get jumbled up all over the closet floor, making it impossible to find particular pairs. A great way to organize and protect them is by using cardboard magazine boxes. They are inexpensive to pick up at the dollar store or places like Wal-Mart or Target, and work great. Depending on the style of the shoes, magazine boxes cand hold 3-5 pairs each.
You can also repurpose cardboard boxes, woven baskets or plastic baskets to store your flat shoes and flip flops. Tasha stores her flip flops in that cute "Etc." box you see.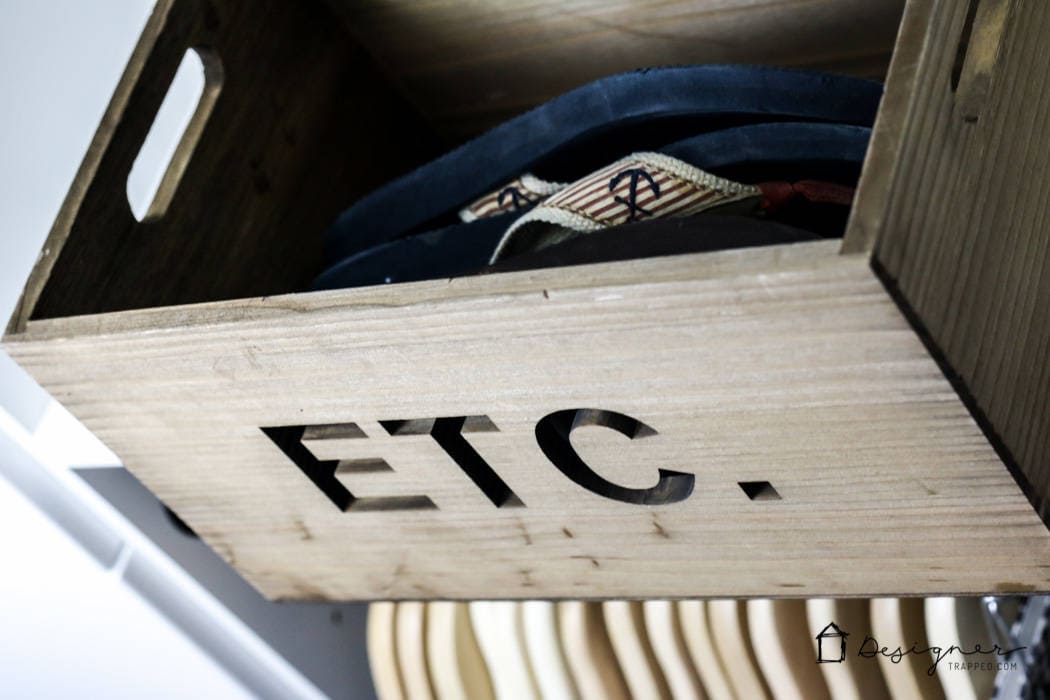 Boots can be cumbersome, too (especially in Florida where we don't wear them often). Tall boots also tend to flop over, creating a crease at the bottom. Slide a piece of pool noodle into each boot to keep them upright. You can also hang them up using a pants hanger if you have more hanging space than floor space in your closet.
Always use the door and walls.
Doors and walls are valuable organizing spaces that are often overlooked. Of course, using an inexpensive over-the-door shoe rack is a terrific way to organize shoes in a small closet, but shoe bags work great for other things, too. I love how Tasha used this hook and rail system in her small coat closet!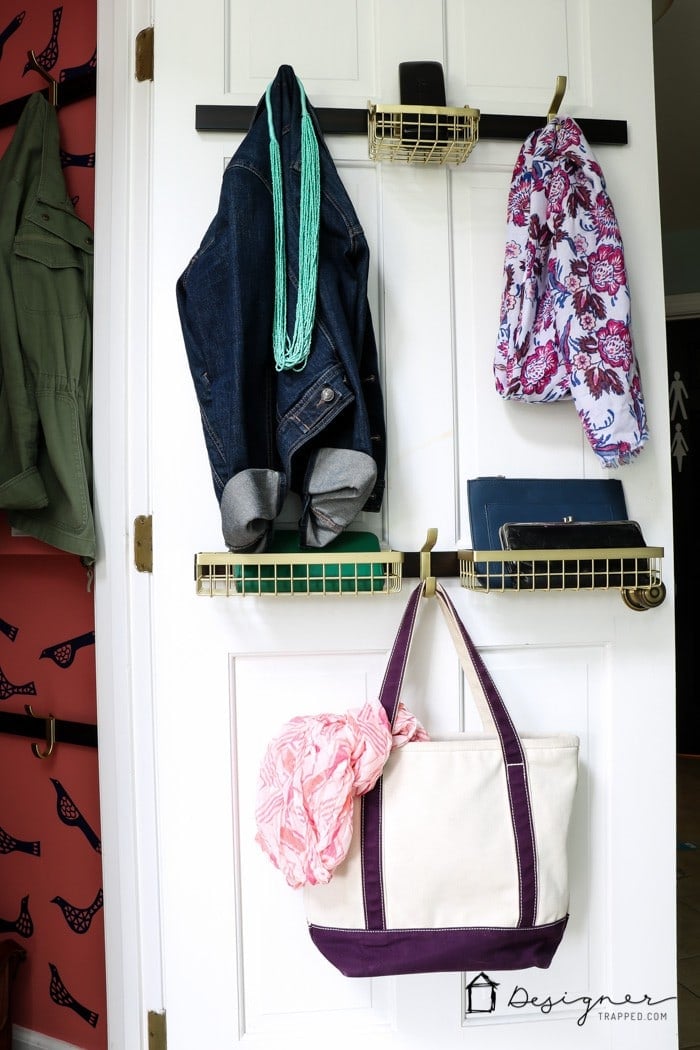 And though her master closet is fairly large, she still uses the back of her door for additional shoe storage. Using a shoe bag is an easy way to organize all of your decorative scarves. It works great for all of your winter accessories like hats, mittens, etc., too.
Use an inexpensive hanging rack on the closet wall to organize jewelry. If you have a larger bit of wall space, a coat rack works great, too!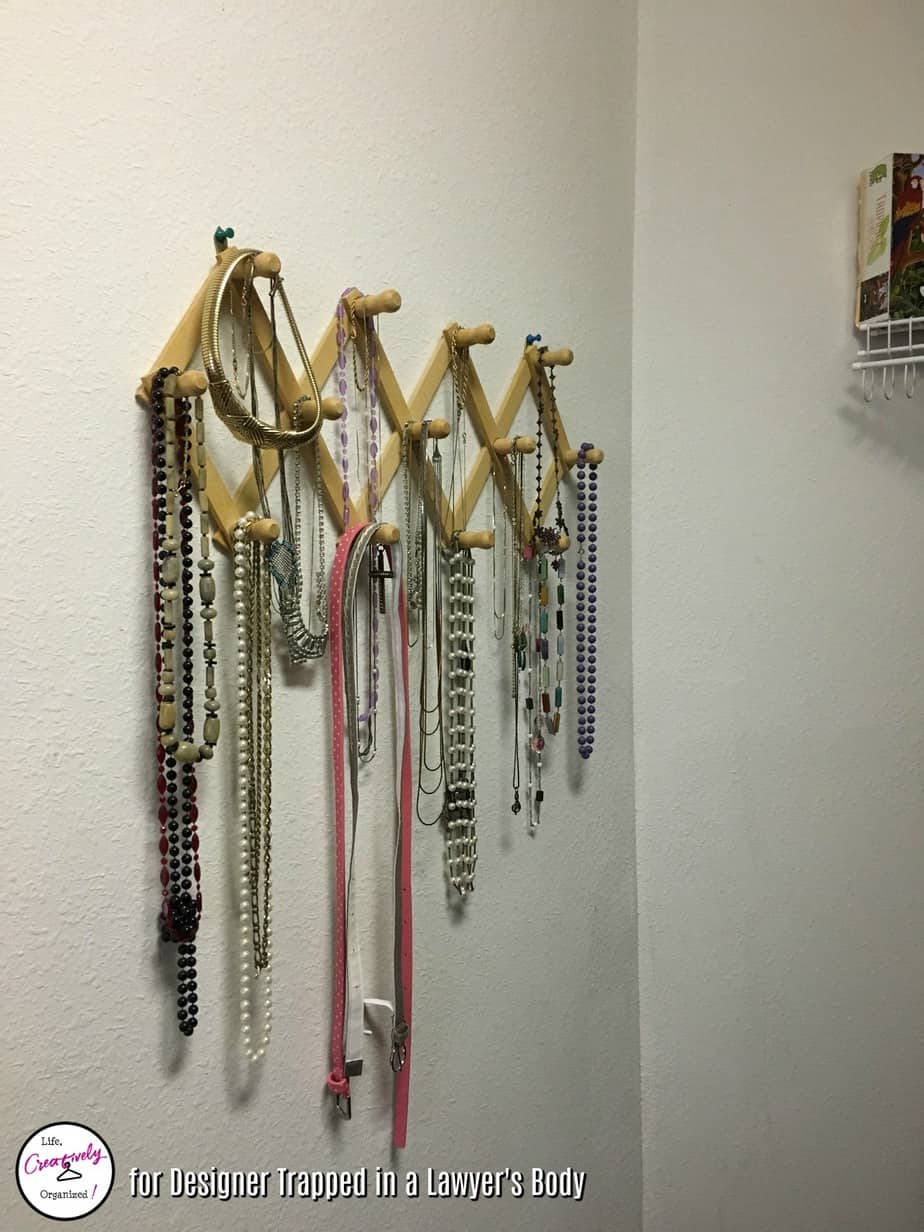 And one of my favorite tricks is to use the wall space near the closet door to hang items that don't get used often, like bulky carry-on luggage or sleeping bags. These are hung up with Command hooks, so there are no nail holes and they work so well!
Get a big bang for your buck – 4 ways to organize accessories for a dollar!
As I mentioned at the beginning of this post, great organizing doesn't have to be expensive! Here are 4 ways to use a $1 package of shower curtain rings (from the dollar store) to organize your accessories.
Organize your scarves this way so they don't get wrinkled or tangled, and this method takes up very little room, too.
Using shower curtain rings is an easy way to organize your belts, too. (Tip: if you don't have many belts, keep them lined up in the middle of the hanger, otherwise they tend to all slide to one end.)
Are there a lot of ball caps in your house? They can be difficult to keep neatly organized. Organize them using shower curtain rings strung on a hanger. Simply attach the hats to the rings through the loop in the back. You can store up to 10 hats on one hanger, depending on the style of cap.
Purses can also be a challenge to keep neatly organized because of their different strap lengths. Hanging them up using shower curtain rings helps solve this problem.
So, don't despair over your tiny closet! You really can easily and inexpensively organize your small closet just like a pro, using simple organizing tools like these.
Ready for some more organizing and DIY ideas? Check out these popular posts of mine. I hope to see you over at my blog Life, Creatively Organized soon!
| | | |
| --- | --- | --- |
| 14 ways to add storage using bathroom walls! | DIY fairy house planter | Organize your junk drawer with recycled boxes! |