Space Planning Basics: How to Create a Space Plan
If you have ever felt overwhelmed trying to make sense of a room or arrange furniture in a space, then you already know the importance of good space planning. Whether it's figuring out how to fit all your favorite pieces into a smaller area or making sure your layout flows well for how you want to use the space, creating an effective space plan can be a challenge. But it's so incredibly important!
In this post I'm sharing what goes into successful space planning and share some tips on how to create your own customized room layout. You will learn what space planning is, why it is so important AND learn how to create a space plan. Keep reading if you're ready to unlock the power of smartly designed spaces!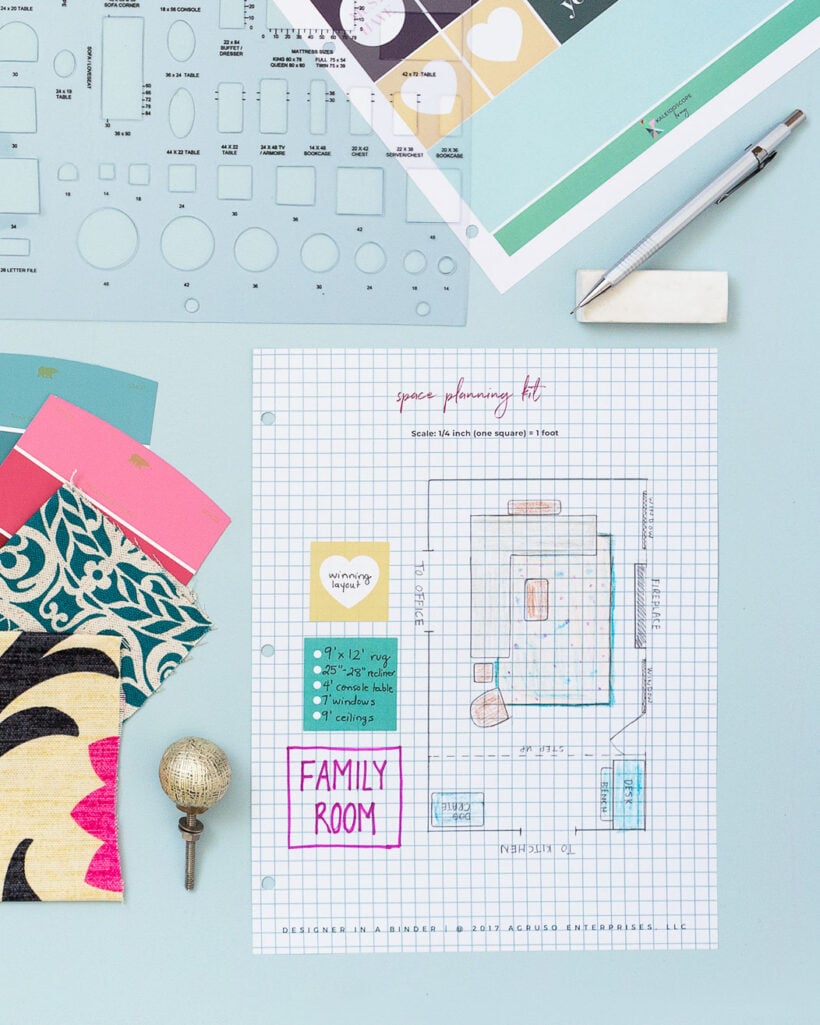 Has this ever happened to you? You fall in love with a piece of furniture. The color is perfect. The shape is perfect. You love everything about it. So you buy it and either take it home or have it delivered. And that's when you realize it's a bit too big or small for your space. It just doesn't feel quite right. And now you have to find the time in your busy schedule to return it. Or you can just live with it (and have it drive you crazy). Neither option is appealing.
What you find yourself wondering is, "how did this happen? It looked like it would fit in my room perfectly!" The reality is that your mistake happened before you ever started your furniture search. You made a mistake by not creating a space plan for your room before you even started your shopping. Like most people, you started shopping feeling like you had a good sense of how furniture would fit into your room. Sadly, that almost never works out. I speak from experience.
You need to embrace space planning! Based on my experience, creating a mood board and a space plan are two of the most important things you can do when designing a space.
Space planning involves arranging furniture, fixtures, and equipment in a room or area to maximize function and efficiency in an aesthetically pleasing arrangement. Interior designers know that creating an interior design space plan is an important step in the design process. But you don't have to be an interior designer to create your own space plan.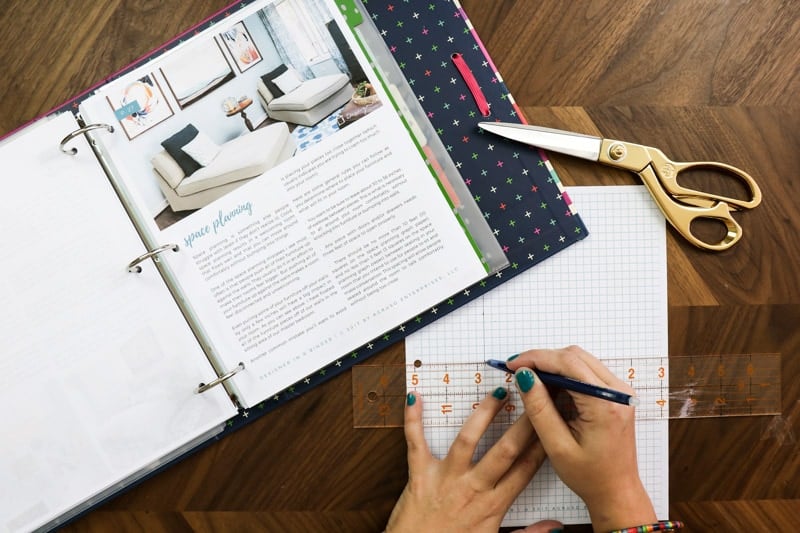 What is space planning?
Simply put, space planning is an assessment of how the space in a home or room is used. Space planning considers who will be using the space and what they will be using it for. When done well, space planning takes into account traffic patterns in and out of the room, as well as necessary space in between furniture pieces so that you can move around the room without bumping into things, etc.
What is a space plan?
Space planning ultimately leads to something called a space plan. A space plan is just a to-scale drawing that includes the architectural elements of the room (doors, windows, and immovable objects like fireplaces or built-ins). Once the room itself is sketched out, furniture is then added to the space plan to make sure it fits and uses the space well.
Why is space planning important?
Space planning helps you maximize the available space in a way that makes sense for how the space is actually used! If you only focus on the aesthetics of a space and ignore the function, you end up with a space that is awkward and frustrating to be in.
Our current kitchen is a great example! Whoever designed our kitchen when the house was originally built came up with a beautiful and symmetrical design. It's pretty to look at! But it's far from ideal to cook in because no one took the time to consider how the space would function as someone cooks a meal or puts away dishes. There is only about 18 inches of countertop space on either side of the cooktop–that makes it really challenging to dish out dinner from whatever I have cooked for 4 people. It's so frustrating.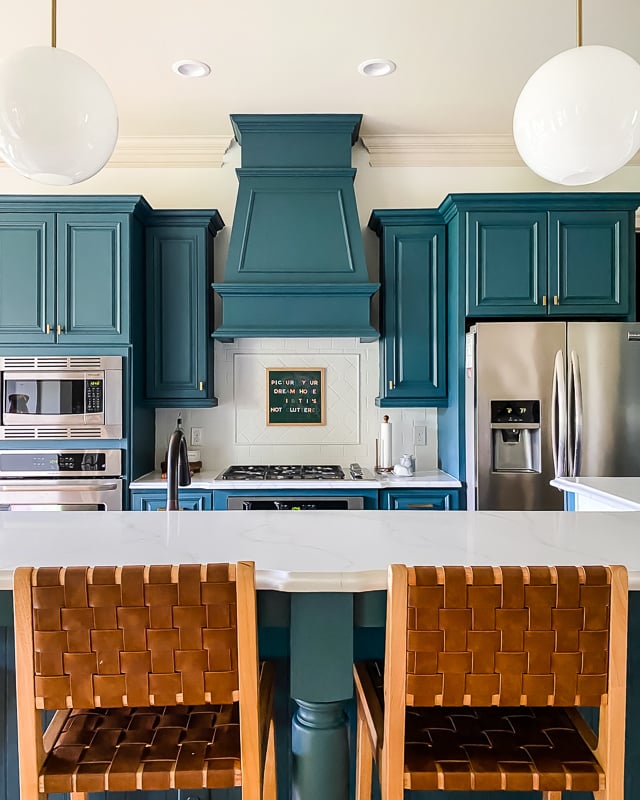 How to Create Your Own Space Plan
Good news! You don't need any special design software or skills to create a space plan. You just need a measuring tape, some graph paper, a pencil and some time and patience.
The easiest way to try different furniture arrangements is by using a reusable architectural furniture scale (like the one included with Designer in a Binder).
But you can also cut out to-scale furniture pieces and move them around on your space plan until you find the perfect arrangement–furniture templates you can cut out! It's a bit more tedious than using an acrylic furniture scale, but it works!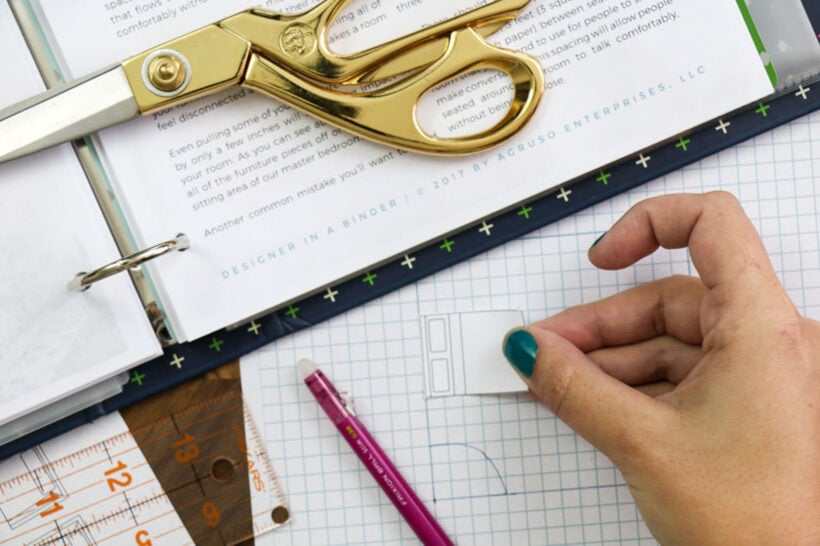 To make creating your own space plan SUPER easy for you, I've created a space planning kit that is absolutely free to my newsletter subscribers. All you have to do is subscribe and you will get access to it (and more free design guides) right away.
Time needed: 1 hour
Follow these steps to create your own space plan.
Assess the architecture and use of your space.

To create an effective space plan, you should start by analyzing your space and what you like and don't like about it. Consider your room's size, shape, natural lighting, and traffic flow. Ask the right questions about how the space will be used and by whom. This will help you decide what types of furniture and fixtures are needed and where they should be placed.

To create a space that is functional, I suggest asking yourself these questions:

– How will we use this space?
– How many people will be using the space and what will they be doing?
– Are there any natural focal points in the room, such as a fireplace or windows with an incredible view?
– Is there anything in the space that I want to detract attention from?

Measure.

Measuring the space accurately is crucial when creating a space plan. Before you can start designing the layout, you need to know the dimensions of the room, including the ceiling height, the length and width of the walls, and the size and shape of any openings, such as doors and windows. You should also measure and note any permanent features in the room, such as columns, built-in bookcases and/or fireplaces.

Sketch out your measurements.

It's actually really easy to sketch out your measurements. All you have to do is draw straight lines on graph paper. I PROMISE you can do this. If you grab my free space planning kit, you will use a scale of one square = 1 foot. So, if your room is 16 feet long, that would translate to 16 squares on the graph paper. Easy peasy. It will look something like this when you are done (this is a sketch I made of our family room–it's not pretty, but it works)!



Experiment with different furniture placement.

Once you have a good sense of your space, start experimenting with different layouts. If you have a natural focal point, try to develop a furniture layout around it. Use an architectural scale or cut out furniture templates to test out different furniture arrangements and see which one works best.

Remember to leave enough space for traffic flow and to create conversation areas. Below are some space planning guidelines to keep in mind:

– You want to be sure to leave about 30 to 36 inches of walking space between pieces. This is what is necessary to all around your room comfortably, without knocking into furniture or bumping into walls.
– Any piece with doors and/or drawers needs three feet of space to open properly.
– There should be no more than 10 feet (10 squares on my free space planning graph paper) and no less than 3 feet (3 squares on my space planning graph paper) between seating in your room that you intend to use for people to sit and make conversation. This spacing will allow people seated around the room to talk comfortably, without being too close.
As you test different furniture layouts, it will become easy to see if a loveseat will fit in your space far better than a full-sized sofa. And you can play around with different layouts and options without dealing with returns of purchases that don't work and/or the manual labor required to haul heavy furniture around.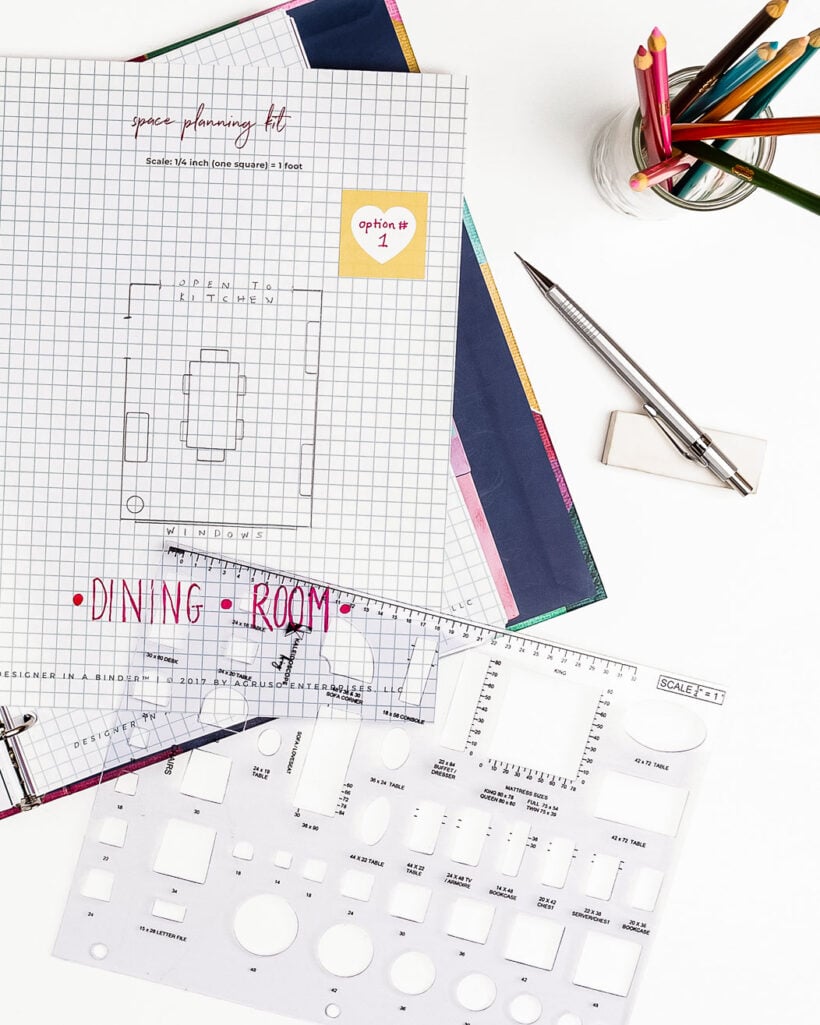 Common Space Planning Mistakes
Pushing all of your furniture against walls
One of the space planning mistakes I see most often is that people push all of their furniture up against the walls. They usually do it in an effort to make their rooms feel bigger. But pushing all of your furniture up against the walls makes a room feel disconnected and unwelcoming. Even pulling some of your furniture off your walls by only a few inches will have a big impact in your room. You can see an example of this in our old family room–the sofa sits about a foot off of the wall with the DIY art ledge on it.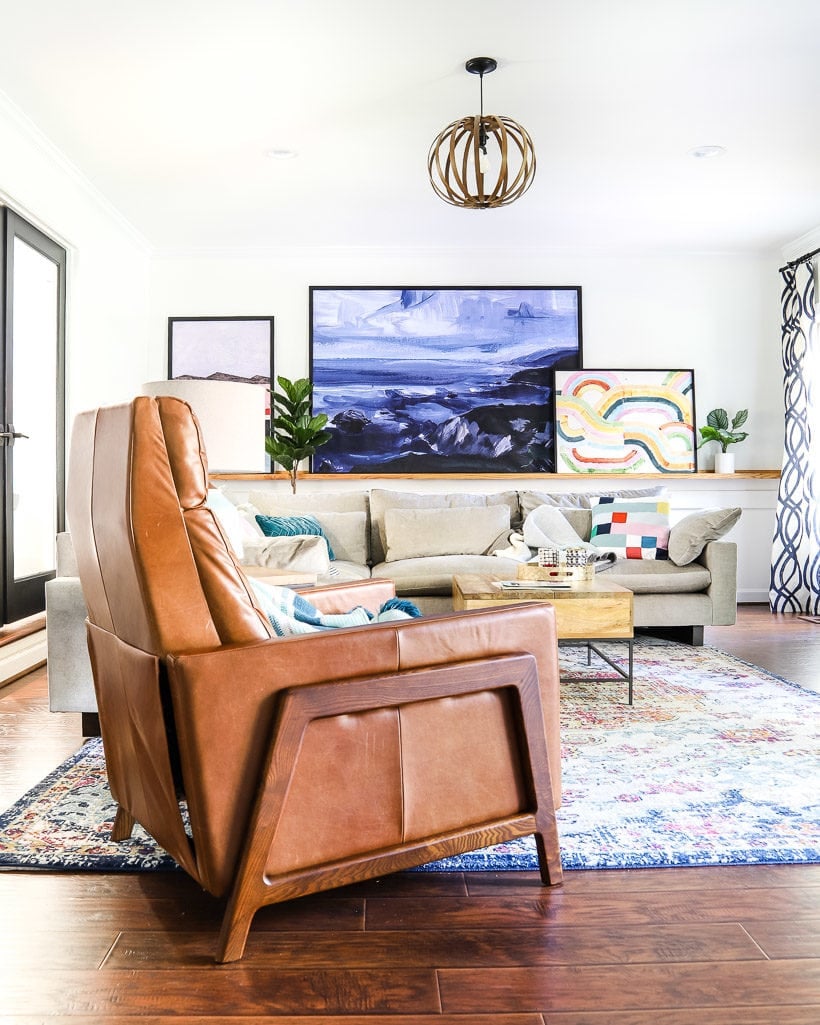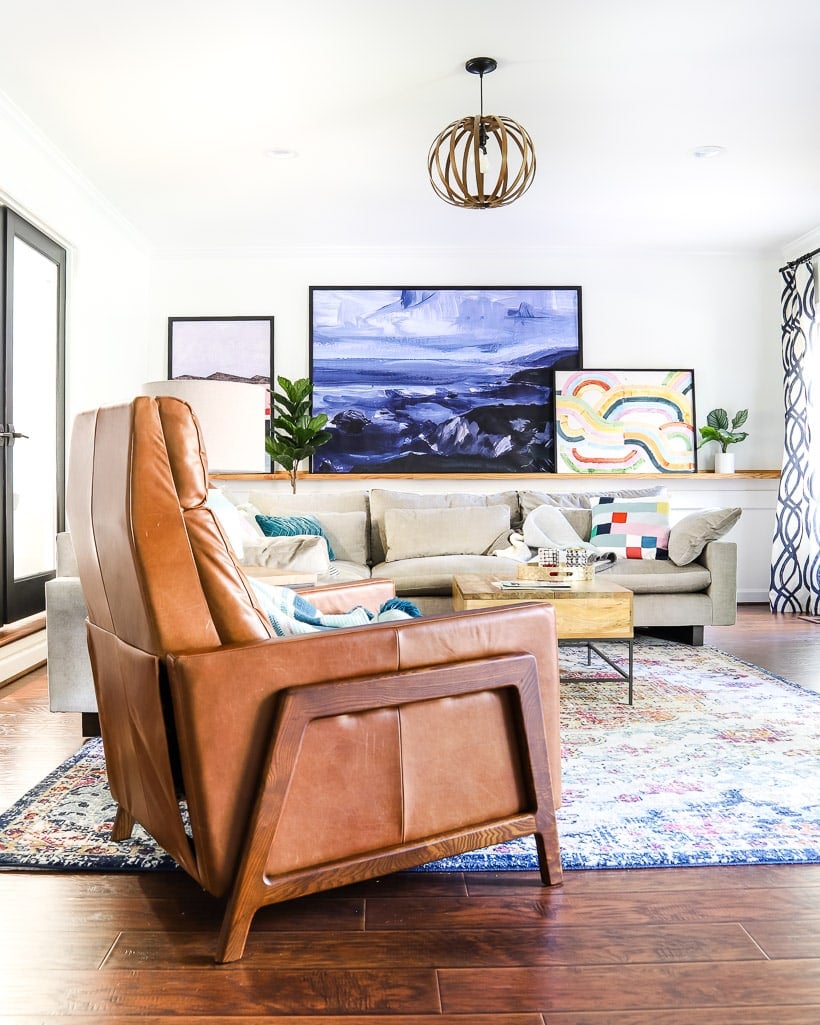 Ignoring who will use the room and how it will be used
Another common space planning mistake is not considering the people who will be using the space and how they will be using it. A space plan that looks great on paper (and even in person) isn't successful if it is not practical or functional for the people who actually live or work in the space. In fact, chances are the room won't get used at all, or it will get used but be the source of a lot of frustration.
Not creating zones
Whenever you are designing a room that serves multiple purposes and/or is very large, it's really important to create distinct zones so that you can have a truly functional space. For example, the bedroom in our old home was very large, so we created distinct zones for sleeping and sitting/relaxing.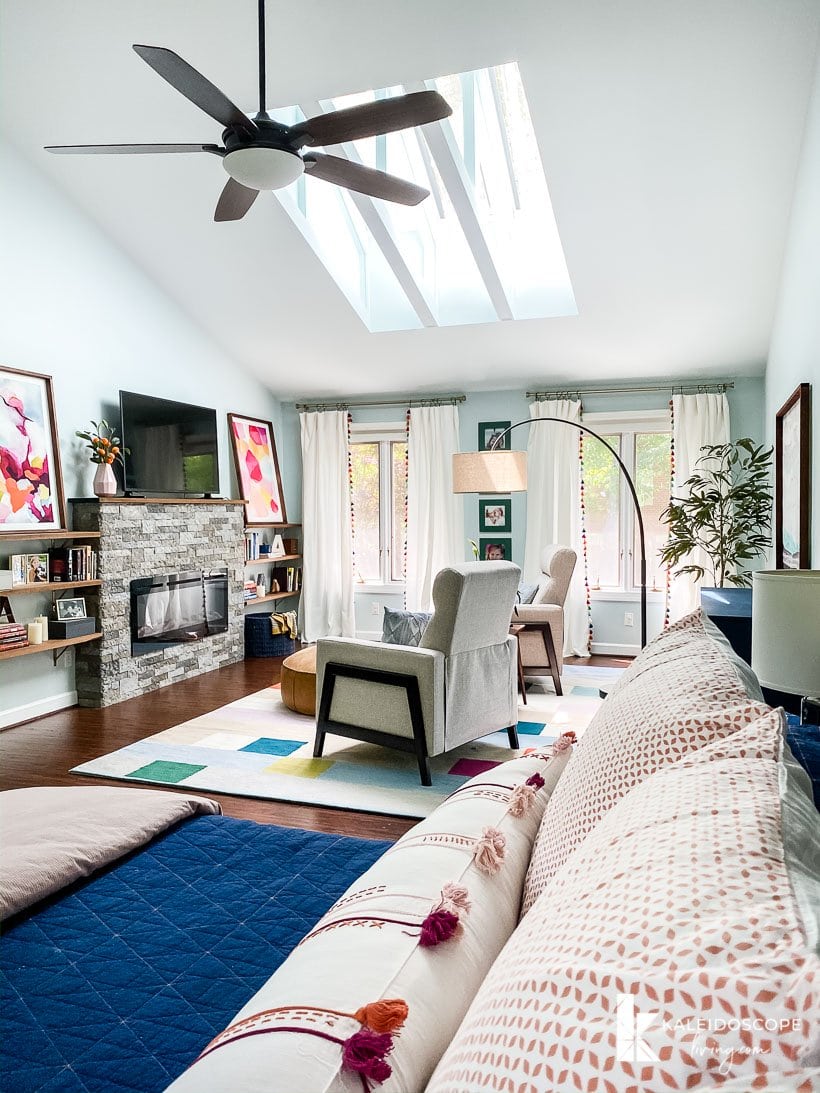 And in our long, rectangular family bonus room, we created a sitting zone and a game zone. Without zones, this room would look like a confusing mess.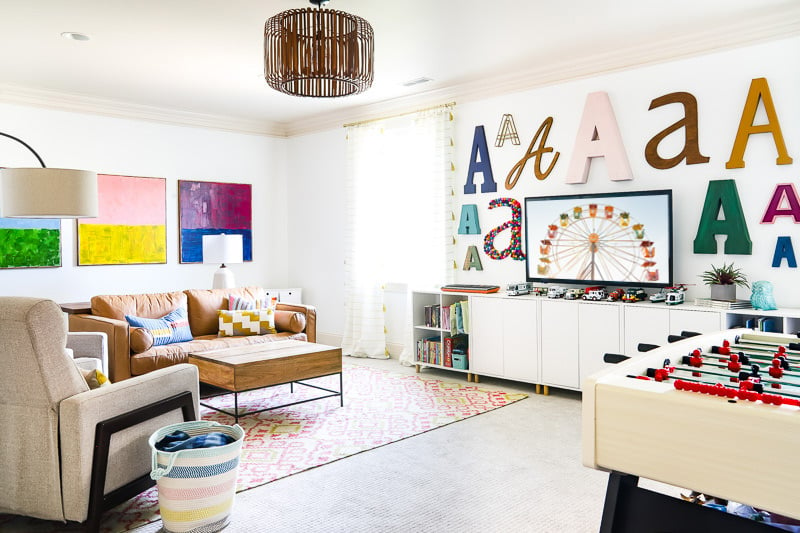 Not leaving enough room for traffic flow and circulation patterns
Another mistake is not leaving enough space for traffic flow. It is absolutely crucial to make sure that there is enough room for people to move around the space comfortably without feeling cramped or blocked in. This is especially important in areas with high traffic, such as hallways or entryways, or in rooms that are "pass-throughs" to other spaces.
Ignoring scale and proportion
Finally, another common mistake is failing to consider the scale and proportion of furniture and accessories. Using furniture that is too large or too small for the space can make the room feel unbalanced and uncomfortable. The same is true for the size of any area rugs you may use in the space (check out my posts about choosing a living room rug size and bedroom area rug if this is something you struggle with). It's important to choose furniture, accessories, art and rug(s) and accessories that are appropriate in size and scale for the space. This is something I go into in details in Designer in a Binder.
Overall, proper space planning is an essential part of the interior design process. By carefully analyzing a space and using the principles of design, you can create a functional and beautiful environment that meets the needs of the people who use it.
Keep in mind that creating a space plan is just one part of creating a cohesive design plan. A well thought-out design plan requires thought about a color palette, lighting, room size, scale AND space planning. You can get all the info you need to create a cohesive design plan in Designer in a Binder.
Other posts you may enjoy:
Wondering how I approach transforming rooms and spaces in our home? Check out Designer in a Binder®.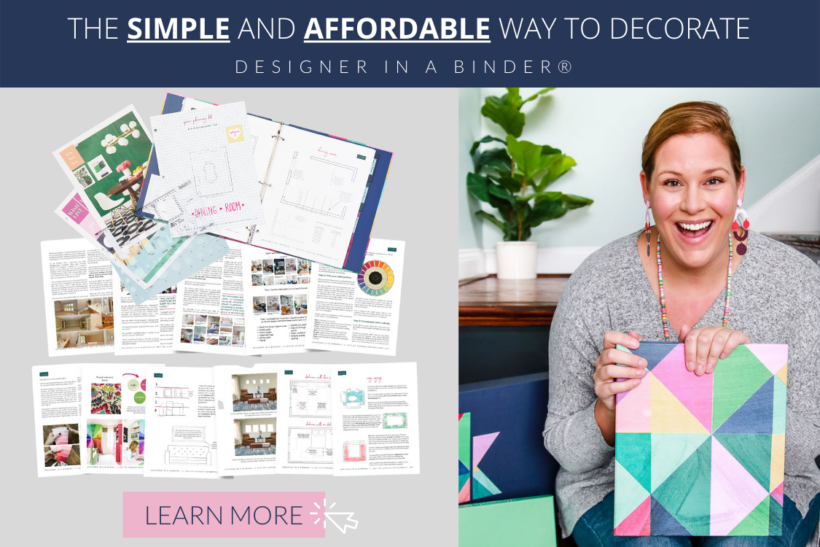 And if you want exclusive content and behind-the-scenes sneak peeks, be sure to subscribe before you head out!