Stylish Boob Light Alternatives to Elevate Your Home
One of the quickest and easiest ways to give your room an upgrade is to switch out a boob light. These unsightly light fixtures are everywhere and we are here to help you find the perfect alternative! There are so many beautiful replacement light fixture options out there. All it takes is a little handiwork and the ability to follow installation instructions, and you can showcase stunning new ceiling lights in every room!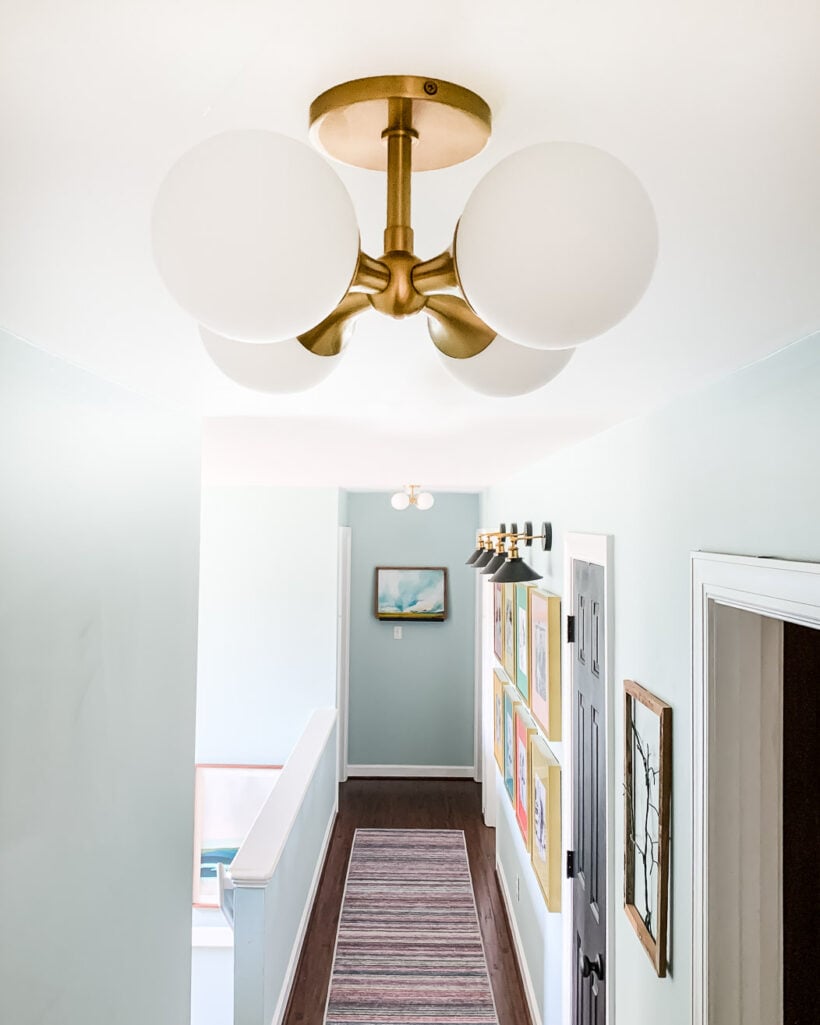 What are boob lights?
Boob lights are overhead light fixtures that are close to the ceiling and they resemble, you guessed it, a boob. Normally they have a rod down the middle and a glass bowl as the shade held on the rod with a finial that looks (unfortunately) like a nipple. The hardware can vary, but what doesn't vary is the overwhelming appearance of an actual boob in the middle of your ceiling.
Why are boob lights so common?
Boob lights are common in homes. But with how much it seems people dislike them, the big question is "WHY?" These types of flush mount light fixtures are super popular with builders and contractors because they are extremely inexpensive and can easily be purchased in bulk. If you moved into a builder-grade home in the last decade, I am sure you were staring at quite a few boob lights. They also are easy for builders to design around, they don't hang down into the room like a chandelier, are good for any ceiling height, and they are effective, lighting an entire room with one flip of the switch.
We have dealt with all kinds of boob lights in our homes. I have lost count of how many of these unsightly things I have changed through the years! These boring builder-basic lights make me SO sad. If there is one thing I love in a room (besides color of course) it is a great light fixture! So the first order of business anytime we are planning a room design is boob light removal and a new light fixture.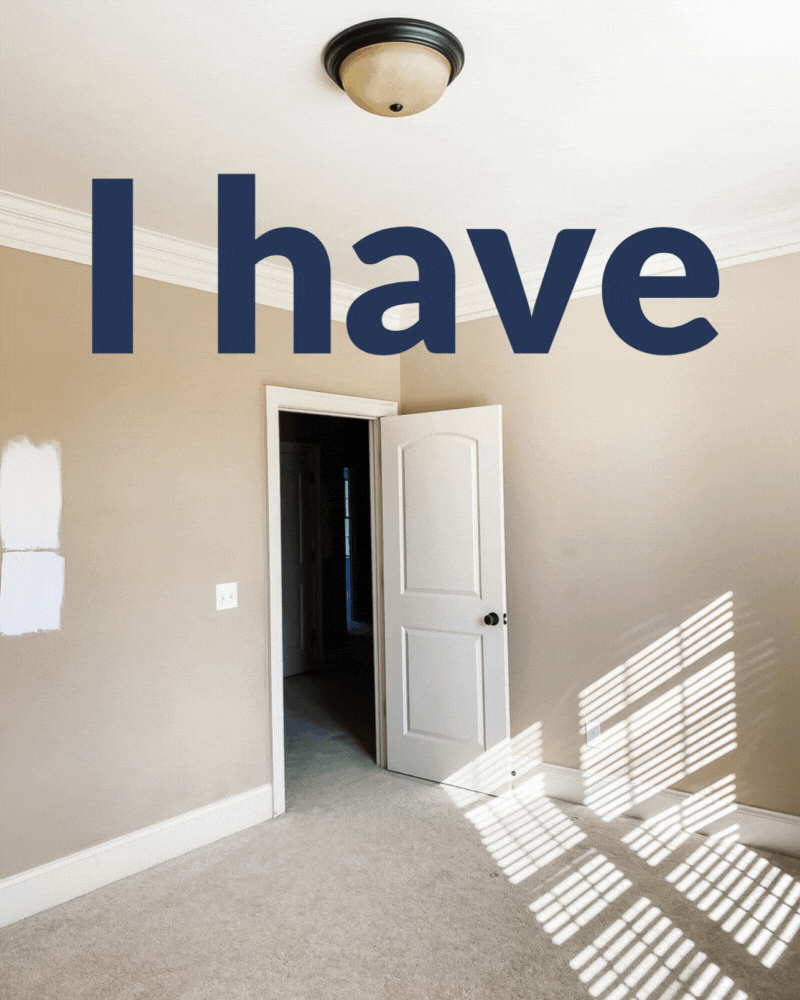 As a DIYer, when I make a design mood board I always think about my lighting plan. This always includes boob light removal, a floor lamp or wall sconce (or pair) if those make sense in the design and lamps. I cannot stress how important good lighting is! Any interior designer will tell you that a cohesive lighting scheme will elevate your room's style.
What to Replace Boob Lights With
Are you ready to finally replace your boob lights with something a little more stylish? There are two alternative options for boob lights that are in the same fixture family but offer different options depending on your ceiling height and preference. A taller ceiling height can accommodate a semi-flush mount with more extension. If you have less clearance, choosing a flush mount may be your best bet. Both are great options and should fit easily in the boob light's place.
This post contains affiliate links for your convenience. Click here for my full disclosure policy.
Best Boob Light Alternatives
Flush Mount Ceiling Lights
A flush mount light sits up against your ceiling with very little extension down. These are the best option for a low ceiling or if you need a lower profile fixture. Because flush mounts are closer to the ceiling they can help a room feel bigger. If you don't want a stand-out fixture, it is easy to choose something that feels more neutral. But if you want more of a statement piece, there are tons of flush mounts that make a stunning focal point!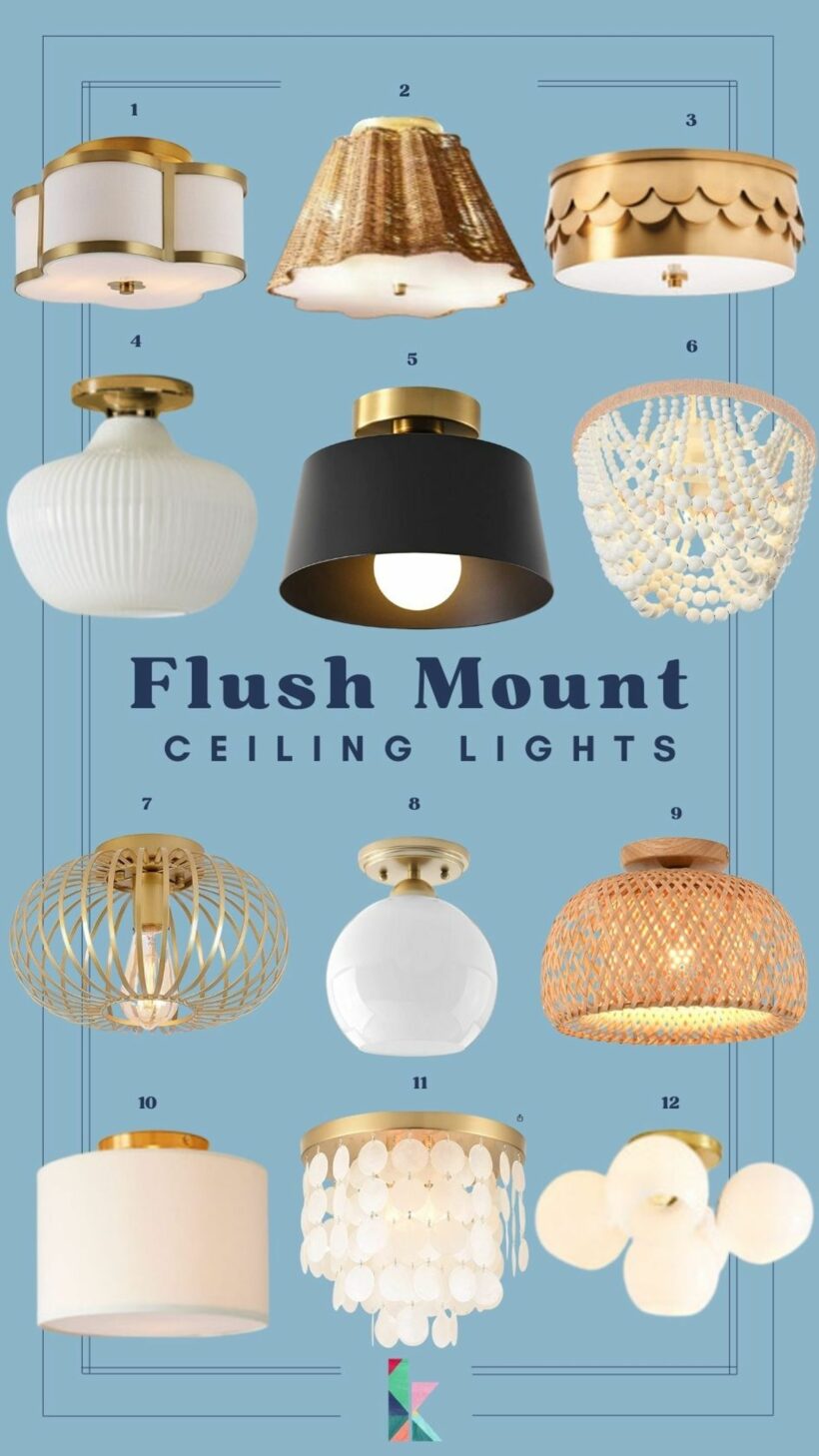 Semi-flush Mount Ceiling Lights
A semi-flush mount looks similar but leaves more airspace between the actual light and the ceiling. For higher ceilings, you have more options with the height of the fixture you choose. A semi-flush light that has a bit of extension is great for a higher ceiling. There are tons of options that are semi-flush and absolutely gorgeous! Because a semi-flush-mount fixture hangs down some from the ceiling, it normally shines light both up and down. The light that hits the ceiling reflects back downward, so this style can provide more illumination than the flush mount.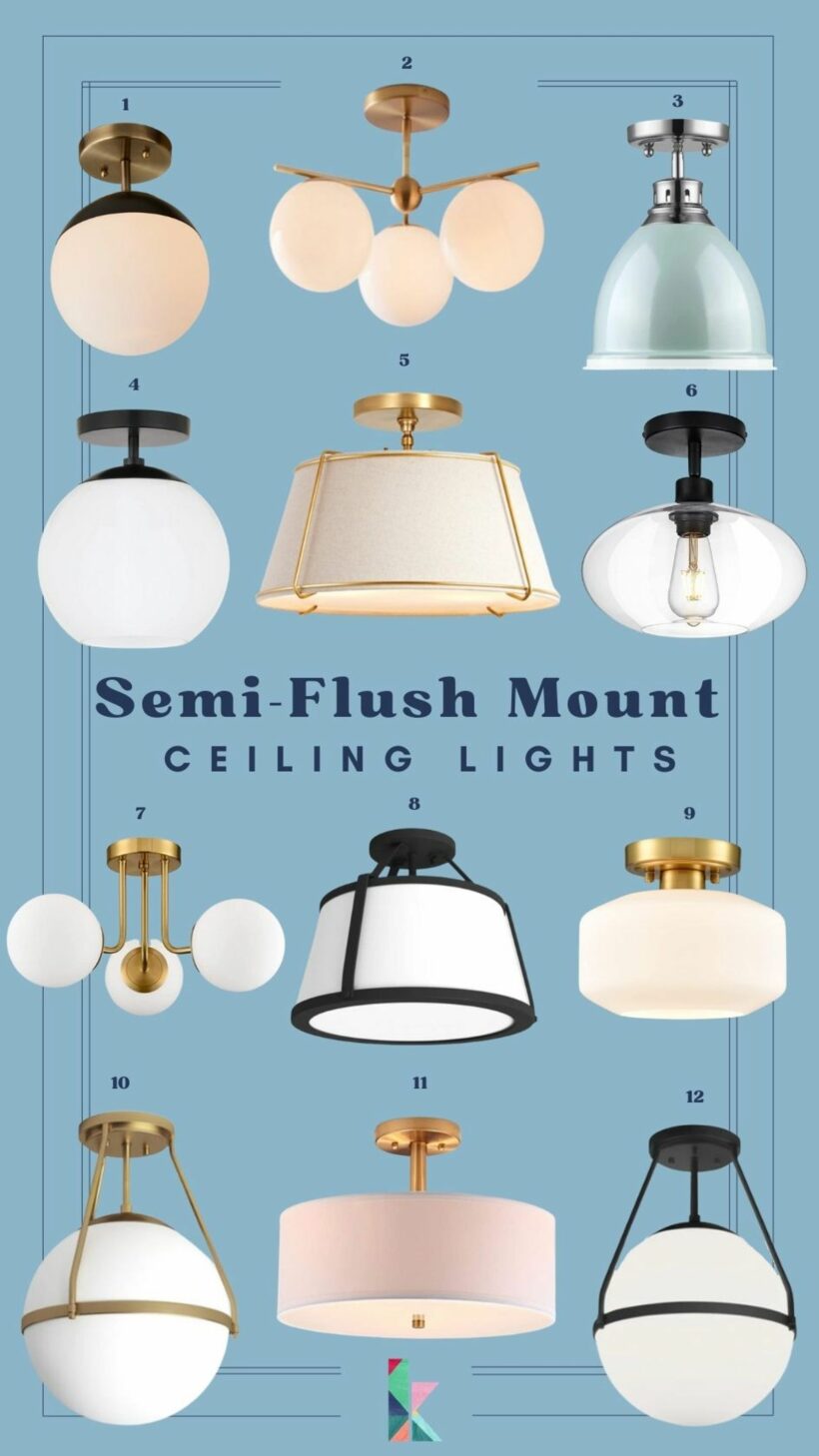 DIY Boob Light Fixes
If you have the sudden urge to change out that unsightly piece of hardware in your ceiling but don't have a big budget to do it, there are some awesome tutorials out there for near-instant gratification! These DIYers have created some amazing projects that make banishing your boob lights fairly simple. Check out each blog post for full instructions and visuals to make creating your own replacement flush-mount easy!
DIY Basket Pendant Light
Using a kit for the base and their own basket they cut to fit, this is one of my favorite DIY semi-flush options! They include tips for making it longer or shorter.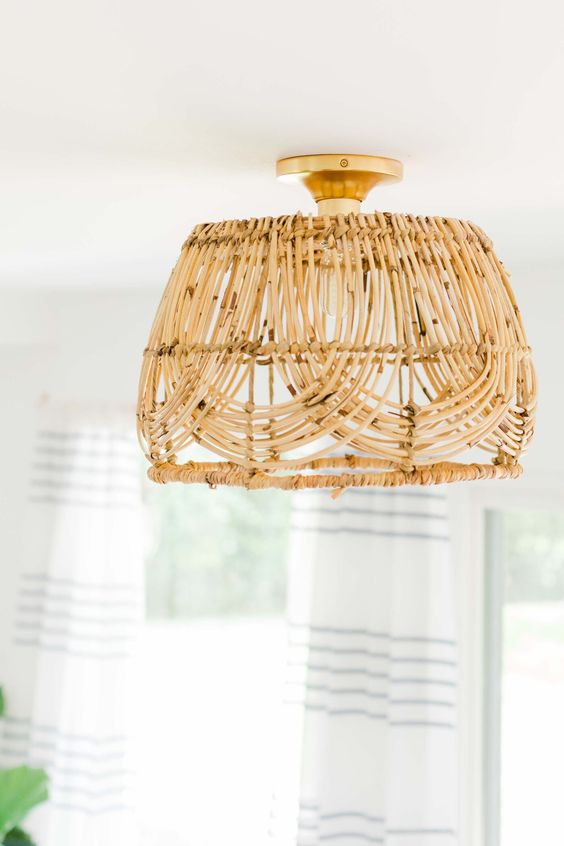 Capiz Shade Replacement
This smart DIY adds an already-made capiz shade to your existing fixture's outer ring. There are no big changes to the electrical, just a switch out of the shades!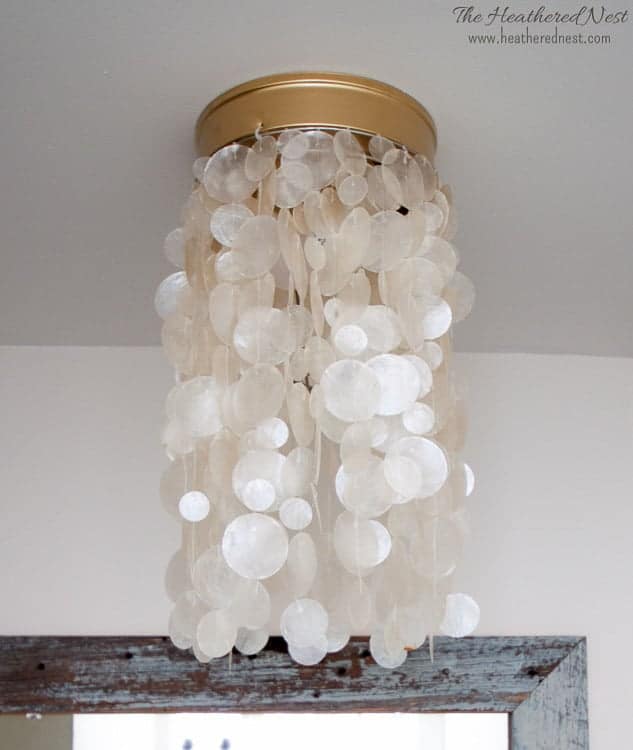 DIY Lamp Shade Flush Mount
A fairly simple switch out also, just remove the glass and leave the rest of your boob light. Then add the shade! This blogger added fabric on the bottom to give it a finished look.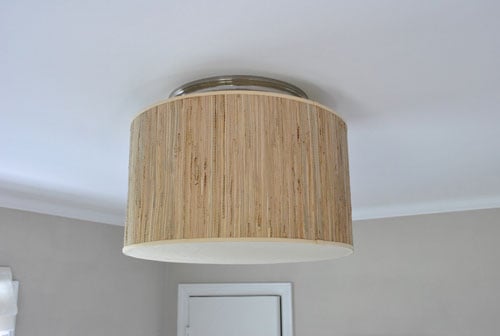 Flush Mount IKEA Hack
Update a plain white plastic flush mount to look like metal with a can of spray paint! They chose the color of the hardware in their room, but this is easily customized and would also be beautiful brass or even black.
Moroccan-style Metal Shade
A simple trade out of the globe for a lantern created this stylish surprise! This is another DIY that would be so simple to customize with your own favorite style lantern.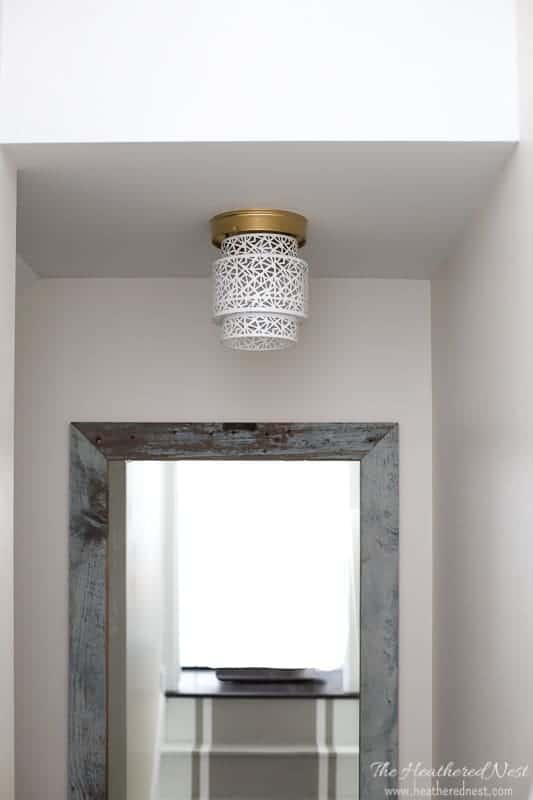 Before you get started switching out any kind of lighting, do your homework! Please keep in mind anytime you are working on electrical projects, you must show an abundance of caution. There are some great quick youtube tutorials that explain how to handle changing out fixtures. At a minimum, you need to understand the safety measures that must be taken when hanging a new fixture! Always read the specific fixture's packaging and if you are unsure, call an electrician!
Other Posts You May Enjoy:
Wondering how I approach transforming rooms and spaces in our home? Check out Designer in a Binder®.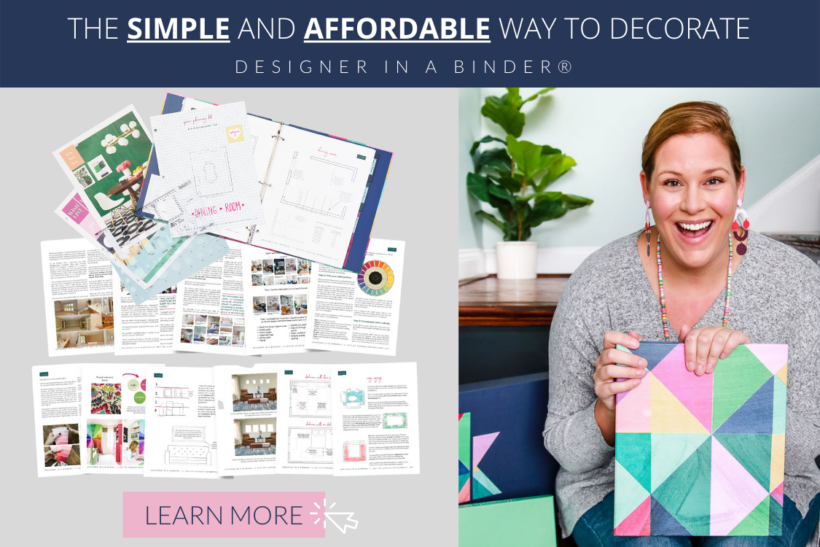 And if you want exclusive content and behind-the-scenes sneak peeks, be sure to subscribe before you head out!