DIY Chandelier From Wood Beads
Last Updated on June 30, 2022
Make a DIY chandelier from wood beads. It's easy, budget-friendly and makes a beautiful statement in any room!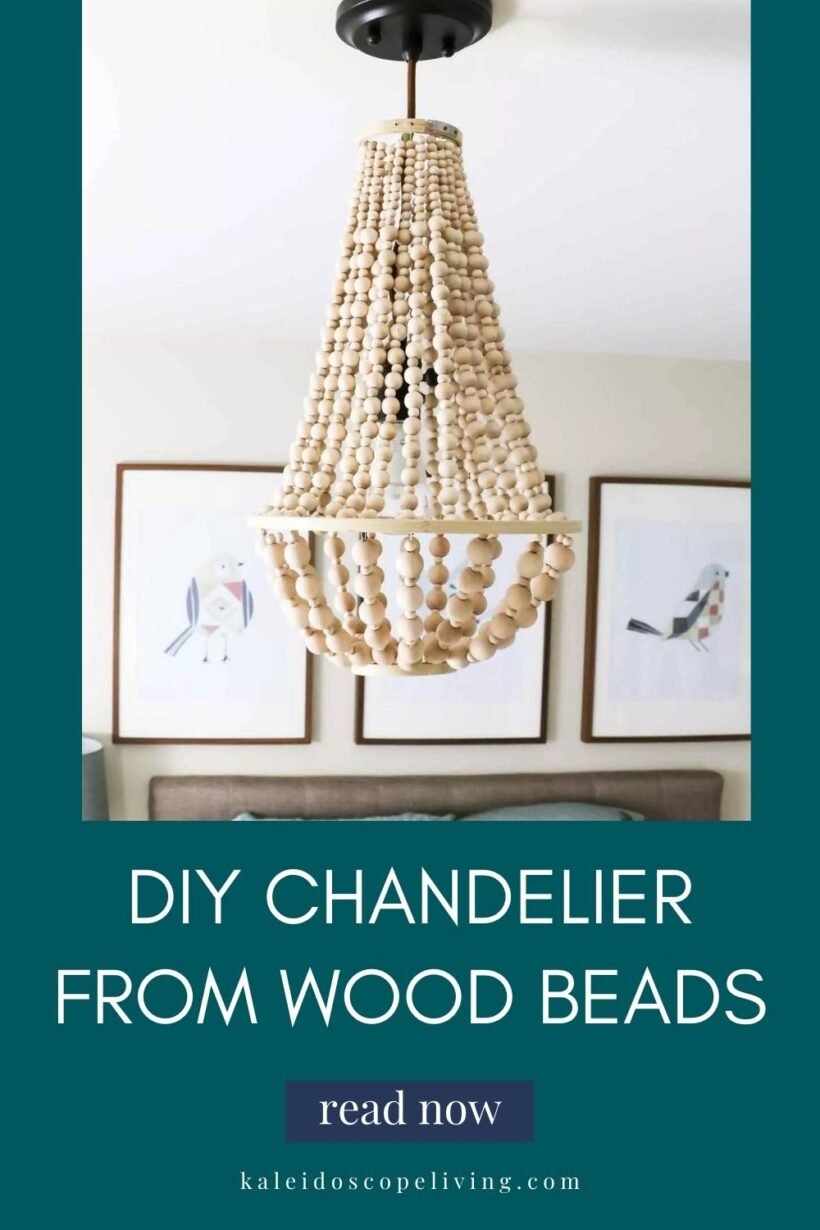 One of my favorite things to DIY is a light fixture. It is the perfect way to get a high-end look on a budget! I learned early in my DIY career that lighting can be VERY expensive, but making your own is so much simpler than it seems. You can also easily customize it to your home's decor, the room you want to use it for and the bulb type you want. The DIY Bent-Wood Chandelier was my first one, and it turned out amazing and helped me learn how easy it is to create DIY light fixtures.
When I designed our guest room, I really wanted a wood bead chandelier to complete the look but the price tag was way more than I wanted to spend! So of course, I decided to make my own. I had fallen in love with wood bead chandeliers that are popular right now, but I was just not willing to spend hundreds of dollars on one. So, I decided how to make my own DIY chandelier from wood beads and today I am going to show you how I did it! I have to tell you, I'm totally in love with it. Read on to learn how to make your very own!
This post contains some affiliate links for your convenience. Click here to read my full disclosure policy.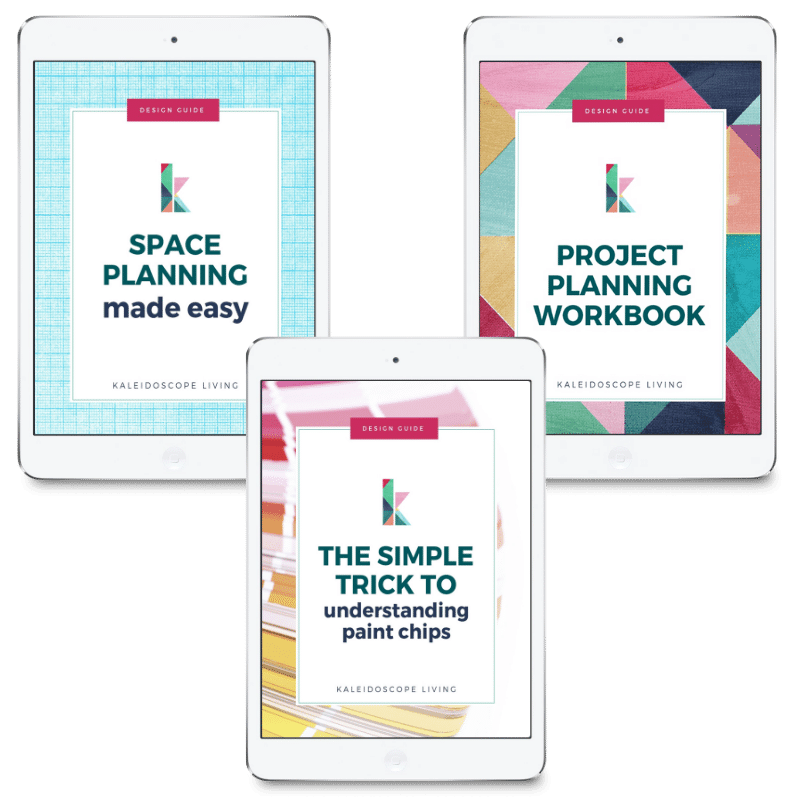 Get my FREE design guides when you subscribe!
DIY Chandelier Tutorial
Materials Needed for Your Wood Bead DIY Chandelier
Wood glue
Super glue (my favorite brand is DAP Rapid Fuse All Purpose Adhesive)
Electrical tape
Scissors
Quilting thread
Quilting needle
Wood beads (the number of beads you need depends a lot upon what size your DIY chandelier will be). I ordered mine online from this site and spent around $40 for the beads. I used natural wood beads, but you can go darker or even choose colors (like these–love them)! I used the following:

Small beads- 8mm. I used approximately 600.
Medium beads- 14mm. I used approximately 400.
Large beads- 19 mm. I used approximately 75.

Mini pendant light kit (I used the oil-rubbed bronze finish)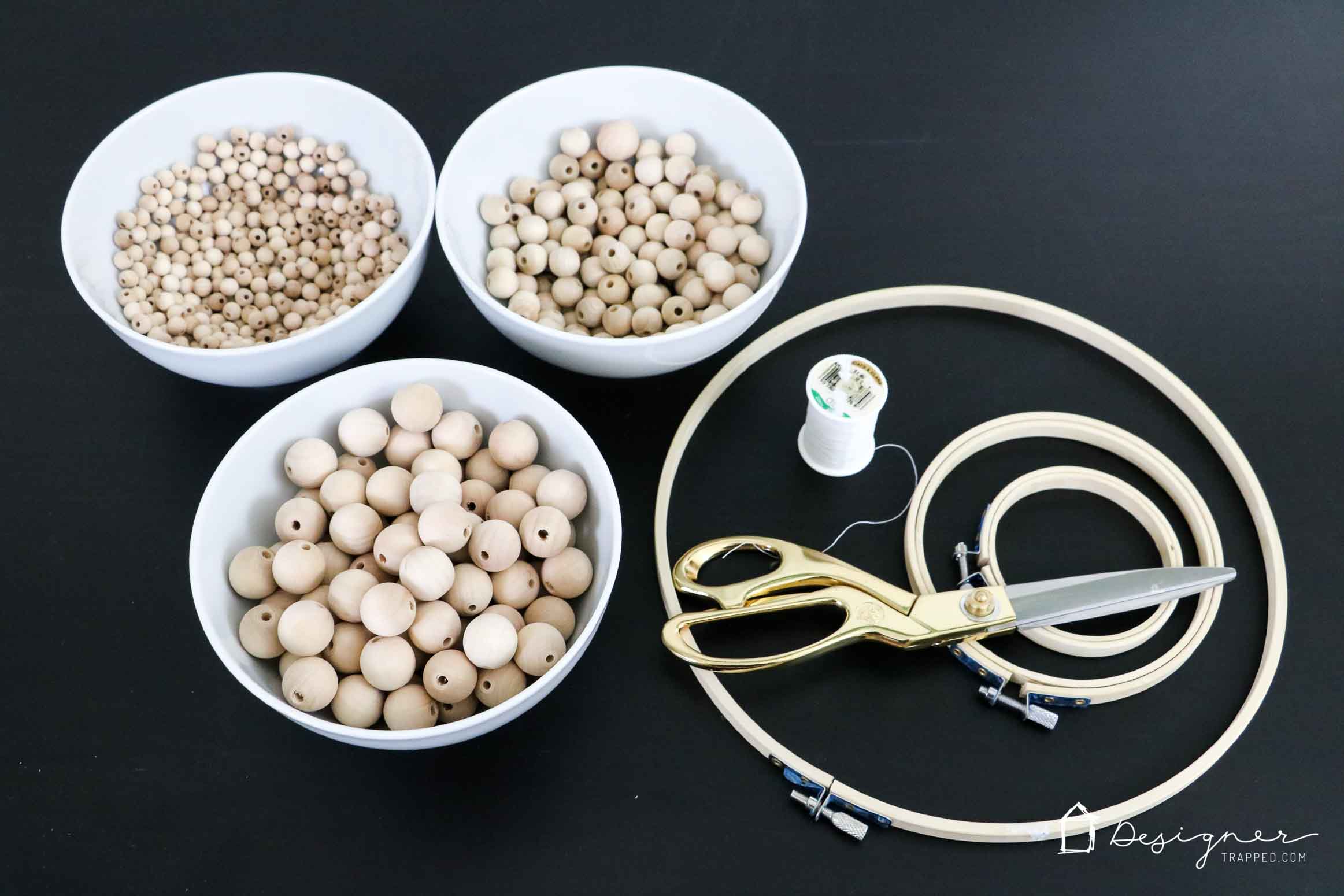 Steps For the Top of Your Wood Bead Chandelier
1) You will be working with a 3-inch and 10-inch hoop first. Remove the outer hoops–for now, you will work only with the inner hoops.
2) Thread your quilting needle with quilting thread, being sure to double up and knot it at the end.
3) Loop the thread over the 3-inch quilting hoop.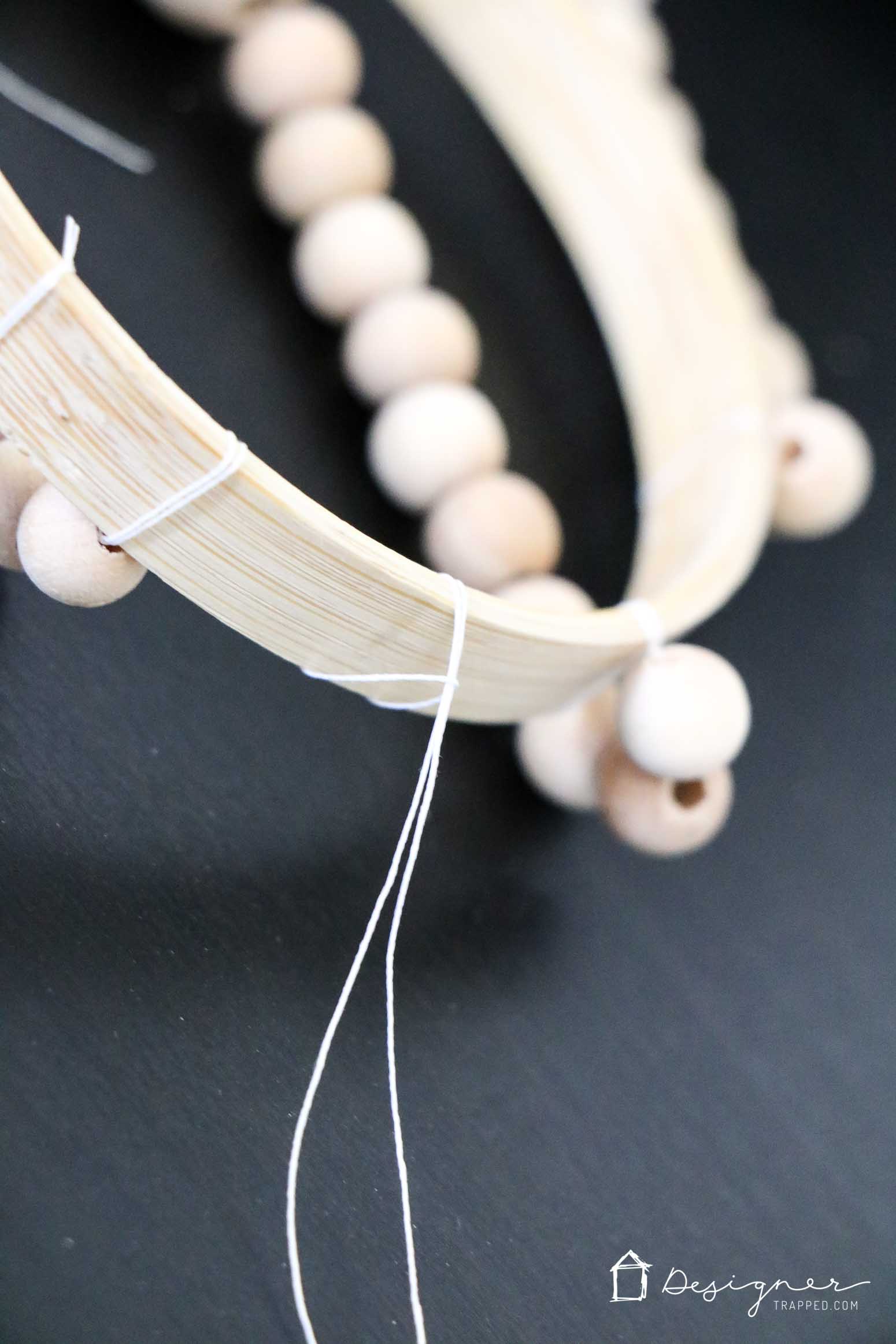 4) String your beads onto the thread. The pattern is 10 small beads followed by 1 medium bead/1 small bead x 12. Finish each row with a medium bead, so that you have a total of 13 medium beads.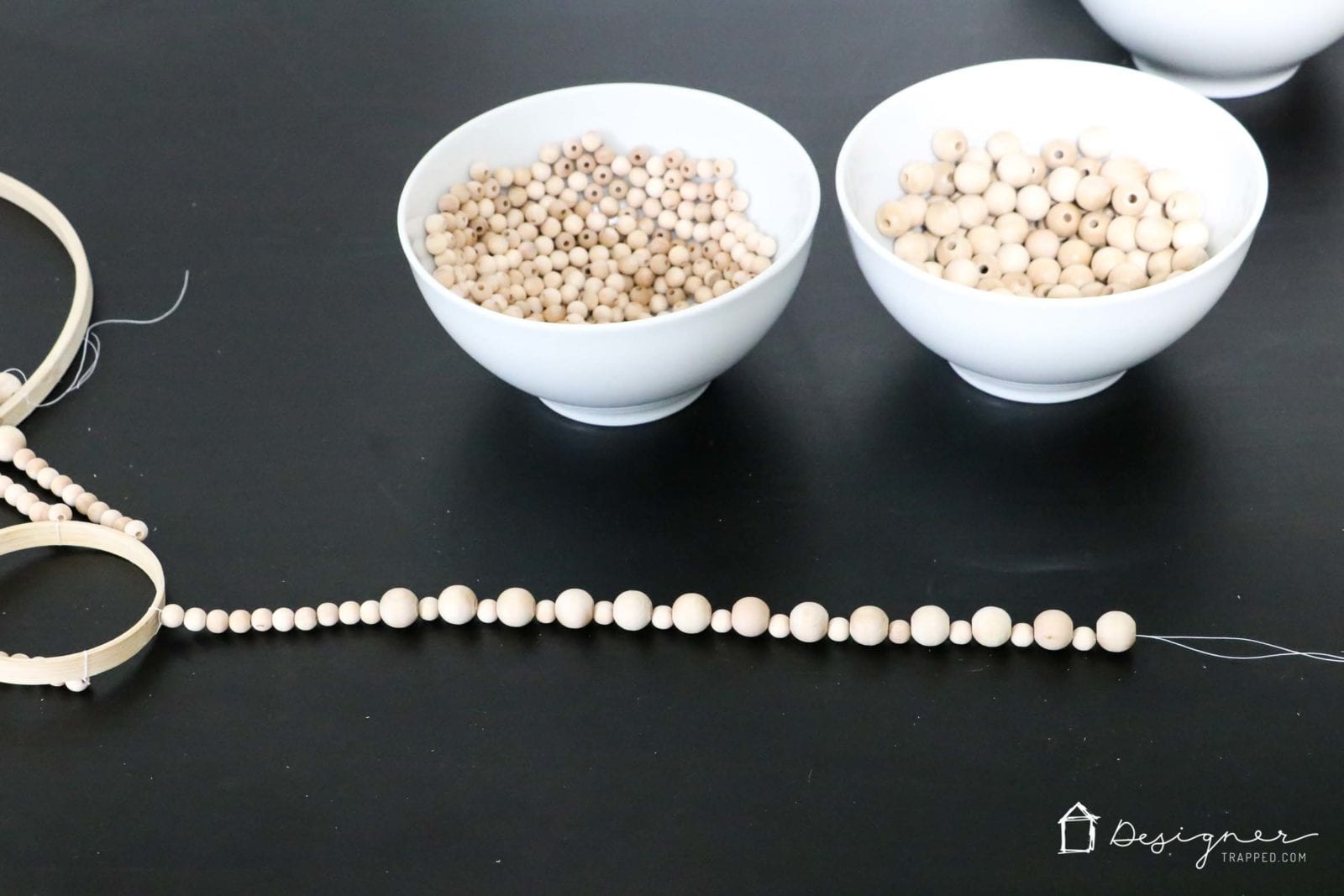 5) Tie the end of your strand to the 10-inch quilting hoop with a double or triple knot. BE SURE NOT TO ALLOW YOUR STRANDS OF BEADS TO CROSS OVER EACH OTHER (I learned that lesson the hard way).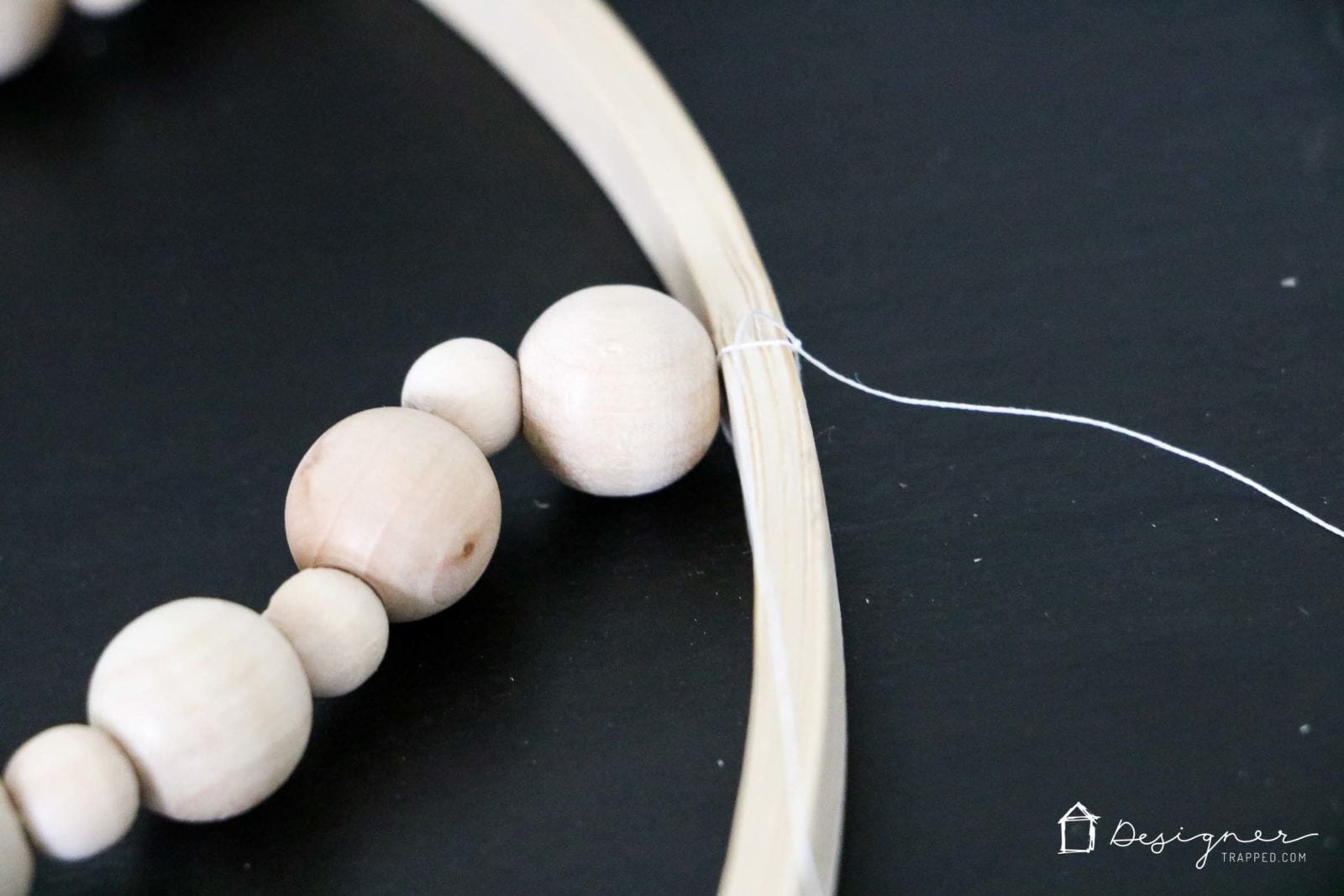 6) Repeat until the top of your DIY chandelier is as full as you like. Then cut away excess thread. This is what your DIY chandelier will look like at this stage.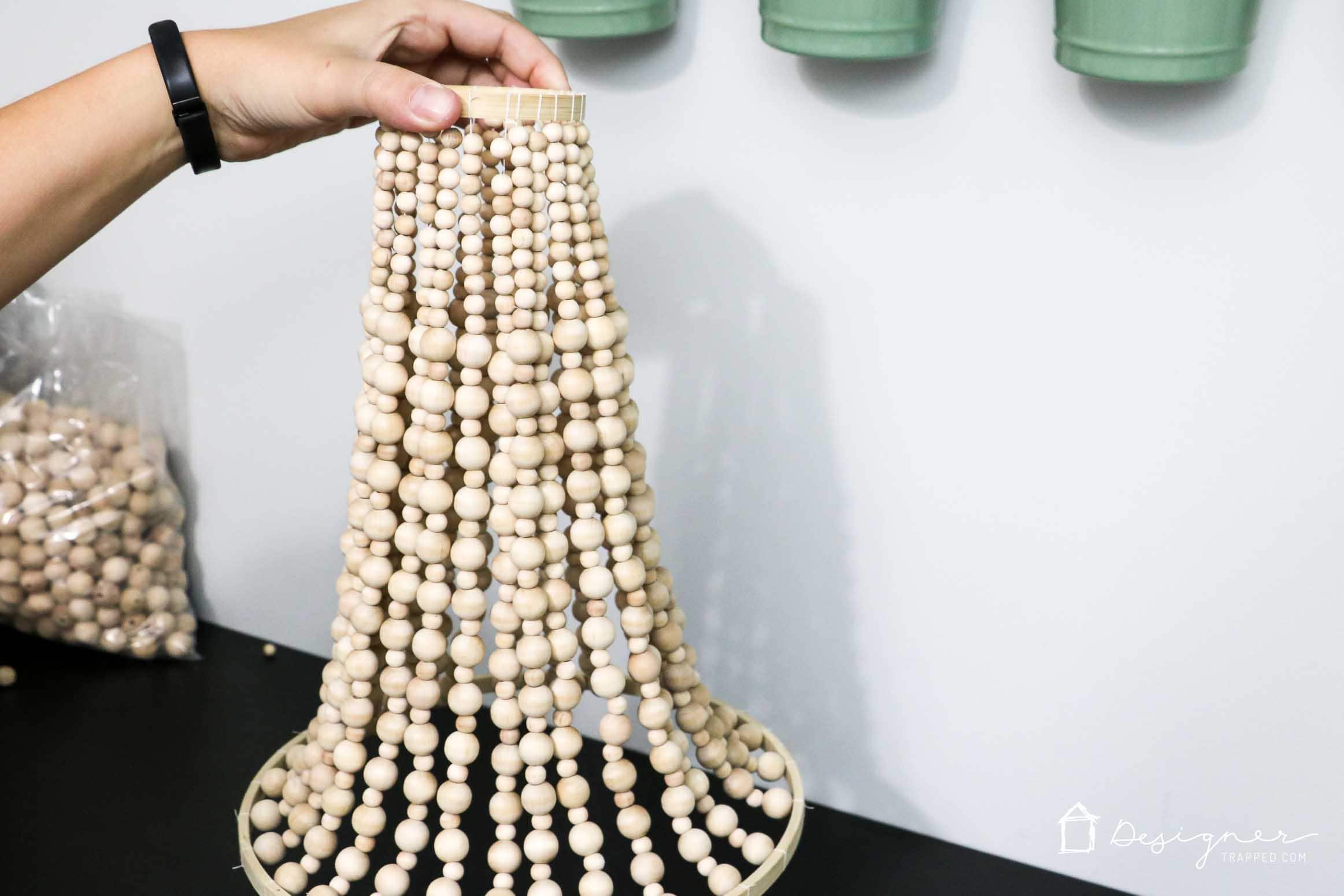 Steps for the Bottom of Your Wood Bead Chandelier
1) Grab your second 3-inch hoop and remove the outer hoop.
2) Thread your quilting needle with quilting thread, being sure to double up and knot it at the end.
3) Loop the thread over the 3-inch quilting hoop, just as you did above.
4) String the beads onto your thread using the following pattern: 1 small, 1 large. Repeat the pattern for a total of 5 times.
5) Tie the end of your strand to the same 10-inch quilting hoop with a double or triple knot. The 10-inch hoop will sit above the 3-inch hoop you are working with, which will serve as the bottom of the chandelier. AGAIN, BE SURE NOT TO ALLOW YOUR STRANDS TO CROSS OVER EACH OTHER. Below is a photo of how your DIY chandelier at this stage–bear in mind that you are working with it upside down at this point.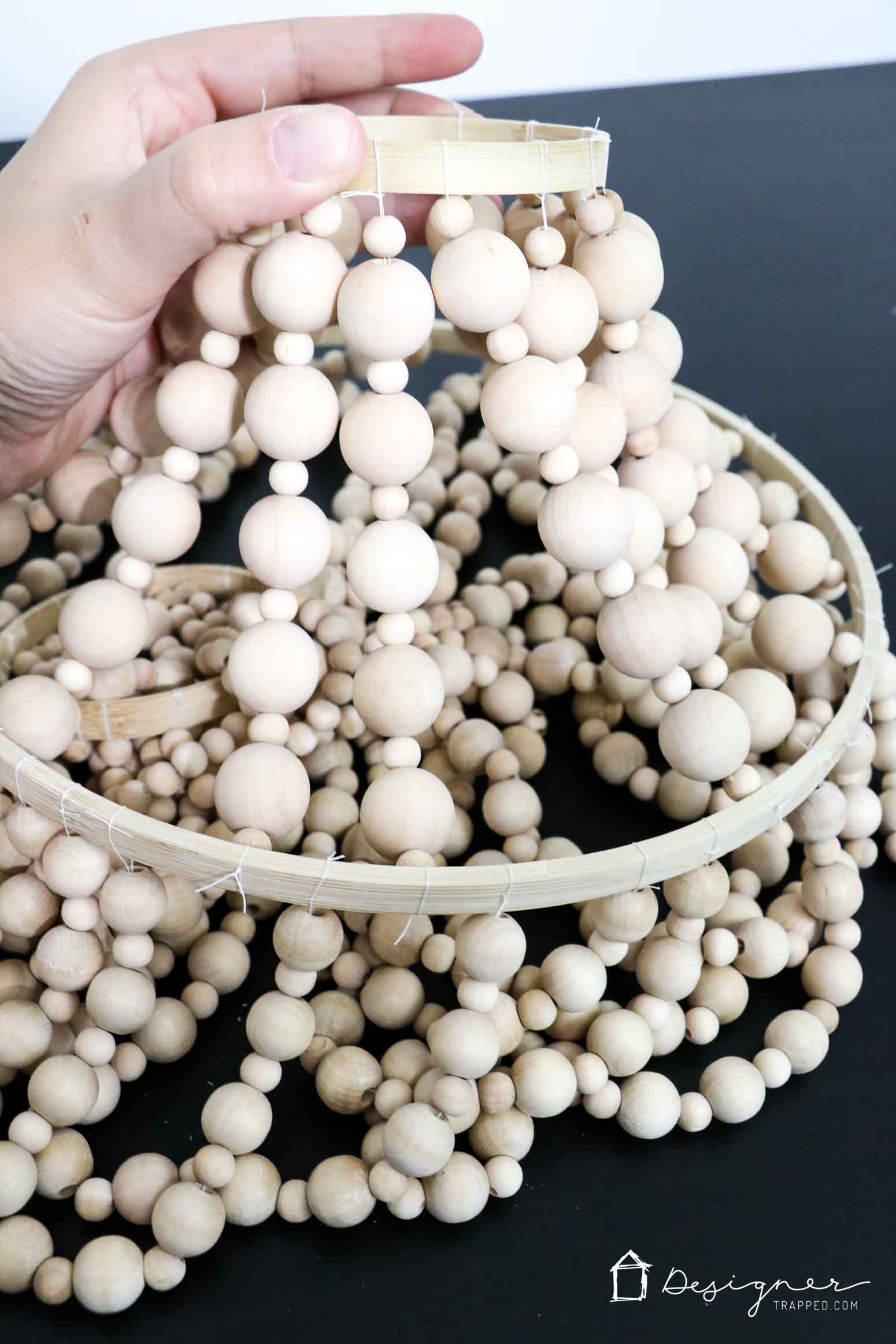 6) Add as many strands as you like.
Final Wood Bead Chandelier Steps
1) Add a drop of super glue to each knot. This will help ensure that your knots do not come loose.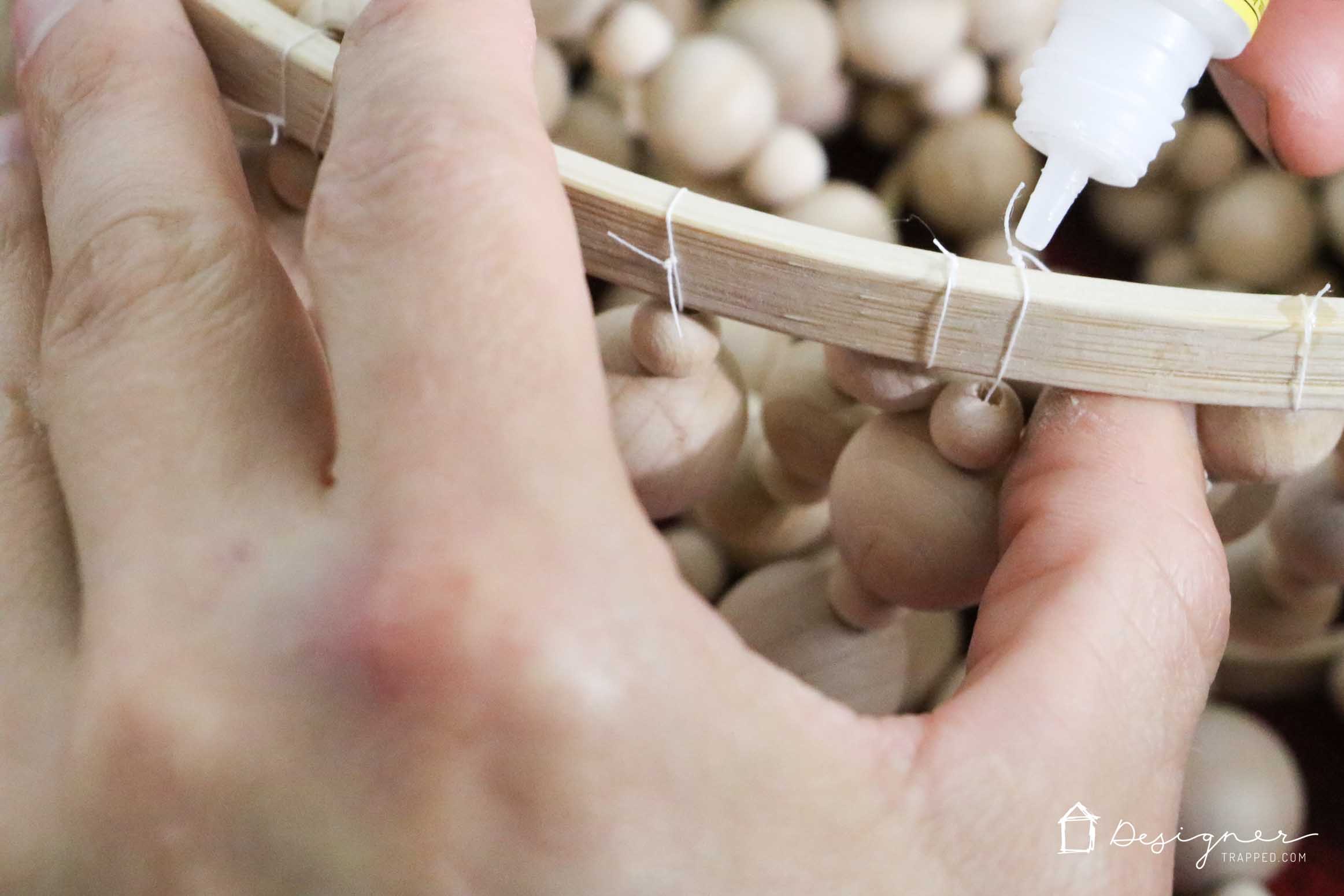 2) Grab your OUTER hoops and paint some wood glue along the inside of each one. Then, secure them in place over the inner loops, tightening them into place.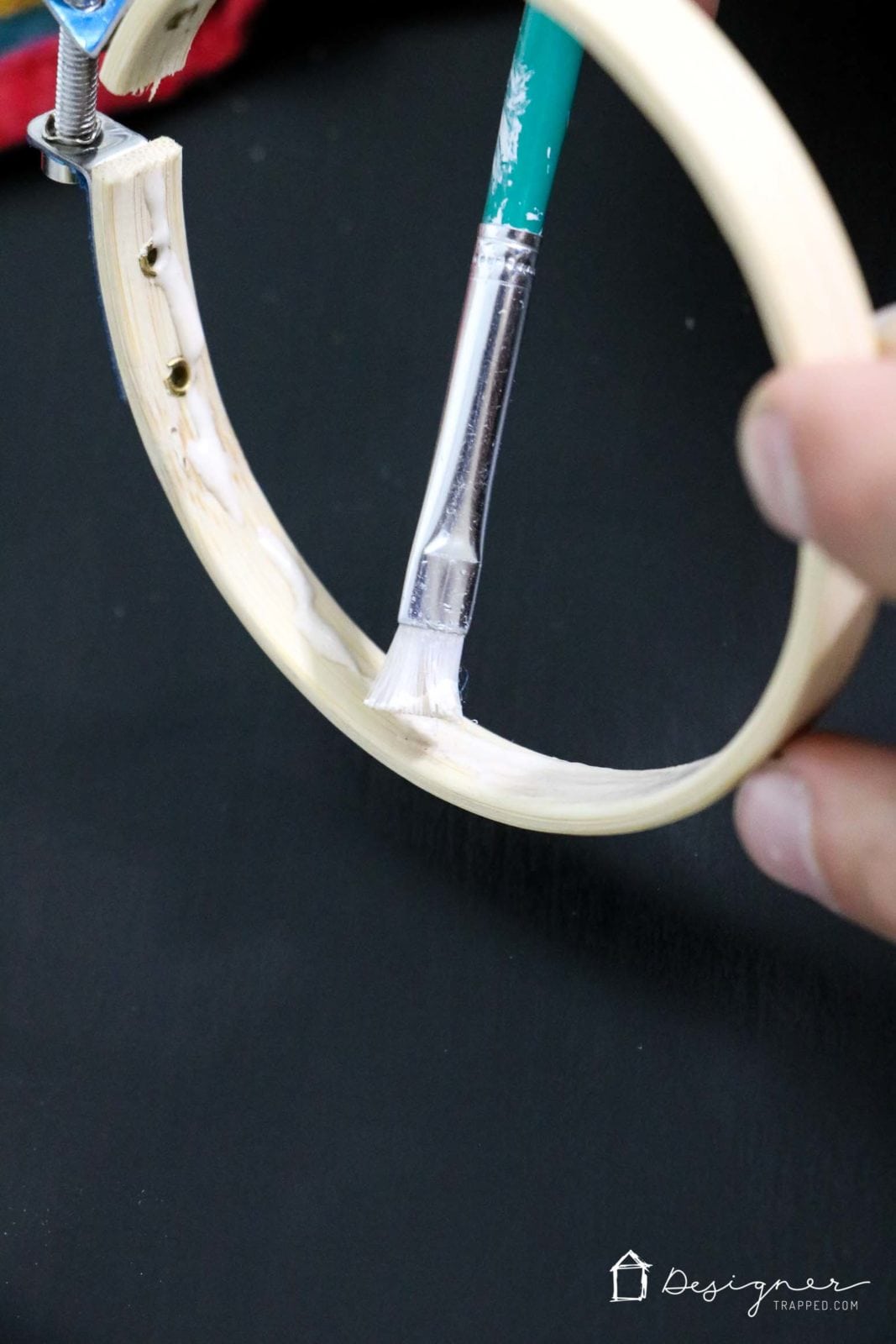 3) After your wood glue has dried, remove the screw from each of the outer hoops. Then use cutting snips to remove the part of the hardware that sticks out. You can see in the photo below where we had snipped one piece off already. It will leave a little gap, but that is not an issue since it is glued.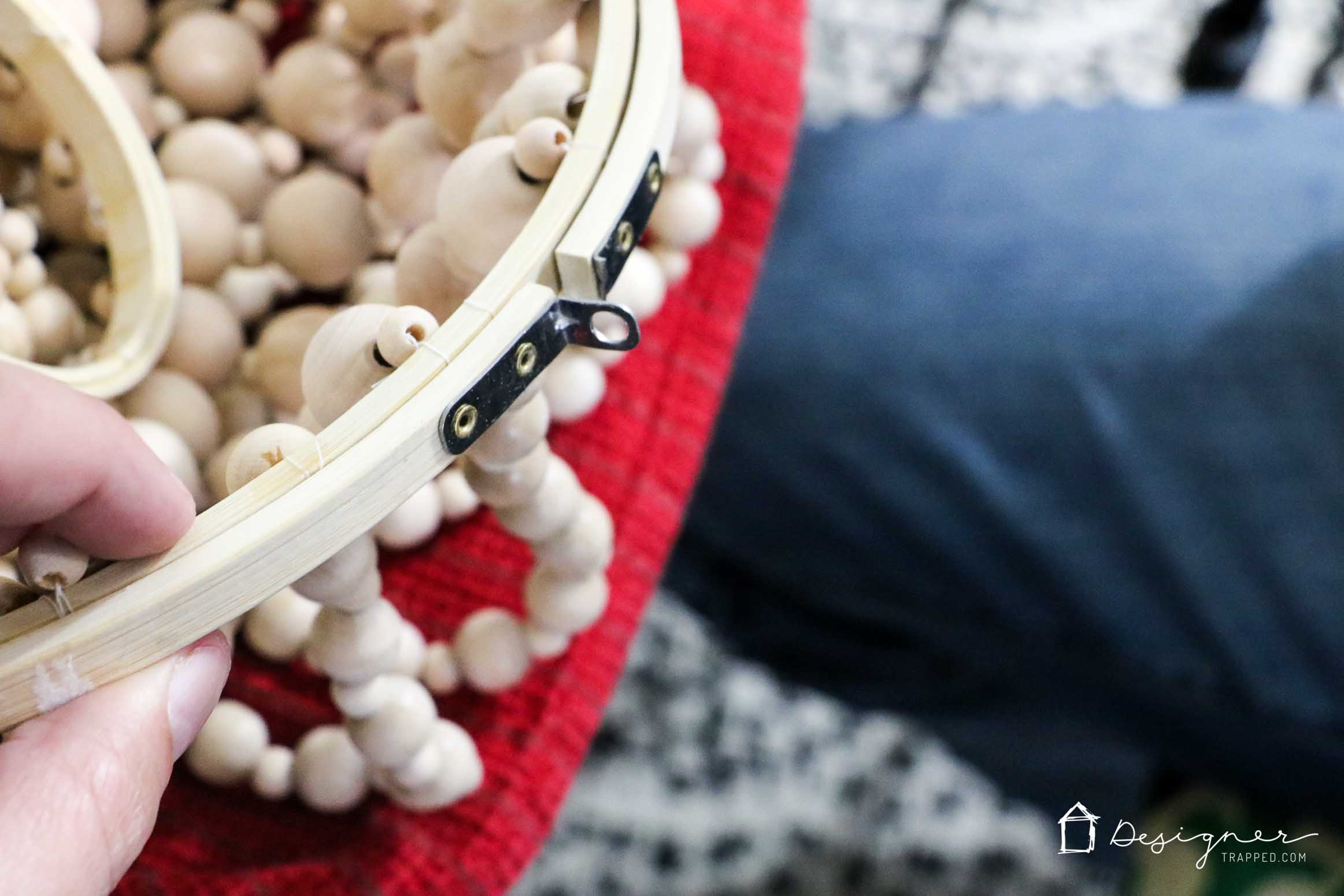 Steps to Attach the Pendant Light
1) Use a small drill bit to drill two very small vertical holes along each side of the TOP hoop.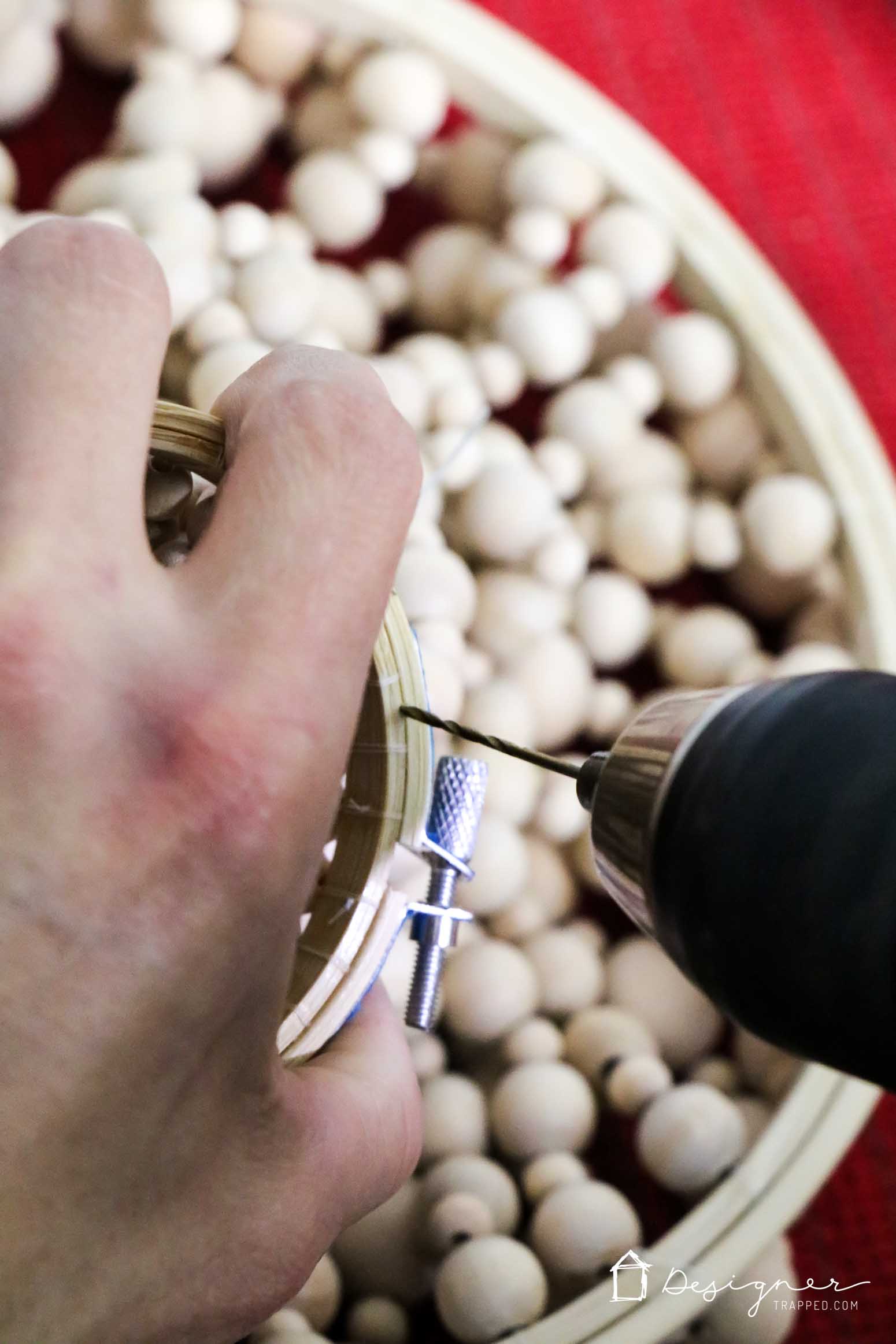 2) Run a wire through one hole and circle the wire around the cord of the pendant light. Then thread the wire through the opposite hole. These create your hangers to hold the fixture to the pendant light.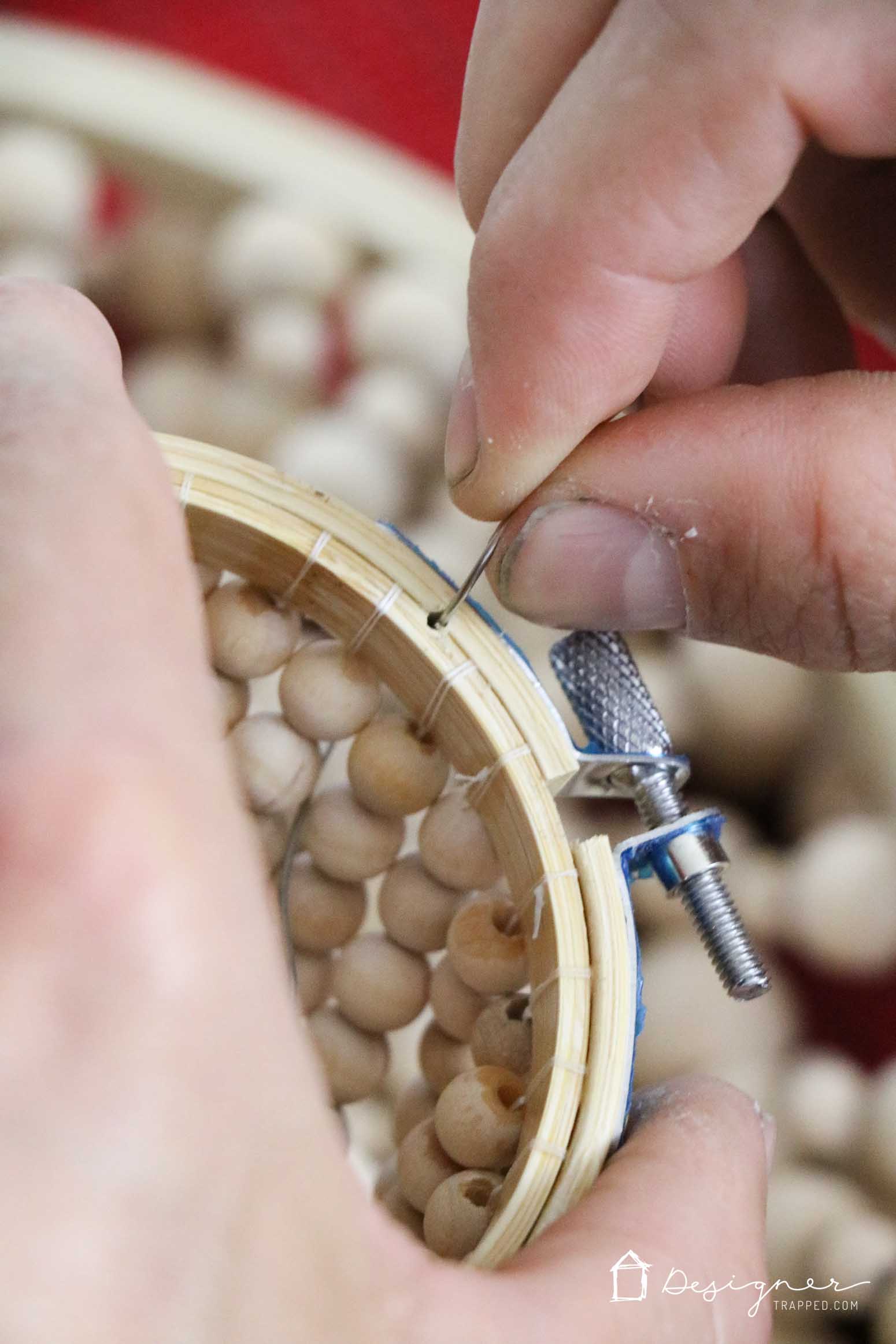 3) Wrap electrical tape below the circle of wire around your cord–this will ensure that the light does not slip down and the lightbulb stays where you want it. I covered my black electrical tape with some gold washi tape to make it less noticeable. Be sure also to secure the ends of your wire by wrapping them. This is what the top of your DIY chandelier will look like when you look down into it.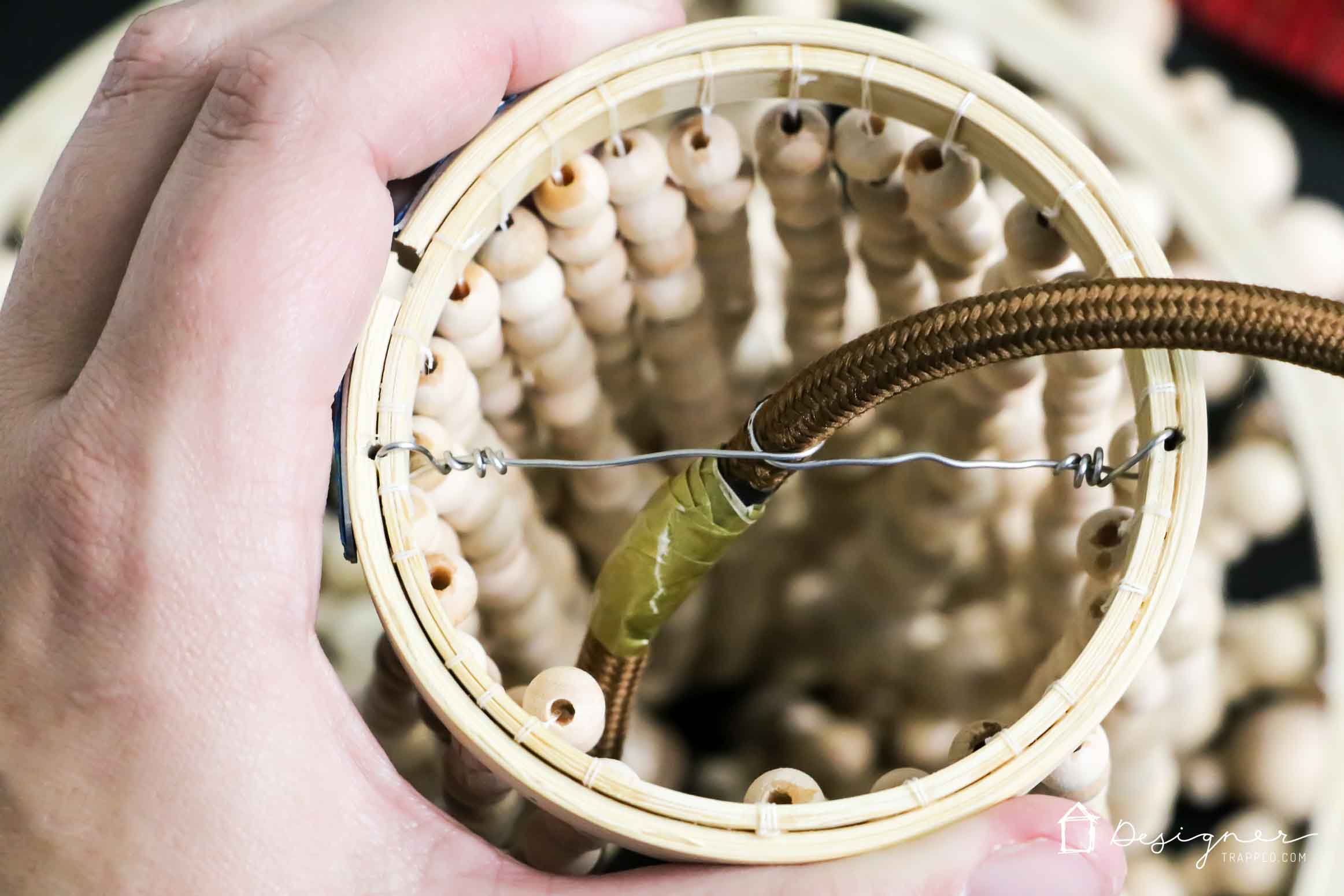 That's it! You are ready to hang your wood bead chandelier and admire your handy work! Check out the finished DIY chandelier. We hung ours in our guest room ourselves to replace an outdated flush mount fixture (no professional installation needed!). We are in love with it!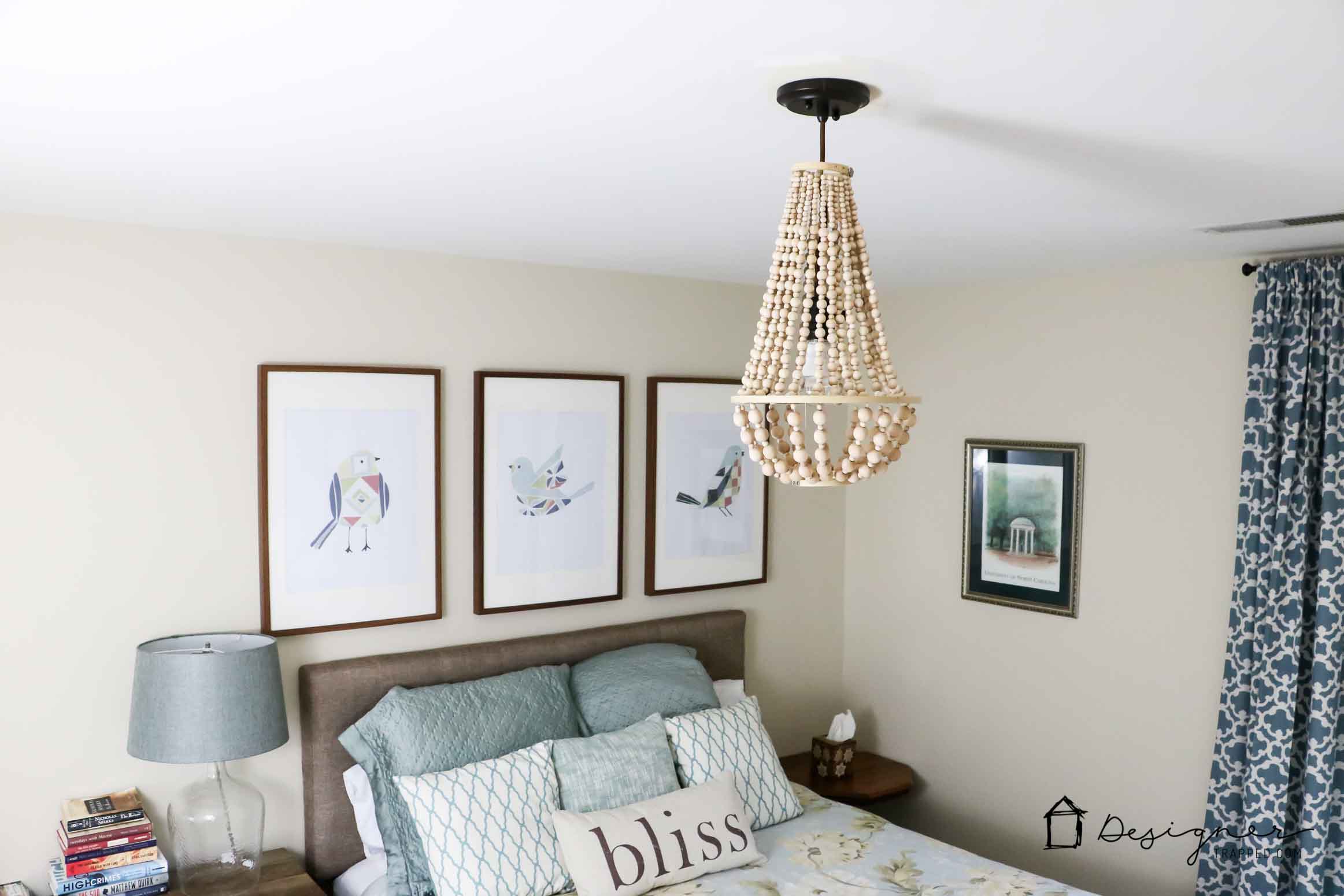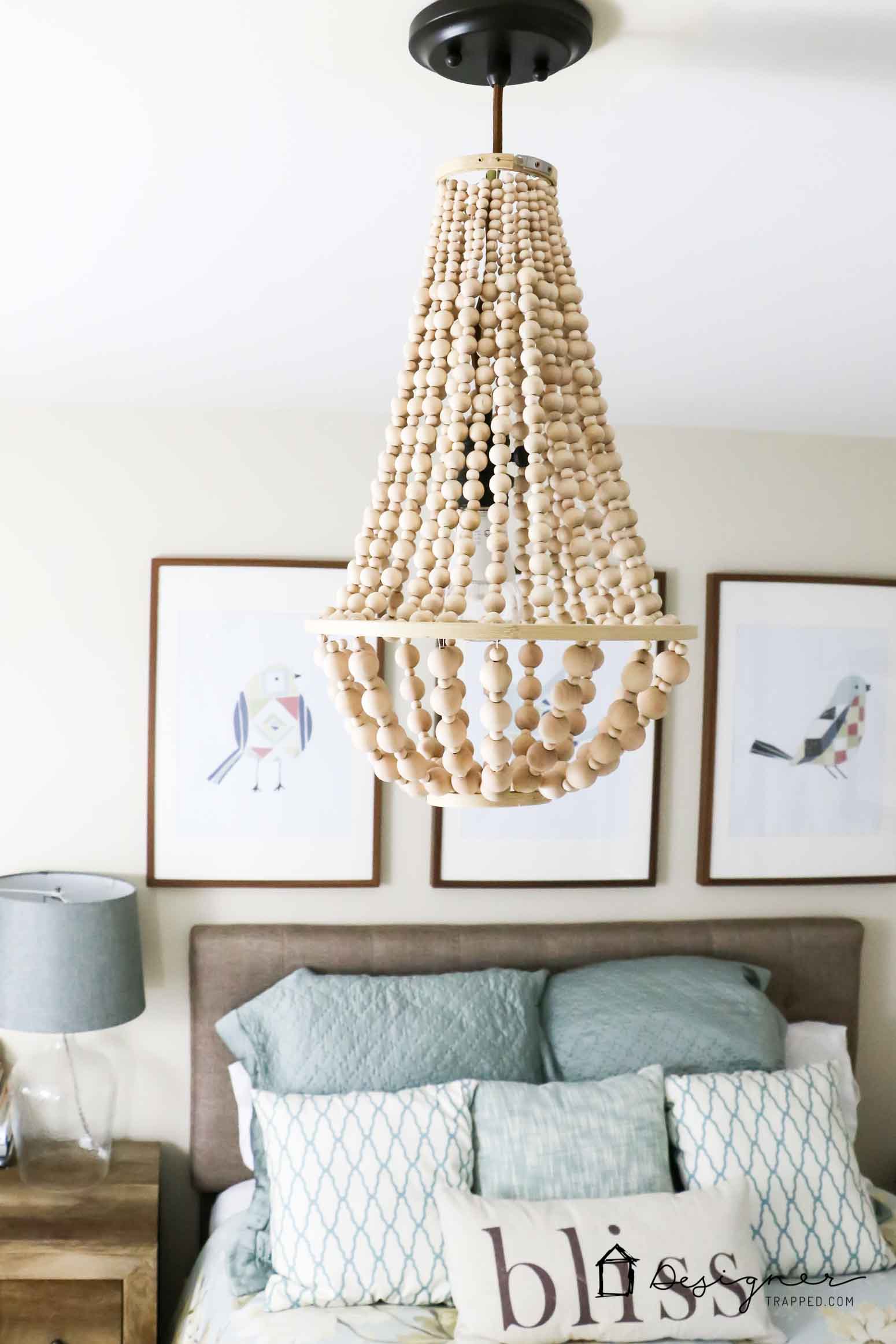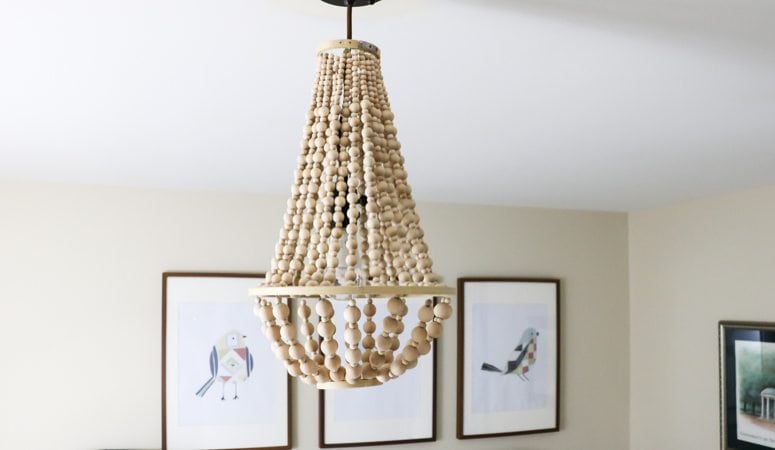 ​What do you think?! Isn't it amazing and so pretty?! And it certainly cost less than some of the expensive store-bought versions I've seen. Dress up your ceilings with your own version of this amazing DIY chandelier made from wooden beads. Customize your own any way you want! Use colored beads, add tiers for a larger size chandelier, add a tassel, or change up the size of beads you use. Make it your own to match your style–these can be boho, farmhouse, or anything in between!
Other posts you may enjoy:
Wondering how I approach transforming rooms and spaces in our home? Check out Designer in a Binder®.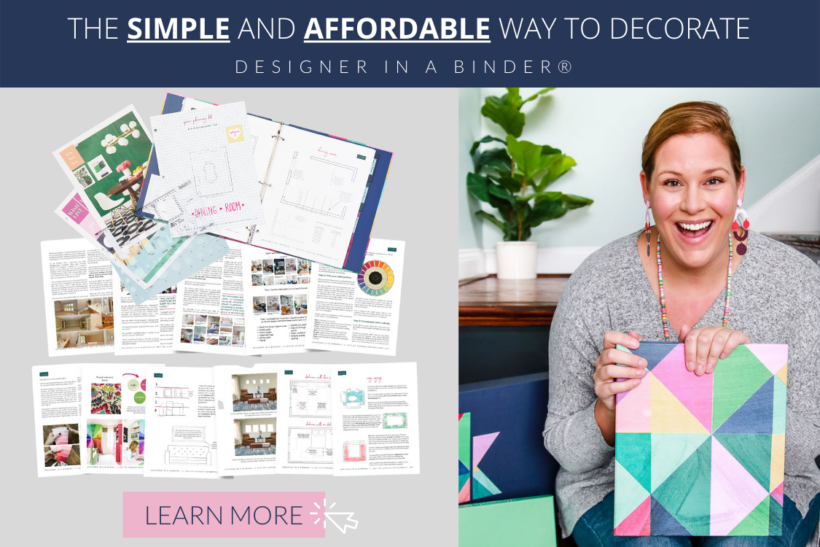 And if you want exclusive content and behind-the-scenes sneak peeks, be sure to subscribe before you head out!