25+ Entryway Benches with Storage
Having the perfect entryway bench with storage is key to having a dropzone that stays neat and organized. These are the best options for storage benches out there!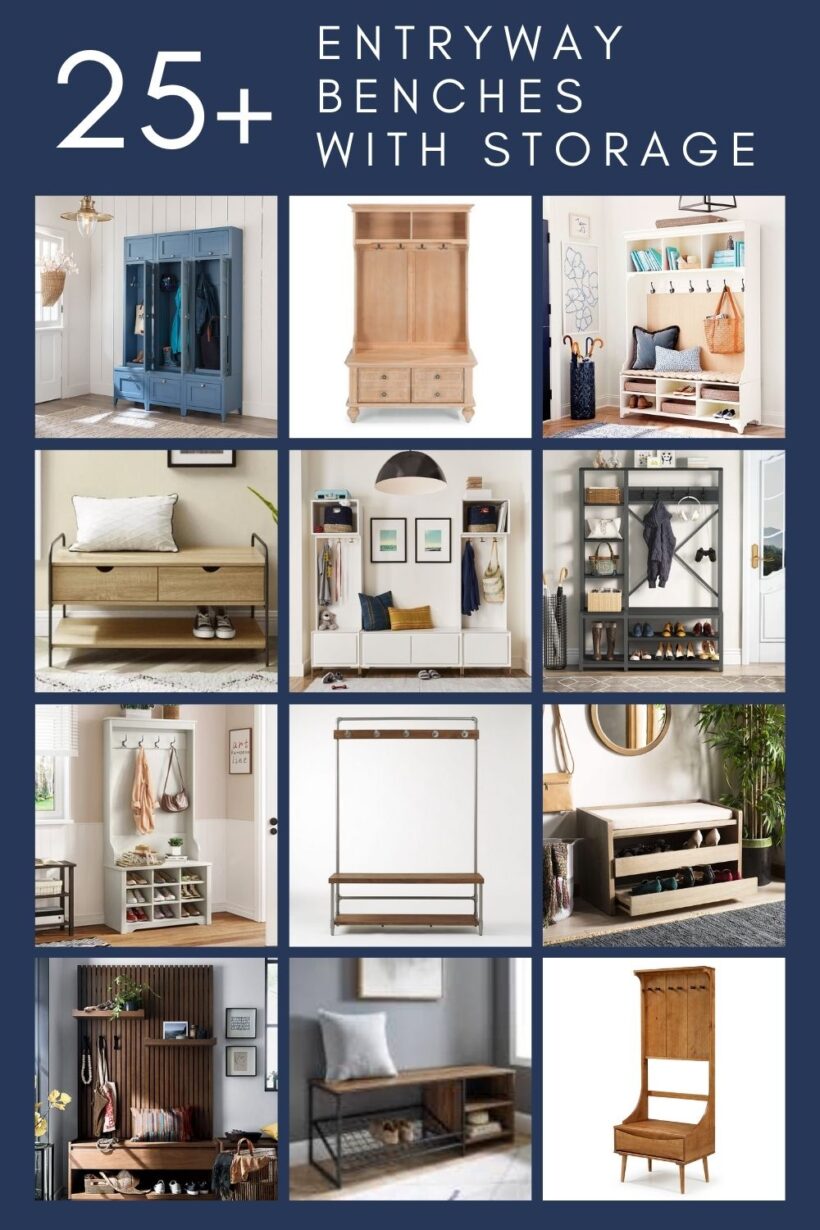 When we bought our new house, I was THRILLED to find that it has a built-in storage bench with storage space in the mudroom that we use allllllll the time. It is such a crucial part of us staying organized (it's right up there with having a family command center). In our old house when we did the full kitchen renovation, we toyed with adding some kind of entryway bench as a drop zone, but we never did. Now that I have one in this house, I am convinced no one should be living without some version of an entryway bench!
I realize not everyone has the time or space to create a built-in with compartments and hooks and drawers. So I have made it super easy for you to find the perfect option for YOUR space and style! I put together a list of my favorites and there is something for everyone, no matter your entrance space.
This post contains affiliate links for your convenience. Click here for my full disclosure policy.
25+ Entryway Storage Bench Ideas
There are a few options that fall into the "perfect entryway bench" category. Check them out below. I'm highlighting a few of my favorites below, but to see all 25+ of my picks, scroll all the way down!
Best Built-In Look
This Black Wide Hall Tree with a bench looks like a built-in, but the price is super budget-friendly. It is the perfect hallway furniture if you want a more traditional cubby look with hooks and TONS of shoe storage! This piece will hold 24 pairs of shoes! I also like that they don't all get piled on top of each other and you can actually see them. Much easier for kids who can never "see things" if they aren't right in front of them!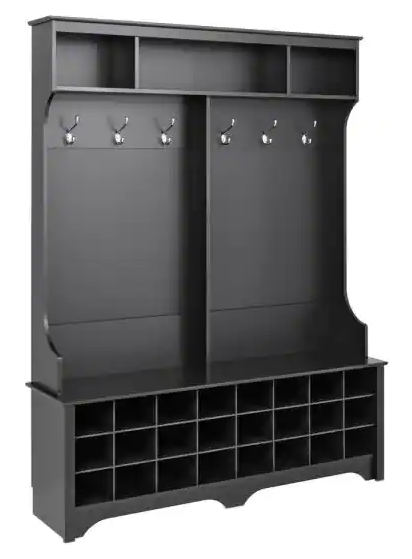 This locker entryway storage cabinet also gives the look of a custom built-in and is STUNNING, but the price tag is quite a bit higher. This one is an investment, for sure, but it's worthy of decorating an entire space around if it's in your budget.
Perfect for a Small Space
The Prosperie Storage Bench is on the small side which is perfect if your space is limited, but it still has ample storage! With two drawers to hold stuff and a shelf at the bottom for shoes, it is still an awesome option. I also love the simple metal and wood style and it would be easy to slide baskets on the bottom shelf if you want more shoe storage you cant see!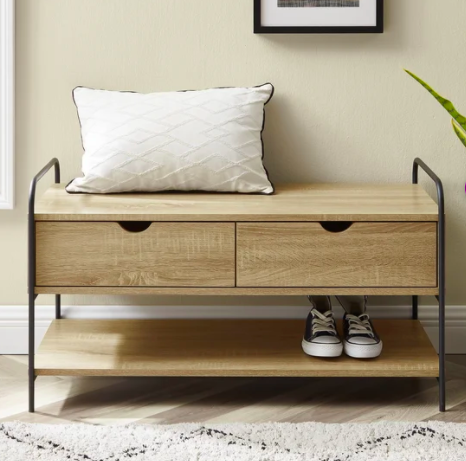 Unique and Versatile Entryway Storage
The Batten Storage Bench and Panel Set is more than just entryway furniture–it is a total WOW piece! The slats and the sleek style of the drawers make it feel really cool and modern and the ability to shift the hooks and shelves around to suit your family makes it a total winner!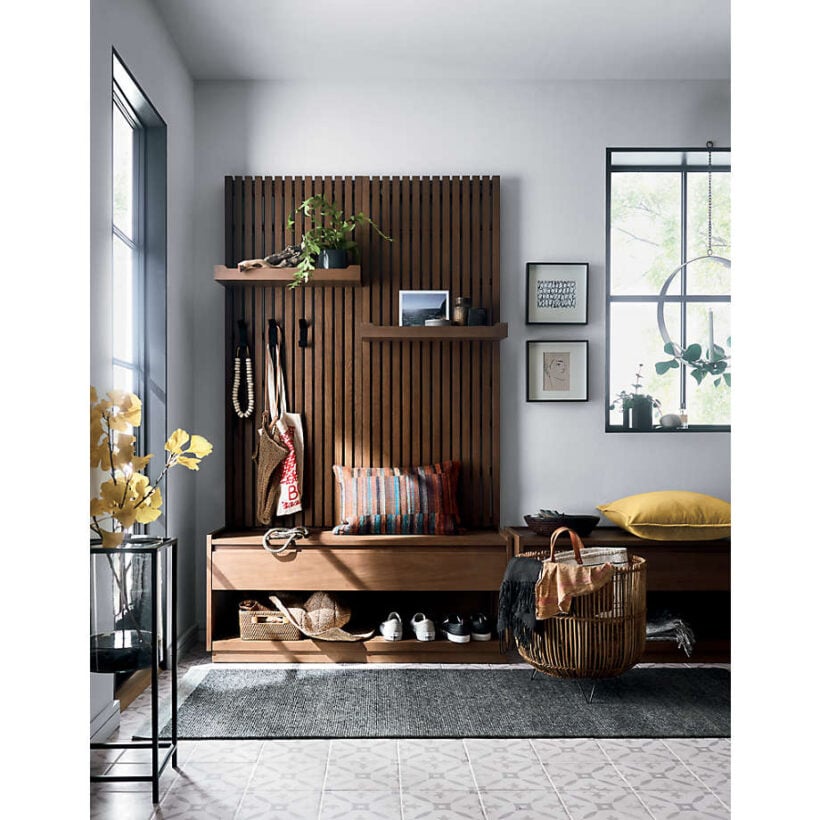 Best Customizable Option
This modular entryway storage system isn't just beautiful and functional, it's modular so you can customize it to suit your needs!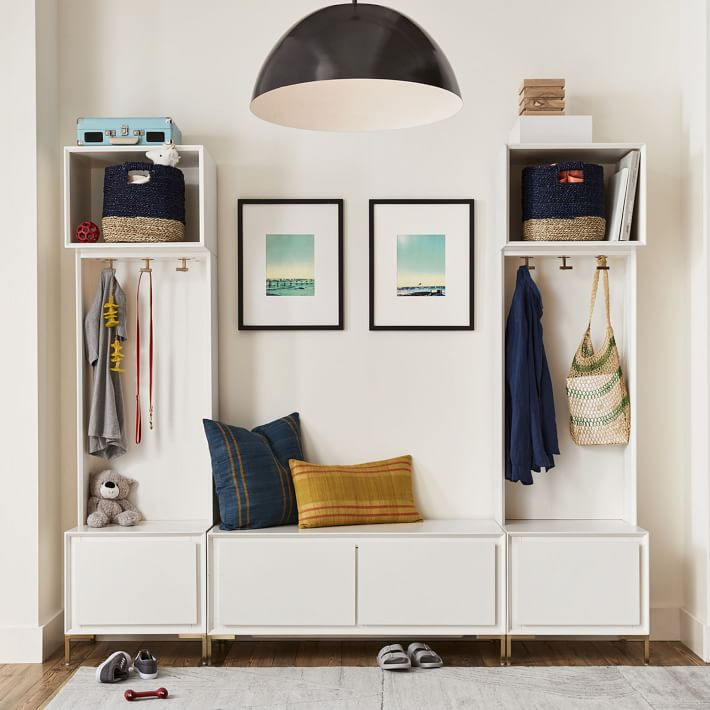 Sleek and Modern Entryway Bench
I love a hallway bench that is functional and beautiful. Multiple hooks on this sleek mid-century modern entryway bench mean lots of room for the whole family to hang their coats and bags and I love that it has an open shelf AND a drawer–perfect for shoes and hiding all the things that get dropped by the door!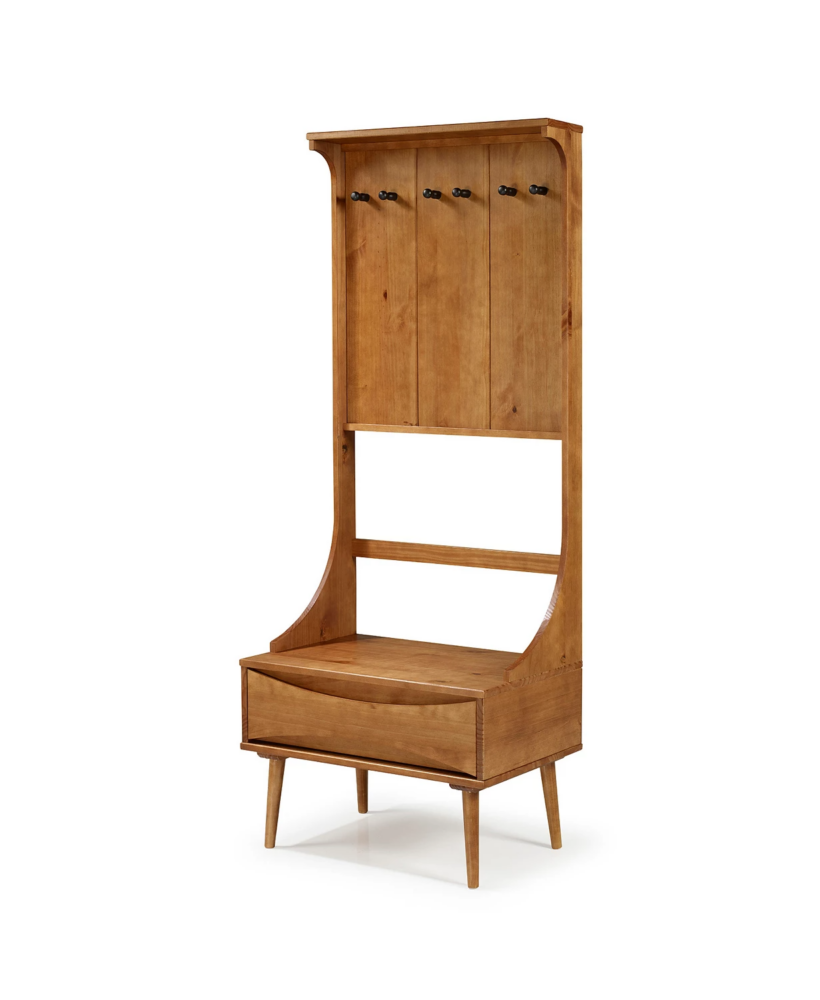 For more amazing options for mudroom benches and entryway storage, we have a full shopping guide for you! Check out all of the amazing options out there. There is something for everyone, no matter what your top priorities are for the perfect entryway storage bench!
Click any image below for full product details.

Other posts you may enjoy:
Wondering how I approach transforming rooms and spaces in our home? Check out Designer in a Binder®.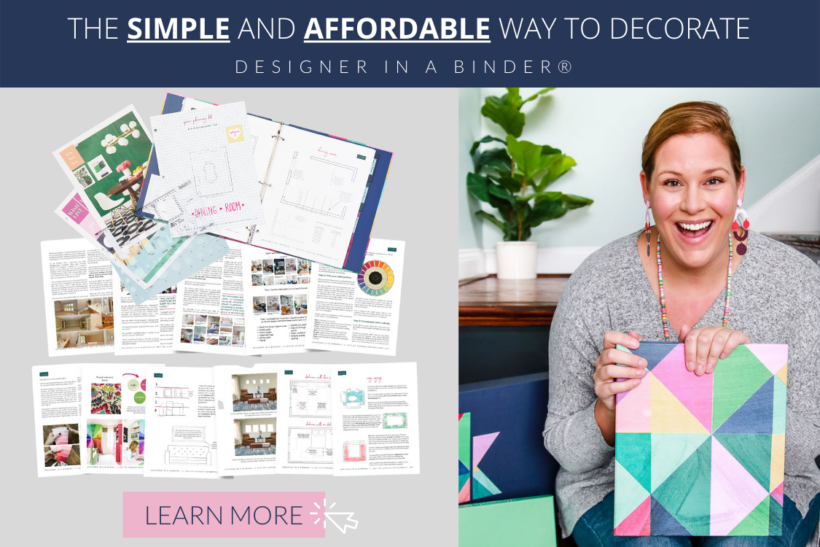 And if you want exclusive content and behind-the-scenes sneak peeks, be sure to subscribe before you head out!