Stylish and Functional Charging Stations
Last Updated on August 15, 2022
Get your chargers, cords, and devices organized all in one place! These stylish and functional charging stations will help wrangle all of your family's technology and look great doing it.
This post contains affiliate links for your convenience. Click here for my full disclosure policy.
Our family's needs for technology charging have changed drastically in the last few years. Remember back when the only thing you really had to charge was your phone and maybe an iPad? These days I feel like our family has SO many gadgets. It is becoming harder and harder to keep things organized, but I have determined I like to have very specific spots in our home dedicated to charging our various devices.
There are so many great options out there for charging stations. Treat yourself to more than just a cord in a basket as your phone holder! I started shopping around while keeping in mind that we had several problem areas where we needed to tame the mess.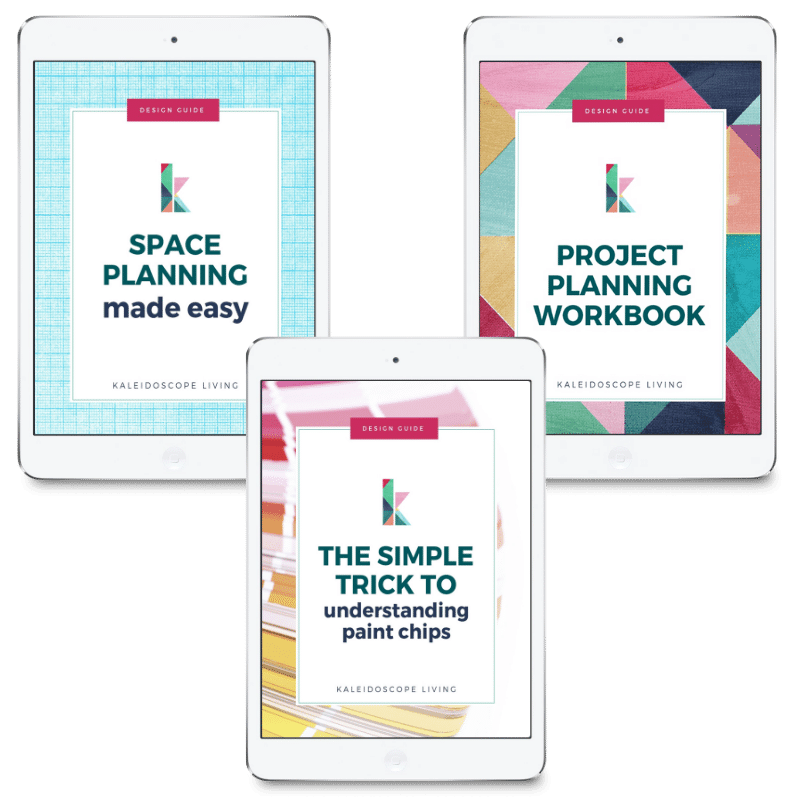 Get my FREE design guides when you subscribe!
Once I started looking, I quickly found the perfect charging station for my own electronic devices. I wanted something that felt like decor and would hold my personal technology items on my bedside table. This little wood charging dock is so pretty and has a spot for my phone, AirPods and Apple watch. (My phone isn't on the charging station in the photo because I had to use it to take the photo, but you can see the plug and stand to hold it.) I added it during my recent bedroom refresh and I love it so much.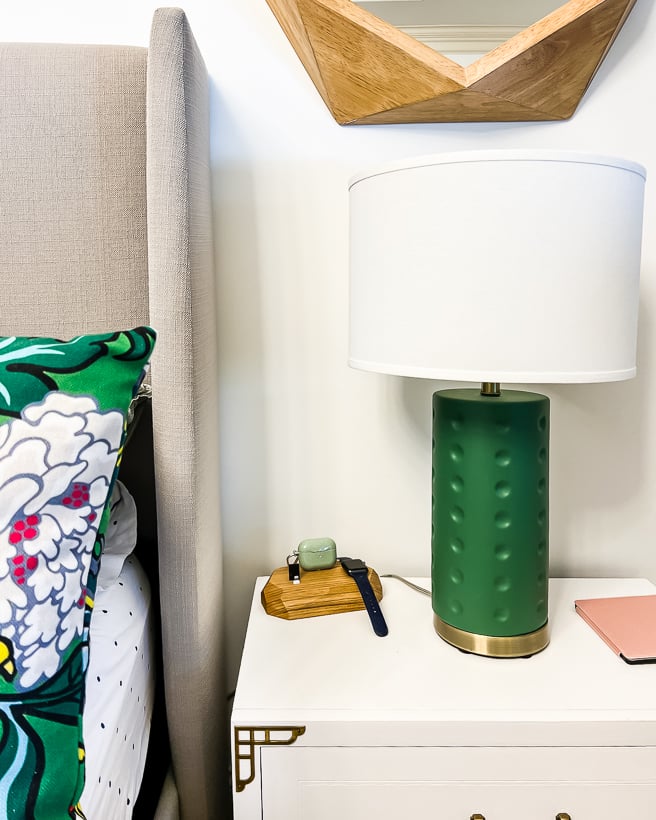 I love my personal charging station, but we also need family charging station ideas for the kids' tablets, school chrome books and gizmos. Not to mention a kindle and their new Oculus headsets. We are actively looking for a better solution for the entire family because our current situation is NOT working! I love all the options I found, but I think we will have to create a DIY family charging station for ALL the things we have now. I am searching for DIY projects and tutorials to find the perfect thing. But in the meantime, I want to make sure you are aware of all the amazing options out there already, so I am sharing my favorite charging solutions to help you get the electronic cord clutter under control.
Charging Stations for the Whole Family
I love all of these options, but a few were total standouts or really solved a specific problem that I see a lot when it comes to keeping gadgets neat AND convenient. These are my top recommendations for the best charging station purchases.
EASY TO USE
I love this power disc. The pattern on it is by one of my favorites–Rifle Paper Co and really sets it apart from boring black tech gear. These are great because you can just set your phone on it, no need to remember to plug it in. Easy to use and cute? Yes please! These are perfect for anywhere that has a power outlet–think kitchen counter, shelf or dresser. It would also be great for guests in your extra bedroom, in case they come for a visit and forget their charger!
CHARGING NIGHTSTAND
My sister recently bought these nightstands with a charging drawer for her primary bedroom and she loves them! This charging nightstand has a pullout drawer with a 3-plug extension and one power strip with USB ports, so you can charge multiple items. I love that it hides them away, the cords are totally hidden, and it looks like a gorgeous piece of furniture. Not to mention the shallow drawer above the charging drawer and the two below offer ample storage.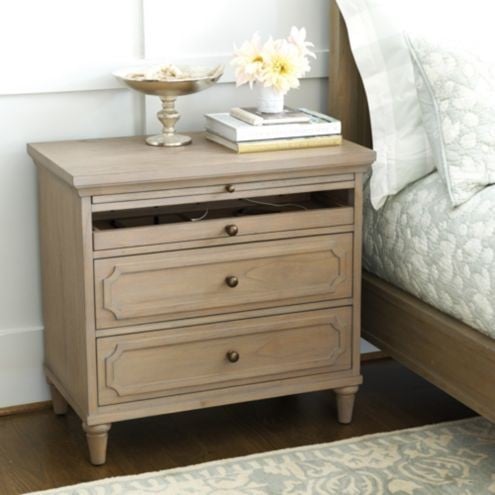 ACCOMODATES MULTIPLE DEVICES
Need something that will hold all your devices easily? This multidevice charging station is perfect! It has multiple pockets, including a tablet holder and even space for a laptop. You can recharge all your devices at once which is a total win. The tray in the bottom holds your cables neatly and there are compartments for five devices. This is the perfect size if you need to take up as little counter space as possible while charging several things at once. This is similar to the one I put in Thea's kitchen and she LOVES it! This would also be perfect as a desk organizer for all devices in your office.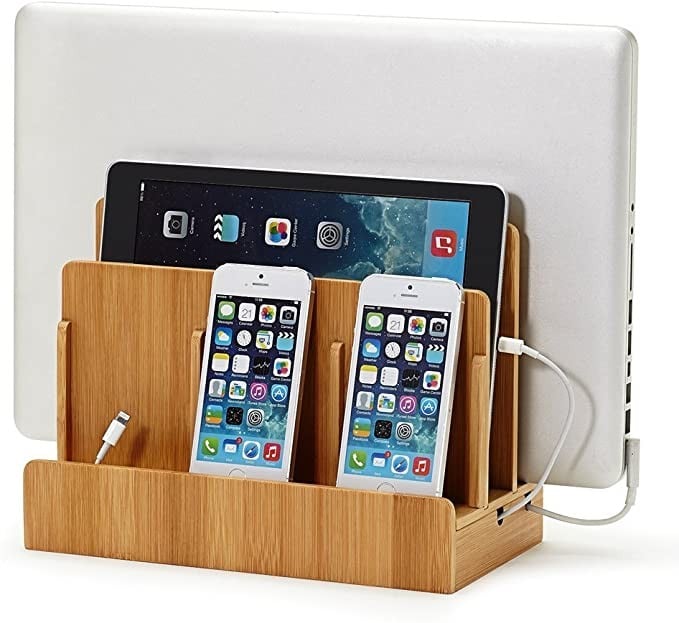 SPACE SAVERS
This one is a tie for two acrylic docks that hold different size devices. Both mount on the wall, keeping your desk or counters clear, which I love. The cell phone charging station has room for three smartphones or similarly sized devices. The other option is an acrylic station that holds only two gadgets, but one is sized for iPhones or other smartphones and one is large enough for most tablets. The downside to these is that the charging cables are not hidden and hang down the wall, but if you are short on space, that is probably not a huge worry. If you like this but don't want to drill holes, try command hooks!
There are some other awesome family charging stations I found as well. You can see them below!
CLICK ON ANY IMAGE BELOW FOR FULL PRODUCT DETAILS
You an also click here to shop all of my favorite charging stations in one place!

Aren't these options awesome? Keep in mind these would all make a great gift for the tech lover in your life (or maybe just to keep your spouse organized). There are so many great ideas to keep you and your electronics organized. Don't forget that using a label on each cord will help you keep it straight what charges what, and who's cord is who's. This eliminates cord stealing and accidentally tossing a cord that is specific to one type of device. Now you go get organized and I will keep thinking about my own DIY charging station ideas to solve our other charger issues!
Here are some other posts you may enjoy:
Wondering how I approach transforming rooms and spaces in our home? Check out Designer in a Binder®.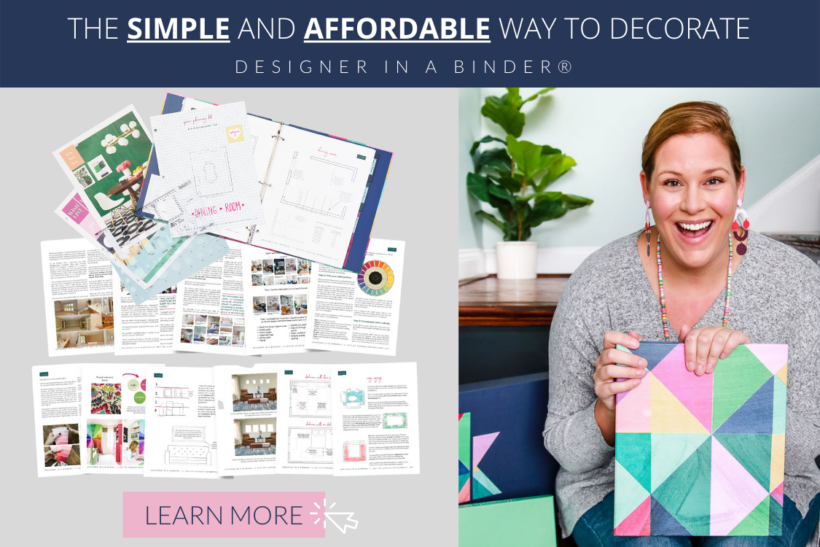 And if you want exclusive content and behind-the-scenes sneak peeks, be sure to subscribe before you head out!