5 Organizing Mistakes That Make Your House Look Messy (and How to Fix Them)
Last Updated on September 12, 2022
Your house may be clean, but these common organizing mistakes will always make it look messy. Learn how to solve these mistakes and restore order to your house.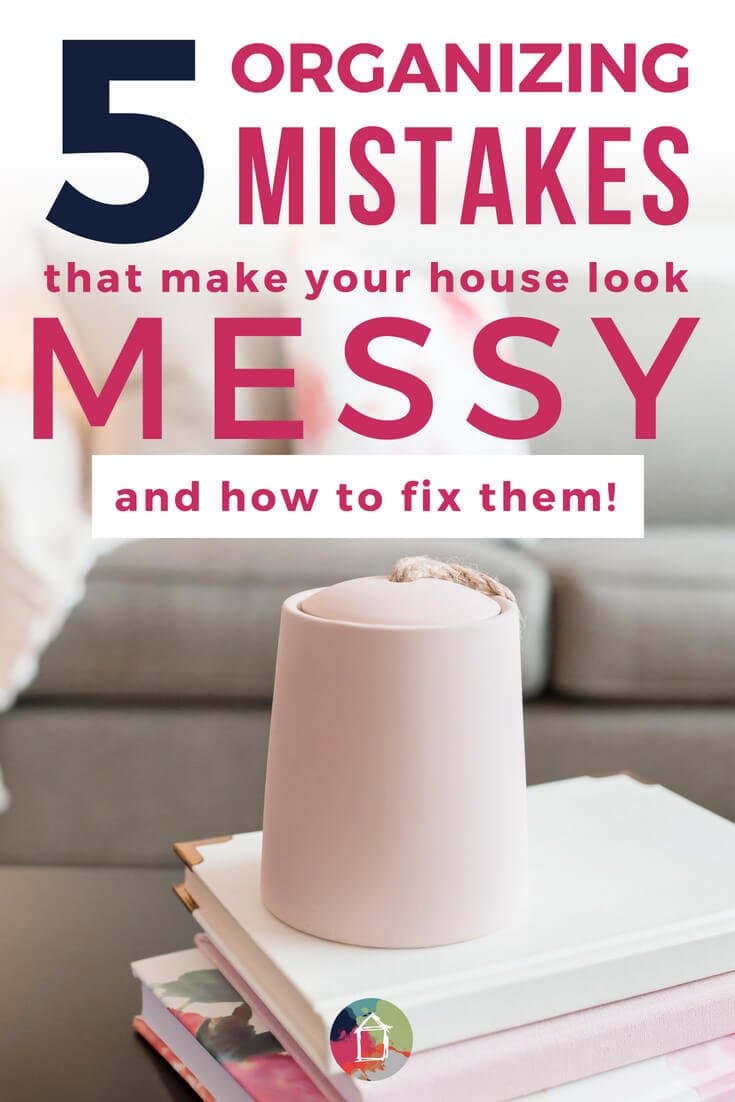 One thing I hear a lot is, "your house is always so clean!" or "I could never keep my house so clean." But y'all, I promise my house is probably not any cleaner than anyone else's house. The difference is that it's not messy.
Do you keep a clean house, but wonder why it never really seems to look neat and tidy? The fact is, most people keep reasonably clean houses, but they look messy. Why is that? What is the difference in the homes that look tidy and those that look messy?
Chances are pretty good that those clean homes that still manage to look messy are making several of these common organizing mistakes. The good news is, they are pretty easy to fix. Read on to figure out how.
5 Organizing Mistakes That Make Your House Look Messy
Organizing Mistake No. 1
One of the most common organizing mistakes I see is that people use their refrigerator as a landing spot for all kinds of papers. Nothing will make your kitchen look messier than a fridge loaded with school papers, party invitations and outdated coupons. Even if the rest of your kitchen is spotless, a fridge covered in paper will bring your whole kitchen down.
Let's face it… Your refrigerator isn't an effective way to "organize" important papers. What you need is some sort of "command center" to deal with the daily flow of paper in and out of your home. You can see my favorite command center systems in this post. All it takes is a little wall space and a few minutes to decide what system you are going to use to make sure you stop cluttering up your refrigerator. You can read my best tips for setting up a command center and system that works in this post.
Organizing Mistake No. 2
The next common mistake I see is that people have piles of paper of mail around their house. The piles themselves may be neatly lined up, but they will still make your house look messy. And more importantly, piles are not an effective way of organizing. Because what inevitably happens is that you forget what's in the pile and wind up holding on to mail that is outdated or no longer needed. Or worse… you wind up with forgotten bills and late fees.
You need to deal with your incoming mail every single day. But it will take you just a couple of minutes, promise! These are my tips for dealing with incoming mail.
✓ Sort your "real" mail every day. Pick a designated day/time to go through it and deal with it instead of just stacking it in a pile. Recycle or shred what you don't need and deal with whatever needs to be dealt with right then. Whatever you do, don't put it in a pile on a table or countertop.
✓ Manage your bills online. If you aren't already doing this, stop the madness and sign- up for online bill pay ASAP. We have most of our bills set up to pay automatically every month, but others we quickly login and pay online on the 1st and 15th of the month.
✓ Reduce your paper mail. Isn't junk mail the most annoying thing ever? Well, you can decrease the amount you receive with services like PaperKarma and Catalog Choice will help you get rid of all that unwanted junk mail. Also, decide if there are magazines or newspapers that you could read online instead. If so, cancel your subscriptions.
Organizing Mistake No. 3
A dysfunctional entryway is another common mistake I see that can make even the cleanest of homes look messy. An entryway is the first thing you see when you walk in your home, so it shouldn't be cluttered with coats, backpacks, shoes haphazardly strewn about. For some of you, this may not be your actual entryway or foyer. What I am referring to is the door that you use to typically enter your home and where you store hats, shoes, etc.
To create a functional entryway, get rid of anything that doesn't belong. Create dedicated "homes" for items that do belong. If you have a closet, make sure there is sufficient room to hang everything and that any young kids in your house can reach their hangers/hooks. We redid our coat closet to make it more user-friendly for our young girls.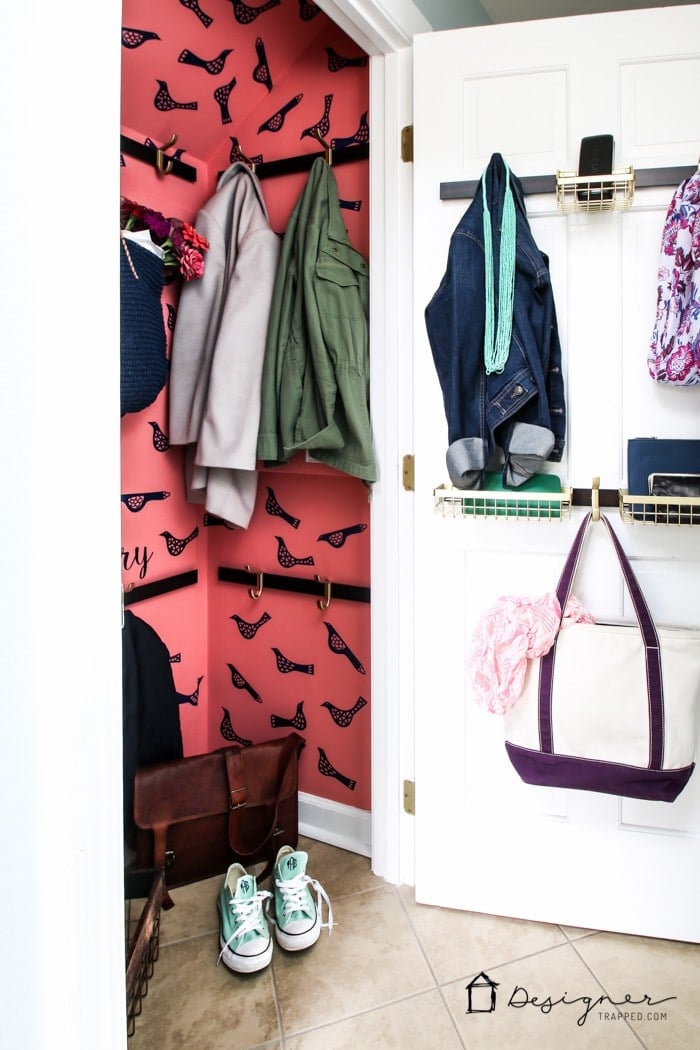 If you don't have a coat closet, hang a coat rack and use baskets or bins for items like shoes, hats and gloves. My friend Aniko who blogs at Place of My Taste came up with this awesome solution for the area by her front door–click here for all the details of how she created an organized entryway.
Organizing Mistake No. 4
This next one is a personal pet peeve of mine… Lots of people with clean homes simply have too many knick-knacks and small picture frames around their house. Lots of small items on horizontal surfaces always look messy, no matter how "curated" they are.
But don't misunderstand me! I LOVE family photos and I absolutely think they should be included in your home decor. But they are best hung on walls in large sizes. You can do this inexpensively. I have tons of these easy to make DIY photo canvases in our hallway and filled this entire wall in my daughter's room with these semi-DIY gold frames for less than $10 each.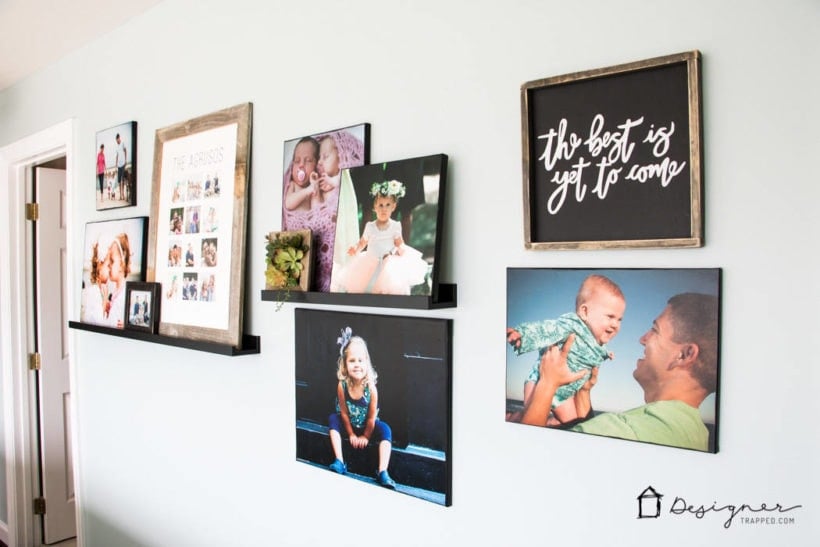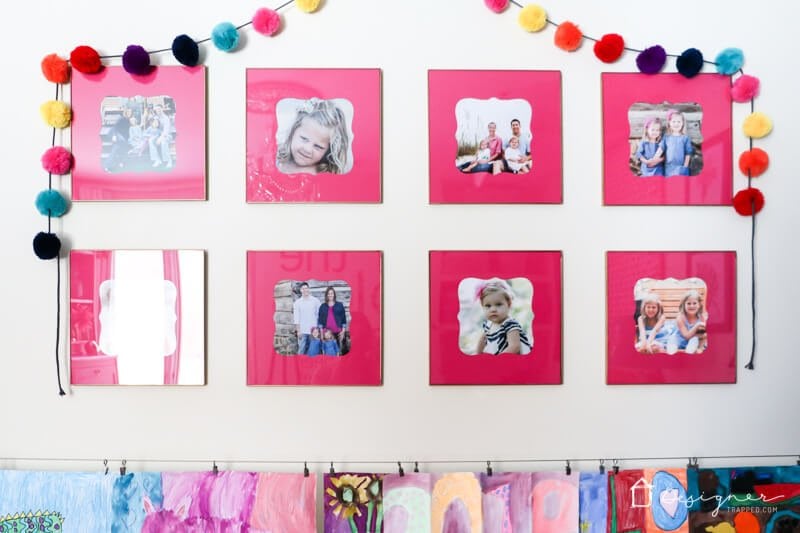 Organizing Mistake No. 5
Last but not least, let's talk about CLUTTER. For example, a lot of people make the mistake of bookcases that are crammed full of books and other stuff. Filling every shelf with books and magazines looks messy. Instead of cramming every shelf to capacity, try displaying only the books you really love (and will re-read) so that you can add some decorative accessories and leave some empty space on each shelf. You can see what I mean with these IKEA pieces that I "hacked" to create the look below in my daughter's room.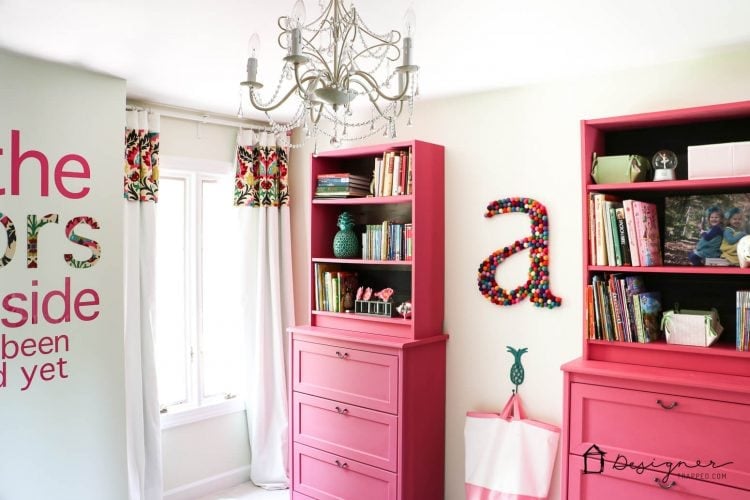 The same is true for any space in your home! Every room and surface in your room needs room to breathe. If everything is crammed full of clutter (even "organized" clutter") your house will look messy. Period.
There you have it :) By avoiding these 5 common organizing mistakes, you will be well on your way to having a tidier-looking house!
Other posts you may enjoy:
Wondering how I approach transforming rooms and spaces in our home? Check out Designer in a Binder®.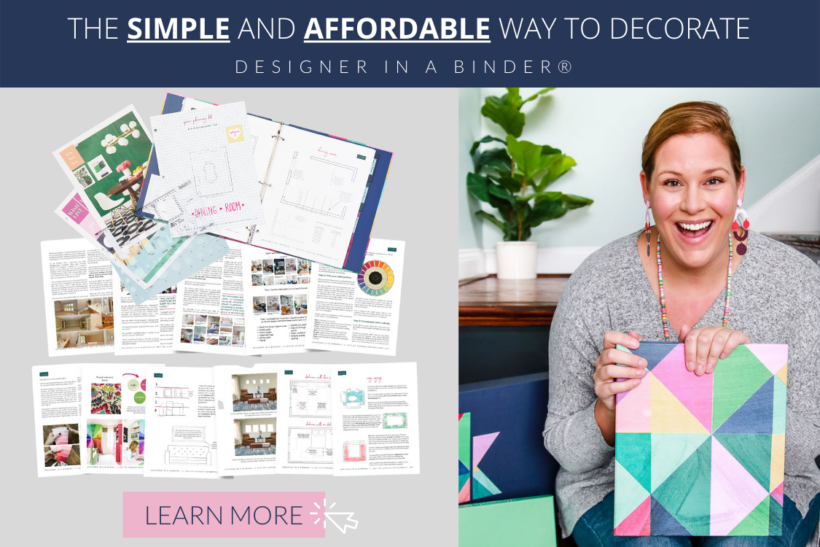 And if you want exclusive content and behind-the-scenes sneak peeks, be sure to subscribe before you head out!