How to Go Paperless
Despite all the ways the world is trying to go paperless (emailed receipts,  electronic records, and online communication) there still seems to be a never-ending flow of paper coming and going through all of our lives.  Between work, kids' school work and projects, and running a household it seems like paper is EVERYWHERE. Want to find a way to free yourself from the constant paper shuffle and go paperless? I have you covered! There are some really simple ways to go paperless that have LITERALLY changed my life. This post may contain some affiliate links for your convenience.  Click here to read my full disclosure policy.
How to Go Paperless in a Few Simple Steps:
– Invest in a scanner– Y'all, I became convinced to buy my Fujitsu ScanSnap S1300i scanner after reading an awesome post about going paperless from Just a Girl and Her Blog a while back. I HAVE NEVER BEEN HAPPIER WITH A PURCHASE. This little scanner is small and takes up very little space on my desk, but it's soooooo powerful. I use it to scan all of my business receipts, important tax and insurance documents, and so much more. Frankly, you really can't go paperless without a scanner, so invest in a quality scanner. You can't go wrong with the Fujitsu ScanSnap, especially since it integrates with Evernote, which brings me to my next point…
– Learn to use Evernote– Have you heard of Evernote? It's the most EPIC app in the world, in my opinion. Think of Evernote as a digital filing cabinet that can read your documents and uses OCR technology to make them searchable. WHAT?! I know, I know… It's exciting. I use Evernote mostly to store receipts, tax documents, and various contract and insurance documents. But it can be used for so much more! You can also save web pages and voice memos, too! Evernote is also how we manage our shopping lists. My husband and I can both add items to the list, then when we are at the store, we can see the complete list that both of us have been adding to since our last shopping trip. In other words, it saves us trips to the store for things we might otherwise forget because we were working off of two different paper lists! Oh, and by the way, I use the FREE version, so it won't cost you a thing :)
Here's the thing… Evernote is very, very user-friendly, but you will need to educate yourself a bit to use it to its full potential. I cannot possibly go into all the details you need to really create a paperless home in one post, but I can refer you to the only resource you need to learn everything you need to know about how to go paperless!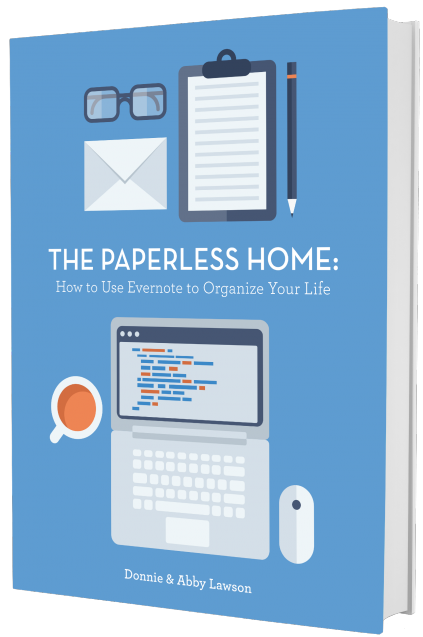 The eBook I recommend is appropriately named The Paperless Home, by Donnie Lawson. In it, he covers how to create a paperless workflow in your home using Evernote as your digital filing system. He takes you step-by-step through his system so that you can clean-up your paper clutter, reduce your stress and get more organized than you ever thought you could be. The Paperless Home and a quality scanner will be the best investments you ever make if you really want to reduce your paper clutter.
Wo what do you say?  Are you in?!

[go_portfolio id="cleaning_and_organization"]