Family Command Center Tips For Busy Families
Last Updated on September 12, 2022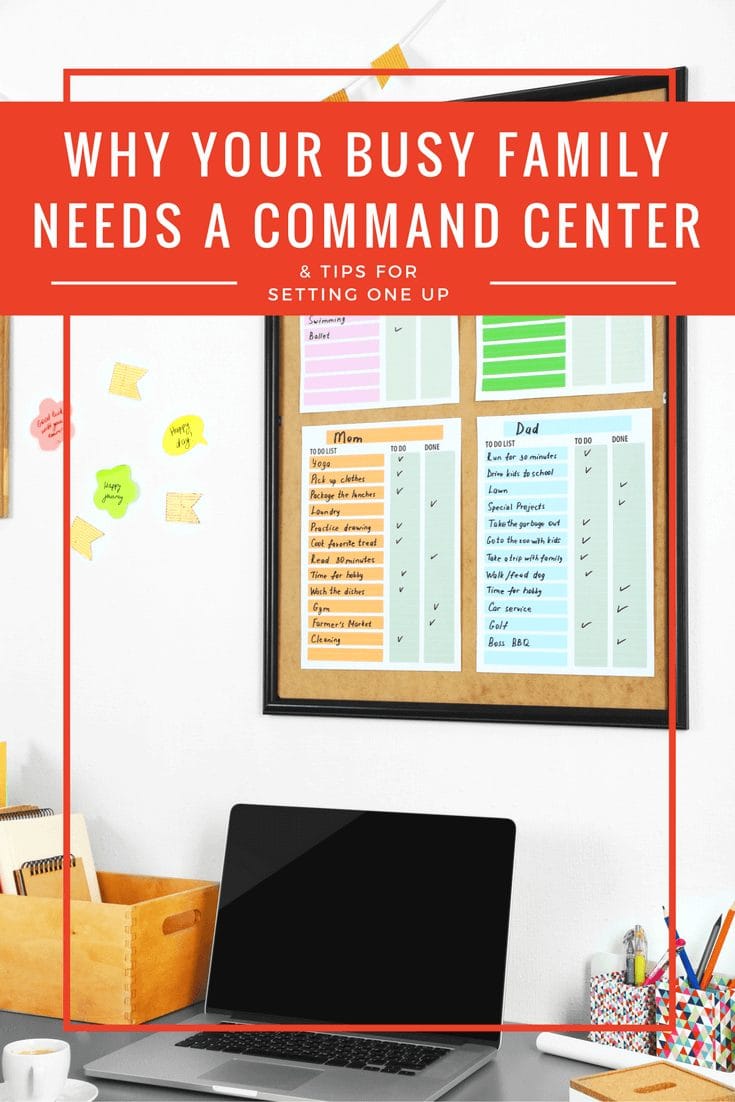 Getting organized is a family affair! If you want to make the hustle and bustle of busy family life run smoothly, you need a way to get everyone working together. You need a family command center! Creating a family command center is a very important step in getting your house, and everyone that lives in it, organized!
Wondering what on earth a family command center even is? Well y'all, it's a simple, streamlined spot where you can stash everything your family needs when they're heading out the door. Here's the deal, a family command center doesn't need to be crazy huge or some big eyesore in your entryway. There are tons and tons of gorgeous, organized command center ideas that incorporate the best calendar ideas, wall organization ideas and more.
If you're ready to get a handle on paperwork, clutter and general "junk" that walks its way onto your kitchen counters, clutters up your office and takes over the coffee table, a family command center is a must-tackle DIY project. You can create a command center that works in any space, looks great and coordinates with the rest of your style. Ready to get started?
Family Command Center Organization
Do you find yourself drowning in perpetual piles of mail, bills and school paperwork? It's easy to do–it just seems like there is SO MUCH paper that comes into the house every day. Whether your kids are preschoolers, elementary-aged or have hit the big time in the upper grades, chances are your home feels like a paperwork disaster zone.
That's why setting up a functional command center for your home is so important when it comes to keeping your family organized. Trust me, we implemented one several years ago, and while it definitely needs some tweaking and updating, our wall organization system has saved our sanity.
The process of sorting our mail, keeping track of bills and sorting receipts is quick and easy, and it's all because of our home command center. And now that we have school-aged kids, it helps tremendously in keeping track of everyone's schedules. Every appointment goes on the family wall calendar where we can quickly find it at a glance.
We never have to frantically search for permission slips or other important documents that need to be returned to school because we have a system in place for those documents–into the family organization system they go! Setting up a family command can be done in less than an hour and it will save you HOURS of time each month.
This post may contain some affiliate links for your convenience. Click here to read my full disclosure policy.
Family Command Center To Do List
– Find the perfect location: If you don't find the correct location for your family command center, it won't be effective. Place it in a zone of your house that everyone passes through, especially after retrieving the mail or arriving home from work/school. You can put a command center in an office, in the kitchen, a mudroom, laundry room or entryway.
For our family, our command center is located in our kitchen, right beside the entry from our garage because that is the way we enter the house 95% of the time. While it doesn't work in our house, it makes sense for a lot of people to put it close to their entryway or "dump zone." It all depends on the area your family uses and enters most frequently. (Click here to read tips on organizing your entryway.)
– Set the command center rules: If you don't set rules for your family command center, it will soon become a dumping ground for junk mail and other things you don't need. Don't let that happen!
We use our home command center to store "to-dos," such as bills that need to be paid, receipts that need to be shredded or scanned, keys, our dog leash, and coupons to use. We don't use it to store toys, clothes, catalogs, magazines, old lunches or junk mail even though those items sometimes appear in our family command center accidentally. Having rules about the command center means extra items don't stay there (and it keeps it from getting ugly)!
– Invest in a shredder: Seriously, y'all need a shredder if you don't already have one. They don't have to be fancy or expensive, but they are so necessary for keeping paper clutter to a minimum. A shredder is a vital part of your home command center, simply throw in the junk mail as you go!
If your family command center has some shelf space, consider a compact model, like these. If not, you can buy one similar to ours, which is about the size of a trash can (like these shredders). Whenever we receive credit card applications, they get shredded, as do our receipts after we scan those that we need to keep (you can read about how we scan and digitally organize our receipts and other documents here)!
– Make it pretty: Yep! That's right. Your family command center should be as pretty as the rest of your home (as well as functional)! If you don't find it pretty and pleasant to use, you probably won't! Keep your command center motivation up by finding a system that is functional and that you like to look at.
We purchased this family command center in 2006 and have never regretted it. It's absolute perfection and I love that it's modular, so you can add to it or change it up as your needs change. You aren't limited to the Pottery Barn daily system, though, there are plenty of great family command center options out there.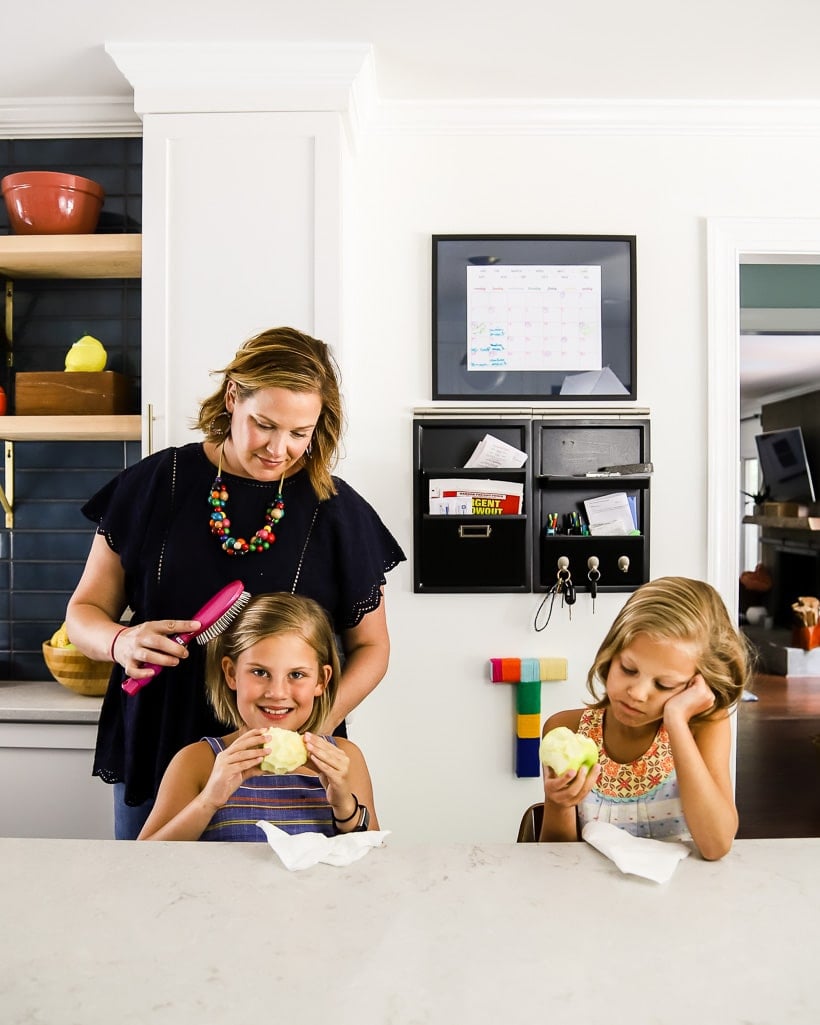 – Deal with the paper in your command center regularly: You can either block 15 minutes per day or set aside a longer chunk of time once a week (we prefer the latter). The trick is to find a time that you can really dedicate consistently to tackle your paperwork and spruce up the command center.
If you chose to deal with it one day per week, pick a day and stick with it. I find that Sunday's work well for us because it helps me get things sorted and organized for the coming week. On Monday morning, the kids are ready for school with everything set up in the command center and on the family wall calendar for the week.
– Make sure to include a calendar and/or whiteboard: This is one of the tweaks and updates that we needed to make to our command center. When we purchased ours, we did not yet have kids and schedules constantly flying around in our heads. Now, even though we keep electronic calendars, we needed a visual calendar in the hub of our house so that we could see our monthly schedule at a glance and pencil in school events each week. It's actually one of my 4 strategies for organizing your life with work + kids.
We also use MC Squares Reusable White Boards and they are seriously a game-changer. They stick to any shiny surface (cabinets, mirrors, refrigerators, etc) and come in a huge variety of options. I talked about them on Instagram and y'all went crazy for them also. I love these for to-do lists, shopping lists, meal planning, chore charts…really the options for this genius product are endless. They use wet or dry-erase markers (one comes with the bundle!) and are easy to clean. When any piece of paper with scheduling info on it (field trip permission slips, birthday invitations, swim meet details, etc.) comes home, we write the date on our dry erase calendar and then get rid of the paper immediately.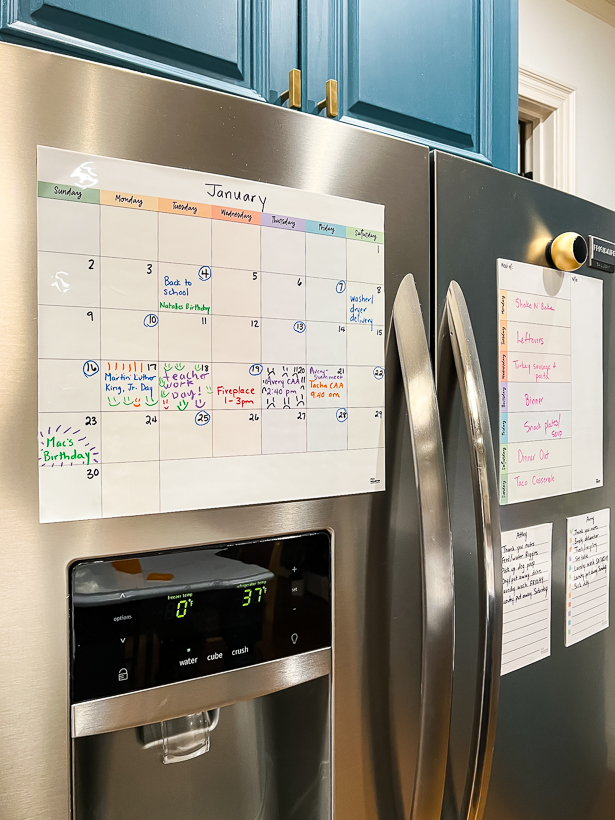 There are tons of options for calendars, so simply find something to match your style and compliment the decor of your kitchen, entryway, office or wherever your command center is kept. You could also include a whiteboard to write down groceries that you need, especially if your command center is located in your kitchen, though we prefer to use Evernote to keep track of our lists (you can read all about how to go paperless and the system that we use here).
You can shop some of my favorite command center and wall organization options below.

Now take a few minutes to evaluate how a family command center would improve your life and decide on what features it needs. Then don't delay in ordering one or DIYing one yourself!
Other posts you may enjoy:
Wondering how I approach transforming rooms and spaces in our home? Check out Designer in a Binder®.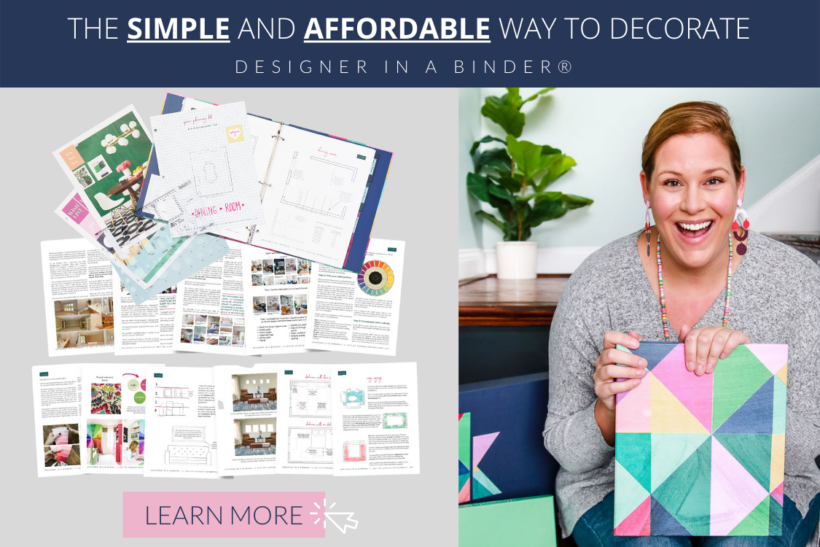 And if you want exclusive content and behind-the-scenes sneak peeks, be sure to subscribe before you head out!