Clever DIY Storage for Small Spaces
Finding storage solutions for small spaces can be challenging. There are some amazing DIY storage ideas for taming the clutter in even your tightest spots! I love these ideas for creating order and efficiency (which are two of my favorite things!) in the most unlikely ways. When even the small spots in your home are organized, it helps you keep your whole home tidy and organized!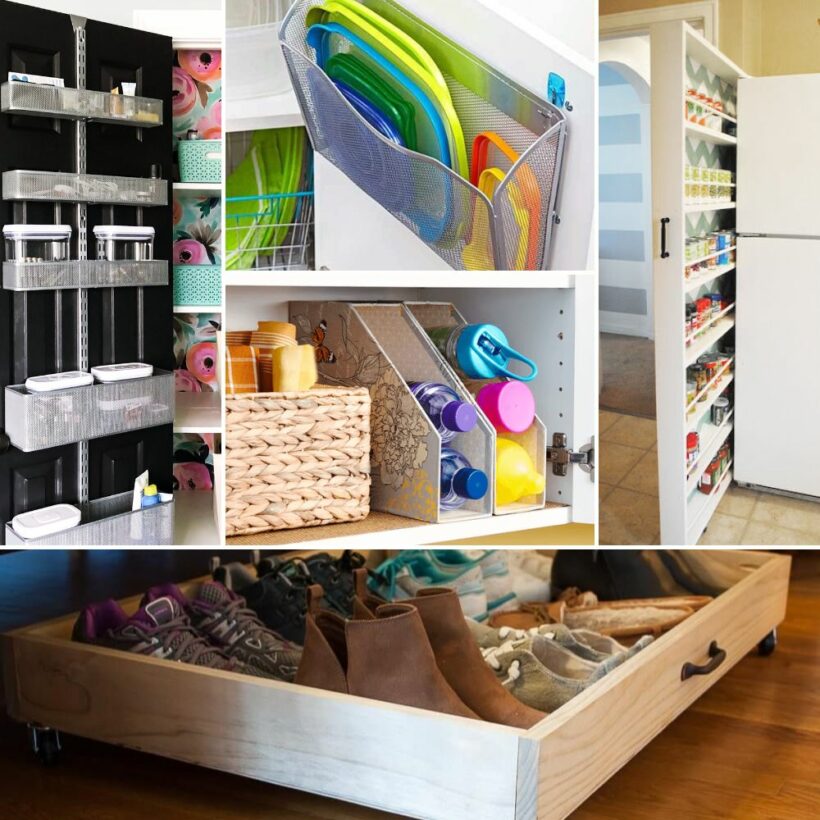 Storage Ideas for Small Spaces
Vertical Storage Ideas
Making the most of vertical space is key when you are living in a small space or trying to organize a small room. Most rooms have wall space so use it! These are smart storage ideas that don't give up valuable floor or closet space.
Pegboard
Hanging a painted pegboard with hooks is a great option for pots and pans. When you have limited storage space in a small kitchen taking advantage of the walls can free up a lot of drawer and cabinet space. And if you make it stand out like this dark green board with copper and cast iron cookware, it doubles as decor!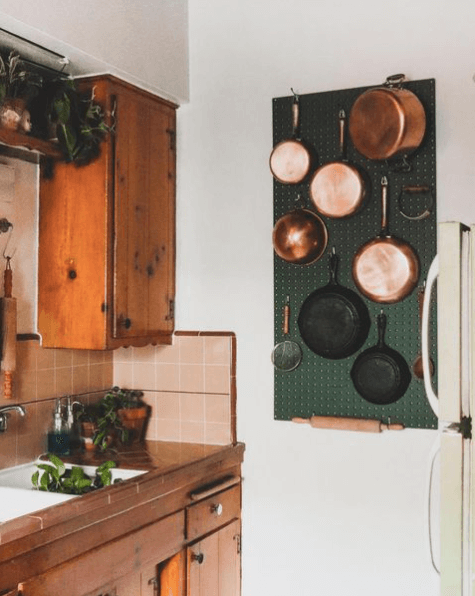 Don't have an extra closet for cleaning supplies? Create a small spot with a DIY peg board to hang your cleaning implements. Add shelves for an extra spot to hold cleaning odds and ends. You can put it anywhere you have a spot that is easy to grab.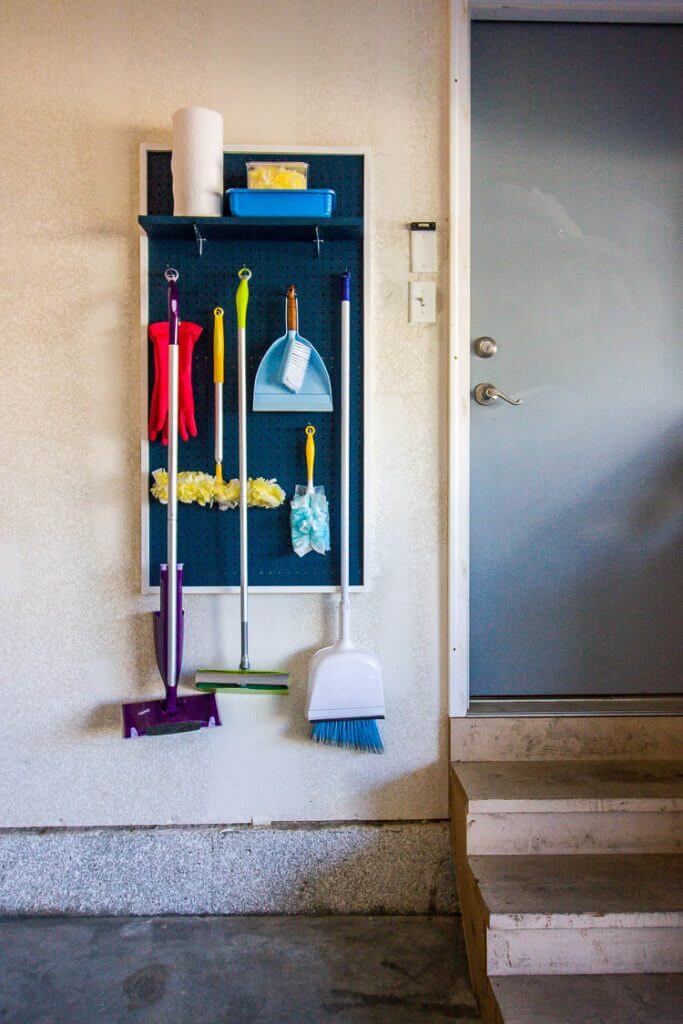 Wall Track System
Even if you are lucky enough to have plenty of garage storage or a storage shed, interior storage space can be limited. Using a track system to take advantage of wall space is a great way to carve out an area for yard tools and other items that can be hung out of the way.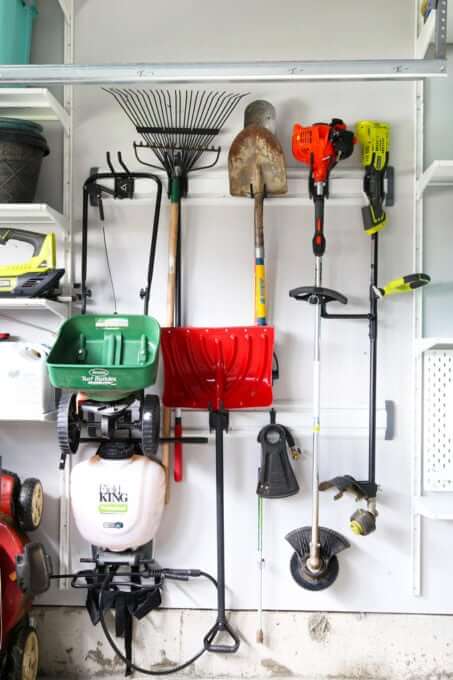 Ideas for Using the Backs of Doors
When storage space is at a premium, the backs of doors are prime real estate! There is so much extra space on closet and pantry doors that can easily provide sneaky storage.
Purse Storage
Use a smart system for your purses on the back of the door. This system has hooks and bins to accommodate all kinds of purses and clutches. I like this because they are easy to access and it isn't taking up valuable closet space! This is especialy key if you have a small closet (or a giant bag collection!). You can use this same idea for other accessories like belts, scarves and seasonal items.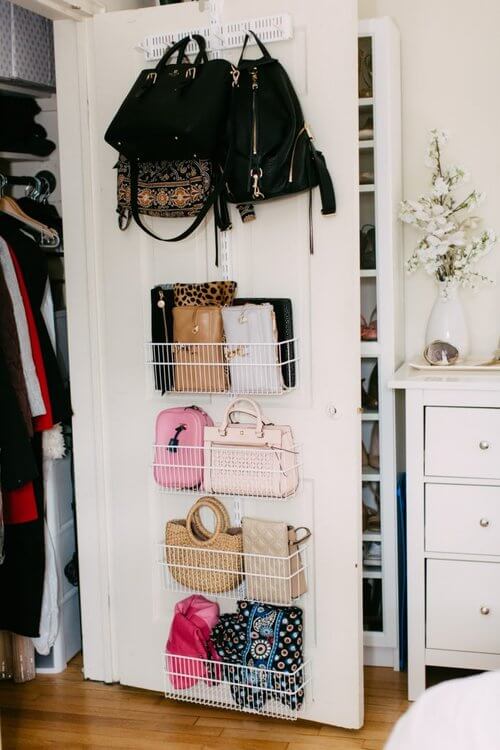 Makeup Storage
Use small clear shelves inside your closet to hold makeup and other accessories and essentials. This frees up counter space in the bathroom (if you even have any!) and leaves the medicine cabinet or drawers for other toiletries.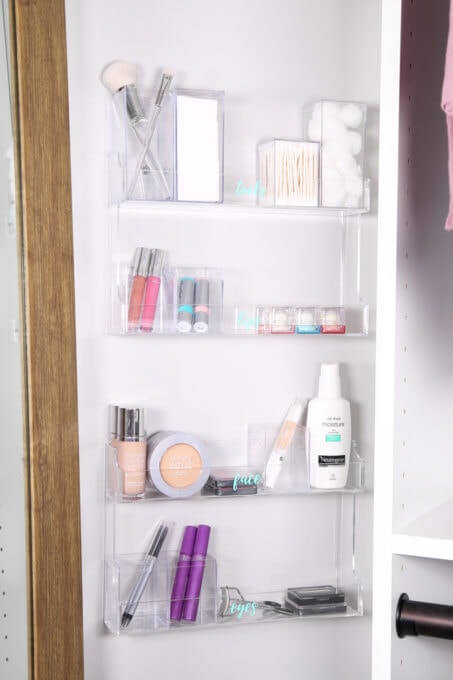 Lid Storage
Lids for pots and pans are so awkward to store. If you aren't blessed with ton of pantry shelving, create built-in storage on the back of your pantry door and you won't have to waste valuable space on lids! This type of system also makes it fast and easy to grab the one you need while you are cooking.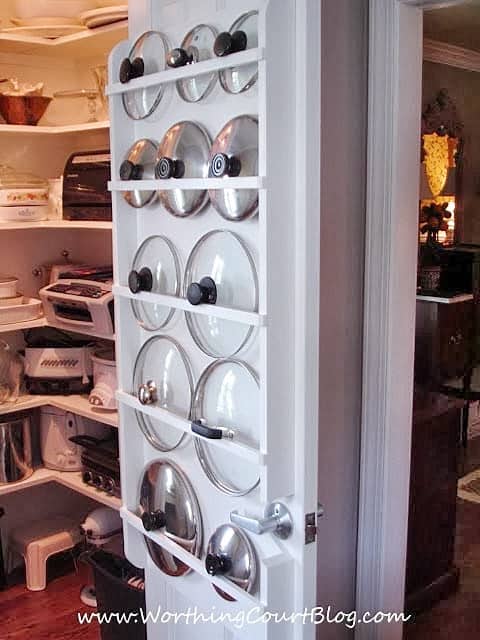 Grid System
Hanging a grid system on the back of a door gives you tons of options for storage.You can easily attach the grid with command hooks, which is a great idea for extra storage in a studio apartment, condo, or rental! Here all kinds of brushes, brooms and dusters are hanging from hooks. But this can also be used for really anything you need a spot for–bags, dog leashes, or add a basket for gloves and mittens.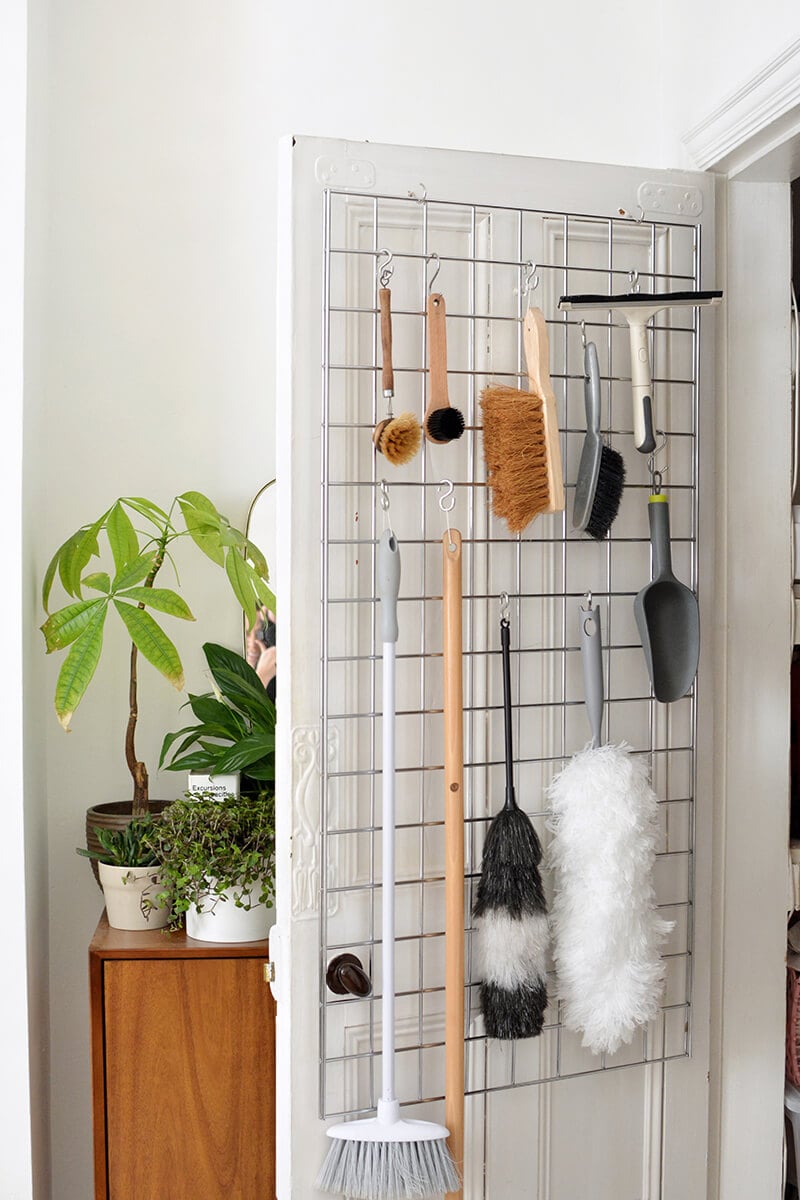 This post contains affiliate links for your convenience. Click here for my full disclosure policy.
Extra Closet Storage
We love using back-of-the-door storage! Our favorite is the Elfa system that we used to maximize the space in our small linen closet. I love that there are lots of options for the placement of the fixtures and the system is so versatile (we also used these in our girls' closets.)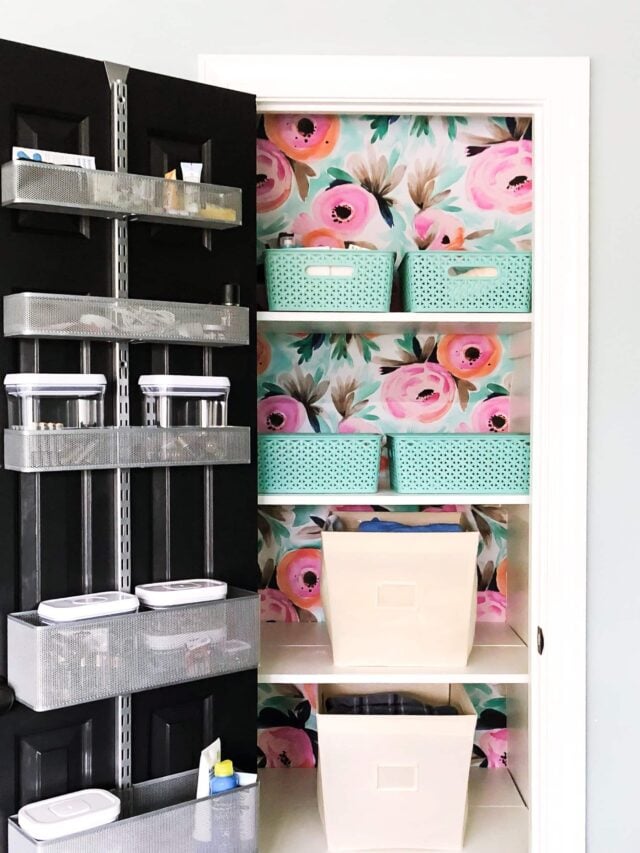 DIY Smart Storage Solutions
Building smart storage into your home is a great way to solve your storage problems. Do-it-yourself projects can add storage to small spaces and can be customized for exactly what works best for your home!
Under the Stairs Storage
Often old or historic homes are seriously lacking in closet space. This genius DIY project for under the stairs pull out storage is an amazing way to solve this problem! Don't use up a part of your living room or entry for a coat rack and drop zone with this sneaky do-it-yourself coat closet replacement.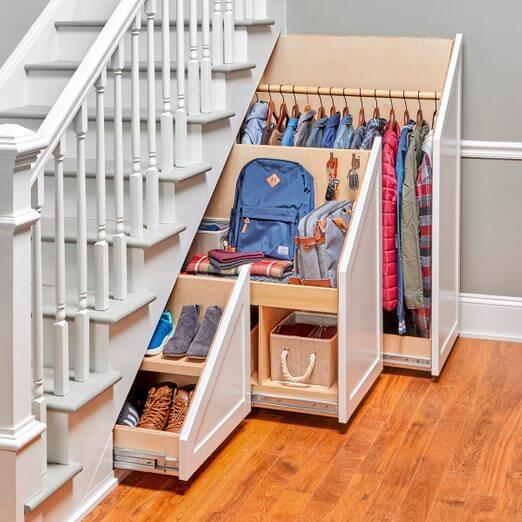 Shoe Drawer
Smart shoe storage is so important! One of my pet peeves is seeing shoes all over our house. This DIY rolling shoe drawer is a great alternative to traditional shoe systems and utilizes the often overlooked under-the-bed storage! This could also double as a storage bin for sweaters, extra blankets or sheets. Depending on the height of your bed frame you could make it deeper to hold more.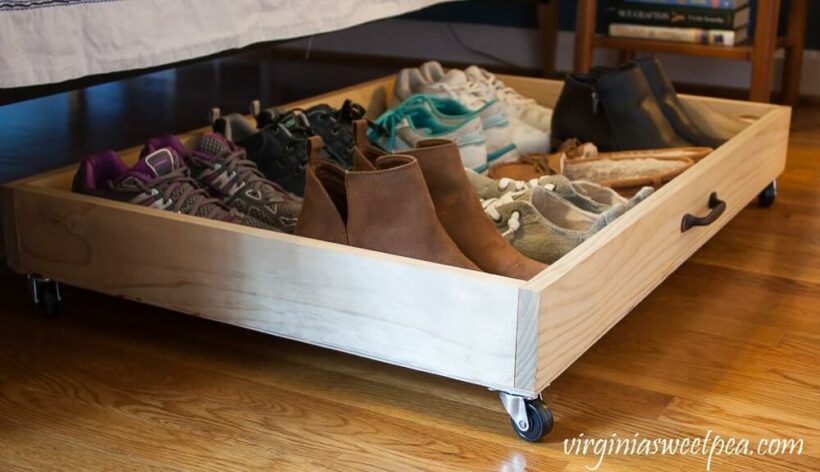 Narrow Kitchen Storage
Build yourself an awesome rolling shelving unit that fits in the space between the wall and the refrigerator. Talk about using every inch of your space! This narrow shelf is a straightforward DIY that is perfect for storing spices and plenty of canned goods and sauces.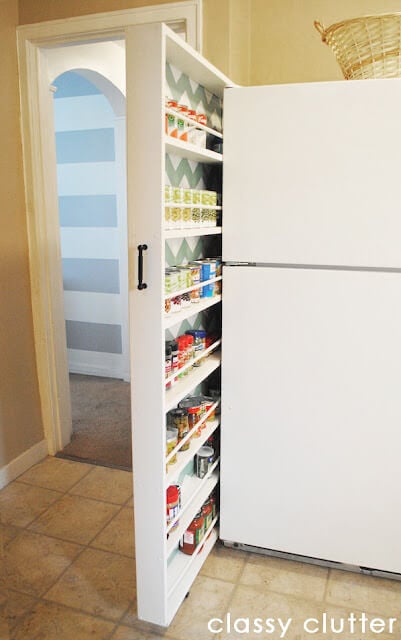 Nook Between the Studs
No bathroom closet? Build your own storage nook into the small space between the studs in your bathroom! This is a perfect spot to stick towels, toiletries and extra TP! Using that normally lost little niche is so smart and can be done in other spots in your house where you need a small storage space.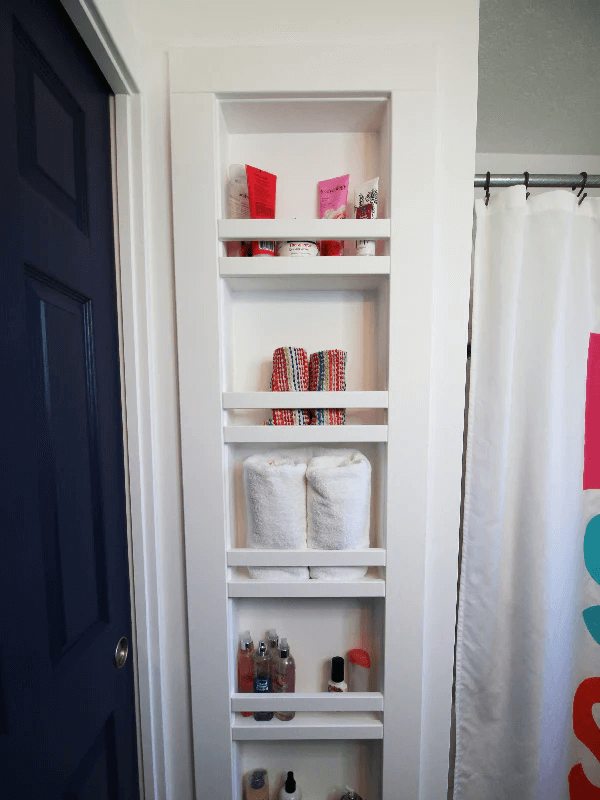 Creative Storage Hacks
Occasionally a small trick is a huge space saver. We all have trouble areas in our homes that are hard to get organized because they are small and full of stuff, so we have to get creative.
Water Bottle Storage
These days having reusable water bottles is just a part of life. If you have a kitchen without a lot of space, water bottles prove to be a headache. Stacking your water bottles on their sides in a magazine holder is a great way to keep them contained. You can use the same idea for bottled drinks!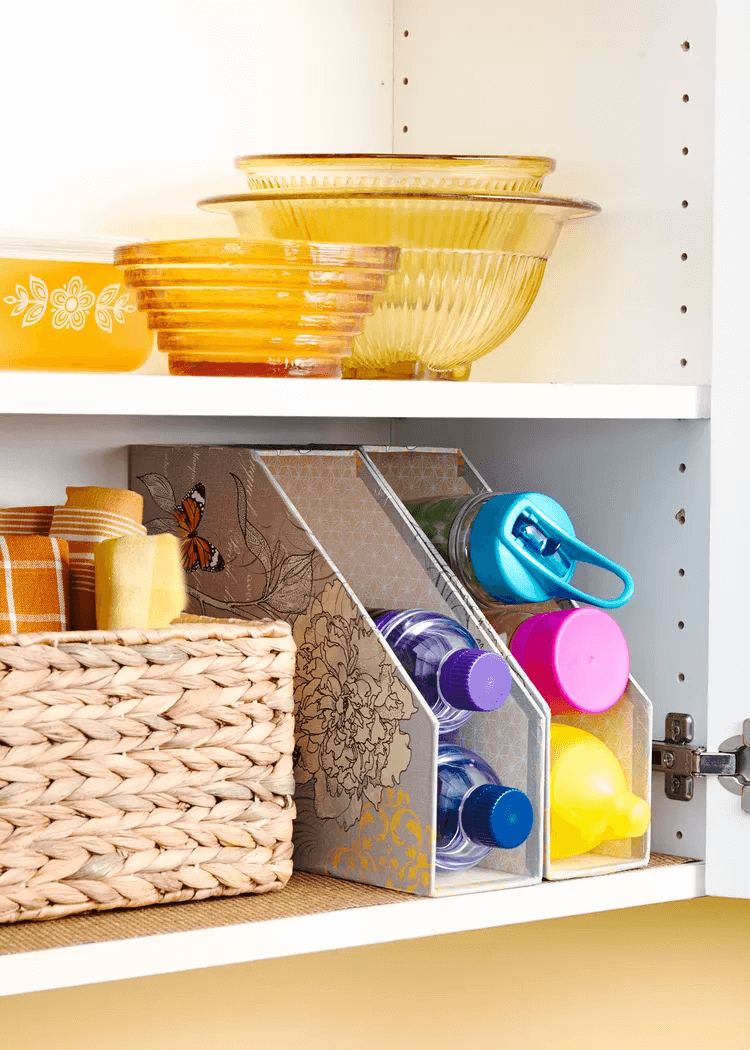 Another space saver for water bottle storage is using wine racks in a cupboard or in your pantry. They stack easily and this allows kids to grab what they need without making a mess and knocking them all over!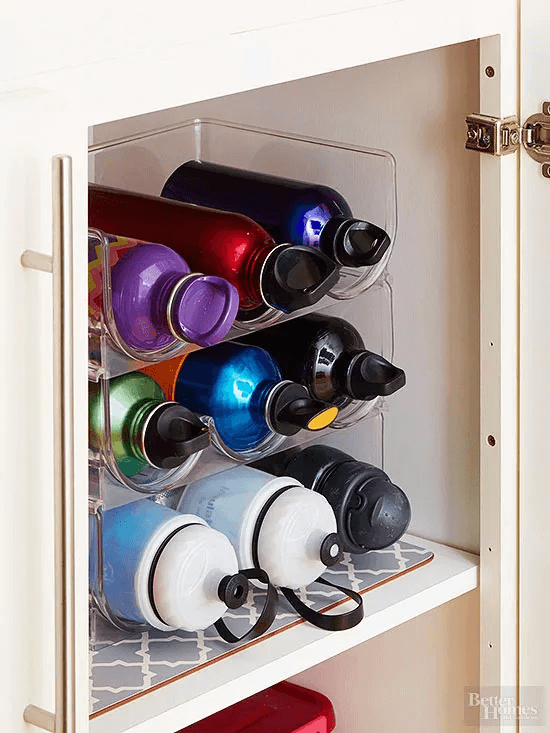 Magazine Organizer for Kitchen Storage
Magazine holders attached to the back of your cabinet door are a great spot for wraps and ziplock bags. They are easily accessible without taking up a whole drawer or having to be stacked up in the pantry. You could also use this storage trick for lids, pot holders, or cleaning supplies.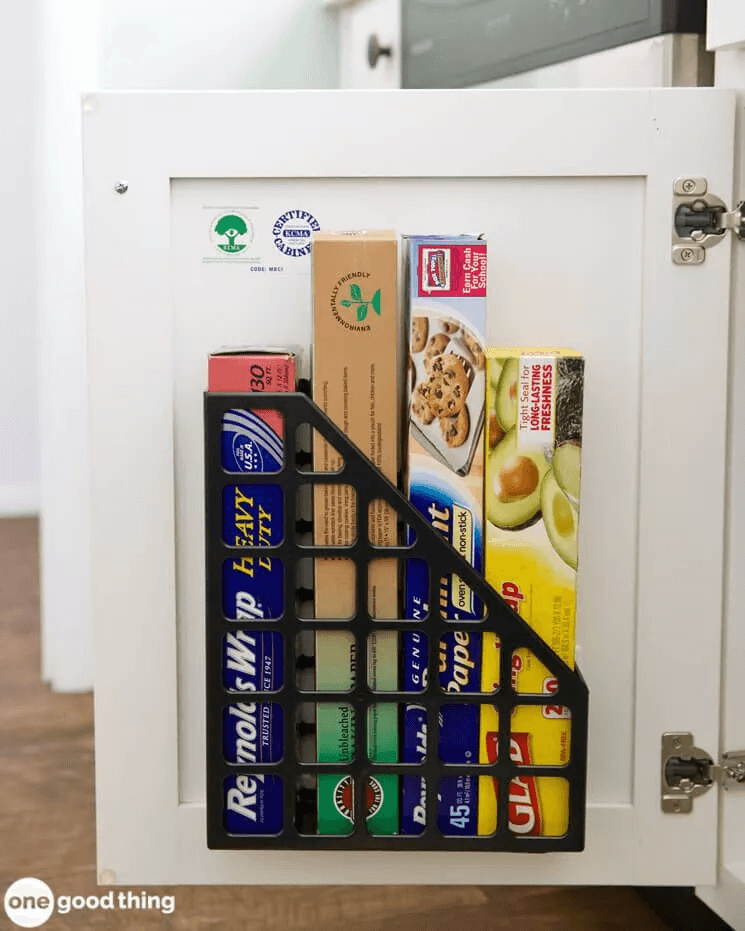 File Holder For Lids
Keeping up with the lids for your reusable plastic storage containers is a pain, especially if you don't have a ton of storage space. I love this hack–hang a file holder on your cabinet door and use that to hold all those lids! This a geat idea to save space and stay organized.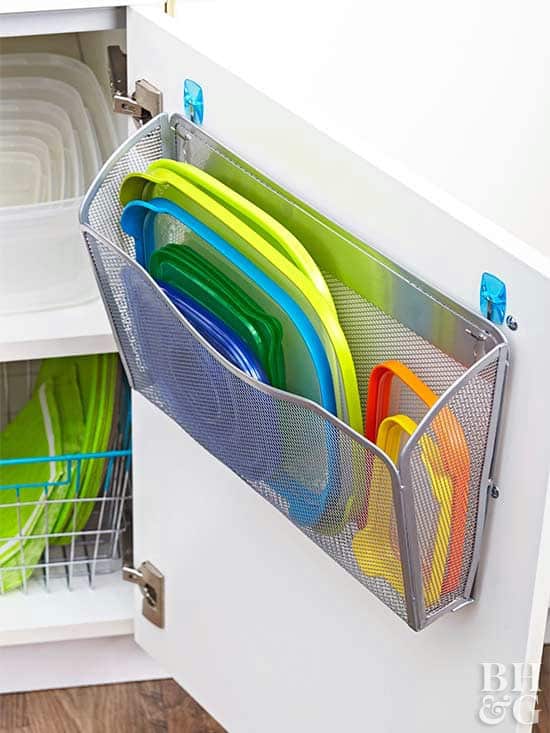 Cart for Bathroom Items
In some bathrooms, there is not a lot of storage space. I love this idea of adding a cart to create an additional spot for toiletries, extra toilet paper and towels. And adding a plant makes it feel more like a piece of furniture which I really like. This same principal can be used in any room that you need to add a little sneaky storage too!
Zipper Pouches
These simple zipper pouches are one of my secret weapons for staying organzied. These make great storage for tons of things. We use them for board games, but you can use them to keep any small space organized and tidy!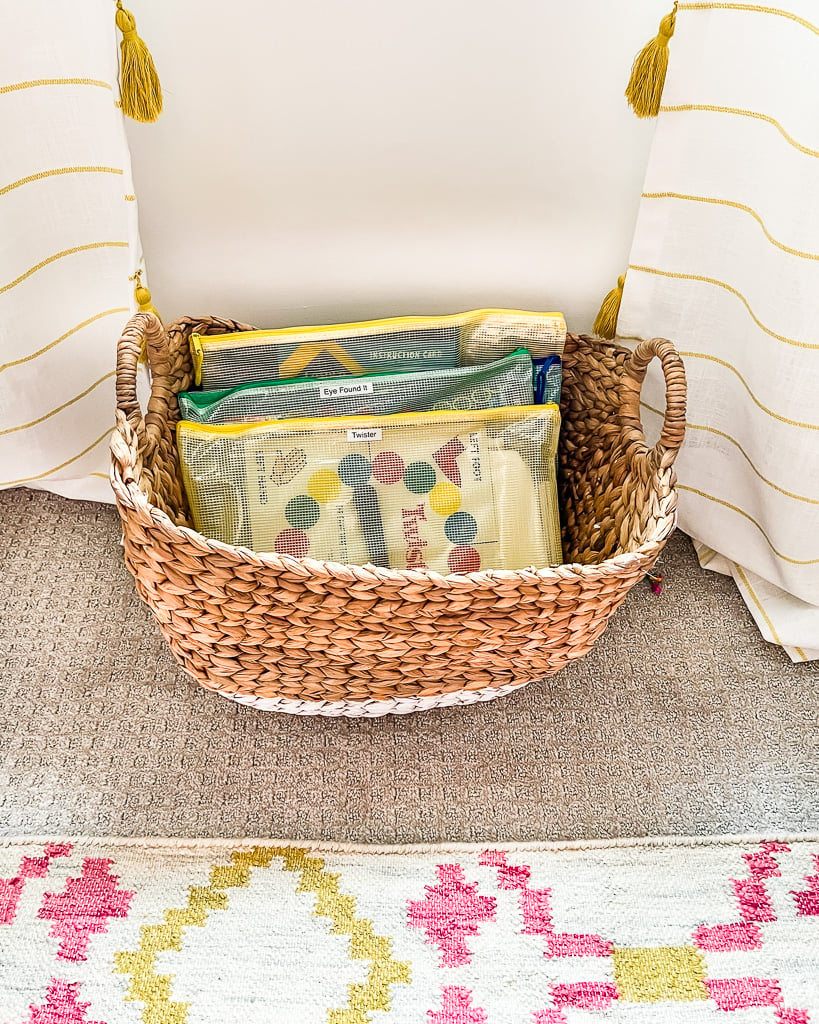 These storage ideas for small spaces are seriously amazing at maximizing any space you do have without sacrificing organization. DIY your small storage with these hacks to keep your space orderly and your home running efficently!
Other posts you may enjoy:
Wondering how I approach transforming rooms and spaces in our home? Check out Designer in a Binder®.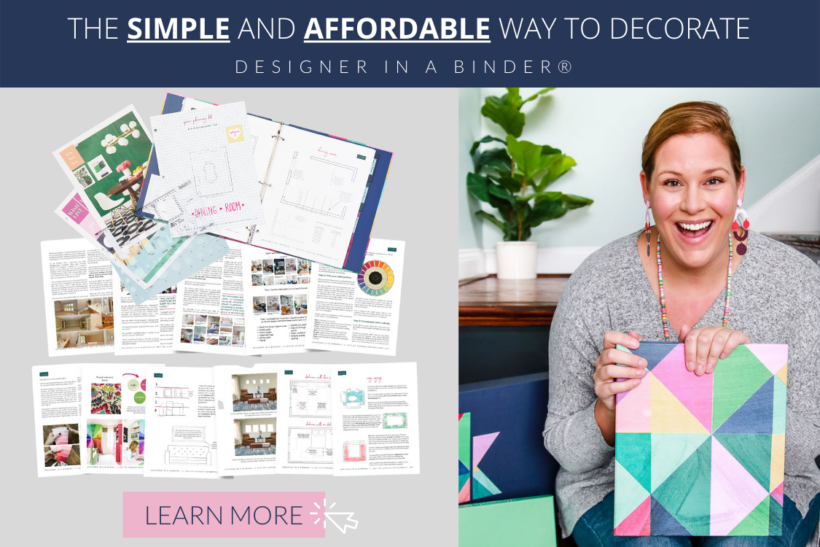 And if you want exclusive content and behind-the-scenes sneak peeks, be sure to subscribe before you head out!