Brilliant Homeschool Organization Ideas
Last Updated on August 10, 2021
Getting ready for the school year can be overwhelming. These brilliant ideas for homeschool organization will help you set your kids up for success for distance learning, homework, homeschooling, or virtual learning! Get them organized and save your sanity.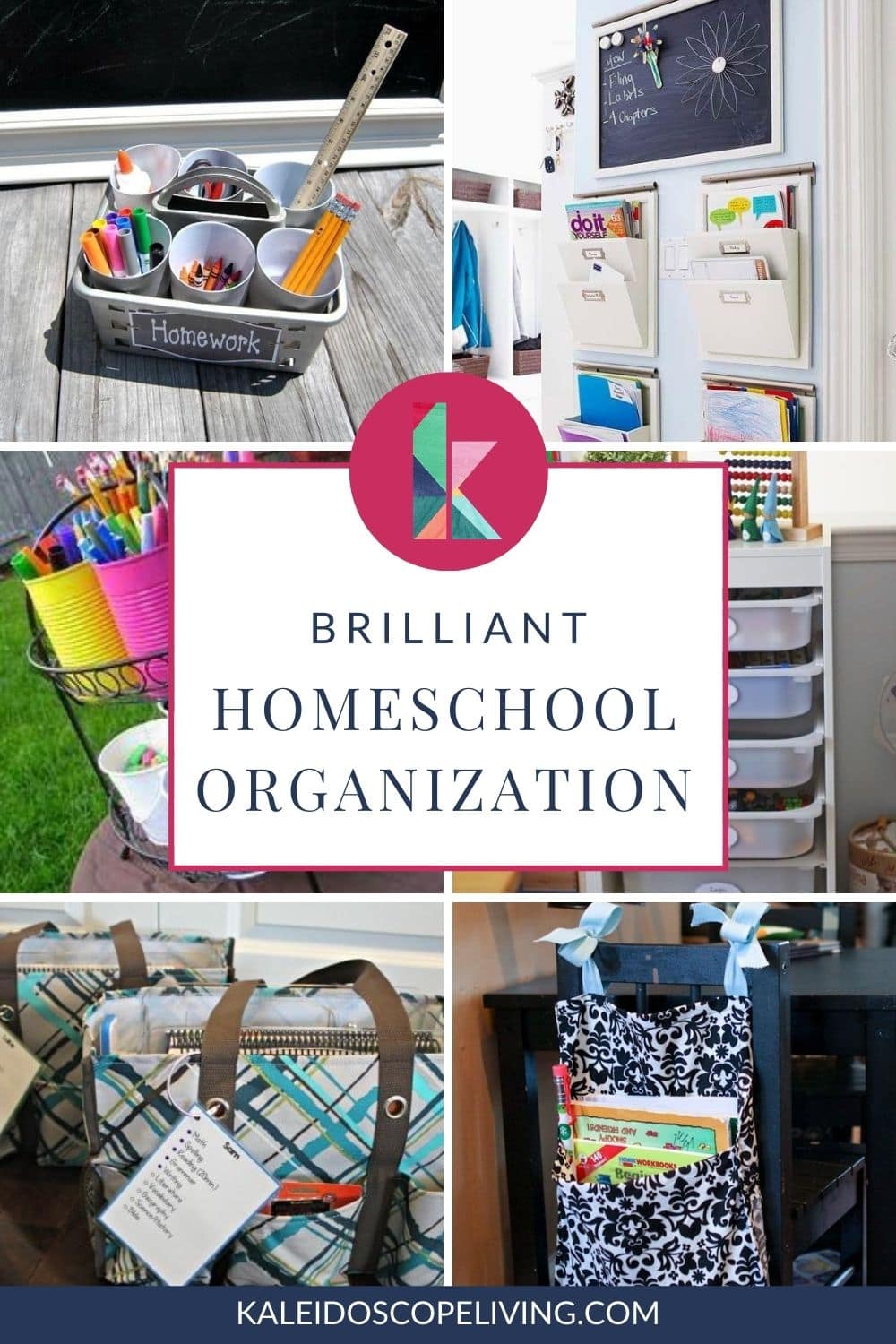 School is back in swing and we are all getting used to the girls' new homeschool curriculum. After a lot of deliberation, we decided to move to our own homeschool plan versus what our district was offering. This allowed us to have more control over each day, and ultimately the rest of the year. With everything so up in the air, this gave me at least a moderate feeling of control! We aren't waiting on other people to make decisions and we can learn following our own family schedule.
The girls are a week into the new plan and it is not easy! The coursework is rigorous and some days we feel more on top of things than others, but overall it is going really well. One of the real challenges of getting started is figuring out the homeschool organization system that works best for us. We needed something that didn't take over a whole room and that is fairly portable. I started researching what other parents are doing and WOW are there so many great ideas!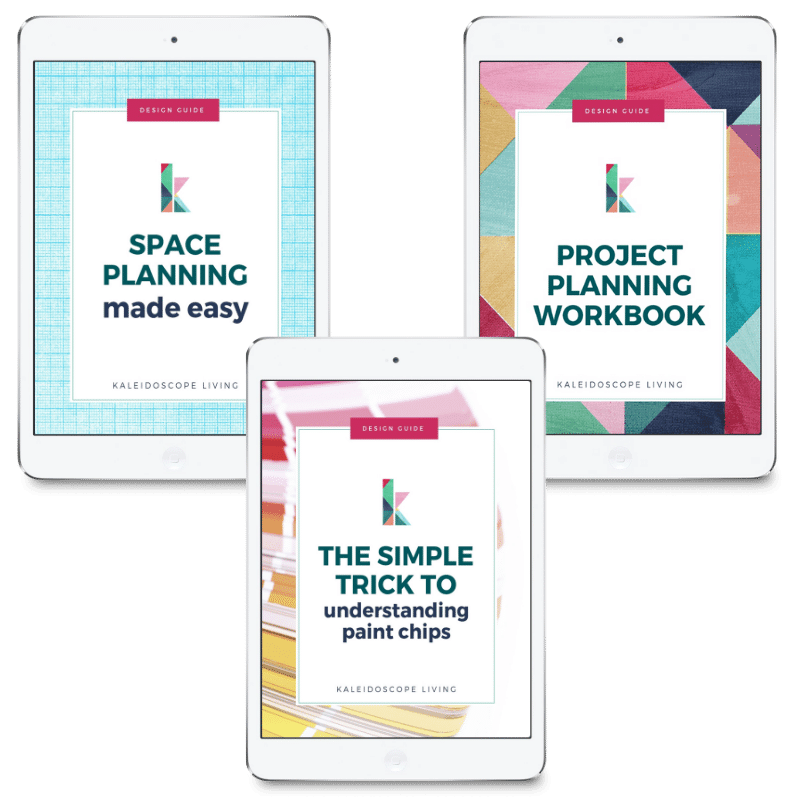 Get my FREE design guides when you subscribe!
When we started virtual school last year we did the best we could, but I knew we could do better. The girls like sitting together to do their work, but with our house on the market, we did not want to create a whole room devoted to being a "schoolroom." They each have a desk in their room, but neither is big enough for them both to adequately spread out (you can see Attley's here and Avery's here). This post contains some affiliate links for your convenience. Click here to read my full disclosure policy.
During virtual school they often sat in my office since I have plenty of workspace, but that is not my preferred arrangement for obvious reasons! But we do need them downstairs, so questions can easily be answered, and they need to have a little room to spread out. So this year we've set up these carts for them in our dining room and it's working perfectly! They wheel them to the table when they are using them, and then wheel them out of the way when they are done. These carts also help them stay organized during the school day–they put each book in the middle bin as they finish each subject. That way the table doesn't get totally cluttered and distracting! The carts aren't my favorite look in the dining room, but it could be worse, lol!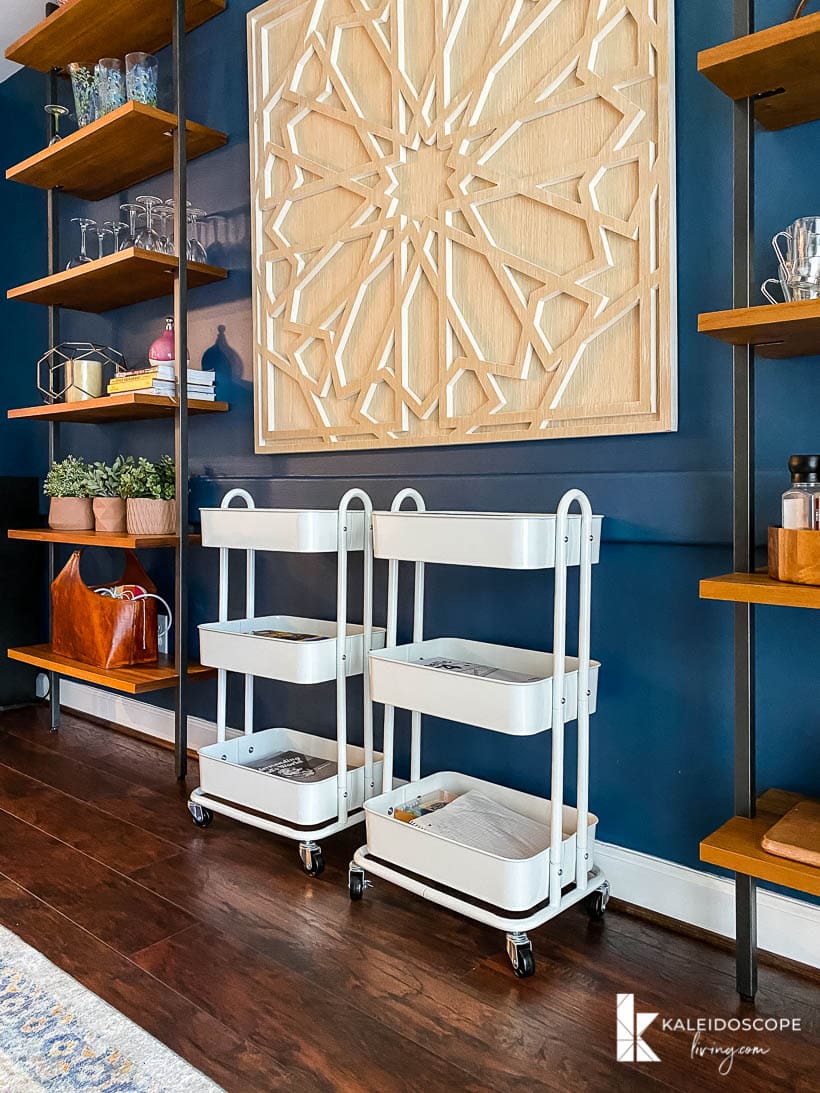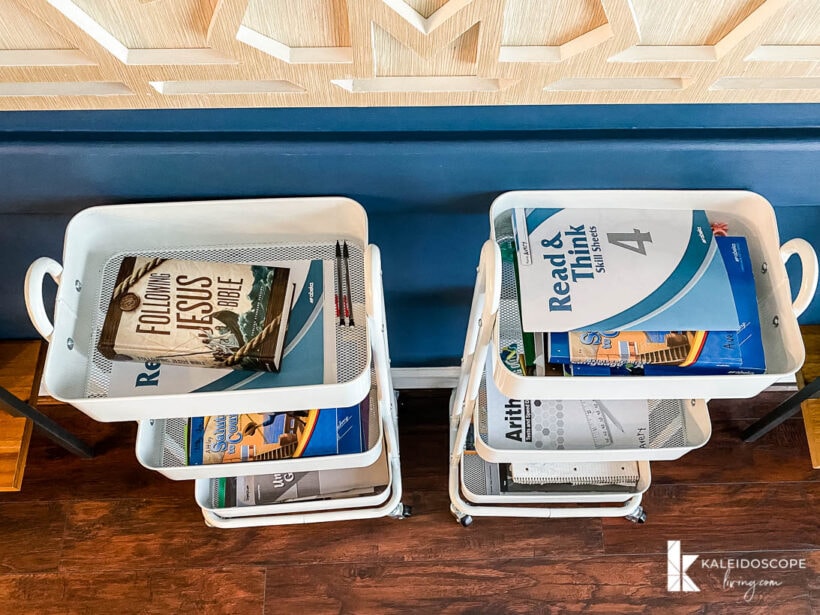 Bottom line… I love the idea of being able to pick up "school" and put it away at the end of the day, quickly and easily. The homeschool ideas on this list are really practical and versatile. And even though we are using them for homeschool, you can certainly adapt any of them to the style of schooling you have happening right now–virtual school, hybrid distance learning, or even a homework station!
Learning at Home Organization Ideas
Home School Crate System By Research Parent. If your system involves lots of paper, then this is a perfect idea! You can also organize your children's work for their homeschool portfolio this way.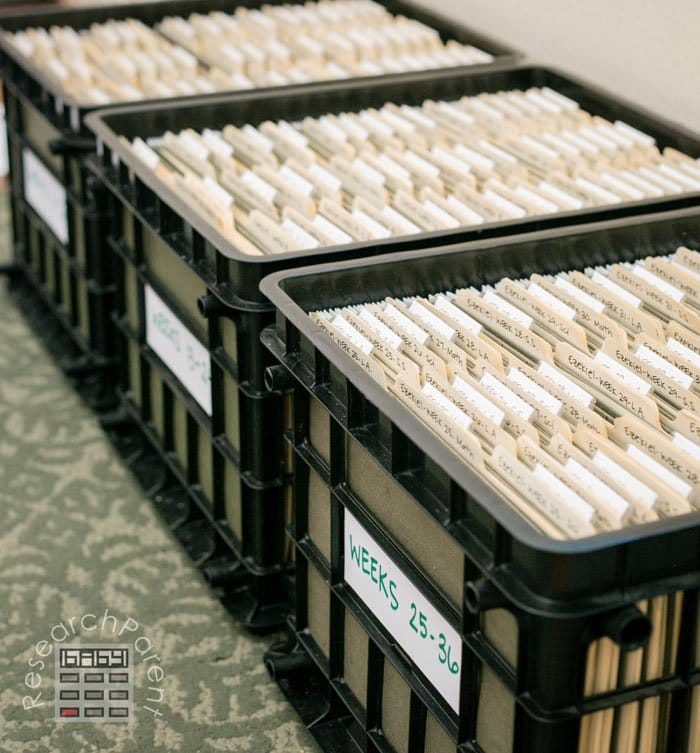 Wall-Mounted Pockets By Better Homes And Gardens. Use your already established family command center area to hold your kids' work and schedules. Everyone has a pocket and knows exactly what is in there!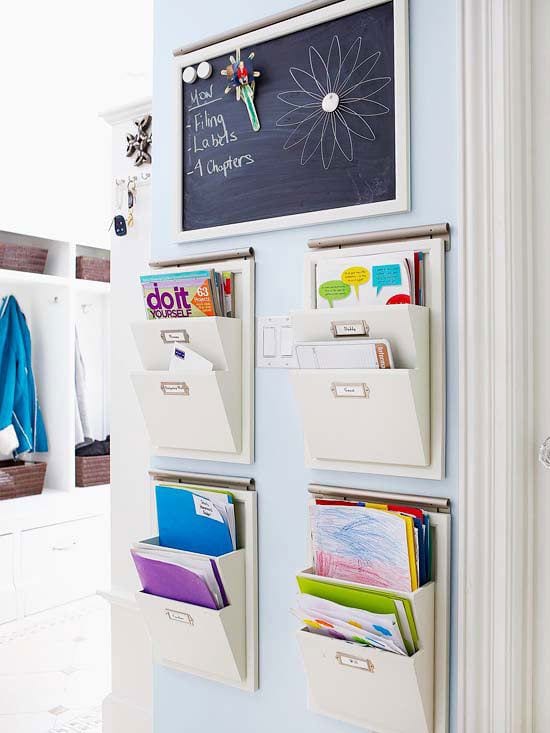 Portable Homework Station By Simple Made Pretty. This little basket is simple and cheap to put together and super portable. I love that you can do schoolwork anywhere around your home (inside or out) with this.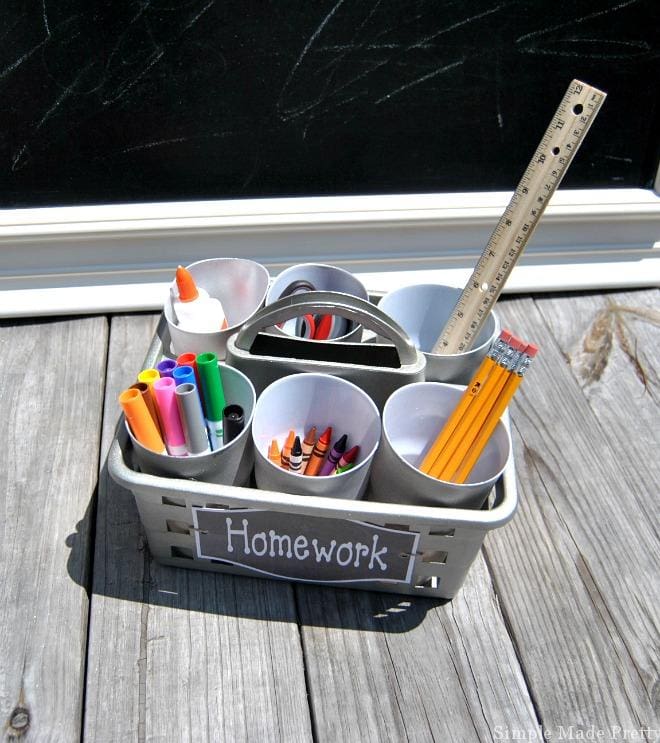 Matching Baskets By Hodge Podge. Does your homeschool curriculum have lots of pieces? Keep your books, manipulatives and art supplies organized in matching baskets. You can pull the one you need for that day and then put it back when you are finished.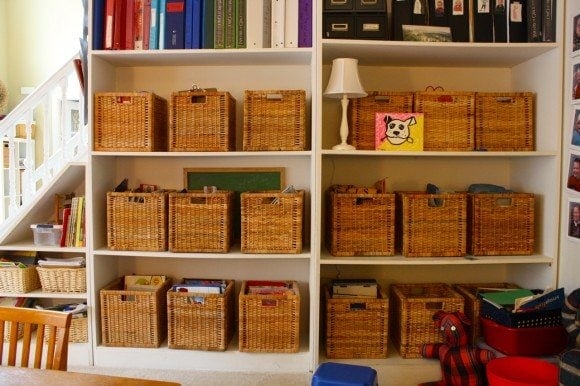 Organized Drawer for Supplies By The Homes I Have Made. Create one place that your kids (and you) can find all your small school supplies with this smart system. Create a spot for everything they will need to finish their work!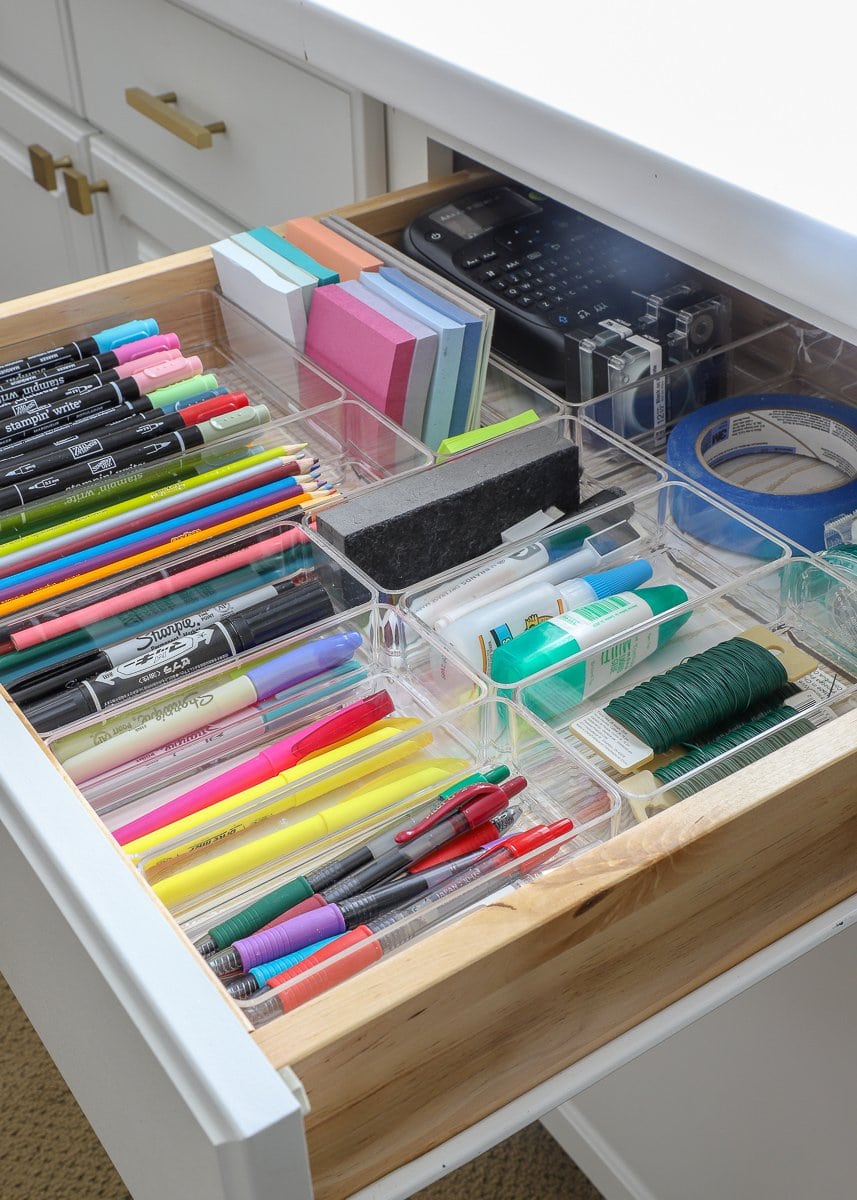 School Supply Storage Cart By HGTV. These carts are the best. I have seen them used so many different ways. Using one as your virtual learning station is genius! Totally customizable to what your kids need to complete their work, and it can hold a ton of supplies, including a laptop!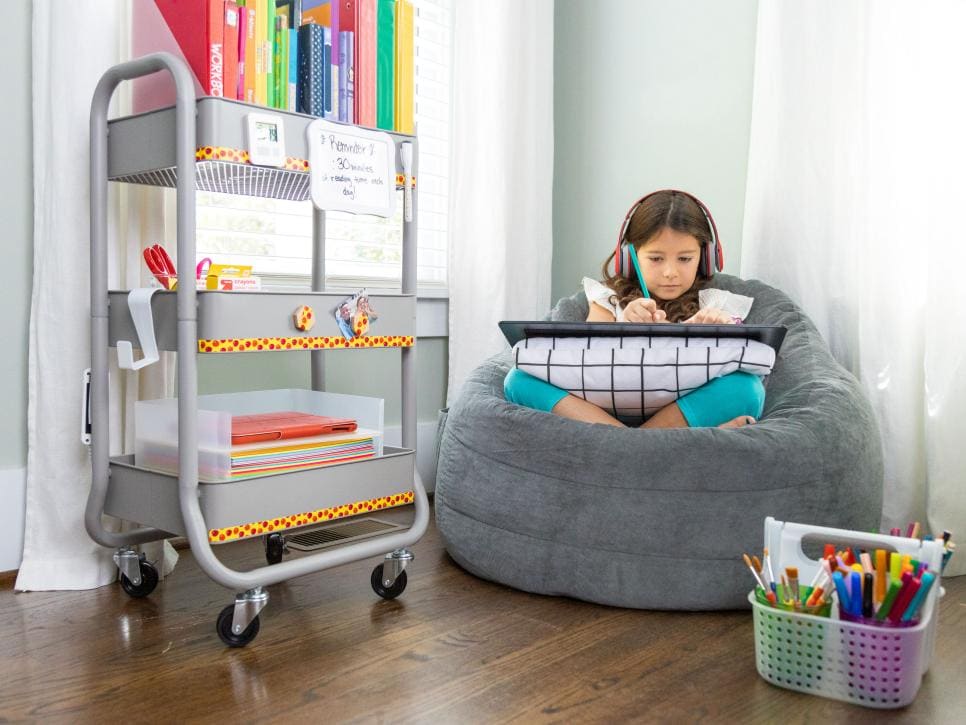 Trofast Bins for School By Olabelhe. We have used Trofast bins for toy storage and loved them. Using them as homeschool organization is such a smart idea!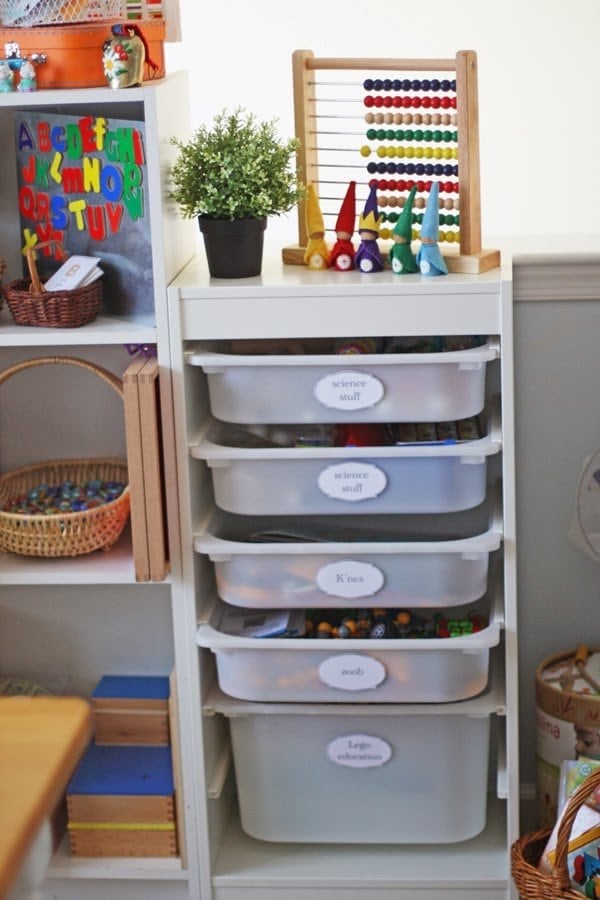 Seat Sacks For The Kids By Scissors And Spatulas. Create the perfect little seat bags for your students at home. This is such a clever way to keep their daily work contained.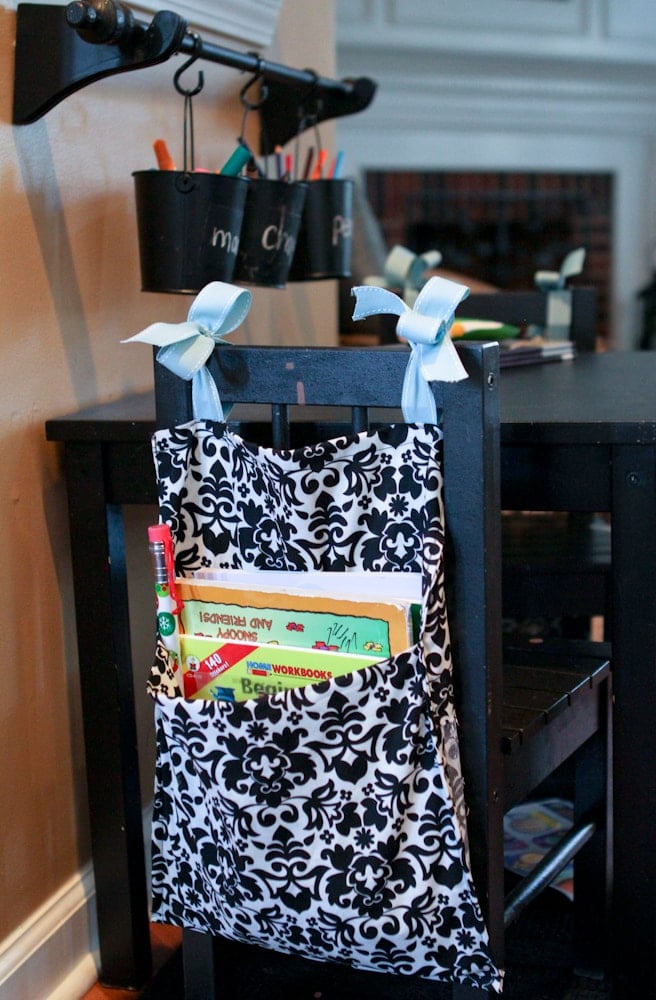 Over the Door School Supplies Organizer By A Bowl Full Of Lemons. Get creative with the space you have! The back of a door is the perfect spot to hang an organizer to hold all of the supplies your kids need for homework or virtual school.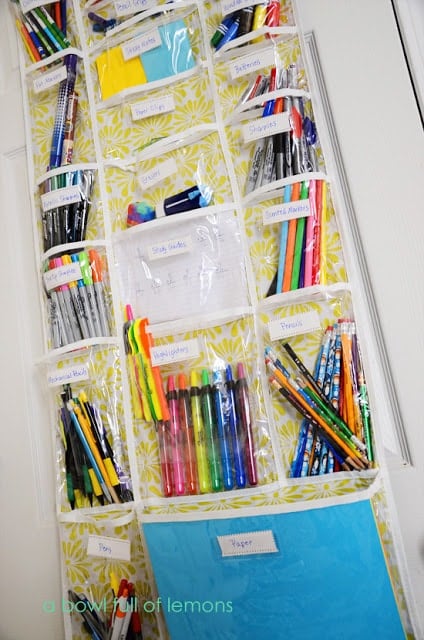 Antique Book Cart School Station By 4 Men 1 Lady. I love the idea of using something old and repurposing it for a school station! This awesome book cart turned homework cart is genius!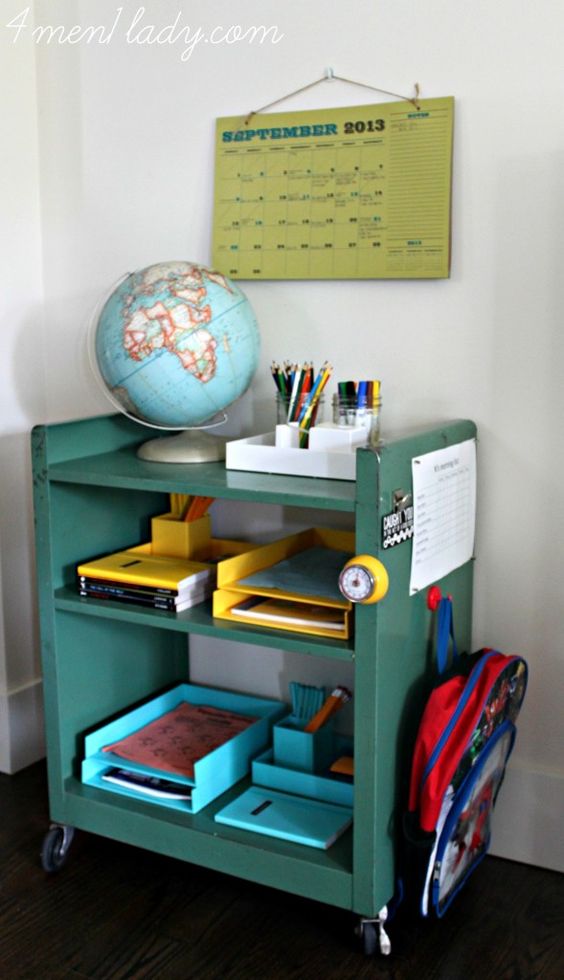 School In a Bag By Hip Homeschool Moms. Talk about portable and easy to manage! This is a great idea for school-at-home organization for the family who is always on the go.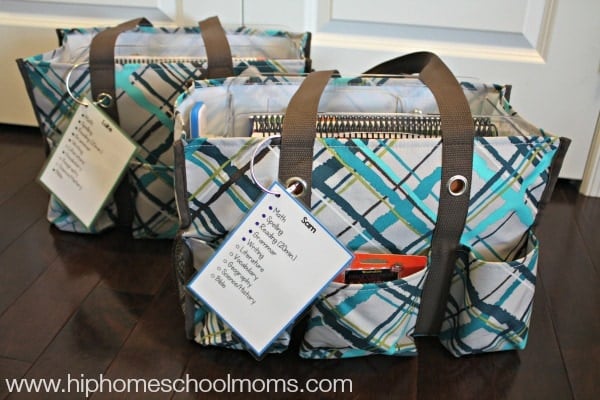 Portable Homework Station For Kids By Fireflies And Mud Pies. This solution for keeping all your kids' school essentials in one place is awesome. Use a large binder type organizer and then it is easy to pack it all up at the end of the school day.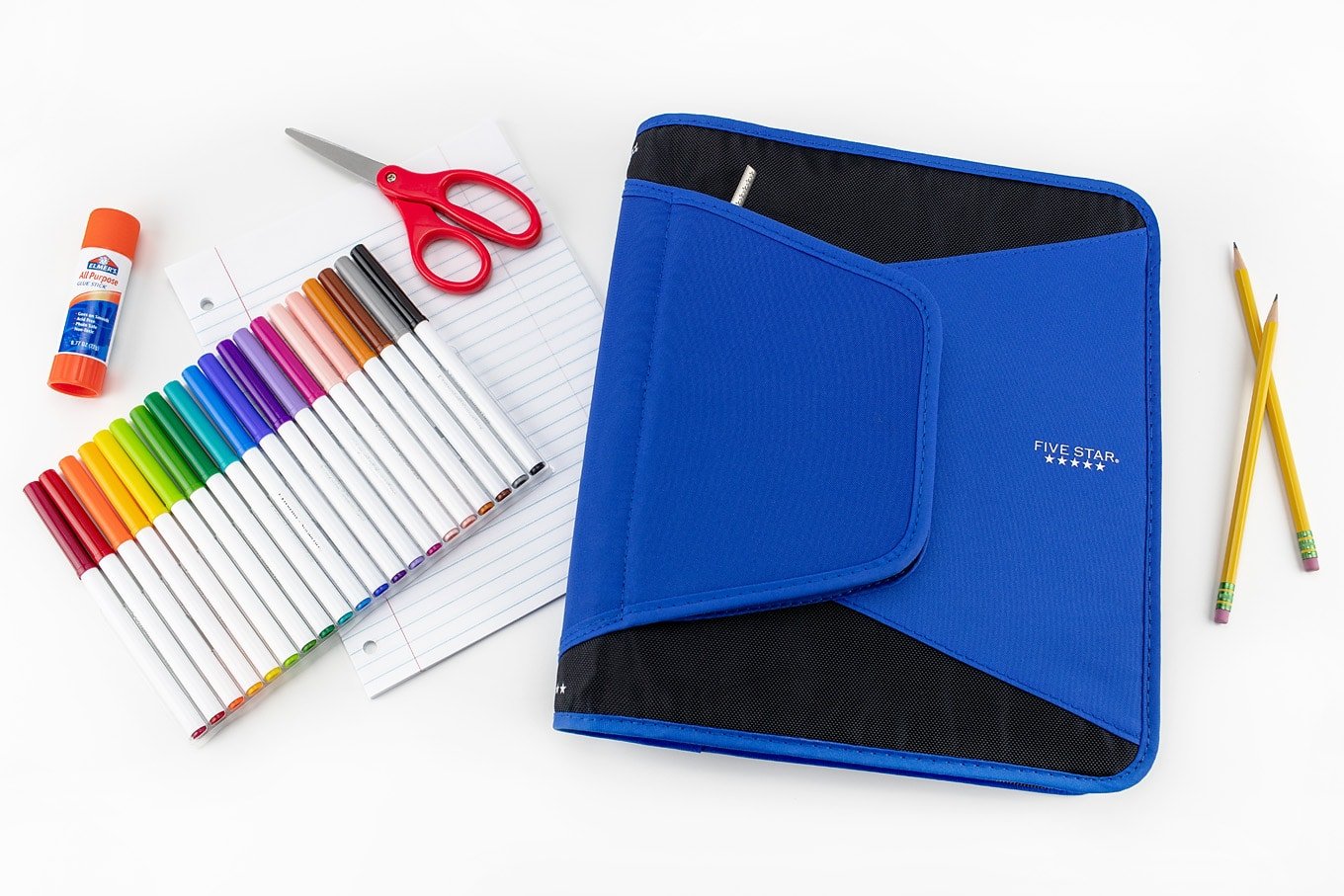 Home Schooling Bins By DIY Inspired. Bins are easy to find and a great way to keep books and notebooks organized–you can do by subject or by kid! And all you need is a shelf or a cabinet to keep them in.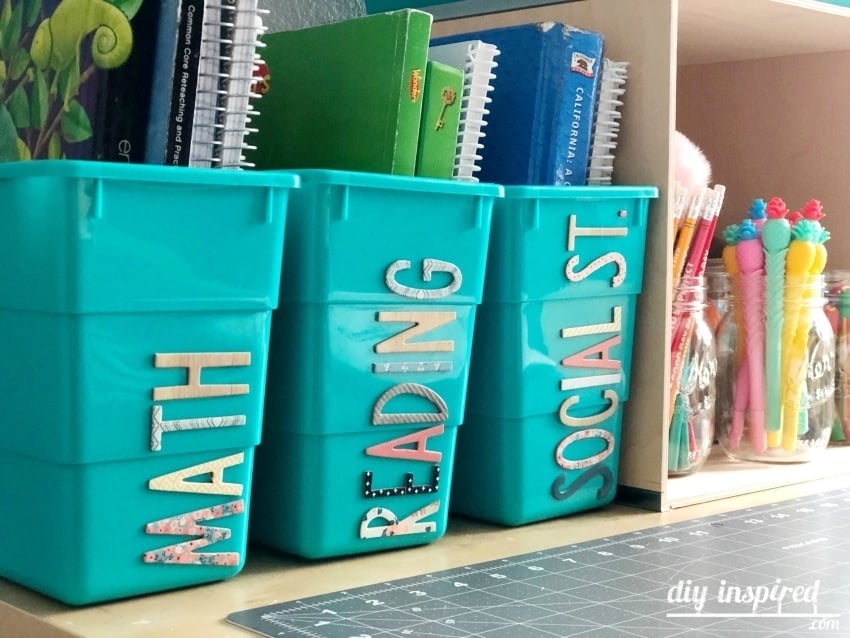 Cubicle Organizer By This Love Filled Life. Find a little corner and stick a cubicle organizer there. These are easy to find and really versatile. Depending on what your family uses for their homeschool curriculum or virtual learning, there is room for everything! And it is simple to find bins that fit in the cubbies for small items.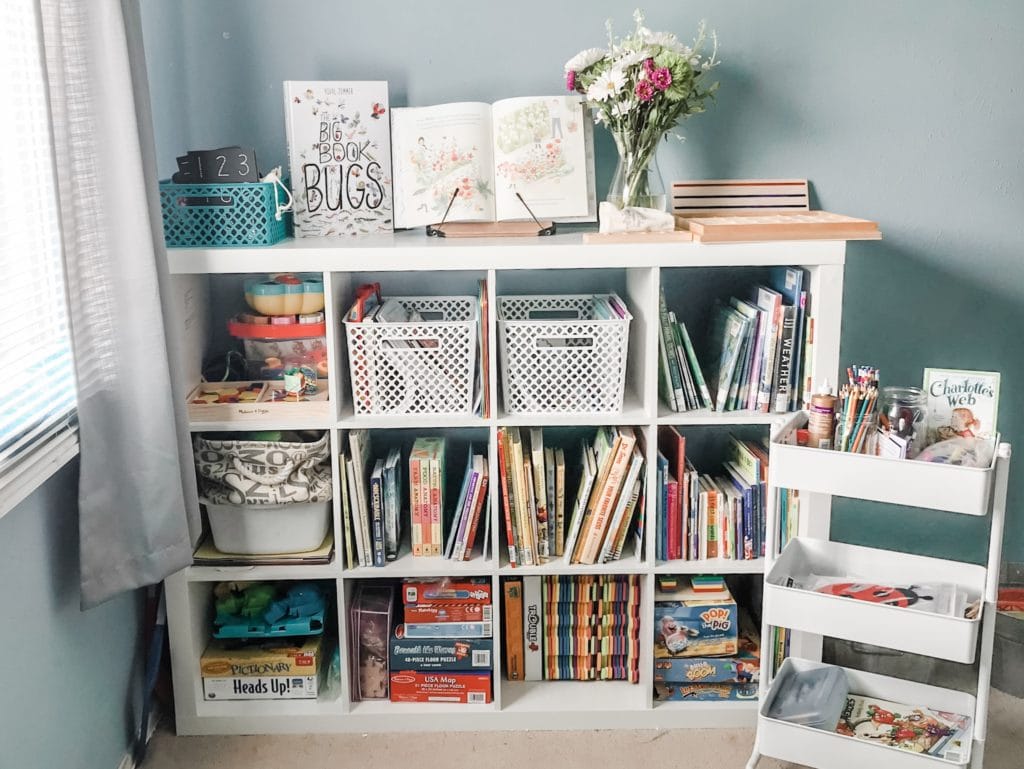 Homeschool Bulletin Board By The Bossy House. For those that are in charge of a big chunk of their child's curriculum, I love this as a way to keep things visible and organized. It is all in one place and easy to adjust!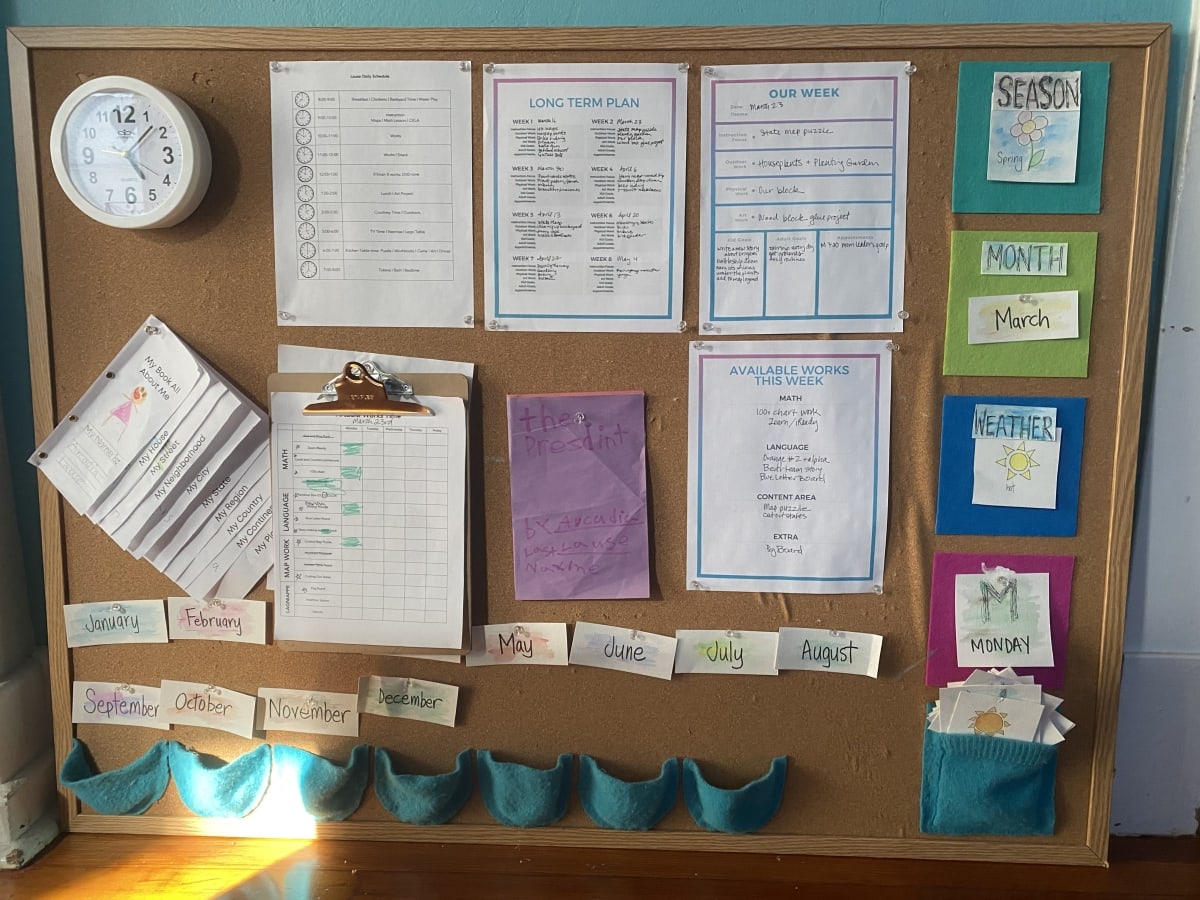 Creative Homeschool Organization Without A School Room By Plum Cheeky Solutions. This mom turned a shoe organizer from IKEA into a homeschool station! I love seeing people get creative to make their space meet their needs.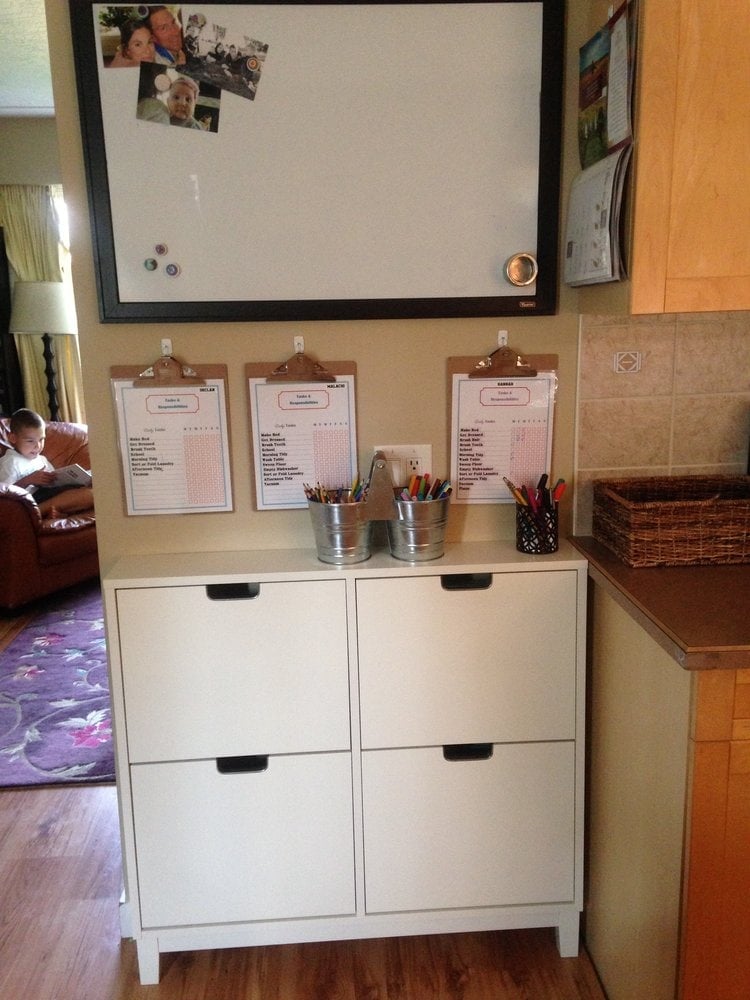 Color Coded System By The Moffatt Girls. Want things to be pretty and easy to use? Color code your homeschool organization! You can use a color for each kid or different colors for each subject. Do what makes sense for you!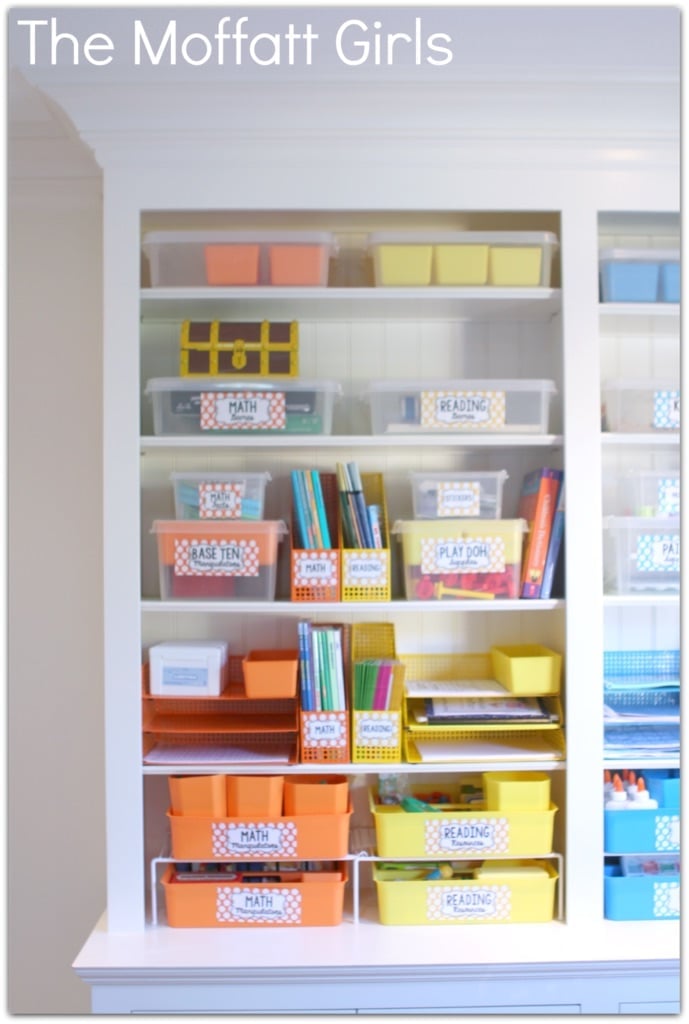 Aren't these homeschool organization ideas awesome? There is something for everyone–no matter what your school situation is during this crazy time. Just get to work getting creative and get organized! Your kids, and your sanity, will thank you!!!!!
Now that we are all home all the time, having everyone organized is REALLY important. Want more ideas for getting your kids organized? Check out 4 Practical Kid's Room Organization Tips and How to Get Organized: Kids' Drawers and Closets. Keeping good solid systems in place will bring a sense of normalcy and order to your kids' lives during this wacky time. And it will keep you feeling in control also, which is something I have definitely needed since March!
Now that you are pumped up to get your organization going, don't stop there! Become a V.I.P. for free and get your password to our subscriber hub full of design & organization freebies (and so much more)!

[mv_create title="More Organization Posts" key="11″ thumbnail="https://designertrapped.com/wp-content/uploads/2018/05/how-to-organize-a-linen-closet-featured-1.jpg" type="list" layout="circles"]