Last Updated on March 3, 2022
The new mid-century modern furniture for our eclectic, navy blue dining room arrived and it's PERFECT. So we are finally calling it a wrap on our dining room renovation! I'm sharing all the details in this post.
Ahhh, what an adventure this dining room renovation has been, lol! If you have no idea what I'm talking about, I'll do my best to briefly recap (though brevity is NOT my strong suit). Long story short, when we tackled our dining room refresh several months ago, we had planned to sand down our old dining room table to give it a lighter and more "modern" finish. But since we knew we were replacing the flooring in the dining room in conjunction with the kitchen renovation, we decided to wait to see how we felt about the table once the wall came down and the new flooring was in. (You can see the big kitchen renovation reveal post HERE).
Once the new flooring went in and the kitchen renovation started coming together, we just knew that a new dining room table, chairs and rug would finish the space off perfectly.
This post contains affiliate links for your convenience. This content is written on behalf of Article.com, who sent us some furniture in exchange for this content. As always, all opinions are 100% mine and I never recommend products I don't actually love with y'all.
I started hunting around, as per usual, and on a whim decided to go to Article.com after discovering it via my friend Heather who blogs at Heathered Nest. And I immediately knew I had found our new dining room furniture.
After that, I reached out to Article to see if they wanted to partner with us for this project and our kitchen renovation and was SO EXCITED when they said yes.
We chose the Seno dining table in Walnut. It's solid wood AND it seats up to 12 with the leaves in place. We've never had an expandable table, but we are very excited that we can keep it relatively small for our family on a daily basis, but also host large groups whenever we want. And the clean, modern lines are exactly what this room needed.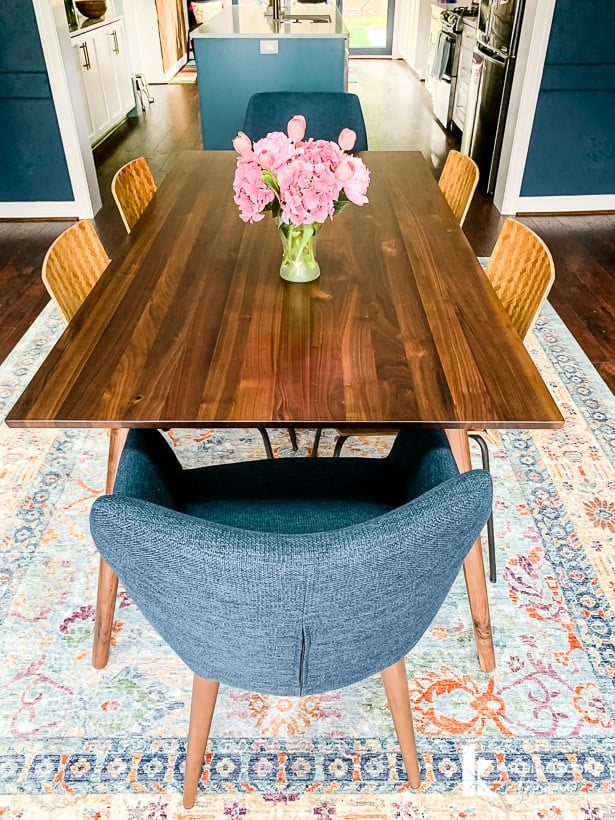 As for the chairs, we chose the Feast dining chairs in Twilight Blue as our "head of the table" chairs. They are not only gorgeous (obviously), but they are super comfy.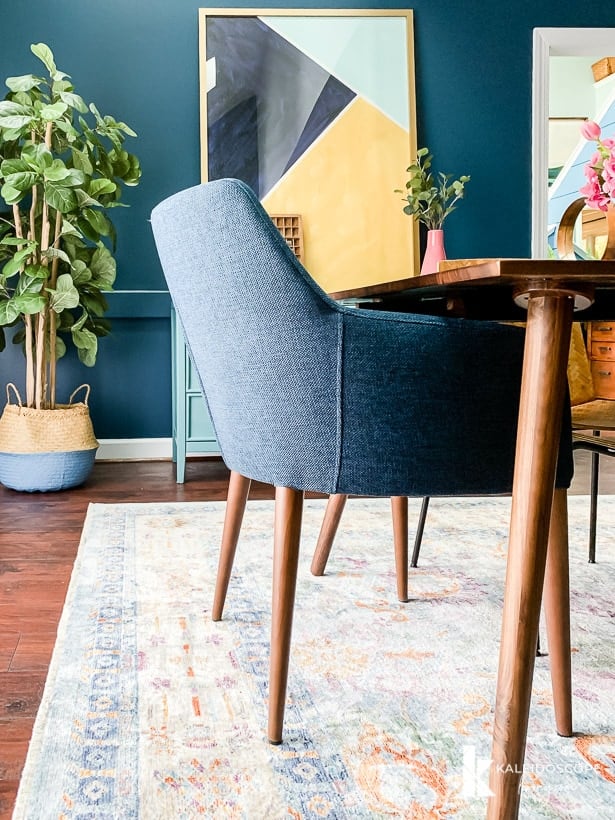 The other 4 chairs that we have added as our side chairs are the ones that I found at Goodwill many months ago. I paid $15 for the entire set. Restoring them wasn't super fast or easy, but they are funky and I absolutely adore them. I'll be sharing a post on how we brought these chairs back to life soon.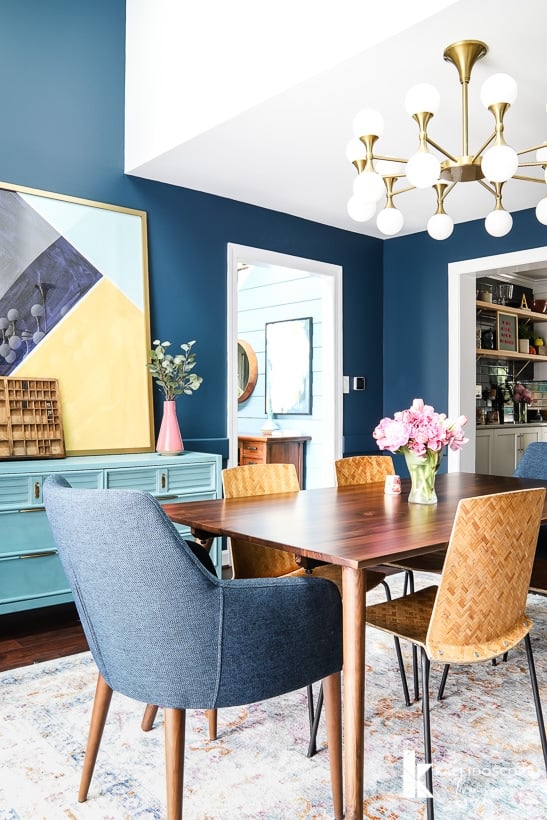 So that's it, friends. Our dining room furniture finally fits the room itself. And now everything flows seamlessly with our kitchen. Ahhh… It feels good.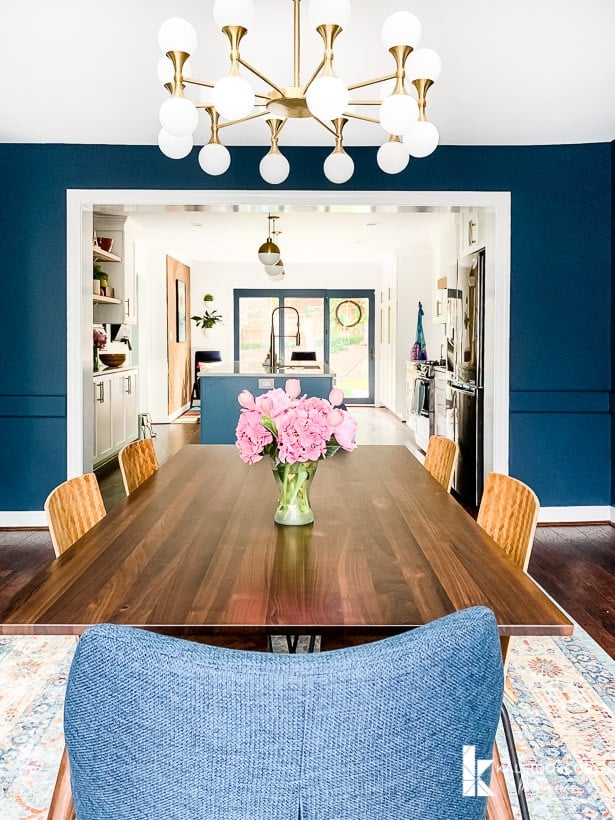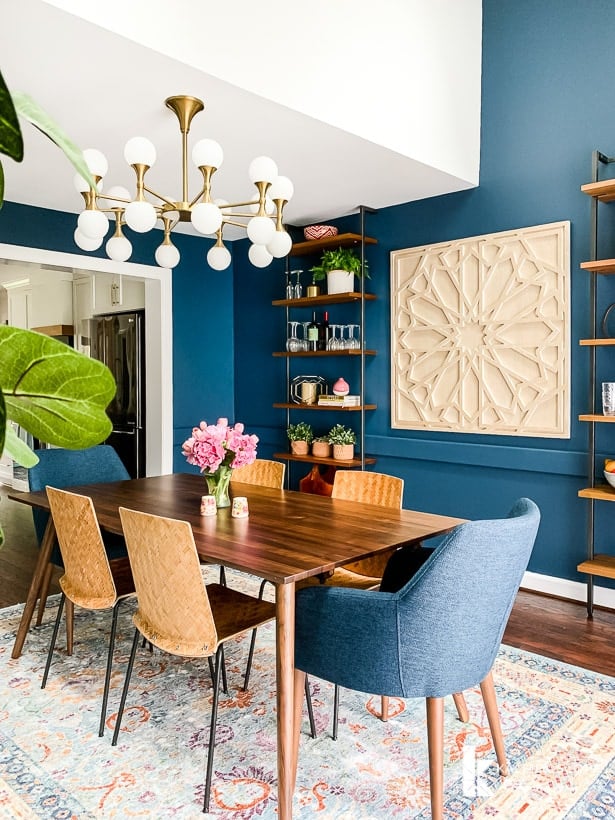 I so wish I had discovered Article.com sooner. Joe and I both adore mid-century furniture design, but it's usually insanely expensive. Article's designs are beautiful and the prices are very reasonable. And we are beyond impressed with the quality of all the pieces.
I know ordering furniture online makes a lot of people nervous. We are pretty comfortable with it because do it so often (we are picky and rarely find what we want in stock in a store). But ordering from Article.com is soooo much better than ordering from most places. Article offers FREE ground shipping on orders over $999 and for orders under $999, it offers a flat shipping fee of $49 (or $19 for small shipments). And if you are nervous you won't like what you order, fear not. Article offers a 30-day satisfaction guarantee so you can try out your new furniture in your home. If you're not completely happy, they'll pick up the furniture and provide a refund, minus the delivery and pickup charges which is only $49.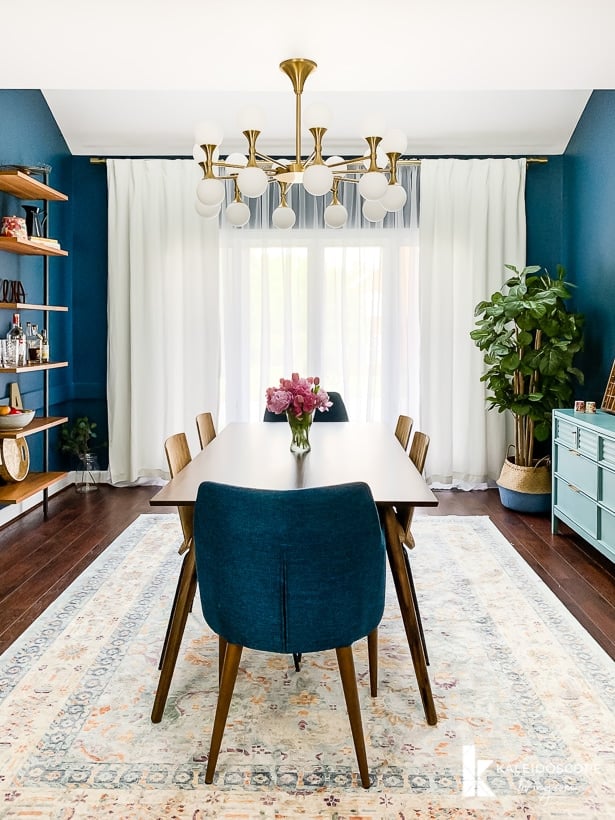 Dining Room Source List
Here's the source list for other items you see in our dining room. Click on any of the images below for full product details. The paint color is Midnight in the Tropics by Behr Paint.

Before you head out and get started, be sure to check out my FREE design guides that will help you help you design spaces you absolutely love! Subscribe now and you will receive a password so that you can access everything in one convenient digital library.
[mv_create key="3″ type="list" title="Room Reveals" thumbnail="https://designertrapped.com/wp-content/uploads/2016/05/angies-list-after-5.jpg" layout="circles"]