The Pros & Cons of Flooring Types: From Laminate to Hardwood and MORE!
Last Updated on March 3, 2022
Learn all about the pros and cons of flooring types! From paint, the hardwood to laminate, you have LOTS of options.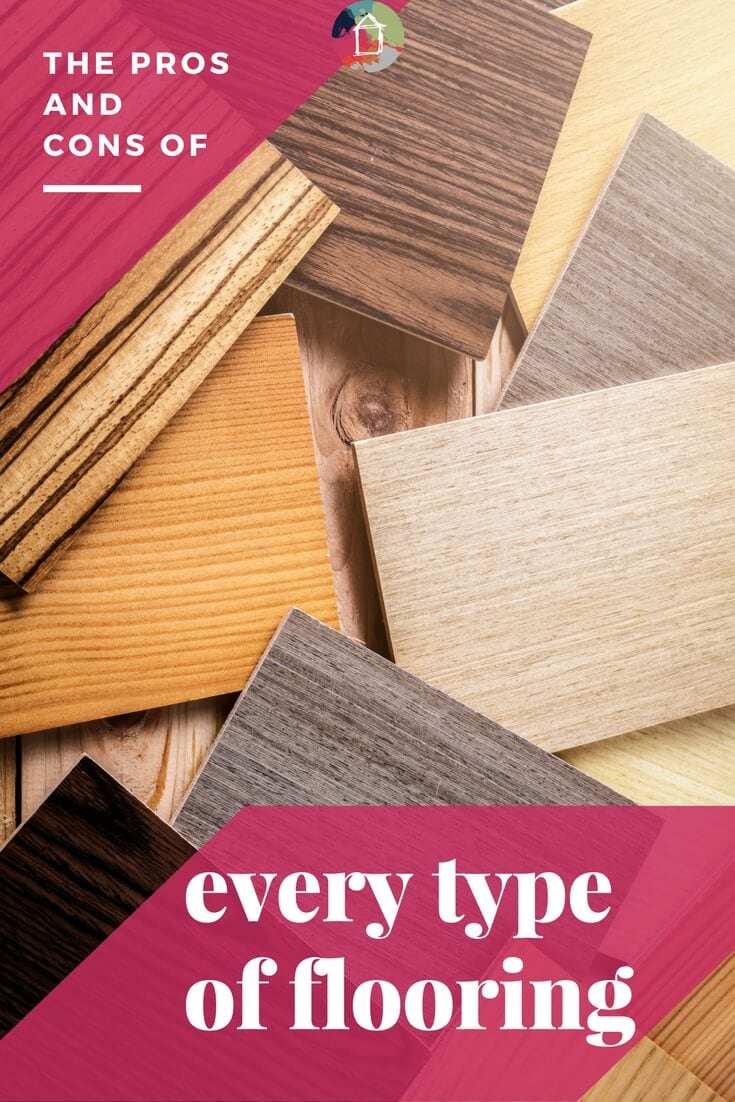 Let's talk flooring, ya'll. There's almost nothing else that can wrack up your home renovation costs quite as much as flooring. It's enough to strike fear in the heart of every homeowner.
Because, let's face it: Bad floors seriously mar and detract from a home's appearance. Plus, when it comes to flooring, we often feel stuck. Redoing our floors seems like an EPIC undertaking—tearing out flooring and even subflooring, laying down padding and installing wood, carpet, tile or whatever flooring type you choose…
It's a lot to tackle, folks. I know. But never fear! Even the ugliest of ugly floors can be replaced with one of the myriad of different flooring options out there—and there are a lot of options that don't cost an arm and a leg. PLUS, you have plenty of options to cheaply (as in inexpensive, not cheap like, trashy) redo your floors with a few gallons of paint and a dream.
We painted our laundry room VINYL floors (yes, really). The results were way beyond my expectation and have held up for years. Seriously—not a scratch to be seen (except when we had to drag our old HEAVY water heater across the floor to get it out, and that was a quick and easy touch-up job)!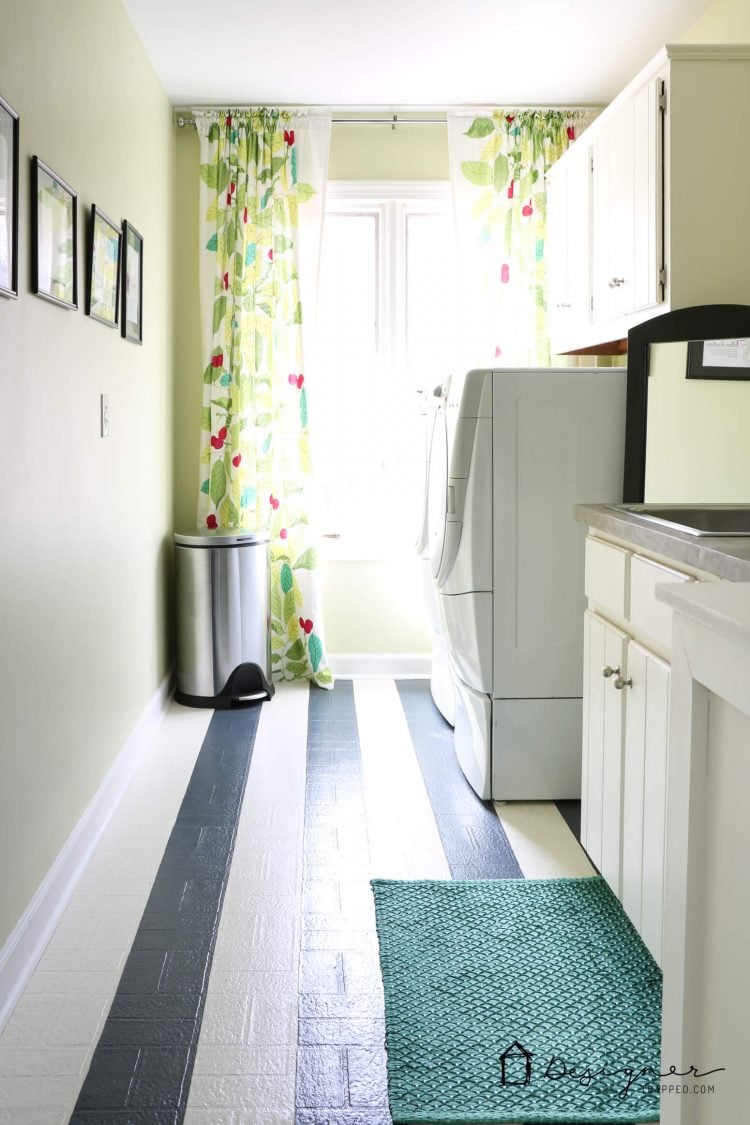 When we had not-so-lovely bamboo flooring in my kitchen, I decided to haul off and paint and stencil the floors and I am so in love! It turned out amazing! It withstands twins, a 90-pound pooch and all the high traffic of a busy, crazy kitchen.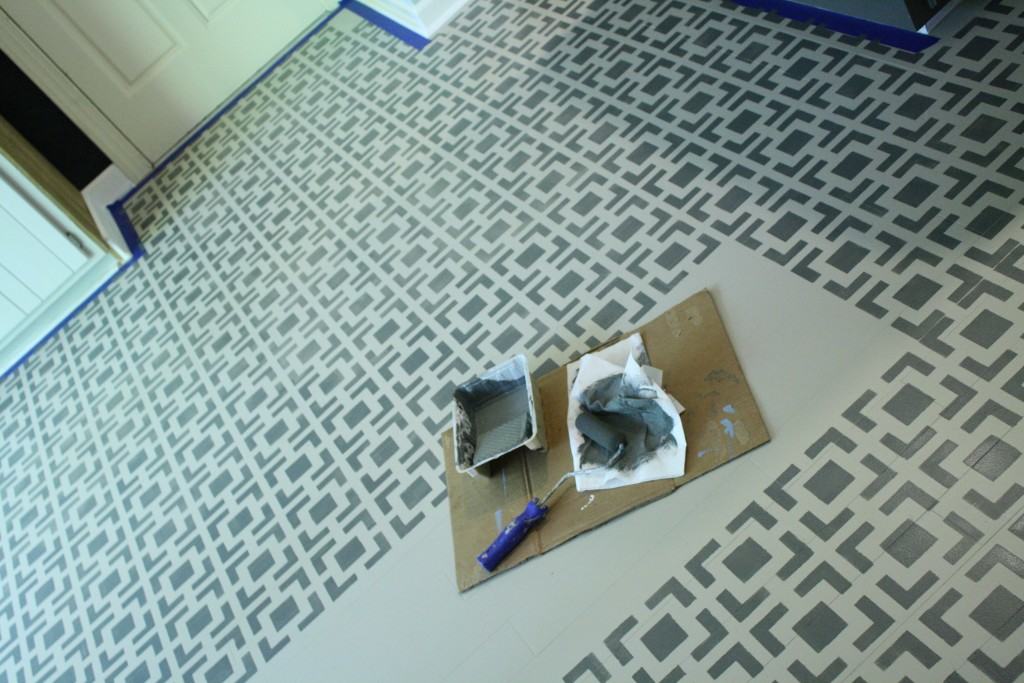 For the rest of our flooring, we were facing massively scary (and beige) carpet situations throughout our bedroom, the playroom and living room. We chose laminate. Yes, LAMINATE and you know what? I'm so happy with it, ya'll. You can read all about why we chose laminate flooring in this post. The flooring we chose is affordable ($1.97/square foot from Sam's Club), easy to install, looks gorgeous and is so the most durable flooring I think I've ever found. It looks like real hardwood, but without all the stress of protecting your floors.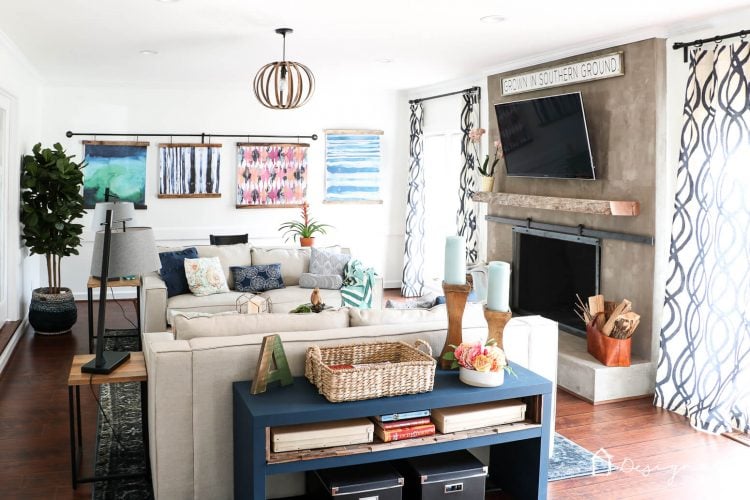 For our bedroom, we used Select Surface's Truffle Laminate flooring, but it comes in tons of colors (we used Canyon Oak downstairs–they are close enough that you wouldn't know the difference walking between the two floors). You can read about why we're soooo happy we chose laminate, here.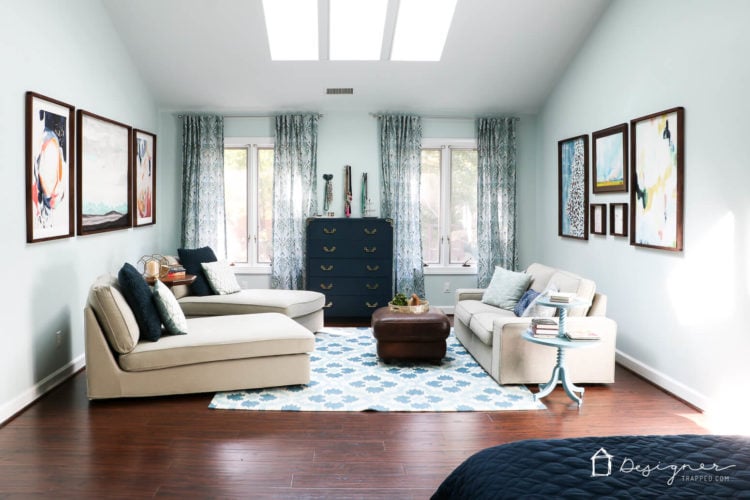 So, if you're faced with less-than-ideal flooring, don't fret! There are so many great affordable flooring options out there. You aren't beholden to the look of your floors. If you're in the market to buy, don't pass up on a great home because of gross carpeting or scratched up flooring. If the house has good bones and no real damage, floors are a cosmetic fix. It's totally doable, I promise.
If you're deciding what type of flooring is right for you, here are the pros and cons of flooring types, with all the different flooring options covered! There are tons of possibilities, so don't worry! Even if you have ugly beige carpeting like we did, you still can find best flooring options for your budget!
For your convenience, this post contains affiliate links. Check out our full disclosure policy here.
The Pros & Cons of Flooring Types From Laminate to Hardwood and MORE!
Laminate
Pros: Okay, I've waxed on about how much I love our laminate floors, but I'm a true believer, folks. I used to be a hardwood gal and feared laminate was well…tacky. Not so! The hand scraped look of the Select Surfaces flooring is undetectable from hardwood. It easily snapped into place. There's no clicking or hollow sound. It's durable. It came with a foam backing, so I didn't need to do separate subfloor installation. It's affordable at $0.50-$3.00/square foot. Oh, and it cleans up easily with vinegar or Mrs. Myer's Multi-Surface.
Cons: Laminate flooring is less costly than many options, but if your budget is very low you may need to work with what you've already got installed. The cheap stuff can look, well, cheap. At $1.97/square foot, the Select Surfaces laminate we used was affordable on most budgets but you may need to install one room at a time (like we did).
Tile
Pros: Tile is gorgeous, timeless and looks great with all sorts of décor and styles. Heated flooring is becoming popular and it works great with tile. Tile is very easy to clean and durable. It comes in many different materials—ceramic, granite, slate, marble, even faux bois. Due to the varieties, the price runs anywhere from $1/square foot to $20+. Ceramic tile is usually cheapest and often used in bathrooms and kitchens. It adds a very cohesive look to your room, especially if the walls of your bathroom or kitchen are also tiled. Tile is also great for allergy sufferers and those who are sensitive to materials in carpet, stains and finishes.
Cons: Tile's cold, ya'll. Jump out of bed onto a tile floor and you'll face a chilly surprise. Plus, tile's loud to walk on. It's slick, even though it's often ideal for floors and bathrooms. Certain finishes cause tile to become a little dangerous, especially for kids running around by a pool. Tile grout can stain and crack so they'll need updating occasionally. Also, if you ever drop anything and crack a tile floor, replacing or repairing tiles is challenging.
Wood
Pros: Before my conversion to laminate, I was 100% a hardwood fan. In fact, I opted for hardwood almost exclusively in my previous homes. It's so easy to care for. The varieties are endless and it always looks great. Find wood flooring in solid wood, engineered wood, including designs like parquet, and domestic as well as imported varieties. Hardwood starts out at $3/square foot and goes up from there (you will also need to pay for installation). It increases the resale value of your home immensely and hardwood is very easy to care for. It's stain resistant and can be refinished if something happens.
Cons: It's hard and loud (which means, you'll need a few area rugs to help warm up the space and muffle the noise). Hardwood can get scratched, stained and damaged. The good news is, you can refinish hardwood. The bad news is refinishing gets expensive and time consuming (trust me, we did it in our last house). Hardwood doesn't play well with water or grease, so you'll always worry about protecting your (beautiful) floors.
Vinyl
Pros: Vinyl has gotten much better in the last few years, but it's still not always ideal. It runs between $1-$3/square foot. It's cut to fit any room easily, and vinyl's easy to work with. It's quiet and adds insulation to a room (no freezing floors). Vinyl comes in peal-and-stick sheets or in rolls. It's easy to clean and fairly durable. If you already have vinyl and are hoping for an update, you can easily paint vinyl and it will hold up for a long time. You can follow my tutorial on how to paint vinyl floors for lasting results here.
Cons: Vinyl is a softer surface, so it can get dented, torn, ripped or cracked. It's nearly impossible to hide seams in vinyl and after a while you may notice the seams become more prevalent. Although it's gotten much better, it may still yellow and curl at the edges with age. My vinyl has held up really well in my laundry room, but I've seen many people battle with their vinyl. Vinyl isn't a natural material so it's not terribly earth or health friendly. There's debate about the chemical factor with vinyl and if it releases compounds into your household. It's made from petroleum and chlorine. If you're sensitive to chemicals, vinyl may not be the best type of flooring for you. Vinyl is easy to remove or hard to remove depending on the adhesive used to install. The flooring under the vinyl usually doesn't fare so well.
Luxury Vinyl
Pros: Luxury vinyl looks like wood, stone, ceramic and other natural finishes. It's typically created like vinyl, but then includes a protective coating over the top. It comes in planks or tiles, mimicking the look of wood flooring. It's durable and highly moisture resistant. It won't warp or crack with water like wood and other flooring can. Planks snap into place and installation is easy.
Cons: Luxury vinyl is as expensive as wood or tile at $3-$7/square foot, but doesn't always offer the same look (although styles are getting better and better). It's difficult to cut luxury vinyl and to install it into small gaps and areas. While more durable than regular vinyl, it still features many similar drawbacks.
Linoleum
Pros: So, I used to think of linoleum and vinyl were interchangeable terms but I was totally called out kindly educated about the differences on one of my posts. It turns out linoleum refers to a very specific type of flooring made from linseed oil and natural materials like wood and cork. It is colored throughout which means, even if it's scratched it won't show damage as easily. It's probably one of the most durable flooring options and lasts 20-30 years with proper care. It's also one of the most ecologically-friendly and natural types of flooring out there.
Cons: Linoleum costs quite a bit more than vinyl at $2-$5/square foot. It has a very distinct look, which lends itself to a vintage decor, but can feel out of place with certain decorating styles. Linoleum must be treated with a sealant once installed, so it's more complicated to put in. While it's durable, it's usually installed in tiles or sheets and the edges may curl with moisture.
Concrete
Pros: Concrete is ridiculously durable. You can literally drive a truck on concrete and it won't get damaged. Stain it for a really modern, beautiful look that won't scream, "I have cement floors!" When done right, concrete looks classy and beautiful. It goes well with modern industrial looks—think: exposed beams, brick and pipes. The dyes come in almost any color you like and when it's properly sealed it will hold up to all sorts of abuse. It can be texturized and it works great with radiant heat floor systems. Concrete is inexpensive. Poured concrete starts around $2 and goes up from there, depending on your desired texture and finish.
Cons: Concrete isn't hard to work with, but DIYing your own floors is a pretty big undertaking. As you may know I did my sink and vanity with a concrete overlay and it turned out beautifully! We also did our fireplace with Ardex Feather Finish and it's one of my favorite focal points of our house. So, depending on your comfort level, doing a concrete overlay on your existing flooring may be an option for you, but it's not for the faint of heart. Poured concrete is costlier and requires professional assistance, but you can still stain and finish floors yourself. The major con of concrete is that it cracks. With heat and cold, chances are you'll be facing some cracks especially with an overlay on a floor. Plus, concrete is cold and hard because it's…cement.
Cork
Pros: Cork flooring is gorgeous! It has a very natural texture and antimicrobial properties, making it great for kitchens and bathrooms. Cork flooring comes in planks, mosaic tiles and many different patterns. Cork flooring is made out of bark from cork trees. It's quiet and it insulates the floor well. Cork retains heat and feels soft and forgiving underfoot. It can come in a variety of finishes, stains and textures. It's affordable at $3-$8/square foot. My parents installed it in the home that they built about 4 years ago and have been really happy with their choice.
Cons: Kind of like concrete, with cork flooring you either love the look or you don't. Because it's all natural, cork can fade and even take on an orange or yellow hue over time. It's very forgiving but heavy furniture can permanently dent cork flooring. Cork is complicated to install as you must apply adhesive, set tiles, coat with urethane and hand sand. And if it's not the top seal isn't maintained, it can get water spots where water drips on it (my parents learned that the hard way).
Bamboo
Pros: Bamboo flooring has a distinctive look. Natural bamboo fibers are pressed and woven together to create the look. It is found in planks, similar to hardwood. Bamboo cleans easily and is easy to install. It's light colored and great for a contemporary or modern look. At $3-$5/square foot, bamboo is an affordable option.
Cons: Bamboo isn't the most durable flooring compared other types of flooring and is easily scratched and dented. As I mentioned near the top of this post, our kitchen floors that we painted are bamboo. We painted them because they were so horribly damaged, and they weren't even 10 years old. Needless to say, based on what I have seen personally, the wear and tear for bamboo floors is not impressive.
The planks are often manufactured using formaldehyde, which counters the whole "natural" aspect of bamboo. It's also sensitive to water. Bamboo fibers can swell and expand when they get wet, so it's not the best type of flooring for bathrooms or kitchens. It's also sensitive to humidity.
Carpet
Pros: Remember in the 80s and 90s when everyone had carpet? Remember shag in the 60s and 70s?! Carpet isn't as popular as it once was, but it's still a popular choice. Carpet's affordable at $2-$5/square foot. It warms and softens bedrooms and areas with lower traffic. Carpet is quiet and acts as an insulator. It also comes in a huge variety of color choices and styles. It fully covers uneven, ugly and unsalvageable floors.
Our twin girls rooms still have carpet and I have to admit it does make them feel nice and cozy. But we do plan to replace it with laminate some day.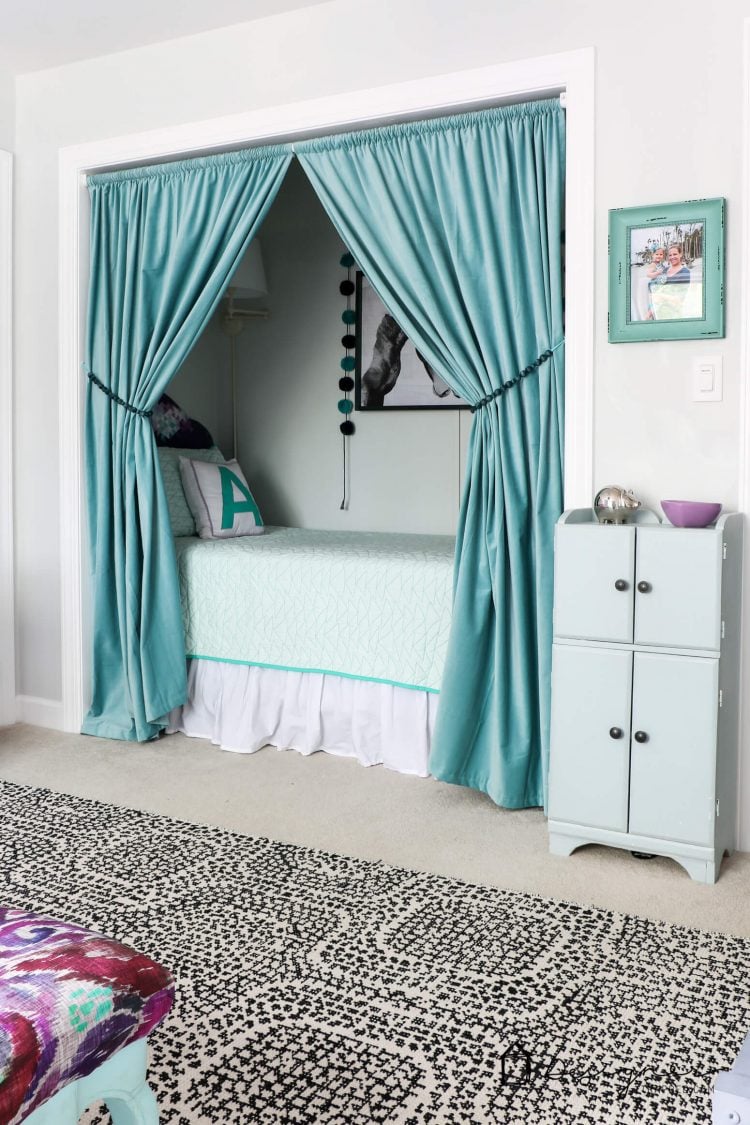 Cons: So, after pulling up the carpet in our playroom (and bedroom, and living room, and stairs…), I have to say, carpet traps a LOT of dirt and nastiness. Even if you steam clean carpet, dirt and allergen-causing dust is still going to get in there. Plus, if you have kids or pets, you're literally one glass of juice away from a total disaster (or a new area rug). Carpet usually needs professional installation. There's not much leeway in terms of improving carpet. Once it's done it's done, and there's not much choice but to rip it out. Carpet may also contain VOCs and chemical compounds which aren't great for your health.
No matter what you choose, there will always be pros and cons of flooring types of all kinds, but the good news is that there's plenty of different flooring options to choose from. I never would've believed I could become such a fan of my vinyl and laminate floors, nor would I have expected them to turn out as beautiful as they did!
If you have floors you don't LOVE, don't despair. There are plenty of affordable flooring choices, so you're sure to find the best type of flooring for your needs. If you choose to install new flooring, make sure you really look at the pros and cons of flooring types and go with flooring you can live with for the long haul.
Other posts you may enjoy:
Wondering how I approach transforming rooms and spaces in our home? Check out Designer in a Binder®.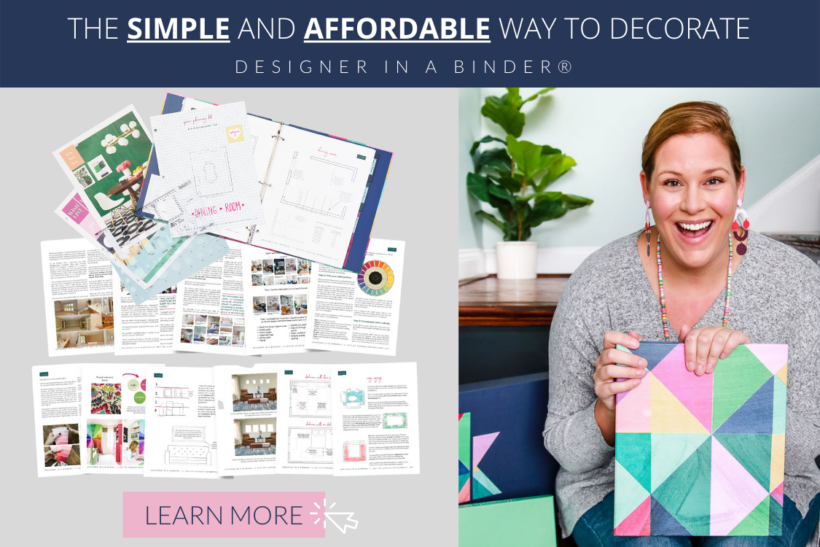 And if you want exclusive content and behind-the-scenes sneak peeks, be sure to subscribe before you head out!