The Best Garage Flooring Options For A Fresh Update
When it comes to garage renovation projects, flooring is often overlooked. But choosing the right type of flooring for your garage can make a huge difference in both how your garage looks AND functions! I've done a ton of research trying to decide what kind of flooring we will use in our own garage (as part of our upcoming garage overhaul). So in this blog post, I'm sharing all of the garage flooring ideas I've found and considered!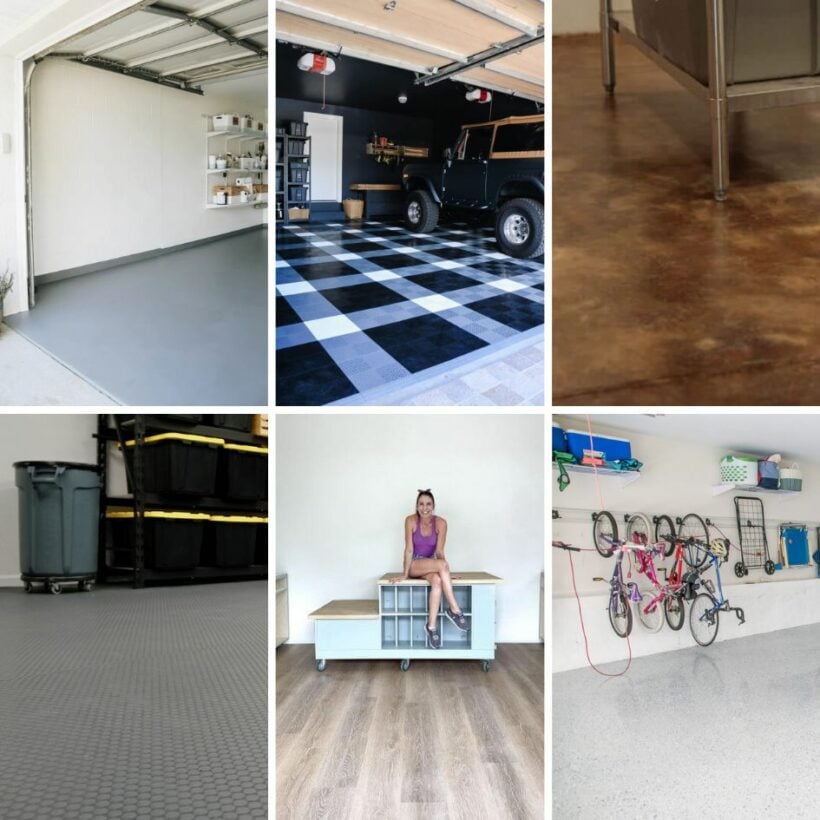 A garage makeover/overhaul has been on our radar since we moved into our current house 2 1/2 years ago. Not only do we use our garage to store our tools and complete lots of our DIY home improvement projects, we also have a portion of it dedicated to our home gym. And our girls also spend a fair amount of time in the garage doing things like jump roping and other stuff they can't really do in our bonus room.
Of course will be focusing a lot on our garage storage and organization and function, but as with every room we tackle, we also want it to be as pretty as possible. Why would I care about how our garage looks? Well, we spend a lot of time in it working on projects and I want to like what I see when I look around. Also, I have always firmly believed that when we like the way a space looks, we are far more likely to keep it clean and organized.
One of the least attractive things about our garage is the stained concrete floor. And y'all, it's a slippery nightmare. So we definitely want to change up the garage flooring. Here are the garage flooring ideas we've looked into and are considering!
Interlocking Tiles
Interlocking tiles are a popular garage flooring option because you can customize them to exactly what you want and they are easy to install, making them very DIY-friendly. Interlocking garage floor tiles come in a variety of materials such as PVC, rubber, and foam, and are easily snapped together–you don't need any adhesive or special tools! They are also available in a variety of colors and patterns, allowing you to create a personalized look for your garage.
One of the big pros of interlocking tiles is that they cover cracks and other imperfections that you may have in your garage floor. From what I've read, they are also easy to clean–you can use a leaf blower to blow off everything from dirt to leaves and sawdust.
This is the option I am leaning towards for the majority of our garage floor. I love that you can create a pattern using different tile colors!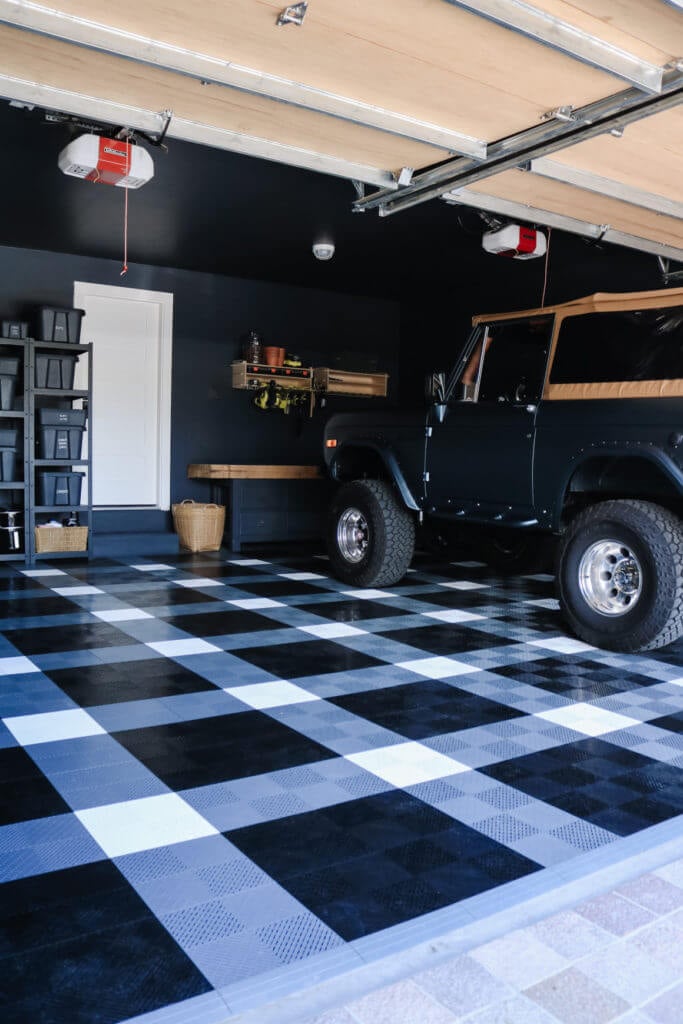 DIY Epoxy Coating (like Rocksolid Coating)
If you are looking for a less expensive way to upgrade your basic concrete garage floor, a DIY epoxy coating may be the way to go. There are several different companies and brands that offer an epoxy coating. Rocksolid by RustOleum is a very popular one. RustOleum Epoxy Shield is another common option.
We used an epoxy coating in the garage of our old home and were reasonably happy with it for the 7+ years we living with it. But I'm not entirely sure it's something we want to do again, especially since we would have to grind off the top seal of our existing garage floor in order to use it.
Epoxy coatings are made up of a two-part mixture that, when combined, creates a durable, glossy surface that is stain-resistant. You can choose from a lot of different colors and most offer flakes that you can sprinkle on top to create a terrazzo like appearance (which help disguise dirt, etc).
It's much less expensive than interlocking floor tiles, but we found the process to be time-consuming and labor-intensive. But if you follow the instructions closely and carefully, the end result is a professional-looking floor that will last for years to come. If you don't prepare your garage floor correctly, you'll wind up with a flaking, peeling mess.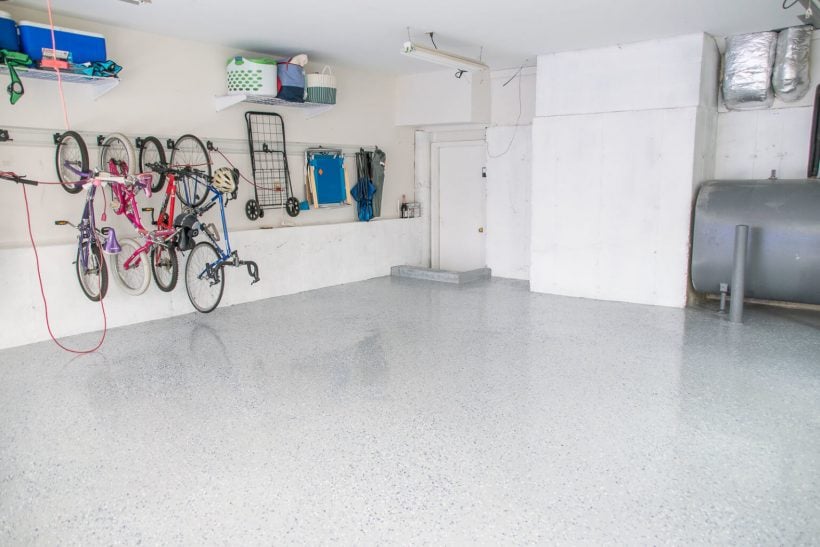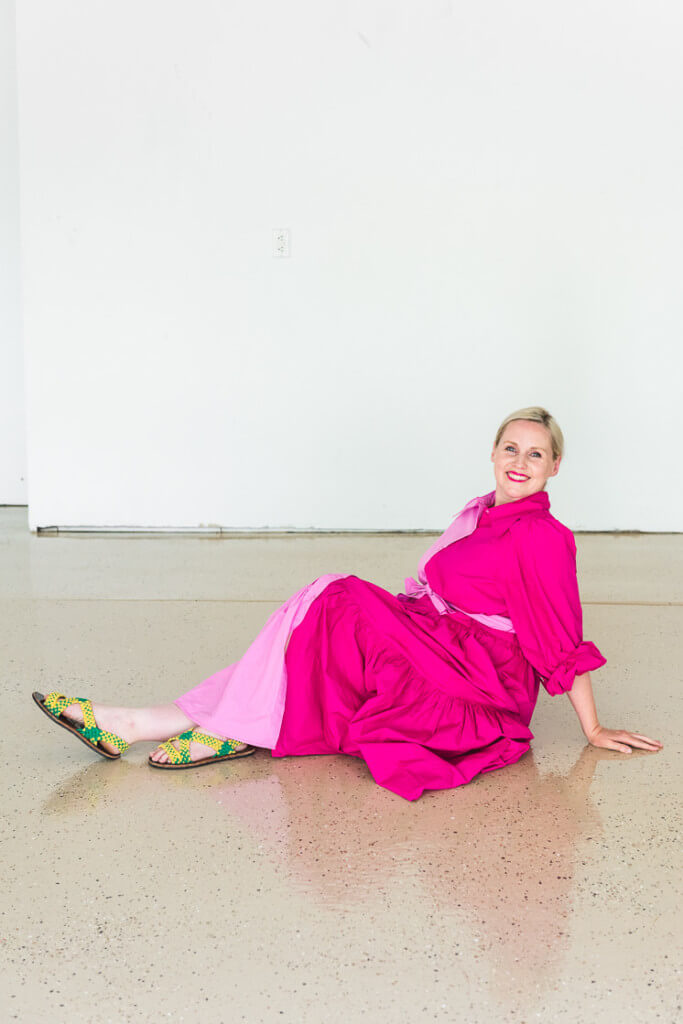 Vinyl Flooring
Vinyl flooring is another popular option for garage floors. It is easy to install and provides a durable, slip-resistant surface that is easy to clean. Vinyl flooring comes in a bunch of different colors and patterns and even comes in planks that mimic the look of hardwood flooring.
Vinyl Plank Flooring
If you want your garage to feel more like a room than a garage, vinyl plank flooring could be a great option. Frills and Drills installed it in her garage workshop and it looks amazing.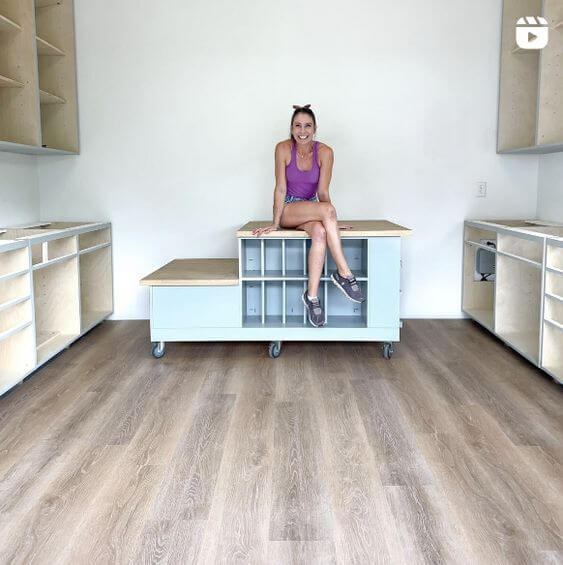 Rolled Vinyl Flooring or Floor Mats
If you love the idea of vinyl flooring, but want something even easier to install than vinyl planks, considering rolled vinyl flooring, sometimes called garage flooring mats. It requires minimal prep and comes in large rolls. You can easily cut it with a utility knife so you can custom fit it to your garage size and layout.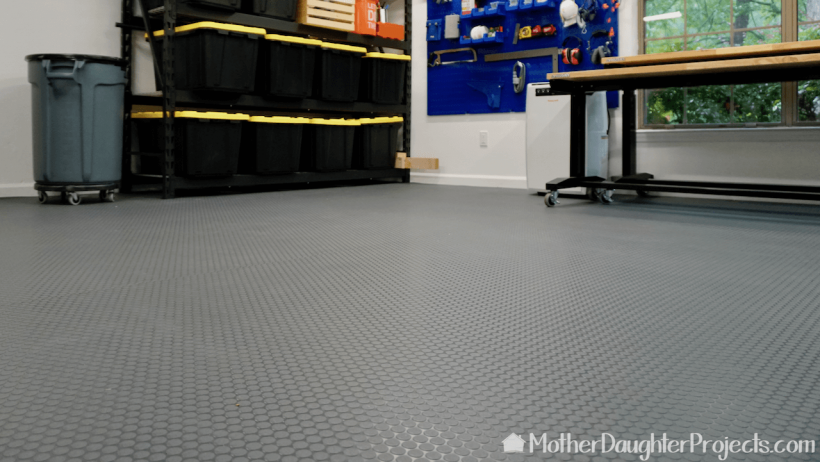 Artificial Turf
Artificial turf is a low-maintenance and durable option for garage flooring. It is made from synthetic fibers that are designed to look and feel like natural grass. The material is easy to clean and resistant to stains, which makes it a great option for garage flooring. It also provides a cushioned surface which can be nice since concrete garage floors are so hard.
If you are considering artificial turf for your garage flooring, make sure to look for a high-quality product that is designed specifically for indoor use, since outdoor turf is installed very differently. And keep in mind that turf won't tolerate spills and oil stains the way that the other options on this list will.
For that reason, artificial turf isn't something we are considering for our entire garage floor, but we are strongly considering using it in the portion of our garage where we have set up our home gym.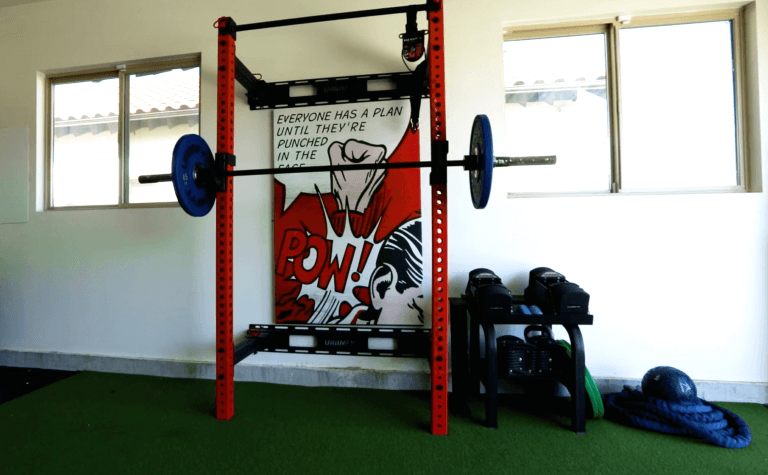 Rubber Flooring
Rubber flooring is a durable and slip-resistant option for garage floors. It is made from recycled rubber and is available in a variety of colors and patterns. It's easy to install and provides a nice, cushioned surface.
One of the biggest advantages of rubber flooring is its durability. It can withstand heavy use and is resistant to stains, chemicals, and abrasions. Rubber flooring is also easy to clean, making it a great choice for those who use their garage as a workspace or for DIY projects, like us!
We are also considering rolled rubber flooring for the gym portion of the garage. It's a tough call between rubber flooring or artificial turf for that section of our garage.
Stained Concrete
If you want to add some color and interest to your concrete floors, consider concrete stain. It involves applying a chemical stain to the surface of the concrete, which creates a translucent color that penetrates and seals the concrete. This results in a natural, marbled look. Some stained concrete can even mimic the look of natural stone. You can choose from tons of different colors, so it's very customizable.
Stained concrete is a durable option for garage floors that is resistant to wear and tear. It is also easy to clean and maintain.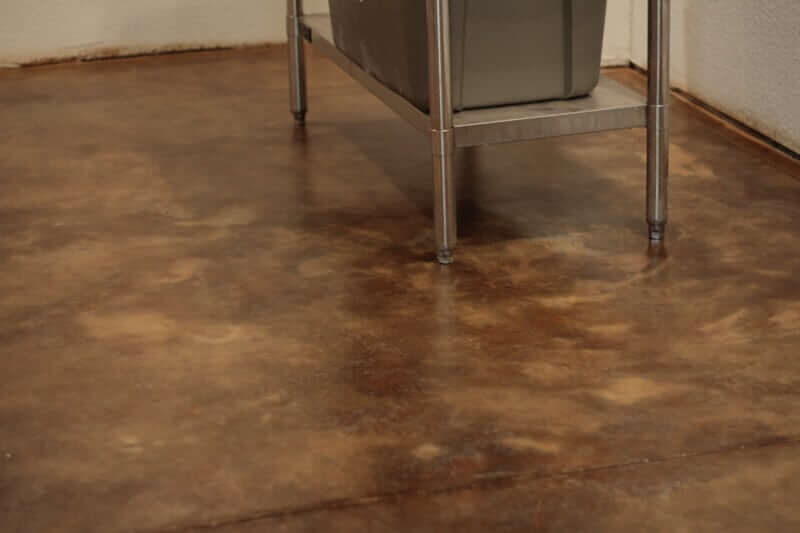 Painted Garage Floors
Painting your garage floor is another low cost but effective way to upgrade the look of your garage floor. There are a variety of garage floor paint options available specifically designed for garage floors, including epoxy and latex-based paints. Make sure to select a high-quality product that is designed specifically for garage use. It should be resistant to stains, chemicals, and abrasions.
One of the biggest advantages of a painted garage floor is that it is easy to clean. And you can add a slip-resistant powder so that your floor isn't slippery like an ice skating rink. That said, painted floors are not be as durable as some other garage flooring options, like an epoxy coating, and may need touch-ups over time.
My friend Liz from Within the Grove painted her garage floors and they turned out beautifully!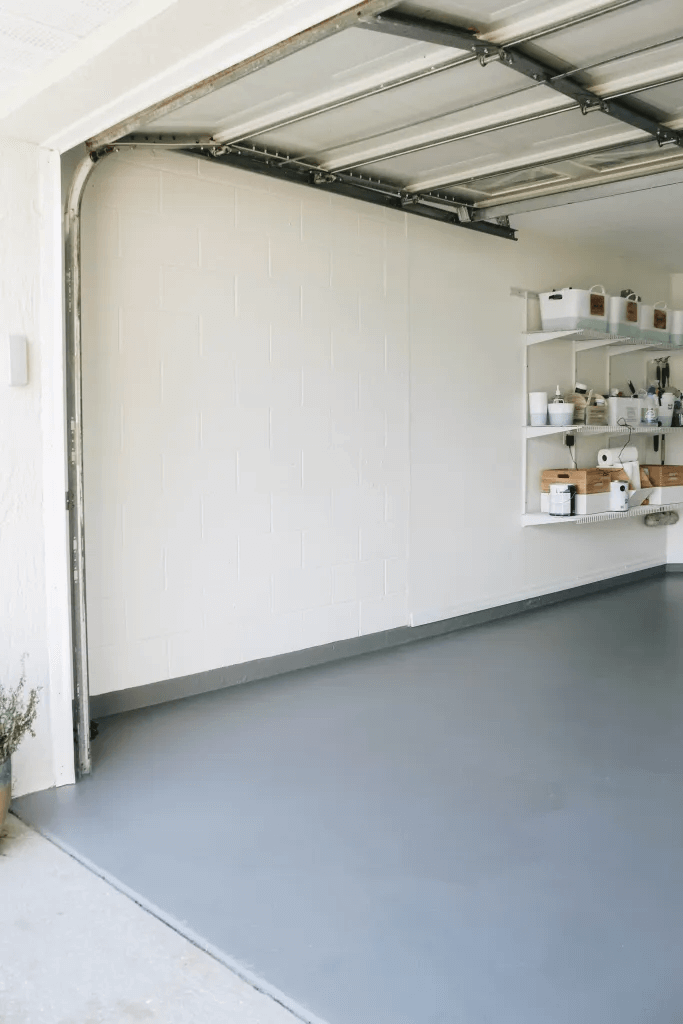 As you can see, there are lots of garage flooring options to choose from, each with their own pros and cons. Whether you opt for interlocking tiles, rolled vinyl flooring, or a DIY epoxy coating, make sure to consider which option is going to work well for your family in the long run. With the right garage flooring, you can transform your space into a functional and stylish part of your home. That's certainly what we are hoping to do in our own garage very soon!
Other posts you may enjoy:
Wondering how I approach transforming rooms and spaces in our home? Check out Designer in a Binder®.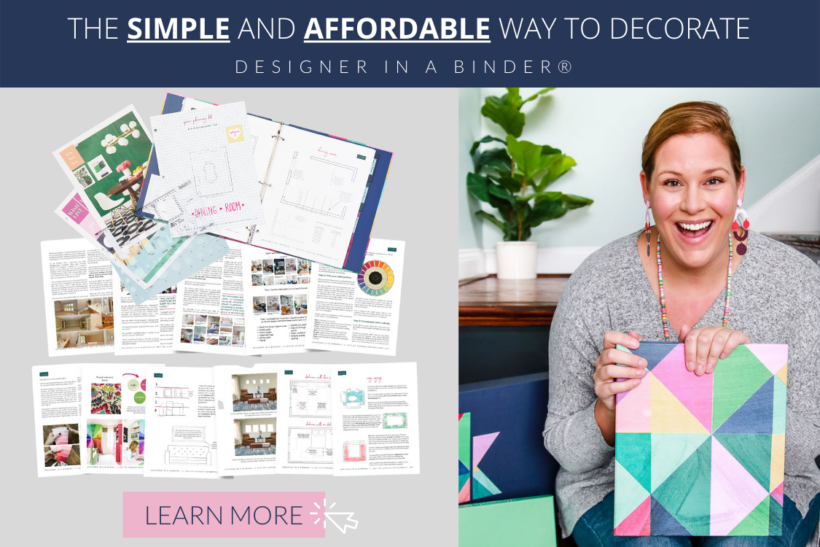 And if you want exclusive content and behind-the-scenes sneak peeks, be sure to subscribe before you head out!