Fire Pit Ideas For Every Outdoor Space
Nothing makes an outdoor space more inviting than a fire pit! It instantly ups the ambiance and makes the area feel cozy and relaxing. I love that you can enjoy a fire pit all year– they warm outdoor spaces up in the cool months and the flames help keep bugs away in the summer (not to mention you can roast marshmallows). Whether you want to make a DIY fire pit or buy one, these are the best fire pit ideas out there!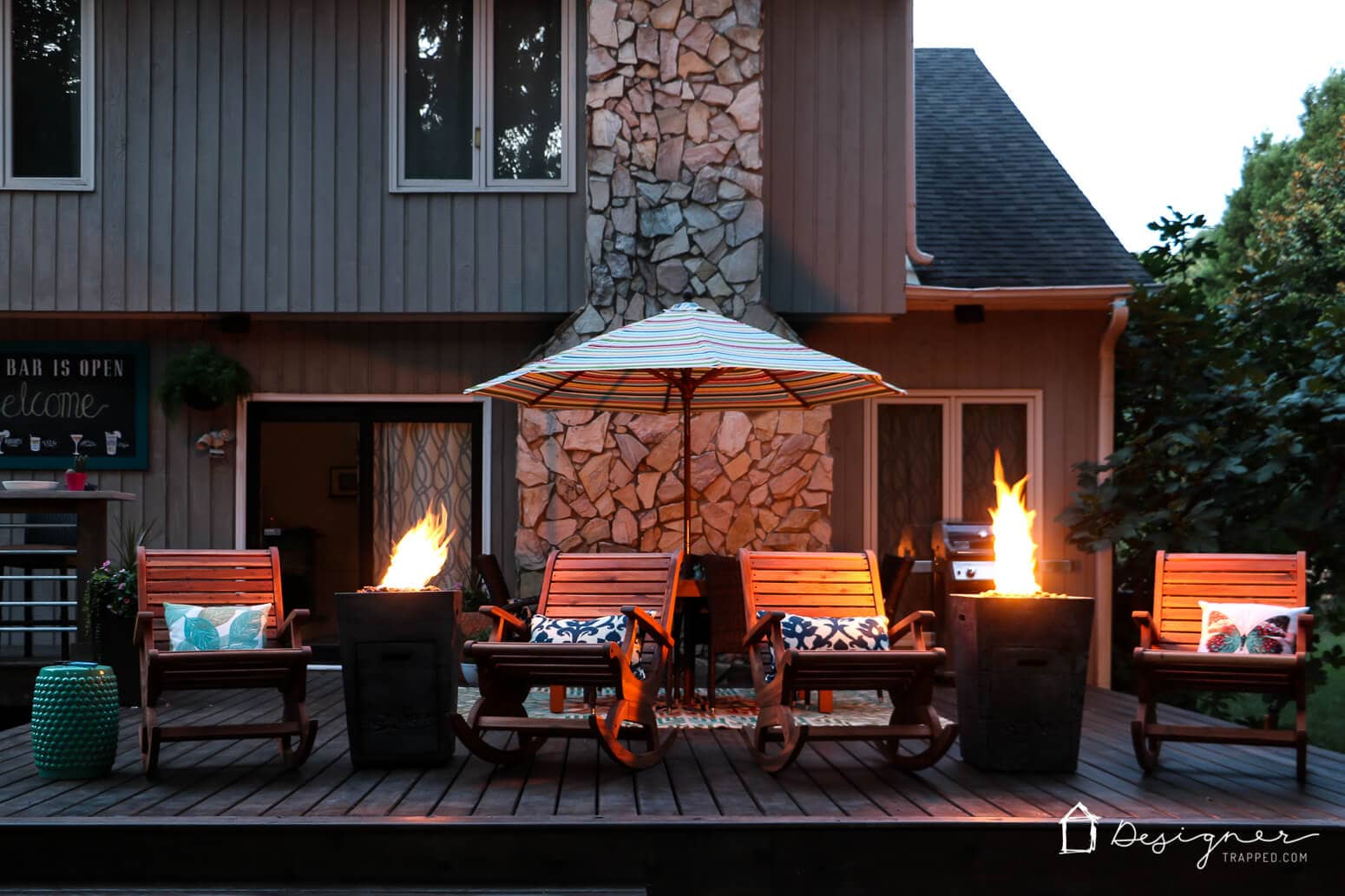 This post contains affiliate links for your convenience. Click here for my full disclosure policy.
Our new house has a gorgeous screened-in porch with a fireplace that we take full advantage of all year long. We have a TV, comfy couches and cushions, and pillows, and we spend tons of time out there. We've even sat out by our outdoor fireplace on Christmas!
As wonderful as our screened-in porch is, I still miss evenings spent on our old back deck, watching the girls play in the yard in the sprinklers and on the DIY swing we made them! We worked hard renovating that deck. We built a deck bar and also redid the backyard landscaping. But one of my favorite things we added that really took our enjoyment of the deck to the next level was the two fire pit columns (these propane fire pit columns are similar).
Of course, before we made the final decision to purchase the fire columns at our old house, I perused a million different backyard fire pit ideas! I wanted to share the best of the best that I found to both build yourself and buy if a DIY project isn't in the cards for you right now.
Outdoor Fire Pit Ideas
Aren't these fantastic fire pit ideas? I can't believe how simple some of them are. The most important thing is good planning and hard work! Want more ideas that take a little less elbow grease? I have some great options to purchase.
SO many firepits to choose from. If you have been on the fence about whether to add one or not, this is your sign! You will get so much use out of it and it will only help you enjoy your outdoor spaces more.
Other posts you may enjoy:
Wondering how I approach transforming rooms and spaces in our home? Check out Designer in a Binder®.
And if you want exclusive content and behind-the-scenes sneak peeks, be sure to subscribe before you head out!