Last Updated on May 11, 2022
Build your own DIY screen door with this amazing tutorial! It's prettier, sturdier and cheaper than what you can find in stores!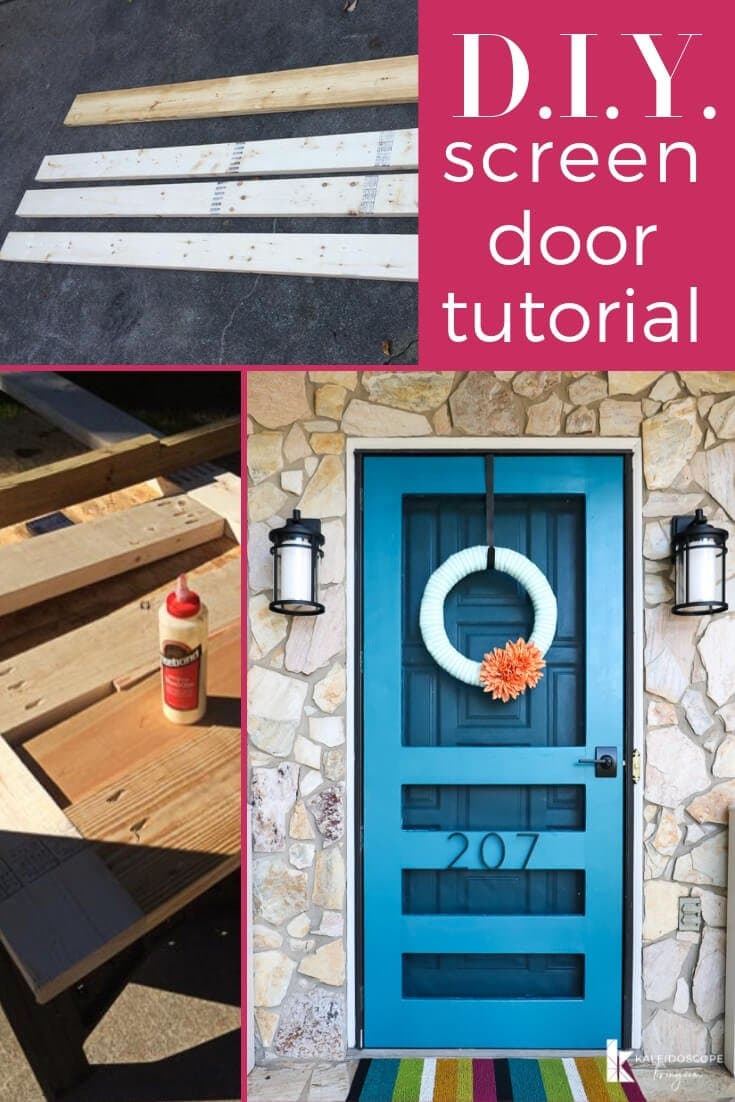 Hello friends! Now that Spring has arrived and Summer will be here before we know it, it's a good time to give some thought to a quality screen door (or a DIY screen door!). After all, don't you want to be able to open your door and let the fresh air in, WITHOUT letting in all the bugs? We knew we wanted to be able to take advantage of the fresh spring air, but that just wasn't going to happen with our old, run-down and outdated storm door.
So, we created a beautiful DIY screen door and today I am here to show you how we did it! Now, many times we tackle a DIY project because we enjoy it and because doing it ourselves will save us some money. But sometimes we do it because we have no other choice. This is is one of those projects.
Joe and I wanted a high-quality, stylish screen door for our contemporary home and we just could not find one that met our needs. If we found one that we liked the look of, it was too flimsy. And if it was sturdy, it was ugly. So, we decided to make our own and we just love how it turned out.
This is a project of intermediate difficulty and requires that you have some basic knowledge of woodworking terms and cuts. But, if you have some basic DIY projects under your belt already, I am confident you can tackle this one.
This post contains affiliate links for your convenience. Click here for my full disclosure policy.
How to Build a DIY Screen Door
If you would like FREE printable instructions for this project, just fill out the form below.
Materials and Tools We Used
(3) 2x6x8 (that means a 2×6 that is 8 feet long)
(1) 2x8x8
Wood putty or spackle
Sandpaper
Staple gun and staples
Table saw
Circular saw
Router (if rounded edges are desired)
Kreg Jig and Kreg screws
Utility Knife
Steps
1) First, rip 1/4 of an inch from the edges of all of your wood down using your table saw. This is just to ensure that you have perfectly square and flat edges to work with.
2) Cut your wood pieces to length with a circular saw or miter saw. Your dimensions will depend upon the dimensions of the doorway you are using the screen door in. Our door was 35 1/4 x 80 3/4, which is pretty standard. Below you can see a diagram of the door (NOT to scale), which shows where we used the various sizes of wood. In parentheses, I note the cut lengths. The red lines mark where the wood pieces join together, so as you will see, all the cuts are straight.
* In order to reduce cut waste, after cutting our 24 3/4 inch length of 2 x 8 for the bottom of the door, we ripped the remaining 2 x 8 to the same width as the 2 x 6 pieces.*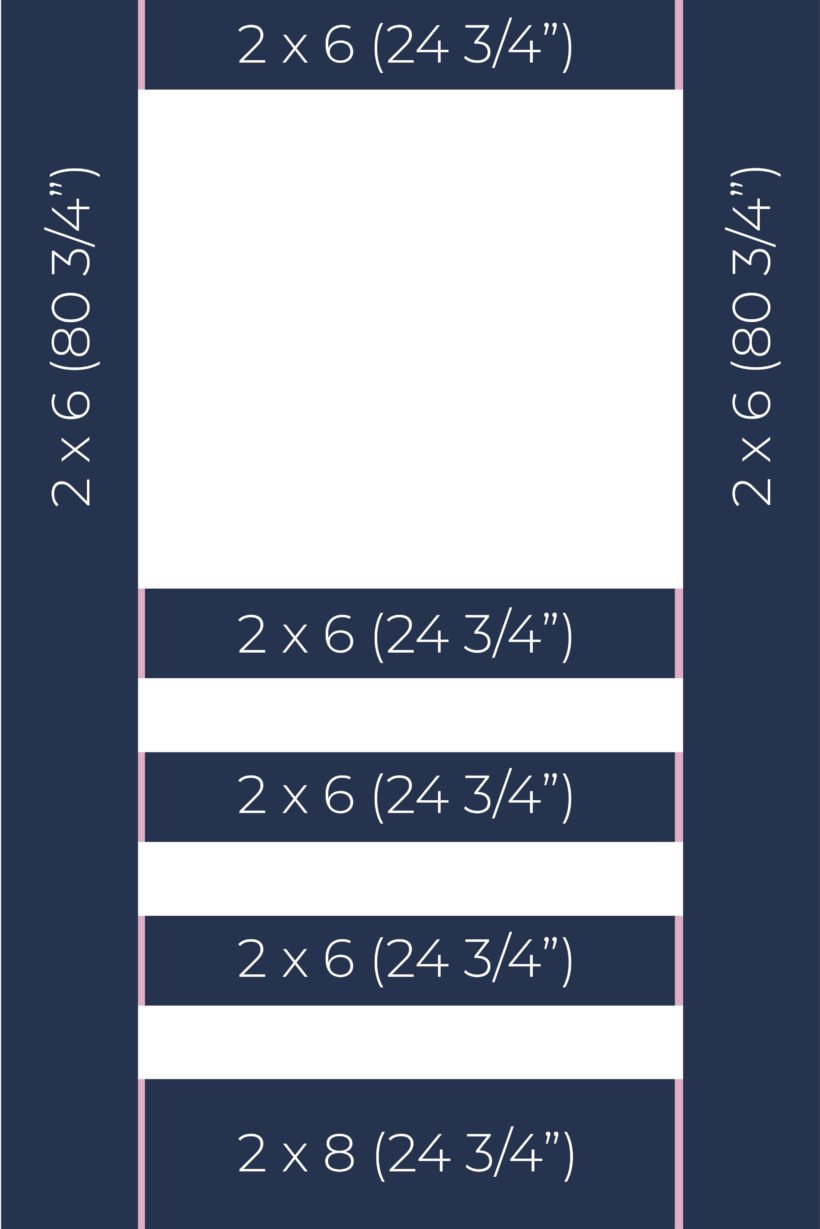 3) After all of your pieces are cut, use your Kreg jig to join your pieces together. Assemble the outer frame of the door first. Once your outer frame is assembled, we recommend that you hold it up in the door frame to make sure that it fits.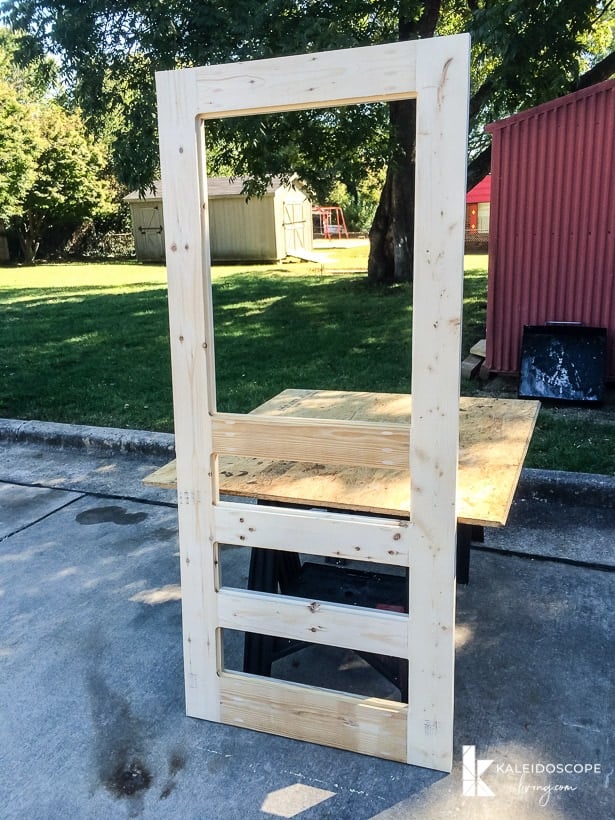 Ours was about a quarter-inch too long, so we simply trimmed some off the bottom. Since we were simply replacing an existing screen door, we also took this time to mark where the hinges needed to be attached.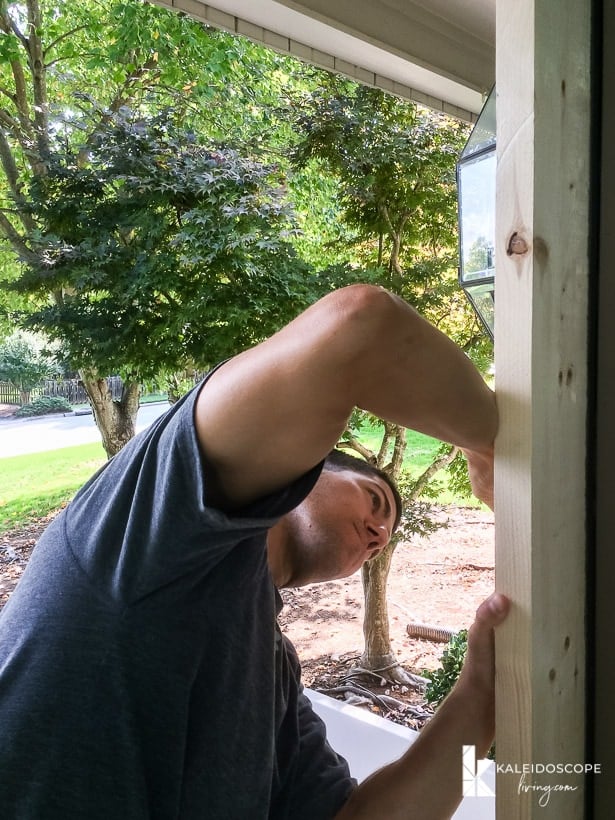 4) Once the frame is assembled, use your Kreg jig to attach the horizontal pieces to the door frame.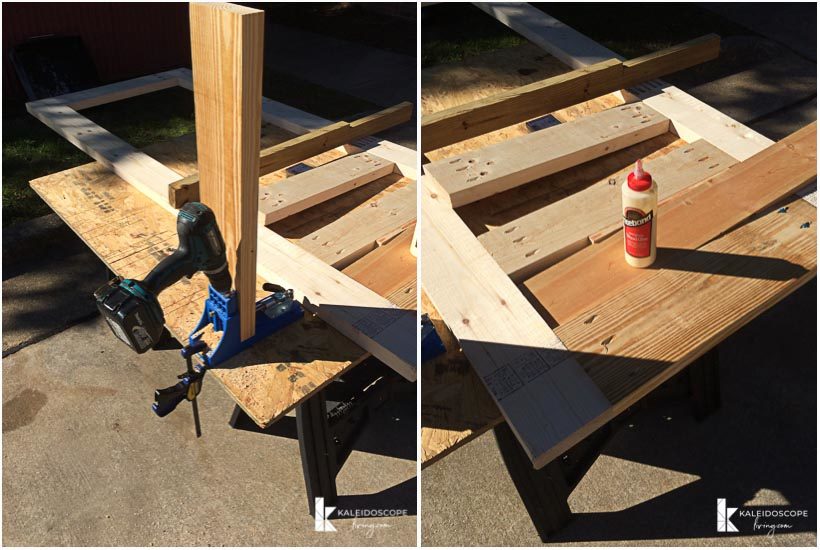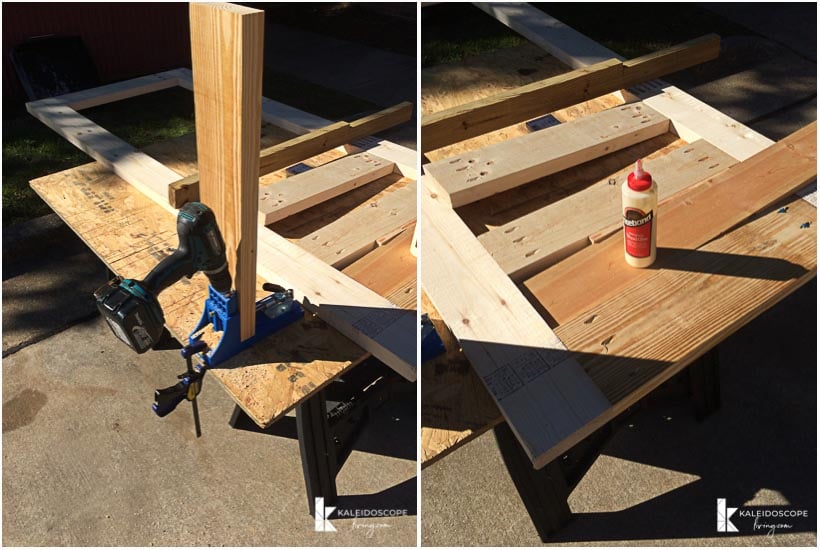 5) We then used a small router bit to slightly round all the outer edges of the front of the door. This is optional.
6) Use wood putty or spackle to fill in any gaps between the joints. Then use your Kreg wood plugs to fill the holes left by your screws. After everything is dry, sand it down until it is smooth.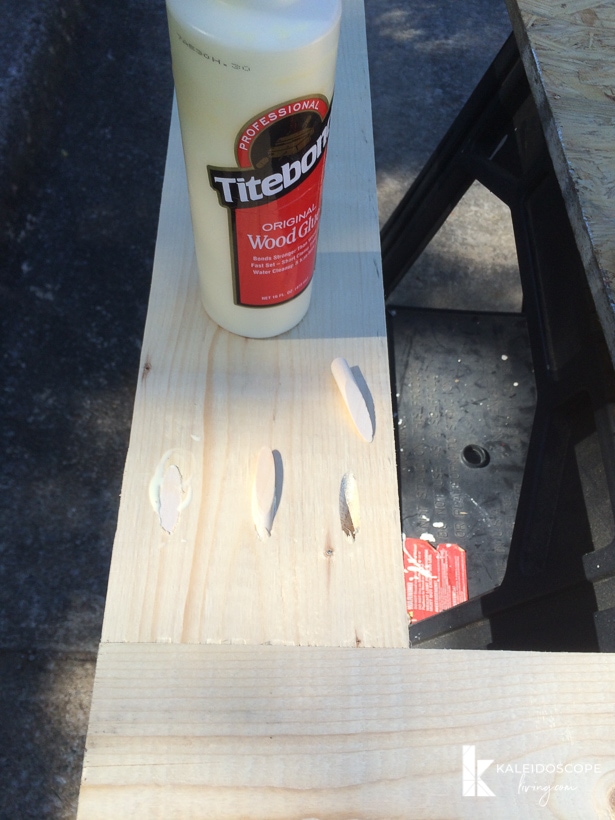 7) Next, you will need to rabbet out a groove with your router on the back side of the door for the screening to attach to. We use a 3/8 inch routing bit for to make our rabbet 1/2 inch deep. However, if we had it to do over again, we would have routed it out to a depth of 1/4 inch so that we could use ready-made 1/4 x 3/4 inch screen molding that is sold at home improvement stores and could have skipped making our own. We would highly recommend that you rabbet out a 1/4 inch depth to save yourselves some time. Bear in mind that you will need to use a chisel to square the corners up after you route out the rabbeted area.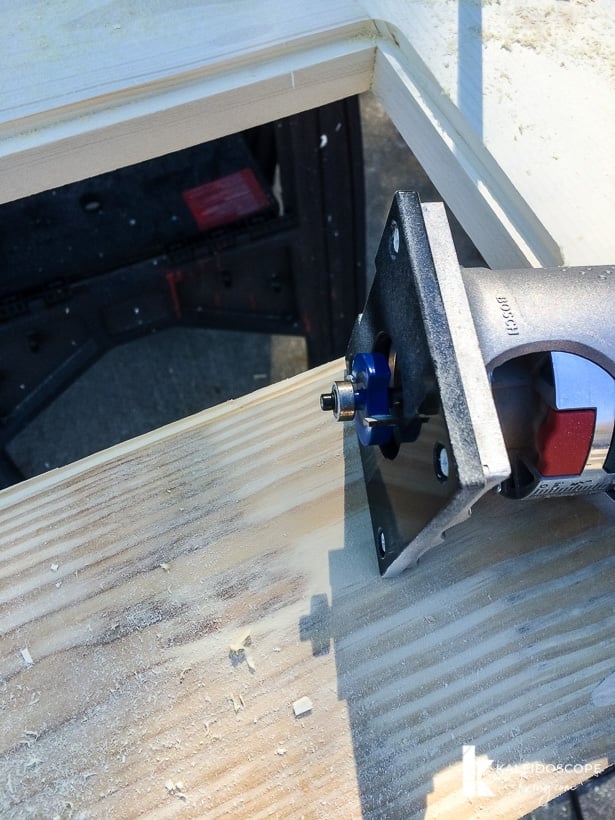 8) Paint the front side of the door. It's easier to do this now so you don't have to worry about the screening while you paint it. We waited to paint the back of the door until after we attached the screen molding, as described in step 10.
9) Now you are ready to attach your screening to the back side of the door. Simply lay your screening out on the area to be screened and attach it with your staple gun in the rabbet grove. You want to pull the screen taut, but not too tight, or it may rip. It's best to have two people for this part of the project. After you staple it in place, trim off the excess with a utility knife.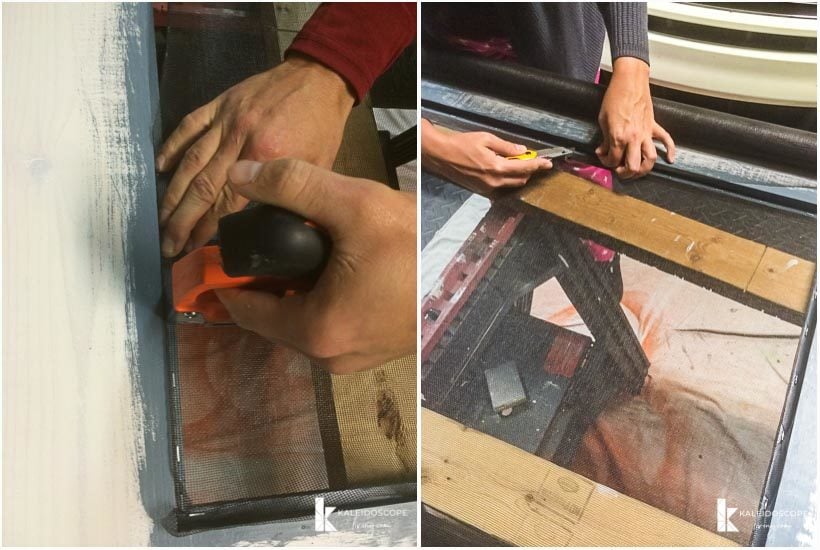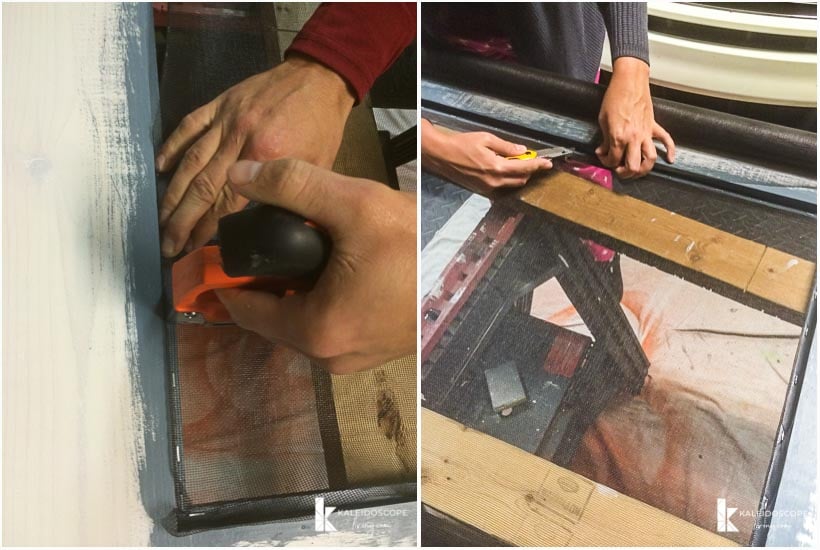 10) After your screening is attached, you are ready to cut and attach the trim pieces to cover the ugly staples in the screening. We made our own trim pieces to fit the area, but see my comments in step 7. We aren't going to even tell you how to do this because it's not worth the extra work–trust us! You should purchase ready-made screen molding at your home improvement store. It is generally 1/4 x 3/4 inch and should work perfectly.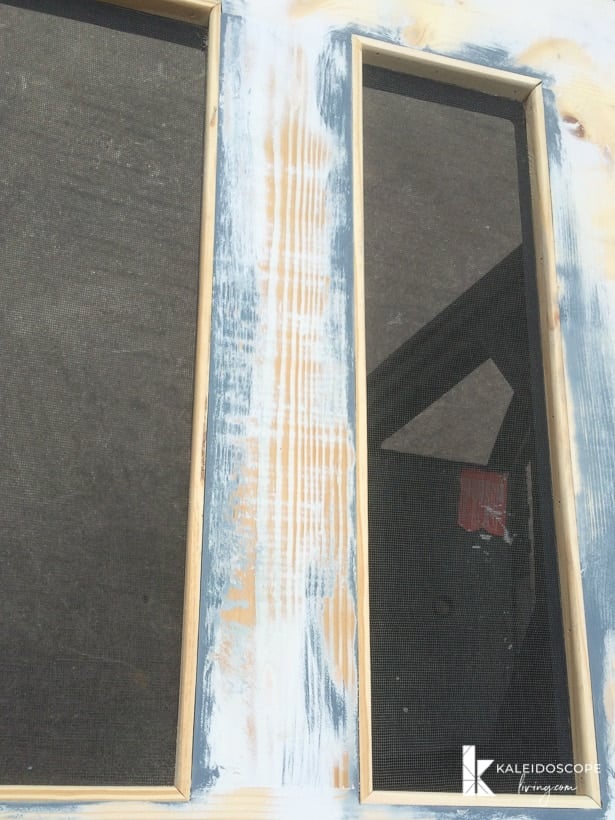 11) Once your trim is attached, you are ready to paint the back side of the door. Be sure to tape off your screening with painter's tape, so that you do not inadvertently get paint on it.
12) Next, attach your door handle and address numbers, if desired. We used a doorknob installation kit that we already had–it makes installation so simple!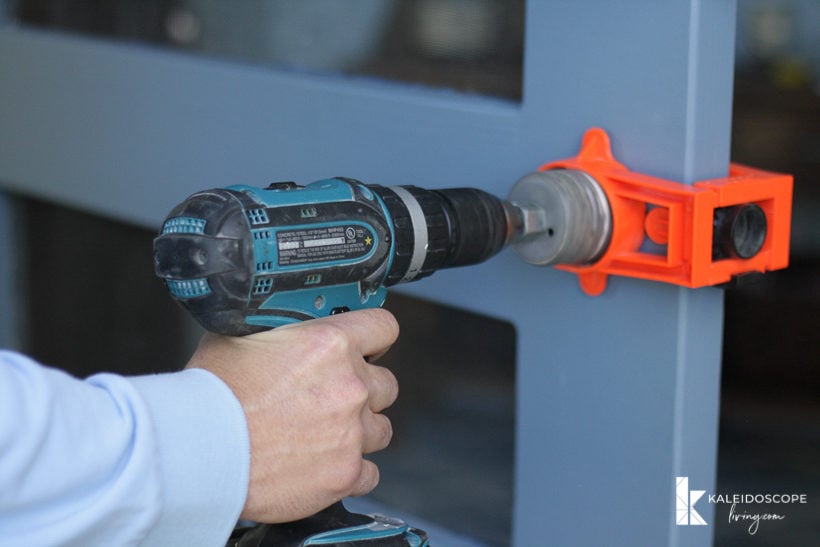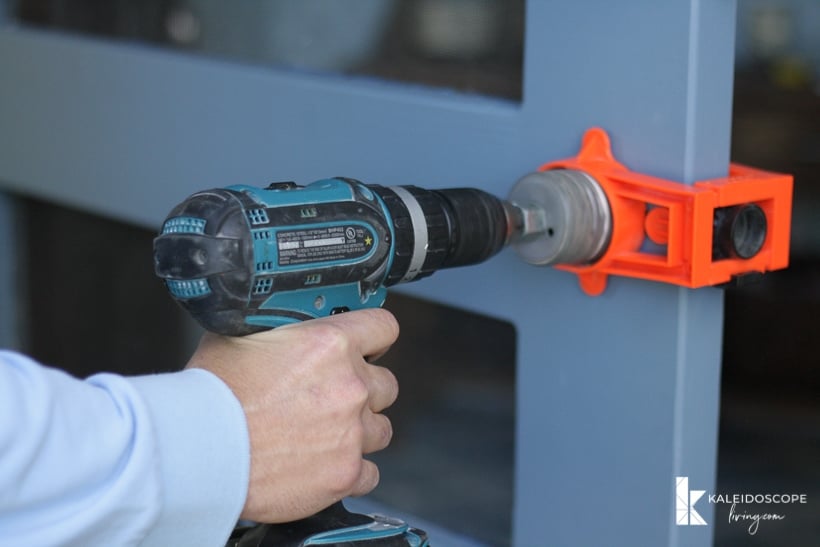 13) Now, you are ready to hang your screen door and admire your work!
UPDATE: We have repainted the screen door a different color so that it would match our front door and LOVE it even more now :)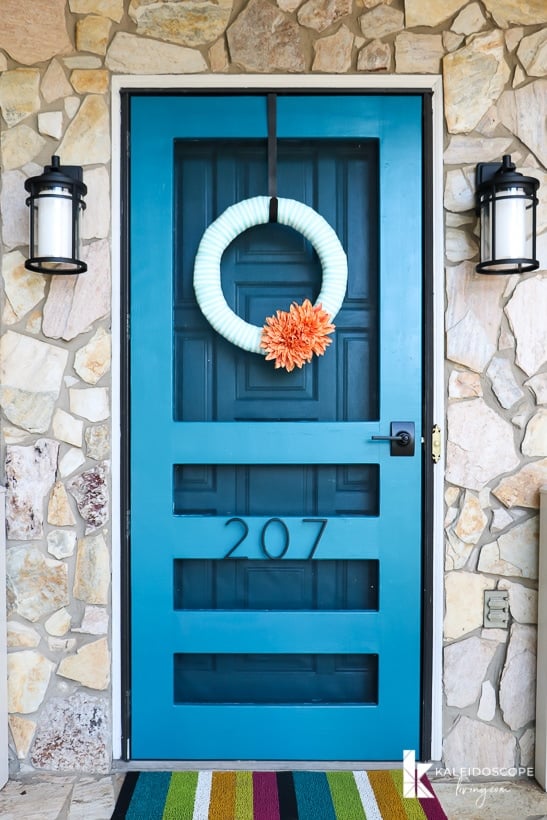 Time and Cost to Build
We love how our DIY screen door turned out. This is not one of those DIY projects that I can tell you saved us a ton of money or time. But we got EXACTLY what we wanted and this screen door is far superior quality to those screen doors that you can purchase for $75 to $100. The lumber cost us around $32.00 and the screening cost $10.00. So, we did save some money–around $30 to $50–on the door itself.
It's very difficult to estimate how much time this took us to build, because we were only able to work on it 30 minutes here and there, but I would say it took around 5 hours to build it (excluding during time for the paint and spackle). Well worth it to get precisely the door we wanted!
Other posts you may enjoy:
Wondering how I approach transforming rooms and spaces in our home? Check out Designer in a Binder®.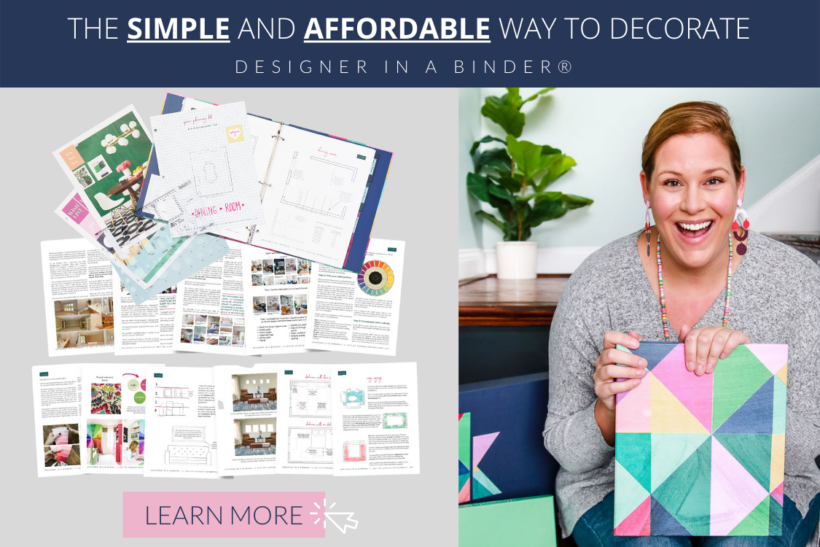 And if you want exclusive content and behind-the-scenes sneak peeks, be sure to subscribe before you head out!