A Complete Review of Vego Garden Beds: Pros, Cons, and Everything In-between
Gardening can be surprisingly fun, especially for families. But not everyone has a sprawling backyard that's perfect for planting. That's where raised garden beds come in handy! We purchased Vego garden beds a year ago and today I'm sharing our completely unbiased review of them. I'm sharing their pros and cons, materials, sizes, and configuration options. Vego garden beds are known for their durability, ease of use, and versatility, but are they right for you? Keep reading to find out!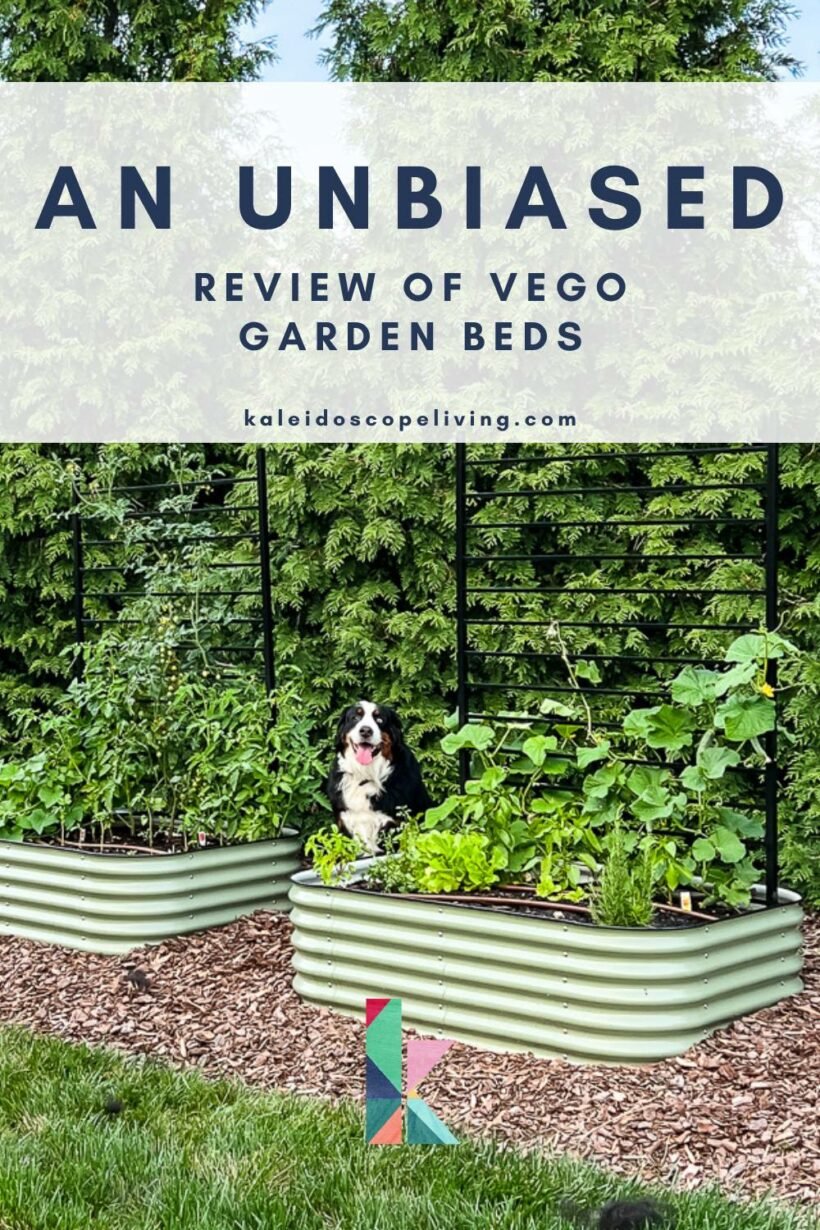 This post contains affiliate links for your convenience. Click here for my full disclosure policy.
First, I want to emphasize that this post is not sponsored and we were NOT gifted our Vego garden beds. We paid full price for them. I have since become an affiliate of Vego Garden Beds since I personally use them and I requested a discount code for y'all!
Vego has generously offered my audience a 10% discount on the 17″ 4-in-1 kit with the code "TASHA.KALEIDOSCOPE10%OFF". The discount code is good through July 17, 2023 and can be stacked on any other discounts Vego is currently offering.
Like a lot of families out there, we don't have a ton of space in our yard that is optimal for gardening. And the yard space that we do have is subject to HOA restrictions, which limits our choices even more. But we knew we wanted to grow some veggies and flowers for cutting, so we started exploring raised garden beds.
Before sharing our detailed review of Vego garden beds, I want to share some of the advantages and disadvantages of raised garden beds in general, since they aren't a perfect fit for everyone.
The Advantages of Raised Garden Beds
One of the most significant benefits of raised garden beds is their versatility. Raised garden beds can be placed in any nearly any location in your garden or home, including balconies and rooftops, so they are condo and apartment-friendly. They are also more accessible, making it easier for people with mobility issues to garden. Raised garden beds also offer better soil drainage, making them ideal for growing fruits, vegetables, and herbs. Raised garden beds can also help keep weeds under control and are easy to maintain.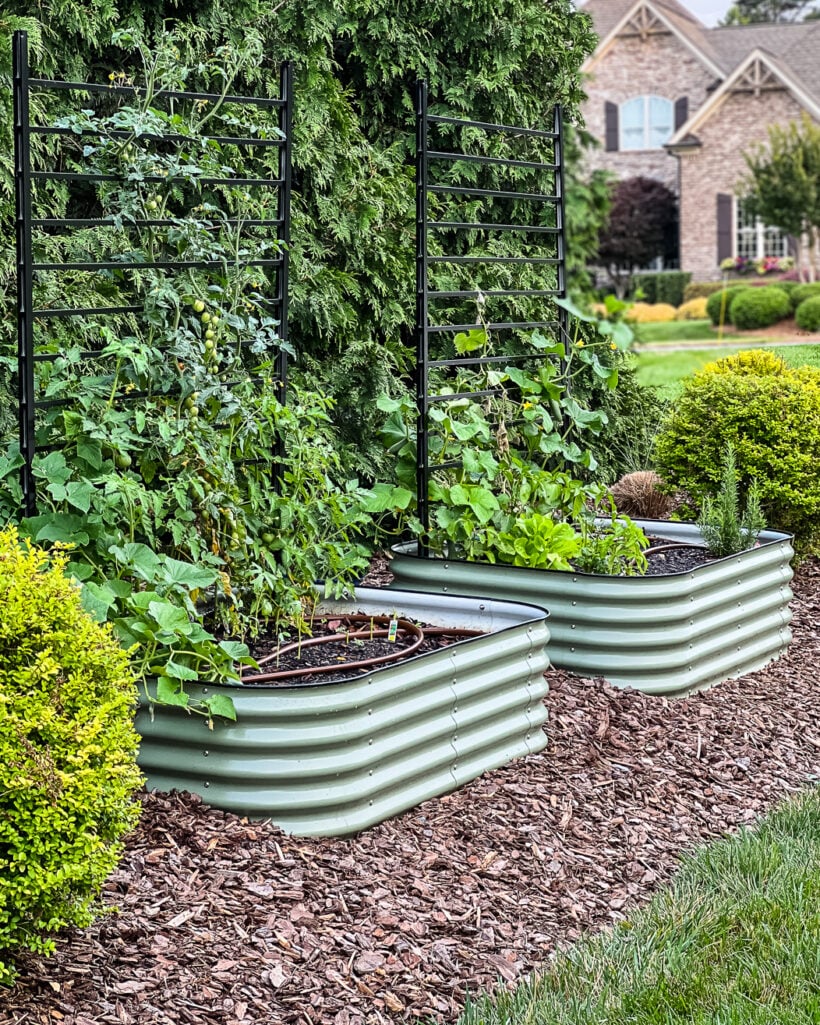 The Disadvantages of Raised Garden Beds
While raised garden beds can be a great option for people with limited growing space, they do have their downsides. They are definitely more expensive than just planting directly in the ground., so the cost of materials and installation can put some people off. Additionally, raised garden beds can get hot and dry out quickly, which means they can require more watering. That can make raised garden beds more high-maintenance and challenging for new gardeners or people who don't have a lot of time to dedicate to gardening.
After thinking it over, we decided that raised garden beds were our best option, so then we had to decide whether to build our own garden beds or buy something. We built the raised beds at our old house and even though we used the recommended lumbar, etc., we were surprised by how quickly they deteriorated. It was disappointing because we spent a fair amount of time building them.
We didn't want to have that experience again, so I started searching for raised beds made of something other than wood. That is how I stumbled upon Vego garden beds!
Vego Garden Beds
I first saw Vego garden beds on Instagram, and I immediately liked how they looked. But I had no idea what they were made of and what sizes/configurations were possible, so I did a ton of research. In the hopes of saving you some time, these are the most important things to know about Vego beds.
I'll cut to the chase. We couldn't be happier with our Vego garden beds. I would absolutely buy them again and I think we are likely to buy a few more in the coming years. They have been the perfect functional solution for us, and I love the way they look. But they may not be the best option for everyone. Keep reading to learn all about them and determine if they are a good fit for you!
Materials and Sizes
Vego garden beds are unique because they are made of galvanized steel and painted with a multi-layer powder coating (Aluzinc) to make them long-lasting and rust-resistant. They are also 100% non-toxic because there is no leaching of metals & toxins so your plants stay clean. Galvanized steel is durable and one of the most popular choices because it is weather-resistant and can withstand heavy rain and wind.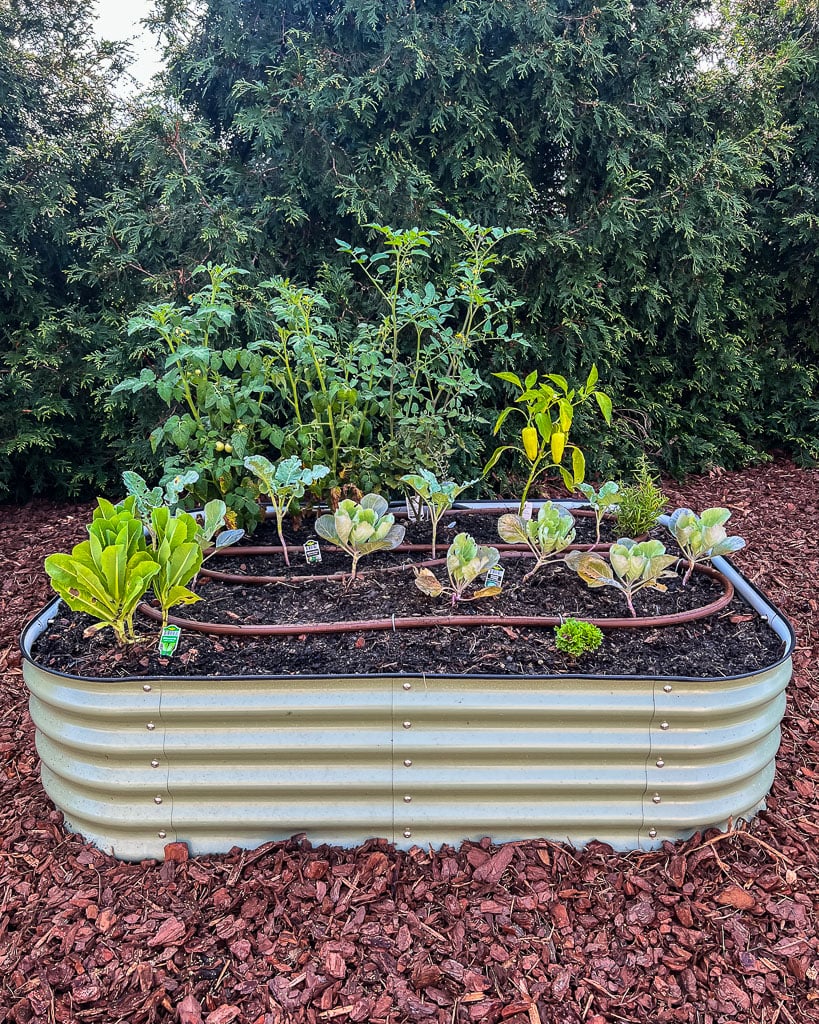 I was a bit worried about the steel being sharp. But all of the corners are rounded and smooth. Even the cap nuts are rounded! There's nothing sharp to worry about, so they are safe for even little kids. I was also worried that the steel might get really hot to the touch, but it doesn't! And I learned that soil in galvanized steel stays at an optimal and even temperature compared with wooden, concrete, and dark plastic, which can retain heat even after the sun goes down.
Vego garden beds are also available in a wide range of sizes and shapes. The interchangeable components are modular, so you can find options to fit any garden space, from small balconies, patios to large backyards. They have square, u-shaped, rectangular and round options available with depths from 8 inches to 17 inches. What's amazing about them is that they can be configured so many different ways–picture Tetris shapes and you will get a sense of the variety of options with Vego beds.
Ease of Assembly
They are EASY to assemble. When we purchased our Vego beds we had been working for weeks on an extensive yard makeover, including adding irrigation zones plus tilling and reconfiguring entire garden beds. We were EXHAUSTED. The Vego beds were easy enough for our kids to put together with very little help. We assembled them inside because it was so hot outside, lol. Since they are so lightweight, it was very easy to move them outside after they were assembled.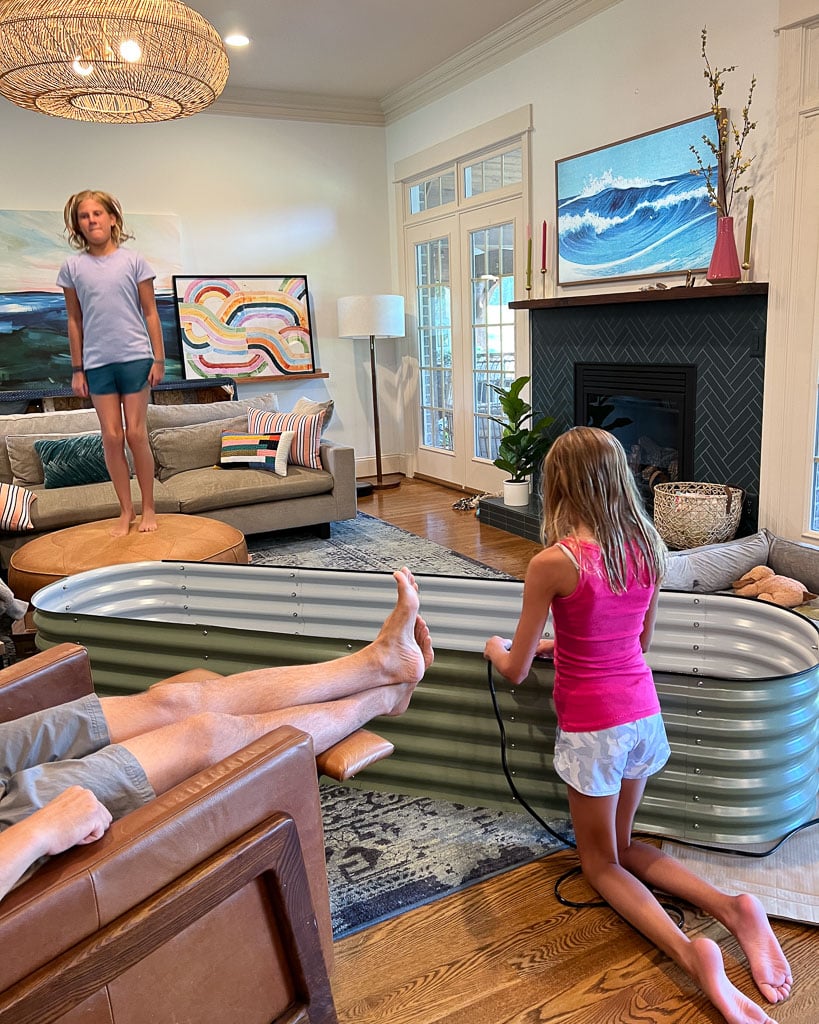 Placing Vego Garden Beds
You can put your Vego garden beds on any surface, including grass, soil, concrete, pavers, or tiles. That said, Vego recommends placing the beds on top of grass or soil. The surface you put your beds on does need to be fairly level. In our case, that meant we had to do some digging and grading to put them where we wanted to (in existing garden beds). They are still slightly sloped, which has not been an issue at all.
Filling Vego Beds
When we first started looking at Vego, I thought we would have to spend a fortune on soil to fill them. But you don't have to (and probably shouldn't) fill them entirely with soil! We wound up using the Hugelkultur method to fill all three of our Vego garden beds. It saved us a ton of money and has worked incredibly well–everything in our beds over the past year has thrived.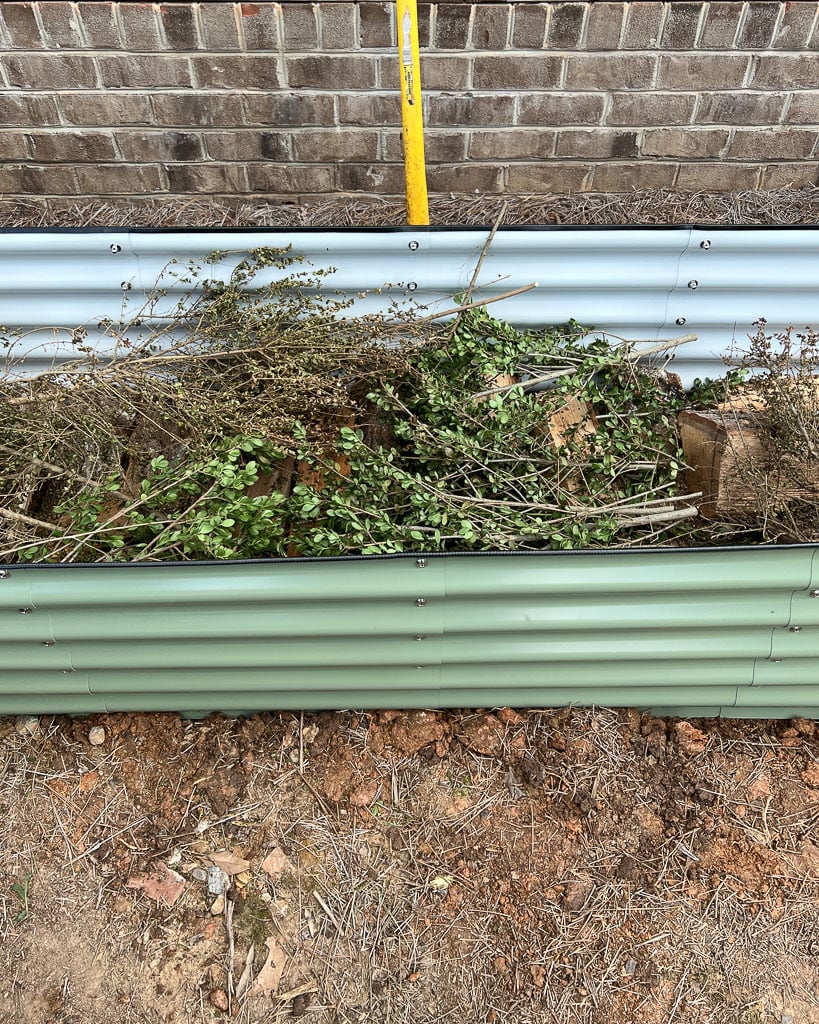 Hugelkultur is the process of adding a lot of organic garden waste (logs, sticks, grass clippings, coffee grounds, compost, etc.) to your raised garden bed before adding soil. It not only saves money, it also preserves moisture. You can see a diagram below.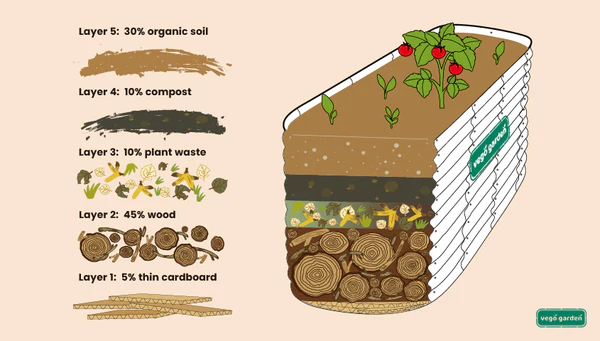 Accessories for Vego Garden Beds
If you're looking to take your Vego garden beds to the next level, there are several "add-ons" you can purchase. One of the most popular accessories is a trellis, which can be used to support climbing plants like cucumbers, tomatoes, and beans. Vego offers arched trellises that can span between two planting beds, as well as a more traditional flat trellis.
You can also purchase worm composters. These composters use worms to break down organic material, creating a nutrient-rich fertilizer that's great for your plants. Last but not least, Vego offers covers that can protect your plants from pests, harsh weather, and more.
This is what I will say about the Vego add-ons. They are a pain to add on after the fact. So if you think you want to include any of them, do it from the start. Once you fill your beds it's a real pain to add a trellis or cover after the fact because you have to bolt them into the walls of of the beds. We wanted to add trellises to our vegetable beds and initially considered the Vego trellises. But they are expensive and since our beds are already planted, we realized it would be incredibly difficult to install them.
In the end, we made our own trellises using fence panels. I actually prefer the way they look, they were easy to install after the fact and they were less expensive.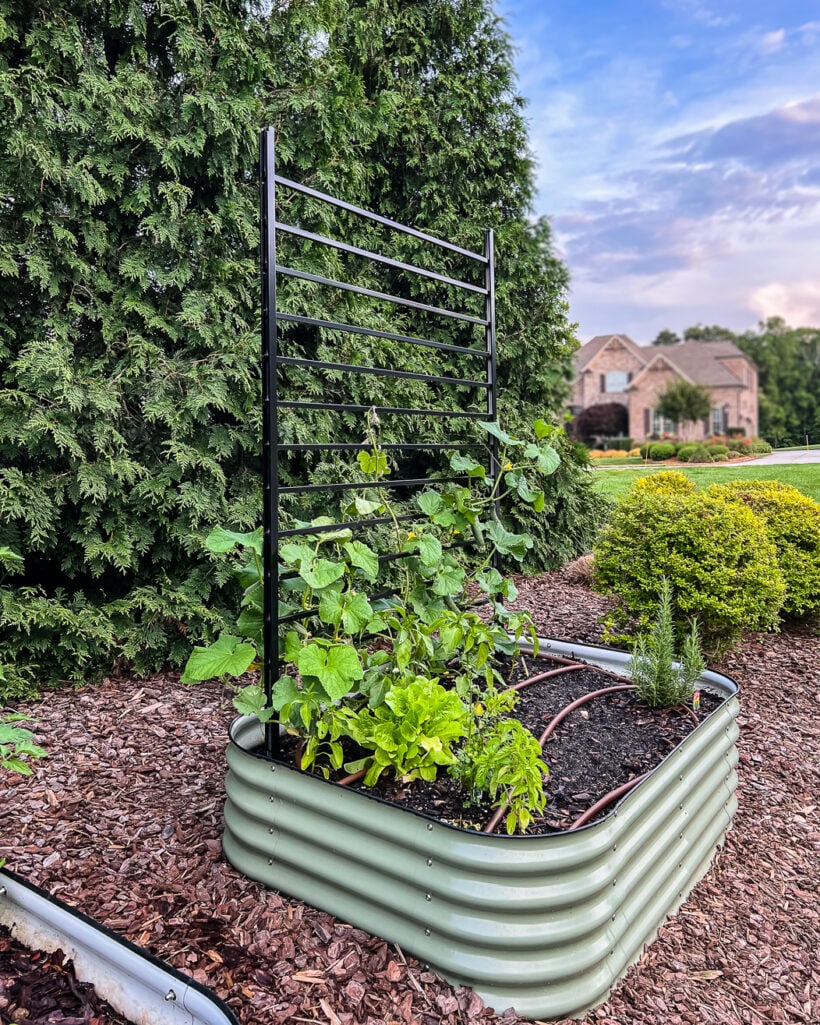 I do wish we had invested in the worm composters from the outset. And we might eventually add them in between planting seasons. But given that we used the Hugelkultur to fill a large part of our beds, I'm not sure we will be able to get them to fit properly in the beds now.
Long story short, the Vego add-ons are tricky to add after your beds are filled and planted, so keep that in mind when planning. Like the beds themselves, the accessories are fairly expensive. But from everything I have seen and read, they are incredibly durable and high-quality, just like the beds themselves.
Pros and Cons of Vego Garden Beds
Pros
Vego garden beds are incredibly durable and long-lasting.

They are rust-resistant and weather-resistant.
Compared to wooden or plastic beds, Aluzinc is 7x more resistant to corrosion and rust, and 3-7x more resistant than regular galvanized steel.
The surface of Aluzinc is twice as hard as regular galvanized steel, and more than 5x harder than wood or plastic.
Vego raised beds can hold soil for decades without deforming.

They are customizable and can be configured a ton of different ways.
They are easy to maintain and do not require annual repair or replacement.
Because they are raised and come in a variety of heights, they are accessible for people with mobility issues.
Cons
Vego garden beds are relatively expensive compared to traditional garden beds.
They may require more watering and maintenance, depending on your garden's location and climate.
The accessories, like trellises and covers, are very difficult to add on after filling and planting your beds.
Bottom Line
The bottom line is that I highly recommend Vego garden beds if you are considering raised garden beds for your yard. They are durable, customizable, and long-lasting. Yes, they are an investment, but I think they will save us time and money since we won't have to rebuild wood beds after they eventually rot or fall apart. And they are so pretty! I love the way they look in our yard.
Wondering how I approach transforming rooms and spaces in our home? Check out Designer in a Binder®.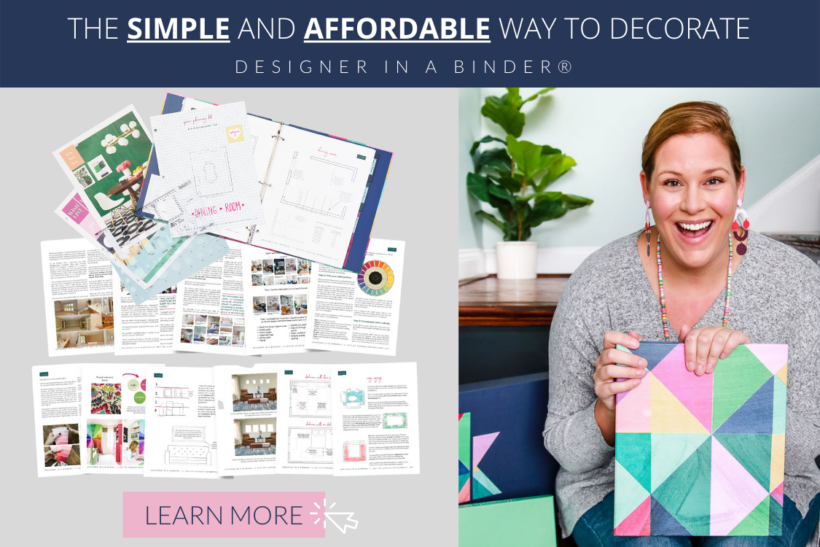 And if you want exclusive content and behind-the-scenes sneak peeks, be sure to subscribe before you head out!