DIY Home Bar Ideas for Every Space
Achieving the home bar of your dreams is possible, no matter what your space and style are. These are the most inspiring ideas out there for DIY home bars. With everything from bar carts to full cabinet built-ins, there is an option for every budget and size home. These creative and amazing ideas will get you excited to entertain family and friends!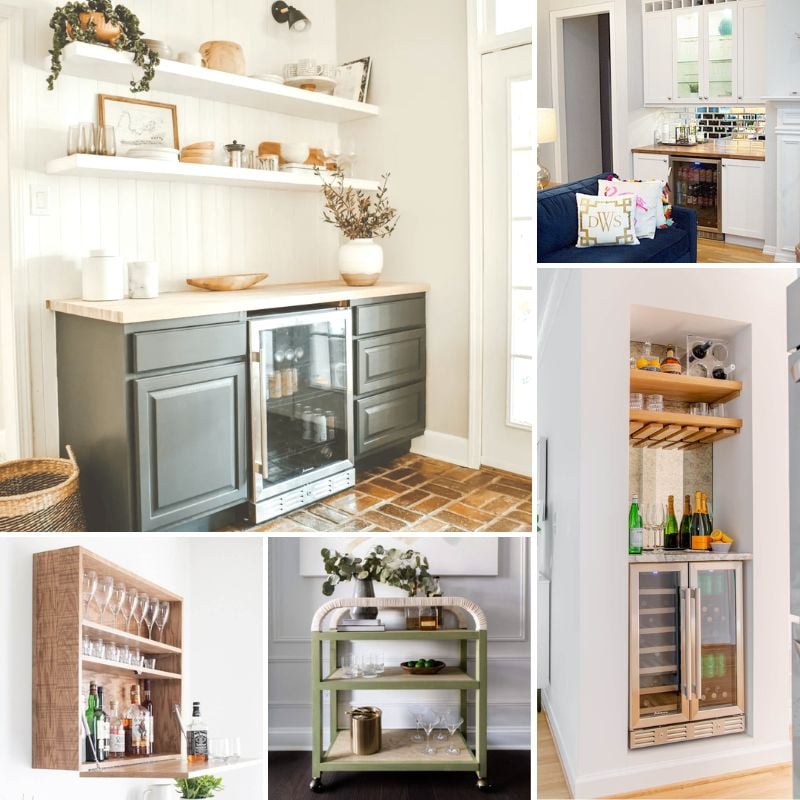 DIY Home Bars for Every Space
Dining Room Bar from Buffet Table
Creating a bar doesn't have to be complicated. In our old house, we created a home bar in the dining room with a dresser as a buffet and a bar area on the wall above it. The DIY pipe shelves held a built-in hanging wine glass rack and had space for our bottles and decor. I also LOVED our wall-mounted wine opener! This look is simple to put together with any large dresser, buffet or console table paired with open shelving. I like having the pull-out drawers for accessories and barware so keep that in mind!
DIY Bar with Simple Shelves
In our current dining room, we have also kept the bar set up really simple. Two shelves, some of our favorite glassware and a small selection of wine and liquor are all we need for this compact set up.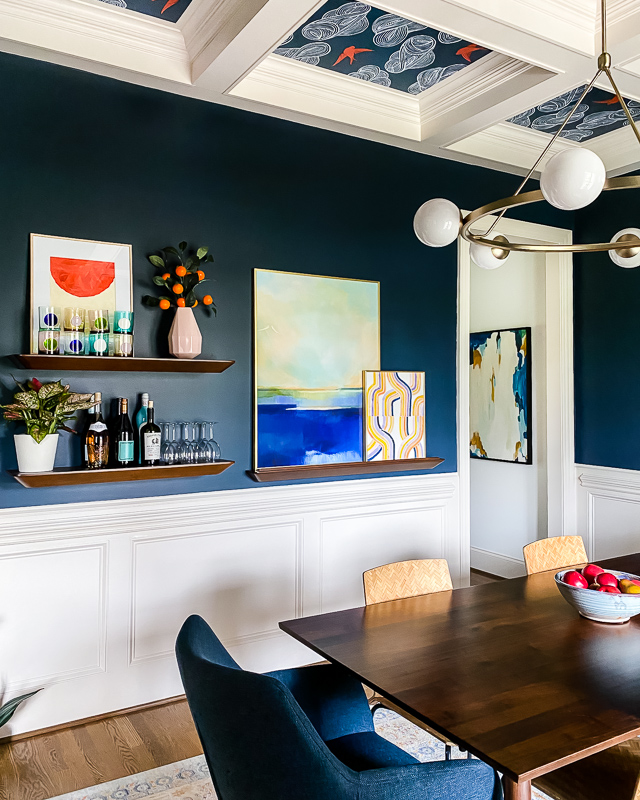 DIY Bar with Wine Racks
This gorgeous bar setup only takes up one corner of a game room, but it has everything needed for entertaining! To fit everything in the space allowed, careful thought was put into the wine shelves, open shelves with glass storage, and the drinks and wine fridge.
Lux DIY Basement Bar
This basement bar is amazing! It fills the entire space and has plenty of room for drinks, snacks, and a small refrigerator. For a smart budget saver, Yami opted for ceramic tile that looked like marble for the backsplash (believe it or not, tiling a backsplash is much easier than it looks). It achieved the lux look she wanted a fraction of the price.
Mini Built-In Bar
This bar is an amazing use of a nook! When her original plans to remodel got derailed, the owner had to make a quick decision about what to do with this little space. After a quick Pinterest deep dive for inspiration, she get creative and made it into a tiny bar! The width was perfect for a small-space drink fridge. She added gorgeous antique glass for a mirrored backsplash and what was once a mistake is now a beautiful mini bar.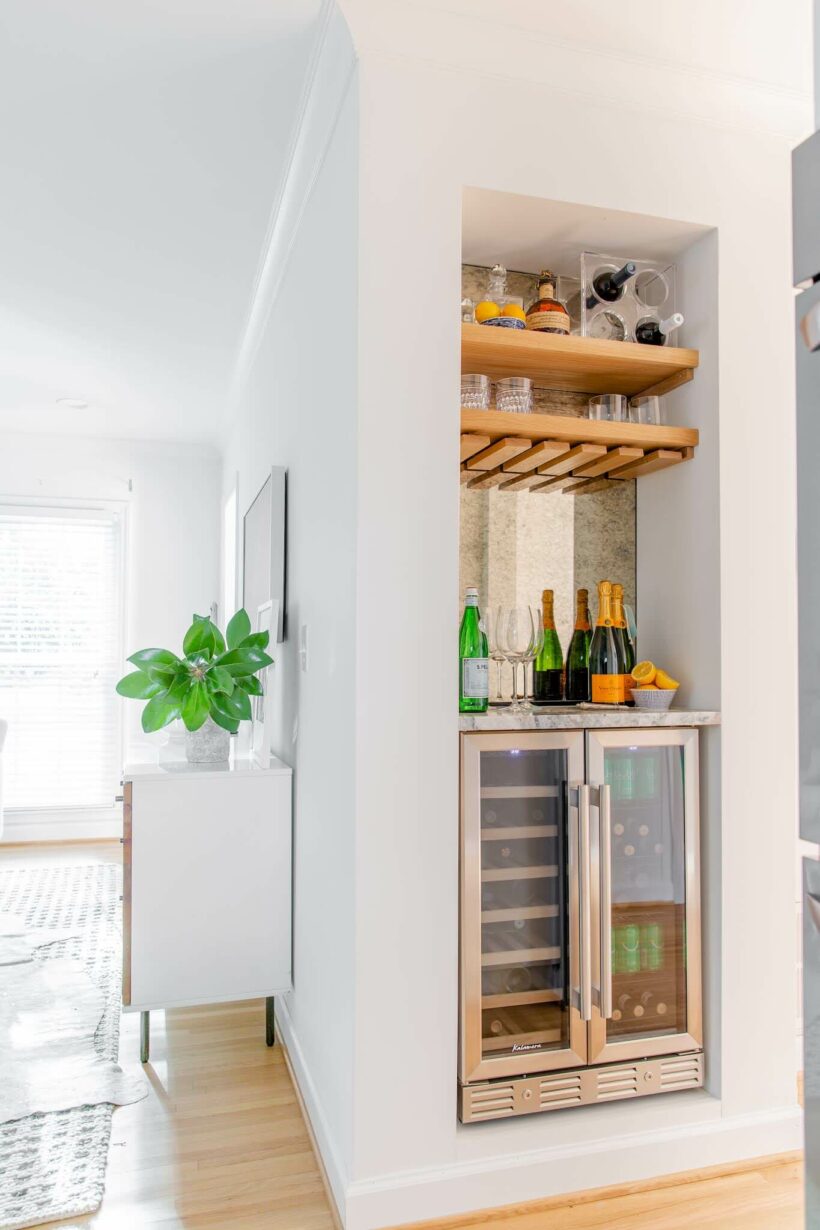 DY Bar Cart
This cool DIY bar cart is perfect for a room where you want a bar but a built-in or large piece of furniture is not an option. The open sides allow you to show off your pretty ice buckets and mixers as decor and I love the rope details and curved top! The nice thing about a cart is also that you can move it around if your needs change, or even repurpose it into something totally different! They are also normally quite a bit more budget-friendly than a full-on bar.
Custom IKEA Bar DIY
Using the kitchen planner and IKEA's cabinetry as the base, this bar was a do-it-yourself dream. The large drawers on the bottom hold liquor bottles (even Costco-sized ones!) and the smaller ones are perfect for accessories and bottle openers. The wine storage was an easy custom DIY with plywood and the whole thing is finished off with door fronts from Semihandmade!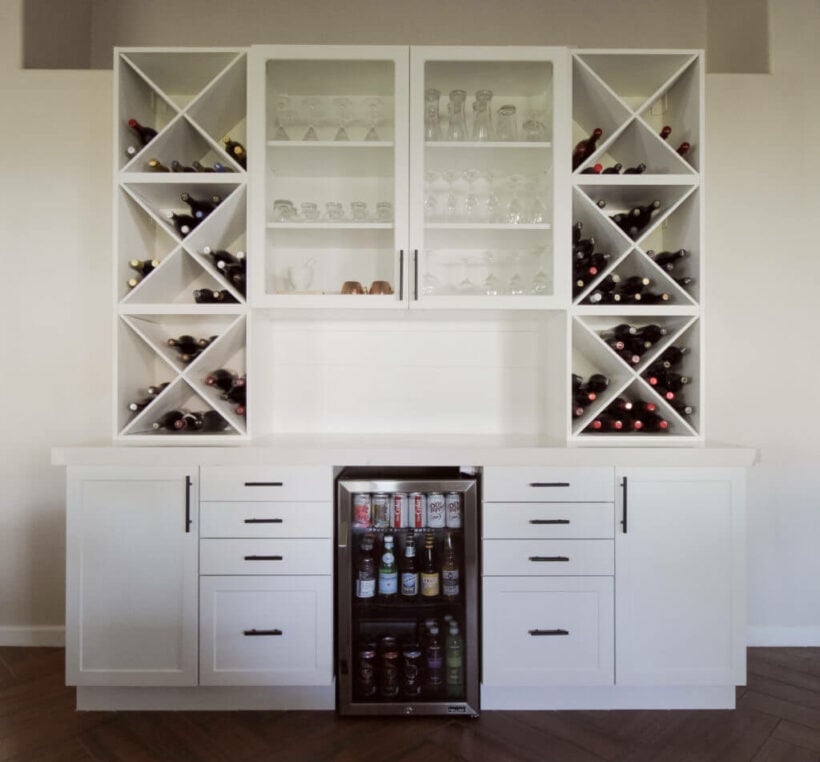 Industrial Pipe Bar
Make a spot for your beverages with this pipe bar tutorial. If you want a beverage station that isn't super heavy feeling, I like this option. There is a spot for your glasses, a small drawer for extra storage space, and a space for your mini-fridge. Nothing overly complicated but everything you need and a very cool design!
Luxury Built-In Bar on a Budget
This home bar starts with Brimnes bookshelves with glass doors. The cabinets provide tons of storage and the glass doors look beautiful showing off the glassware! The shiplap added behind it and the butcher block bar counter elevate the whole build.
Mounted Bar Cabinet
The ultimate in small home bar ideas, this genius bar cabinet is perfect for the host without a ton of room! It has a full tutorial for the DIY project so you can easily build your own. I love that it has a slim profile and only half closes, so your pretty wine glasses and low balls can still be seen as bar decor even when your "workspace" is closed. This is also a great option if you are looking for home bar ideas on a budget.
Easy Kallax Home Bar Cabinet
Purchasing premade home bar furniture is not always within the budget, so making one from an IKEA Kallax is an affordable option that produces very cool results! This very smart hack costs half the price while still serving up retro vibes and plenty of counter space for mixing drinks!
DIY Dry Bar
This impressive DIY build may have started with premade cabinets and a beer and drink fridge, but they went the extra mile to make it look like it came from an interior design magazine. For the perfect backdrop, they installed paneling and then added open shelving with black and brass lighting above. It is gorgeous!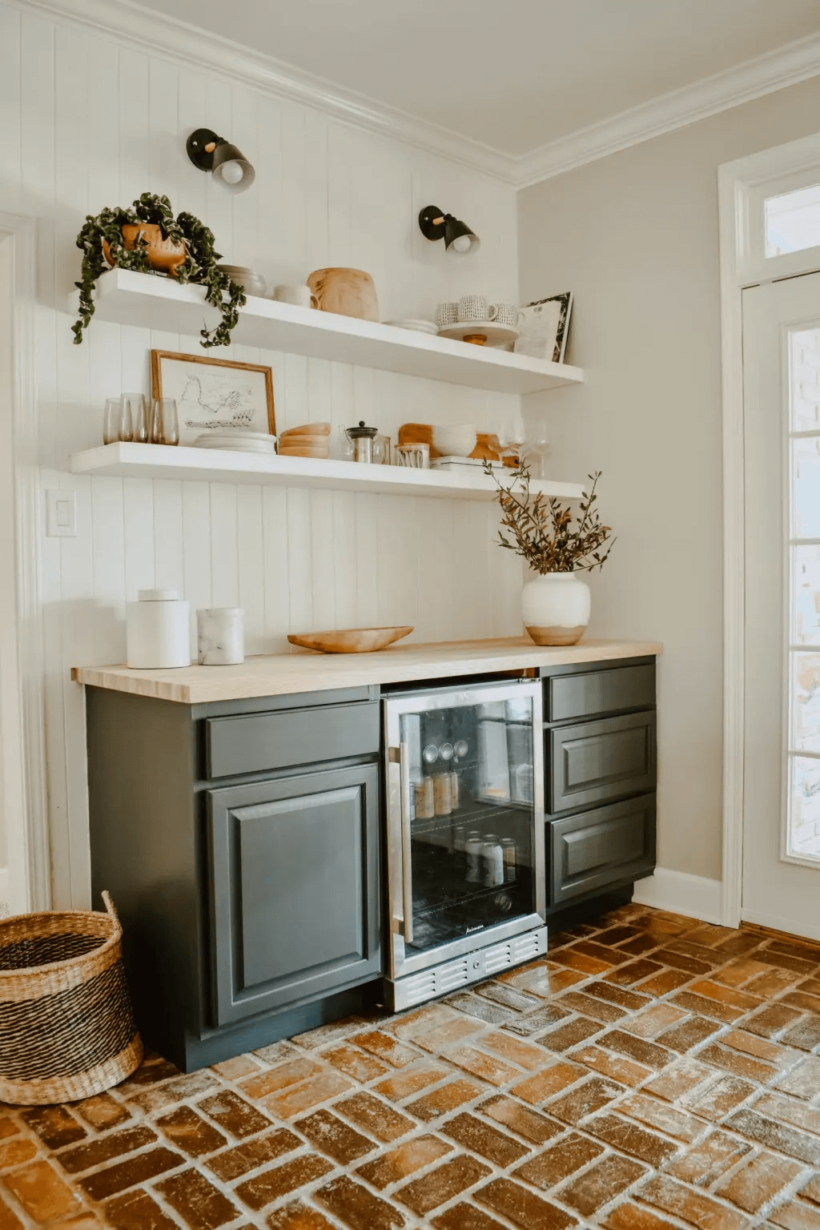 Small Bar Cabinet IKEA Hack
Upfitting an existing piece of furniture is always an easy way to save time and money! With glue, mirror tiles and MDF she created an amazing little bar cabinet reminiscent of Anthropologie. This small piece is full of glamour (look at that mirror and cocktail shaker!) and would be perfect in an apartment or small house where a large bar won't fit. This is my top pick for small home bar ideas when storage space is a huge challenge.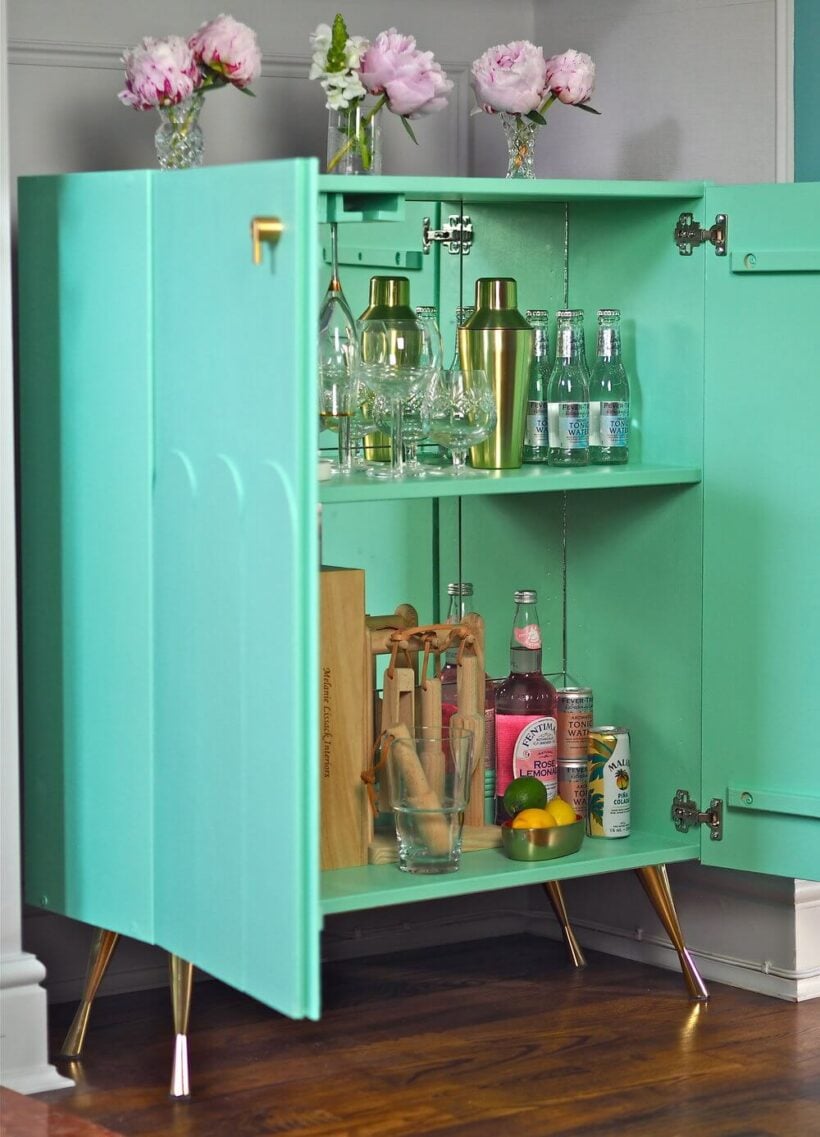 DIY Slim Profile Bar
I cannot believe this gorgeous piece is a DIY. The slim profile makes it perfect for a small space that you want to put a bar in, like a dining room or the corner of your living room. It is the perfect amount of storage without being huge! And the tutorial has tips for customizing which I love.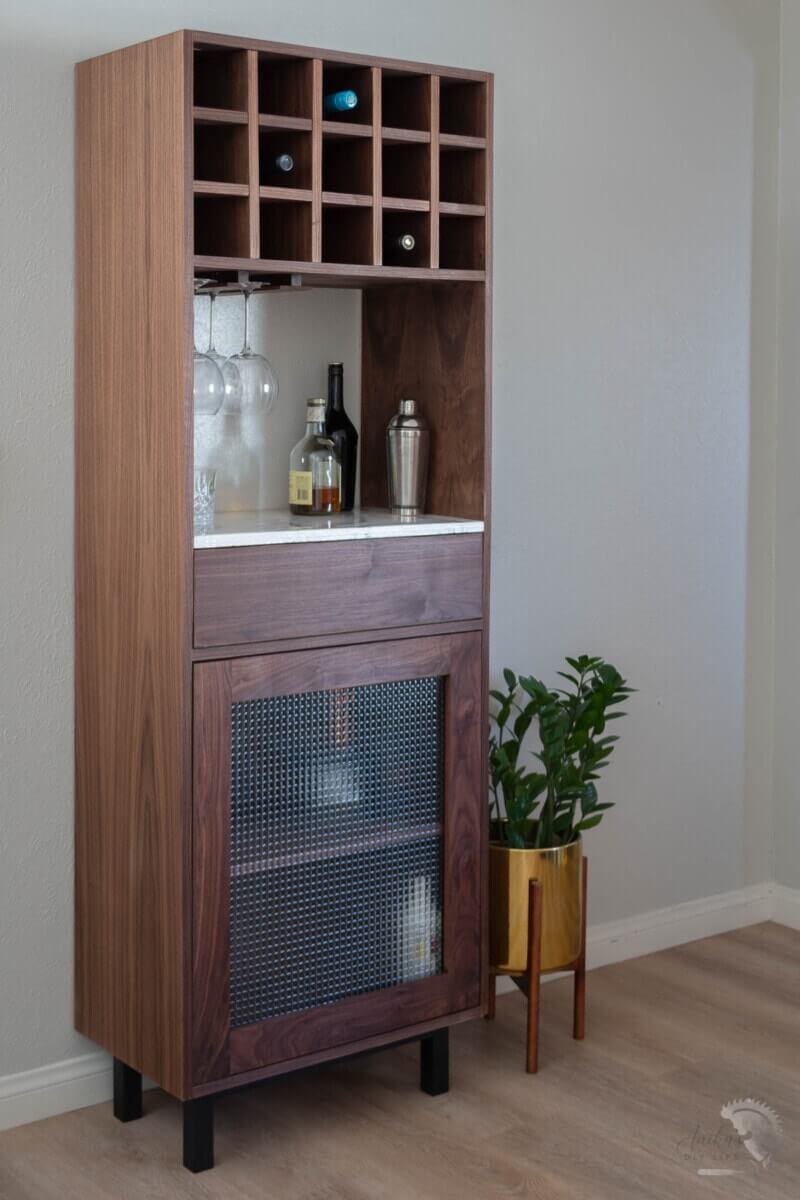 Built In Bar in the Living Room
Sometimes a home has a feature that is no longer serving any purpose. Giving that area new life changes the whole mood of the space! That is exactly what happened when this DIY built-in bar took the place of an outdated media cabinet. What a change!
Coat Closet turned Dry Bar
If you love to entertain and your kitchen is a natural gathering spot for guests, opting to add the bar close by is a no-brainer. This DIY built-in bar used to be a coat closet, but the owners wanted a spot of color and fun, so they opened it up and made it into a beautiful bar!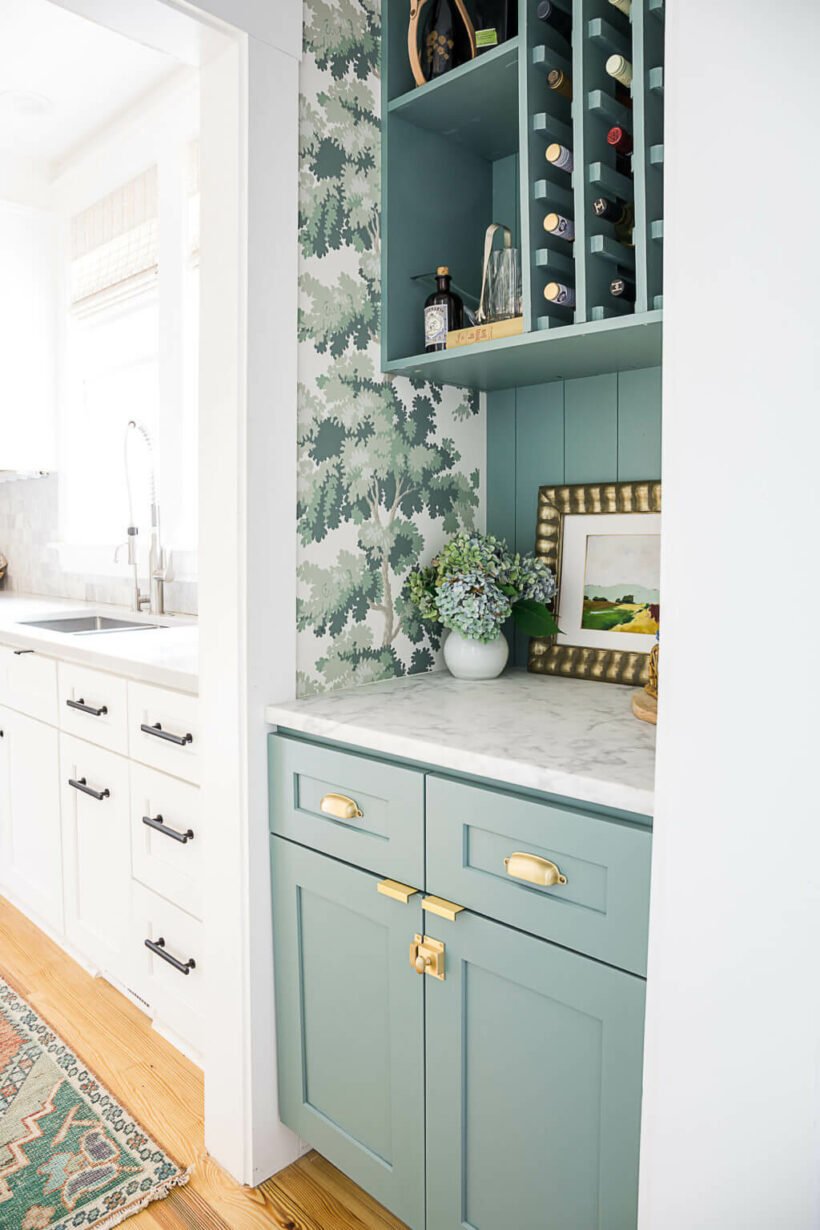 Which bar works in your space? There are so many amazing ideas here to create your own DIY home bar. If having a separate drink area speaks to you, I highly recommend you also think about creating a DIY coffee station in your home! These coffee bar ideas prove that they are another great way to add interest and free up kitchen space and there are so many amazing options and great ideas.
Other posts you may enjoy:
Wondering how I approach transforming rooms and spaces in our home? Check out Designer in a Binder®.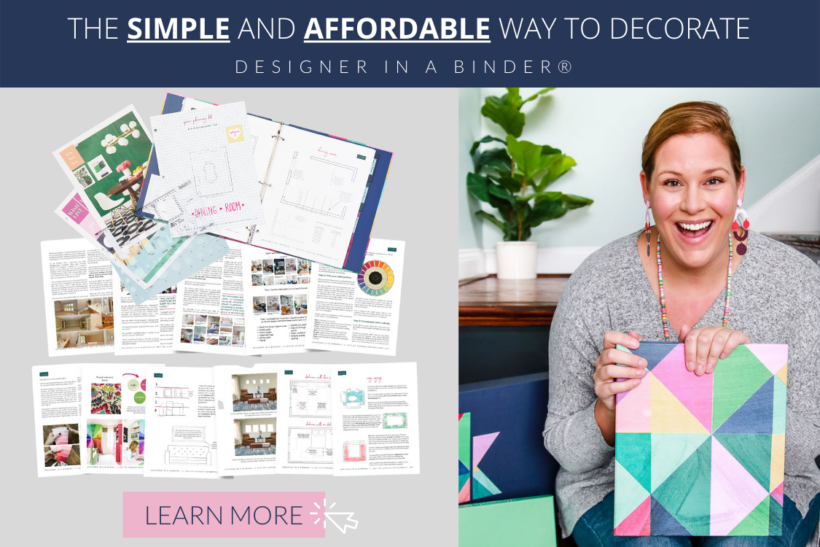 And if you want exclusive content and behind-the-scenes sneak peeks, be sure to subscribe before you head out!