The 50 Most Epic IKEA Hacks Ever
Last Updated on May 27, 2022
Looking for ways to upgrade your IKEA furniture to look like high-end, designer pieces? Look no further. These hacks are so incredible that it's hard to believe they are IKEA.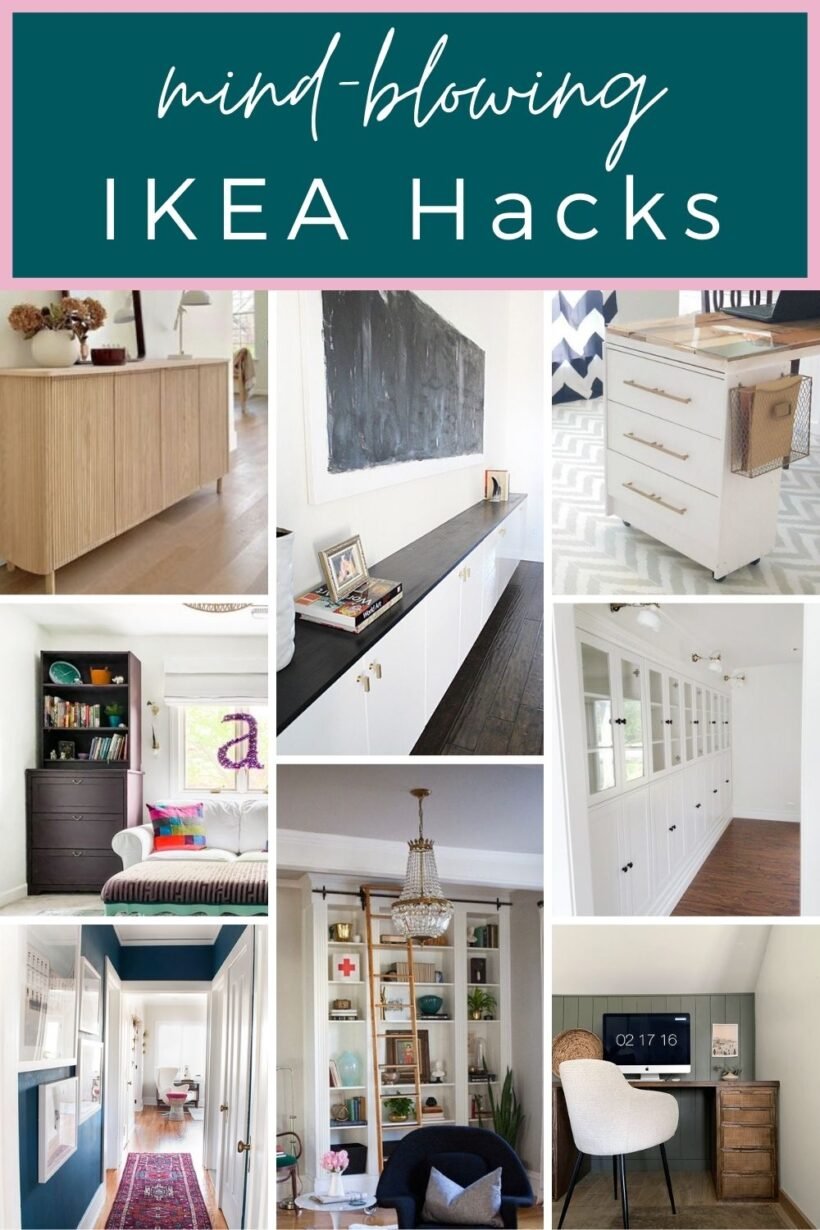 Let's face it. When it comes to furniture prices, IKEA is pretty darn affordable. And while the simple and utilitarian designs of IKEA pieces appeal to many people just as they are, more of us want a more designer look. We want our cake and to eat it too, lol. Well with the right IKEA hack up our sleeve, we can!
We've hunted and searched for the absolute best IKEA hacks that result in a high-end look on a budget. Elevating standard pieces by painting IKEA furniture and with clever IKEA hacks has taken social media by storm, and there's plenty of inspiration to be had from Insta-worthy glow-ups. Not only are these easy DIY projects easy on your bank account, they also ensure your home boasts a chic style with a cool injection of personality that's unique to you. After all, nobody wants to have exactly the same furniture as all of the neighbors.
I've organized them by category for you based on what category the finished project falls into. We've got everything from tables and dressers to cabinets and closets! You can hop around this post using the handy table of contents below.
The Best IKEA Hacks I've Ever Seen
Dresser & Chest of Drawers IKEA Hacks
Even relatively affordable dressers can put a big dent in any room makeover budget. So when you can transform basic IKEA dressers and chests of drawers into something that looks high-end, it's a big win for you and your budget.
Years ago, when I was working on my twin girls' shared bedroom, I combined basic IKEA chests of drawers and Billy Bookcases to create a massive amount of storage. Even though the IKEA pieces didn't match, I painted all the pieces the same color (yes, you can paint IKEA furniture that is laminate using this tutorial) to unify them. I also added real wood to the back of the Billy Bookcases which immediately elevated them.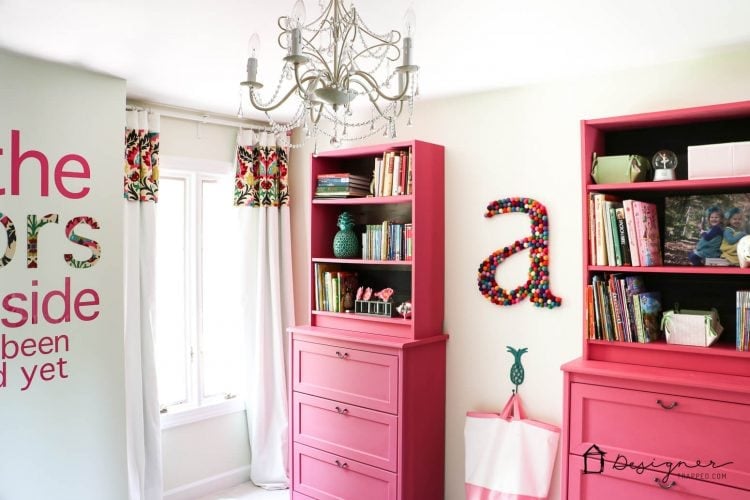 We transformed these same dresser/bookcases a couple of years later when our girls moved into separate bedrooms and Avery inherited these pieces for her room. When we moved them into Avery's room I painted them a gorgeous deep purple with the same wood backing we had DIY'd previously.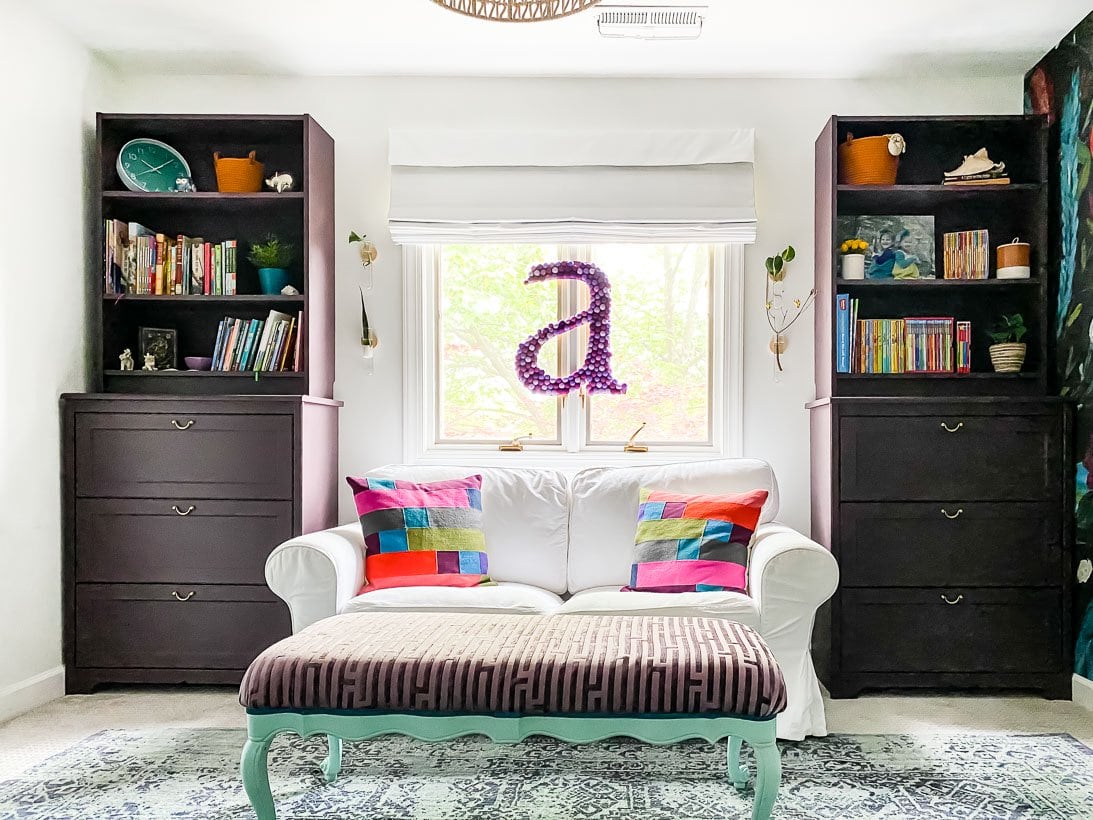 Leather and Brass Campaign Dresser: IKEA Rast Hack by Vintage Revivals. This plain dresser was just that – plain, boring, BASIC. Mandy from Vintage Revivals turned it into an amazing bedside table with leather and brass details with just a few simple-to-follow steps.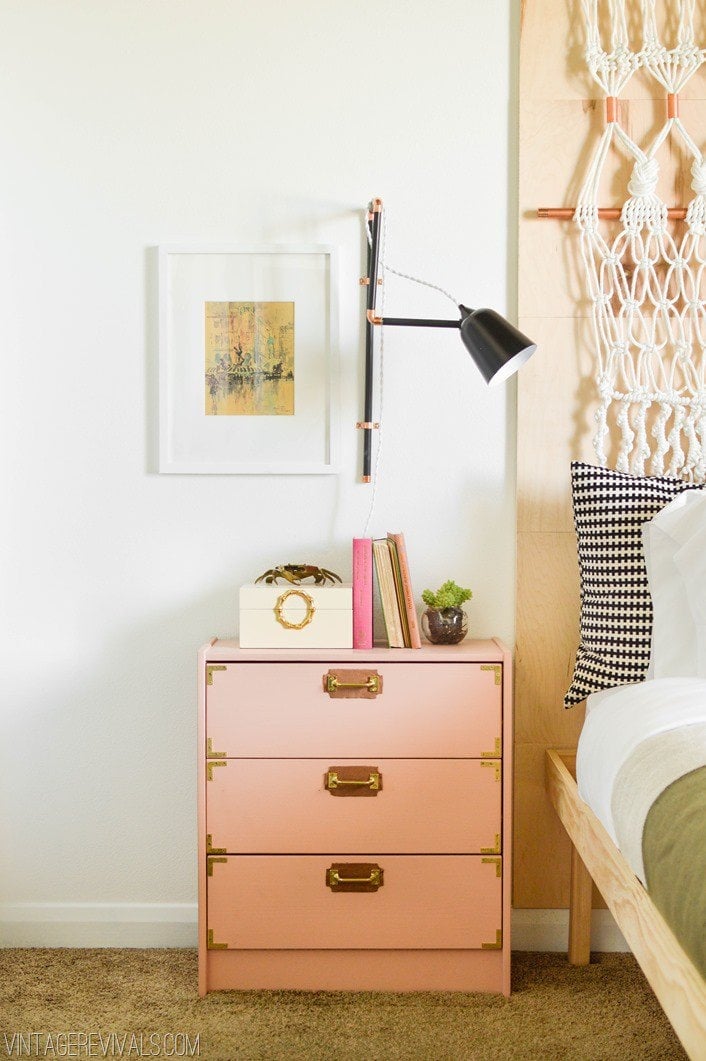 IKEA Hemnes Fluted Dresser by Abby Road Home. Abby showed off serious DIY skills when she turned a basic Hmenes dresser into a unique piece by adding dowels and new pulls.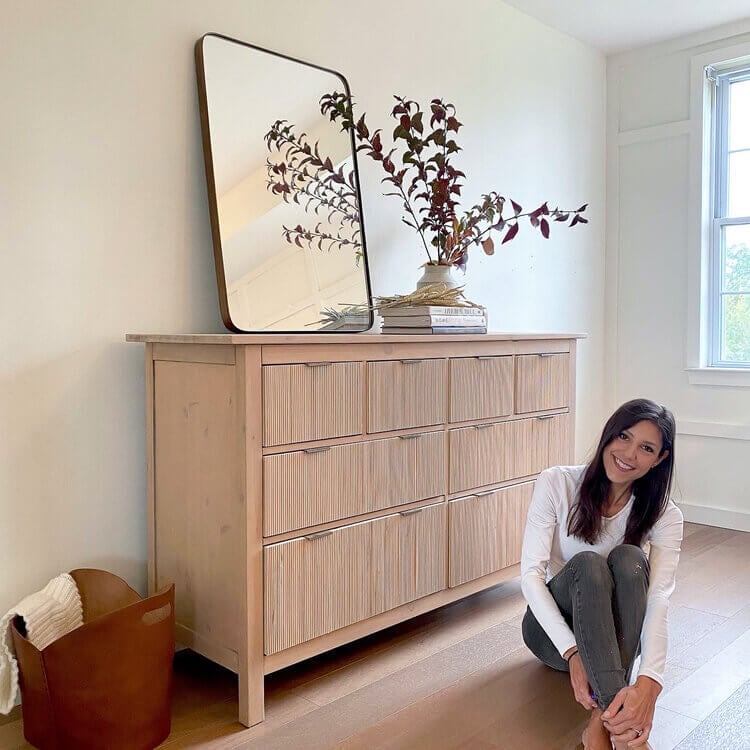 IKEA Tarva Hack from All Things G&D. This is such a clever way to increase storage in your kitchen (or any other room, for that matter). I love the new hardware and top, and chopping off the legs was a genius idea! Using a piece of furniture with storage to separate your living room and dining area is a great way to design an open floorplan.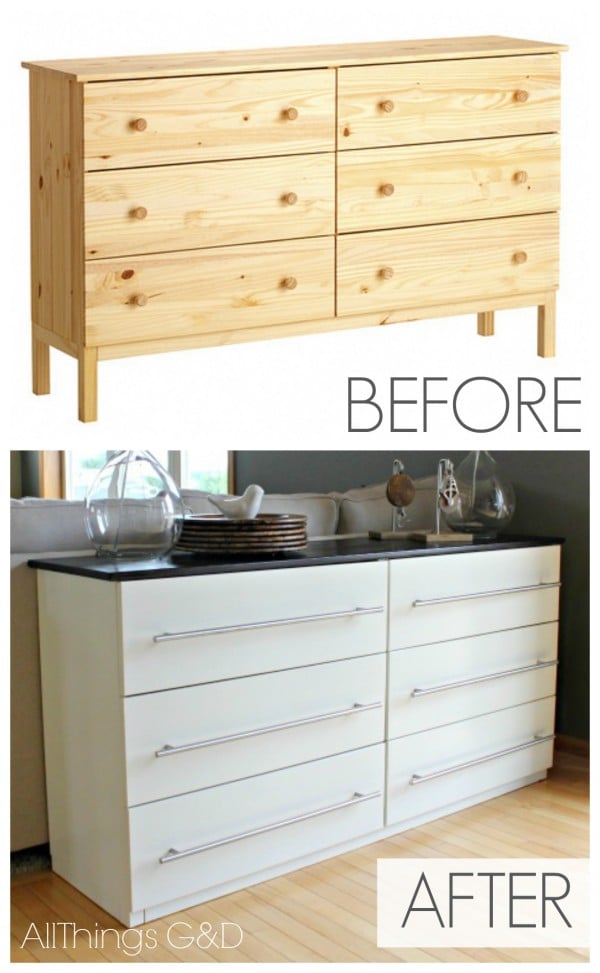 IKEA Rast Hack by Oh Everything Handmade. This IKEA Rast hack into a double dresser is so chic and stunning! The tutorial makes it look so easy. Changing the knobs and painting it gave the Rast a luxe upgrade.
IKEA Desk Hacks
I know so many more people are working from home now and need office space ideas more than ever. If you are looking for an affordable desk option for your home office, an IKEA desk hack may be the perfect solution! Several years ago, I created a HUGE expensive-looking desk on a budget using only a few pieces from IKEA. You can check out the details of my IKEA desk hack here.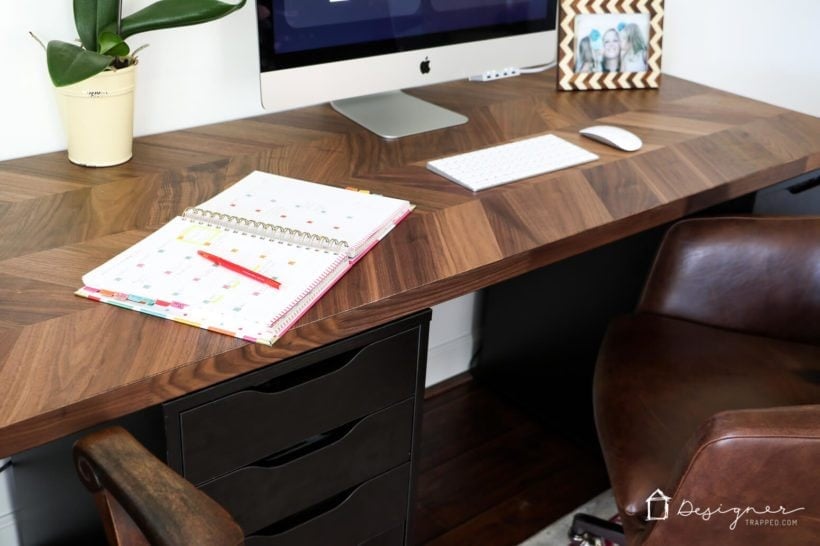 DIY Cane and Wood Desk – IKEA Alex Hack from BrePurposed. Cane furniture is one of my favorite styles. The caning keeps things from feeling too heavy. Bre added cane to a Rast dresser and then stained that and a top to create a beautiful desk for her workspace.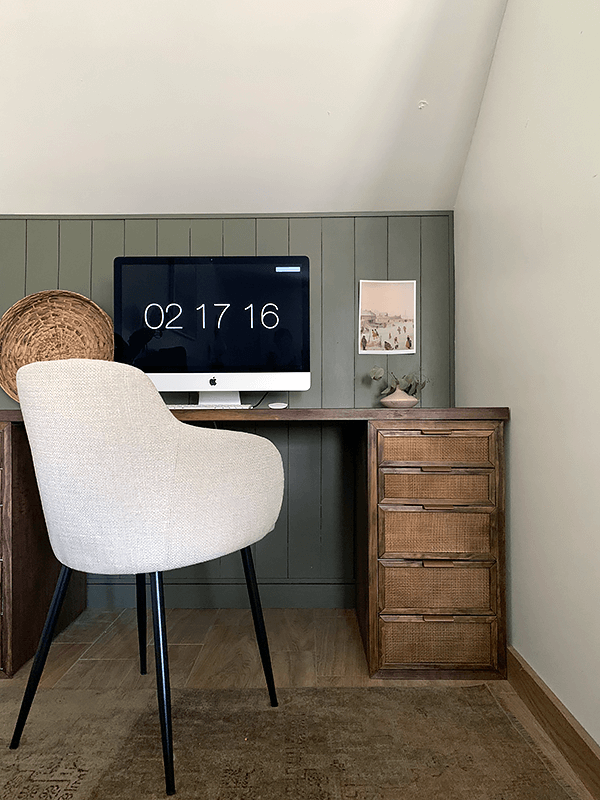 IKEA Alex Drawers Desk Hack by Jyll Mackie. Nothing about this gorgeous built-in looks like it came from IKEA. This is a seriously upscale and custom look that started with IKEA Alex drawers. Wow-what a huge difference new fronts, paint and pulls can make!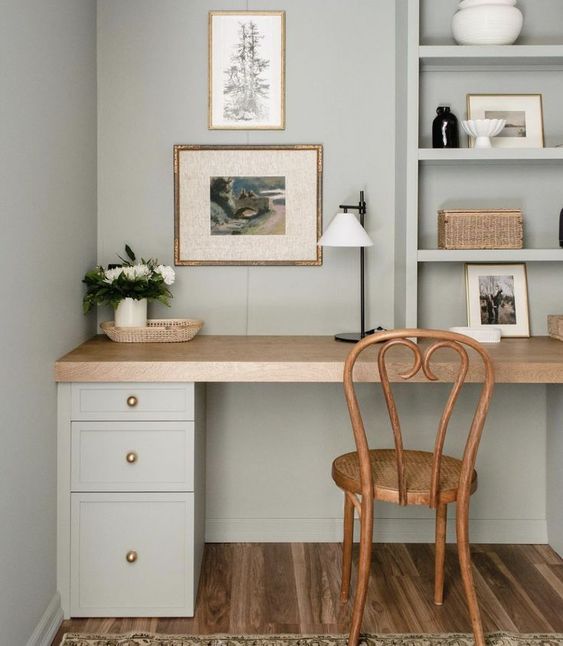 Alex Drawers with Gold Foiled Drawer Fronts from Sugar and Cloth. I love the fresh look Emily gave to a basic IKEA drawer unit with gold foil. Affordable and super chic! You could also get a similar look with gold spray paint, though Emily's method seems much easier and neater!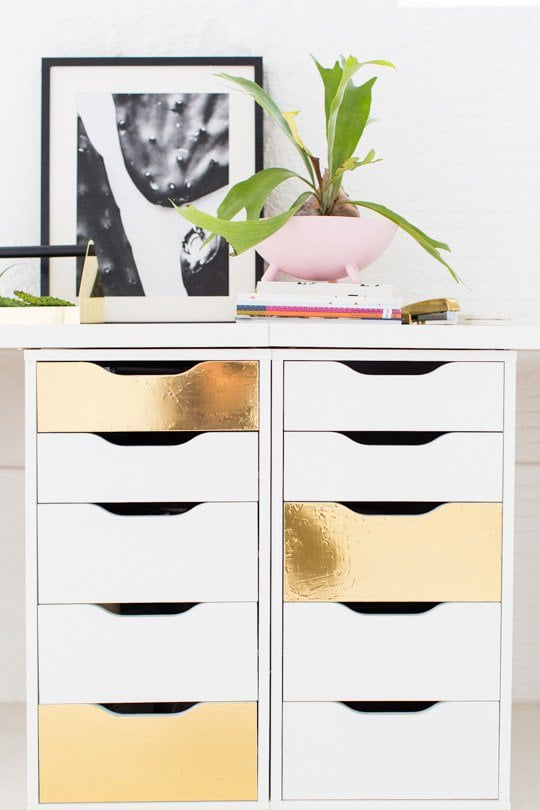 IKEA Ingo Table Hack by Matsutake. Never underestimate what a simple under $85 IKEA table can be transformed into. Katie at Matsutake completed this Ingo desk hack by breathing new life into an ignored forgotten about table from the garage into a beautiful, modern desk with a few simple modifications.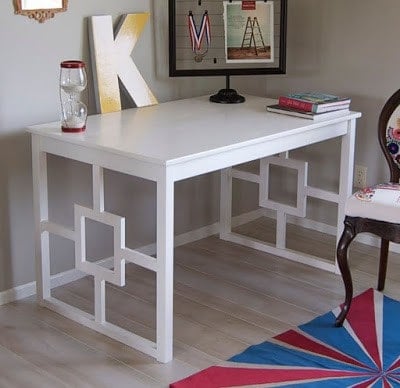 Desk Out of IKEA Hemnes Dressers by Jones Design Company. Isn't this double-desk setup absolutely stunning? And the fact that Emily used Hemnes dressers instead of smaller office drawer units means she gave herself TONS more drawer storage. The beautiful handles she added to the dressers is one of my favorite parts of this transformation!
DIY Plywood Desk + Ikea Nordli Drawers by Growing Spaces. IKEA desk hacks shouldn't just be limited to workspaces! This clever hack is functional and adorable in a kid's room. The storage units are perfect for holding all that kid stuff that gets all over their rooms.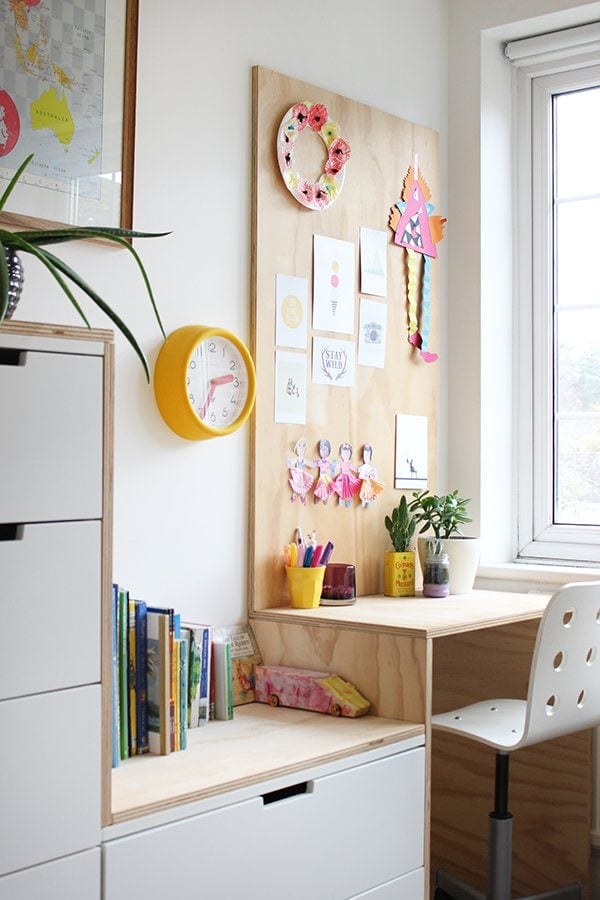 Nailhead Door with IKEA Trestle Legs by Dwellings by Devore. IKEA has so many different trestle leg options that serve as the perfect base for a chic desk. You can use one of IKEA's tabletops with them or you can do your own thing like Bethany did by adding nailheads to an old door and putting glass on top to create a one-of-a-kind desktop.
Rast Hack for a Craftroom by Addison Meadows Lane. Here's some genius craft storage! Stacey gave her Rast an upgrade with paint, gold casters, gold pulls and then topped it with wood and glass. Beautiful and perfect to hold her craft supplies!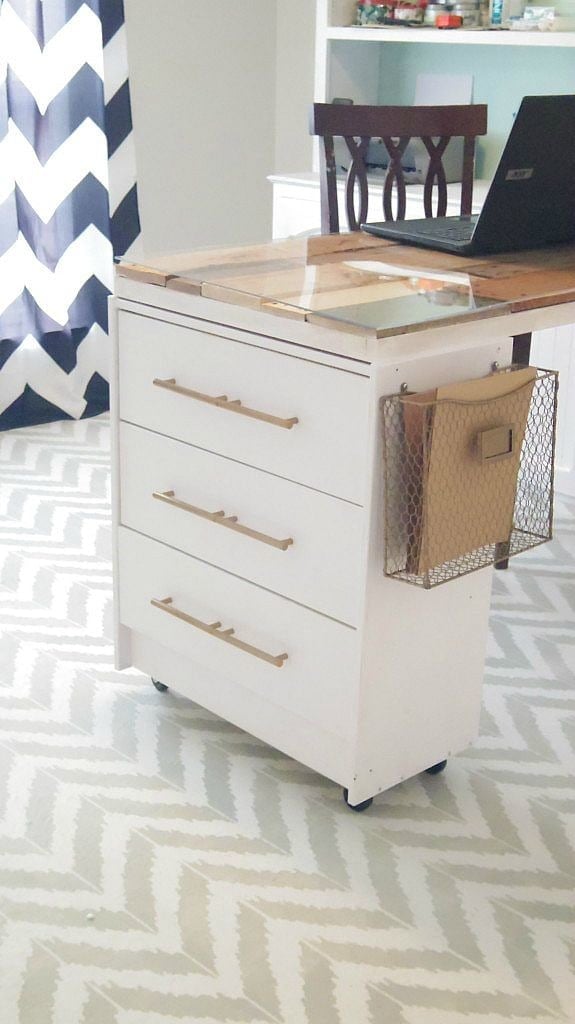 IKEA Table & Cabinet Hacks
IKEA Lack Table Hack with Reclaimed Wood– I gave a designer look to a $59 IKEA Lack sofa table using paint and reclaimed wood. We used it for 3 years in its original form and it held up well– I was just getting bored with how blah it was. I was inspired by a $900 designer bookcase–this project cost a total of only $157 and was EASY to make.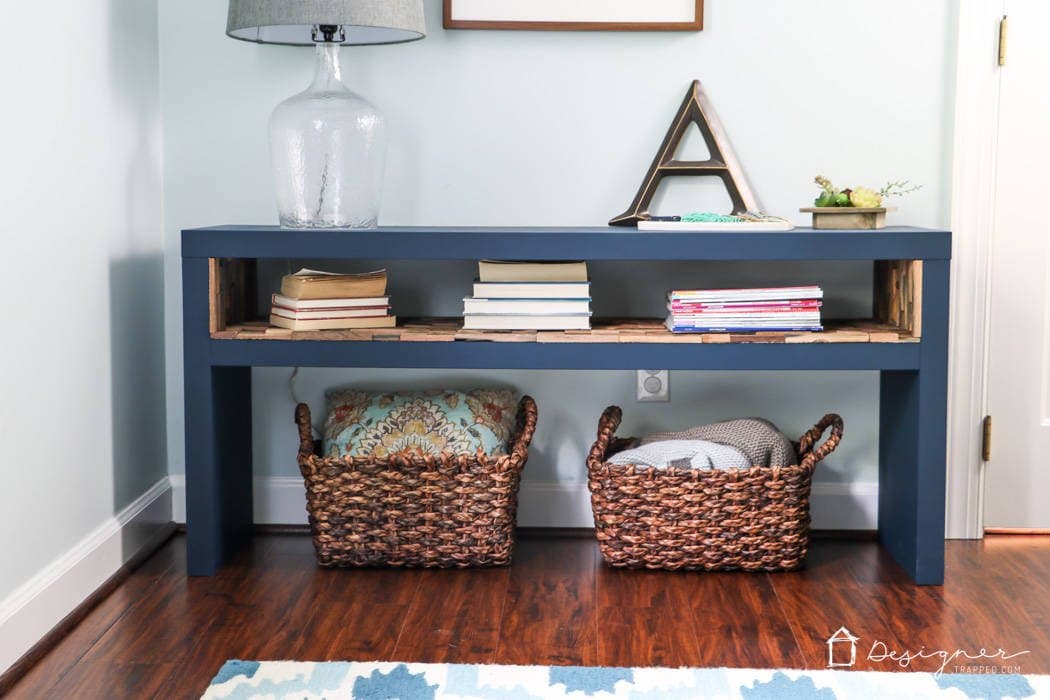 IKEA Kitchen Cabinet Turned Console Table by Made By Girl. I love how Jen created this gorgeous floating sideboard using basic IKEA kitchen cabinets, inexpensive (but gorgeous) hardware and an affordable wood top. I am in love with this sleek look!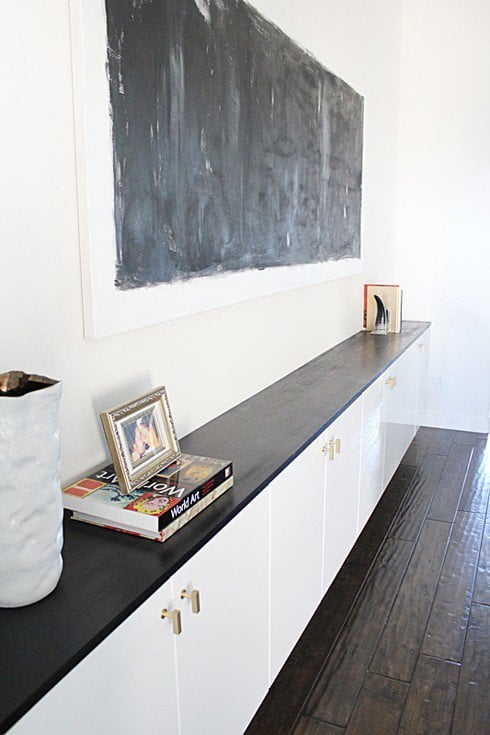 Billy Bookcases Turned into Wall Storage by Alice Grace Interiors. To create a wall of storage, this designer used Billy bookcases and added MDF doors. She used five bookcases, which gave her tons of storage. Genius!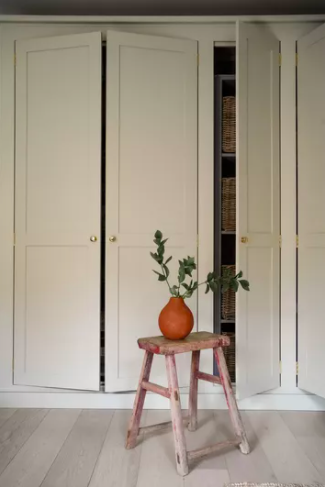 DIY IKEA Pantry Cabinet Using Hemnes by Bless'er House. This DIY took an IKEA Hemnes cabinet and added a little paint and some antique mirror window film and turned it into a beautiful freestanding pantry. This is a great solution for a house that needs more kitchen storage!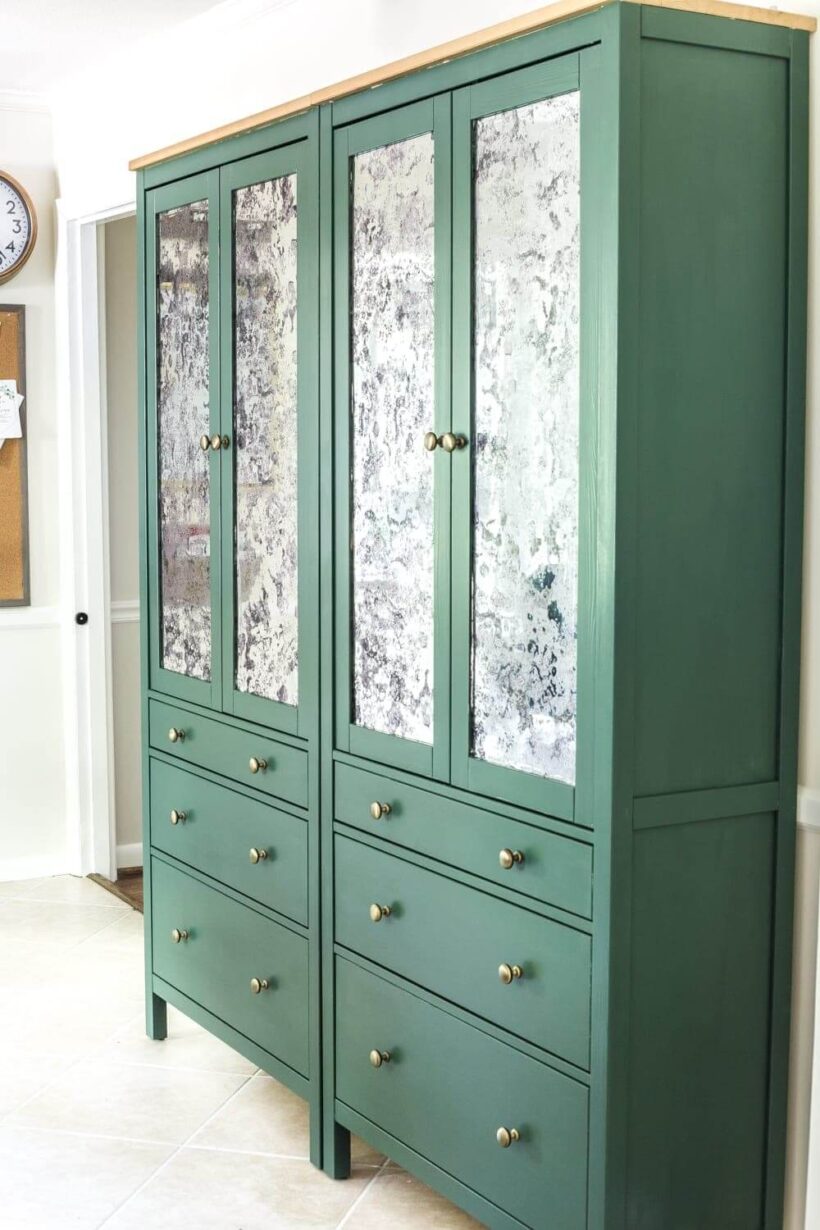 DIT Rattan cabinet from an Ivar from Make it Boho. Ikea Ivar cabinets are perfect for hacks–they have so much potential! This beautiful makeover incorporates caning and an added section at the bottom to create the perfect wardrobe for hiding a TV. I love tricks that make your TV blend into decor, and this is a great solution!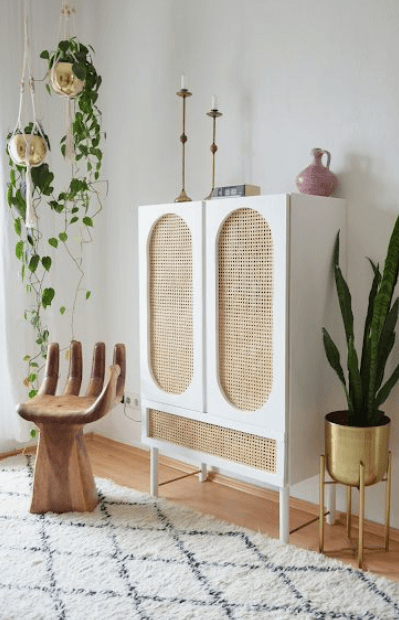 IKEA Cabinets Turned Rustic Buffet from Aniko at Place of My Taste. Can you believe this stunning reclaimed wood buffet she created started with basic IKEA kitchen cabinets? Best of all, this is a doable project for beginning DIYers. This is also an easy hack to tweak for a more farmhouse feel.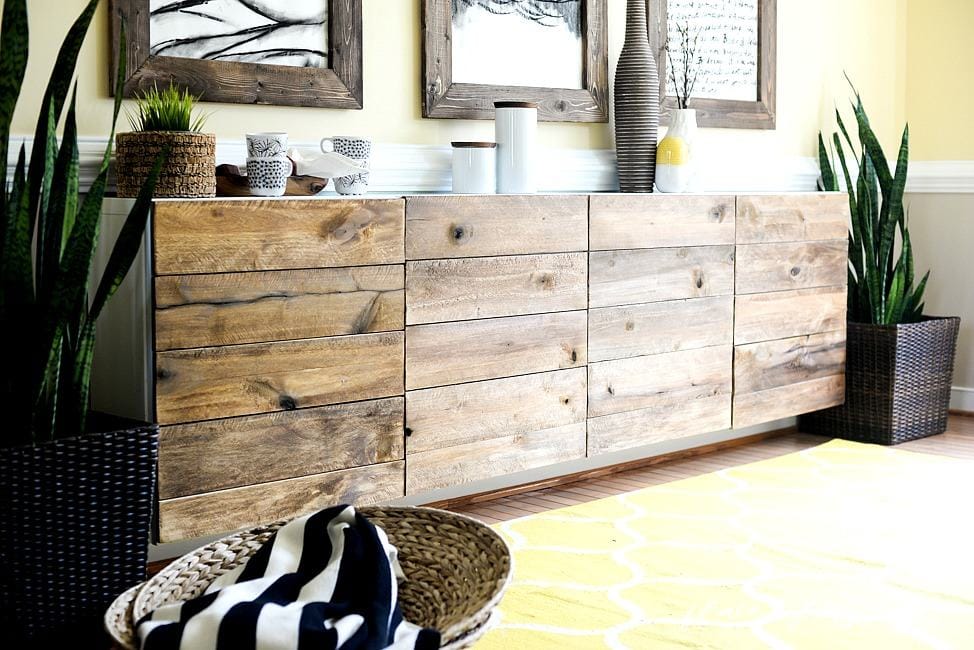 Ivar Cabinets into Built-In Credenza by IKEA. These IVAR cabinets get a total facelift on the IKEA blog! WIth leather pulls and a beautiful saturated dark teal blue to match the walls, they look like gorgeous built-ins.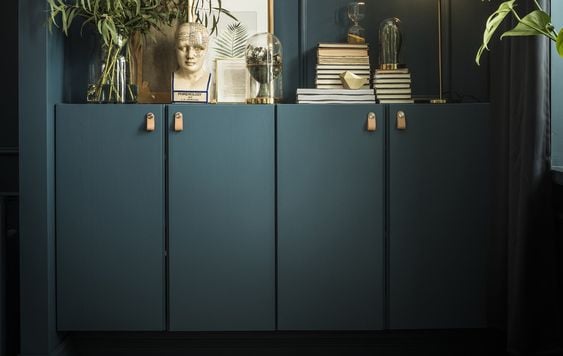 Console Table from IKEA Kitchen Cabinets by Life with Sophs. Using jute fabric, MDF trim, paint and legs, these cabinets were totally transformed into a beautiful sideboard! It is perfect as an under the TV console table and would be so easy to customize for yourself.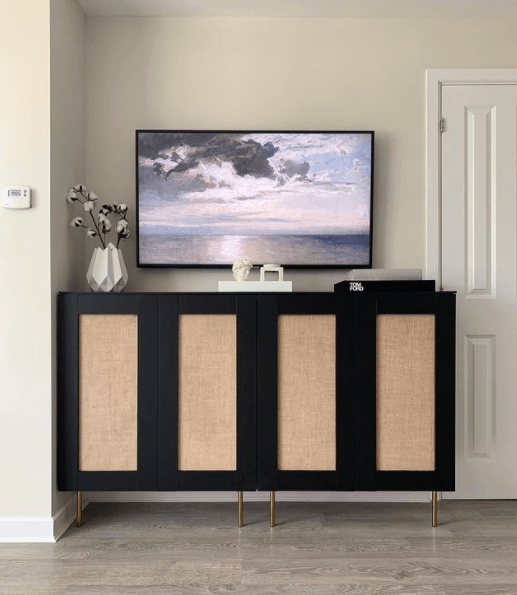 Fluted Doors with a Faux Arch for a Billy Oxberg Cabinet by Peony and Honey. This insanely clever hack covers the existing glass doors, creating one section with a lovely faux arch to display items while covering the bottom half so you can hide anything not worthy of display!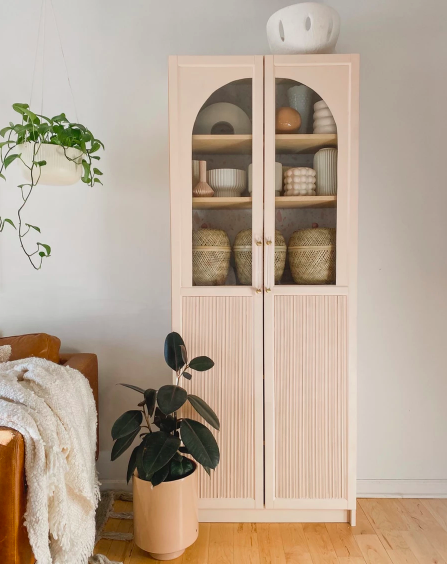 IKEA Billy Bookcase Cane Cabinet by House of Hawkes. What an awesome upgrade! This hack is so versatile–there are so many rooms this would be perfect for. The doors with cane inserts, gold knobs, and paint make it look like a high-end cabinet, not a hack.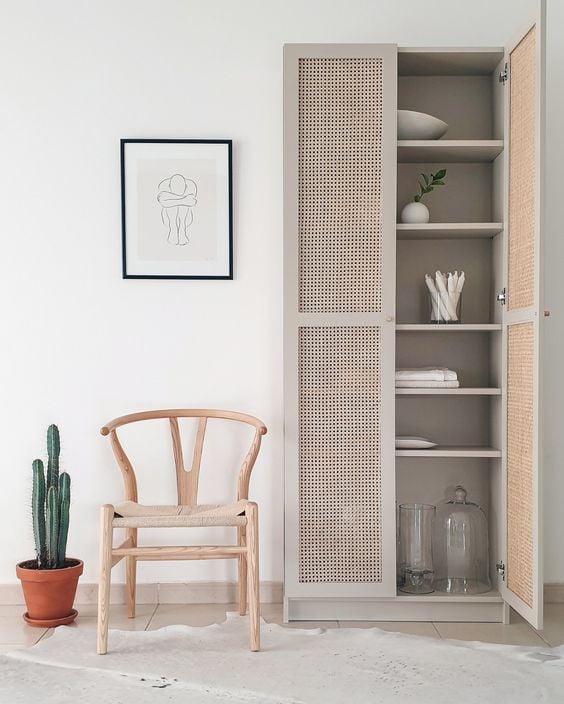 Storage Cabinets from IKEA Sektion Wall Cabinets by Chris Loves Julia. In their dining room, this duo used upper kitchen cabinets to create a piece they refer to as the "fauxdenza" which I love. Having extra storage in the dining room is great for extra dishes, holiday items, and placemats and napkins!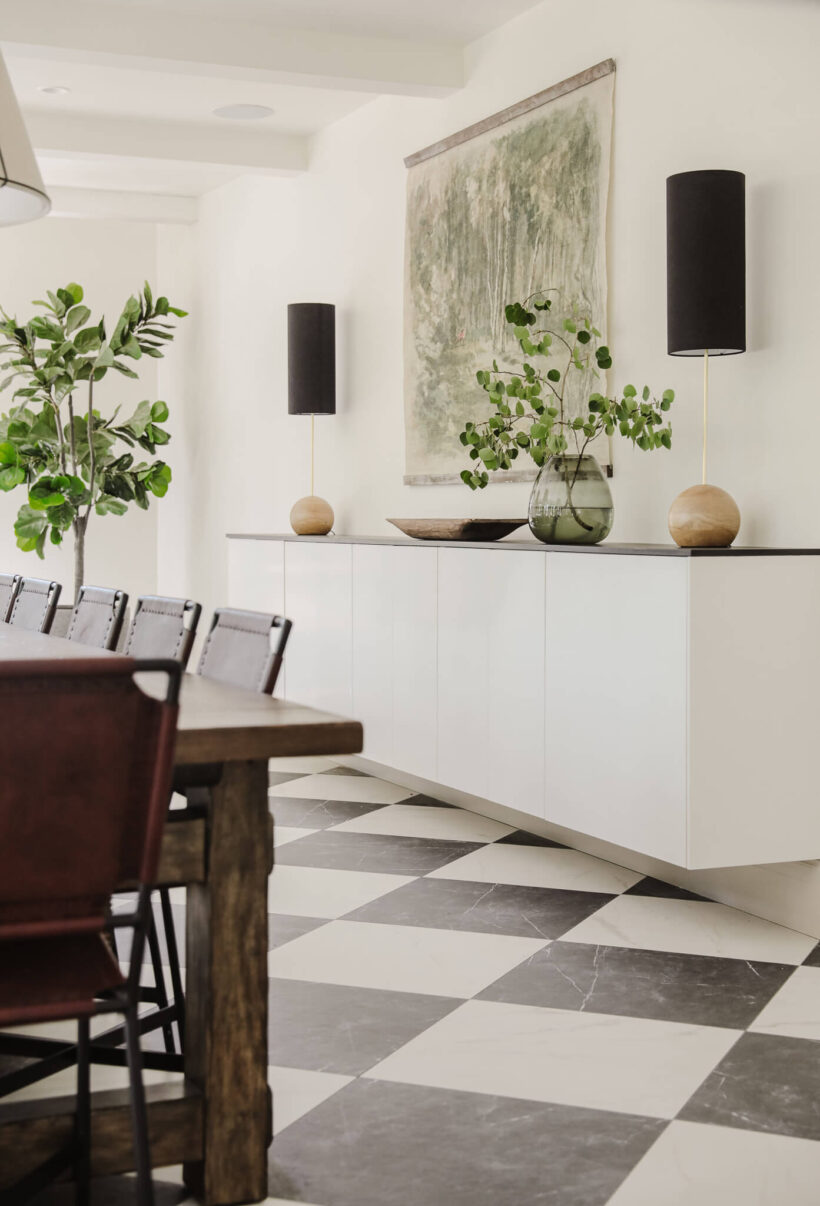 IKEA Ekat Console Hack with Pole Wrap by Abby Road Home. This beautiful table doesn't look like it starts with a simple IKEA Ekat! Abby added pole wrap, a top and legs and totally elevated this–it looks like it costs thousands! This hack is proof that you can make a basic IKEA piece look incredibly sophisticated.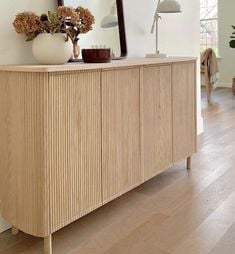 IKEA Bookcase Hacks
Family Room Builts-ins with Billy Books Cases from Mrs. Mac's Home. This DIY'er used Billy Book Cases and Oxberg doors to create really amazing family room built-ins. I love the more narrow shelf in the middle to mix things up and make it more interesting.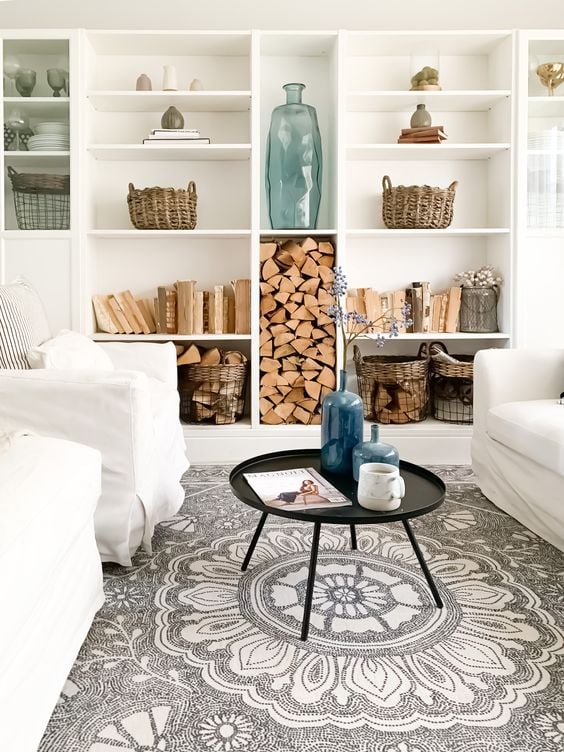 IKEA Shelf Hack: Gold Vittsjo Unit by Gilded Maven. This hack is a major showstopper! For less than $100, Catherine created this glamorous and chic shelving unit. I want one!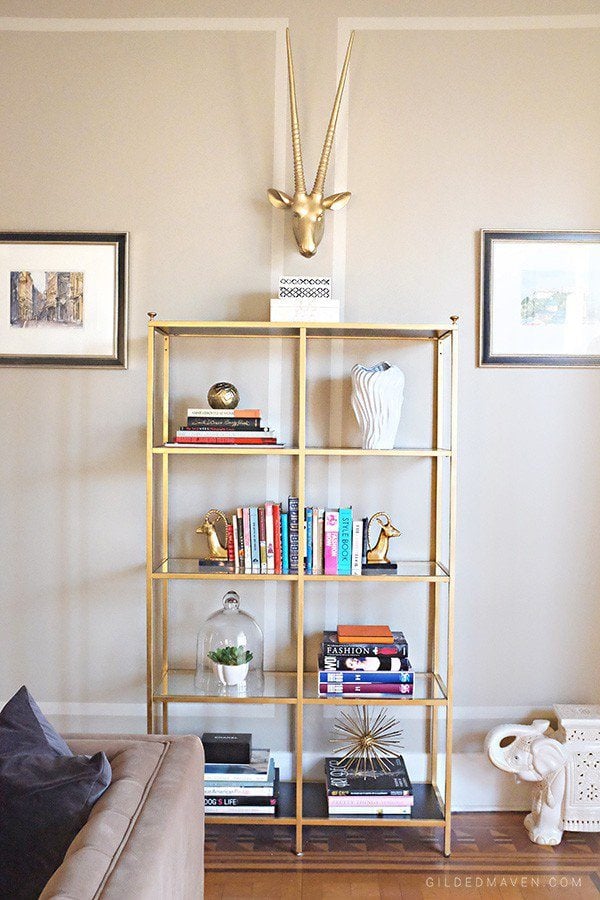 IKEA Billy Bookshelf Library Wall Hack by The Makerista. Laura created one of the most gorgeous library walls I have ever seen using super affordable Billy Bookshelves. The mounted sliding ladder and the added trim make it the perfect fit for their 100-year-old home.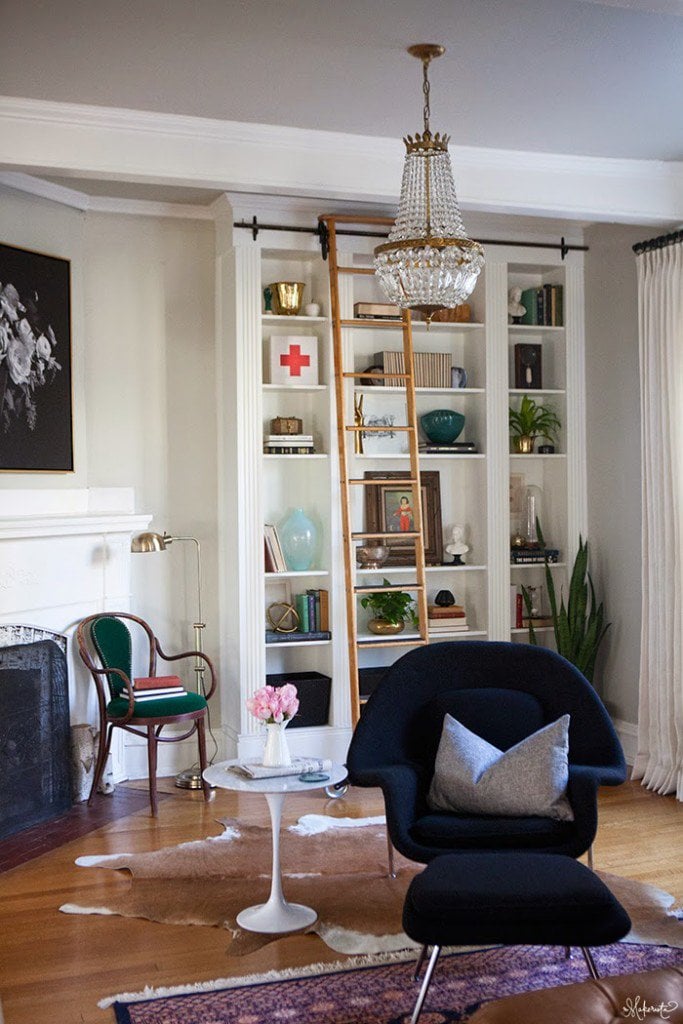 Built-ins from IKEA Borgsjo Bookcases by Avery Street Design. Laura created these and I would have never guessed this is an IKEA hack! Because they used drywall and trim, it looks like these were custom made as part of the house. The amazing sconces are the perfect lighting addition!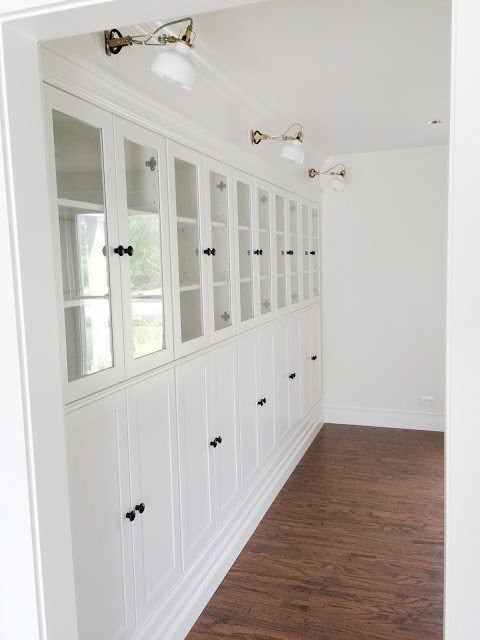 Billy Bookcase Built-ins by We the Dreamers. This Instagram-worthy hack blew my mind! The beautiful paint color and styling elevate an already amazing hack. I would never have known these were IKEA bookcases.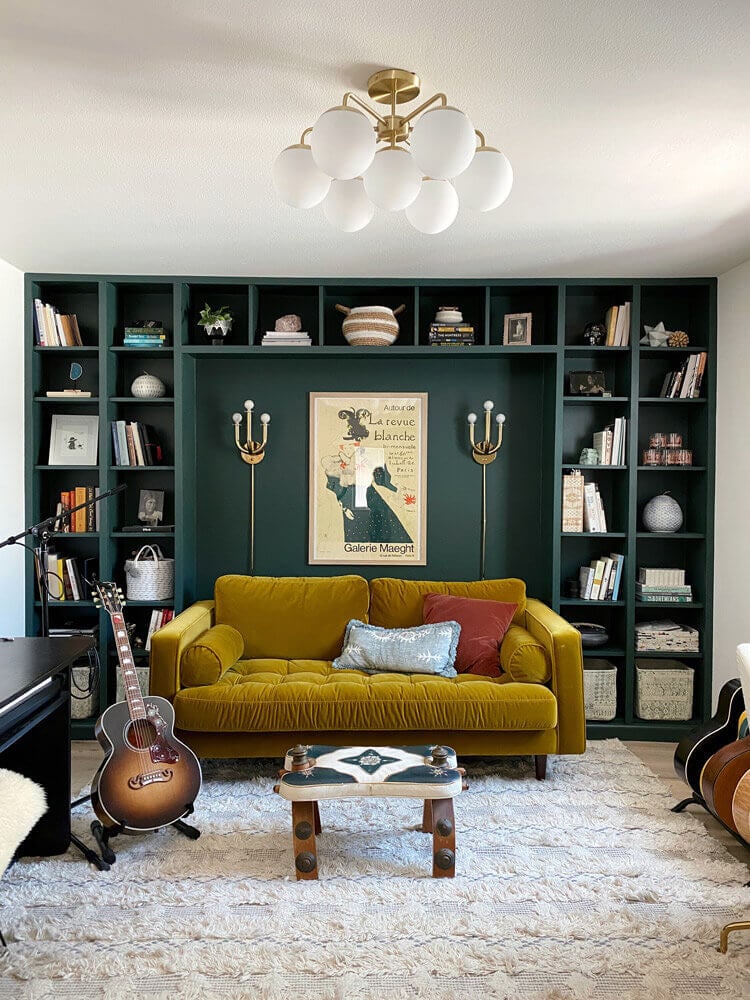 Sponge Painted Besta and Billy Bookcase by Centsational Style. Kate created these stunning bookcases using both Besta and Billy bookcases. She joined them together using a drill and screws, added lights and painted the backing pink. A few years later she still loved them, but changed up the backs using a cut-up kitchen sponge and paint! This one is a great reminder that there is nothing wrong with changing up a piece when you are tired of it!
Billy Bookcase Playroom Storage by Bless'er House. This sweet and functional playroom storage was created by Lauren and Robert from short Billy bookcases topped off with stained boards. It is the perfect height for kids to pull baskets in and out and makes for easy cleanup.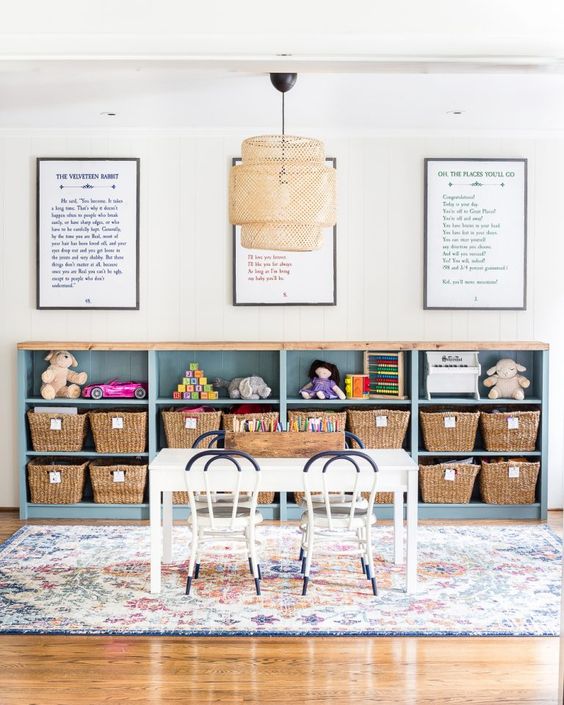 Billy Bookcase Hanging Shelving and Drawers by Design 69. I cannot get over how well done this Billy bookcase hack is. Hanging the shelves with drawers at the bottom makes it feel less heavy, and painting the unit the same as the walls makes it feel like it was part of the original home design.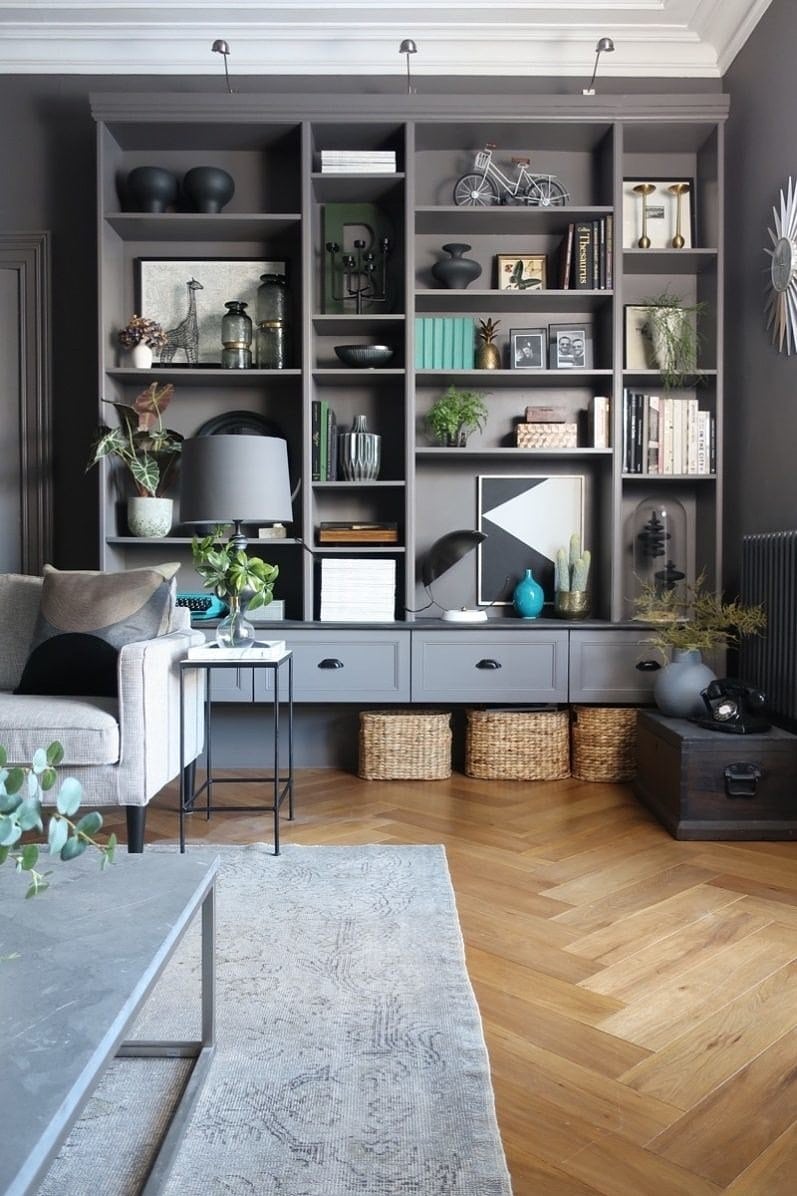 IKEA Seating Hacks
DIY Window Seat with IKEA Nordli Hack from Hydrangea Tree House. For under $400, Kelin used Nordli drawers to create a long and beautiful bench window seat. All that amazing drawer storage is a serious added bonus.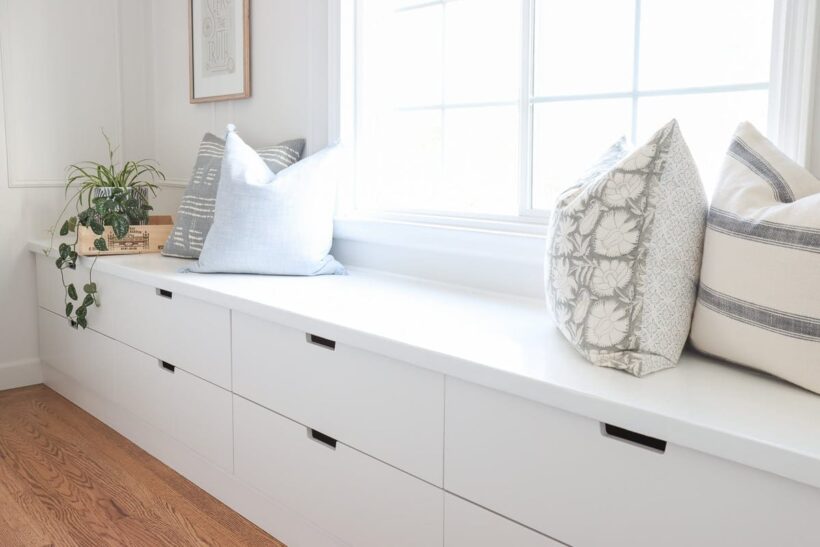 Window Seat out of Sektion Cabinets from That HomeBird Life. This DIY freestanding window seat in the dining room is a hack built with IKEA Sektion cabinets. I love the added details of the leather pulls and side table on either end for plants. This is the perfect spot to sit in the sunshine and read the paper!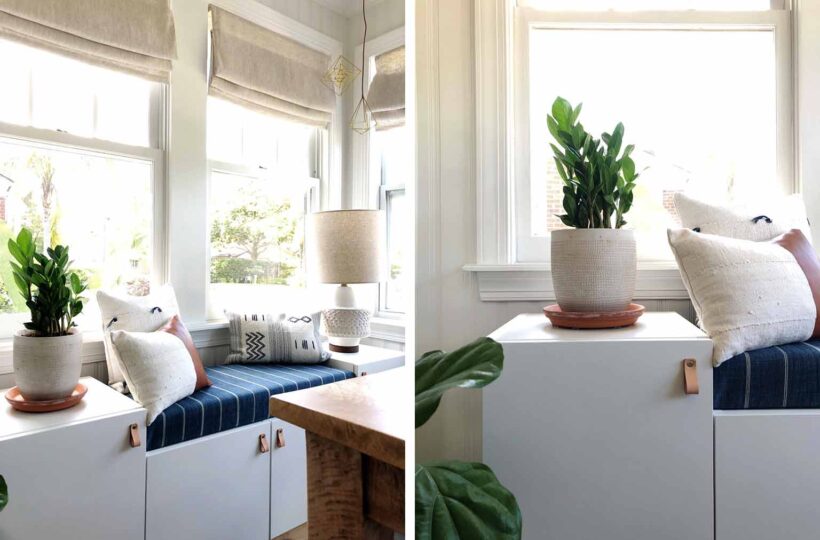 IKEA Vittsjo Bench Hack by Dwellings by Davore. Bethany created this using a basic IKEA TV unit that she found in the "as-is" area. You seriously cannot beat that section! Her new bench is so glam and really simple to DIY.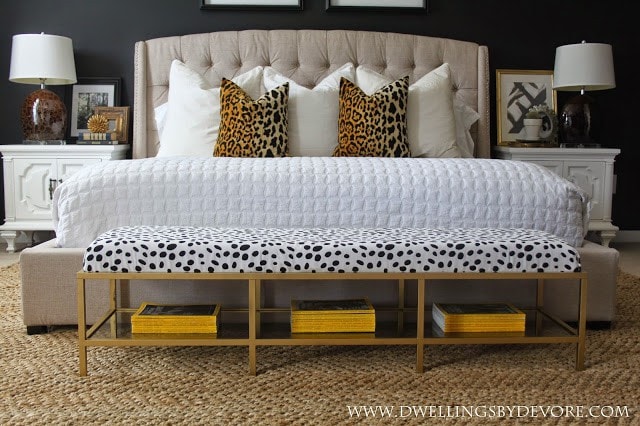 IKEA Closets and Mudroom Hacks
IKEA Pax Wardrobes into Closets by Readmore House. Hacking Pax wardrobes to look like built-in closets was a genius way to add much-needed storage to this Victorian home. While old homes have tons of character, they rarely have enough closets!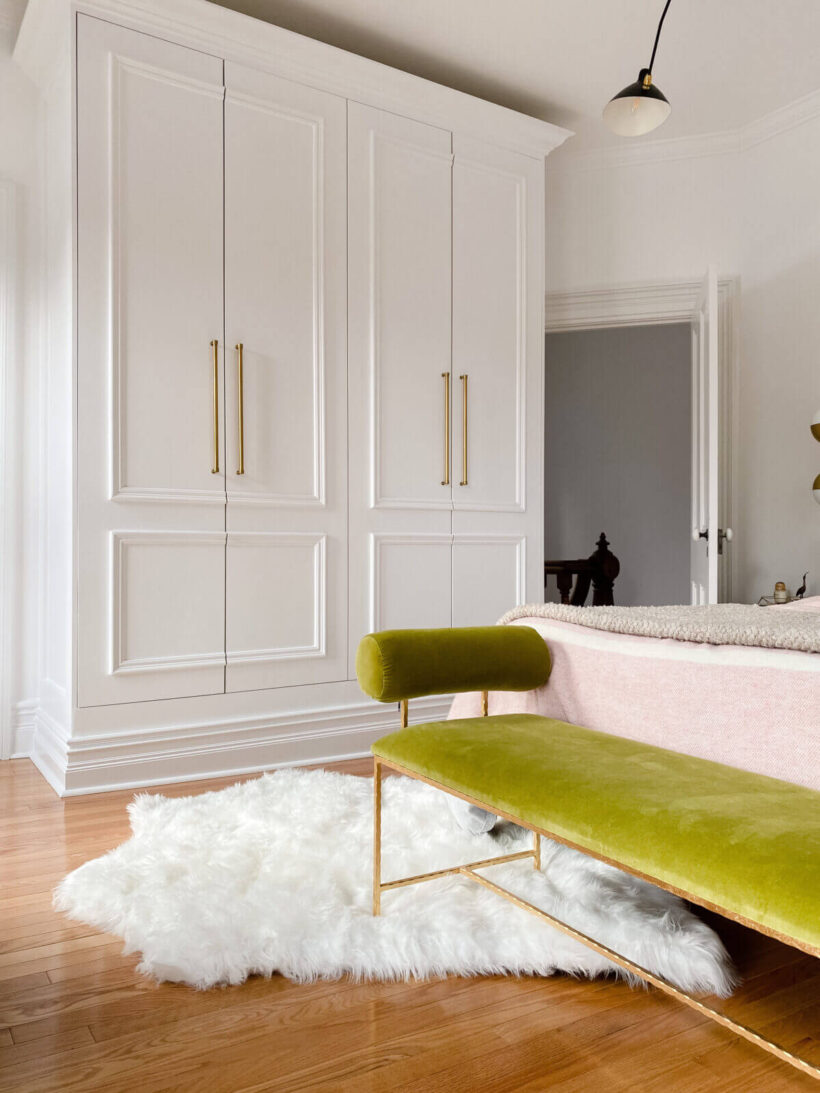 IKEA Pax Hack for Closet Built-ins by Chris Loves Julia. The primary closet that every couple would love is more affordable than you may think! Chris Loves Julia created this gorgeous closet using the IKEA Pax system.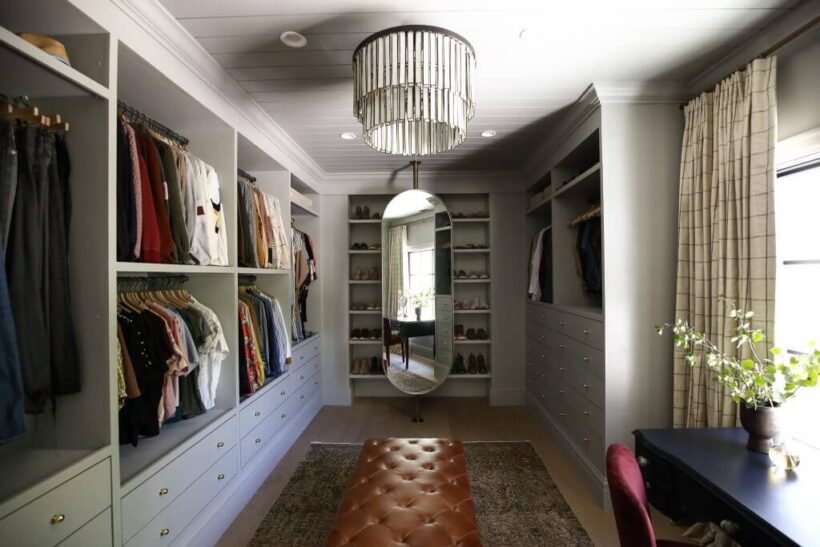 Mudroom Bench from IKEA Stuvas. The MOMbot created the perfect dropzone for a family! She used two Stuva benches and added backing with hooks, a new wood seat, and a top-shelf. This hack created plenty of storage for her kids to store all of their stuff and keep it looking neat!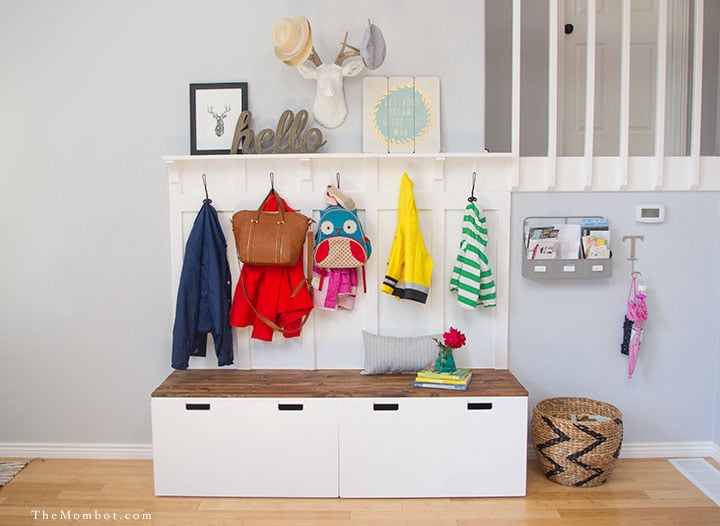 IKEA Pax Mudroom Cabinets by Jenny Komenda. Molding and pine planks on the wall take this PAX hack to the next level. Jenny did an awesome job designing a functional and beautiful mudroom space. I love the white and wood tones together.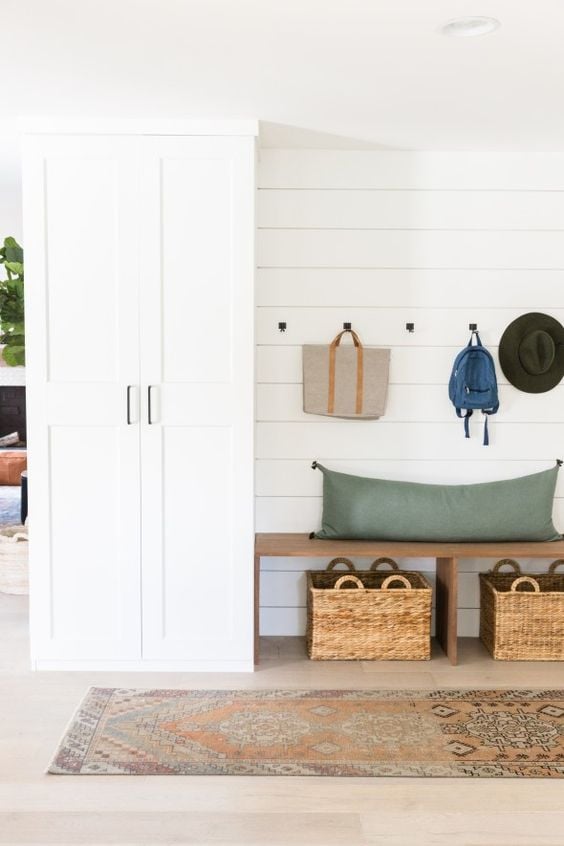 DIY Custom Closet with IKEA Kallax by Twinpickle. Katherine came up with a genius way to put some very cute storage in a kids' closet. She upgraded a Kallax shelving unit with Capita brackets as legs and wood rods to make it look like a custom piece! The legs are actually IKEA shelf brackets and look amazing. Putting the Kallax shelving unit in the middle created the perfect divided space to keep her twin boys clothes separate!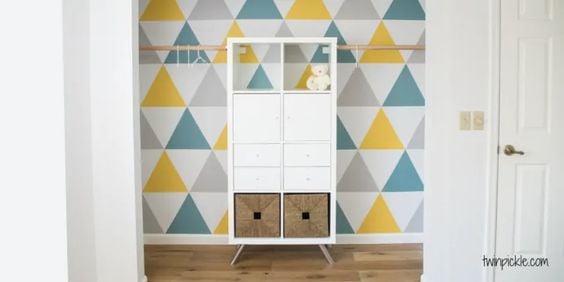 Besta and Hallan together for Mudroom Seat and Storage by Suzanne Kryton. This creative mudroom design uses the IKEA Besta and Hallan to create a seat with drawers and 3 Lockers. Such a creative use of a small space! I love the lockers for storage space and the cushion for sitting and putting on your shoes.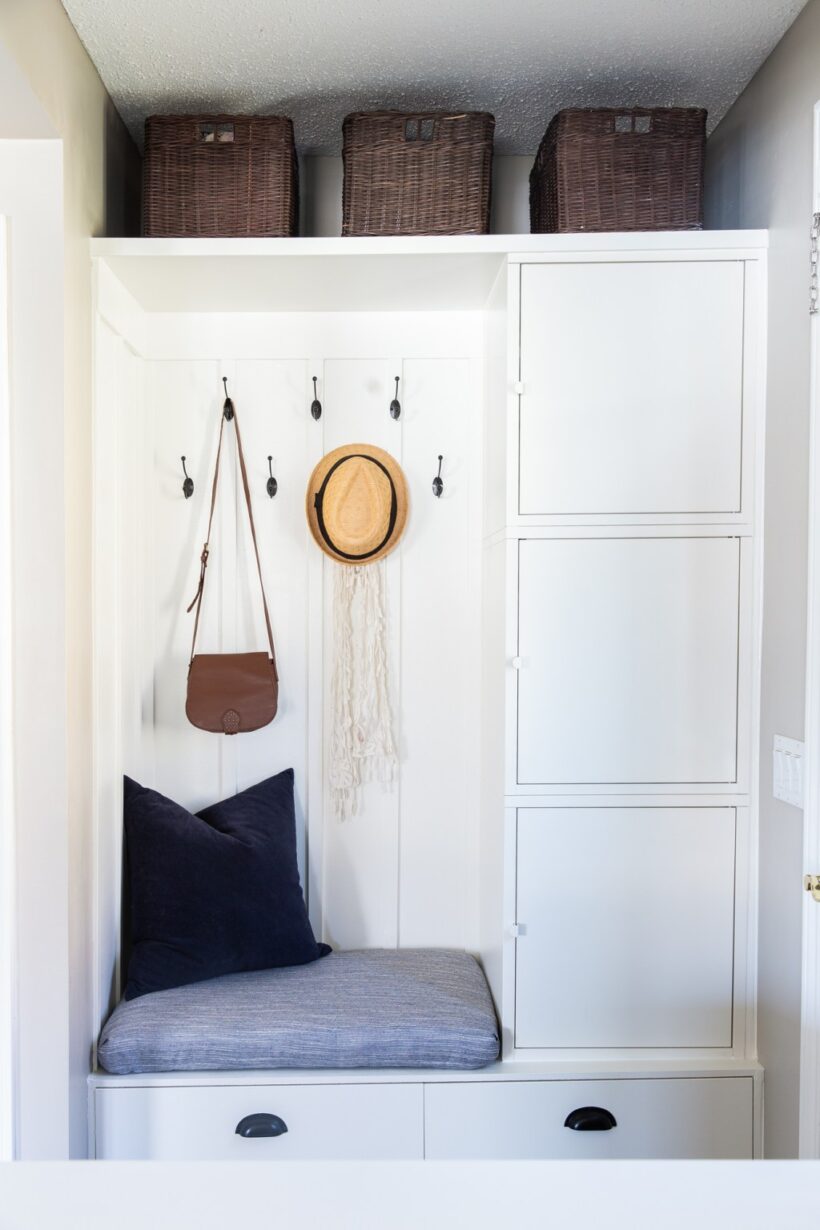 IKEA Pax Hack for a Fully Custom Closet by Erin Kestenbaum. Erin put together a dream primary closet using the IKEA Pax and customizing it beautifully. Her to-do list for changes and details was long but she created an incredible high-end look. Totally worth it in the end! She added baseboards, molding, lighting, drawer fronts and rods, as well as plugged the unused shelving holes, wallpapered the backs, painted everything, and added new hardware. As if the hack wasn't beautiful enough, I love the added touch of wallpaper on the ceiling!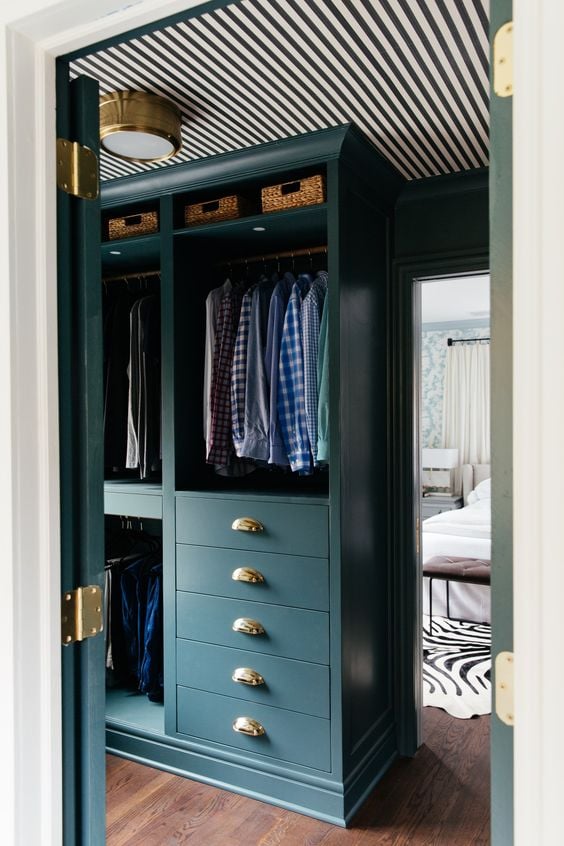 DIY Mudroom Built-in Pax IKEA Hack by Marley Dice. Two Pax wardrobes and a DIY bench complete this mudroom wall. Marley chose the Flisberget light beige instead of the white to compliment their palette and because she liked the different door style. Bonus–that color is cheaper! They finished the space with board and batten, cubbies and the perfect hardware.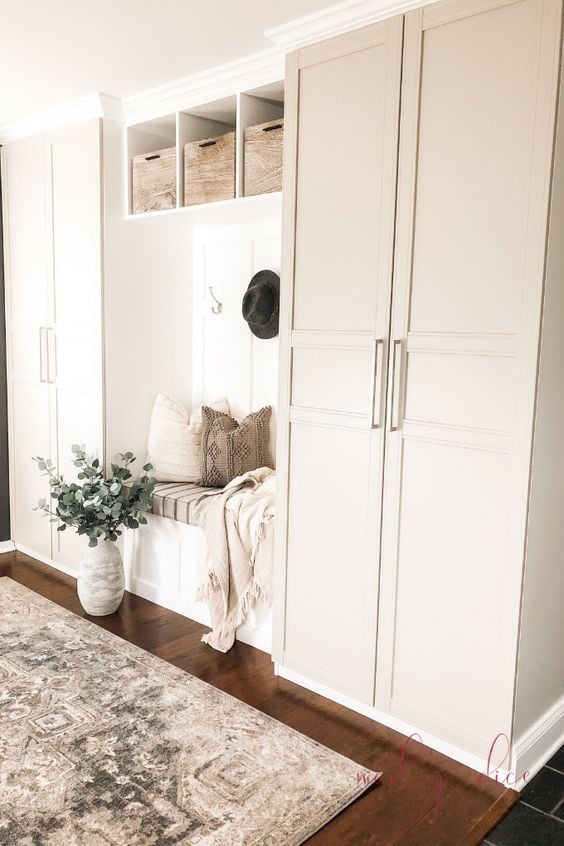 DIY Pax Closet Hack by Frills and Drills. Lindsay created an amazing feminine space for herself. Her design makes the most of her narrow closet by using Pax closet units and adding lighting and accessories. She finished the space with the perfect little stool to match her metallic hardware.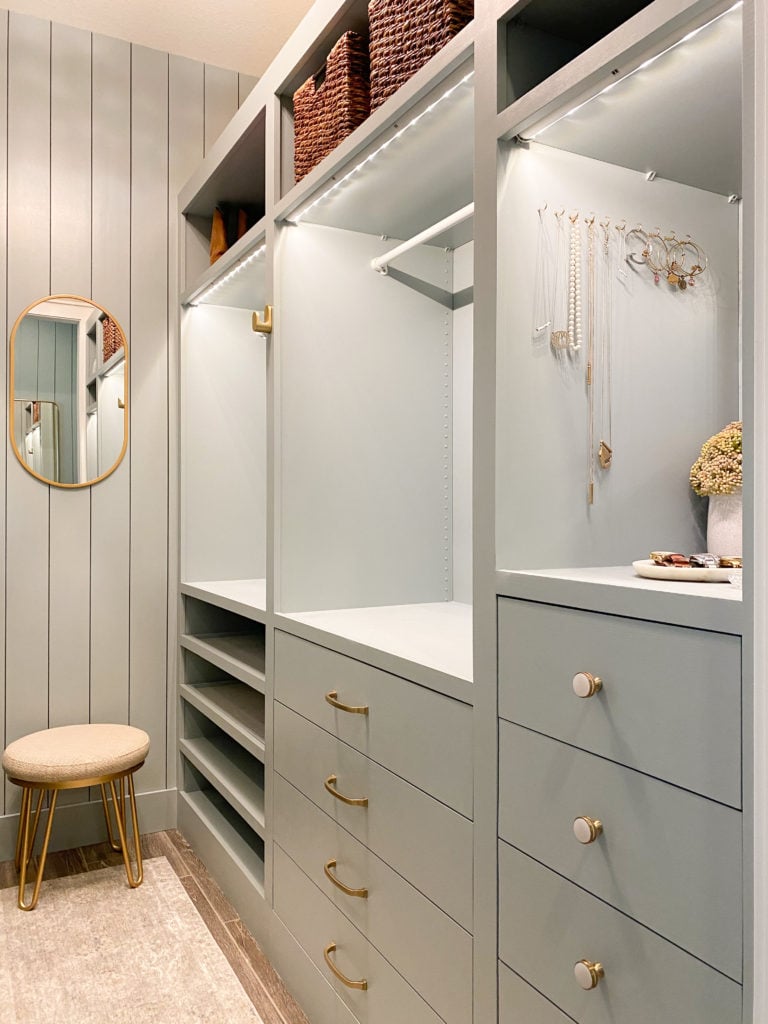 IKEA Hemnes Hack: DIY Mudroom Bench and Storage by House of Hoff. April gave her entryway a complete makeover using the IKEA Hemnes. They built a butcher block benchtop with a frame customized to support the weight while the unit fits directly under it. The seamless build looks like one complete bench!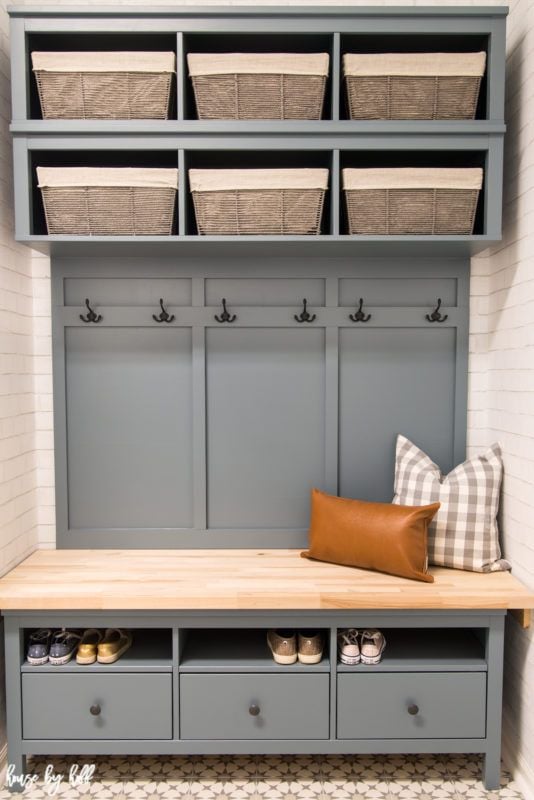 These IKEA hacks are truly amazing. I love how easy it is to take a basic and plain piece of IKEA furniture and turn it into something sophisticated! The possibilities are truly endless.
Are you feeling inspired to tackle your own DIY IKEA hacks yet? Get even more inspiration from these posts:
Wondering how I approach transforming rooms and spaces in our home? Check out Designer in a Binder®.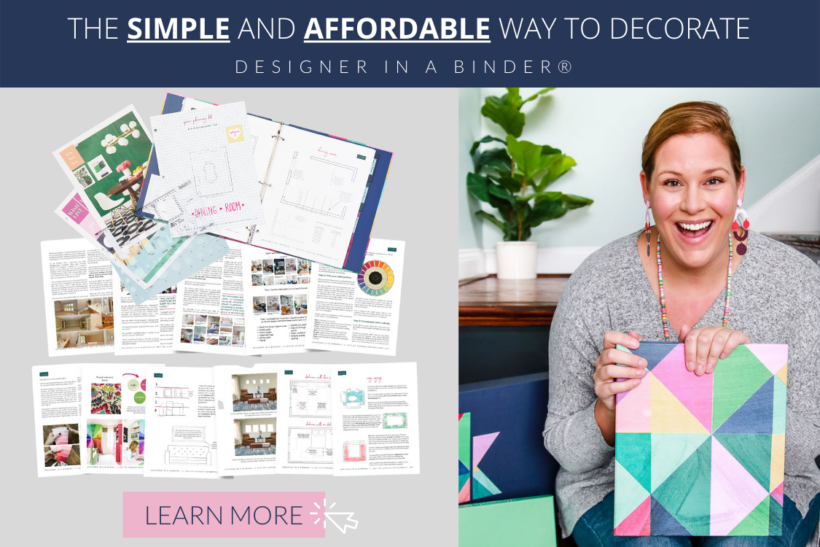 And if you want exclusive content and behind-the-scenes sneak peeks, be sure to subscribe before you head out!