Ikea Lack Hack – A high-end look on a dime!
Last Updated on June 18, 2020
A big thank you to Dap for sponsoring this Ikea Lack hack project. As always, all opinions are 100% my own based on my experience.
Y'all, I can't even tell you how excited I am to share my latest Ikea lack hack with you. (Insert the sound of me squealing!) This is such an easy project and the end result is a very high-end look on a very tiny budget. First, let's review what the Ikea lack sofa table looks like and its cost.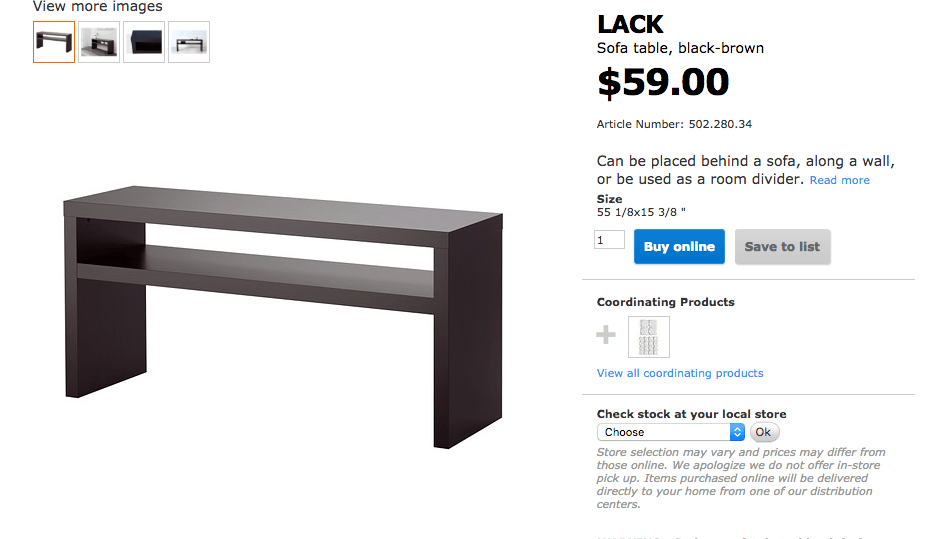 We purchased ours about three years ago, and I was getting sick of the very basic look of it. That said, we have been pleasantly surprised by the quality and durability of it, as is our typical experience with Ikea products. This is a photo of our Ikea Lack sofa table before I tackled this Ikea Lack hack. This post contains some affiliate links for your convenience. Click here to read my full disclosure policy.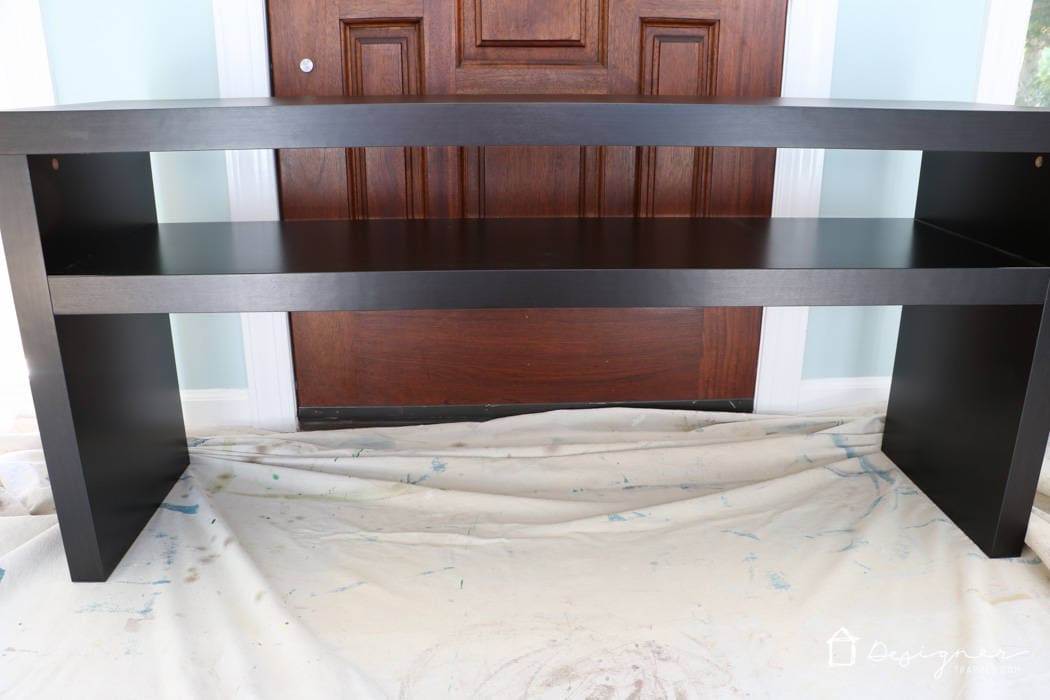 I was inspired by this expensive, but stunning bookshelf. The pieces of wood on the inside of the shelves had me swooning. (PS- this piece was used in a room that I helped a good friend design for her little boy–you can see that room reveal here).

Read on to learn how my Ikea Lack hack transformed the basic sofa table into my affordable version of that stunning bookcase!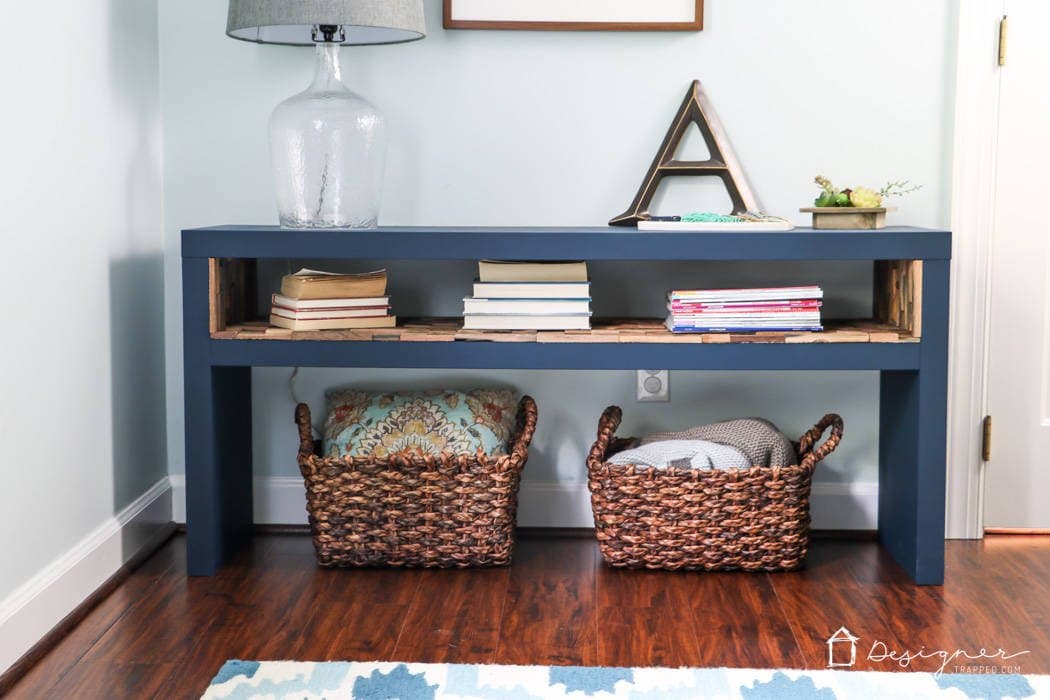 (Pssst…To see even more amazing Ikea hacks, check out the video below (it will play after a short ad)–you can find links to all the tutorials for the projects in the video here).

Ikea Lack Hack Tutorial
Materials and tools needed for this Ikea Lack hack:
Paint of your choice
Dap Rapid Fuse Wood Adhesive

You can't attach the wood using nails because it would look like a hot mess, so a good quality wood adhesive is crucial!

Wood mosaic tiles
Clamps
Table saw or circular saw and straight edge
Utility knife
Steps to complete this Ikea Lack hack:
1) Begin by painting your piece. I used a foam roller and applied two coats of paint to my Ikea Lack table.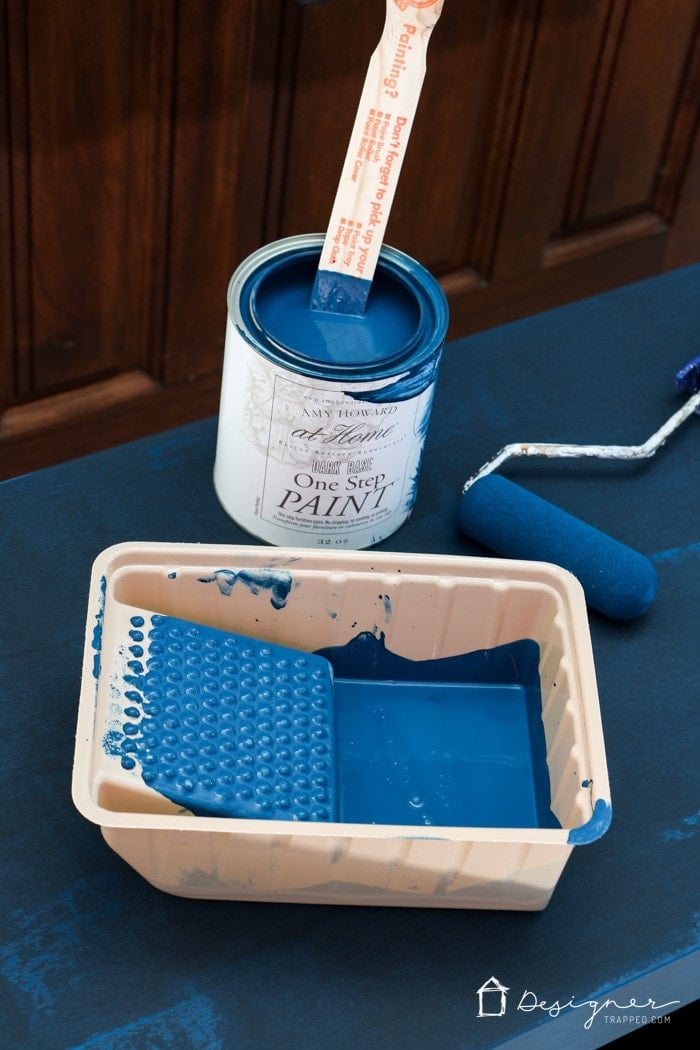 2) Cut the left edge of one piece of your wood mosaic tile so that it will sit flush to the inside edge of the left side of your table using a table saw. If you don't have a table saw, you could also do this with a circular saw and straight edge, or even a hand saw. Note that Joe was gone when I did this, so I tackled the table saw all by myself–a rare occurrence. Note that I also forgot the protective guard on top of the blade–ooops. Do as I say, not as I do; always use the protective guard!!!!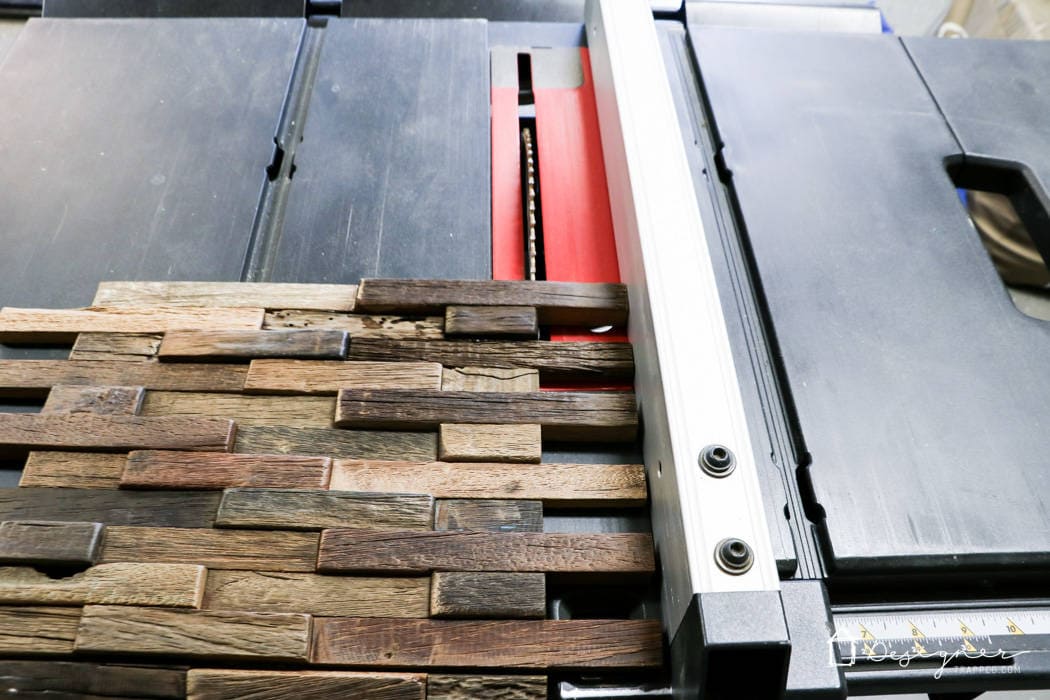 3) Begin dry-fitting the large wood tile squares, working left to right. As you reach the right edge, measure the length that the final piece has to be and trim it to size as you did above. You will have to repeat this process again because the depth of the table is greater than the size of the tiles. Don't worry, it's easy to cut the tiles to fit the depth of your table by using a utility knife to cut the mesh webbing on the back of the tiles. Continue until the entire bottom shelf is covered with wood tiles. Don't glue anything yet!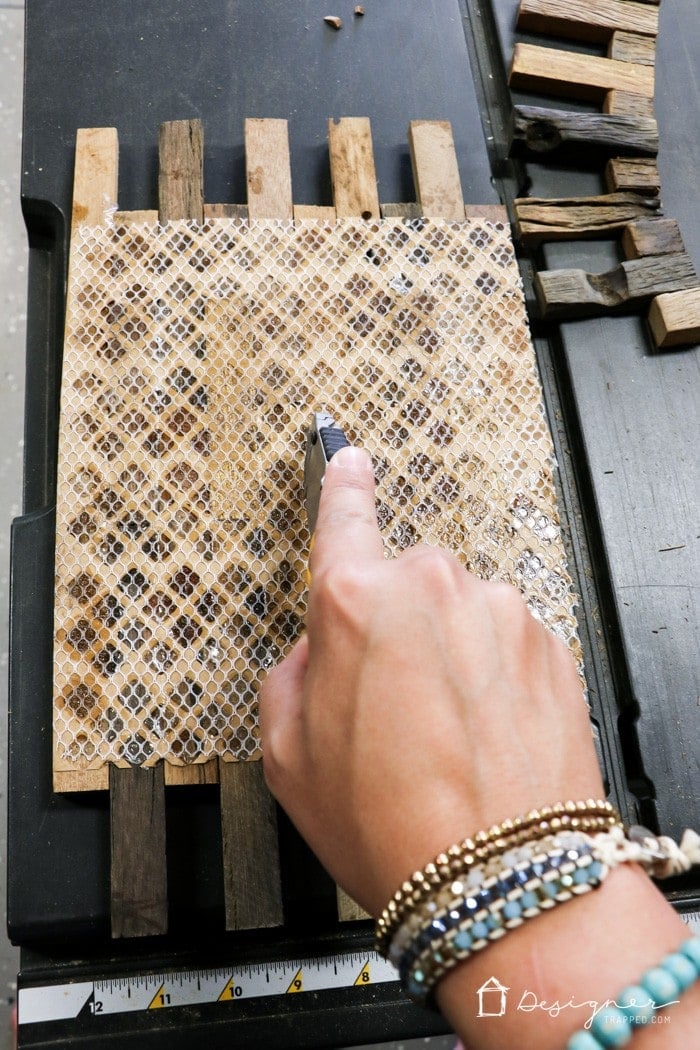 4) With the bottom of your piece dry-fitted with the wood tiles, you are ready to begin working on the sides. You can easily peel individual pieces of wood off the webbed backing. I'm not going to lie, this step is definitely more time consuming than covering the bottom shelf. But if you like playing Tetris, you are in luck :) See, you can't just trim the side pieces with your table saw because each piece needs to be a different length so that it fits into/fingers into the wood tiles on the bottom perfectly; remember, the bottom tiles are not a uniform size. I put on an awesome audio book and powered through this step.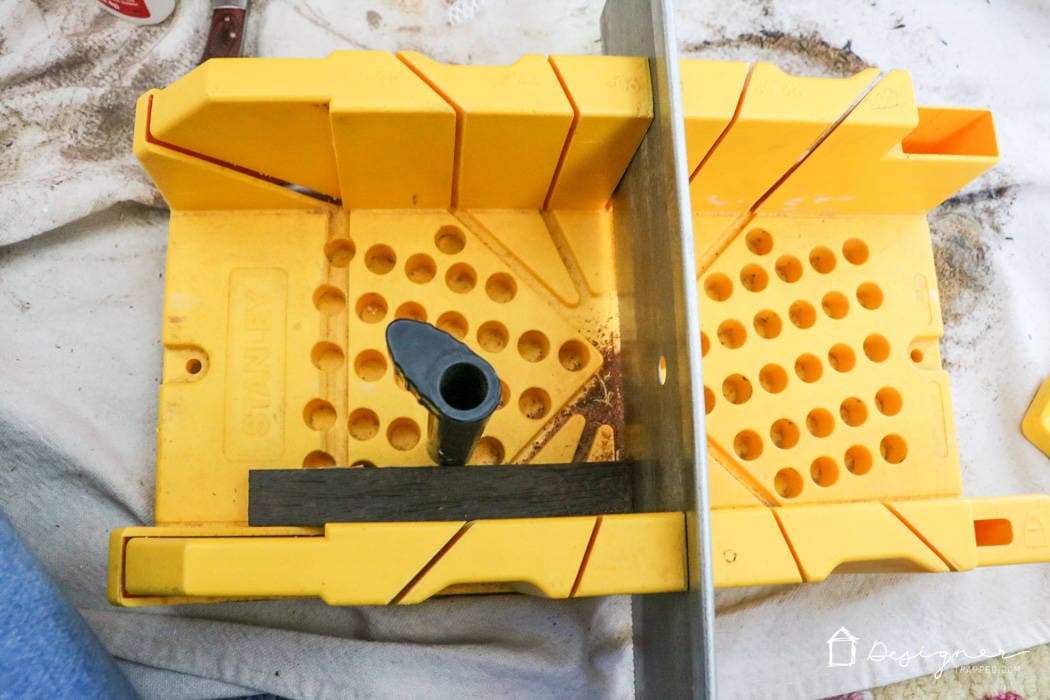 5) Begin attaching the side pieces by applying a small amount of Dap Rapid Fuse Wood Adhesive to each strip of wood to the sides. Don't glue the bottom pieces yet. Use a clamp to hold the first piece of each side in place before gluing the others. Allow the first piece to fully cure before attaching the additional pieces. You won't be able to use clamps for each and every piece as your work your way inside the shelf area–that's okay! I found that holding the pieces in place with a little bit of pressure for about 10 seconds was sufficient. Continue cutting and gluing the side pieces in place until you finish both sides.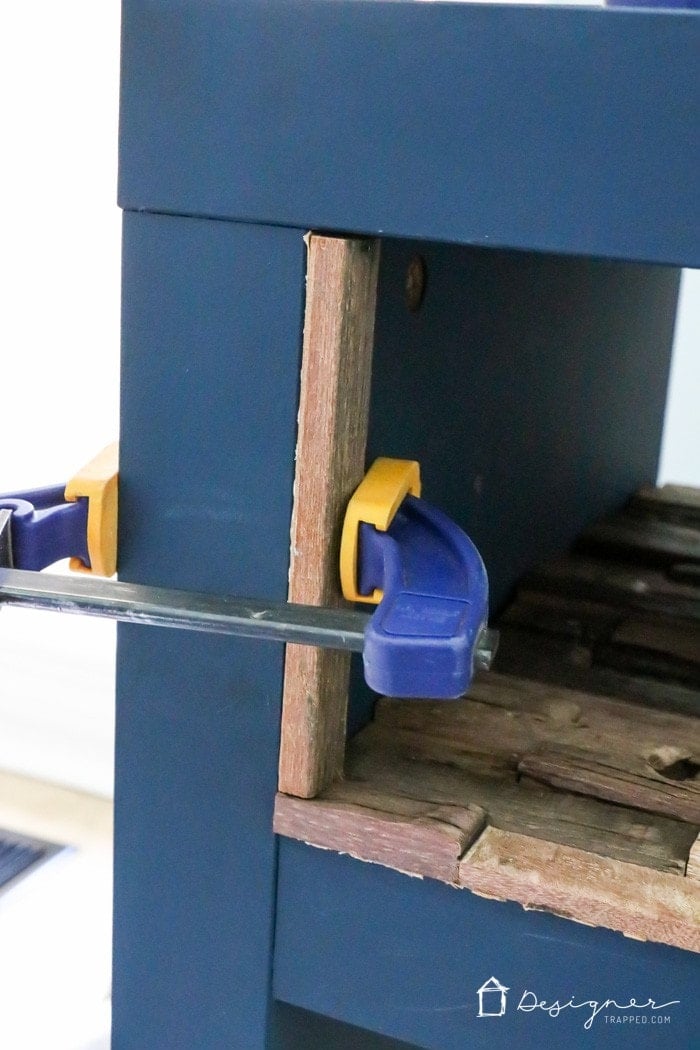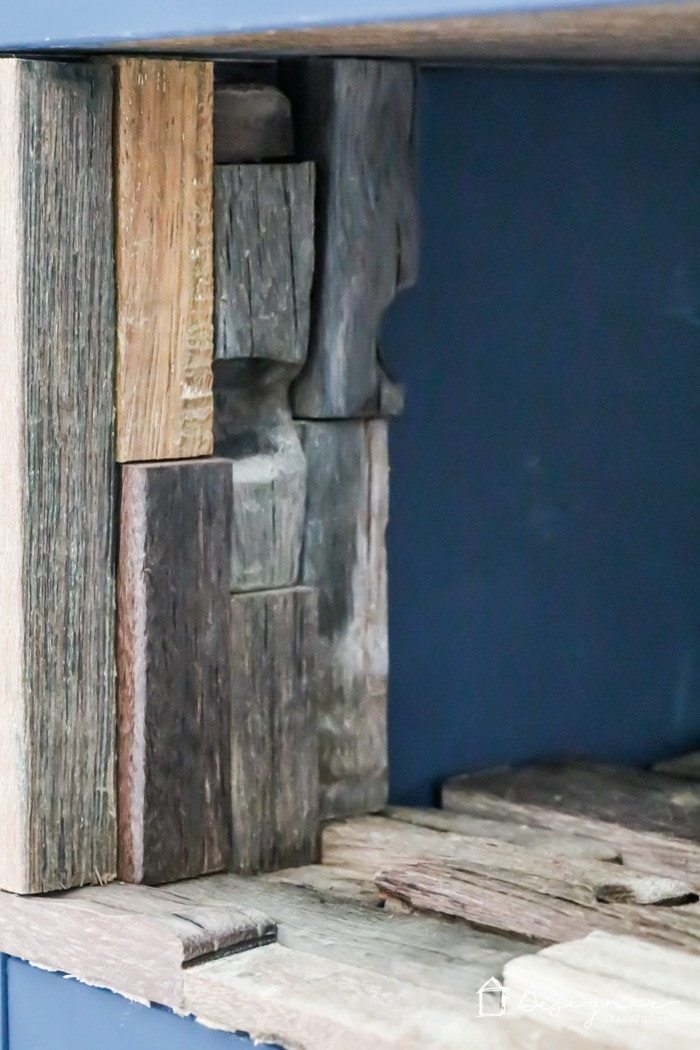 6) NOW you are ready to glue the bottom pieces into place. Note that the side pieces will keep the bottom sheets of wood from shifting forward and backward, so you only need to glue down the edges. Simply lift up the edges and apply a small amount of Dap Rapid Fuse Wood Adhesive along the bottom edges of the shelf and then clamp them into place while they cure.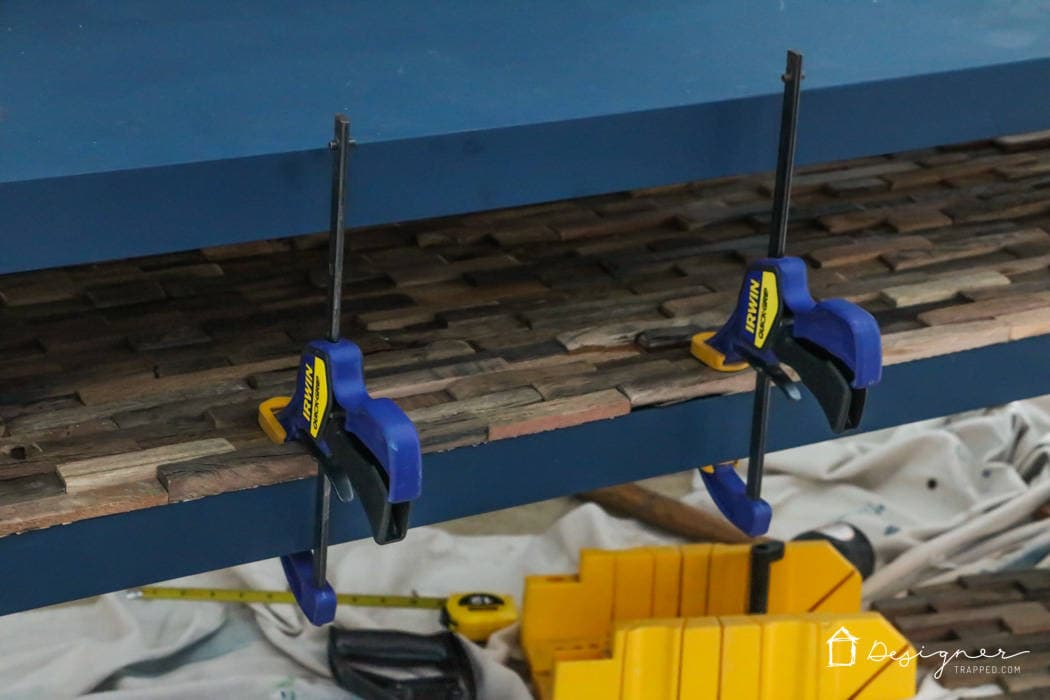 That's it! Check out this Ikea Lack hack in all it's glory now that it's finished. I am totally head over heels in love with it!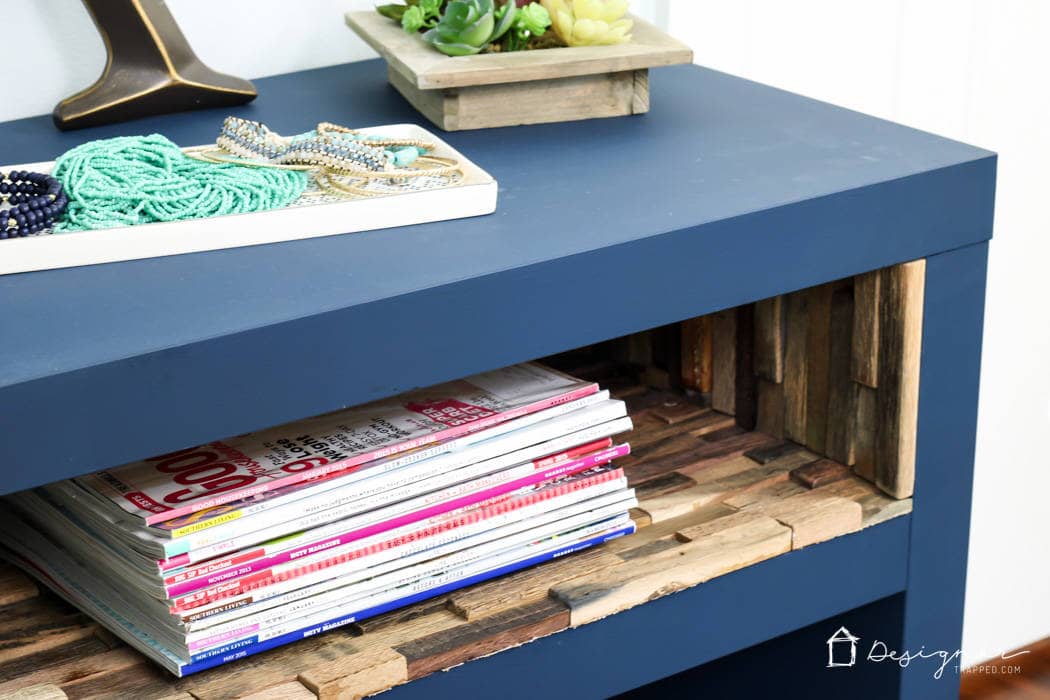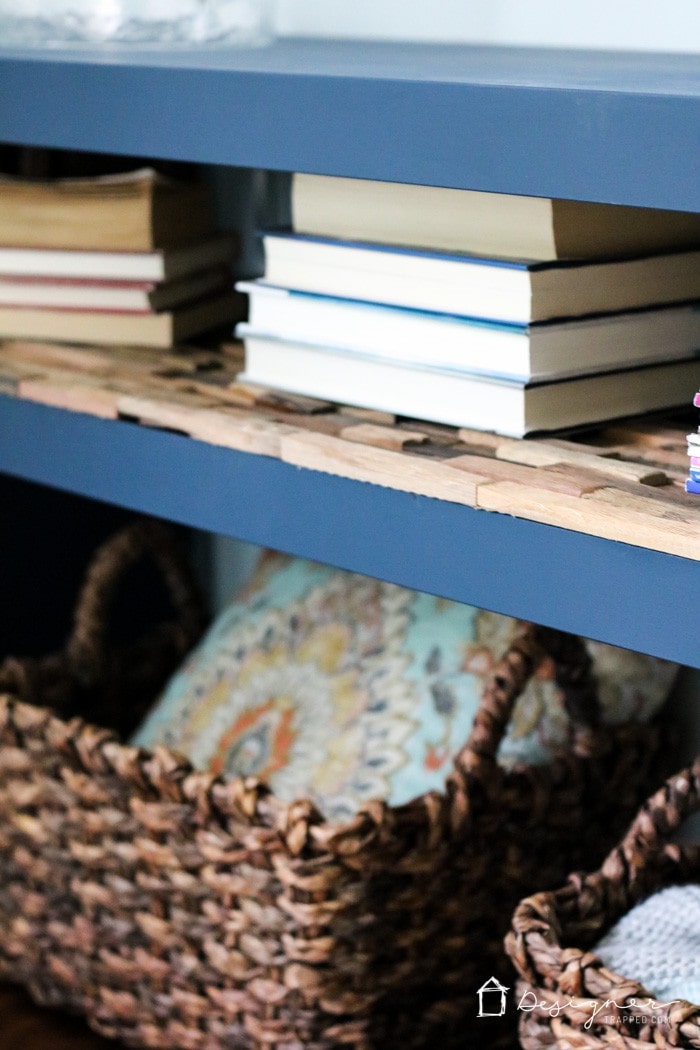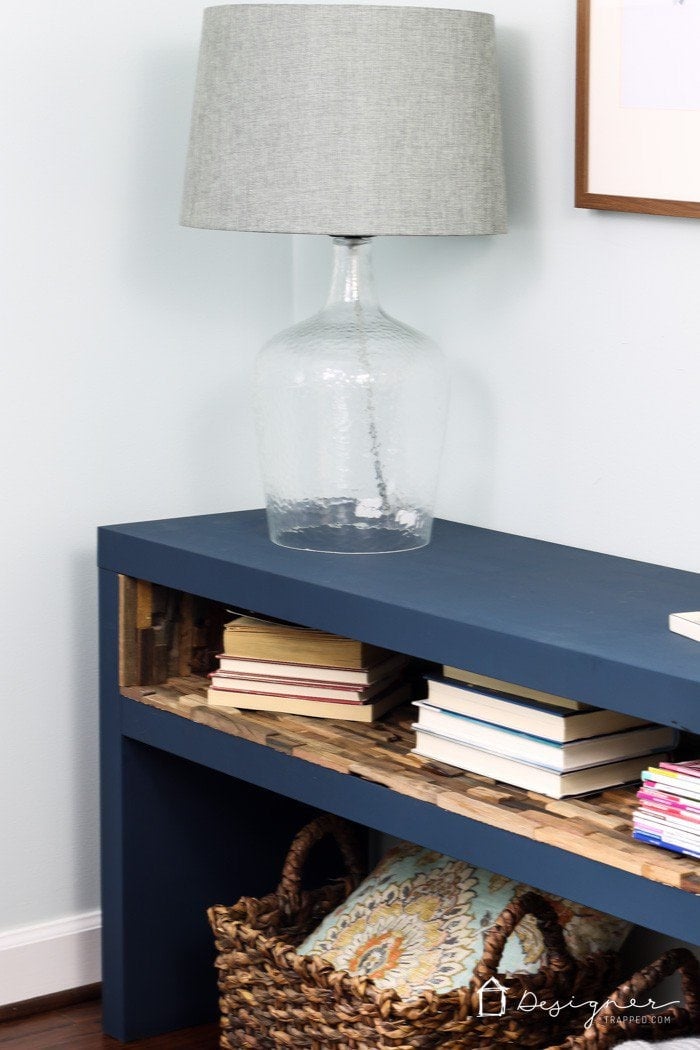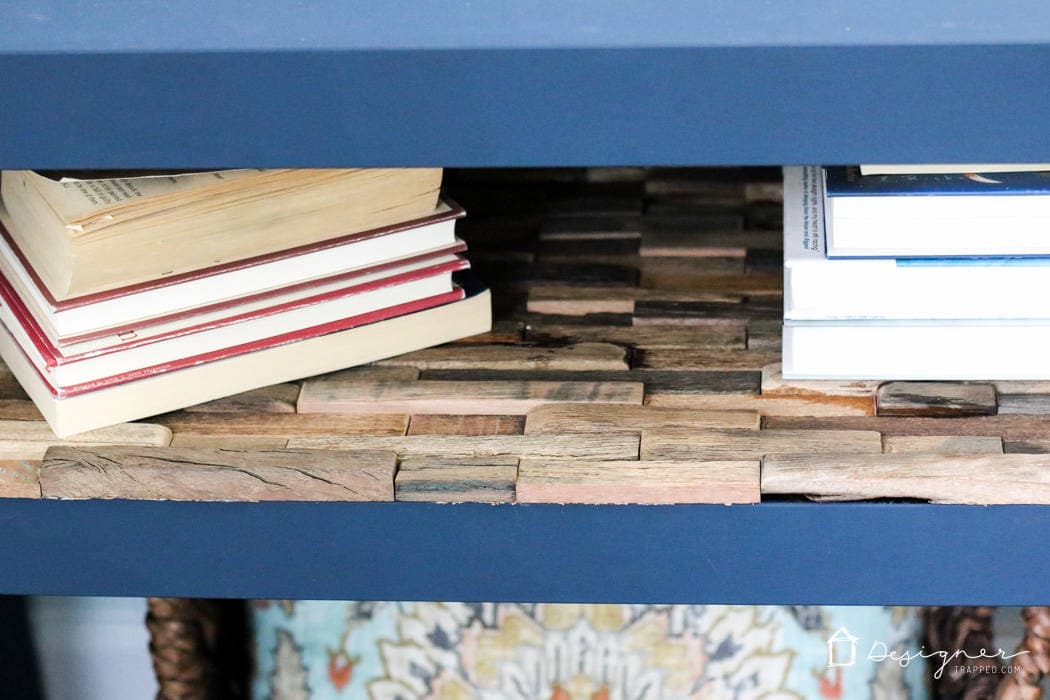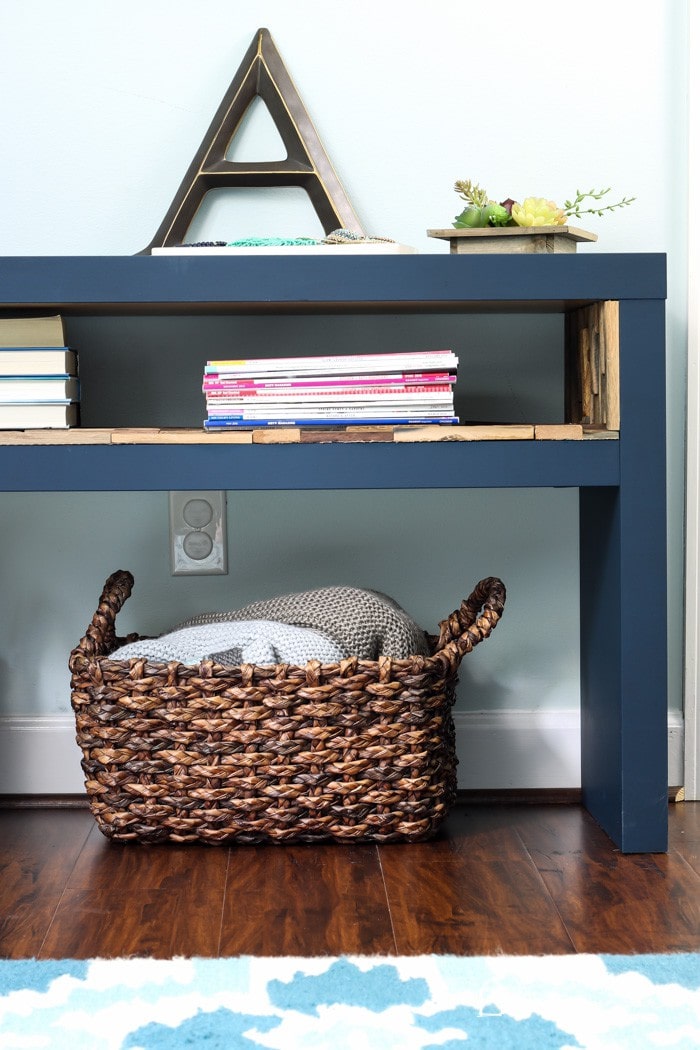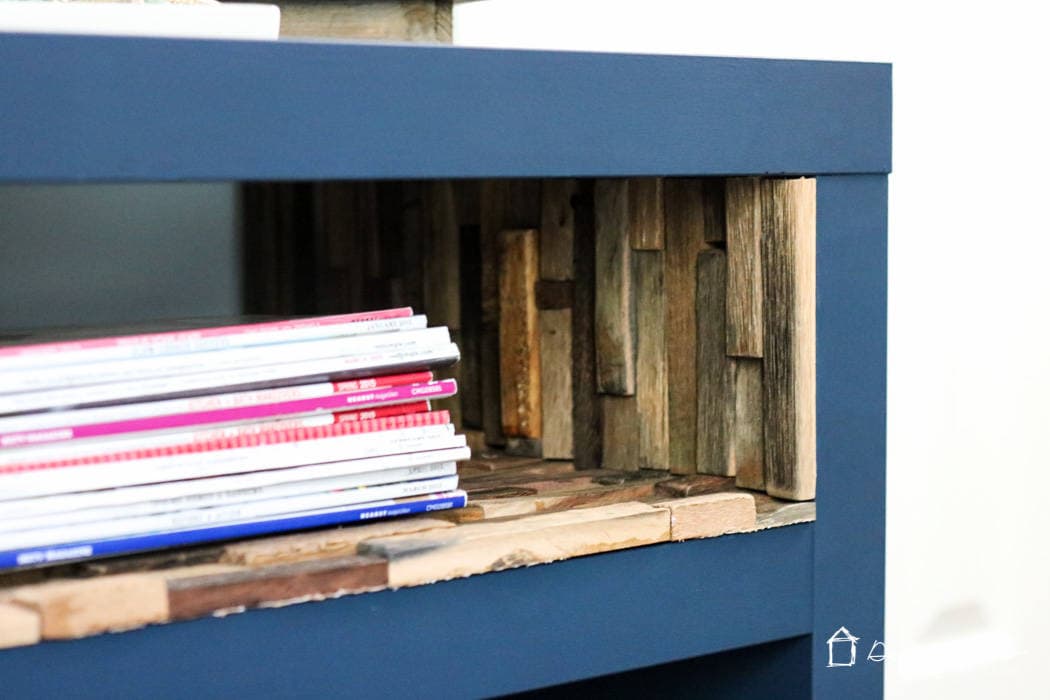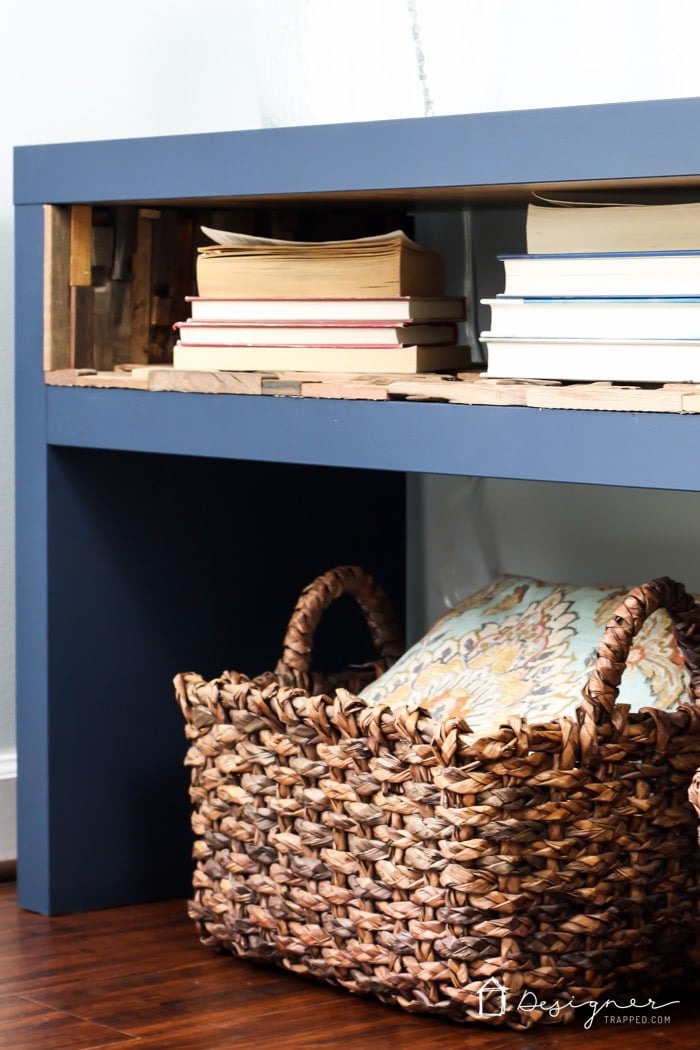 What do you think? This project took about 3 hours total and cost me $157 (including the cost of the table)! Not bad for a high-end designer look! Be sure to check out my other Ikea hack posts below!
[mv_create 1 11 200 2016 key="1″ type="list" title="Most Popular Projects" thumbnail="<a href=" https designertrapped com wp content uploads diy home decor projects blog jpg a]