Inspiring IKEA Desk Hacks You Will LOVE
Need a new desk but shocked at the price of desks? They can be so expensive! Fortunately, these amazing DIY Ikea desk hacks will give you a stylish workspace on a small budget! These Ikea desk ideas range from from simply combining a few IKEA pieces to totally transforming IKEA pieces to look like custom furniture.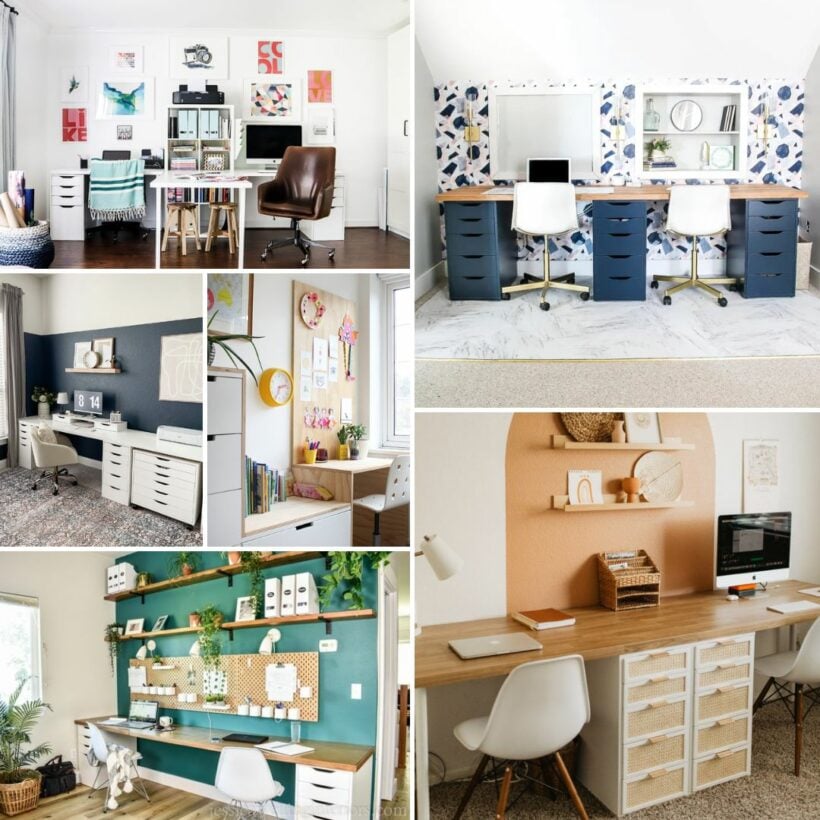 When we decided my twin girls needed separate rooms I gave up my office for Avery's bedroom. I started looking for desks for my "new" office (previously known as my kid's playroom). I had trouble finding exactly what I was looking for in a desk, and the few things I found that could work were expensive.
So, I started brainstorming and searching for Ikea desk hacks that could work for my home office. I could not believe how many amazing ideas there are out there! Ikea products are SO versatile, and so many other bloggers have come up with some amazing Ikea desk hacks. I'm sharing the best ideas I've seen in this post!
Inspiring Ikea Desk Hacks
Countertop and Alex Drawers
I used an Ikea kitchen countertop paired with drawers to make a long desk in my office. It gave us enough space to work and the Alex drawers gave us lots of storage space.
Stuva Printer Cabinet
This is one of the smartest desk setups I have seen! DIY'ing a printer cabinet for under the desk is a great use of storage space and it keeps everything organized which I also love.
Bonus Room Built In Desk
A trio of Hemnes dressers and a long piece of countertop make the perfect desk in this studio above the garage. The built-ins topped with open shelves filled with beautiful home decor touches and lamps makes this giant space feel cozy!
Glam Upcycled Door
Out of the box thinking turned this repurposed door into a feminine desk! Adding the brass nailhead trim and gold table legs from Ikea saw horses upped the glam factor.
Elevate a Basic Ikea Desk
This Ikea hack takes an existing slim desk and makes it prettier! Gold spray paint elevates the look of the metal legs and the end result is a sleek and modern desk. It is a perfect size–just big enough for a laptop and some paperwork, but not so big it takes up a ton of floor space.
Plywood Desk with Nordli Drawers
Adding a DIY plywood desktop and seat to these Ikea Nordli drawers makes something so unique! The contrast of the wood and the white as well as the design makes this a standout desk hack.
Slim Profile Ikea Desk
This slim profile Ikea desk hack is a brilliant space saver. Add legs to an Alex Ekbe shelving unit and you have a small desk with drawers that is perfect for a small workspace!
Plank Top and Copper Pulls
This is a half DIY half pre made home office desk. The top is a do it yourself plank desktop and the bases are Ikea cabinets. Copper pulls and accents and cool chairs makes this a stand out!
Craft Room Rast Hack
Custom tabletops and special touches can set an Ikea hack apart. This pallet desktop along with the gold hardware, casters and gold legs makes this Rast drawer unit practicaly unrecognizable.
L-Shaped Ikea Workspace
Having an L-shaped desk in your workspace is a game changer! This Ikea set up provides tons of storage AND workspace while only taking up one corner of the room.
Ikea Craft Space
Never underestimate a simple Ikea desk and some shelves. A table top and a few drawers turn any area into a work space. Adding pops of color and your own touches are all this set up needs to be perfect!
Linnmon Tops with Alex Drawers and a Kallax Shelf
We gave my office and craftroom a new look and changed out the IKEA desk you saw at the beginning of this post with a new Ikea desk! We love the bright white and all the storage the new combination gives us. We still used Ikea Alex drawer units, but these are white instead of black. We paired them with an Ikea Linnmon tabletop on each side to form our individual desks. Then the middle section is formed with IKEA Kallax shelving units and another Linnmon table top.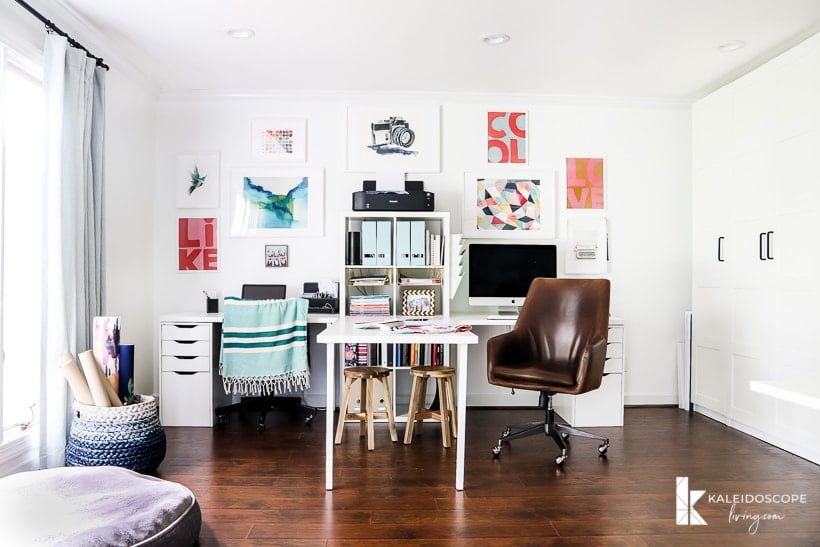 Extra Long Homeschool Space
This extra-long desk was made to fit three kids' workstations for homeschooling. The Alex drawers hold a plywood top with a birch veneer. It looks amazing with the pegboard and the bright green wall!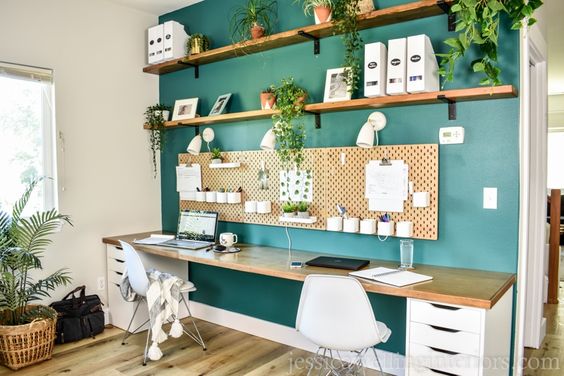 DIY Ikea Desk with Cane Drawers
To make this gorgeous DIY Ikea desk hack, they started with Alex Drawers, Adils legs , and the Säljan countertop. Cane was added to the drawers, as well as modern edge pulls. The result is amazing, especially in front of the arch mural.
Desk with Large Rolling Drawer Unit
Instead of the traditional setup of two "desks," these base units were arranged to create enough space for a wide rolling Alex drawer unit that can be removed for a secondary crafting space. Genius!
Custom Navy Desk
This design is simple but perfect. I love that she used the navy Ikea Alex drawers, and she found that gorgeous butcher block top in the clearance section at Ikea. Always check that area!!!! Paired with the gorgeous wallpaper, it is the perfect office space.
Desk Built-Ins from IKEA Cabinets
You would never know this project started with Ikea cabinetry! I like the cabinets grouped in the middle and the small spaces that make cozy work stations on either end. There is something to be said for a little space when you are working with someone!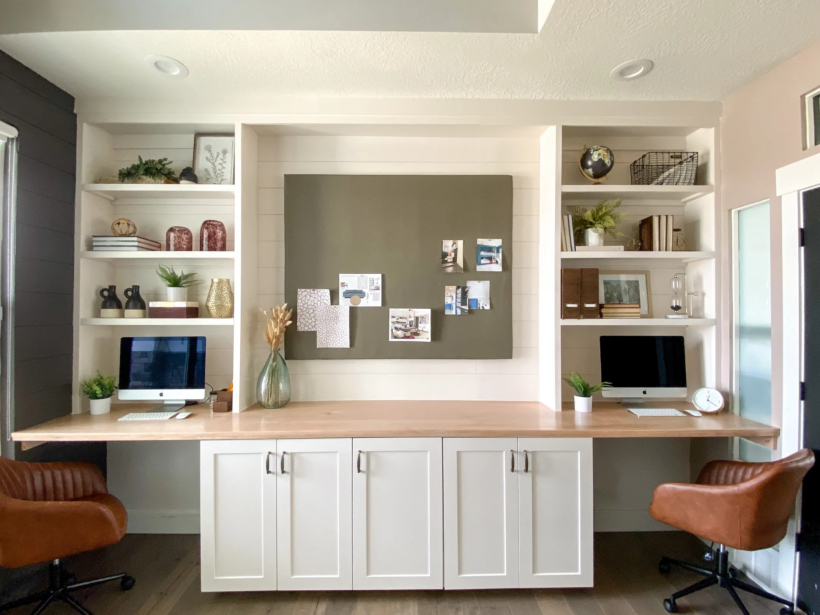 Ikea Ivar Standing Desk Hack
This desk solved the clutter problem in this workspace, and also allows for working while standing or sitting at a counter height stool. The great thing about this design is that it is totally customizable for virtually any space.
Aren't these the best Ikea desk hacks?! I seriously love them all. Ikea desk ideas are perfect no matter your need or budget (so are these 50 creative Ikea hacks and these Ikea built-in bookcase hacks). There is literally something for every price point and space. I am continually inspired by the amazing things people are doing with simple pieces. Aren't you?
Other posts you may enjoy:
Wondering how I approach transforming rooms and spaces in our home? Check out Designer in a Binder®.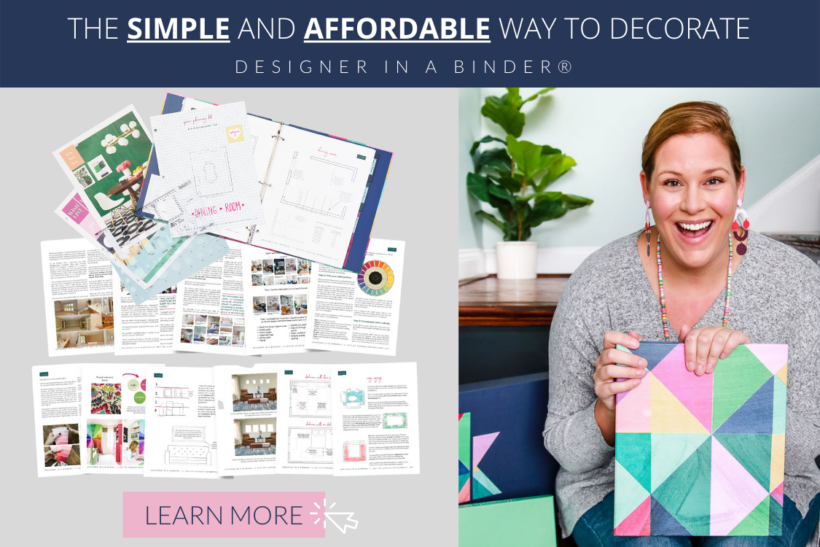 And if you want exclusive content and behind-the-scenes sneak peeks, be sure to subscribe before you head out!