Cool Wall Art That's Affordable!
Last Updated on March 2, 2022
Cool wall art can be affordable! Check out these cool wall art options that are easy on your wallet.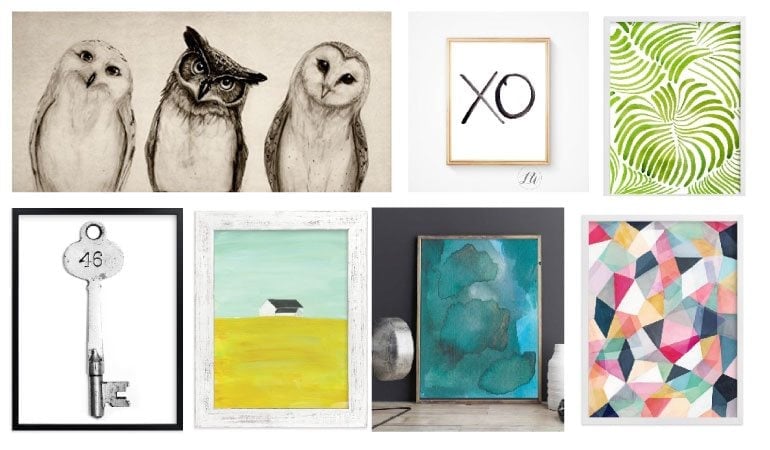 Do you have a bunch of blank walls in your house that you need to fill with cool wall art, but don't want to spend a fortune? Or maybe you just have no idea where to find cool wall art? Well, I have you covered!
Nothing spruces up your space and adds more personality, charm and interest to your plain ol' painted walls quite like some great art. I mean, it sounds obvious, but you wouldn't believe how many people skimp on their wall art because they worry they can't afford gorgeous big pieces. Either that or they settle for some framed college posters in Ikea frames (while there's nothing wrong with Ikea frames or college posters, it might be time  for an upgrade).
When it comes to finding affordable, awesome wall art, I have four favorite sources: my own graphic designs (you can see my printable art shop here) Minted, Etsy and Amazon. Seriously, all of these sources have some incredible options and I have hand-picked some of my very favorites for you. Many of the ones you see below are hanging in my own home :)
This post contains some affiliate links for your shopping convenience. Click here to read my full disclosure policy.
Cool Wall Art That's Affordable
My Printable Art Shop: Even affordable art can add up, so I started designing my own prints a while back. I've received so many questions about where to buy them, that I finally launched my own printable art shop! It's a crazy affordable way to get the look of high-end art and I was able to create and customize EXACTLY what I wanted.
You can click here to see my entire inventory, or you can check out my most popular prints below. This has been my wall art passion project for a while, and I just love it. When I can't find something that fits my wall design idea, I create my own!
All the cool wall designs I use in my own home and are part of my decor. Many of them fit a myriad of tastes and styles, so please enjoy and take a look! I love to share them with my readers!

Minted: Y'all, Minted has endless cool wall art! There stuff is so affordable and the minted prints are great. Best of all, Minted connects you with the best independent artists to bring you fresh, truly unique art that you won't find anywhere else.
I have several Minted prints throughout my house and I'll admit, they're some of my most-asked about pieces. The framing options are expensive, but the minted prints themselves are very affordable, especially for the quality of the paper the prints are on. There are all kinds of DIY frame options, to buy the art you want and then get creative when it comes to frames.
Their designs are very bold and graphic and offer the polish of much higher-end artwork for a fraction of the cost. Minted is at the top of my list when I am searching for affordable art. You can see some of my favorite options below.

Etsy: If you like eclectic looks, Etsy is another great place to find cool wall art options that are created by independent artists. One of the cool aspects of Etsy is how you can find prints and even paintings for cheap. The work is often signed by the artist and the options are absolutely limitless.
With Etsy, the quality of the paper, size, style and other aspects varies from shop to shop, but the maps in our family room all came from Etsy and we couldn't be happier with the quality. Plus, you can feel good because you're supporting an independent artist.
Etsy's offerings are constantly changing and cover the spectrum from pop art, to classic paintings, sketches, collages, abstract and more. On Etsy, anything goes! The scope of offerings can be a little overwhelming, so narrow it down by style, size or type of art you're seeking to help refine your search.

Amazon: As much as I prefer to purchase cool wall art from independent artists, Amazon really does have some great affordable art options that can't be ignored. There's job no way to avoid it. Plus, you can find affordable frames and alternative wall hangings and decorative items on Amazon.
Like Etsy, the offerings on Amazon vary in quality by vendor and each piece is different, but Amazon is known for their easy return options, so don't sweat it. If there's something that's not quite right, you can always exchange it for something else (especially if the order is fulfilled by Amazon).
So, if you don't find anything in My Printable Art Shop, at Minted or Etsy that tickle your fancy, give Amazon a try. You can find some really great wall art, and you might be surprised at the great prices too.

Looking through the different wall art options, do you have any favorites? I can tell you that one of those cool wall art prints from Minted will be going in our master bedroom in the near future. You'll have to wait to see which one it is :)
Other spots I keep an eye out for great wall art, are flea markets, garage sales and second-hand stores. These spots are great options for frames as well (so don't dismiss a great frame that contains some hideous art).
Ikea also offers terrific wall art and framing options. While, their offerings aren't going to be the most unique out there, they are often quirky, bright and fun. They also feature large-scale artwork, which can be a challenge to find on a budget.
What's your favorite source for wall art? Do you ever DIY when you can't find the perfect wall art you have in mind?

[go_portfolio id="affordable_decor"]