A Shocking & Exciting Announcement
Last Updated on February 24, 2022
This is definitely the biggest announcement we've made since I started this blog in 2013. We have ALL the feels about it! Read on to learn what is happening.
Oh my goodness friends! It has been a whirlwind few weeks for us and I'm finally ready to share what has been going on behind the scenes. No, I'm not pregnant. Everyone is healthy and we are still happily married. The big announcement is that we have decided to move ? We are moving to Oak Ridge, which is near Greensboro, but is more of a town and less of a city.
Are you shocked? I am! I'll try to explain without boring you to death.
As you know, we love, love, love our home. I am very attached to it. I wanted to grow old in this home, and I really thought we would stay in it until downsizing eventually. We have completed more DIY projects than I can count and transformed this home one room at a time (you can take our full house tour here). And we ADORE it.
Here's a collage of photos of our house from when we purchased it.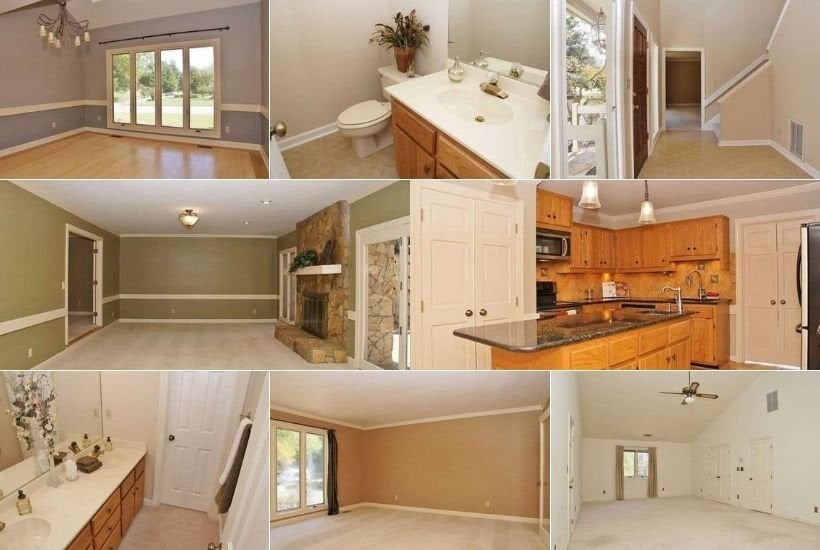 And this is what those exact same rooms look like now.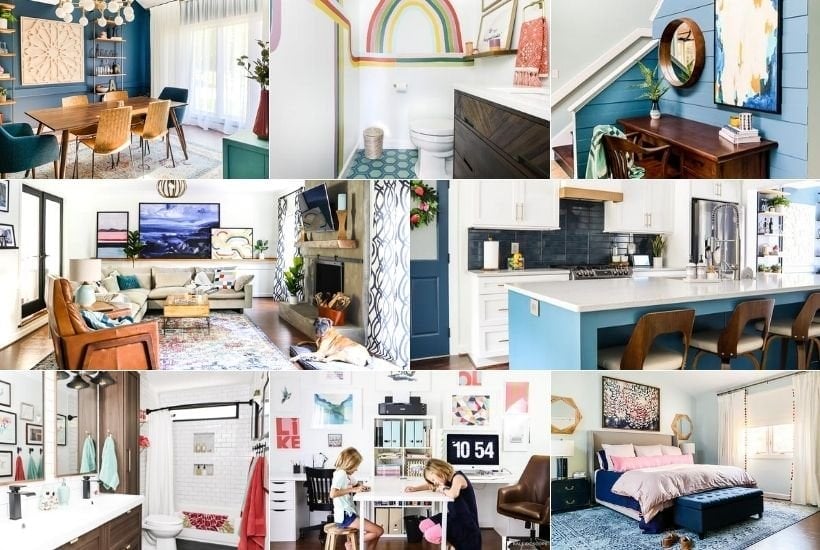 But we have 2 areas that don't work great for our family (and haven't for a couple of years). If you are curious, allow me to elaborate.
We are very lucky to have a 2-car garage. But as you know, with all the home projects we do, we have quite a lot of tools, scrap wood, etc. And our garage is bursting at the seams. We recently added 2 small sheds for yard tools, etc. and even that didn't solve the issue. Given that renovating/DIYing/decorating is what I do for a living full-time (and what Joe does part-time), we need a garage setup that works for us.
The other issue is my home office. It is large (too large, actually) and I'm lucky to have it. But my home office is in the CENTER of all the activity in our home–it's the room that is intended to be used as a formal living area. It's connected to our family room (where all of our girls' toys are) by french doors and is connected to the rest of the house with a recently added door. Even after adding a door, there are times that the entire family and dog are in my office while I'm trying to work. I don't switch gears between work and home life easily, so interruptions are very time-consuming and frustrating for me. Add to that COVID and deciding to homeschool this year, the problem with my sweet family constantly coming in and out of my office is more concerning than ever.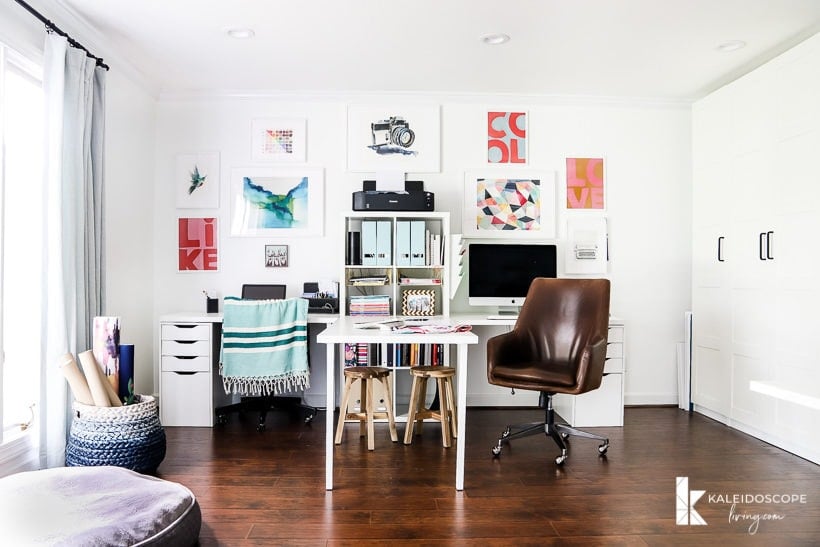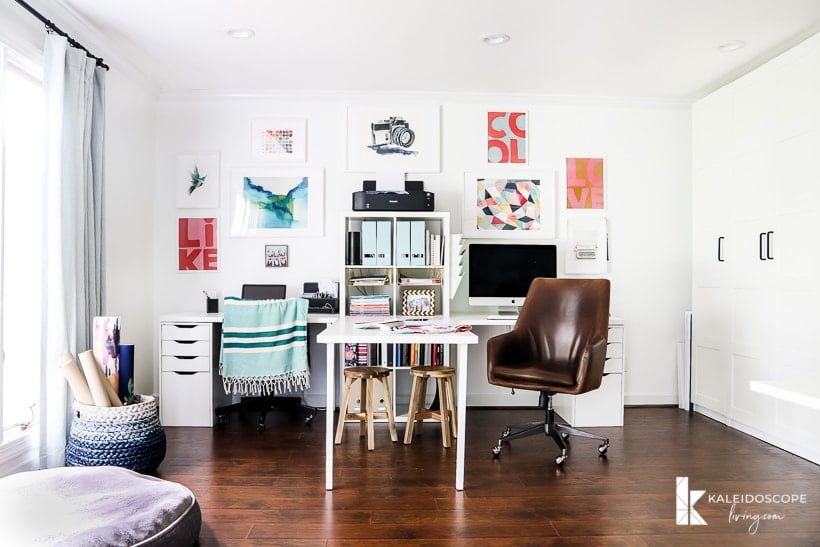 So, for the past couple of years, Joe has been saying that as much as we LOVE our home, it's not working for us as well as it should. I repeatedly told him in no uncertain terms, "I AM NOT MOVING." I was convinced we could make this house work for us. We talked about adding a 3rd bay to the garage and having an office space above it. We talked about adding a she-shed in the yard for my office. If there is an option, we have explored it. I've even looked at renting office space. I was DETERMINED to stay in our home.
But about a month ago as we revisited the subject yet again, I told Joe I was willing to look at moving if we could move out of the city to a quieter area with a little more space between us and the neighbors. We came up with a very specific list of what we wanted, including a dedicated home office (that is quiet and private) as well as a large bonus room that our girls can use as they get older to hang out with friends. We also wanted a yard with great outdoor living and more privacy than we have now.
We started looking at listings that interested us. It was a busy and emotionally exhausting few weeks. Anyone who has house-hunted knows what I am talking about.
Fast forward to us putting an offer on a house we loved, but lost to a competing bid. We were super bummed. Then we put an offer on another home that I loved and thought Joe loved also. Our offer wasn't accepted and then Joe told me that he didn't love it that much after all and we wound up pulling the offer. Needless to say, I was super relieved that one didn't work out since I absolutely think we should both love any home we live in equally. After those two failed contracts, I figured we probably wouldn't move for a while.
Over the course of us looking at houses, there was a third house that we both loved because of the perfect floor plan and outdoor living area. But that we hadn't placed an offer on it because it required a bit more work than we were hoping to do to put our own stamp on it and make it our style. Because we are tired, y'all! LOL!
We were initially hoping to find a home that didn't have any huge projects on the list. As much as we loved the house, we just weren't sure we should take it on. It is not what anyone would call a "fixer-upper", but it's very traditional which you know isn't our style. It's very beige and brown (much like our current house was when we bought it) and needs a lot of cosmetic work to feel like "us."
Still, we were strongly considering it. And then the price dropped to a price we knew it would sell for. And in that moment we both knew we should make an offer on it because we both admitted that we would feel super disappointed if someone else bought it.
So, we are under contract on that house. We have all the feels and stress that go along with purchasing a home. Oh, and we have to sell ours, too! And we are about to start homeschooling.
But this is how we roll, y'all. We tend to do super stressful things in quick succession. We got married less than a week after I graduated from law school. Between graduation and our wedding, we moved everything down to Tampa, FL (where neither of us had ever lived) and then drove back up to NC. We had only 4 days after the wedding to relax for a couple of days at a nice hotel before permanently moving to Florida and my bar review class starting. So you can see what I mean….this is what we do, lol!
So that's the big announcement. We are on to our next adventure and we are excited to share every bit of it with you. We will be sharing more about the new house AND about the listing for our house once it hits the market (in case you or anyone you know wants to move to or in Greensboro)! And we'll also be answering any questions you have about buying, selling, staging, etc., so if you have a question send me a DM on Instagram so I can include it!
Wondering how I approach transforming rooms and spaces in our home? Check out Designer in a Binder®.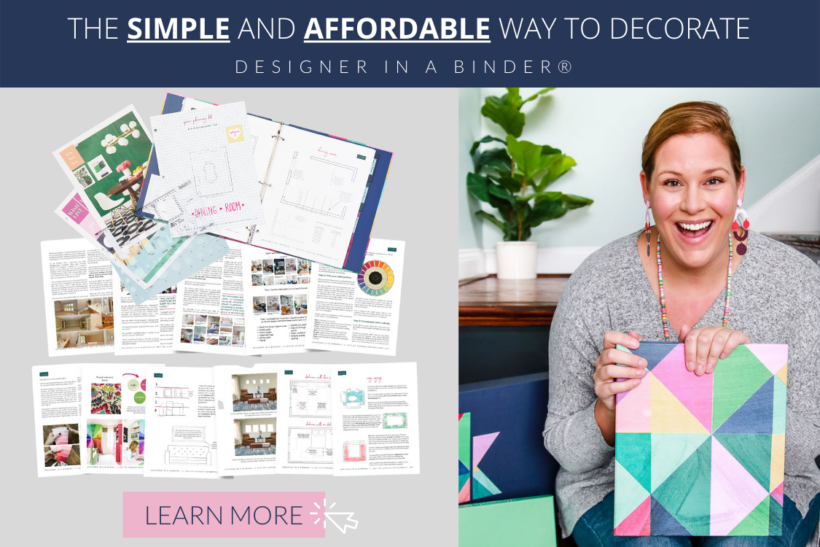 And if you want exclusive content and behind-the-scenes sneak peeks, be sure to subscribe before you head out!