How to Convert a Recessed Light to a Pendant Light
Last Updated on March 3, 2022
Can lights sure can be fantastic, but if you have TOO many can lights, or can lights in the wrong places in your house, you may end up wanting to "can" some of those cans. And now, you can do just that and it's pretty easy, too. That's right… today I am going to teach you how to convert a recessed light to a pendant light. You're welcome :)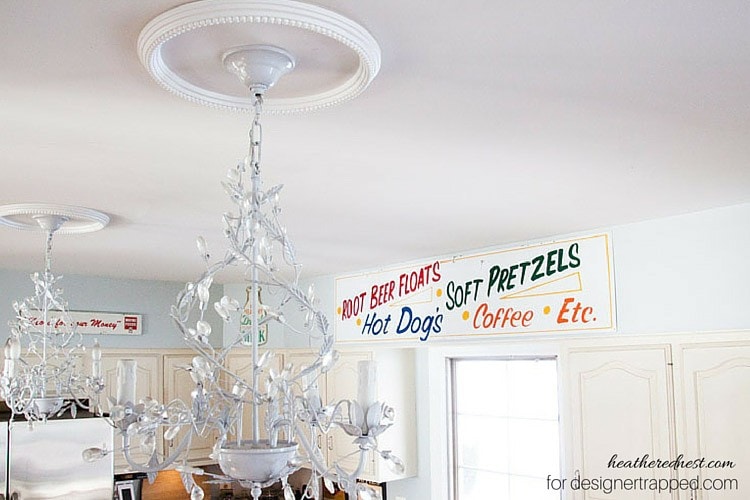 It's Heather and Dave here from The Heathered Nest, and we're talking electricity today. Please note, before we get into the details. Electricity is dangerous. Seriously. It is. It hurts to get shocked, and it CAN happen. Please don't mess around with this DIY project if you don't have confidence in your wiring skills. Sometimes we gotta know when to fold, CAN you dig it?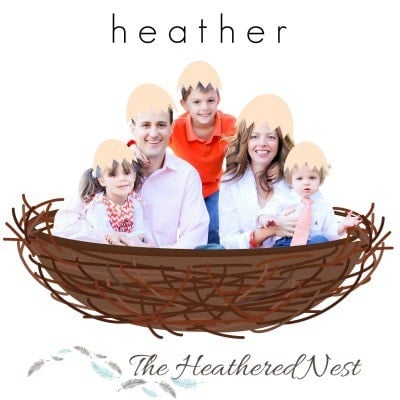 When we moved into our current home, we had can lights everywhere. And I love having light, but sometimes, can lights are not the best choice for certain spaces. We had them over the island in our kitchen. Those lights made our kitchen look more like a lineup room at the local police precinct rather than a comfy, cozy kitchen. Plus, the look just wasn't what we wanted in that space anymore.
I've installed recessed lighting before. So I didn't think that removing the old recessed lighting and putting in chandeliers would be too bad. The problem was that our can lights were "new work" recessed lighting kits, not "renovation" recessed lighting kits. That meant that the recessed lights were supported at the joists, so getting them out would require removing drywall, the lights, and then patching everything back up. NO THANK YOU. That was way too much work.
I did some research online about how to convert a recessed light to a pendant light, and low-and-behold, they make recessed lighting conversion kits! You can actually buy a kit that will convert your recessed light into a junction box where you can hang any kind of light that you want! BRILLIANT.
Using a simple pendant conversion kit, we were able to transition our can lights to a couple of mini chandeliers. This post contains some affiliate links for your convenience. Click here to read my full disclosure policy.
How to Convert a Recessed Light to a Pendant Light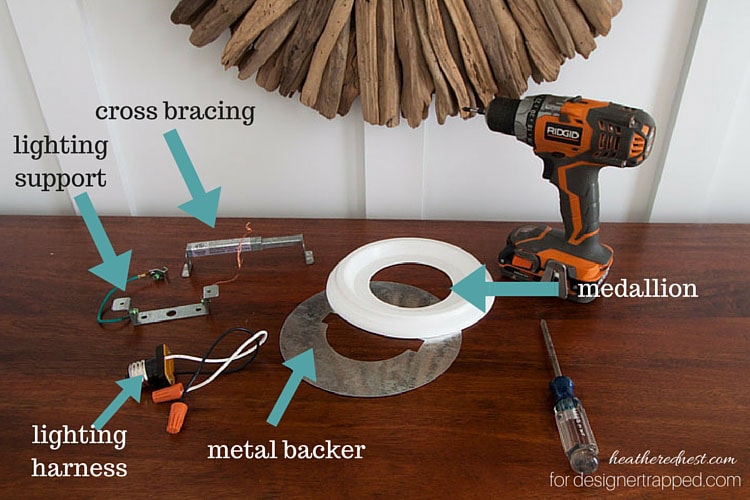 Supplies needed to convert a recessed light to a pendant light:
Phillips head screwdriver
Power screwdriver
Pendant light
Steps to convert a recessed light to a pendant light:
1) Turn off the breaker for the light you will be working on. Better safe than sorry.
2) Unscrew the recessed light bulb from the can light, and then remove the trim kit (typically, this round trim piece just snaps in and out). At this point, just the recessed light housing should remain.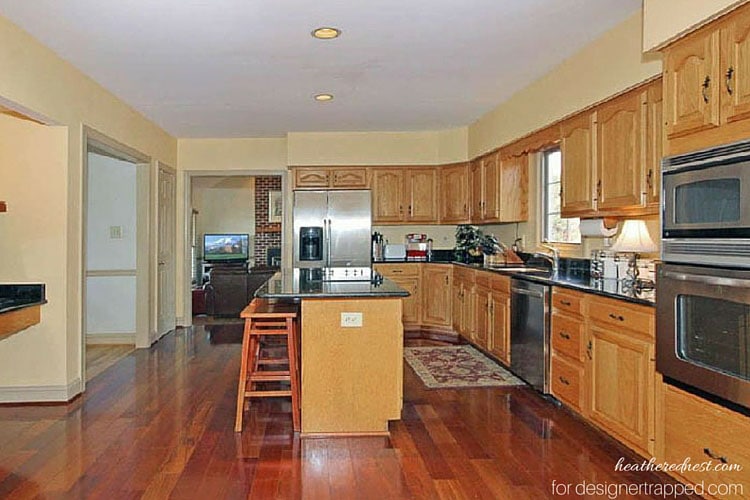 2) Screw the new lighting harness into the existing socket for the light bulb you just removed.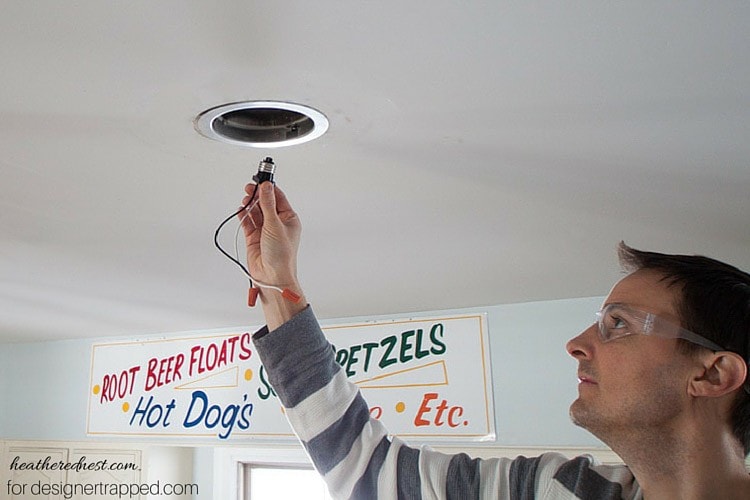 3) Install the cross bracing piece of hardware. This is fully adjustable, so it should fit most recessed light housings. Extend this bracing within the housing to get it sitting securely, then tighten the screw to set the length. I wanted to keep it tight enough within the housing so that it was held up there with no screws (having it tight enough to hold itself in place makes the next step easier).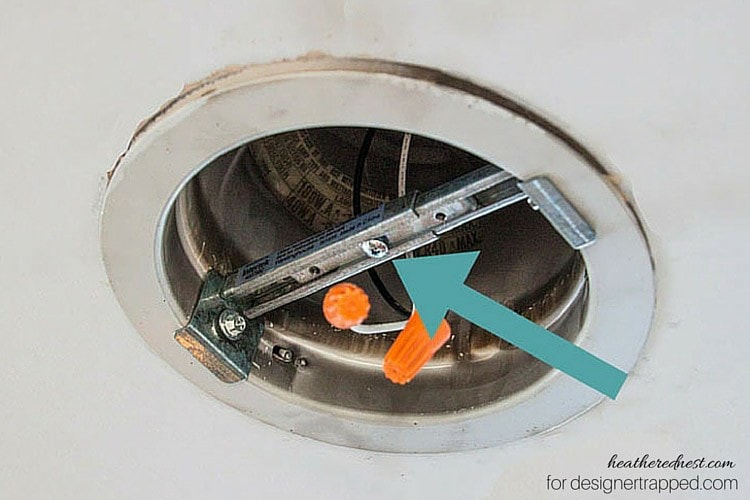 4) Now attach the cross brace to the recessed housing with the two screws provided.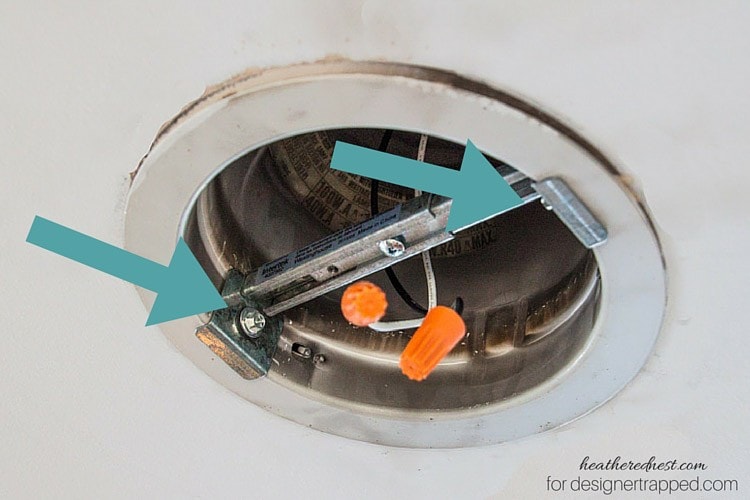 5) Attach the lighting support to the cross brace…just two screws.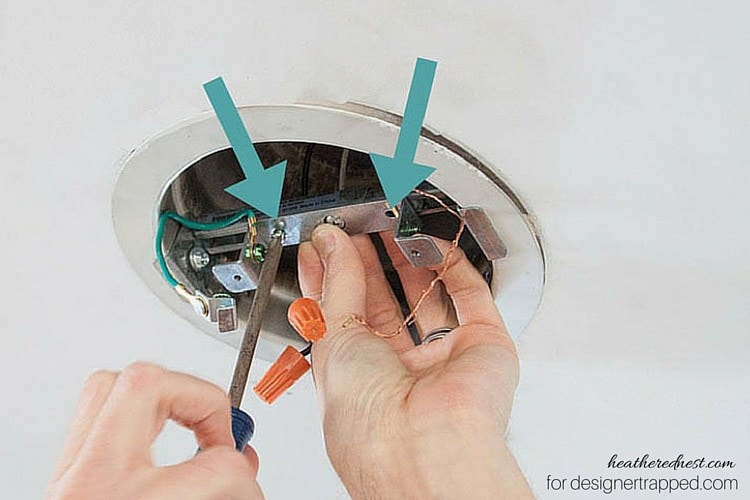 As part of the lighting support, there are two ground wires. The green wire grounds the kit to the recessed light housing, the bare copper wire will be used when you install your new light.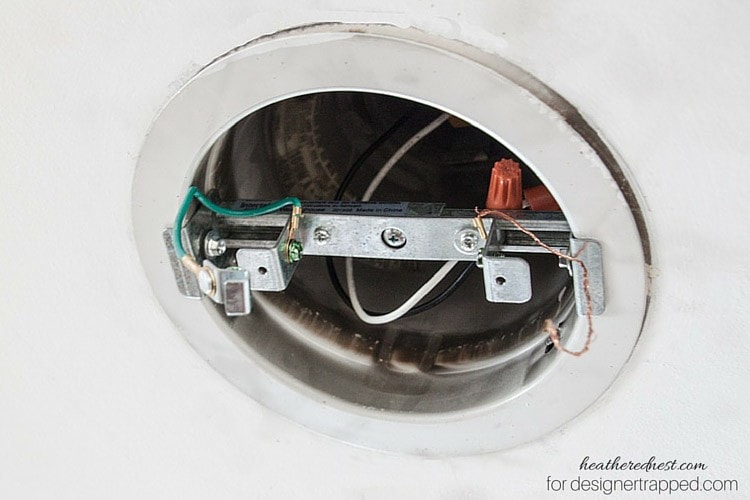 6) Attach the green ground wire to the existing recessed light housing using the clip provided.
7) If you want to use the ceiling medallion provided with the kit, simply install the metal backer first, then the medallion.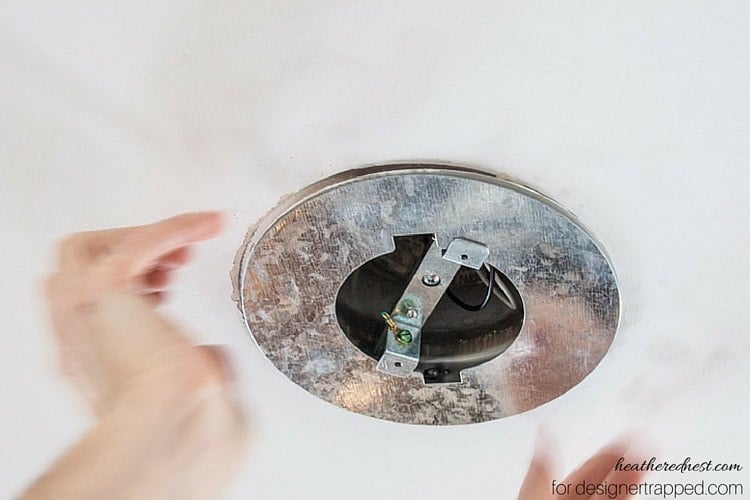 Quick tip, you probably want to paint the medallion first before you install it.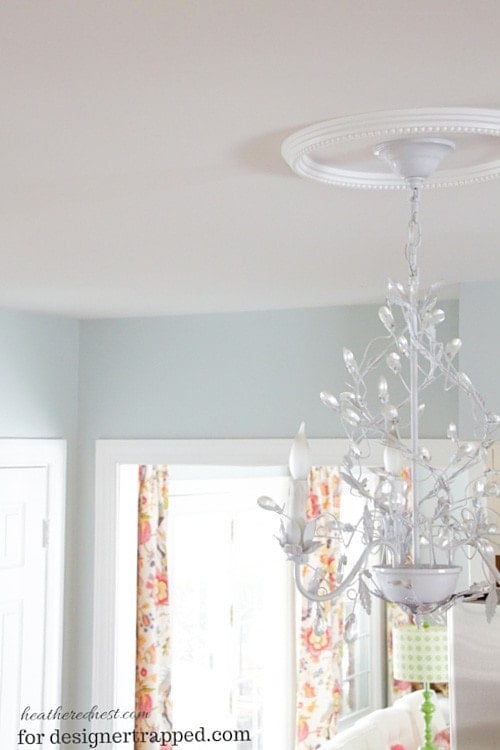 That's it! A few simple steps and you are now ready to hang your light of choice! This is so easy, I wish I had invented it! If you're looking for some more easy DIY projects, check out a couple of our other DIY lighting ideas:
Be sure to pin this post so you can refer back to it later!

[mv_create 1 11 200 2016 key="1″ type="list" title="Most Popular Projects" thumbnail="<a href=" https designertrapped com wp content uploads diy home decor projects blog jpg a]