We've been busy working on our dining room makeover. I'm sharing the full update in this post.

Hello friends! It has been a crazy week around here. Since I shared our dining room makeover plans with you last week, we have managed to get a lot done this weekend. It happened to be my birthday weekend, so some of my friends thought it was weird that we were busy painting and hanging a light fixture, but that's exactly what I wanted to do for my birthday. And don't worry–I did get to enjoy some cake and sushi (my favorite).
Here's a quick review of our dining room mood board and sources. Note: This Choose Your Own Adventure Refresh is sponsored by Hudson Valley and Minted. I am so grateful for their support.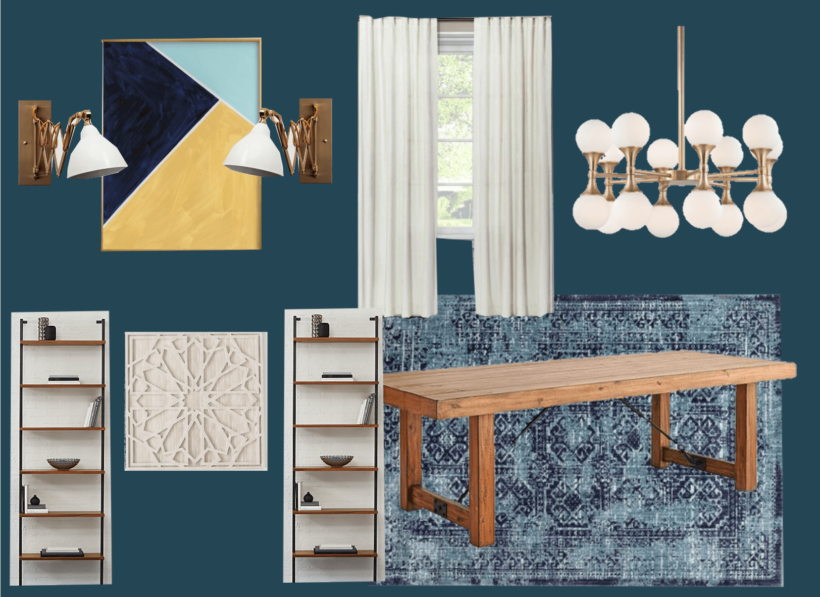 DINING ROOM MAKEOVER SOURCES
Click on any of the images below for full product details.

And here's a peek at the status of our "to-do" list:
DINING ROOM MAKEOVER TO DO LIST
Here's a list of everything we need to do in the space:
Paint the walls a dark, moody teal color
Paint the ceiling (it needs to be refreshed)* (sort of–see explanation below)
Hang the new artwork from Minted (OBSESSED with this piece–I've wanted it for years) and the wood carved piece
Hang the new chandelier from Hudson Valley Lighting
Install the wall sconces
Sand down our existing table to lighten the finish
Install a new double curtain rod
Hang the new curtains
Assemble and install the bookshelves
Here's the footnote on the ceiling painting debacle. Part of our dining room has a vaulted ceiling. The other part is standard 8-foot ceilings. We needed to repaint the standard ceiling portion because it was looking dingy AND because we splashed red wine on it a while back (another story for another time). I HATE painting ceilings. And I was super excited by the thought that the vaulted ceiling did not need to be repainted. So I started painting the ceiling and this is what I saw…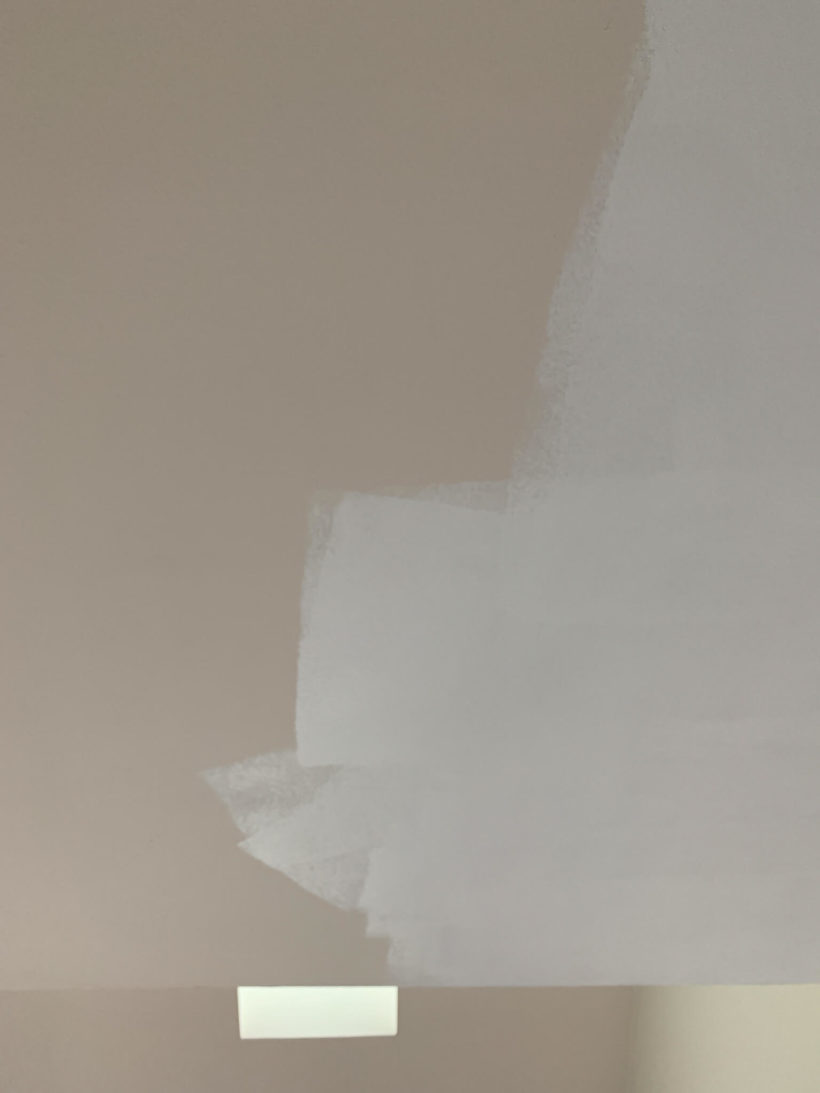 Do you see that color difference? Clearly our old ceiling color was not white. Ugh. I finished painting the standard height ceiling (my face and hair were splattered with white ceiling paint–very sexy). And now it's very clear that the vaulted portion is going to have to be repainted. But we are going to hire it out. We just don't have the equipment to reach the top of the skylight wells. We will have it painted at the same time all of the painting for our kitchen renovation happens. But for now, we have 2 different colored ceilings. Sigh…
Now for the fun photos! We painted the walls a color I'm in love with– Midnight in the Tropics by Behr Paint . It's a dark peacock blue (it looks navy in some light, but in other light it looks teal). It's PERFECT.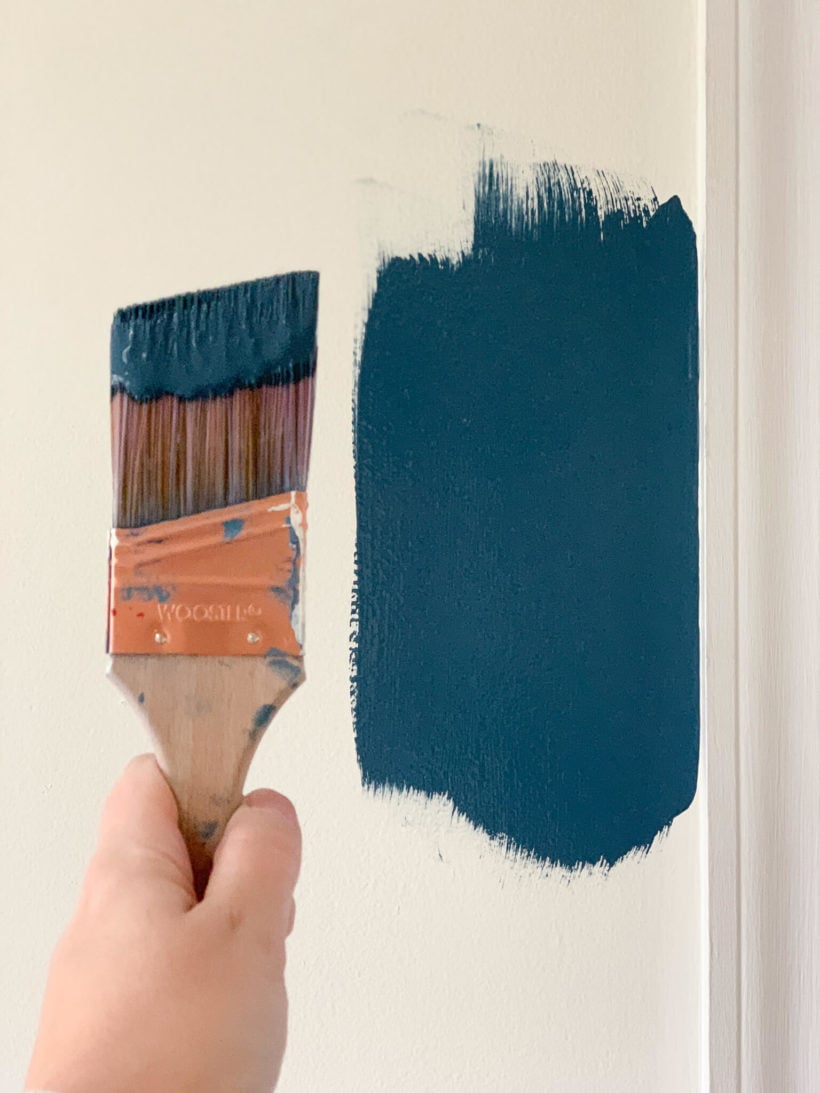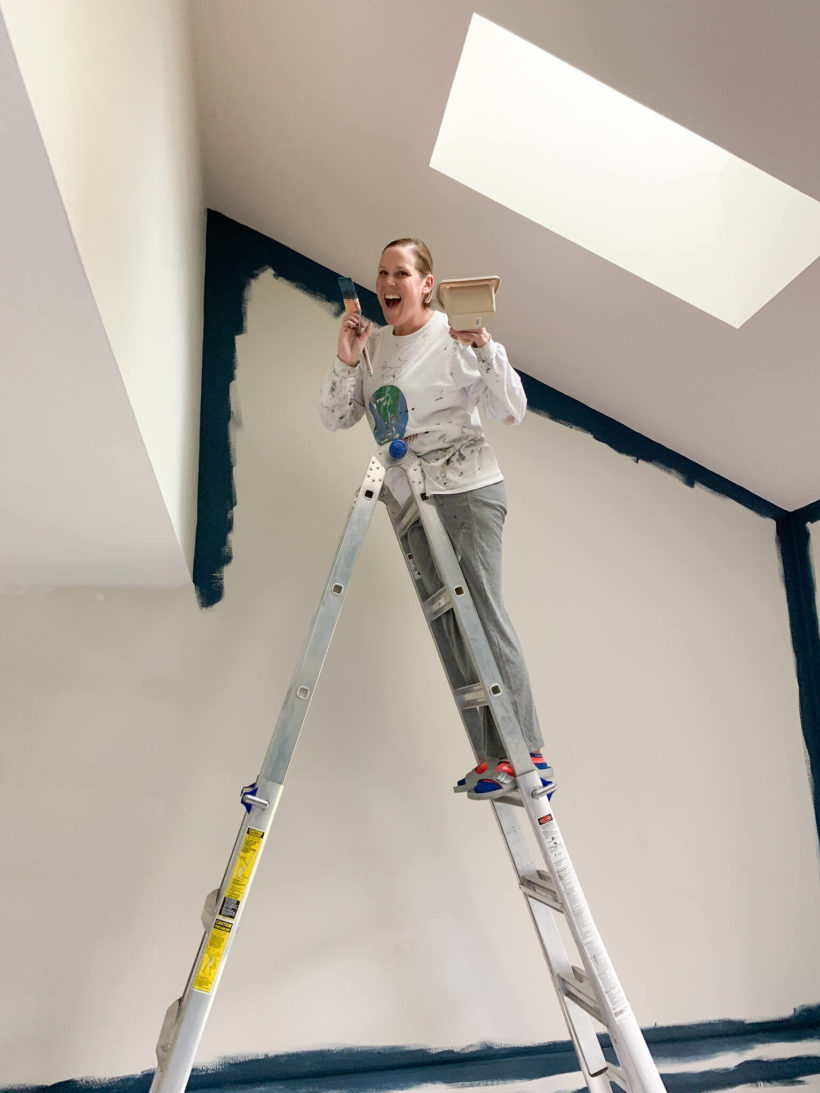 And we hung our gorgeous new chandelier from Hudson Valley Lighting ! Yes, I hung it while I was wearing my PJs. Totally normal, right? (We hadn't double-coated the walls in any of these photos, BTW).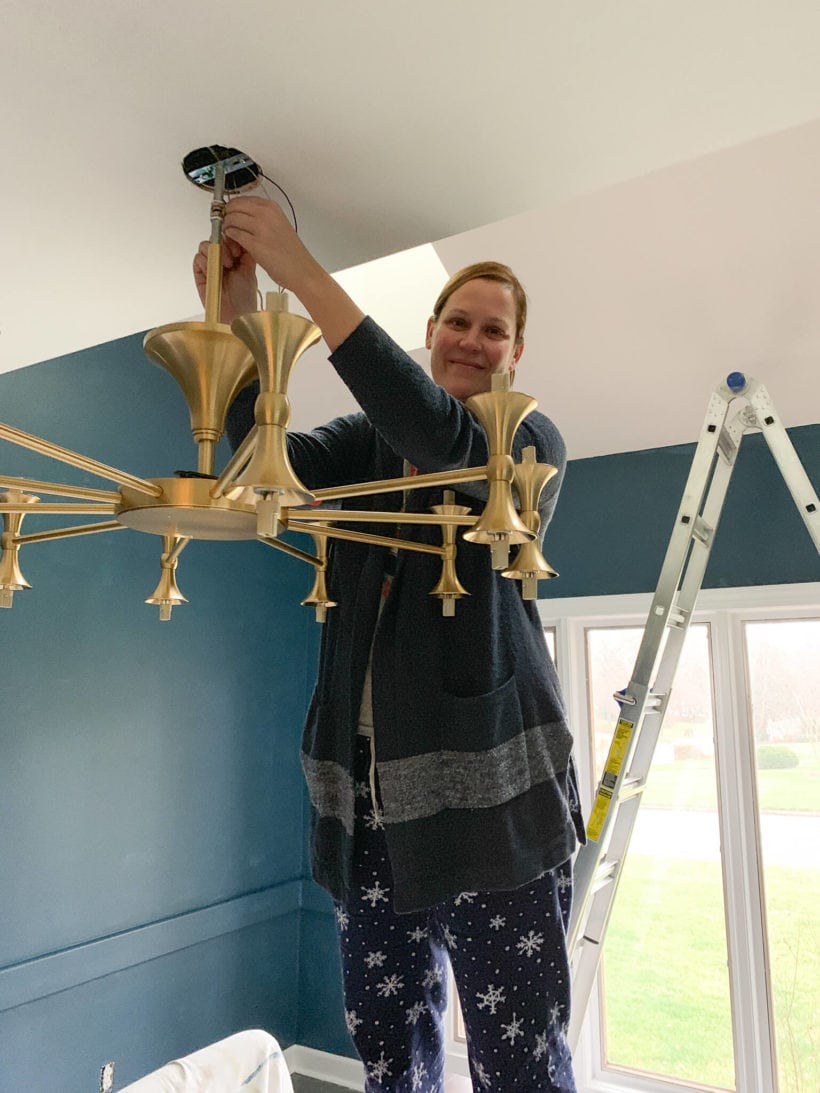 Y'all, this new chandelier is EVERYTHING. To say I'm in love with it is such an understatement. Not only is it gorgeous, but we finally have proper lumens in this room! We moved from a 2 bulb pendant light to this 20 bulb chandelier. Life-changing. And the way it pops off the wall color gives me all the feels.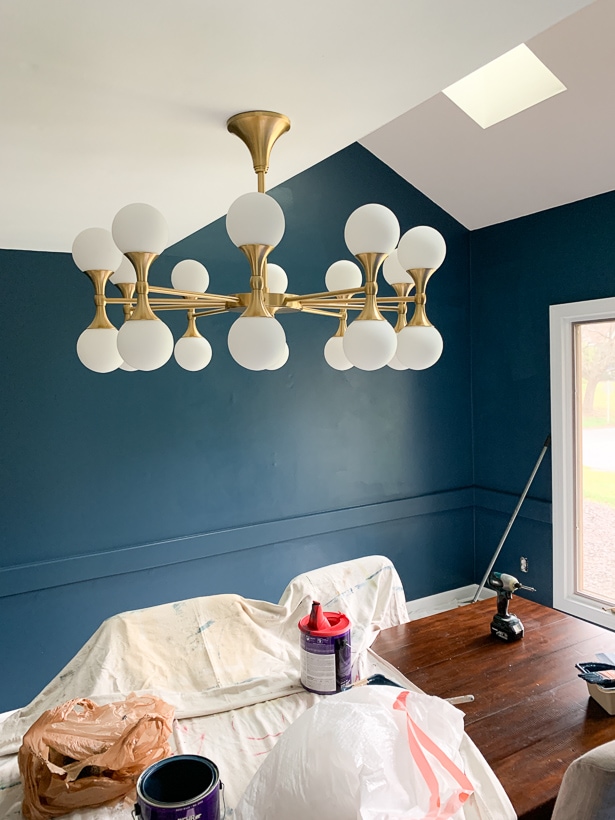 This weekend we plan to assemble and install the gorgeous bookshelves that are currently sitting in boxes in my garage. Once we do that, we can hang the new art from and really start pulling the room together. Just check out this beauty from Minted that is ready to take up some real estate in our dining room. It's magnificent and yes, it's HUGE! (PS- You can see the light fixture as well as me and Attley snuggling in the reflection, lol).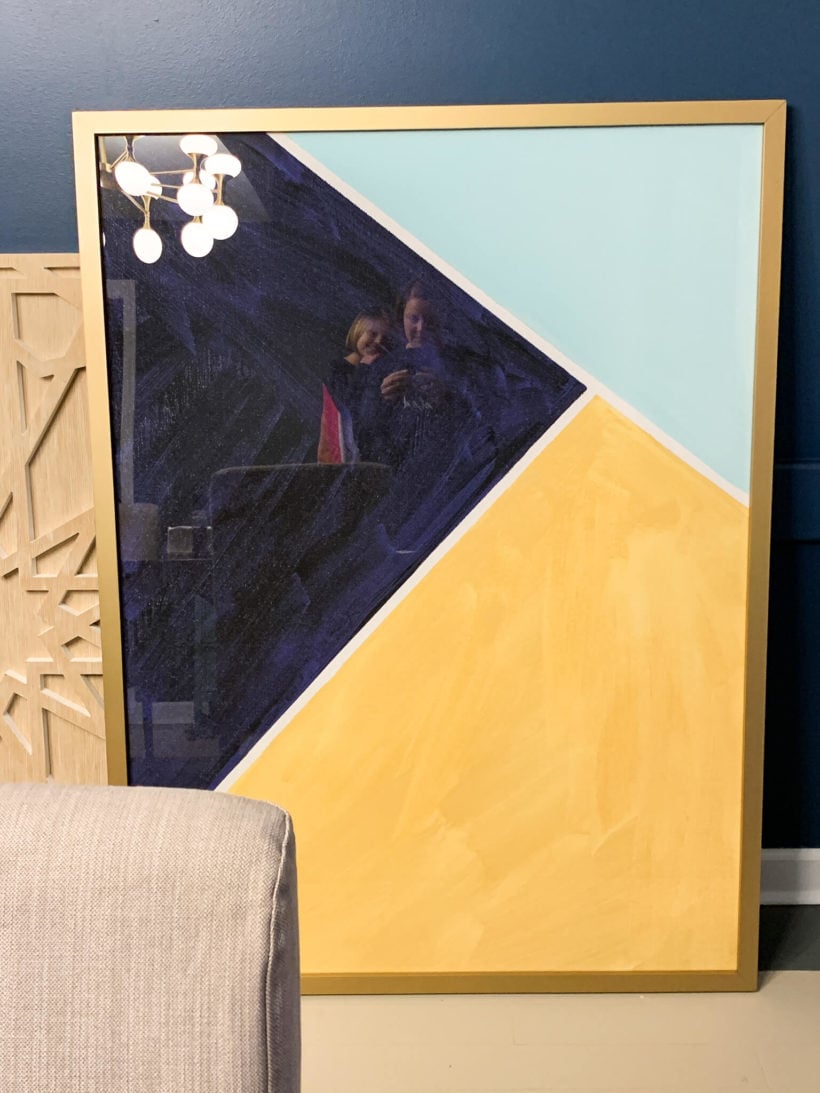 So that's the update. We've definitely made some progress! The big reveal is coming your way next Thursday :)
Before you head out, check out the exciting plans from the 11 other bloggers that are joining in this Choose Your Own Adventure Refresh. You can click on any of the links below to head over to their posts.
Jeweled Interiors | Haneen's Haven | Dimples and Tangles | PMQ for Two | House Homemade | Rain on a Tin Roof | Pencil Shavings | Our Fifth House | Kaleidoscope Living | The Pink Clutch | At Charlotte's House | Effortless Style Blog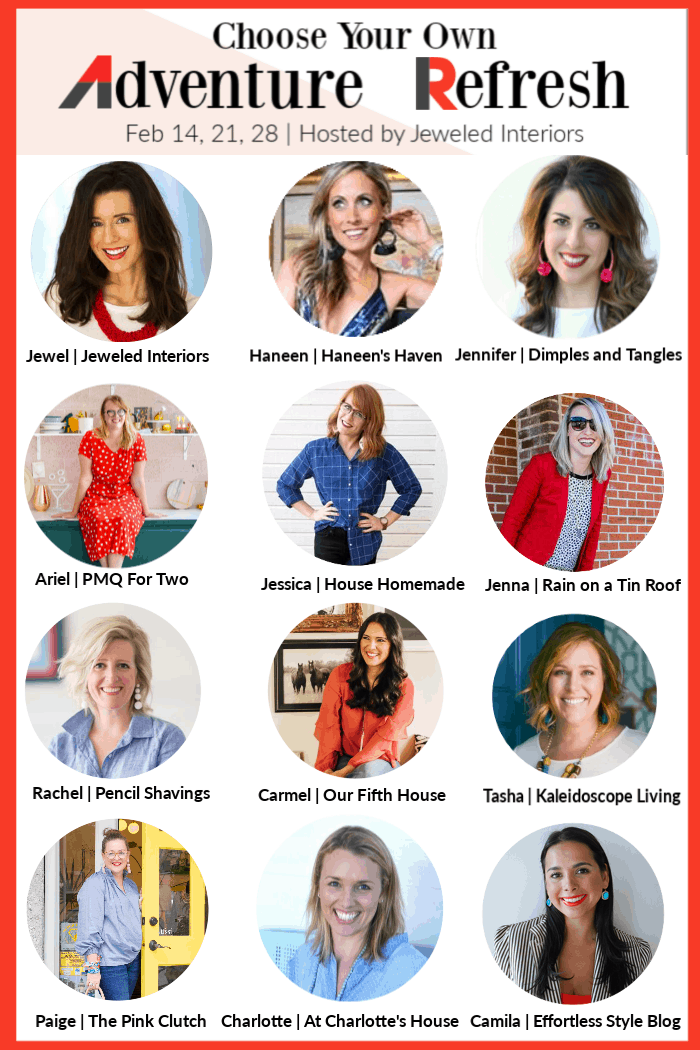 And if you've ever wondered my process for tackling a room design, be sure to check out my FREE design guides :)
​
[mv_create 1 11 200 2016 key="1″ type="list" title="Most Popular Projects" thumbnail="<a href=" https designertrapped com wp content uploads diy home decor projects blog jpg a]​