All Natural DIY Bug Spray
Last Updated on March 3, 2022
All natural DIY bug spray is easy to make and is very effective! This is the recipe I love to use.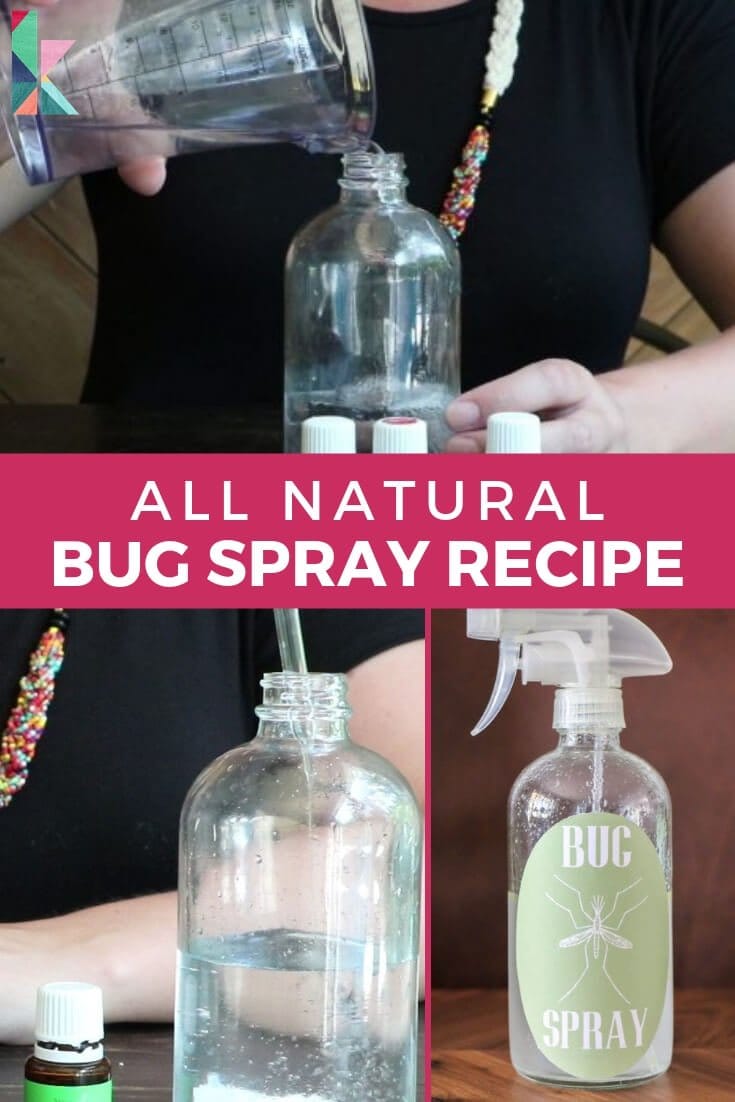 Welcome! I'm so excited that you have come to learn about how to make your own DIY bug spray. It's something I feel very strongly about and we have been very satisfied using this homemade mosquito repellant for 3 years now. If you want to learn more about why we make natural bug spray ourselves and stay away from DEET based bug sprays, you can watch the quick video below (note that I no longer use Jojoba oil in my natural bug spray, so now it's even less expensive for me to make).

Now, I have to say that I am sure we are all annoyed an inconvenienced by bugs to a certain extent, but my poor, sweet Avery and Joe get attacked by mosquitos like I have never seen. In the mosquitos' defense, I totally understand why they love both Joe and Avery :) But I digress… The worst part about bug season for us is that Avery suffers from Skeeter Syndrome (yes, it's a real thing, you can Google it), which makes mosquito bites more than annoying for her. Her Skeeter Syndrome has improved some as she has gotten older, but her mosquito bites can still be quite painful and they take forever to go away.
So, you can appreciate that I have a STRONG desire to keep my family mosquito bite free, especially Avery. But DEET terrifies me to my very core ever since some spilled on my car door and melted the plastic (more on that in the video above). But I have to stress… BUG SPRAY FULL OF DEET MELTED THE PLASTIC ON MY CAR DOOR. Imagine what that is doing to your skin… Just sayin'.
As with practically every household item, homemade bug spray can be made inexpensively and naturally at home. I am very excited to share with you a recipe for a natural bug spray that works well! *Note–I will be the first to admit that it doesn't work as well as DEET based bug sprays, so if you are going to spend a full-day outside in a mosquito laden area or an area where the Zika virus has spread and want to avoid mosquito bites at all costs, then the pros of DEET may outweigh the cons. But this homemade bug spray is perfect for us 95% of the time.*
This post contains some affiliate links for your convenience (which means if you make a purchase after clicking a link I will earn a small commission which helps keep my blog up and running but it won't cost you a penny more)! Click here to read my full disclosure policy.
How to Make DIY Bug Spray that is ALL NATURAL
Note- I wanted my bug spray to last all summer, so I made a large batch. If you prefer to make a smaller batch, adjust the volume of the ingredients accordingly.
INGREDIENTS & MATERIALS NEEDED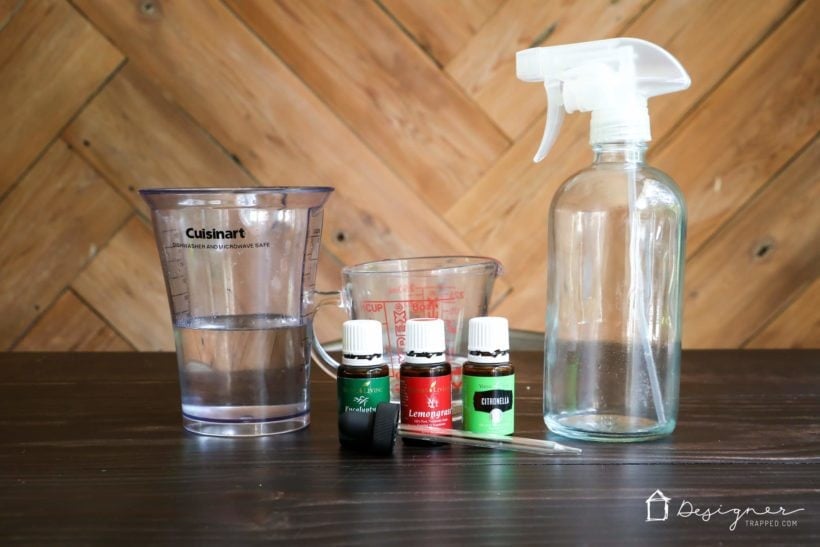 Steps:
1) I use a 16 ounce glass bottle for my homemade bug spray. Begin by pouring 8 ounces of witch hazel (it acts as an emulsifier) into the bottle.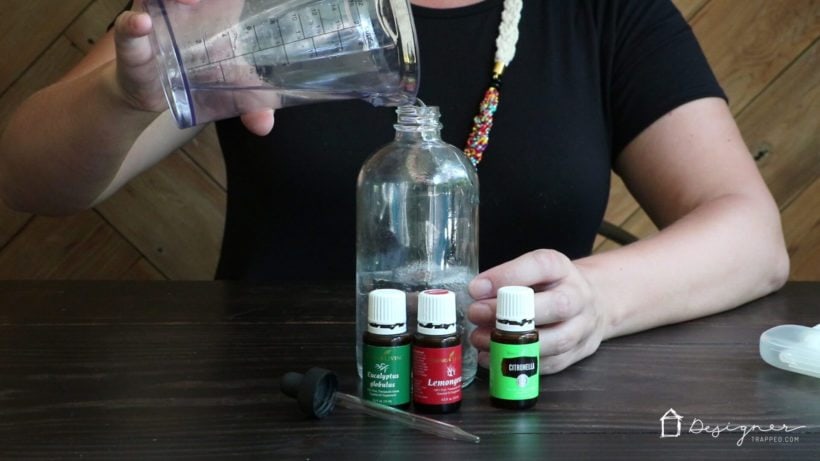 2) Next, add 2 ounces of water.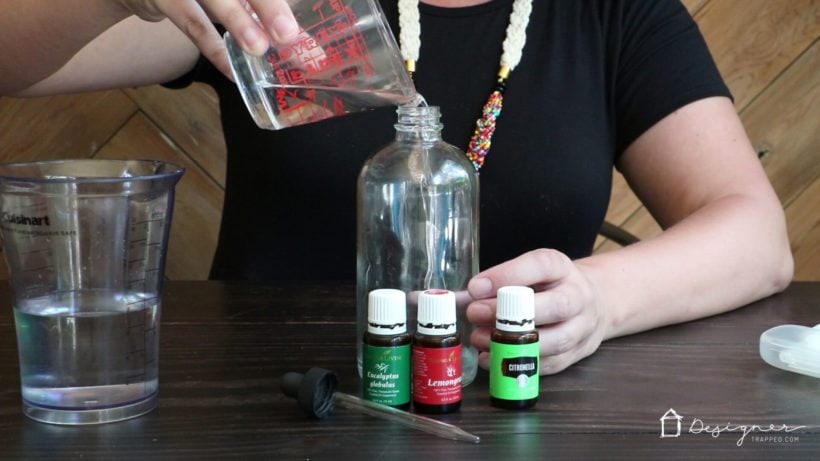 3) Now it's time to add your essential oils. For a 12 ounce mixture, I recommend approximately 150 drops of essential oils. Since I chose to use 3 different essential oils to use in my spray, I added approximately 50 drops of each. I counted drops the first time I made it, but now I add one dropper full of each essential oil, which translates to approximately 50 drops.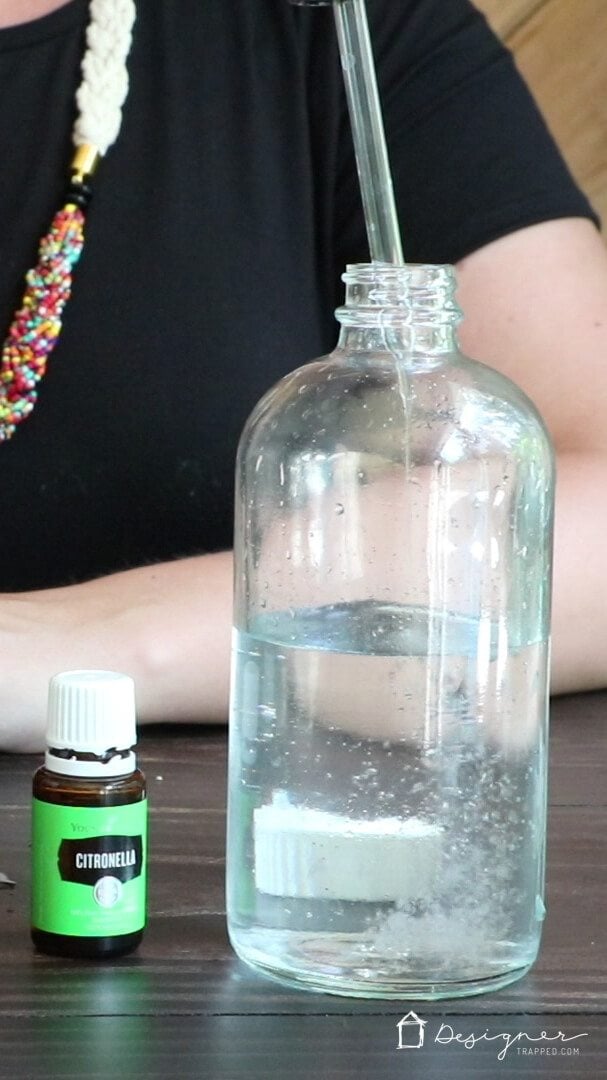 4) Shake well before each use.
That's it! Isn't that EASY?! Check out the finished product! You can fill out the form below to have the free bug spray label template emailed to you!
Now, let's talk about the cost breakdown. I am not going to include the cost of the bottle, since that is reusable. Also, bear in mind that each 15 mL bottle of essential oils contains approximately 300 drops, so 50 drops is 1/6 of a bottle. Also bear in mind that I used Young Living essential oils (which are far more expensive than other essential oils you can purchase on Amazon), so you could make it for even less than I did!
TOTAL COST: $12.80 for 12 ounces –> .93 per ounce
GUESS WHAT?! On Amazon, Deep Woods Off is around $1.44 an ounce, depending on the variety that you get. So, for LESS MONEY you can keep bugs away from your family SAFELY and NATURALLY!
Want to share this with your friends so that they can keep their families safe from bugs AND from DEET?! Why not share it on Facebook or pin it to Pinterest?