DIY Winter Wreath, Boho Style!
Last Updated on March 3, 2022
This DIY winter wreath is an easy way to add a touch of Winter beauty to your home! The Boho style of this winter wreath is so fun and different.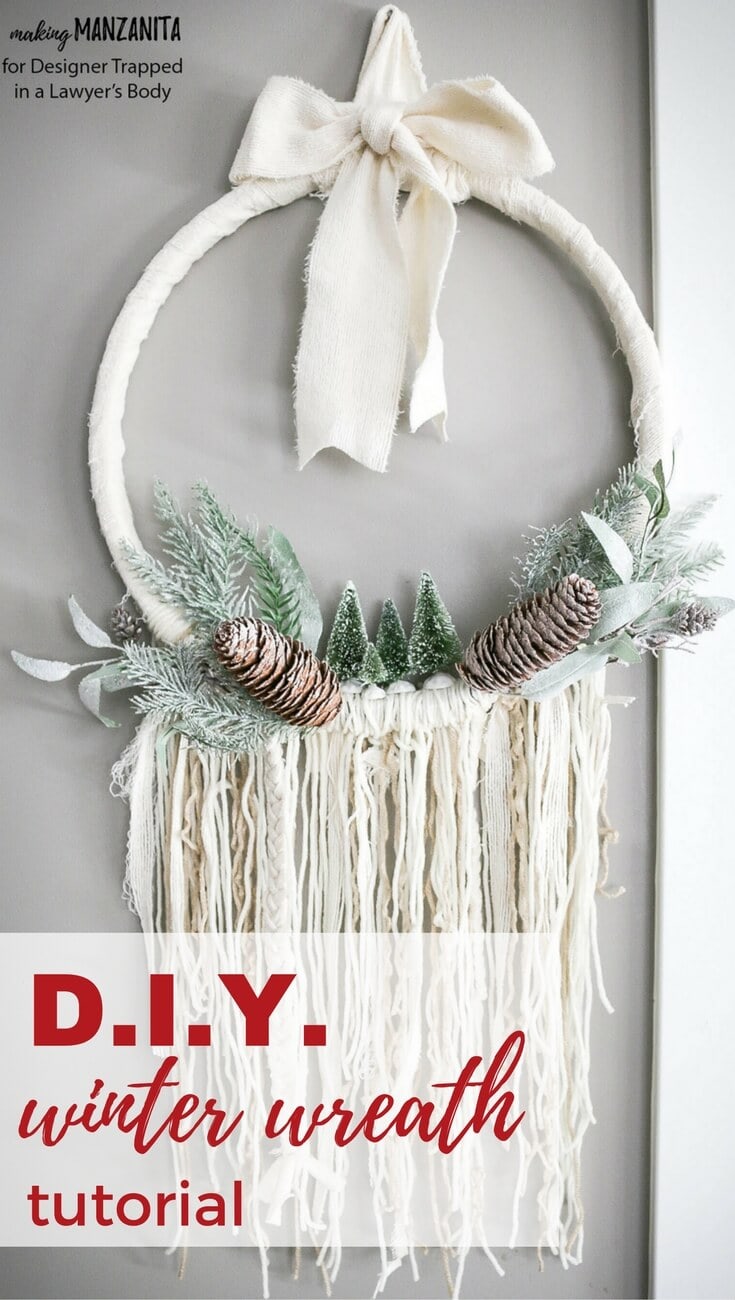 Hey there! Chelsea here from Making Manzanita, where it's all about making your house a home you love. I've found that many women get completely overwhelmed when it comes to how to decorate their home on budget. Especially for decorating for the seasons. Even if you're not in the habit of decorating seasonally, chances are that you're going to be doing some holiday decorating. I'm thrilled to be over here on Designer Trapped today to share this gorgeous and super affordable DIW winter wreath I made.
This boho winter wreath brings in all of the feel-good cozy vibes that winter decor should, and can be created for just $10. This winter wreath is great because you can keep it out even after Christmas has come and passed because of the fun winter theme. I love the soft, neutral color tones and how perfectly it fits in with the rest of my boho farmhouse decor style.
This post contains some affiliate links for your convenience (which means if you make a purchase after clicking a link I will earn a small commission which helps keep my blog up and running but it won't cost you a penny more)! Click here to read my full disclosure policy.
Are you ready to see how to make this boho winter wreath?

Supplies needed for 1 boho winter wreath:
White, cream colored fabric (I used a soft muslin)
White & tan yarn
Hot glue gun & glue
Scissors
Steps:
Step 1. Wrap embroidery hoop with strips of white fabric.
Using strips of ripped white fabric about 1.5" – 2" wide, wrap the embroidery hoop with fabric. To start the wrapping, you can tuck the end in between the hoops and then tighten. At the end, you can tie a knot on the back. Be sure the entire top of the embroidery hoop is covered (including the tightening screw). Feel free to use some hot glue if necessary.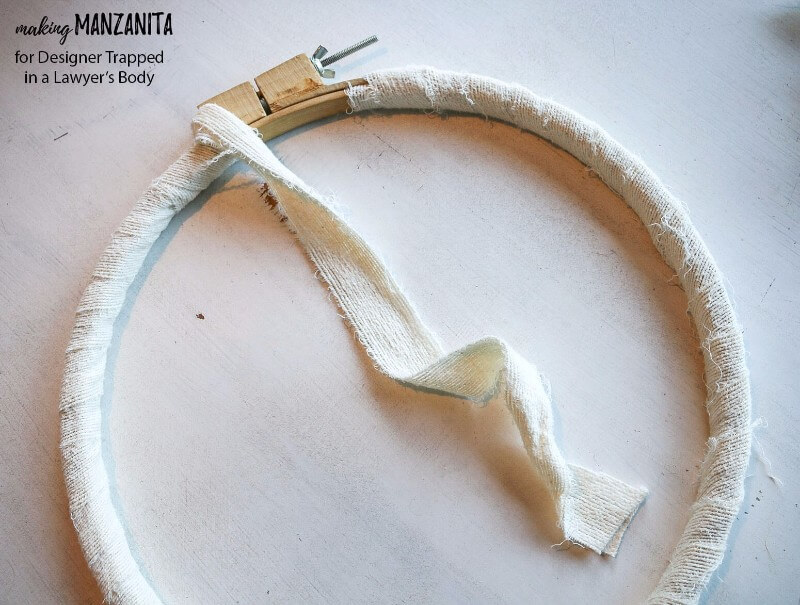 Step 2. Attach yarn to the bottom of the embroidery hoop.
This part was definitely trial and error for me. I started by sparsely adding in white pieces of yarn that were on the shorter side (about 30 inches long, but folded in half when they were attached, so about 15"). I decided I wanted the yarn hanging to be a bit longer, so I just started layering in more and more yarn of various lengths. Wanting a little more texture, I added ripped pieces of the white muslin fabric and even made a large braid from the fabric. Lastly, I threw in some tan yarn to create more depth and character to the yarn hanging. I kept adding and adding until I loved the look. If you want something a little more modern looking, you can keep the yarn straight with less texture and even cut the ends to be straight or diagonal.


Step 3. Add holiday floral picks.
I love these pretty holiday floral picks I found at JoAnn! They look frosted and are just perfect for a winter wreath that you can use all season long. Overlap the picks along the bottom middle of the embroidery hoop and then wrap floral wire around the ends of the items to attach them to the hoop. Leave a space about 4 inches wide in the middle for the mini sisal trees to have the spotlight.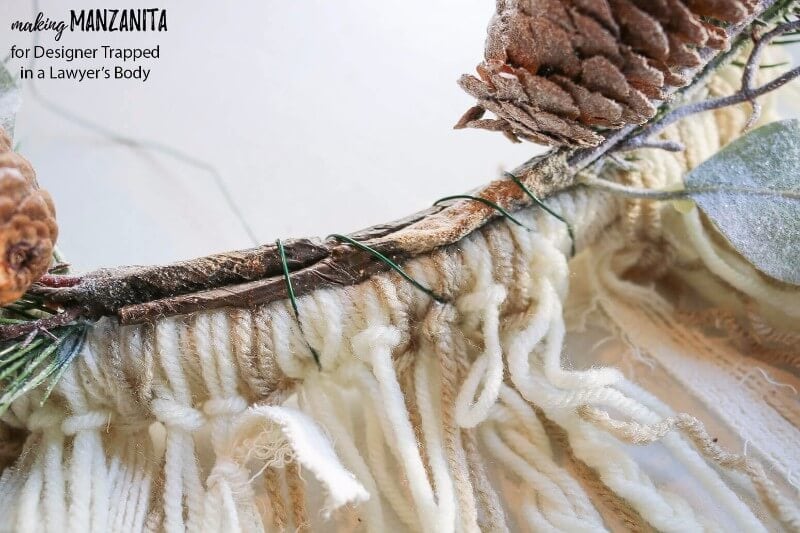 Step 4. Cover floral wire with yarn.
You definitely don't want to leave the ugly floral wire exposed, so you can cover this up by wrapping yarn around the hoop. This part was honestly kind of time-consuming because you had to weave the yarn through the hanging yarn, but it was worth it. It looks so much better covered up. After it is all wrapped, you may need to add a few more pieces of hanging yarn if the others got grouped together a little weird at all by adding the wrapped yarn.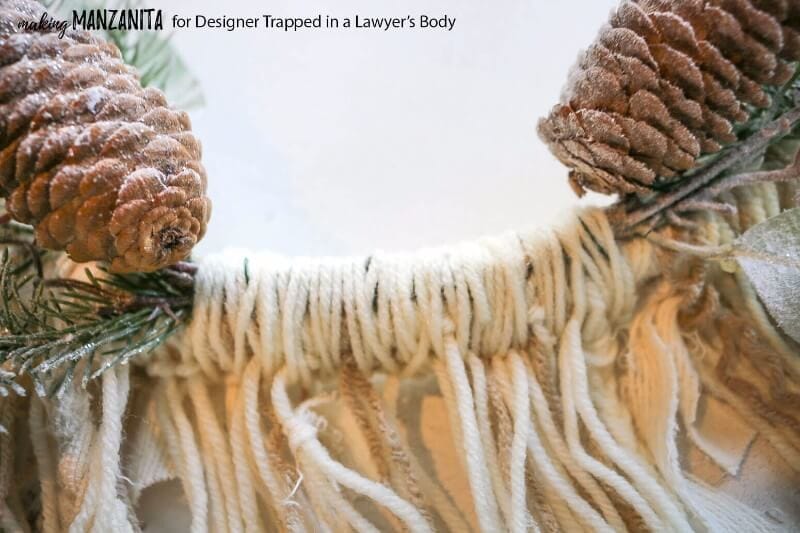 Step 5. Attach mini sisal trees
Using a hot glue gun, add in some of those cute miniature sisal trees to the inside ledge of the embroidery hoop in between the floral picks. Don't they just look adorable there?!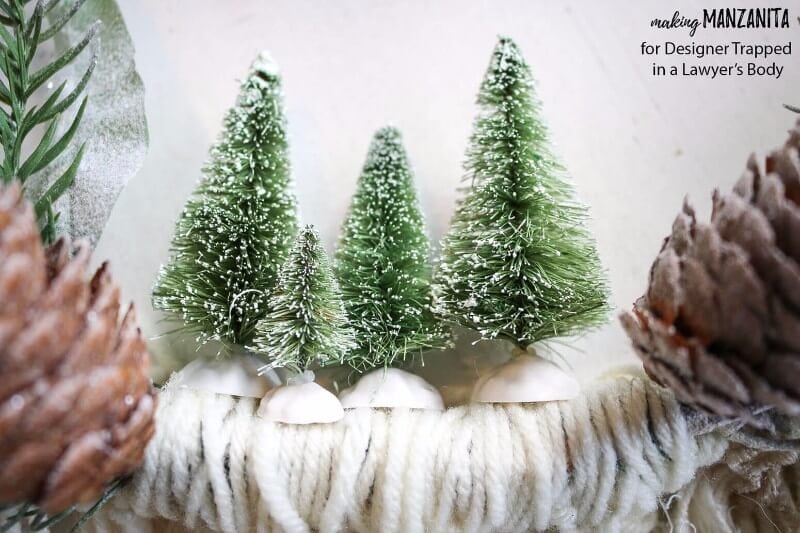 Step 6. Add hanger and bow.
For the hanger, use a 3 inch wide strip of the ripped cream colored fabric and loop it around the hoop and secure with hot glue. Then, add a simple bow of the same fabric and hot glue it to the front of the hanger.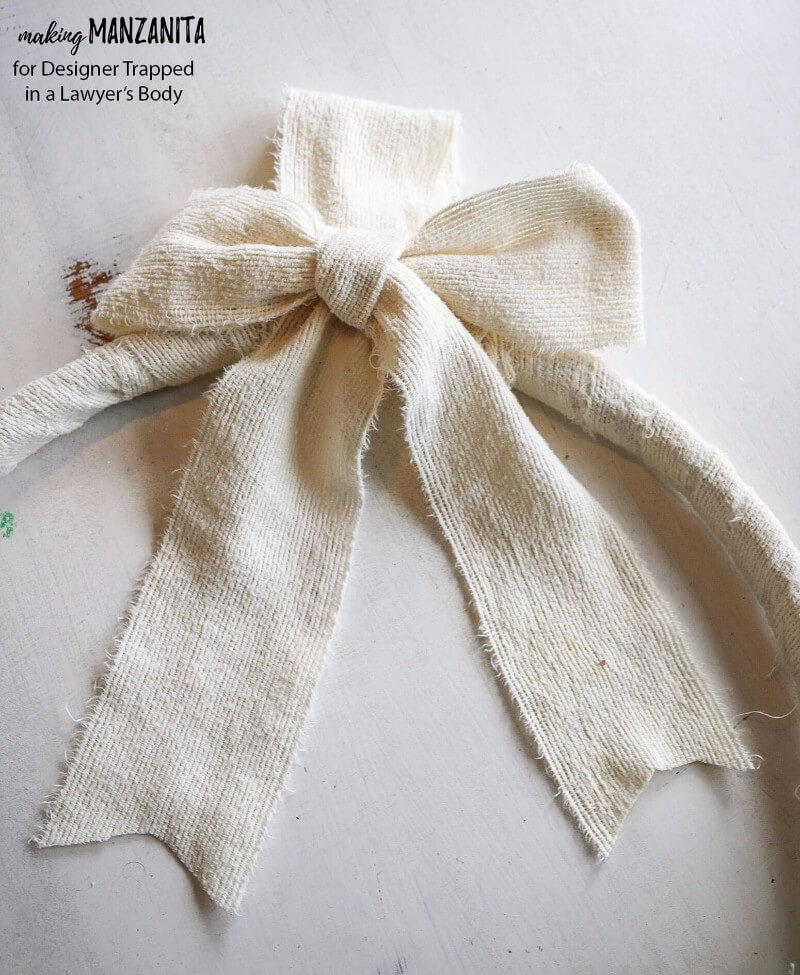 That's it! Now you can hang it up. Isn't she pretty?!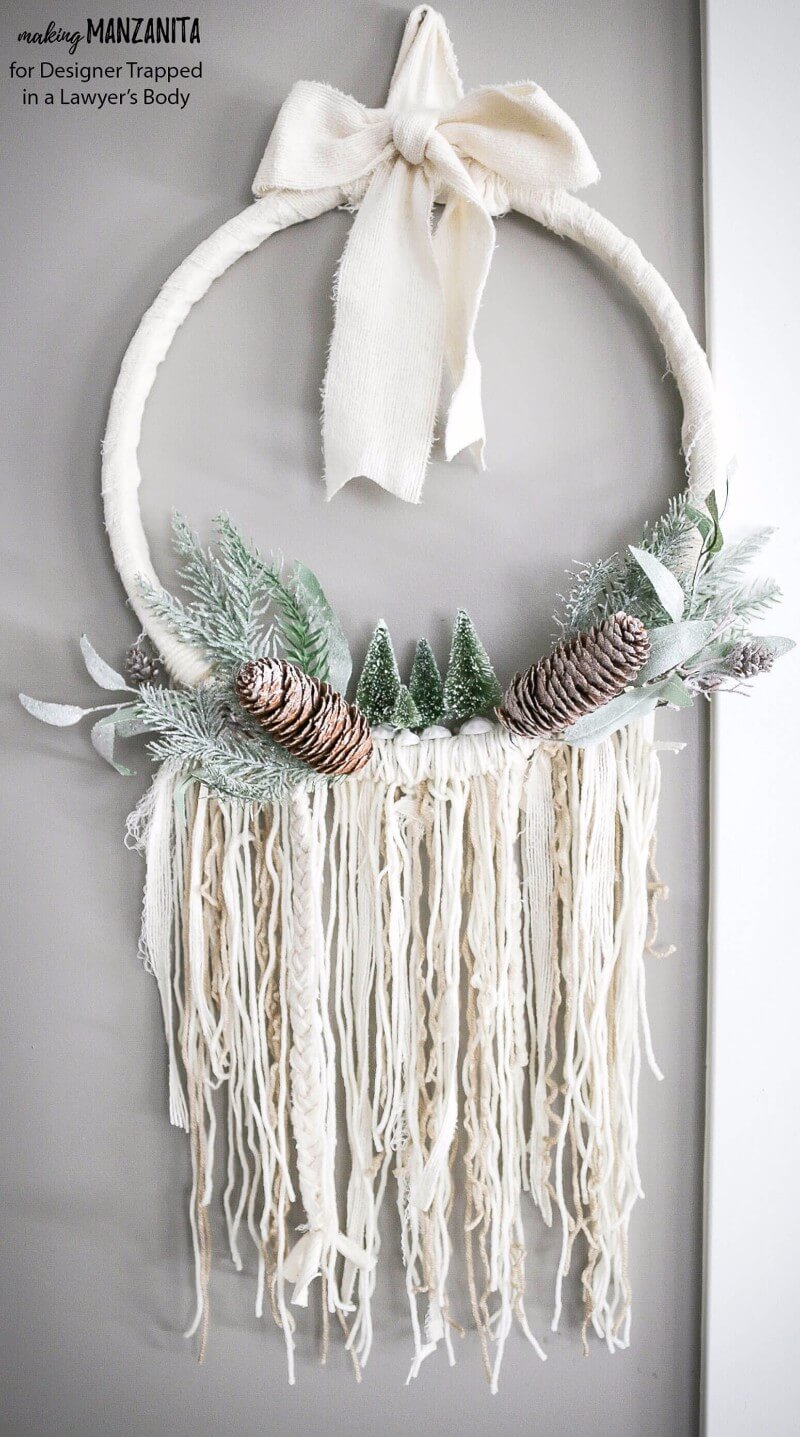 I'm kind of in love with this boho winter wreath. I love how soft and cozy it looks. It's going to be so convenient to keep this wreath out all winter season long. It will keep the house cheery even after the Christmas decorations have come and gone. Does anyone else get a little sad when you have to pack up the Christmas decorations? The house just looks so bare, so I like to do some special winter decorations that I can keep out longer.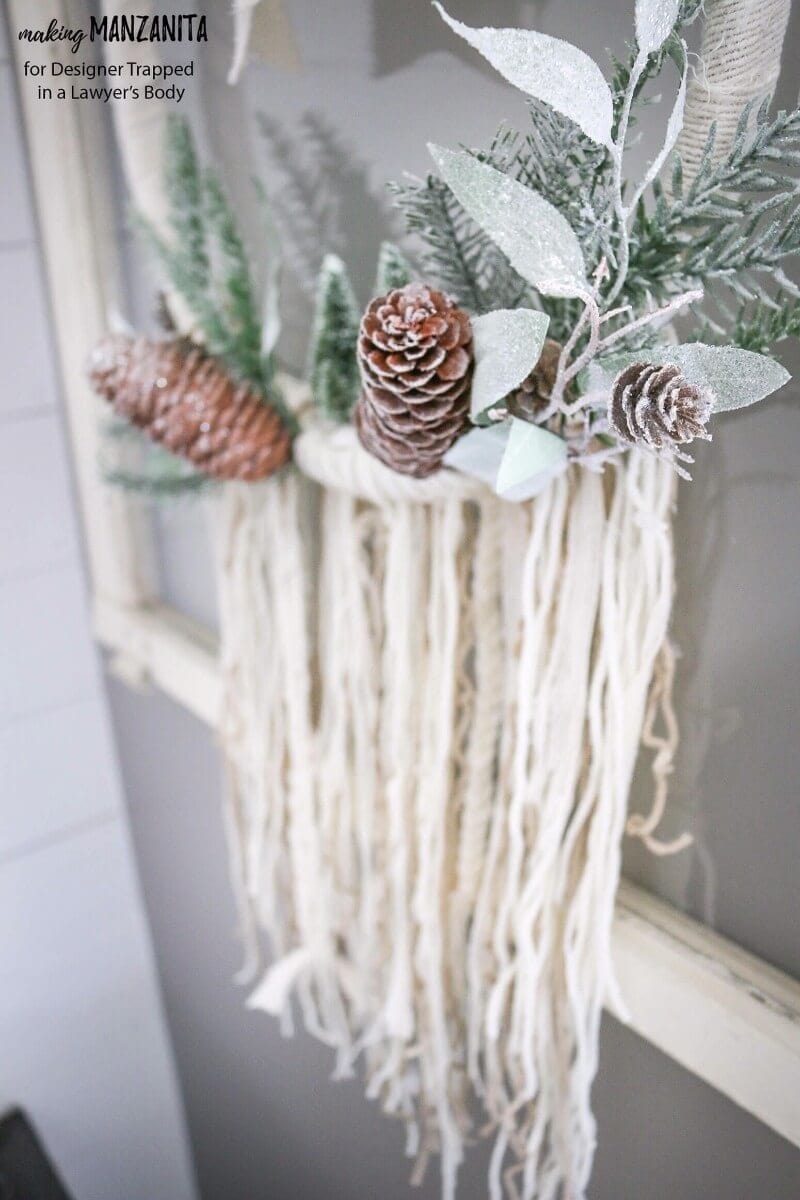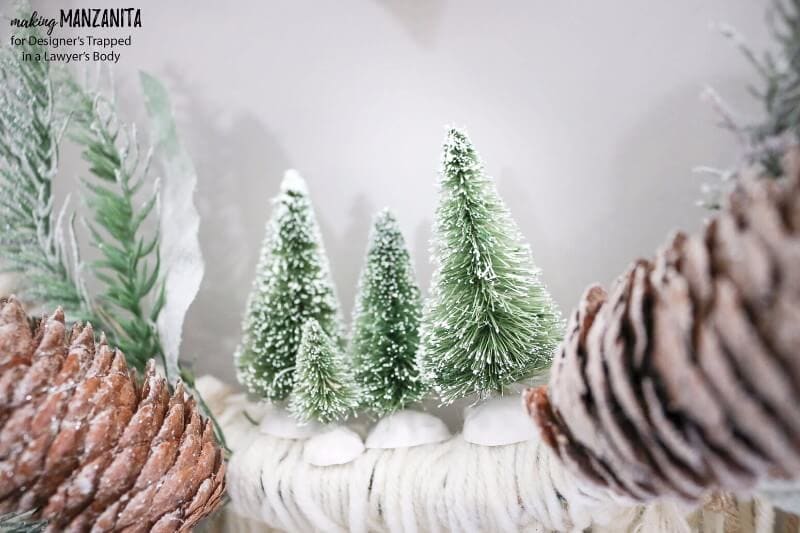 The best part about this boho winter wreath is how inexpensively you can make it! I only spent $10 on it…now that's what I call budget friendly! Even without spending a fortune, you can decorate your home for the winter season!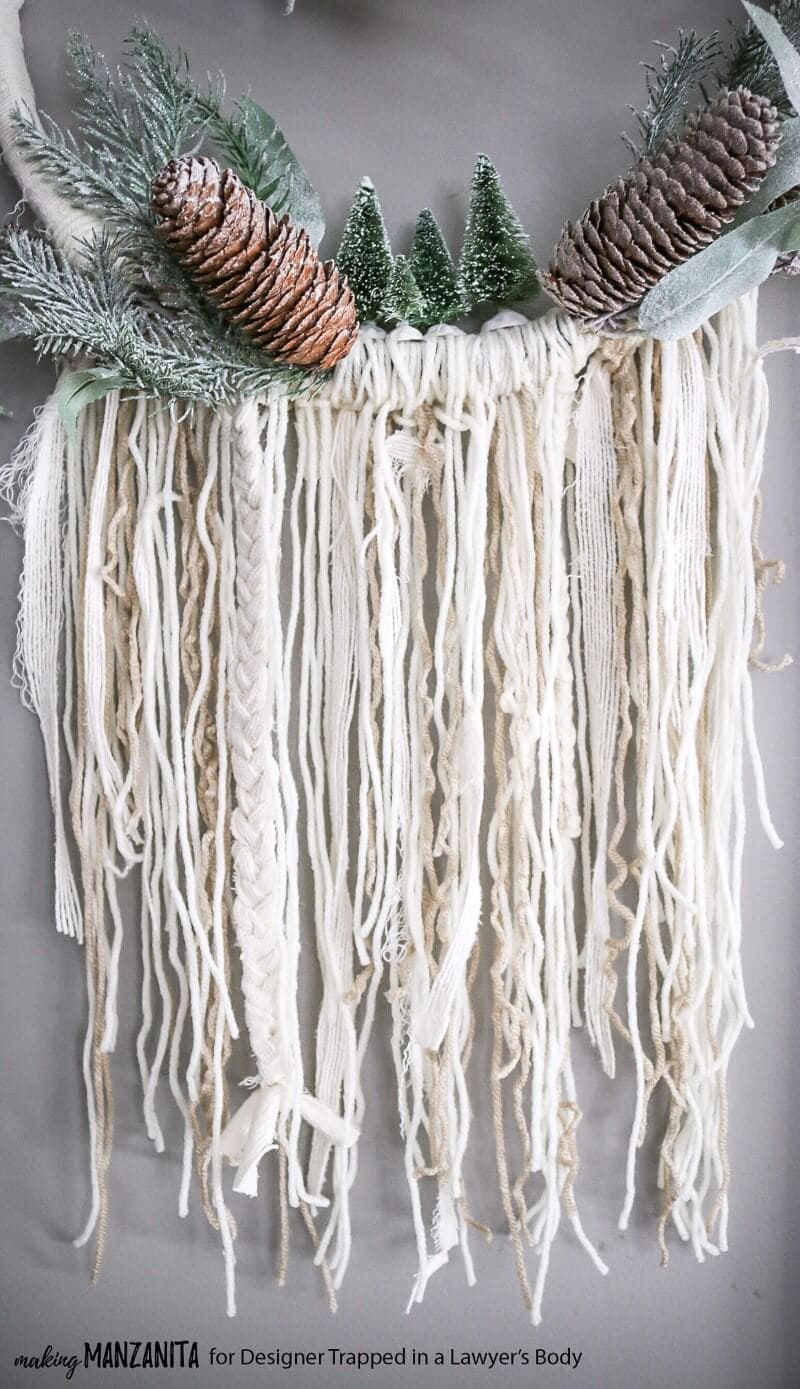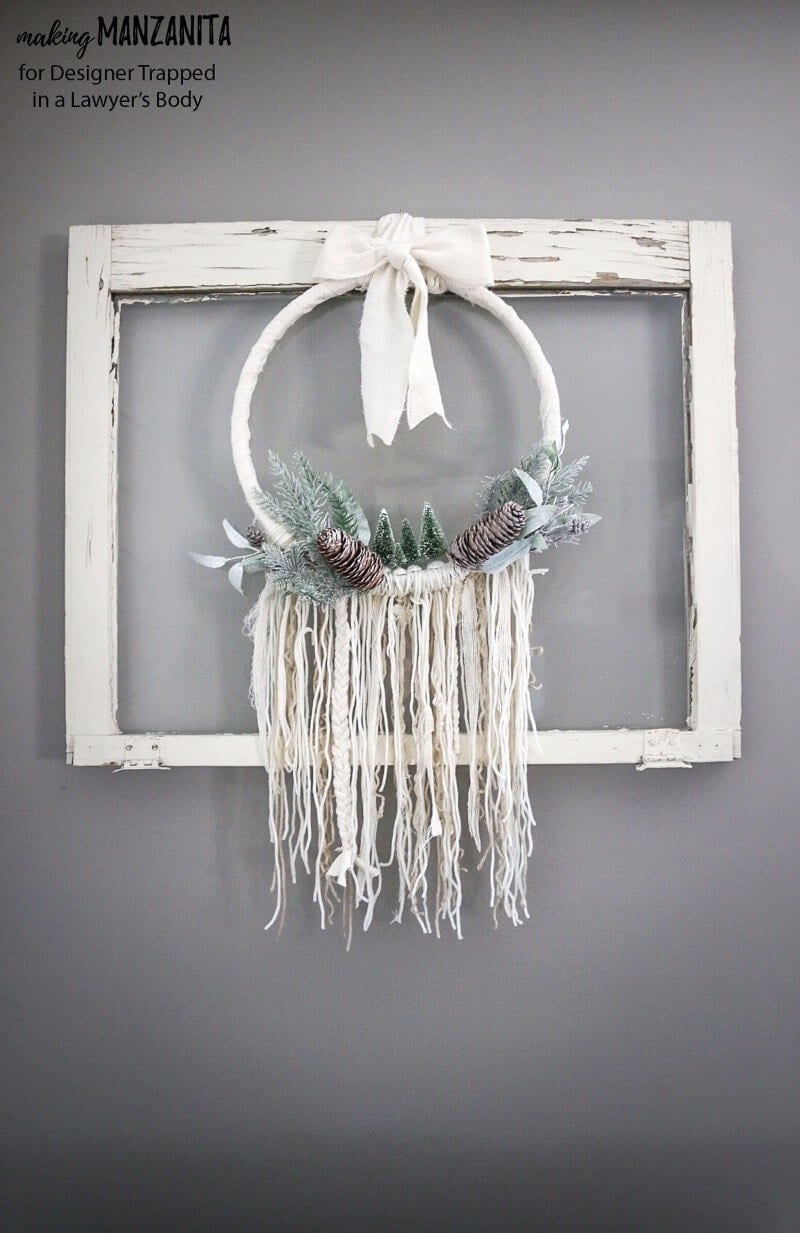 Isn't this boho wreath amazing? I love it so much! Before you leave, check out these other awesome holiday projects from my blog, Making Manzanita!
​
[mv_create 1 11 200 2016 key="1″ type="list" title="Most Popular Projects" thumbnail="</span><a href=" https designertrapped com wp content uploads diy home decor projects blog jpg target="_blank" a span]​