Our Navy Blue & Eclectic Dining Room Reveal
Last Updated on March 3, 2022
We've been working on our dining room makeover for 3 weeks and now it's DONE! Come check out our navy blue & eclectic dining room reveal :)
Y'all. The day has finally arrived! For the past 3 weeks I've been working with 11 incredibly talented of bloggers and 2 amazing sponsors for a "Choose Your Own Adventure" room refresh hosted by my friend Jewel of Jeweled Interiors. I chose to refresh our dining room, and it's finally done! You can find a complete source list for what you see in the room toward the bottom of this post :)

This post contains some affiliate links for your convenience. Click here to read my full disclosure policy. This Choose Your Own Adventure Refresh is sponsored by Hudson Valley and Minted. I am so grateful for their support.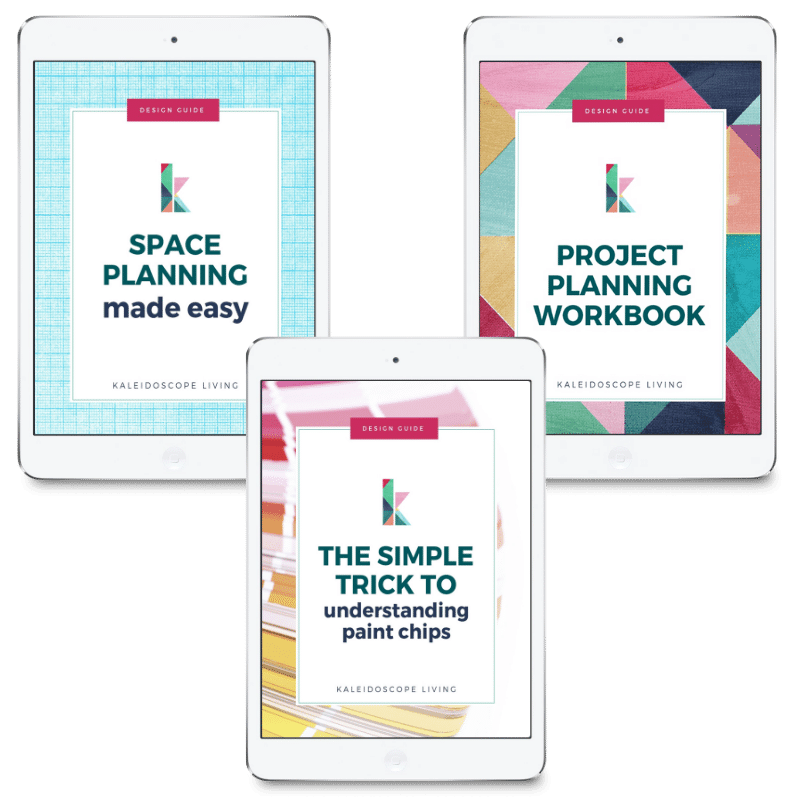 Get my FREE design guides when you subscribe!

Now, before I share with you lots of photos of the reveal, here's a reminder of what the dining room looked like before I got started. I haven't photographed my dining room much in the past (because it just never felt like our style–it didn't fit in with the rest of our house), so the best I can do is share these holiday photos with you, lol.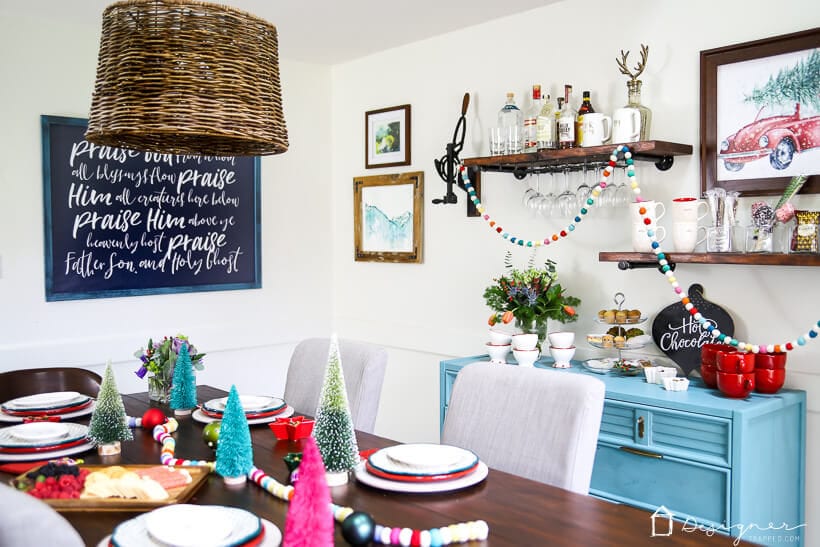 And here's what that same view looks like now. It feels so much more simple, but dramatic at the same time. We looooove it!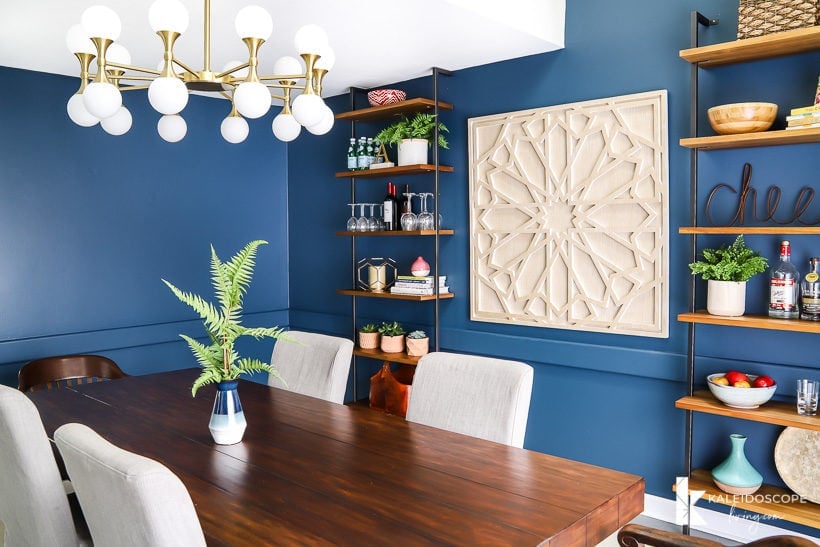 Here's another view of the "before".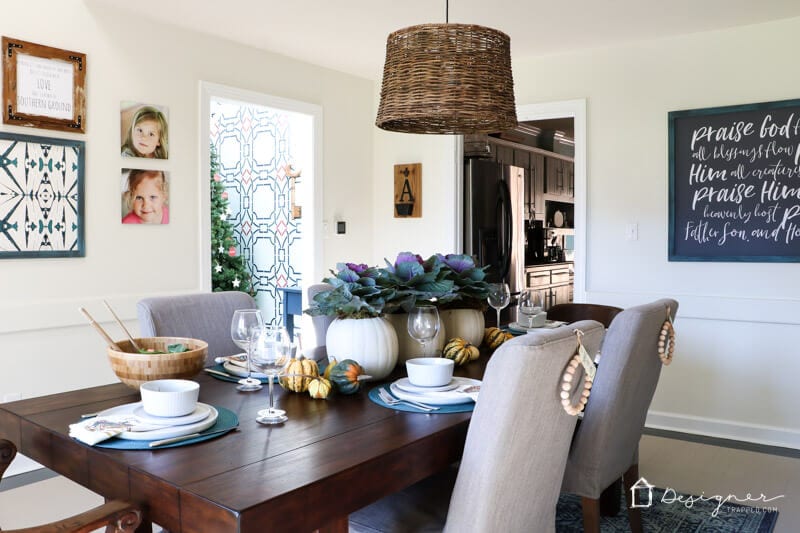 And the same view now.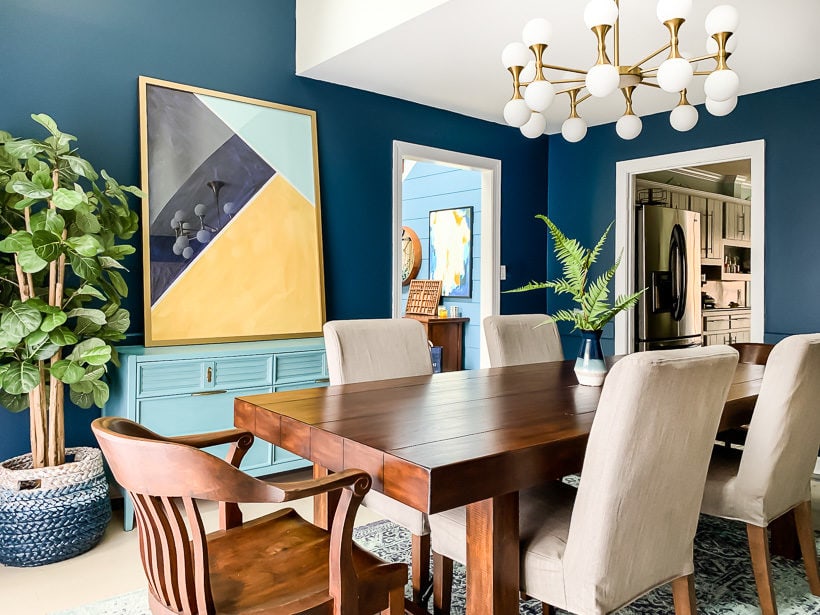 Here's a list of everything we did:
Painted the walls a dark, moody teal color
Painted the ceiling (it needed to be refreshed)
Installed new artwork
Hung the new chandelier
Installed a new double curtain rod and curtains
Assembled and installed the bookshelves
If you've followed along with this process from start to finish, you may have noticed that we did not install the wall sconces we had planned on. In the end, I just didn't feel like they were needed or that there was room for them. So, I'll be returning them (saving money–yay).
We also haven't sanded down our table to lighten the finish. The reason is simple. Our kitchen remodel begins on March 18th and the wall between the kitchen and dining room is coming down. And during the kitchen remodel, new flooring will be installed in the dining room. So, we've decided to wait until those two changes are completed before we decide whether we really want to sand down the table or not.
Okay, enough chatter. Time for more photos our navy blue/peacock blue eclectic dining room!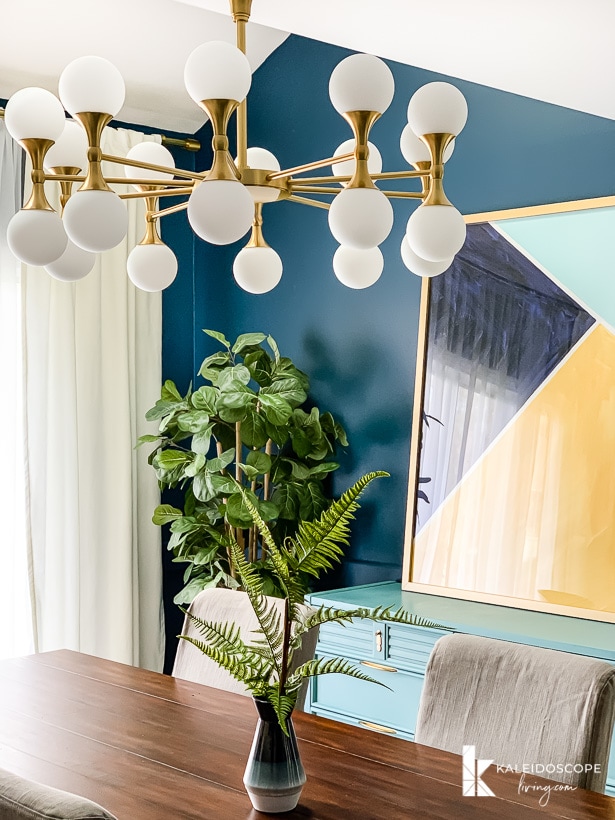 This photo shows my 3 favorite changes in the room:
The new chandelier from Hudson Valley Lighting. I didn't know it was possible to love a light fixture as much as I love this one. I may pet at it and stare at it lovingly several times a day. Totally normal.
The HUGE piece of art from Minted. Y'all, Joe and I have both wanted this piece for a long time now, but we could never figure out a good spot for it. We wanted to really simplify this wall (that used to be a poor excuse for a gallery wall), so we decided we wanted just 1 giant piece of art and we knew this piece would be perfect. We needed something big because of the vaulted ceilings in this room. This sucker is 40 " x 54 " and it weighs a ton, but it's 100% perfection.
The wall color. There are so many blue paint colors I adore, for this space I wanted a dark and dramatic peacock blue color and that's exactly what I got! The color is Midnight in the Tropics by Behr Paint. It looks navy in some light, but in other light it looks teal. No matter what the light it, it's velvety and gorgeous. And the chandelier pops off it so perfectly.
We also installed these bookshelves on the opposite wall. I've wanted them for a couple of years now and I love them even more in person! They are also surprisingly affordable for the quality. And can we take a moment to talk about that wood carved piece?! I can hardly handle how much I love it.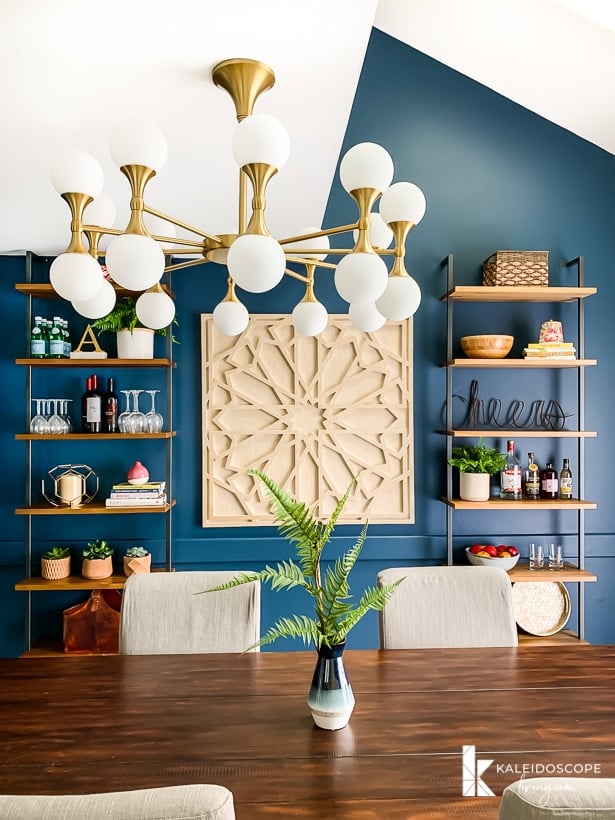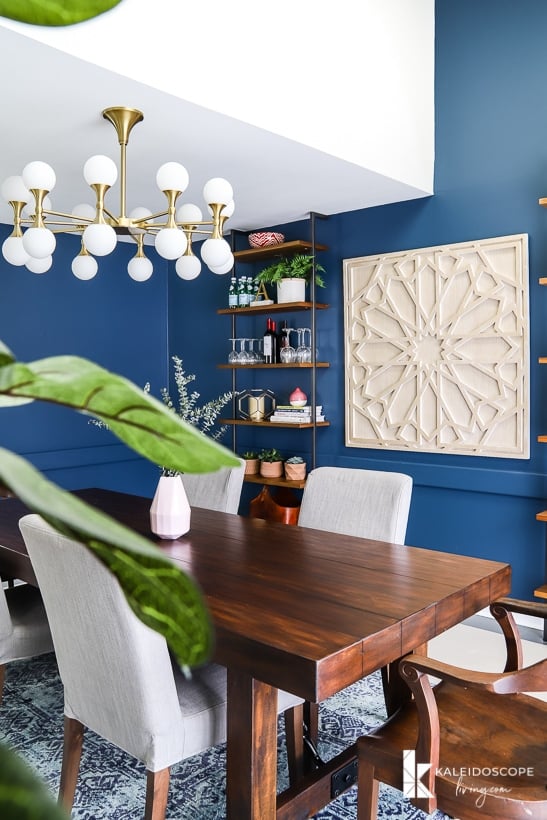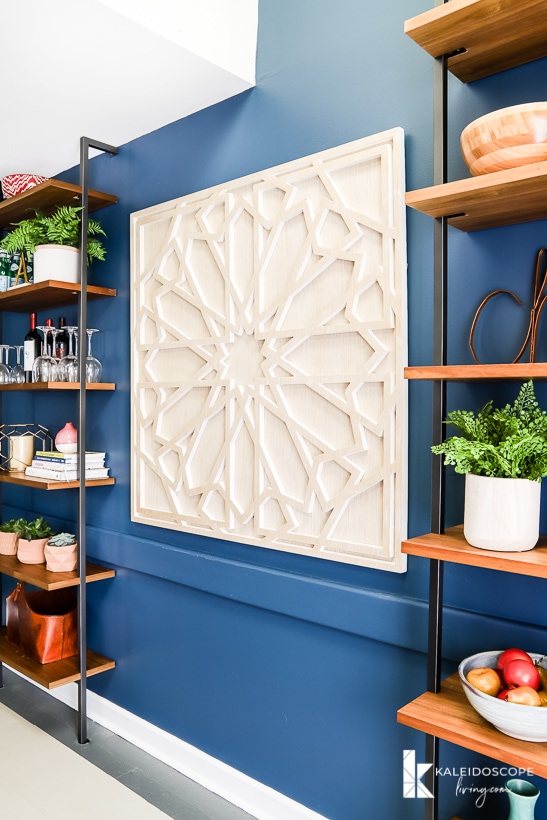 The new curtain rod and curtains are another big change in the room. With such dark walls, I knew I wanted light curtains. I chose these super affordable cream colored velvet curtains for the outer rod and these insanely inexpensive sheers for the inner rod. It's exactly the look I was hoping for. In case you are curious, all of our curtains are 108″ long.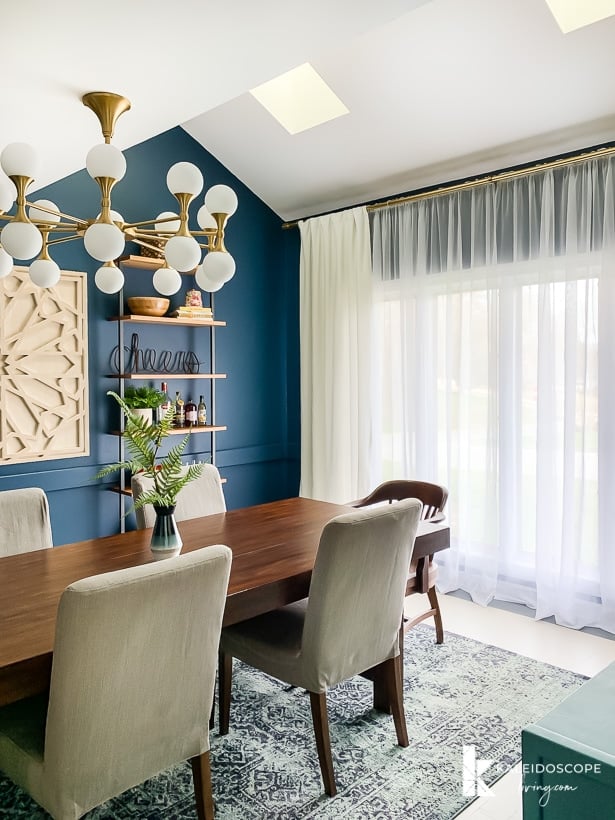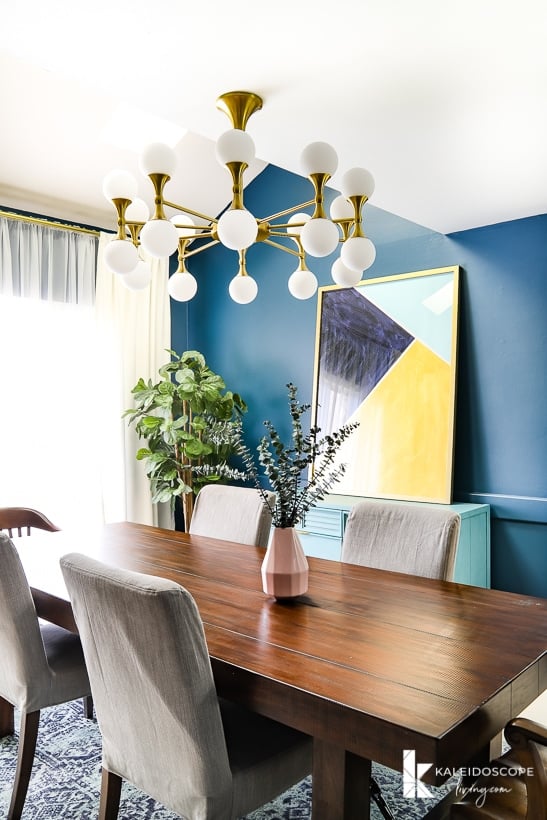 The view looking out into our foyer has changed so much! I love how our DIY plank wall looks when I peep into the foyer.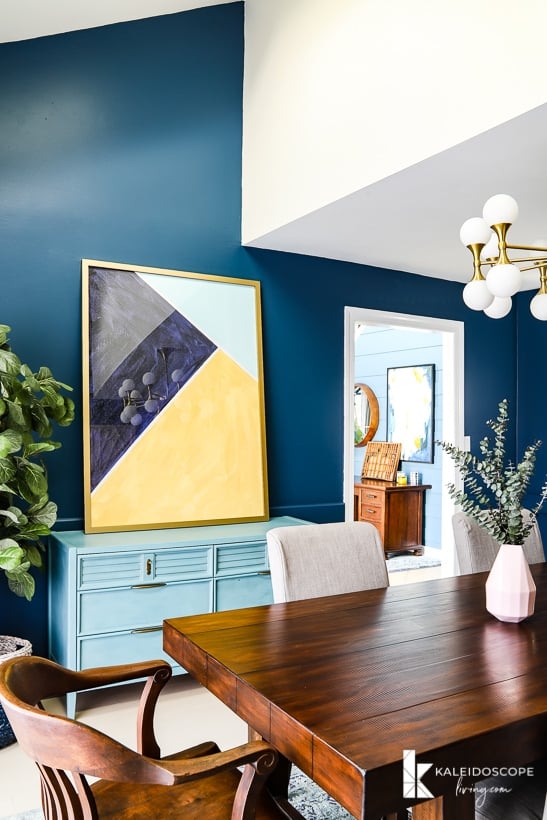 Now, I have just a few more shots that I love to share with you before I share the source list with you :)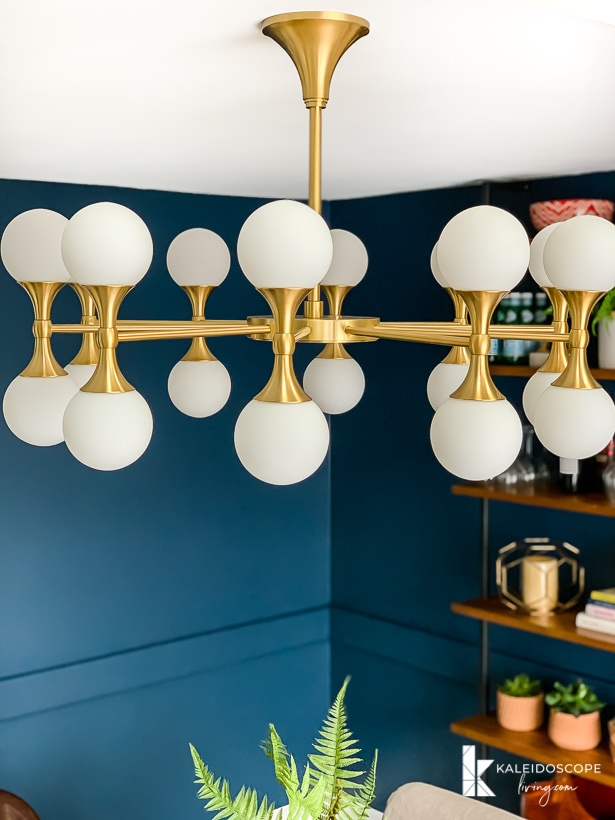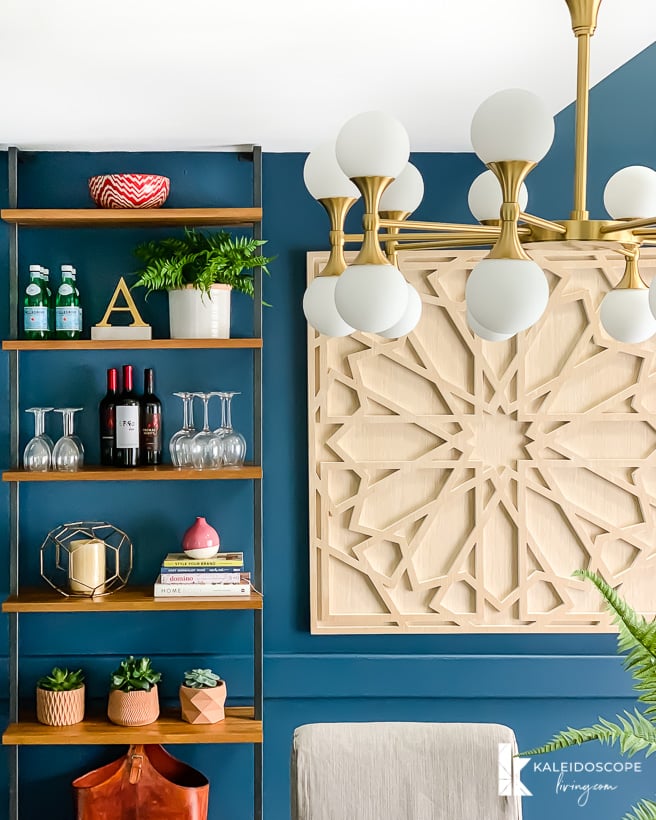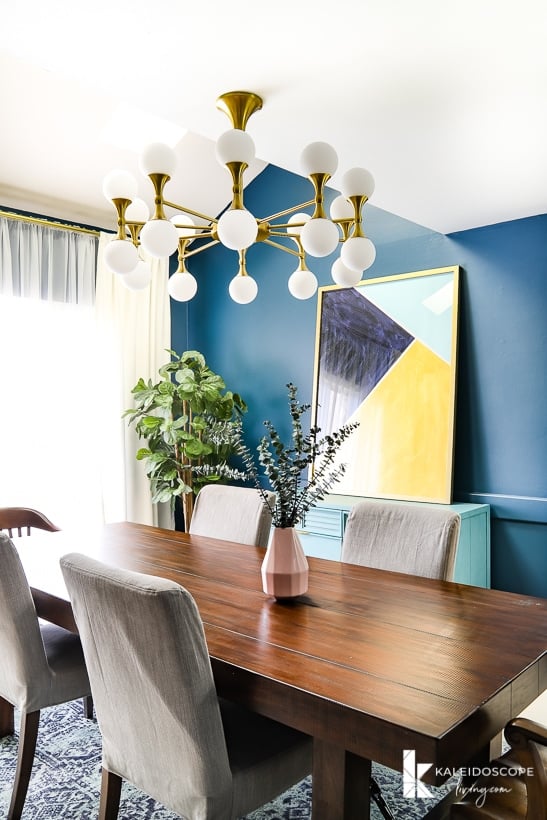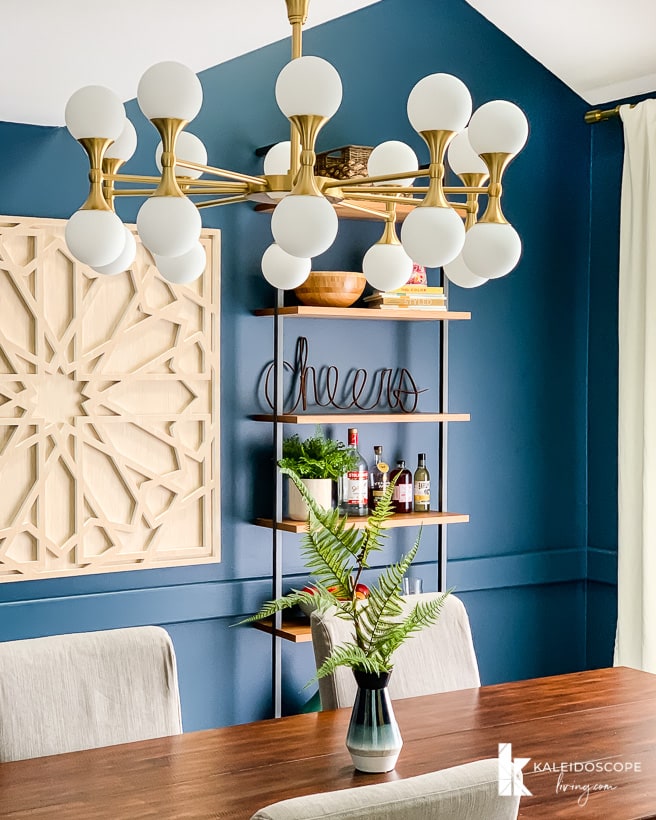 Phew! That was a long post and a lot of photos.
Dining Room Source List
Here's the source list I promised you. Click on any of the images below for full product details. And again, the paint color is Midnight in the Tropics by Behr Paint.

Well, that's it! I can't wait to see how it looks once the kitchen remodel is done, but we have a while until I can show you those views :)
Before you head out, check out the exciting plans from the 11 other bloggers that are joining in this Choose Your Own Adventure Refresh. You can click on any of the links below to head over to their big reveals. They are so talented–you will NOT be disappointed!
Jeweled Interiors | Haneen's Haven | Dimples and Tangles | PMQ for Two | House Homemade | Rain on a Tin Roof | Pencil Shavings | Our Fifth House | Kaleidoscope Living | The Pink Clutch | At Charlotte's House | Effortless Style Blog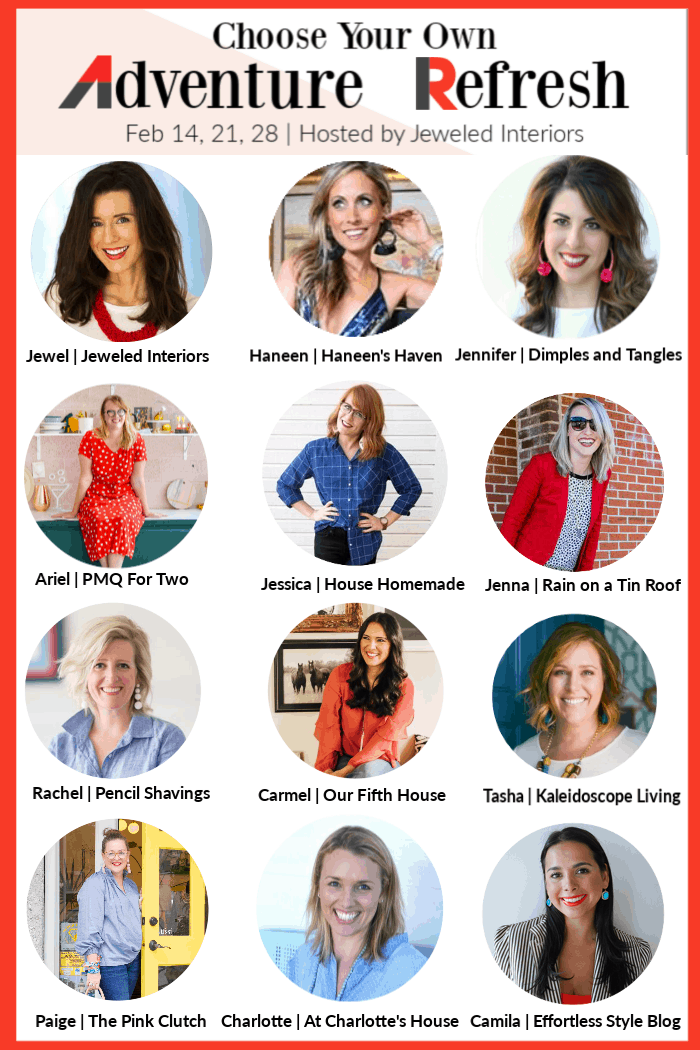 ​
[mv_create key="3″ type="list" title="Room Reveals" thumbnail="false"]​