Our Dining Room Makeover Plans
Last Updated on March 3, 2022
We are finally ready to make our dining room more "us." Read on to learn all about our dining room makeover plans!
Hey friends! We haven't tackled a full room makeover in a while, but we are about to tackle a big one this month. That's right. We are giving our dining room a big makeover.
I've teamed up with two awesome sponsors and 11 incredibly talented (and color-loving) bloggers for a "Choose Your Own Adventure Refresh" hosted by my friend Jewel of Jeweled Interiors. More on that later in the post :) I have no doubt that our dining room refresh is going to be quite an adventure.

Let's take a look at how our dining room looks now. It's possible you've never even seen it because I share it so rarely. Here are the most recent photos I have of the space, taken for my Christmas home tour.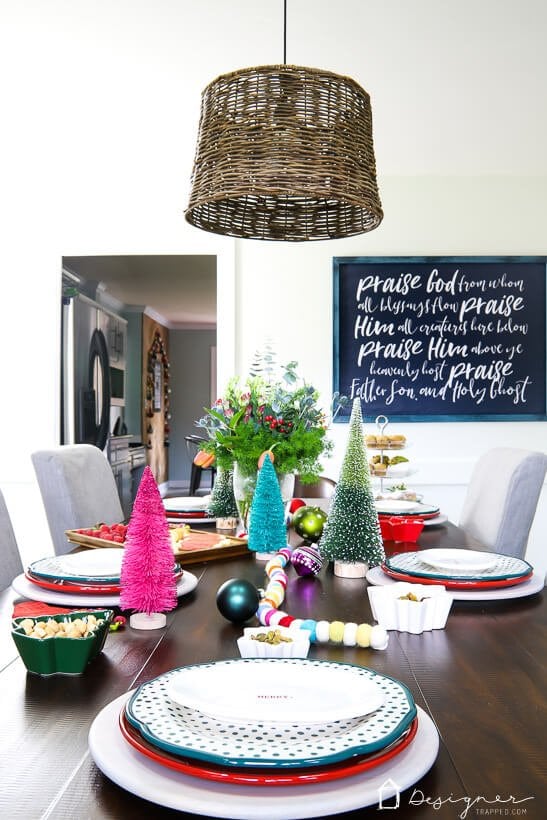 And here's another view from Thanksgiving last year.
This post contains some affiliate links for your convenience. Click here to read my full disclosure policy.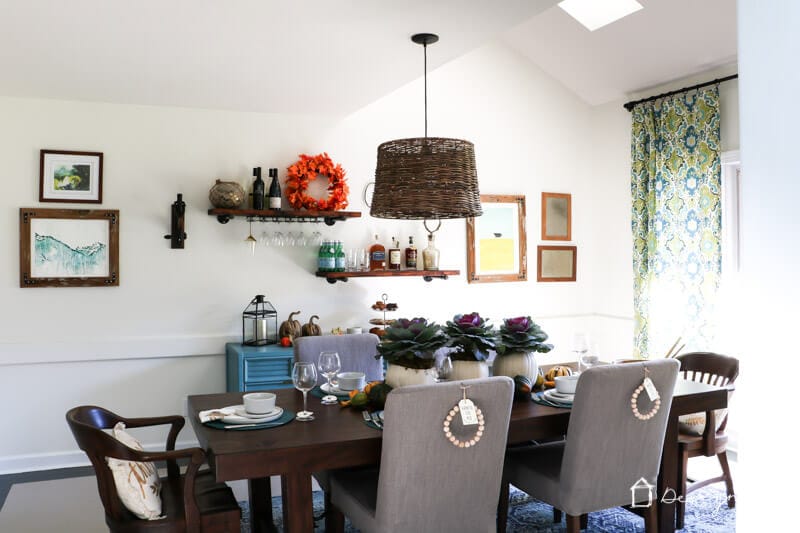 So what's wrong with our dining room? Well, technically nothing is wrong with it. In fact, I think it's pretty. But it's SO NOT our style. When I sit in it, I feel like it belongs in someone else's house.
How did that happen? Well, we gave it a makeover on a super tight budget many years ago. And so we made some hasty decisions that were solely driven by budget like that DIY light fixture and the rustic DIY frames that we made from an old fence we tore down from our backyard. So, overall, it has a farmhouse vibe that is not our style and doesn't flow well with the rest of our house. We don't do that now. We have a system we follow, thank goodness. (PS- you can grab a design guide for free by clicking the image below).
If you follow me on Instagram, you probably already know that next month we are completely renovating our kitchen. That plan includes removing the wall between our kitchen and dining room. YAY! Because the two spaces will be open to each other AND we actually eat dinner in our dining room every single night, it's time to update it to match our style and the overall aesthetic on the first floor of our house.
We are keeping the painted dresser (that we use as a buffet), the chairs, rug and table to keep our budget under control, but the table will be modified some.
There are two elements in the new room that I really based the entire design around. First up, the Hudson Valley Lighting Astoria Chandelier. When Hudson Valley agreed to partner with us for this Choose Your Own Adventure Refresh I was PUMPED because I have drooled over so many of their light fixtures for so many years. And once I got serious about choosing a chandelier for our new dining room, the Astoria in aged brass was the clear winner. Not only is is stunning, but it's going to give off so much light! Our dining room has suffered from super poor lighting (the 2-bulb chandelier we currently have is literally the ONLY lighting in the room) since we moved in 6 years ago. We are moving from 2 lightbulbs to 20 lightbulbs, so this chandelier is going to be a dramatic improvement for us!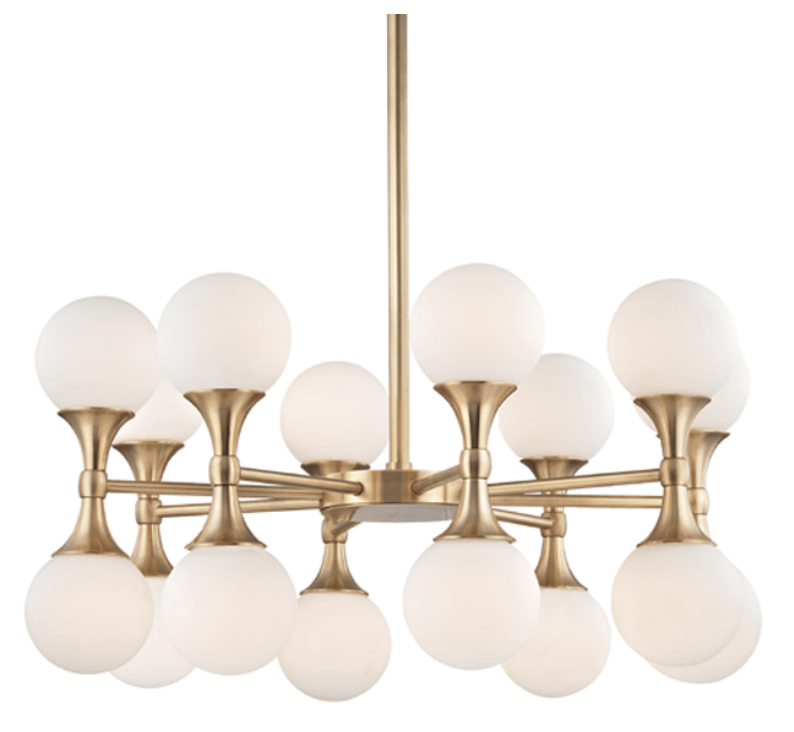 Next up, this art piece from Minted really set the tone for our dining room. Our home is already filled with art from Minted. You can see a ton of the minted art that we have in our home if you check out our home tour here. Our bedroom is full of Minted Art. Almost my entire gallery wall in my office is from Minted. And if you follow me on Instagram, you know that we recently filled our staircase with art from Minted, too (post coming on that soon). Even when choosing Minted art for so many other rooms in our home, Joe and I have always LOVED this piece, but it's just not been right for any of the other spaces in our home. So we were determined to use it in our dining room. So excited!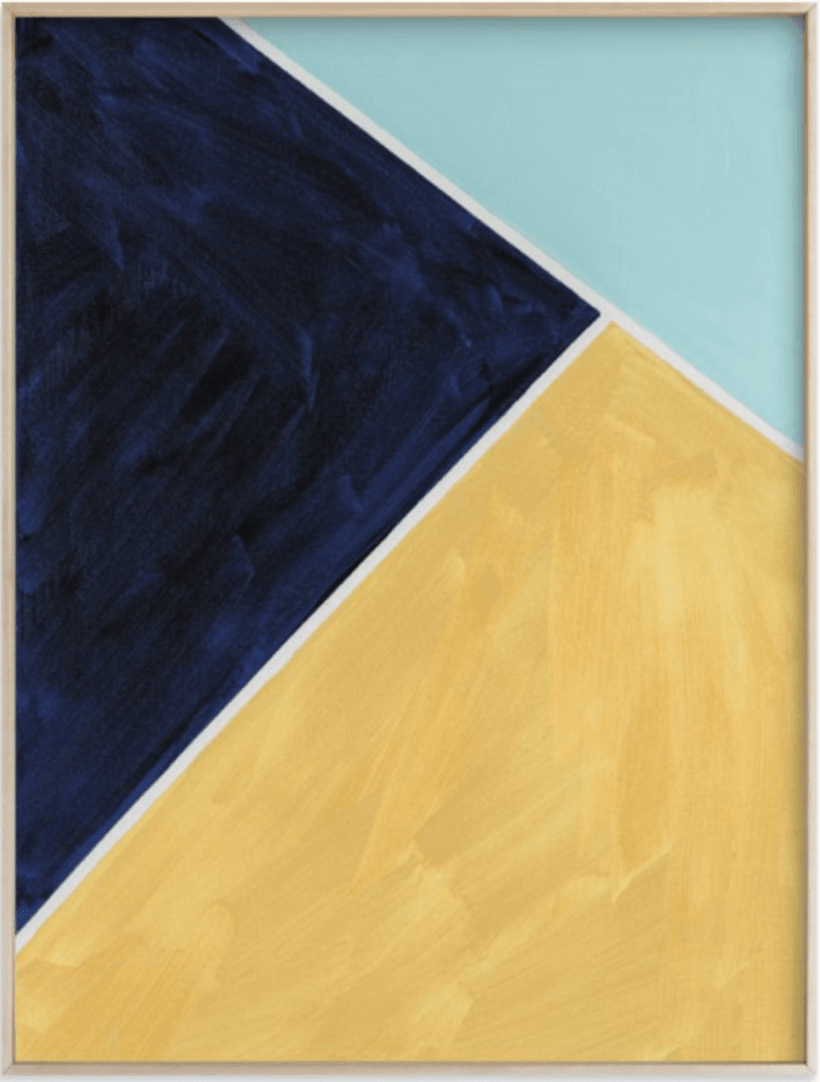 Now, let's take a look at the entire mood board! And don't worry, you can find links to the sources below the image.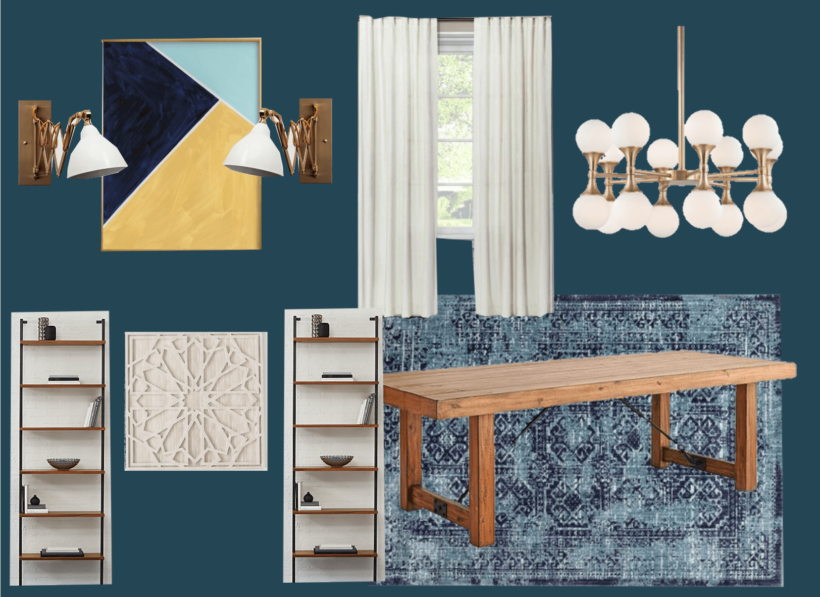 DINING ROOM MAKEOVER SOURCES
Click on any of the images below for full product details.

DINING ROOM MAKEOVER TO DO LIST
Here's a list of everything we need to do in the space:
Paint the walls a dark, moody teal color
Paint the ceiling (it needs to be refreshed)
Hang the new artwork from Minted (OBSESSED with this piece–I've wanted it for years) and the wood carved piece
Hang the new chandelier from Hudson Valley Lighting (this is what I am most excited about)
Install the wall sconces
Sand down our existing table to lighten the finish
Install a new double curtain rod
Hang the new curtains
Assemble and install the bookshelves
It's going to be a busy few weeks, but I'm excited to get started. I'll be sharing an update with you next week and then the big reveal on the 28th.
Before you head out, check out the exciting plans from the 11 other bloggers that are joining in this Choose Your Own Adventure Refresh. You can click on any of the links below to head over to their posts.
Jeweled Interiors | Haneen's Haven | Dimples and Tangles | PMQ for Two | House Homemade | Rain on a Tin Roof | Pencil Shavings | Our Fifth House | Kaleidoscope Living | The Pink Clutch | At Charlotte's House | Effortless Style Blog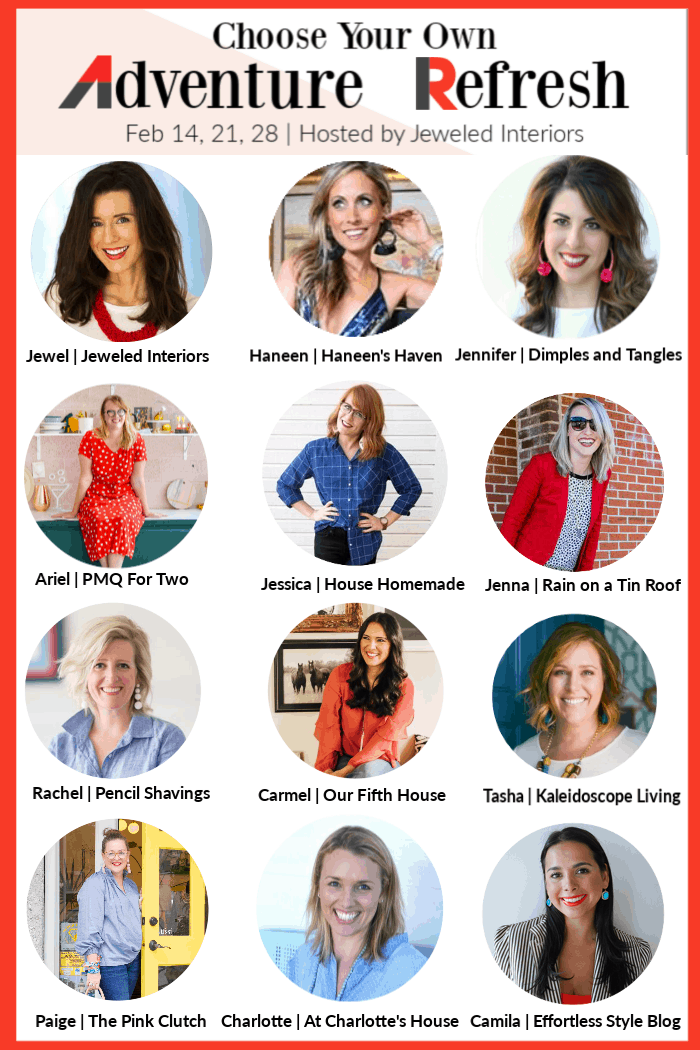 And don't forget to grab a free design guide, too!

​
[mv_create key="3″ type="list" title="Room Reveals" thumbnail="false"]​