DIY Abstract Canvas Art That Anyone Can Make
Last Updated on March 3, 2022
You do not have to have any artistic skills to make this DIY abstract canvas art. Follow this simple tutorial to create your own DIY art in less than 20 minutes.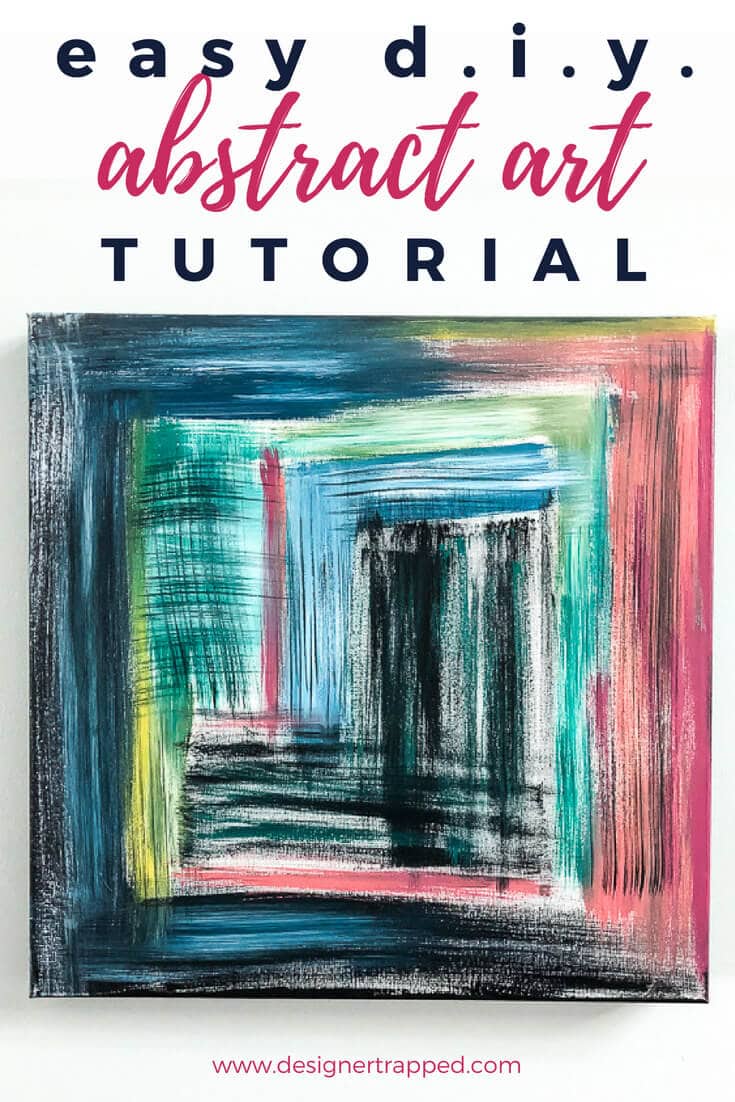 Do you fall in love with gorgeous abstract canvas art you see as you scroll through Instagram? I know I do. I follow lots of incredibly talented artists. Because I love color and abstract paintings, that's mostly what I see in my feed. I really thought about buying an original piece for our house not too long ago. And then I looked into the prices and quickly decided that wasn't going to happen. Don't get me wrong, I think they are worth every penny. And someday, I absolutely will invest in one or more pieces from some of the independent artists I follow. But right now, we are saving to renovate our kitchen, so original artwork just isn't something we want to splurge on right now.
But we have this one area in our bedroom that has just driven me crazy for a while. It's the small area between our bathroom and the entrance to our bedroom and it's where allllll the electronic eyesores are located. We have our alarm pad, our skylight control and our thermostat. Bleh.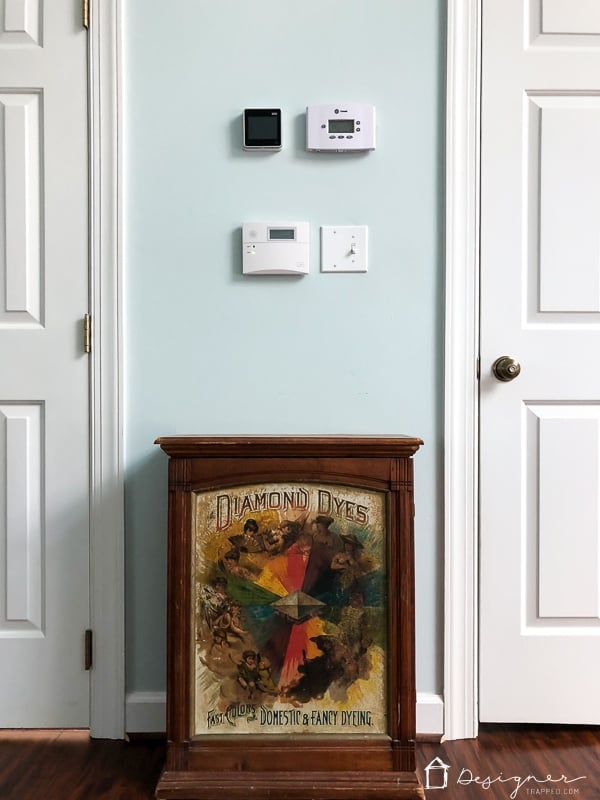 So, I decided to paint my own abstract canvas art and hang it with hinges on the wall to hide the eye sores. And today I'm going to teach you how I did it :) This DIY abstract painting is SO easy. Trust me when I tell you I have no artistic skills whatsoever. If I can do this, so can you! I'm sure there's a zillion things "wrong" with this and that it would fail any art critique, but I absolutely love how it turned out, which is all that matters :)
This post contains some affiliate links for your convenience (which means if you make a purchase after clicking a link I will earn a small commission but it won't cost you a penny more)! Click here to read my full disclosure policy.
DIY Abstract Canvas Art Tutorial
Materials needed:
Acrylic paint in a variety of colors (buy colors close to the colors you want to use–you can mix them to tweak them a bit, but it's easier if you start with colors that are close to what you are going for)
A canvas in whatever size you choose. I needed a square 20 x 10 inch canvas that is 1.5 inches thick to fully cover and clear the alarm pad, etc. You could you a thinner canvas if you aren't trying to hide any eye sores that protrude out of the wall.
Paint brushes (I used these inexpensive paint brushes)
Paper plates and toothpicks to mix your paint colors
Steps:
1) I began by mixing royal blue and black to create a dark navy blue. Then I painted the edges of my canvas with the navy color.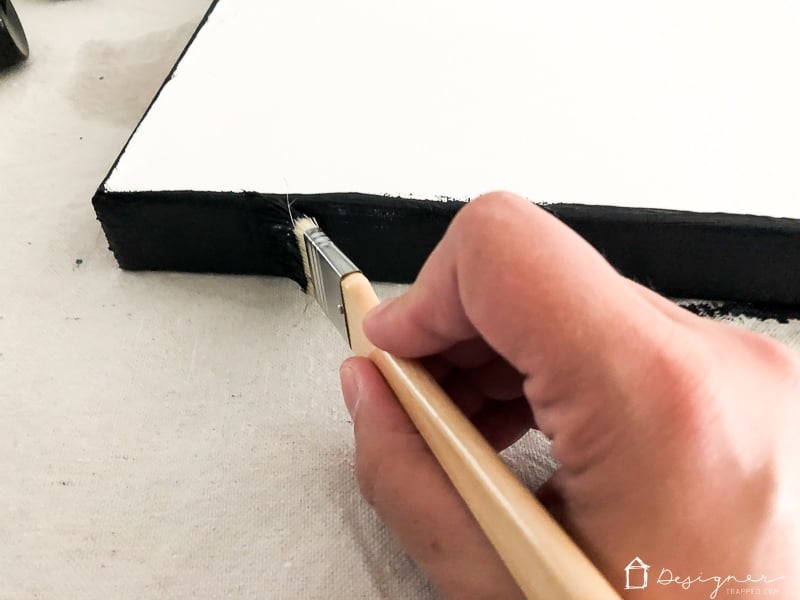 2) Next I used a 3 inch brush to brush navy along 2 sides of the canvas. I chose navy since I wanted it to be the "main" color in this abstract painting. Also, it was my darkest color and I knew I could layer lighter colors over it if I wanted to. After that, I really didn't have a plan! I mixed colors to go along with a similar color palette to this print that we have hanging above our bed. And then I just painted using straight brush strokes and right angles with 3 different brush sizes (3 inch, 2 inch and 1 inch). You'll notice that I tried to use a relatively dry brush because I wanted to white of the canvas to peek through. Where I wound up going a bit too heavy with the color, I would squirt a bit of white paint on it and work it in to lighten it up a bit.
You can see how it progressed below.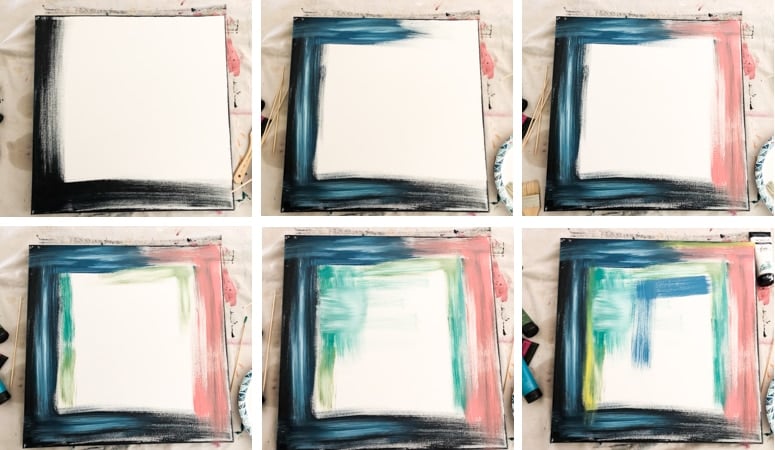 This is what it looked like after I filled the entire canvas. At this point, I let it dry completely.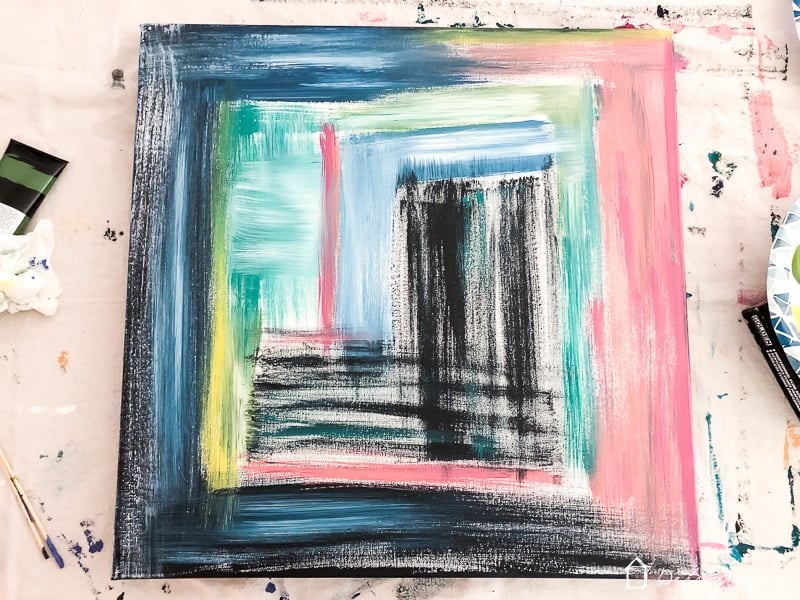 After it dried, I went back over some spots that felt a bit to white and clean to me with a tiny bit of navy (the brush was very dry) to create some noticeable "cross-hatch" marks and dry brush marks. And this is the final result.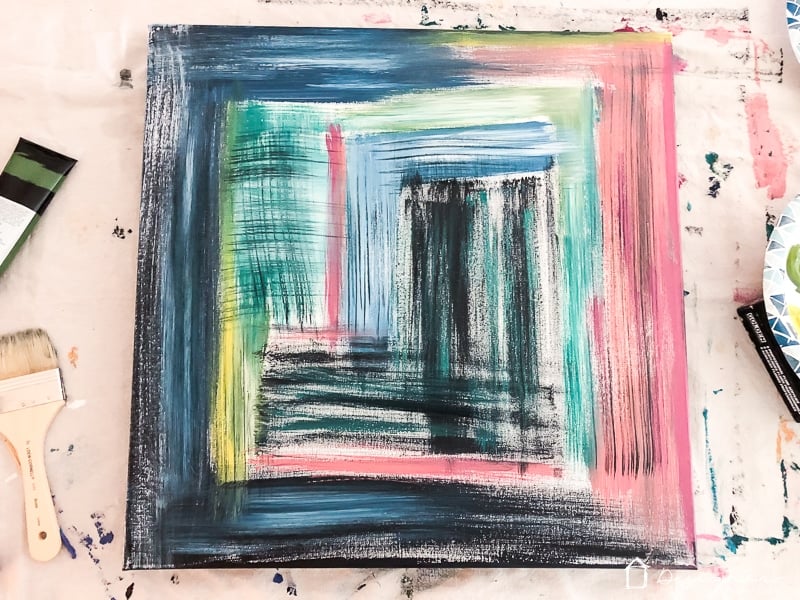 Again, I'm sure my DIY abstract painting wouldn't win any awards, but I absolutely love how it turned out and it was awesome being able to mix my own colors to perfectly match the color palette of our master bedroom.
3) Once it fully dried I attached it to the wall using small hinges. So easy. **NOTE: I do need to drill some small holes along the top and profile of the canvas so that our thermostat is able to read the temperature a bit better. I would recommend that you do that.**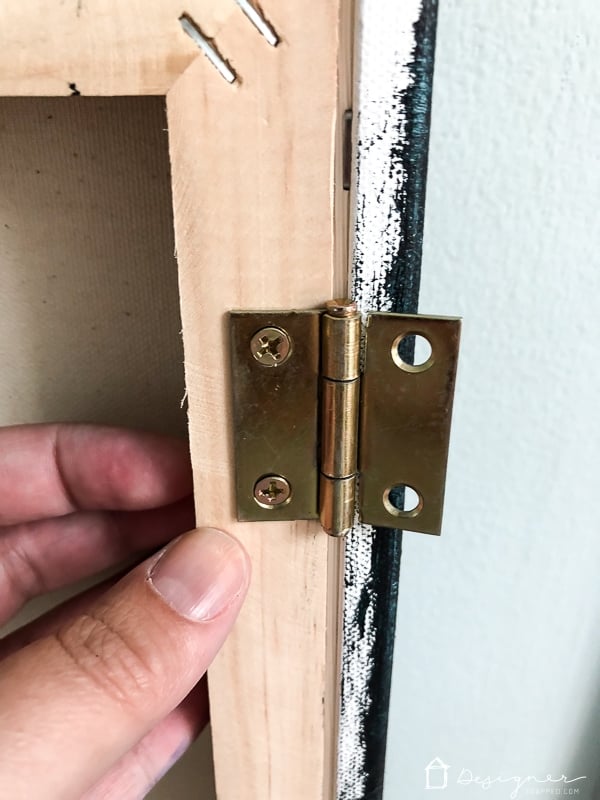 Now we have a beautiful abstract canvas in our bedroom AND we have covered those eye sores. Double win. It's easy to just swing the art open when we need to set the alarm, open our skylights or adjust the thermostat.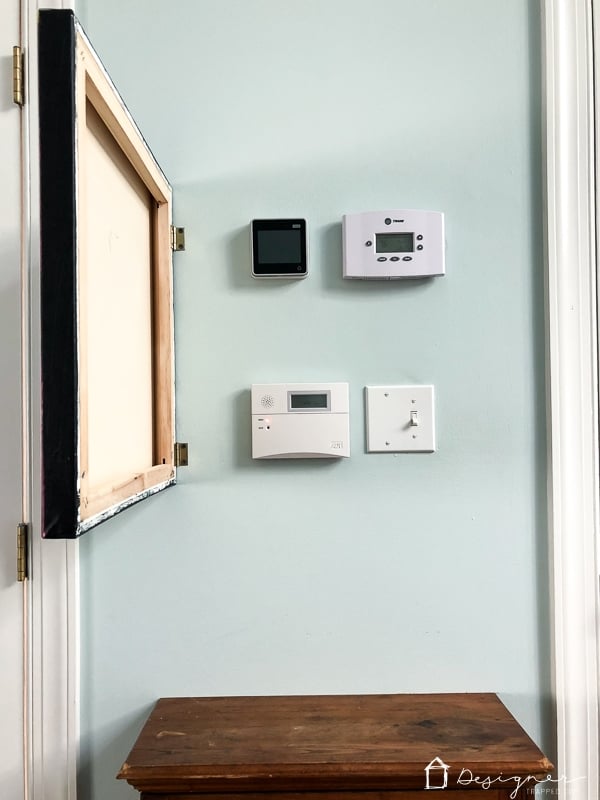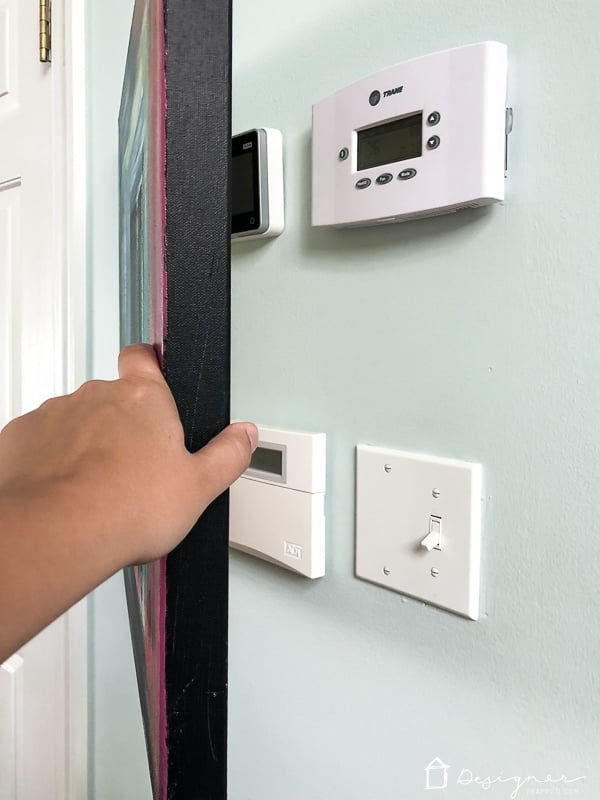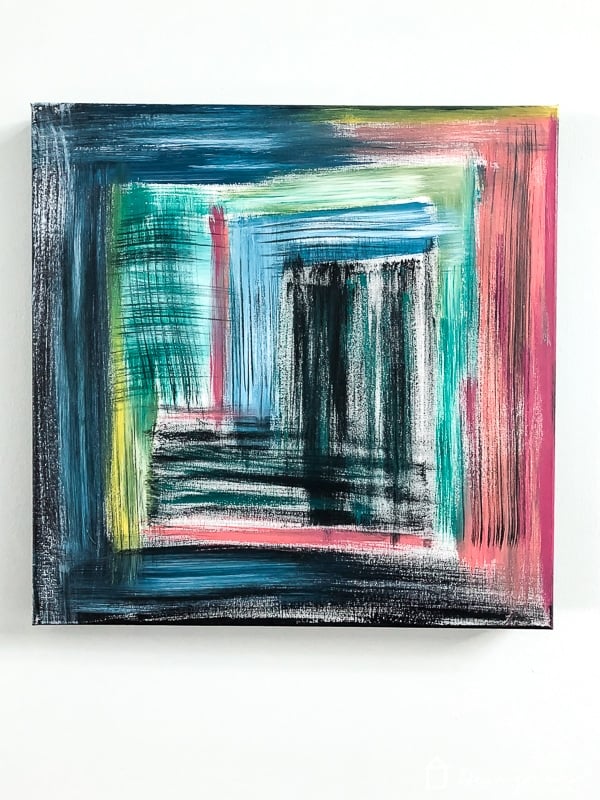 Much better, don't you think?
Before you head out, be sure to grab my free guide on how to design a room you love.
​
[mv_create 1 11 200 2016 key="1″ type="list" title="Most Popular Projects" thumbnail="</span><a href=" https designertrapped com wp content uploads diy home decor projects blog jpg target="_blank" a span]​