Last Updated on June 18, 2020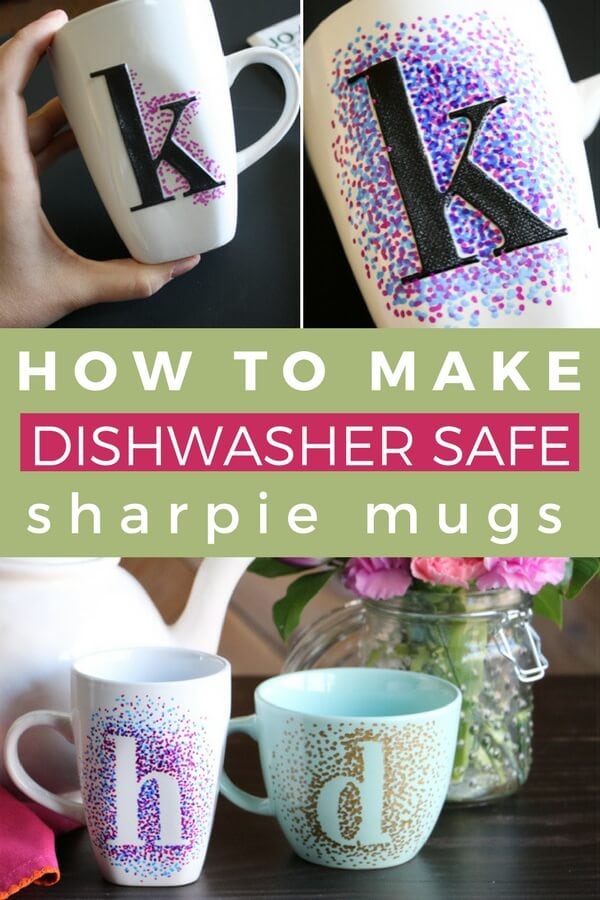 If you have young kids, you probably know that Teacher Appreciation Week is just around the corner! This year, I want to present my girls' preschool teachers with extra special teacher appreciation gifts because I just adore them and they work so, so hard all year long. I can't wait to tell you all about how I created these easy, adorable dotted Sharpie mugs!
My twin girls attend preschool Monday, Wednesday and Friday mornings and have two teachers. Not only do Attley and Avery have a great time at preschool, they honestly have learned SO MUCH this year, and it's all because of how hard Ms. J and Ms. K have been working. For example, my girls' class studied penguins in Feburary and one morning, when we had snow, Avery started rattling off everything she had learned about penguins. Among the MANY facts she shared with me, she told excitedly told that penguins live in the snow. She also told me that penguins have babies from eggs, and that they balance the eggs on their feet. I was impressed. When I told Ms. J that I was surprised Avery remembered that penguins balance their eggs on their feet, she explained that they had practiced balancing eggs on their feet for that lesson. WOW! That is why she has an early childhood education degree and I don't :) And it just demonstrates how much our girls' teachers care about teaching our girls, while having fun at the same time. We are very lucky to have them.
Many of you may have seen my easy dotted Easter eggs that I shared over on Reasons to Skip the Housework. The eggs were so fun to make. I used a decoration method on the eggs that I originally saw used on mugs. Once I decided that I wanted to make Ms. J and Ms. K customized gifts this year, these easy, dotted sharpie mugs came to mind right away! So, I asked them what their favorite colors were and got to work! This post contains some affiliate links for your convenience. Click here to read my full disclosure policy.
Materials Needed to create easy dotted Sharpie mugs:
White mugs
Oil based Sharpie paint pen–these are the exact pens that I use: Sharpie Paint Marker Fine Point Oil-Based Pens
Craft Stickers
A working oven :)
Nail polish remover and q-tips to easily wipe off any mistakes that you make :)
Steps to create easy dotted Sharpie mugs:
1) Place a sticker on your mug. You can place it wherever you like.
2) Using a Sharpie oil-based paint pen in a color of your choice, begin making dots around the edge of your sticker. Heavily concentrate your dots around the edge of the sticker. As you work your way outward, make your dots less concentrated. You can use 1 color or multiple colors.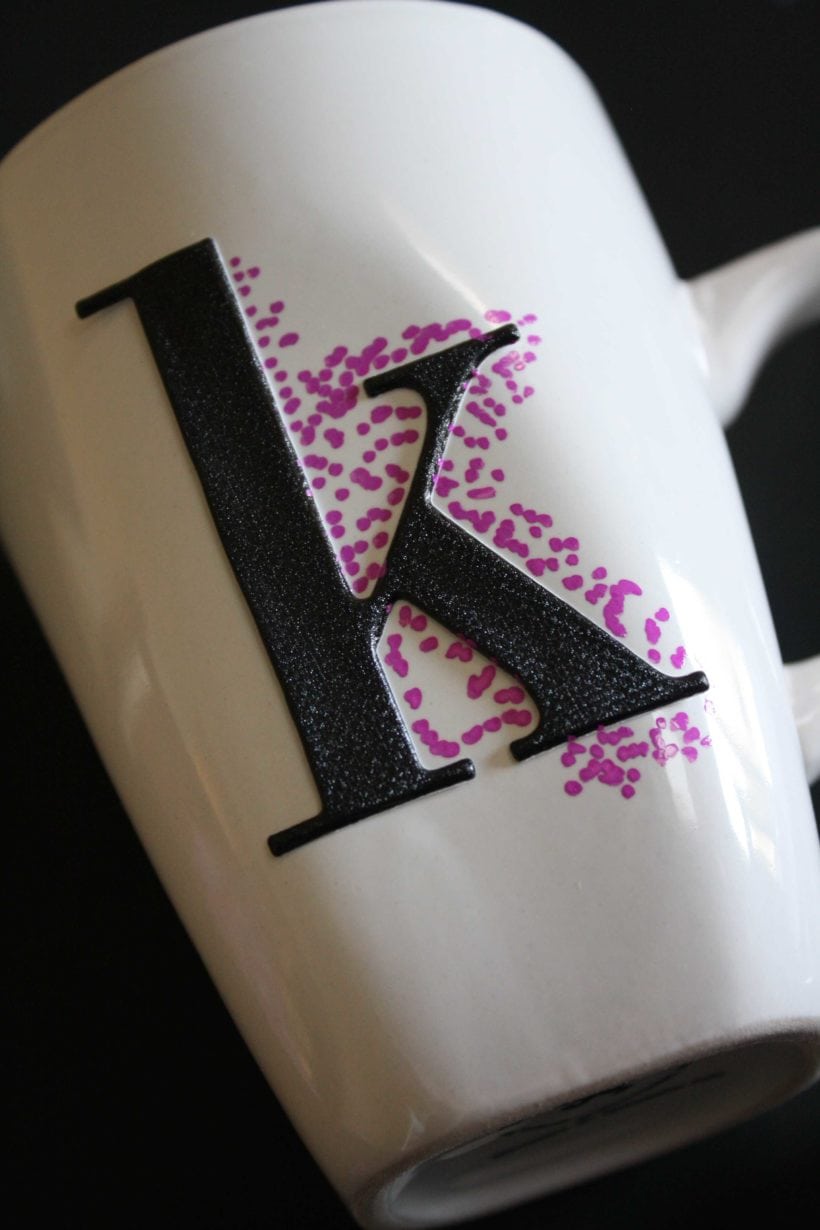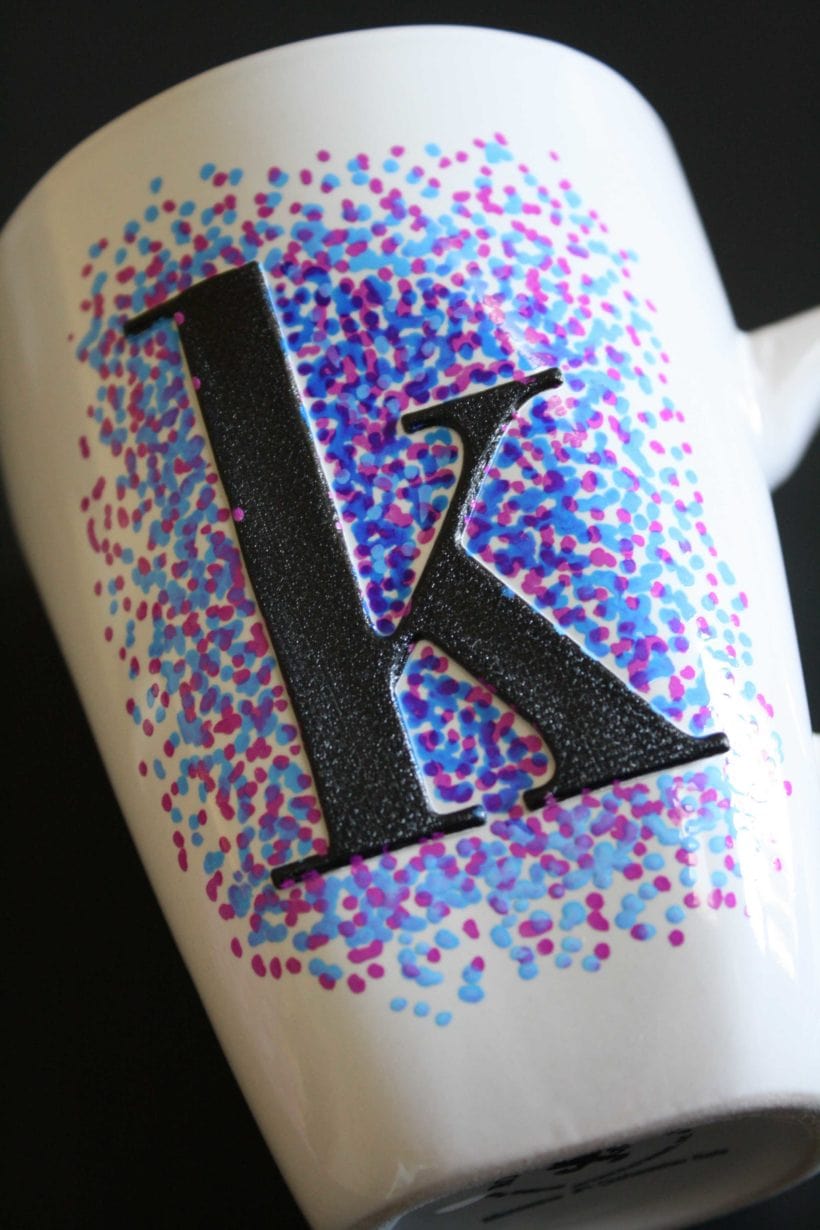 3) Allow time for your paint to dry.
4) Once the paint is dry, peel your sticker off. If you notice any mistakes after you remove your sticker, just wipe them off with a q-tip that has a bit of nail polish remover on it.
5) Preheat your oven to 350 degrees. Once your oven is heated, set your mugs inside and let them "bake" for 30 minutes. After 30 minutes, turn off the oven and let the mugs and oven cool down.
THAT'S IT! How adorable and fun are these mugs?
UPDATE! I've created a short video to show you how to make these easy mugs! You can watch it here:
If you enjoyed this post, you should also check out my DIY his & hers mugs:
And if you are interested, I also created a fun printable to accompany the dotted mugs for Teacher Appreciation week. I have thought many times that at age 3, it's amazing how much our girls have started to use deductive reasoning, i.e., "connect the dots," all on their own. So, I thought it would be just perfect to incorporate that idea into the printable, since I know our girls' teachers have a lot to do with just how many dots our girls are connecting these days!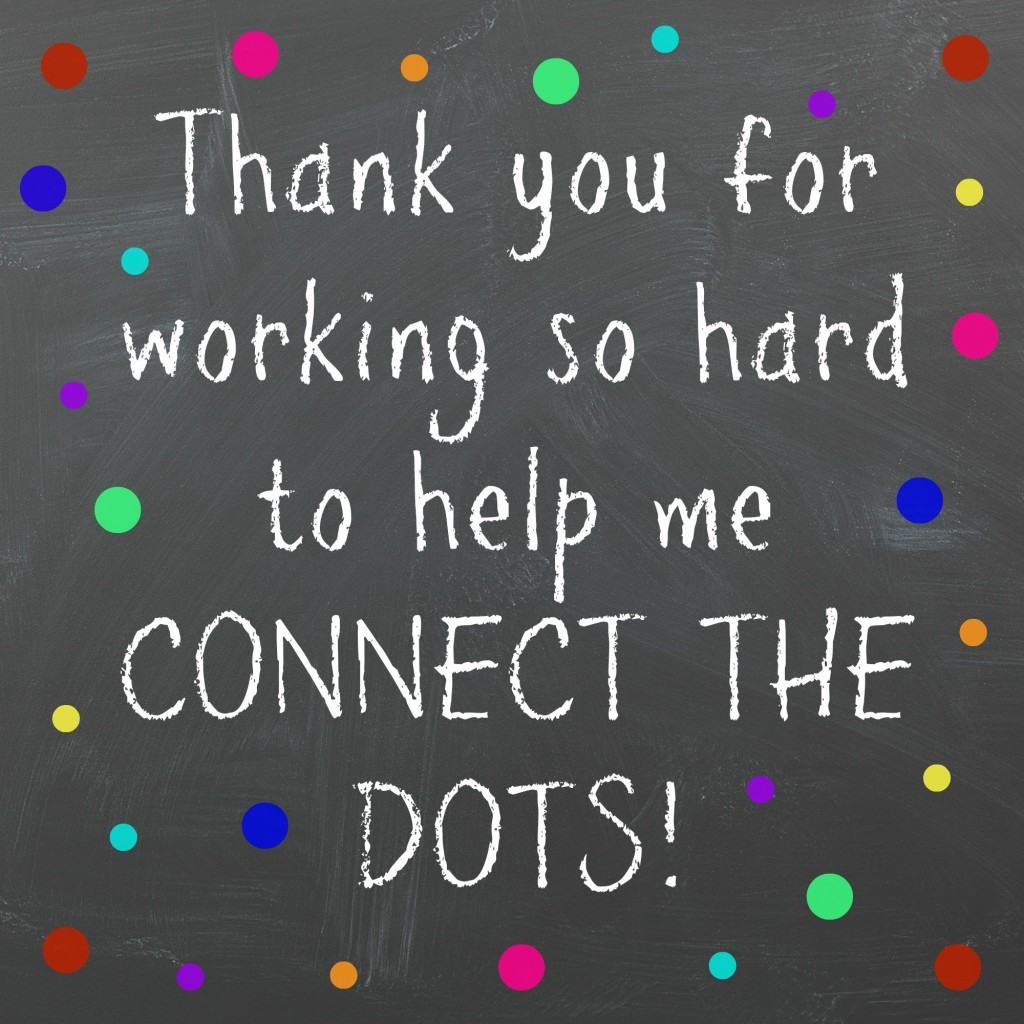 You can save the image to your computer by right-clicking on it and saving it to your computer.
I set my printer to print it on plain, white 8.5 x 11 inch printer paper, 9 to a page so that it was the perfect small, square size to attach to my mug with a ribbon. I cut it out with scissors and glued it to a piece of scrapbook paper for some added interest and rigidity.
I LOVE these mugs and hope Ms. K and Ms. J will, too! I know my girls will love presenting them with these one-of-a-kind gifts.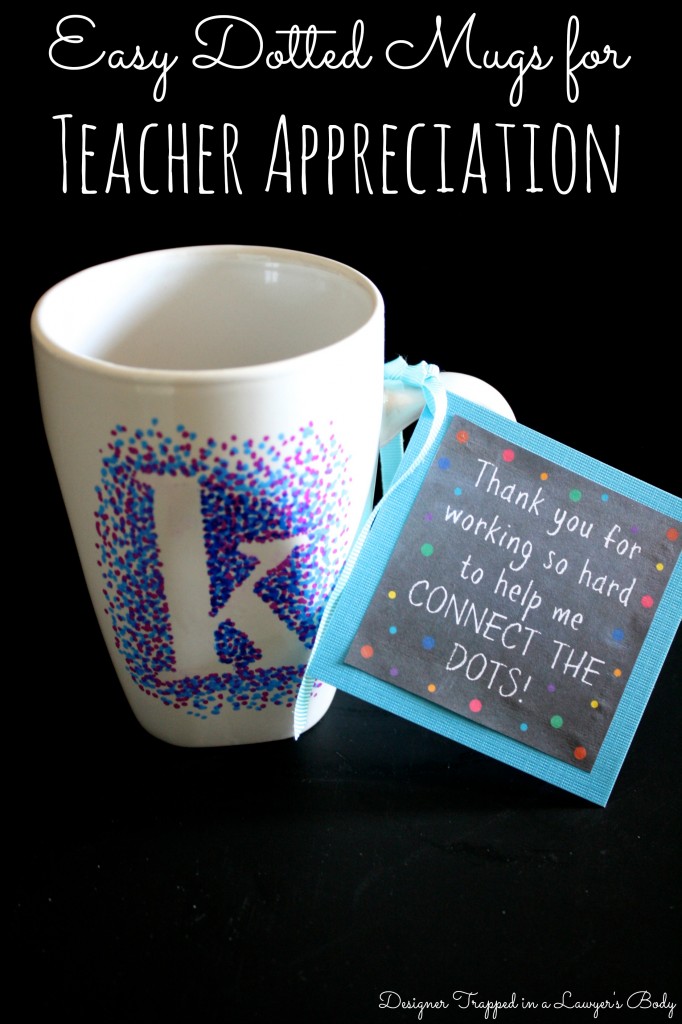 What do you think? Will you be making these for the special teachers in your children's lives? What color combination will you use? And if you want to save this project for later, why not pin it for easy reference?
​
[mv_create key="1″ type="list" title="Most Popular Projects" thumbnail="</span><a href=" target="_blank"]​