Sharpie mugs are an inexpensive and easy gift to make for your friends, family, or even yourself. Best of all, sharpie mugs can be customized a zillion different ways and are washable if you follow the tips in this post!
I admit it. I'm a sucker for pretty mugs. Joe would tell you I have too many mugs. I would tell you there's no such thing as too many :) But, I don't want to spend a fortune on mugs either, so I love customizing mugs to give as gifts (to myself and others, lol) because they are relatively inexpensive and always very loved and appreciated. For this tutorial, I'm sharing how I made these adorable monogram sharpie mugs, but you can do pretty much anything you want as long as you use the right markers. Read on to learn how to make your own DIY sharpie mugs that are washable.
This post contains some affiliate links for your convenience (which means if you make a purchase after clicking a link I will earn a small commission but it won't cost you a penny more)! Click here to read my full disclosure policy.
If you love this idea, please help me spread the word by saving it to Pinterest :)
Washable DIY Sharpie Mugs Tutorial
If you would like FREE printable instructions for this project, just click the image below!:)
Materials Needed:
Mugs (I usually buy mine at The Dollar Store)
Oil-based Sharpie paint pens (that link will take you to the exact pen set I use to make my washable sharpie mugs)

This is CRUCIAL!!!! If you don't use the right paint pens/markers, your design will wash right off :(

Large felt stickers OR vinyl letters (do not use regular paper stickers–they will be very difficult to remove from your mug)
A working oven :)
Rubbing alcohol
Nail polish remover and q-tips to easily wipe off any mistakes that you make
Steps:
If you like video tutorials, you can watch the video below to see how to make these fun sharpie mugs. There is also a full written tutorial below the video.
1) Clean your mug with rubbing alcohol to remove any oils from it. Then place a felt sticker or vinyl letter on your mug. 2) Using oil-based Sharpie paint pen in a color of your choice, begin making dots around the edge of your sticker. Heavily concentrate your dots around the edge of the sticker. As you work your way outward away from the sticker, make your dots more sparse. You can use 1 color or multiple colors. If you use more than 1 color, let the first color dry completely before layering on the second color (it dries fairly quickly).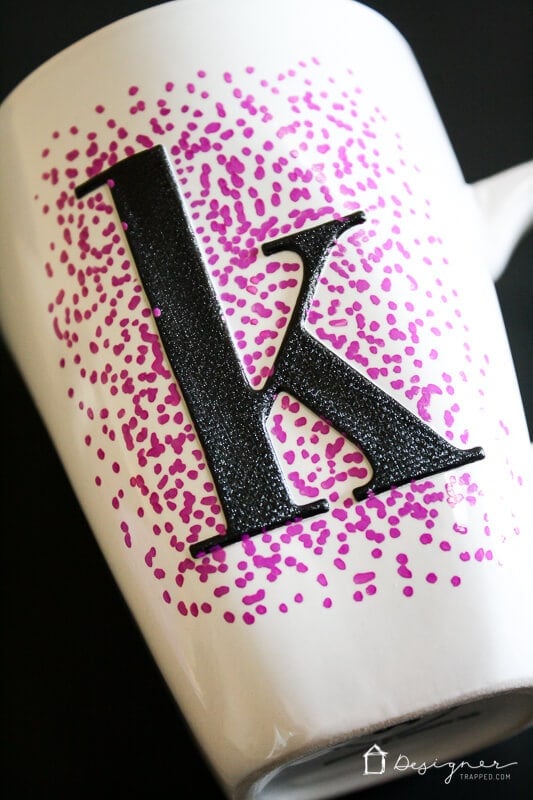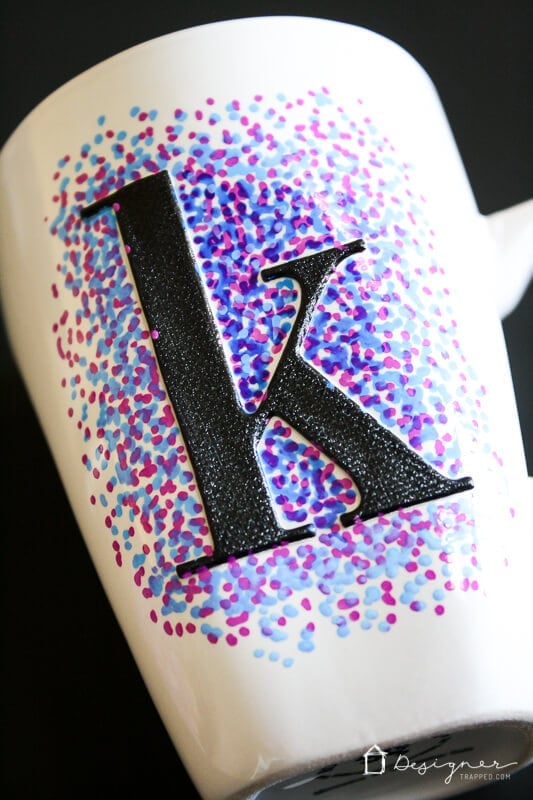 3) Allow your painted dots to dry completely, then peel your sticker off. If you notice any mistakes or areas where the paint bled under your sticker, just wipe them off with a q-tip that has a bit of nail polish remover on it. 4) Place your mugs inside the oven AND THEN heat it to 350 degrees. Do not pre-heat your oven before putting the mugs inside. Once the 350 temperature is reached, let your mugs "bake" for 30 minutes. I recommend setting them upside down directly on an oven grate–if you sit them on a cookie sheet it may cause your mugs to discolor (unless they are brand new cookie sheets). After they have baked for 30 minutes at 350 degrees, turn off the oven and let the mugs cool down inside the oven. Once the oven has completely cooled, remove your mugs. You may notice that the color of your paint changed a bit after they are baked–this is normal (some colors are affected more than others). THAT'S IT! How adorable and fun are these DIY sharpie mugs? Now, I bet you are wondering if you can really wash them. YES, you can! I usually hand-wash mine (I hand wash my store-bought mugs most of the time also–it's just an old habit), BUT I have also run my sharpie mugs through the dishwasher when I've been feeling lazy and the oil-based Sharpie paint pen designs haven't washed off. That said, if you want your design to last as long as possible, I'd skip the dishwasher just to be safe!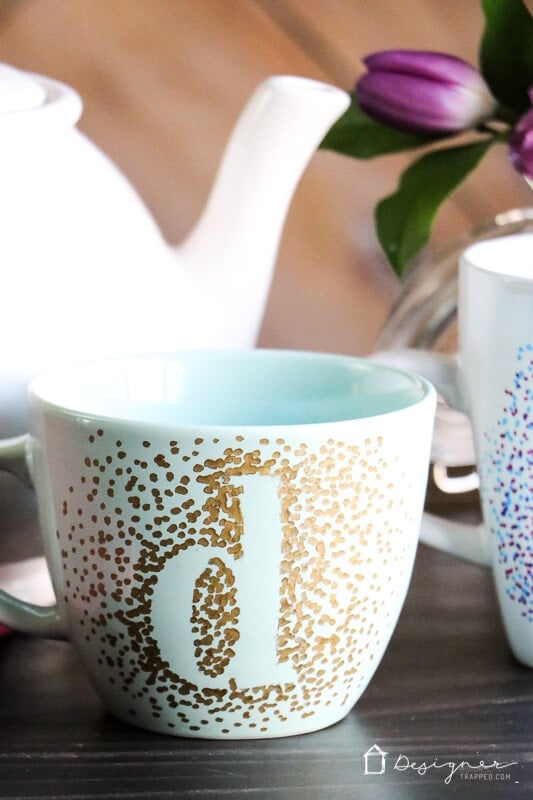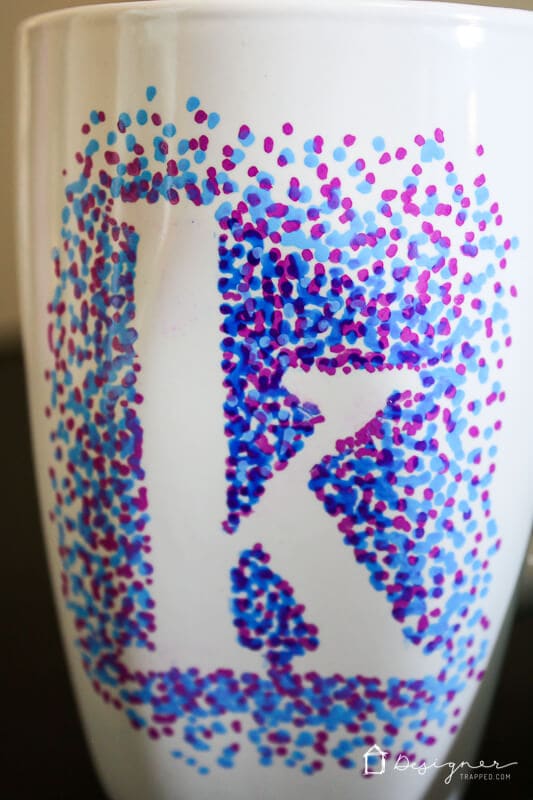 ​
​