Why It's Important to Love Your Home
Last Updated on March 3, 2022
It is so much more important than you think it is to love your home! Creating a home that makes you feel relaxed and happy will have a positive impact on every aspect of your life. Read on for details!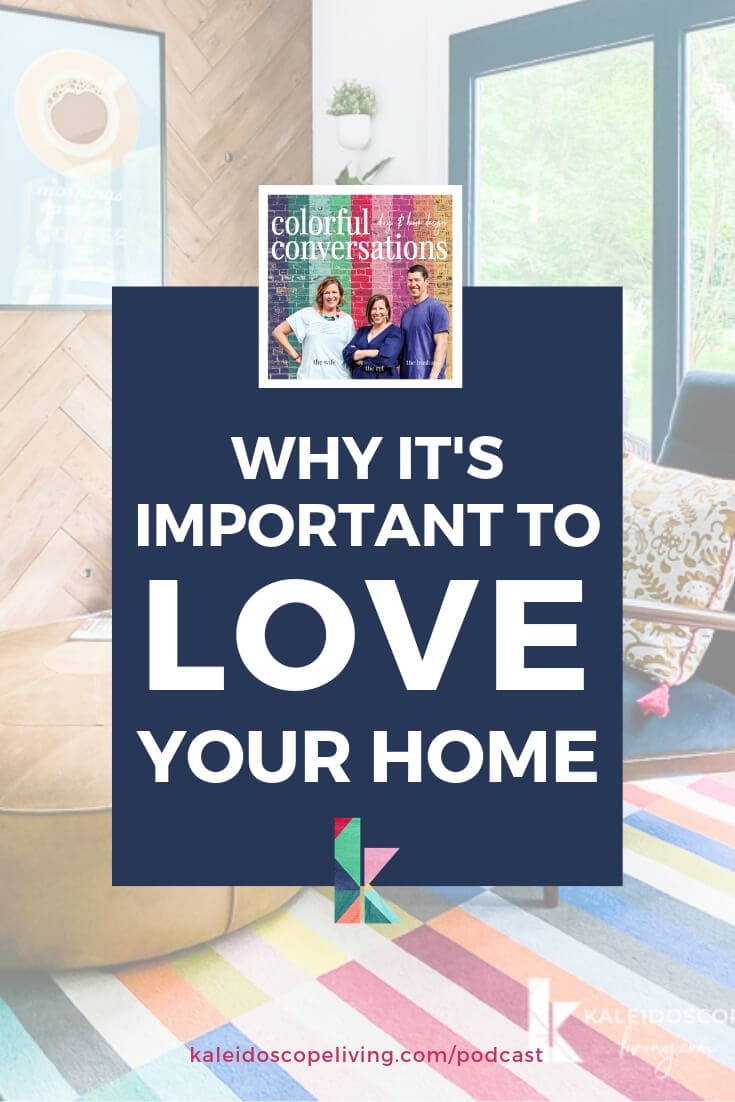 Want to listen on your favorite app? Click whichever option you prefer below:
iTunes | Stitcher | Spotify | Google Play
Hear Tasha talk about why it matters so much for you to love your home. Tasha and Thea discuss key points about the relationship that exists between us and our house and why this plays such an important role in our quality of life!
If you are a new listener to Colorful Conversations, we would love to hear from you. You can find us 24/7 on Instagram @tasha.kaleidoscope and on Facebook at Kaleidoscope Living. You can also check out our YouTube channel.
In this episode:
0:30 – Today, we're talking about why you should love your home is so important and why it matters more than you may think. But first, updates from the home front! The kitchen renovation is still underway with the contractors, but Tasha and Joe are getting ready for their DIY piece of the project. Tasha is going to be working on tiling the kitchen backsplash and they both will be installing the new floors themselves.

2:30 – It's time for the newlywed game for Thea and Tasha! Today's question is

what do I love least about my house

? Tasha guesses that Thea's least favorite thing about her house is that she has one bathroom, and there are several things about that one bathroom that Thea doesn't like. Thea agrees, but adds that she thinks her house is haunted and that is what she was thinking of! Thea guesses that Tasha's least-lovable feature is her master bathroom, which she describes as "the most amazing explosion of tile you've ever seen."

7:40 – This is not your ordinary podcast because we announce our upcoming topics so you can submit your questions for us to answer! Make sure to follow our Instagram,

@tasha.kaleidoscope

so we can see what you're asking. If we pick your question, we'll send you a sweet free gift!

11:00 – So, why do we believe it matters so much to truly love your home? Home is where we start and end our crazy busy days and home is usually a place where you spend a lot of time. You don't need to have a magazine-style, perfect home to be happy, but your home should be a place that you love, that you're proud of, and is beautiful to you.

13:00 – Studies done by environmental psychologists recognize that for most people, their home is part of their self-definition – it helps define who you are! You're in a relationship with your home, so you need to do a little work to make sure it's a good relationship. If you hate your home THAT is a significant problem.

14.20 – Sponsor break. Click here to learn more about Designer in a Binder, the proven system to help design a home you love at a tiny fraction of the cost of hiring an interior designer.

16:35 – We have conscious and sometimes subconscious reactions to our space, and finding frustration in your home, whether it's ugly tile or just untidiness, can cause unnecessary stress and negativity in our lives. Conversely, creating a space that you feel relaxed and happy in, those positive emotions affect the rest of our lives too.

19:27 – Tasha feels strongly that when you really

love

your home, it gives you the energy to take care of your space. You may be tired, but you have more motivation to clear the dishes out of the sink or make your bed when those spaces make you feel joy. Remember, "home is a feeling, not a place."

25:50 – What Tasha and Joe are going through right now with the stress of their kitchen renovation is a perfect example of how loving your home matters for your mental health. Tasha even got a comment on Instagram from a woman who had gone through chemotherapy and a kitchen reno… guess which she claimed was harder?

29:15 – Tasha encourages people not to feel selfish or guilty for wanting to create a home that they really love, which she herself has experienced. When we feel at our best and feel good about our home base, we can do more for everyone else and help be a part of the solution for our larger world problems.
Join the Conversation
Our favorite part of recording a live podcast each week is participating in the great conversations that happen on our social media and in our comments section. You can find us 24/7 on Instagram @tasha.kaleidoscope and on Facebook at Kaleidoscope Living. You can also check out our YouTube channel.
Get Social With Us…
This post contains some affiliate links for your convenience. Click here to read my full disclosure policy.
As Mentioned in this Episode…