A "Before" Tour of Our New House Part 1
Last Updated on March 3, 2022
We are excited to share a tour of the downstairs of our new house. It may look boring and brown now, but we have BIG plans to bring in color and style!
I don't know why I feel a bit nervous about sharing this post. I think it's because whenever you buy a home, it's natural to want other people to be as excited about it as you are. And that rarely happens, lol! It's also impossible for y'all to see the house through our eyes, knowing what changes we plan to make, etc. But I'm going to do my best to walk you through it and explain our thought process.
If you are shocked to hear we have purchased a new house, you can catch up on that news HERE. And if you are thinking, "But wait! How could she leave her current house for this house?!" just remember that this is what our current house looked like when we moved in. Have faith y'all! We've transformed a boring, beige house before, and we will do it again!
The Style of Our New House–Is it Really A Big Change?
Let's start with shots of the exterior of our home. You will immediately notice that it's a very, very traditional house. Quite different from our current contemporary style home. Some of you who have seen sneak peeks of our new home over on Instagram have sent me messages telling me how SHOCKED you are to see how different it is from our current house. I get it! It's very, very different!
What's interesting is that before we purchased our current home, we hated contemporary style homes. In fact, we swore we would never live in one, lol! But we fell in love with the layout of our current house and the neighborhood and went for it. The rest is history.
All of our other homes have always been traditional, and most have been historic homes (I just didn't have a blog when we were in those homes). Are you shocked?!
Here's the thing… I'm that person who appreciates beautiful homes no matter their style. And we always, always, always prioritize location and layout above style. If you saw the variety of homes that we looked at during our house hunt, you would laugh! We saw everything from a mid-century modern house (that was too far away and needed too much work) to several new construction homes that had a farmhouse style. Our poor realtor (Meredith Parsons, who is AWESOME if you need a realtor in the NC Triad area!) was beyond confused. She kept saying, "I don't understand what you want." LOL! There was no possible way for her to understand based on the variety of homes we were looking at, but it always made sense in our heads and she was beyond patient every step of the way.
And in the end, we decided this super traditional home is the one for us! It feels more like going back to our roots than you probably realize. Yes, I will miss contemporary architecture. And it's still my dream to one day live in a mid-century modern home. But for right now, this traditional home is what we want and need!
The First Floor
Now let's take a look at what you are really interested in–the interior! Let me preface this by saying it's VERY BROWN. The walls are brown, the cabinets are brown, all the tile is brown… IT'S ALL BROWN. Look past that (and please also look past the sad photos that I took with my phone). This house is going to be stunning when we are done with it!
The Entry
I love, love, love that our new house has double front doors! And I adore that the entire first floor of our new house has 10-foot ceilings. Such a welcome change from our current house that has 8-foot ceilings in most rooms. I don't love that it's all brown (obviously) and we don't like the decorative balusters–we will eventually change those to something more understated and simple.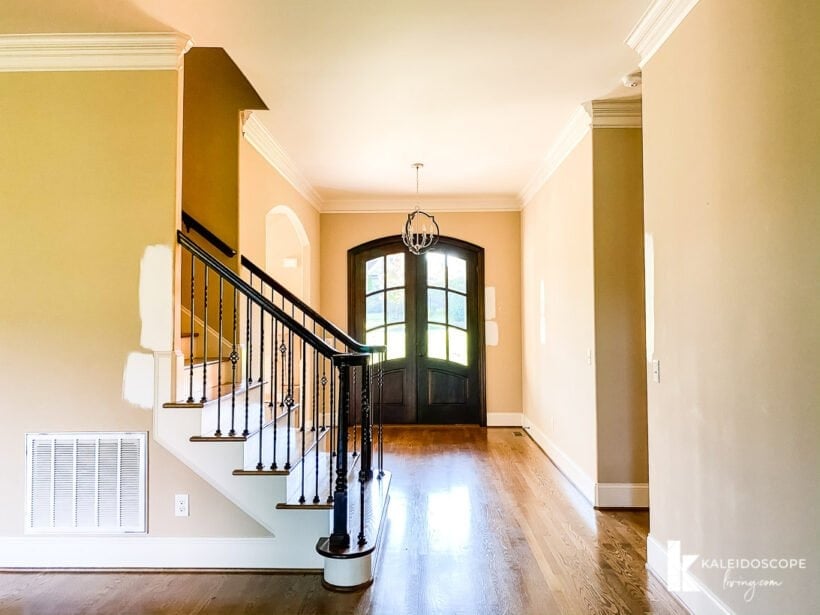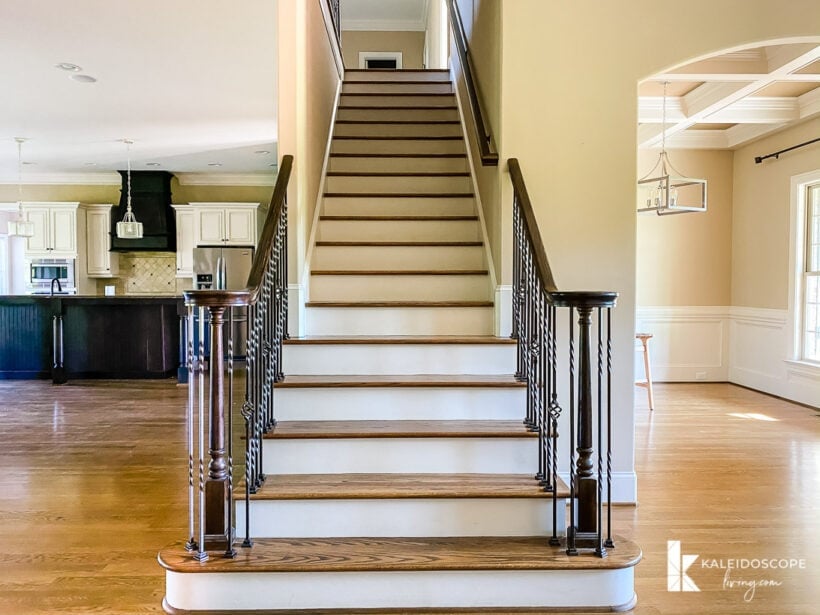 The Family Room
The family room is nice and large and has lots of windows, which is awesome. And we are VERY excited about the gas logs! We are less excited about the fireplace tile and surround, but already have some cool ideas for updating it. It's also open to the kitchen. We've never had a "great room" before and would be concerned about the noise factor (which we talked about on this podcast episode when we were renovating the kitchen in our current house). BUT, this house has a dedicated bonus room which will be our girls' primary "hangout" (that you will see later in this post) so we think it will all be okay!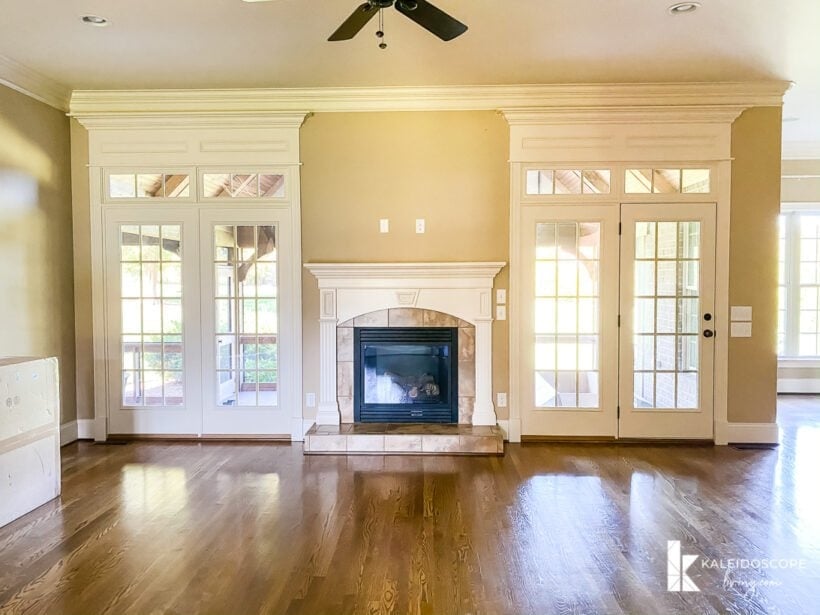 The Kitchen
Ahhhh, the kitchen. It's so very brown and so very NOT our style. But, it's a quality kitchen with LOADS of potential! I have never had 2 ovens before, so I'm pretty pumped about that. And the island is even bigger than the huge island we added to our current kitchen. So all of that is great. We will be giving the kitchen a budget-friendly makeover ASAP that will totally transform the look of it. We are going to use this method of painting the kitchen cabinets. I cannot wait to remove those light fixtures and start painting ? . We will be keeping the existing brown granite countertops for now. Eventually (probably in a couple of years), we'd like to make the island all one level, at which point we would permanently change the countertops and backsplash.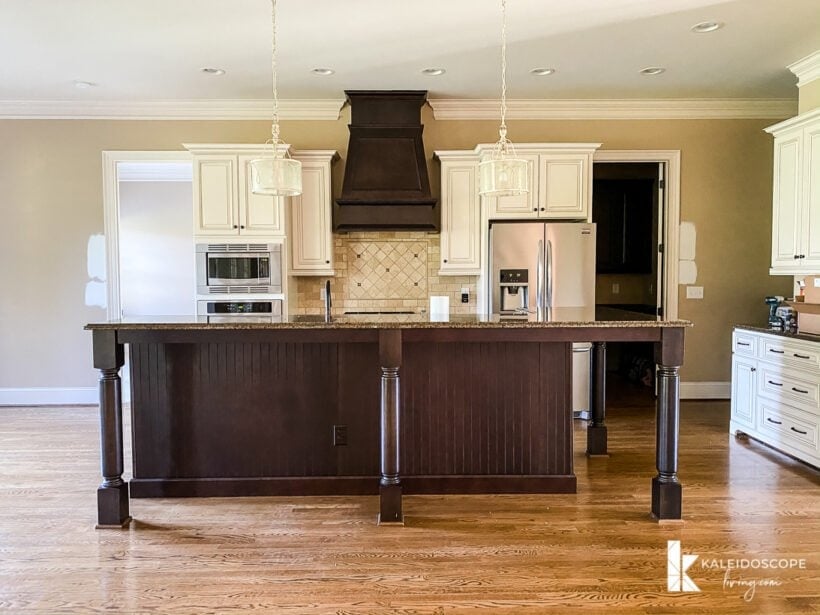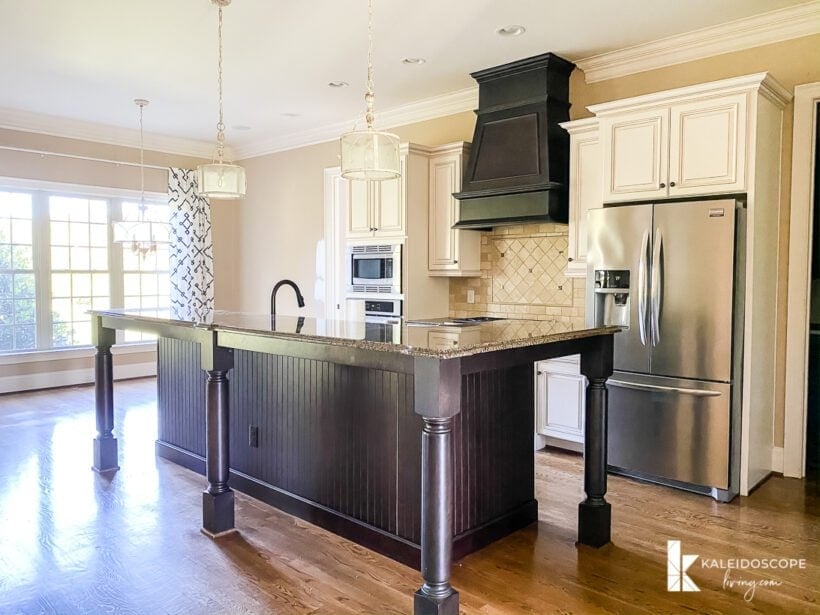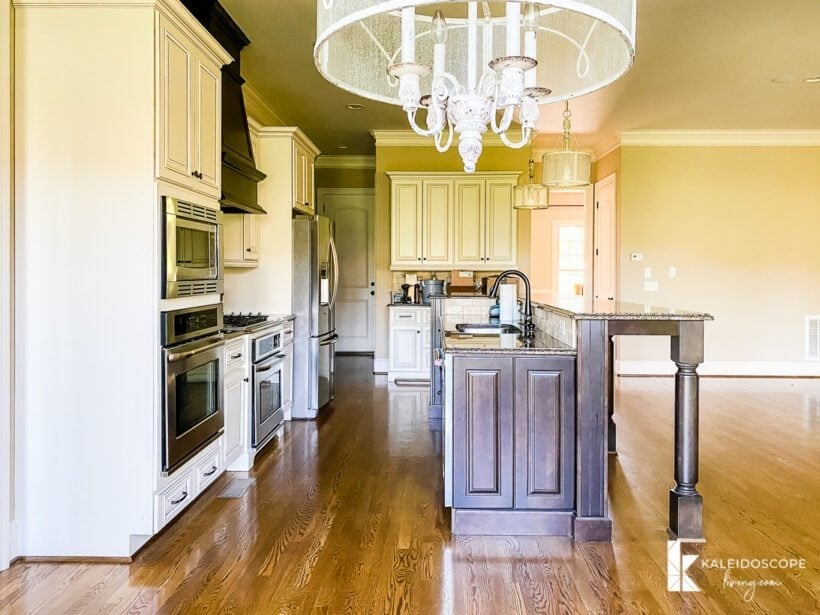 The Breakfast Nook
There is a large breakfast nook off of the kitchen with huge windows–YAY! But we won't be using it as a breakfast nook. Instead, we will be using it as a seating area, just like we did in our current kitchen. We've been shocked how often we use it to just sit and chat, so we will basically be recreating this setup in the new house. Some people may think it's strange not to put a table in this area, but we are a family that actually eats dinner in our dining room every night. Other meals and snacks are eaten at the kitchen island. So we just don't need another eating area ??‍♀️ .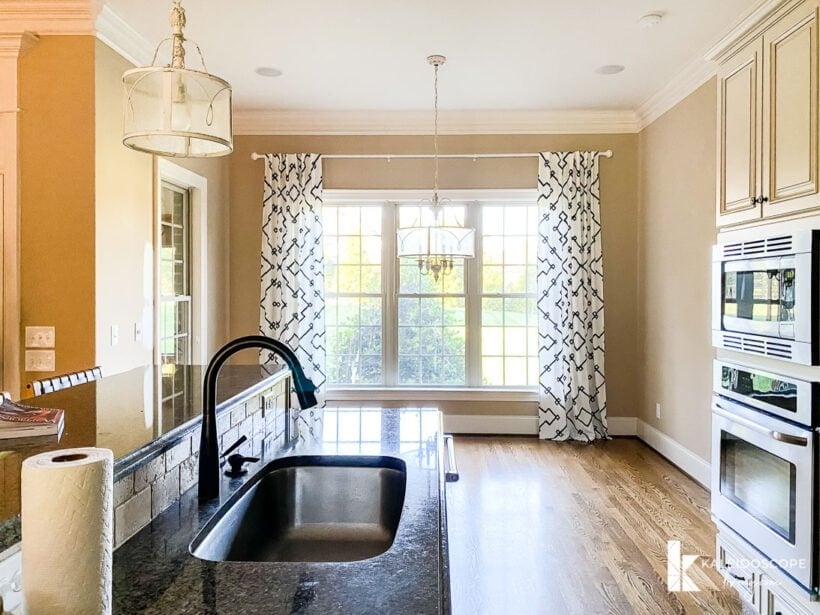 The Dining Room
When we first saw the dining room, I was a bit overwhelmed by the coffered ceiling and the wainscoting. That's a whole lotta traditional trim in one room! But as I've played around with photoshop mockups of the design I have planned for this room (which I will be sharing soon!), I'm starting to fall in love with it.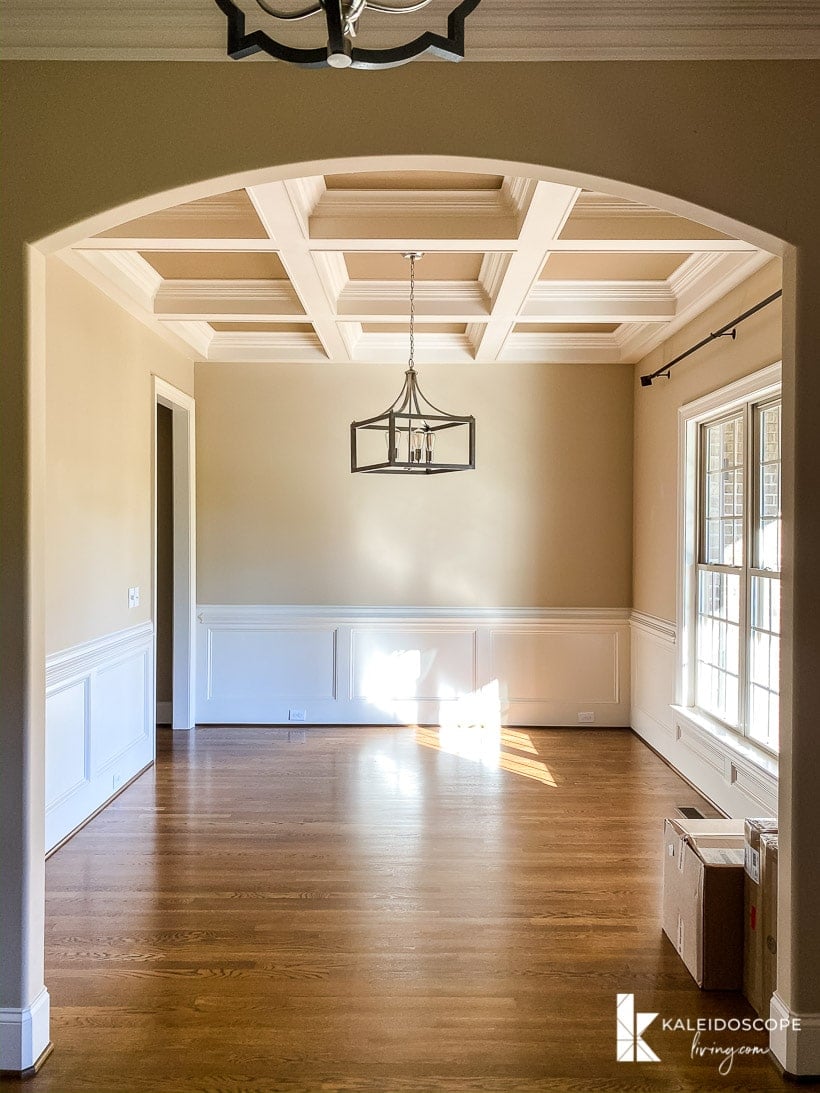 The Master Bedroom
The master bedroom is a nice-size. Not too small and not weirdly large like our current master bedroom is. The one thing we really don't like about it is the tray ceiling, but we will eventually try to figure out a way to either remove it or make it more appealing. And we are having the carpet ripped out. It will be replaced with hardwoods to match the rest of the first floor (in fact, you can see the start of the hardwood pile in this photo–they were being delivered as I was taking photos, lol). Our absolute FAVORITE thing about it is that it's on the first floor!!!!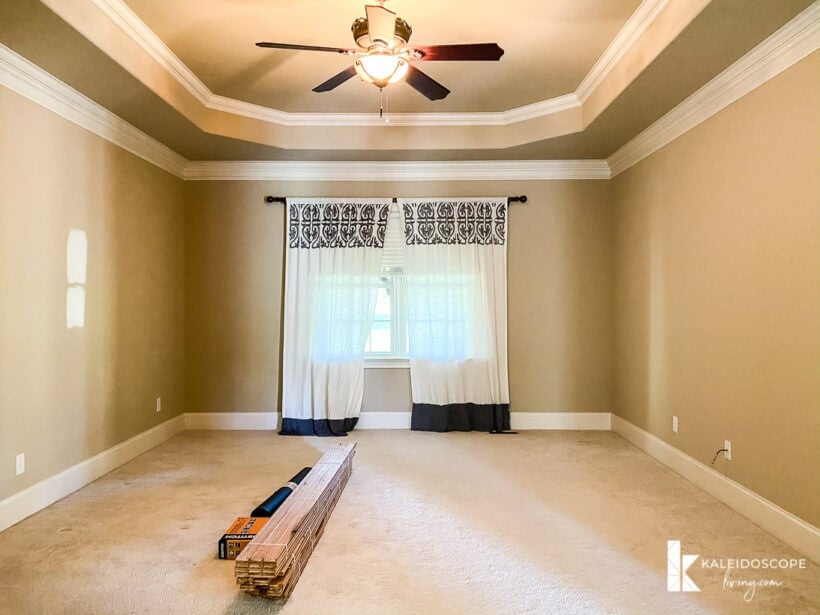 The Master Bathroom
Welcome to the sea of brown tile and brown cabinets, lol. Fear not, we will be making cosmetic updates to this space that will give it a totally new look, much like we did with our current master bathroom right before we put our house on the market. On the plus side, we are thrilled about the size of the shower (our current one is freakishly small) and the soaking tub!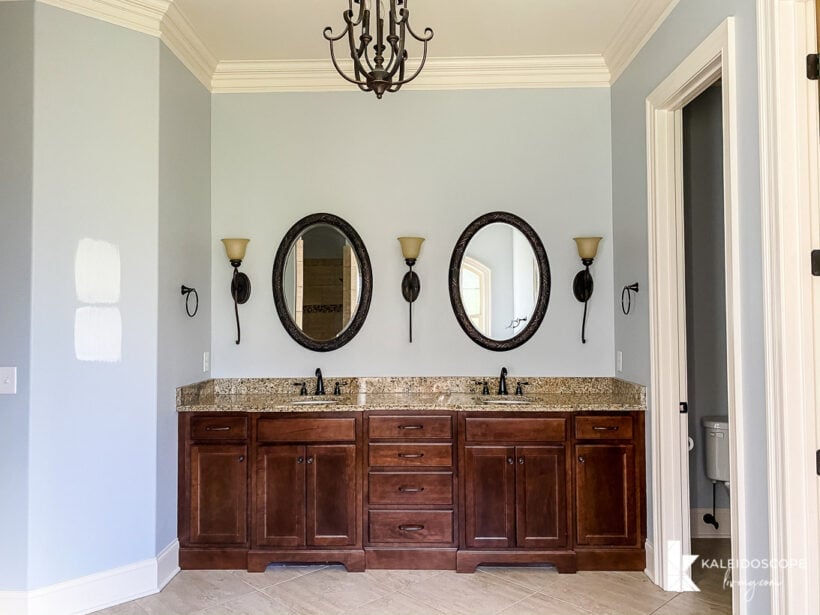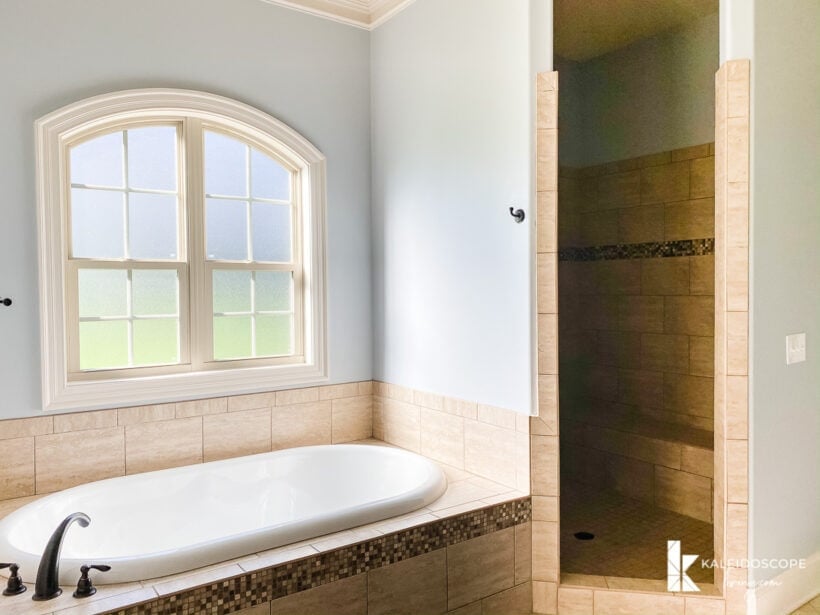 The Guest Room & Bathroom
Having a first floor guest room was also really important to us, given that our parents are only getting older so stairs may become tricky for them over the years that we live in this house. The guest room is nothing super special, but it does have lots of natural light and it's own bathroom. We are also having the carpet removed and hardwoods installed in this room, so that the entire first floor has the same wood flooring.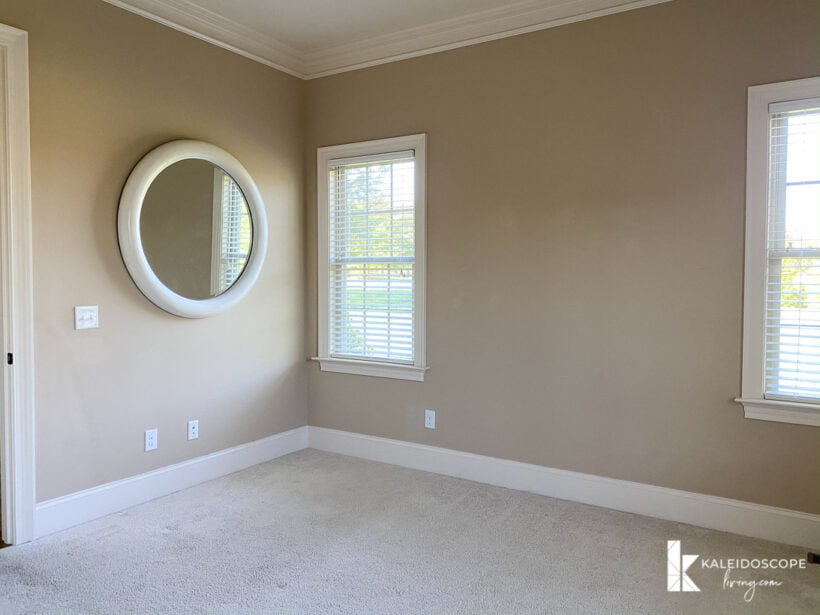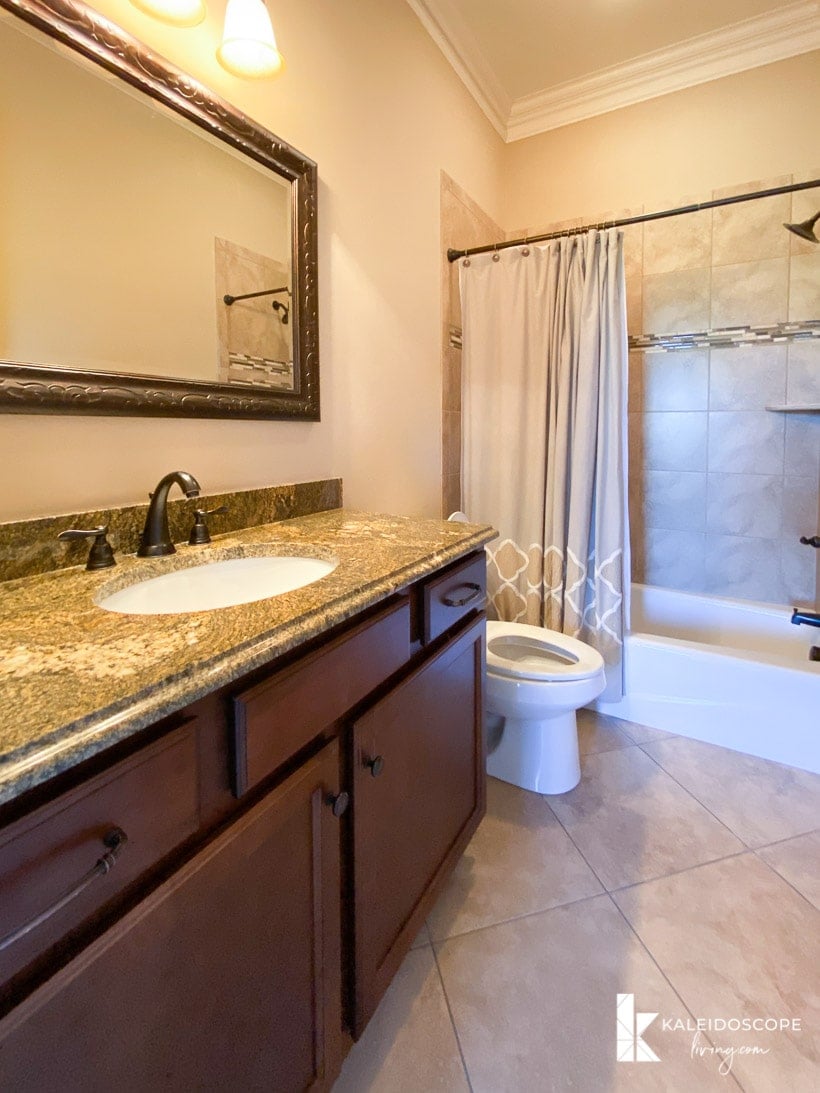 The Screened-In Porch (MY FAVORITE PART OF THE WHOLE HOUSE)
Alright y'all, are you ready for my absolute favorite part of the whole house?!?!?!?! It's the screened-in porch! I still can't quite believe how lucky we are to have a space like this. It's pretty much everything I have ever dreamed of for an outdoor space. Here we go!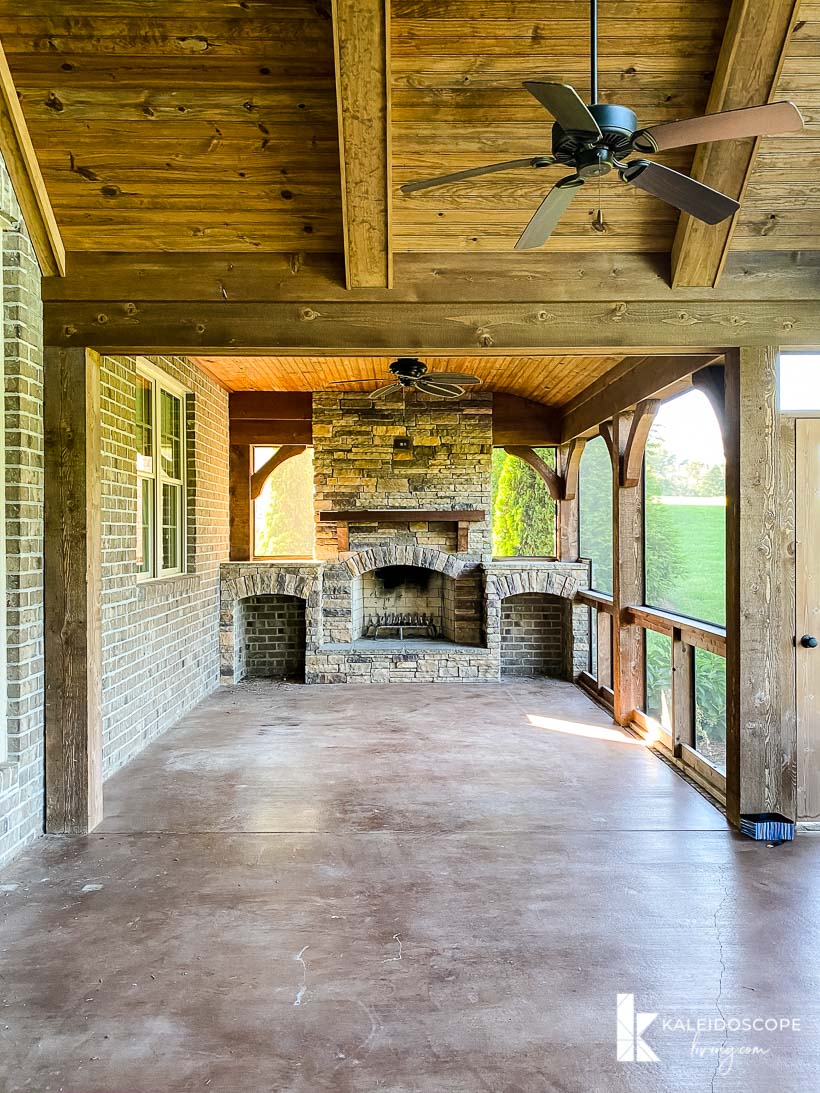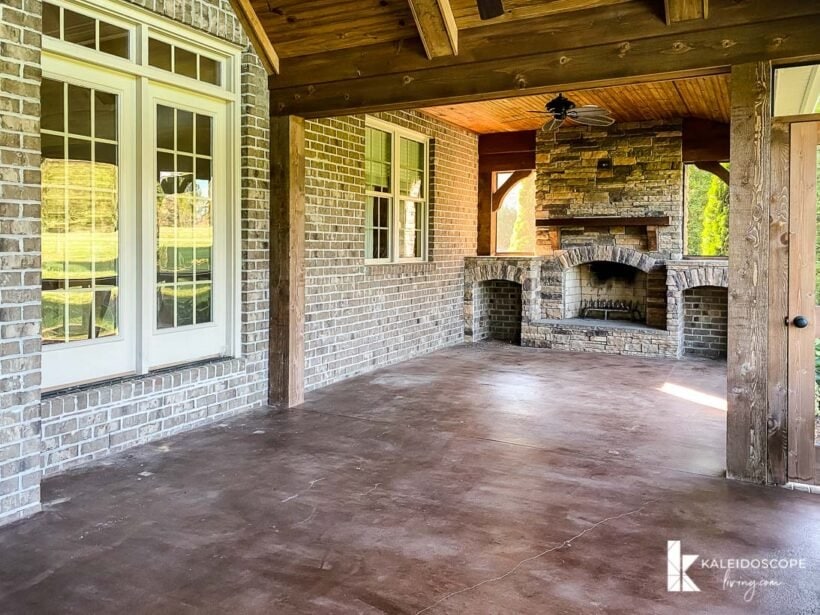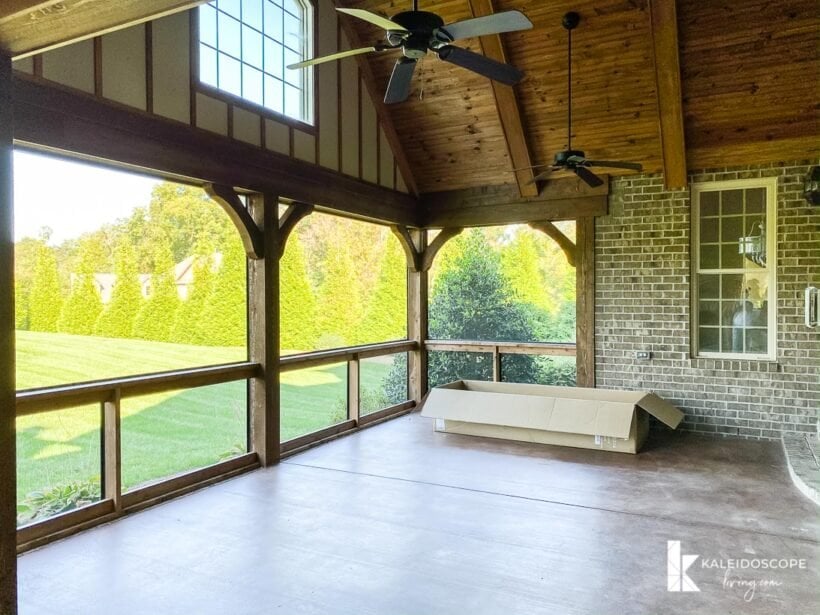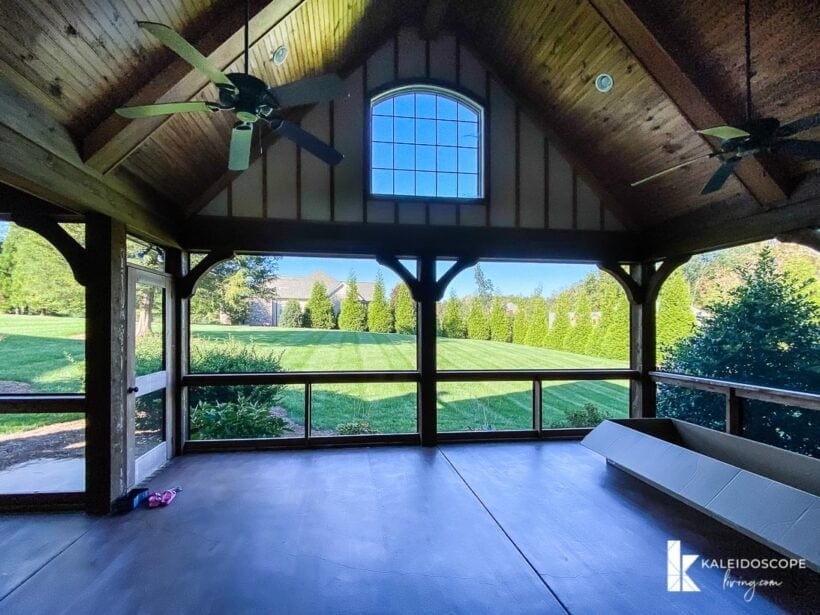 The Pantry (my second favorite part of the whole house)
Is it weird to be excited about a pantry? I can't help myself! I feel like this is the first pantry we will have ever had that we will truly be able to keep organized and tidy! As we talked about in this podcast episode, it gets me VERY excited!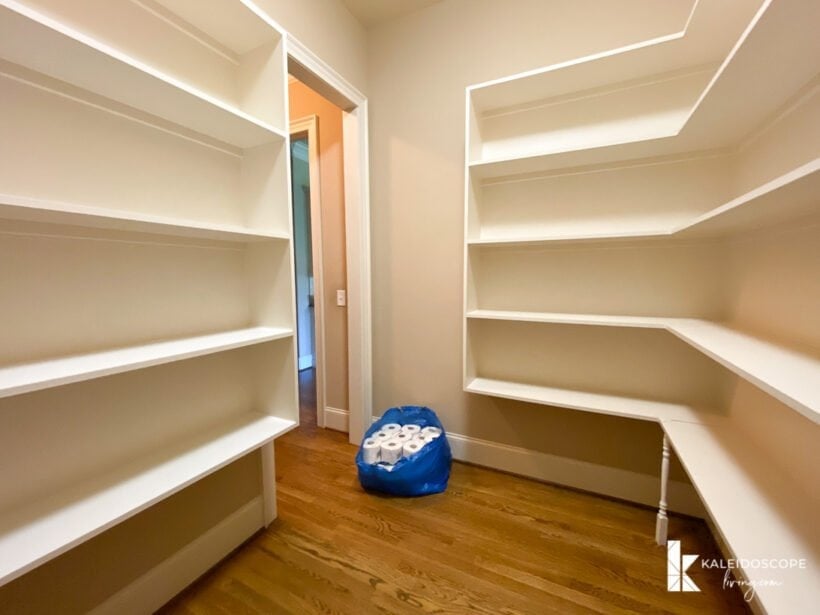 The "Computer Room"
I've never heard of a "computer room" before, but that's what the builder of this house called it. Some of you who saw a sneak peek of this space on my Instagram stories said it's a butler's pantry. But it's really not because it's so far from the front door AND because it has a desk in it ??‍♀️ . But no matter what you call it, it's a cool little spot where we will keep our files and pay our bills. I am also hopeful that it will keep all paperwork, etc. off the kitchen counters. As with the rest of the house, it's very brown and depressing right now, but I have some VERY FUN plans for this space!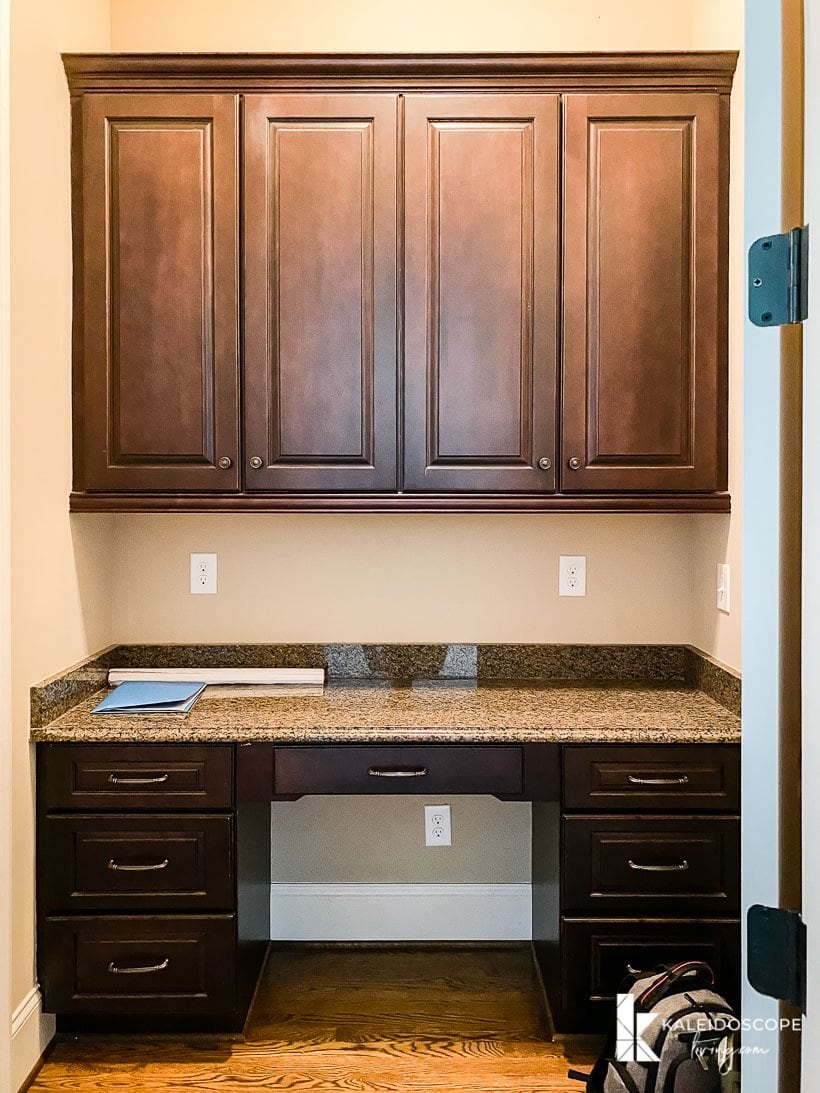 The Mudroom/Drop Zone
Not going to lie! I'm pretty excited to have this space right off the garage. It will be so nice to have somewhere for backpacks, jackets, purses, etc. to hang once we are able to go back into the world again! This is another little spot that I plan to have some decorating fun in :)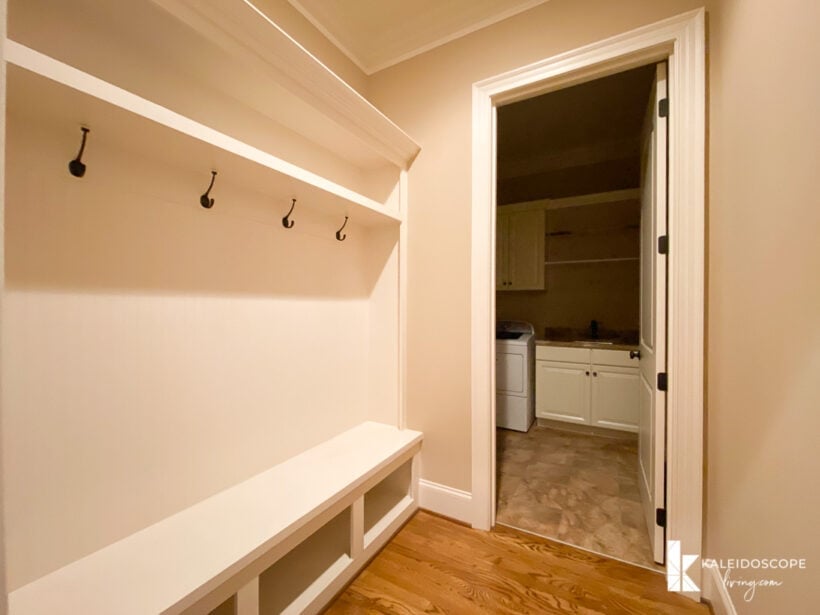 The Laundry Room
It's hard to capture the laundry room in a photo, but it's a nice, large space. We are pumped that we will be able to fit our spare refrigerator in the laundry room AND this is where we will keep Riggins' dog food and bowls (no more tripping over it in the kitchen–yay)! Aesthetically, this is one of my least favorite rooms in the house. Something about that floor tile makes my brain hurt a bit. But that just means this will be a fun room to transform!
The Powder Room
Last up is the powder room. Once again, it's not our style BUT we love where it is located and I am really happy that the wood floors extend into it. It will be another fun space to transform with some relatively easy updates.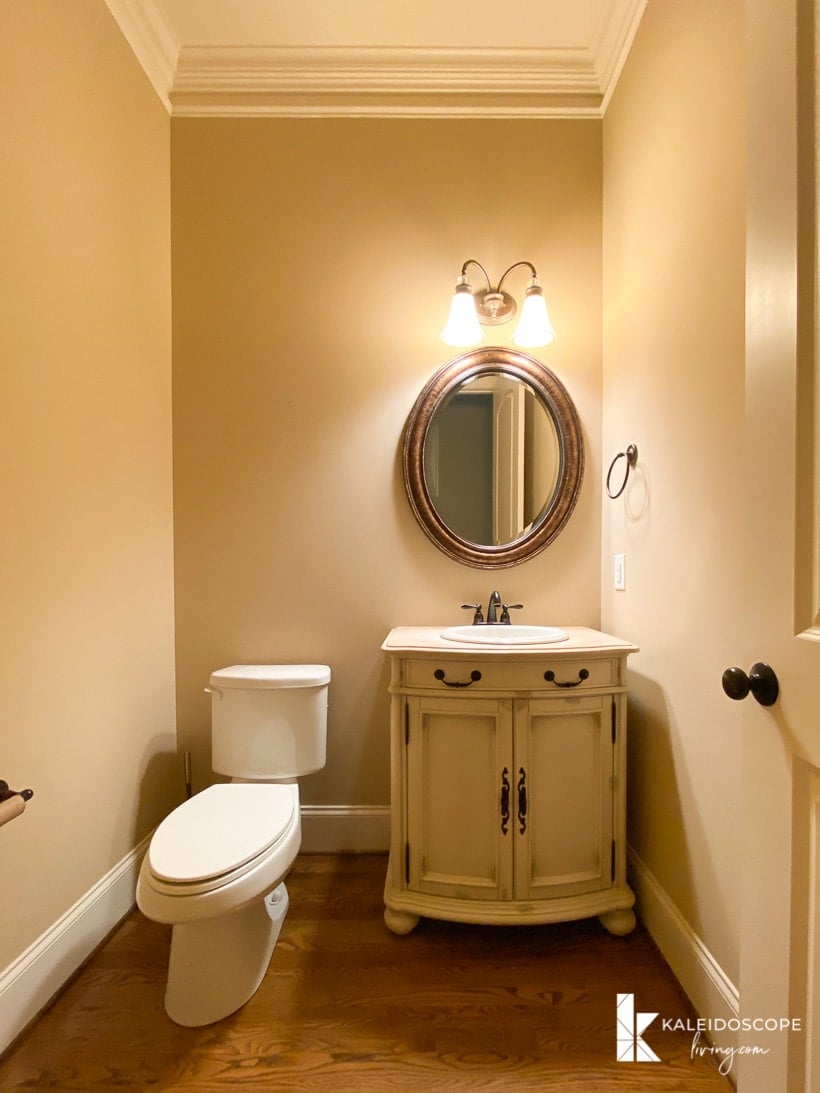 Well friends, that's it! I'll be sharing a tour of the second-story as soon as I can get it written! I hope you have enjoyed a peek into our new home. And I hope you are excited about following us on this brand new journey of transforming this house into a home that is totally our style. It's going to be FUN!
If you are wondering about how in the world I will tackle the design process in this house, I'll be using the same system I always do! I have a certain way that I approach interior designs that makes it simple and easy. A couple of years ago, I put pen to paper and explained my entire system in Designer in a Binder®. You can click HERE to learn more. We have over 5,900 happy customers so far!
Wondering how I approach transforming rooms and spaces in our home? Check out Designer in a Binder®.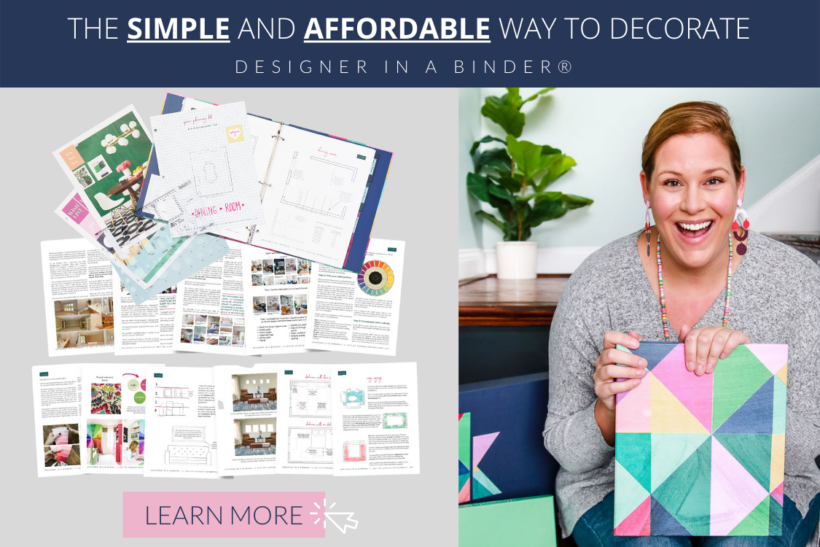 And if you want exclusive content and behind-the-scenes sneak peeks, be sure to subscribe before you head out!


[mv_create key="3″ type="list" title="Room Reveals" thumbnail="https://designertrapped.com/wp-content/uploads/2016/05/angies-list-after-5.jpg" layout="circles"]