The Easiest Ikea Malm Hack Ever!
Last Updated on June 18, 2020
Y'all, I'm SO friggin' excited to share my recent Ikea Malm hack with you, but first, let me tell you how this project came to be.
Let's face it. Furniture is expensive. I always get sticker shock when I start to hunt for something. I knew I needed some storage for my craft supplies, camera tripods, etc. when I moved into my new home office, and I felt like a dresser would be my best option (I prefer drawers to shelves whenever possible). When I was searching for a dresser for my new home office, I fell in love with this beauty from Pottery Barn.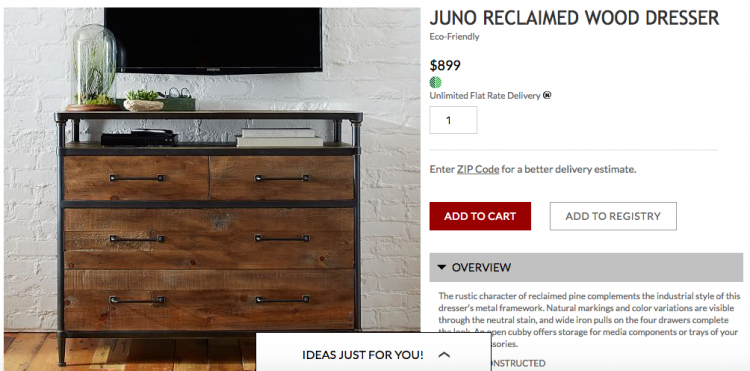 I loved the industrial vibe of it, but it wasn't big enough and check out that price tag! It was NOT in my budget. So, as per usual, I set out to figure out a way to get the look of an industrial dresser on a much smaller budget, and I love what I came up with. Best of all, it was super easy and affordable! Check out my version, which cost me only $286 (you can see the full cost breakdown at the end of this post).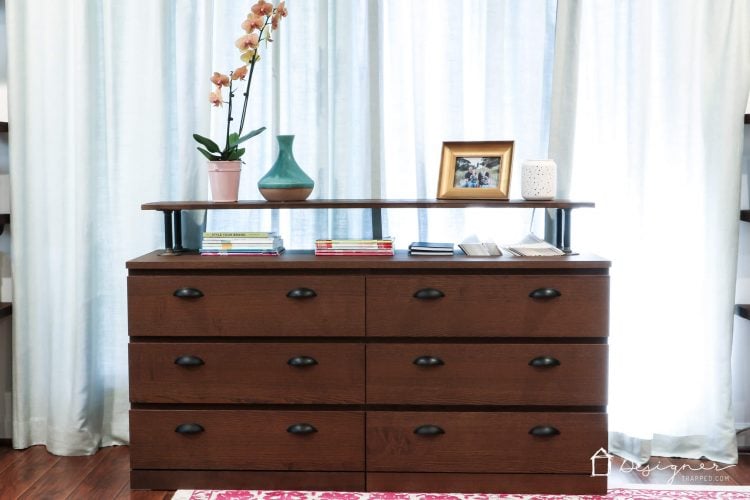 Who knew an Ikea Malm could look high-end and beautiful?! Read on to learn exactly how I created this industrial dresser. And for a great overview of the entire project first, I highly recommend you watch the 1 minute video below :)

This post contains some affiliate links for your convenience (which means if you make a purchase after clicking a link I will earn a small commission which helps keep my blog up and running but it won't cost you a penny more)! Click here to read my full disclosure policy.
DIY Ikea Malm Hack With an Industrial Vibe
Materials needed
6 drawer Ikea Malm dresser (I chose the brown stained ash veneer finish)
(12) drawer pulls, in this style
1 piece of wood, cut and stained to the length of your Malm dresser (I purchased a piece of utility shelving for $14.98 and I custom mixed some stains I had at home to match the color as closely as possible)
Self-tapping screws
Drill driver
Steps
This is what the Ikea Malm dresser looks like assembled. Super plain and boring, but it's very sturdy!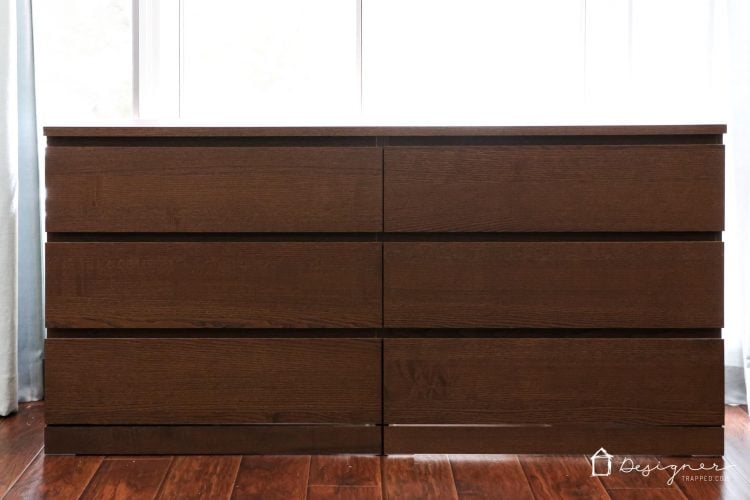 1) Clean your pipe and flanges to remove grease.
2) Cut your wood shelf to length and stain it.
3) Mark the placement of your drawer pulls. I used 2.5″ drawer pulls and added 2 to each drawer.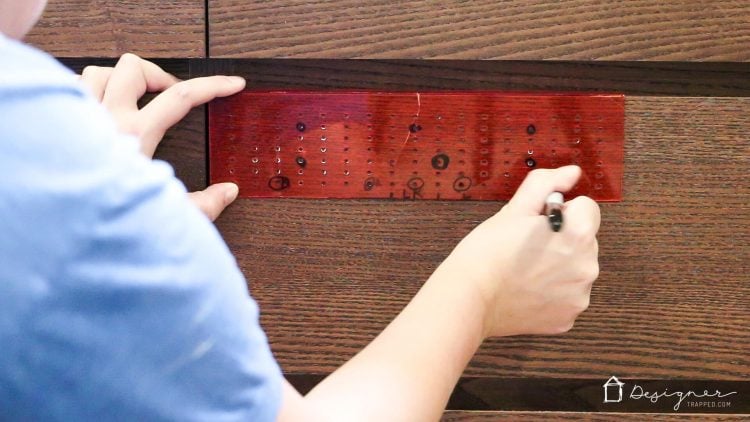 4) Drill the holes for your drawer pulls and attach them.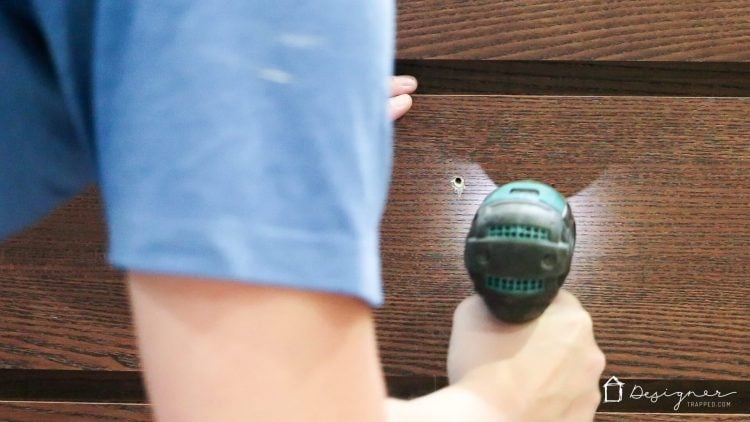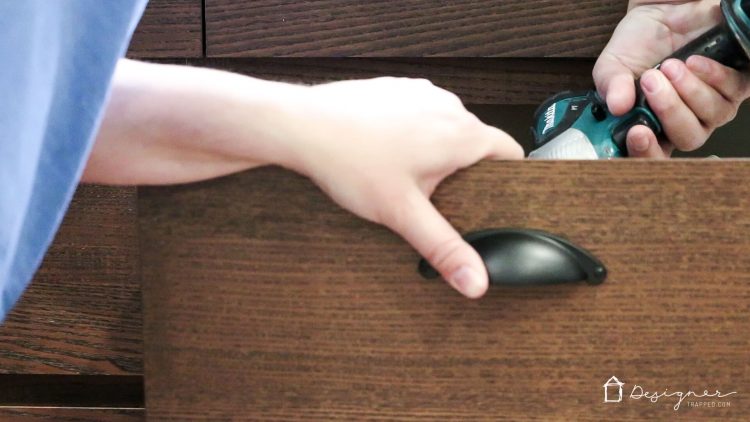 5) Attach a floor flange to each corner of the bottom of your wood board.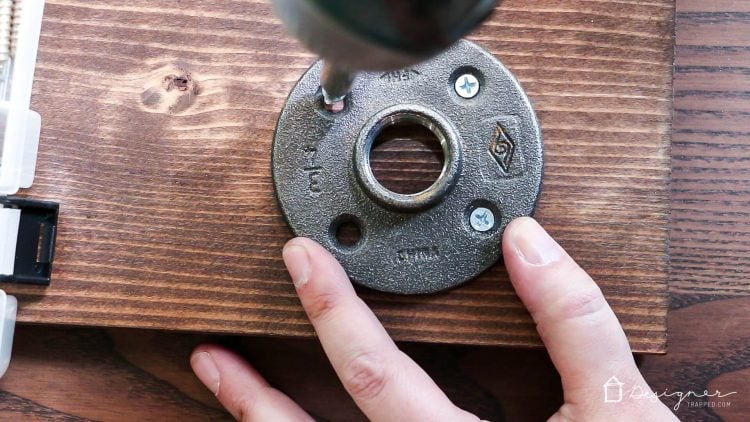 6) Screw a pipe into each flange.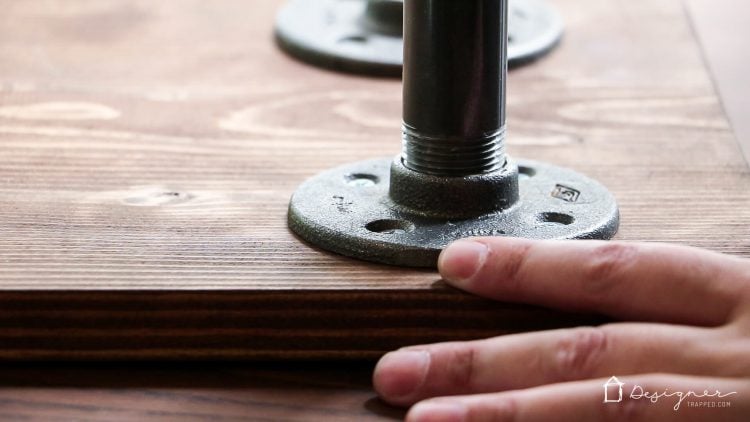 7) Attach a flange to the other end of each pipe.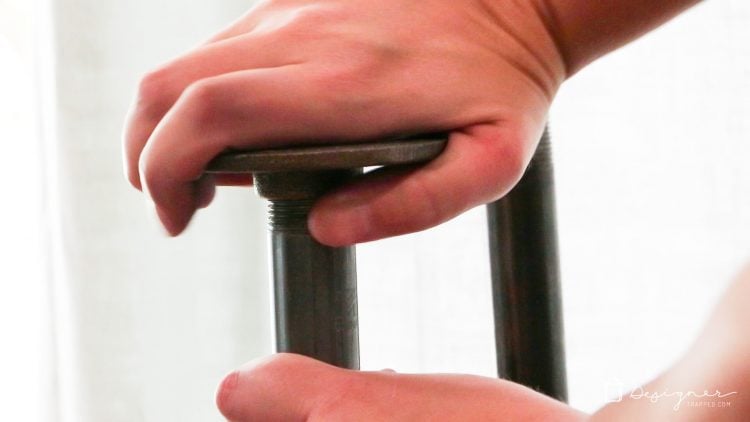 8) Flip the board over and attach the flanges to the top of your Ikea Malm dresser. Be sure that each pipe is plumb (level vertically) before you screw the flanges in place!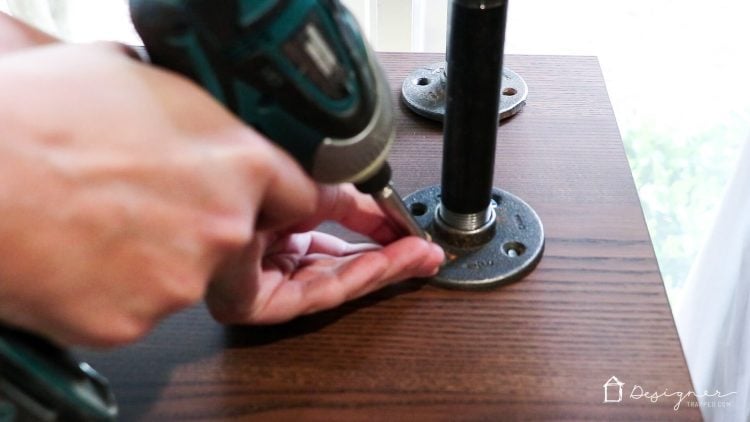 That's it! Isn't that the easiest Ikea Malm hack you have ever seen. And I'm totally smitten with the finished look! Now, let's take a look at the cost breakdown.
Cost of this Ikea Malm Hack
Ikea Malm dresser: $179
12 drawer pulls: $28
Wood utility shelf: $14.98
6 pieces of pipe: $13.12
8 floor flanges: $51.04
TOTAL COST: $ 286.14
Not bad for a ton of storage! And it's certainly WAY less expensive than the Pottery Barn piece that inspired this Ikea Malm hack!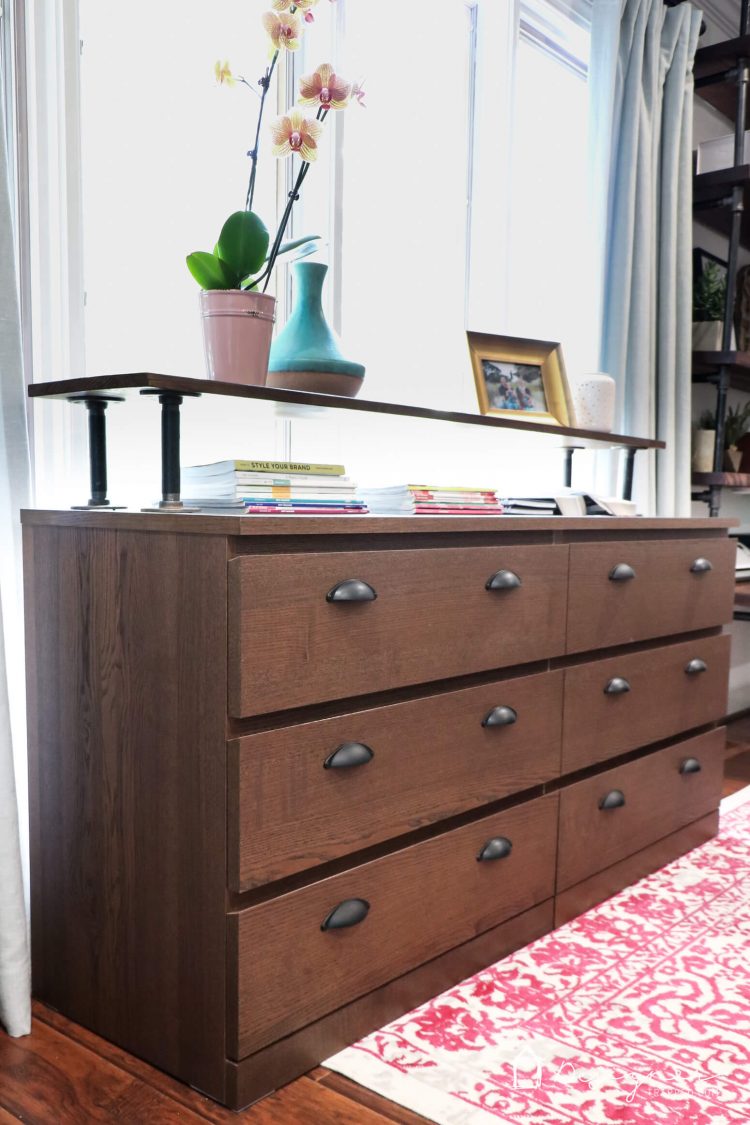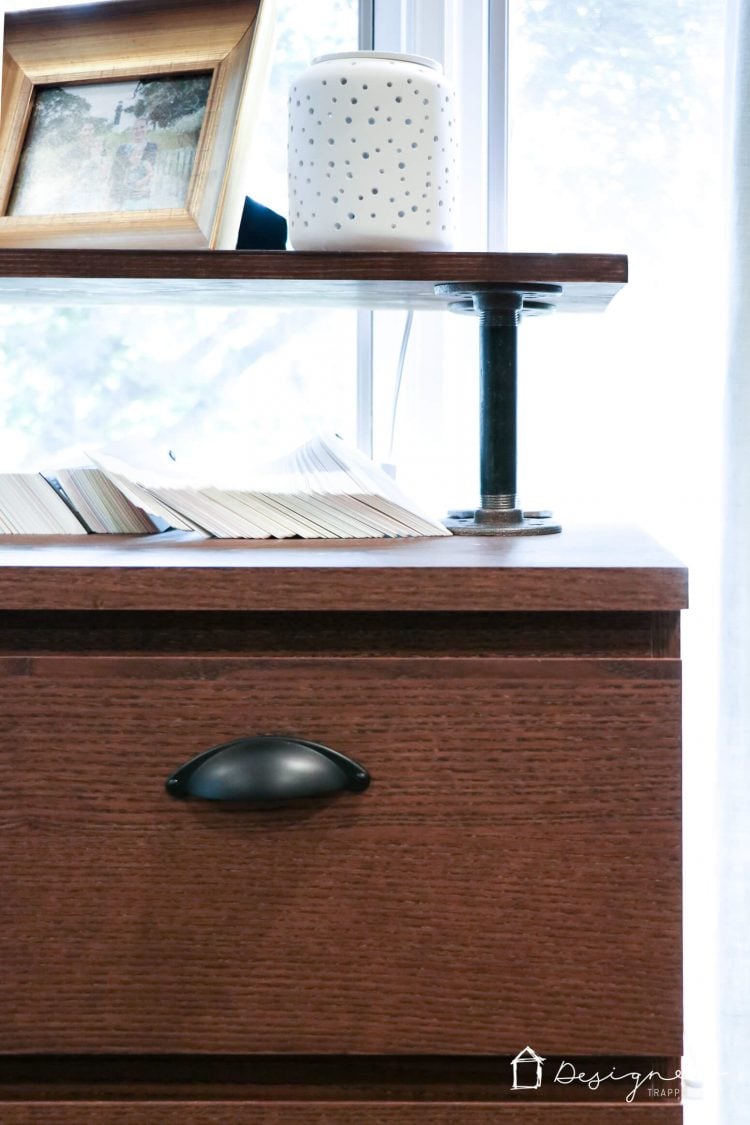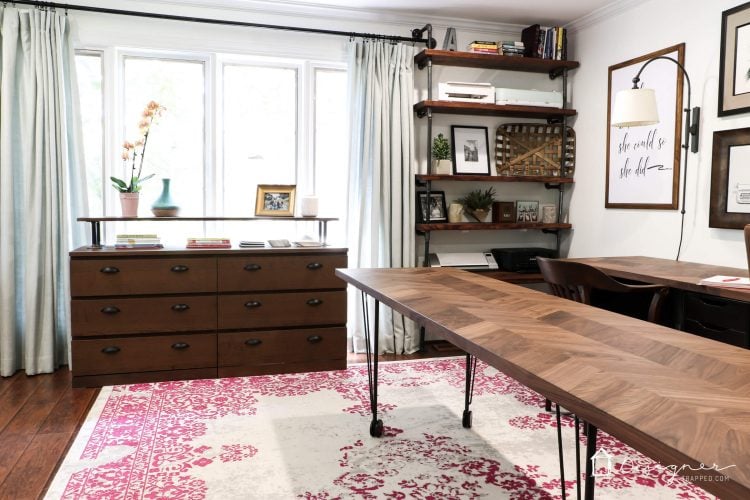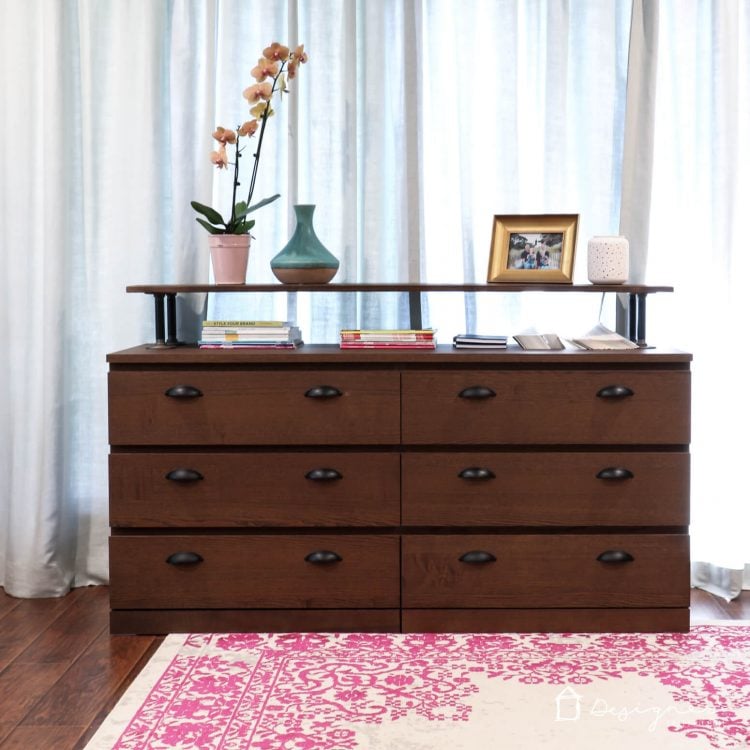 If you love this project, be sure to pin it to Pinterest so you can find it again later!
[mv_create 1 2018 key="2″ type="list" title="Design Posts" thumbnail="</span><a href=" https designertrapped com wp content uploads 05 how to pick paint colors jpg target="_blank" a span]