Preparing for the holidays doesn't have to be stressful or expensive. Focus on making your guests comfortable and you will nail it every time.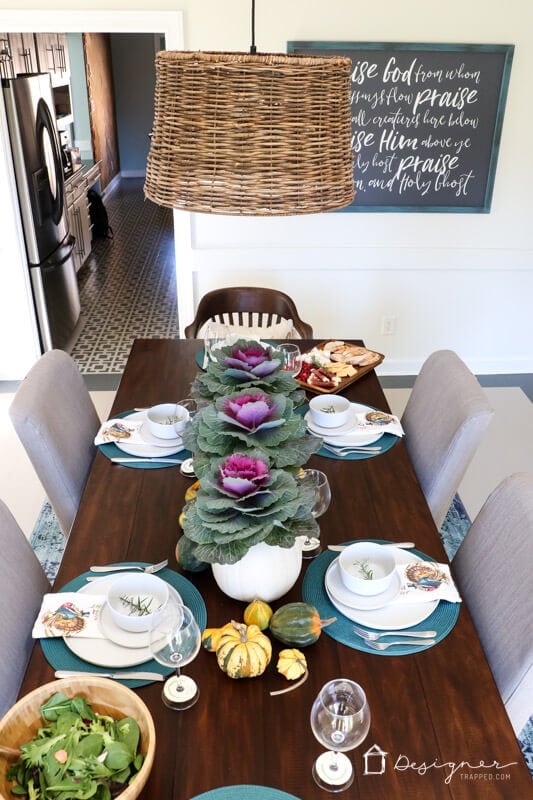 I am a Brand Ambassadör for IKEA U.S. This is a sponsored post.
Hey friends! If you saw my post about  how to make DIY wine glass charms you know that we hosted "Friendsgiving" this year and we were so excited about it. Now, admittedly, we were a little off schedule. You see, Joe was on shift for Thanksgiving (shout out to all the firefighters and other service men and women who are away from their families on the holidays to help keep us all safe), so we didn't actually host Friendsgiving until the Saturday after Thanksgiving, but it was still awesome and it kind of felt like a bonus that we got to celebrate Thanskgiving after everyone else was done with it ;)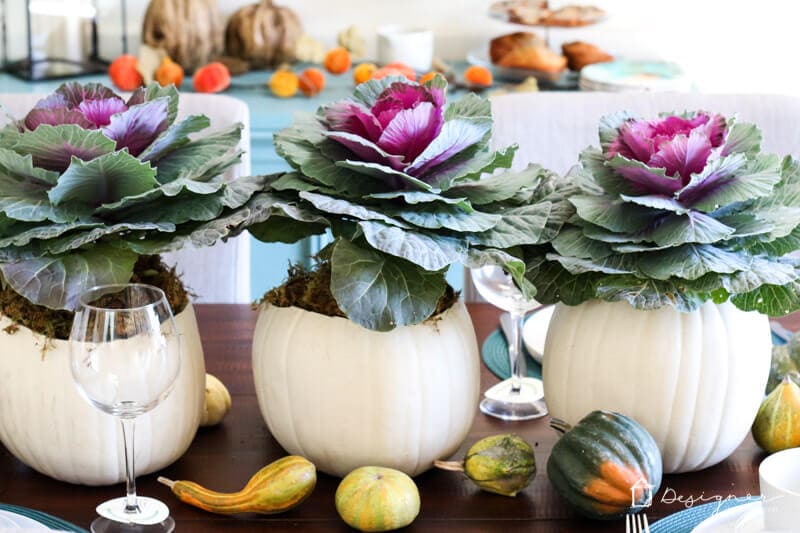 But let's rewind a few weeks. Ever year, I give some thought to preparing for the holidays and every year, my focus is on making sure that we actually enjoy our holidays and make memories and traditions that matter. People don't want to worry about what fork to use when. People won't remember fancy china dishes or whether they ate with real silver cutlery.  What they will remember is whether or not they had fun. And I don't know about you, but I have never found fancy/stuffy events to be fun. So, for me, the key for preparing for the holidays is to do everything we can to make our guests feel comfortable and welcome. When we do that, we have fun and make memories. It really is that simple.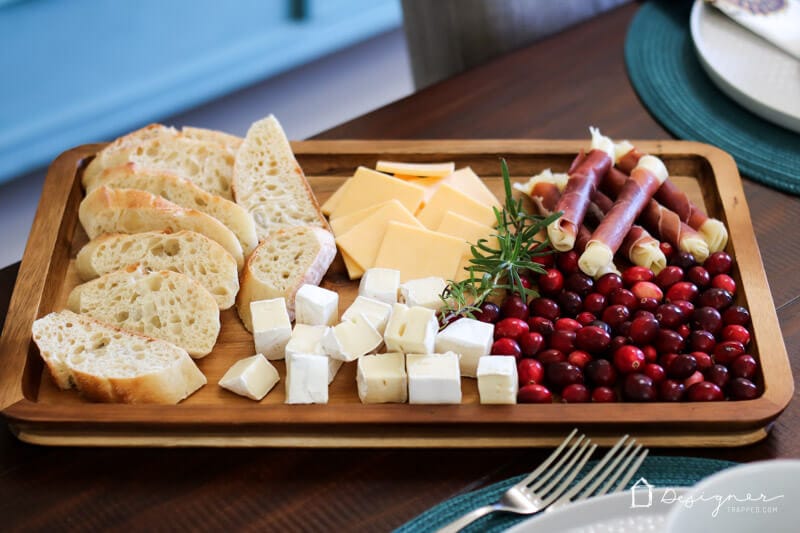 Well, as I started planning our Friendsgiving out, I started getting a wee bit stressed. And I don't mean the normal "what are we going to cook?" kind of stressed. I mean, I was worried about how comfortable everyone was going to be, and I started regretted volunteering to host everyone. "Why?" you ask… Well, you see last year we were super excited to get our new dining room table and benches. And they were soooo pretty. But then we hosted a few meals and quickly realized that the benches were not comfortable or practical. They were super awkward to get up and down from and were super heavy. Plus, the person sitting in the middle was pretty much stuck unless they wanted to disturb the entire bench. It was a lot like being stuck in the middle seat on an airplane and no one wants that seat! But we hung onto the benches because they were new and not inexpensive. Sigh.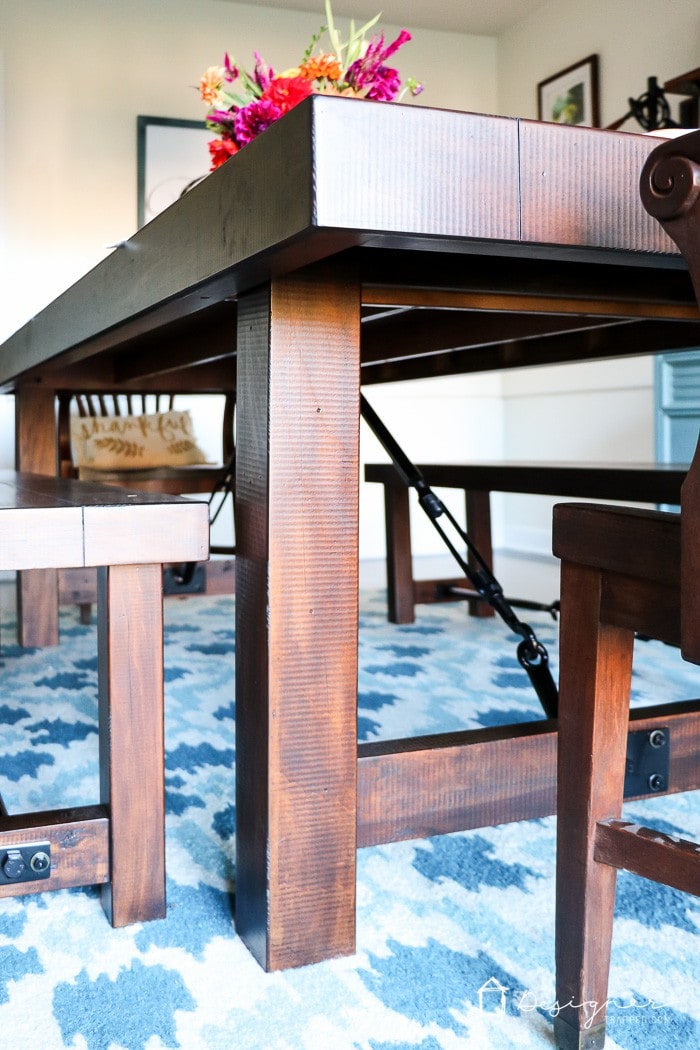 Anyway, Joe and I got to talking about it and agreed that we could probably sell the benches and we would do our best to hunt down affordable upholstered chairs, which is what we really wanted. And we would do it  before Friendsgiving. So, the hunt began.
I was super discouraged at first because y'all, upholstered dining room chairs can be  expensive.But just when I thought all hope was lost, IKEA saved the day (as it has done so, so, so many times for us). The IKEA HENRIKSDAL chairs were only $79.00 and they were exactly what we were looking for–beautiful, functional, high-quality and affordable.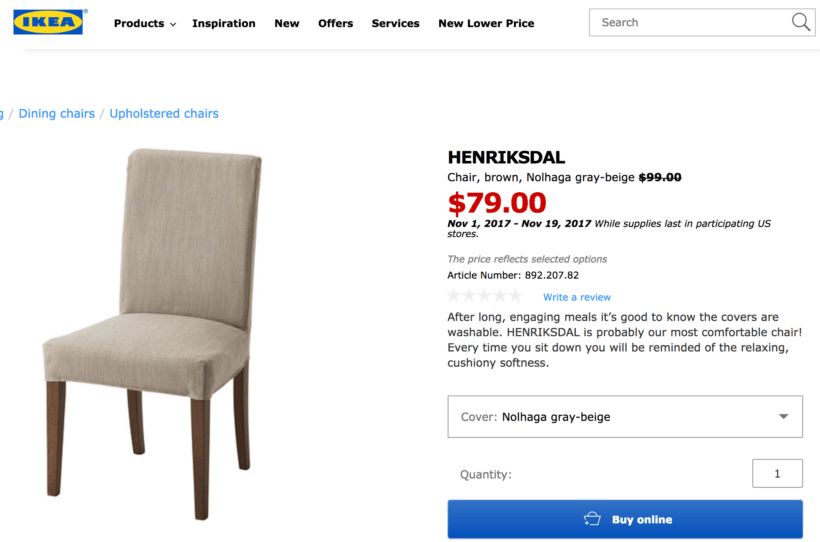 I am beyond excited that the slipcovers are removable and washable. I love that because: 1) we have young kids and who knows what they might wipe on the chairs and 2) I do not want to have a home where guests have to worry about spilling or breaking things. And just like with IKEA's other slipcovered items we have in our home (the Ektorp loveseat and two Kivik chaise lounges), the slipcovers  don't actually slip around. IKEA has placed velcro in all the right spots to ensure that the slipcovers don't look or act like slipcovers. Brilliant.
I'm happy to report that Friendsgiving was a huge success and that  everyone seated around our table was comfortable in our new chairs! No more awkward standing up and down from the benches. It was a big improvement and I'm so grateful we got them in time to host everyone. One thing we didn't expect is that the chairs would be so comfortable we would also take them into our family room as extra seating (2 full-sized couches wasn't enough for 6 adults and 4 kids), but that's what we did!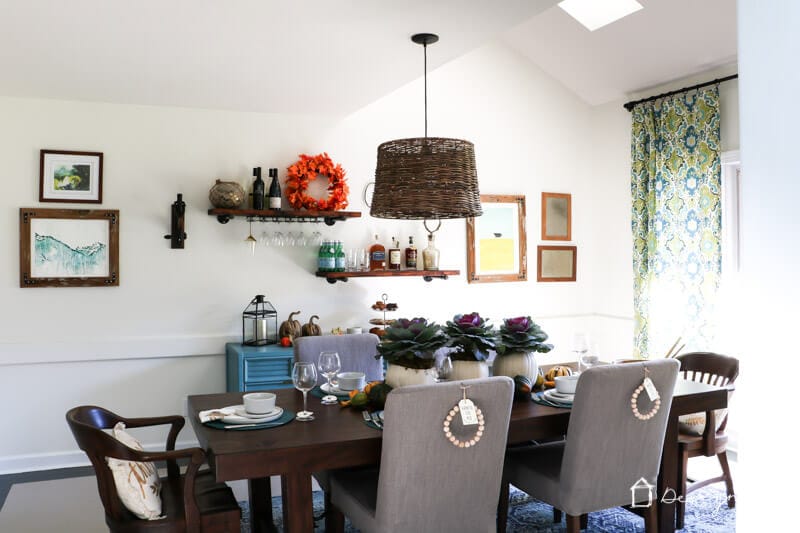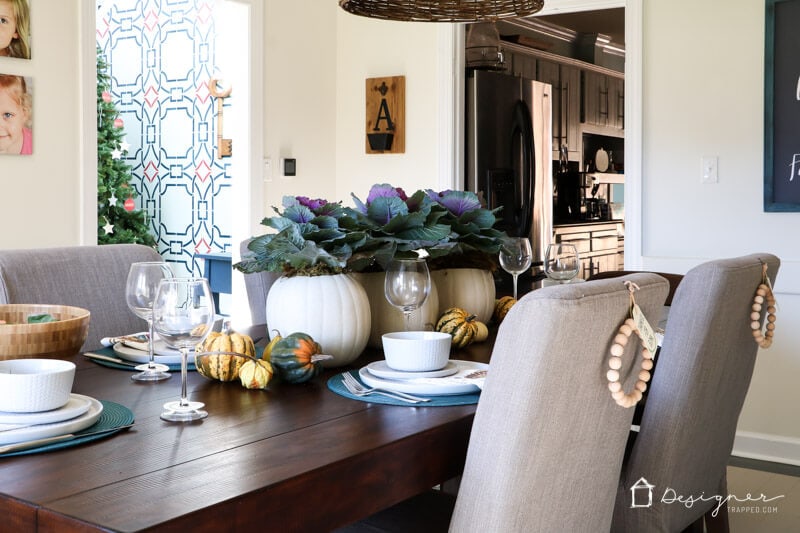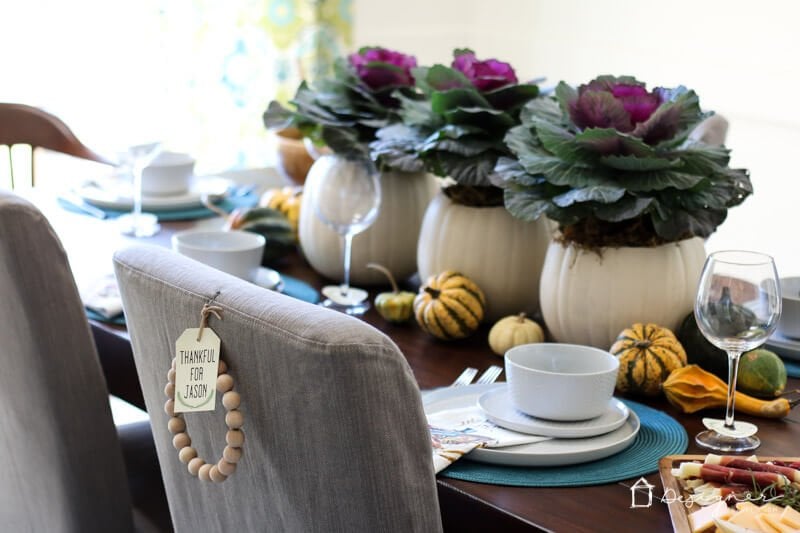 Because our new chairs were so affordable, we also snagged some of the new IKEA VINTER dishes . We do have even our most special holiday meals on our every day dishes (like I said, we aren't fancy), but our old dishes were 15 years old and were chipped. We figured Friendsgiving was the perfect time to upgrade our dishes. And OMG, I love them so much. The texture on them is gorgeous and I love that they are a light gray color and not just a flat white. I am also a big fan of having a raised edge on a plate.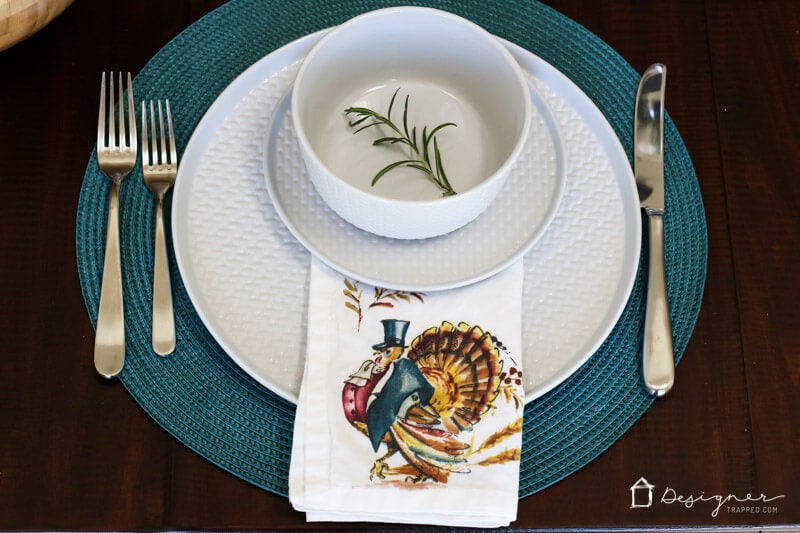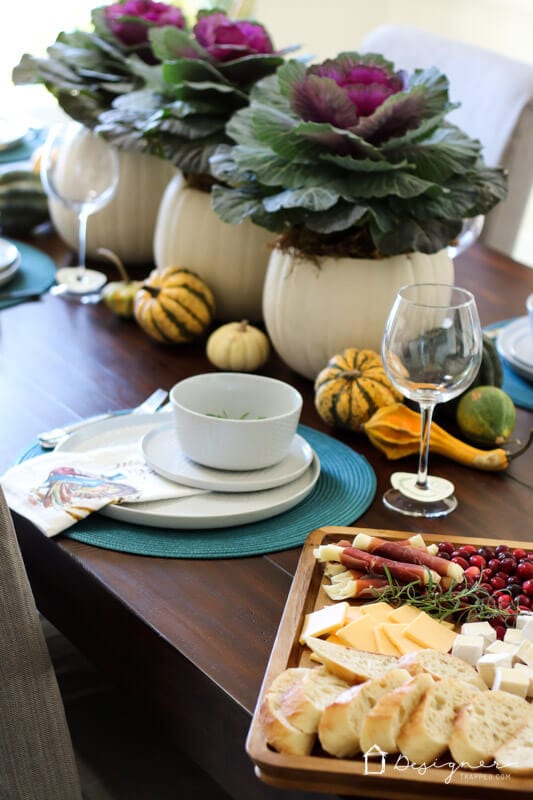 We also grabbed a new salad bowl (we've never owned a proper one–we used to serve salad out of a stainless steel mixing bowl) and a simple tiered serving tray . As with everything we own from IKEA, we love the simple designs and the affordable prices. So while it is super important to us that our friends feel comfortable, we do also like to make sure they feel special (because they are), and stepping up our serving dishes a bit helped give the meal more of a sense of "occasion."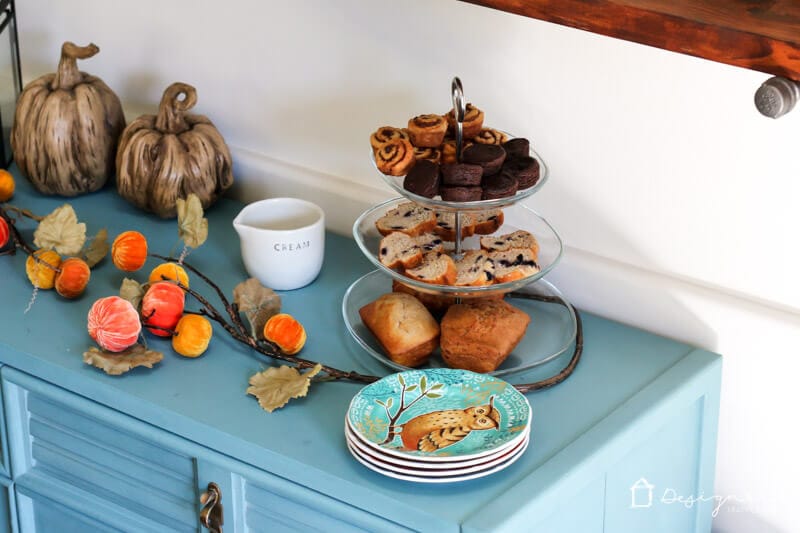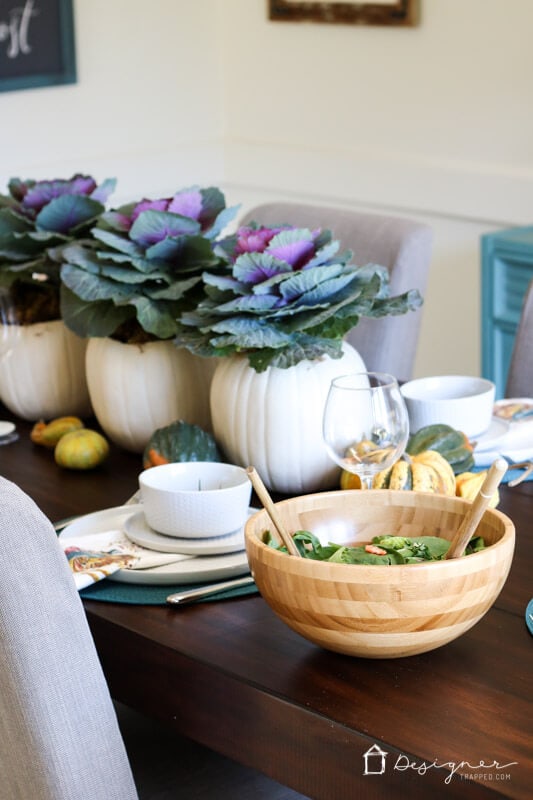 These sweet and easy (they seriously took 2 minutes each to make) wood bead wreaths that also served as place cards also helped make our friends feel special on Friendsgiving. I had never done anything like this because we've never had upholstered chairs to hang them from, but I'm already excited about continuing on this tradition for each holiday.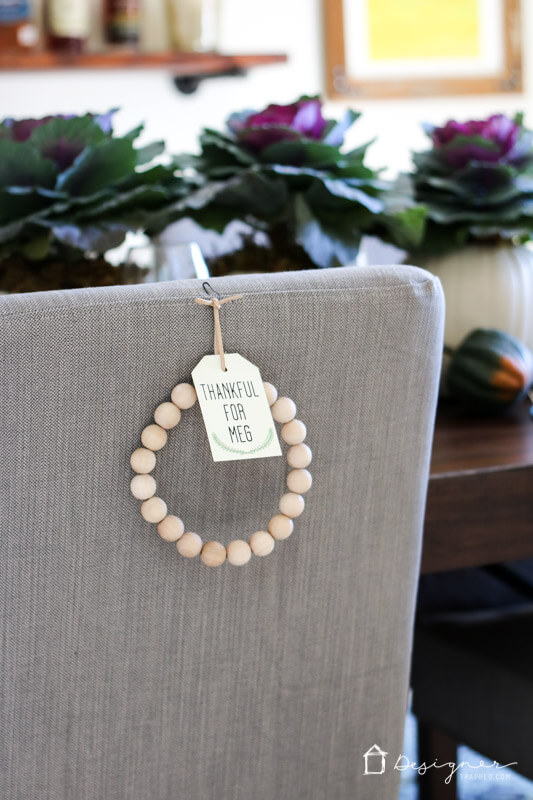 The whole day was fun and relaxing. The simple Kale and pumpkin tablescape was as casual as we all were in jeans, t-shirts and socks (just the way I like it). Everyone was relaxed. Everyone had fun. And memories were most definitely made.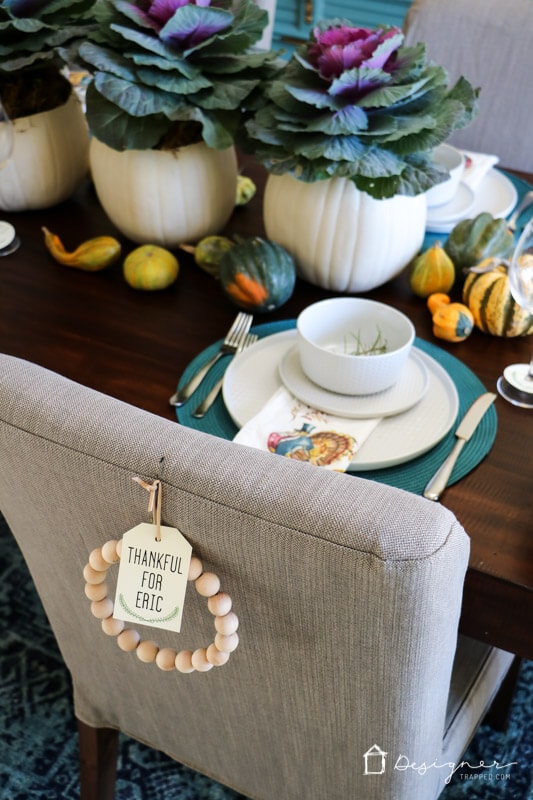 Bottom line… Focusing on making your guests comfortable as you prepare for the holiday is the most important thing you can do. And sometimes you may want to make some changes to your home to achieve that goal, but those changes do not have to cost you a fortune and can be within your reach. That's what I love so much about IKEA. IKEA  makes people's dreams for life at home more accessible.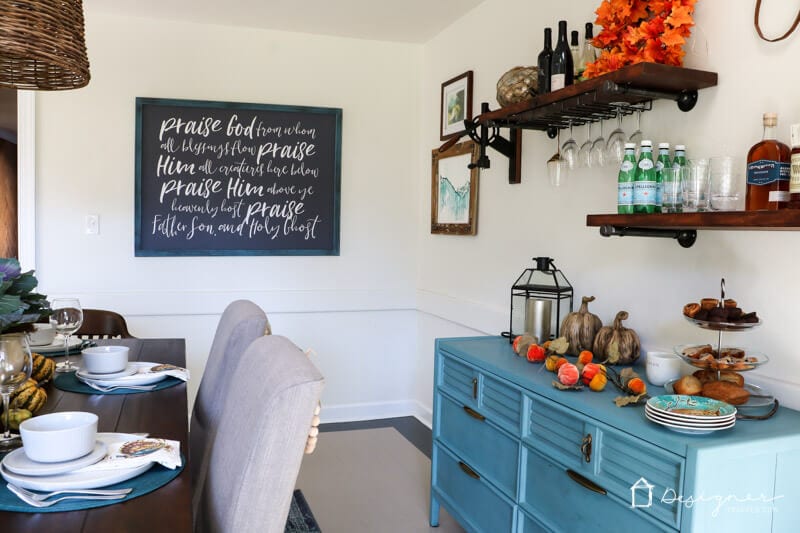 Now, I'm off to start preparing for Christmas :) I'd LOVE for you to share how you prepare for the holidays by leaving me a comment. I'm sure I still have a lot to learn, so hit me with your best stuff!
I am a Brand Ambassadör for IKEA U.S. This is a sponsored post.

[go_portfolio id="christmas"]