Make Your Own Decals to Create a Custom Wall Quote
Last Updated on March 3, 2022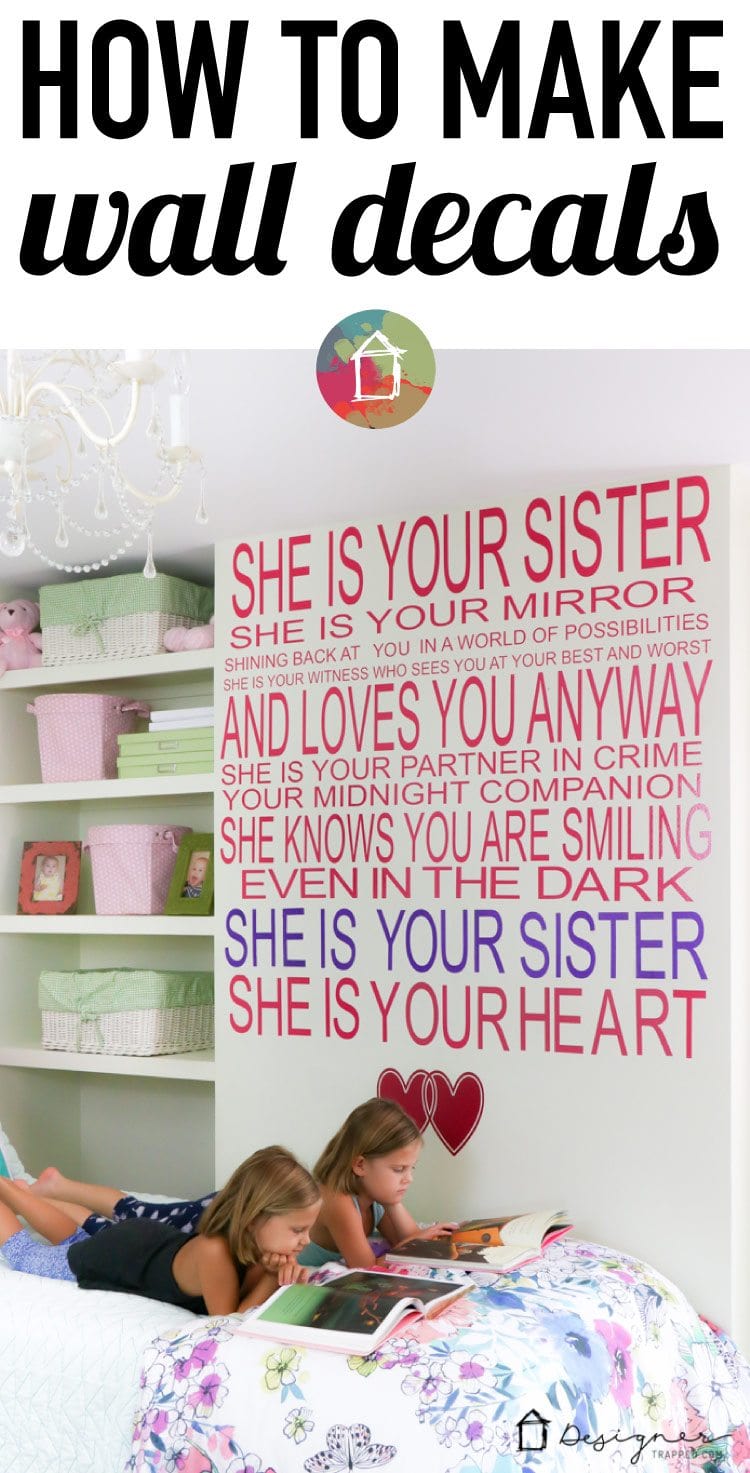 Have you ever wondered how to make your own decals to create a custom wall quote? If so, today is your lucky day because I am going to teach you how to do exactly that! But first, a bit of background on why I chose the wall quote that I did.
If you regularly read my blog, you know that Attley and Avery (my twin girls) recently started kindergarten. Since we initially created their "big girl" room for them for their 3rd birthday, there are certain aspects of their room that they have outgrown, so I decided to make some tweaks to their room. One specific feature that no longer seemed to be "them" was the princess theme (if you can call it that) which included a wall quote from Cinderella that read, "A dream is a wish your heart makes." Y'all, my sweet baby girls have already outgrown the princess phase. HOW DID THAT HAPPEN?!
Well, I don't know how it happened, I only know that it has, so I decided to switch up the quote on that awkward portion of wall. And though my DIY washi tape wall decals were so cute, they had started to peel about 6 months ago (which MAY have been largely due to my sweet little angels helping them along). So, I decided to take a different route and use far more durable adhesive vinyl for the project and recommend that you do the same to make your own decals.
I had seen this hand-painted sign on Etsy a while back and fell in love with the quote on it. Having grown up with a sister who I love and adore (she really is my best friend), it gave me ALL THE FEELS. So, I decided it was perfectly fitting for this space in our girls' room. This post contains some affiliate links for your convenience. Click here to read my full disclosure policy.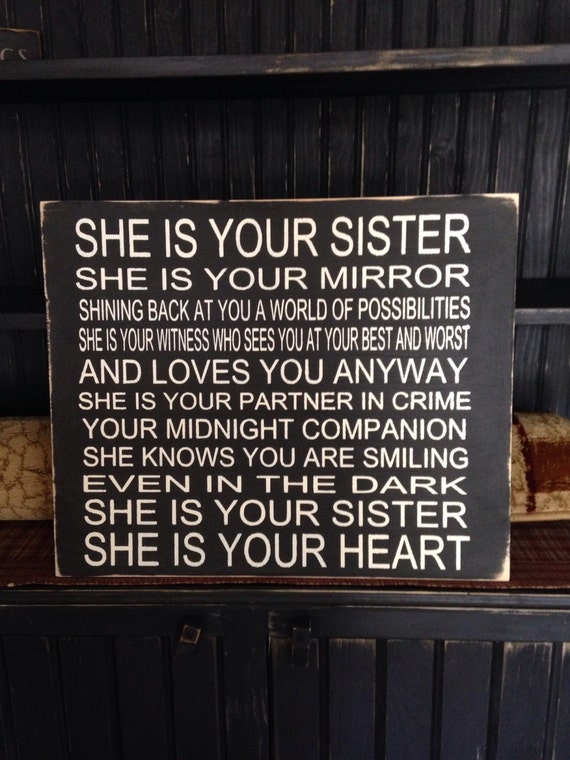 Read on to learn how to make your own decals to create ANY quote in any color you want. This is totally customizable.
How to Make Your Own Decals for a Custom Wall Quote
Materials needed to make your own decals:
Steps to make your own decals:
1) The first step to make your own decals is to decide on your quote and design it in your cutting machine software. I put in the dimensions of the wall I was working with and typed out the entire quote to be sure it fit and to play around with making the lines different sizes.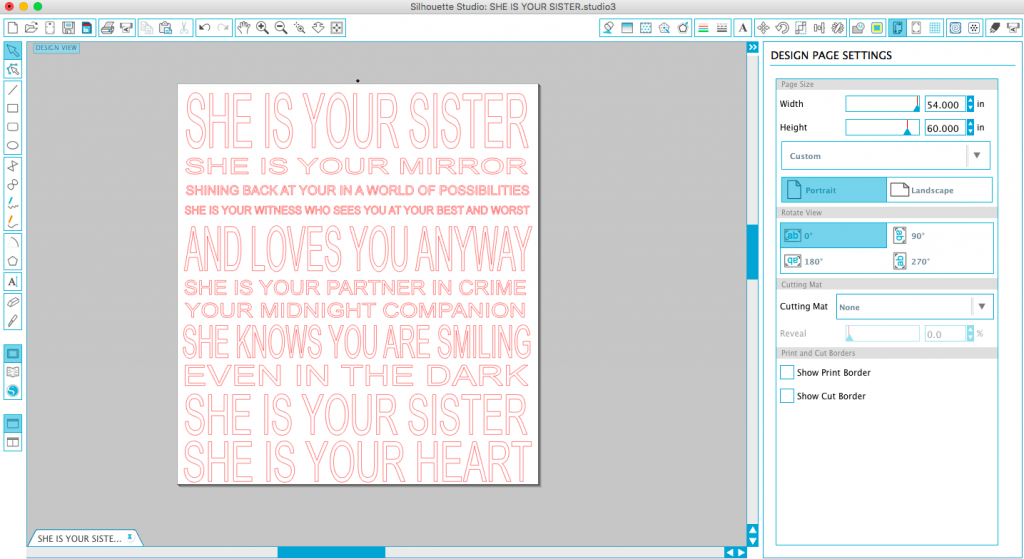 2) After I had everything looking the way I wanted it, I copied and pasted the lines onto a new file that was set to fit my 12" vinyl. I cut 54" lengths of vinyl at a time because that was the width of the wall I was working with. This method definitely wastes a lot more vinyl than you would use if you simply cut out the letters that you needed and fit as many onto each strip of vinyl that you could. But, it makes transferring the design a lot easier and all told, I only used 4 rolls of vinyl for this project, all of which I purchased on sale for $9.00, so that made the total cost only $36.00. I did find that when working with such long pieces of vinyl, it was important for me to help support the weight of the roll to avoid the vinyl from going off track. A vinyl roll feeder will be on my Christmas list :)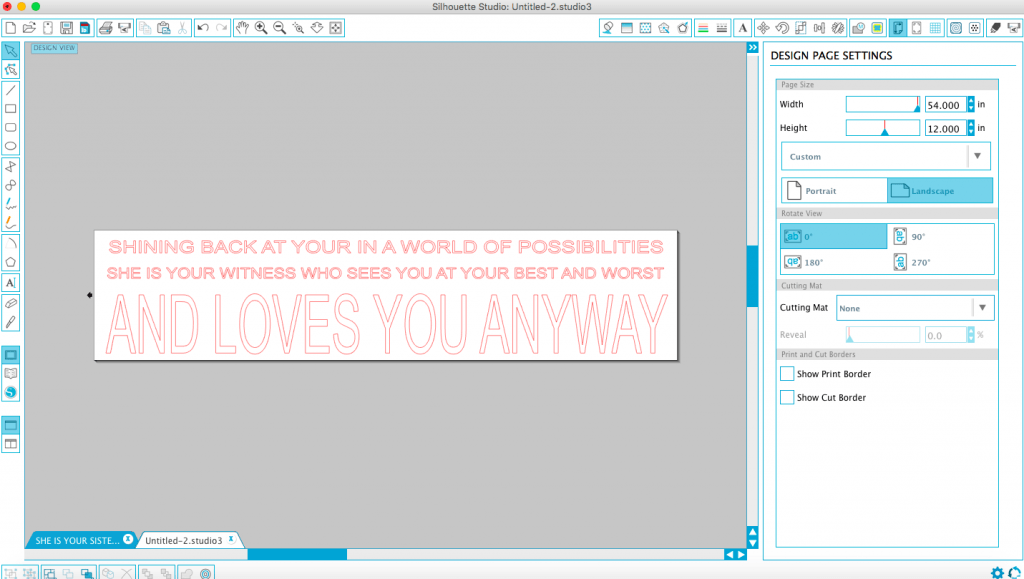 3) Once a section of your quote is cut out, you need to "weed" your design. That means you remove all of the excess vinyl from around the quote so you are left with just your design, as shown below.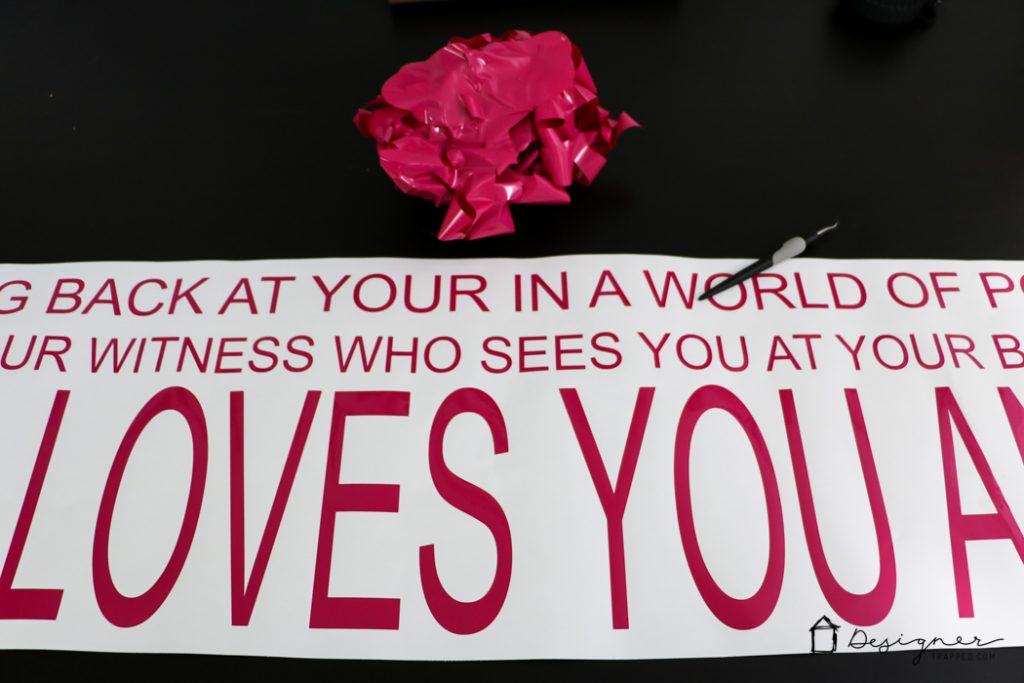 4) Next, you need to transfer the vinyl onto your transfer paper, keeping it as straight as possible. Use your scraper to make sure your contact is good before peeling your quote off of the backing paper.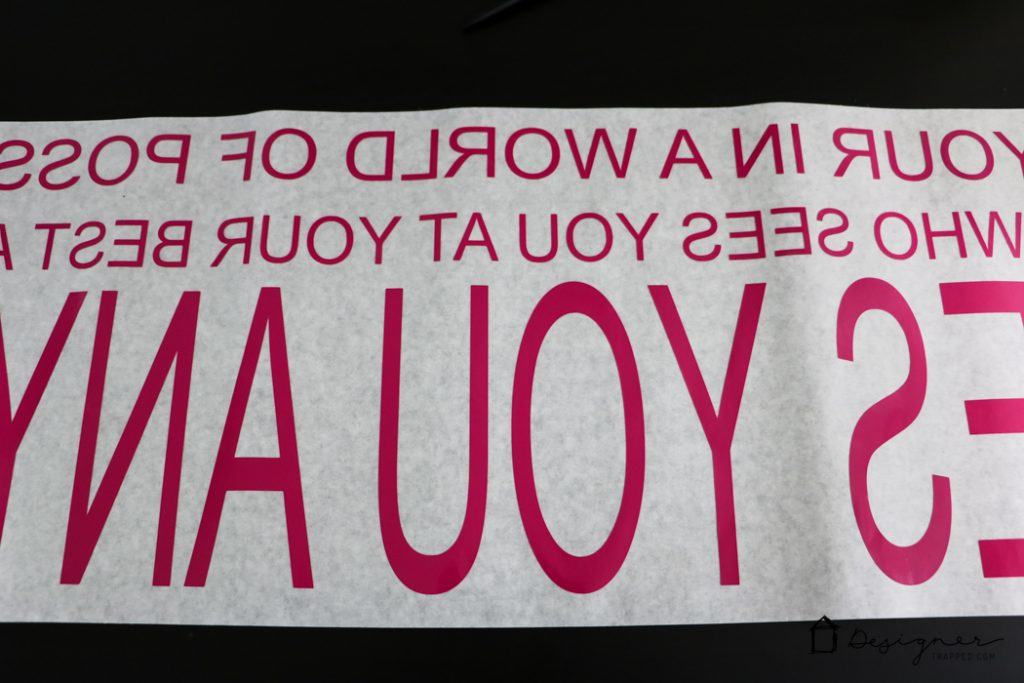 4) Position the transfer paper on your wall and then use your scraper again to firmly press the vinyl letters on your wall. (Don't worry, I added the missing letters at the top later).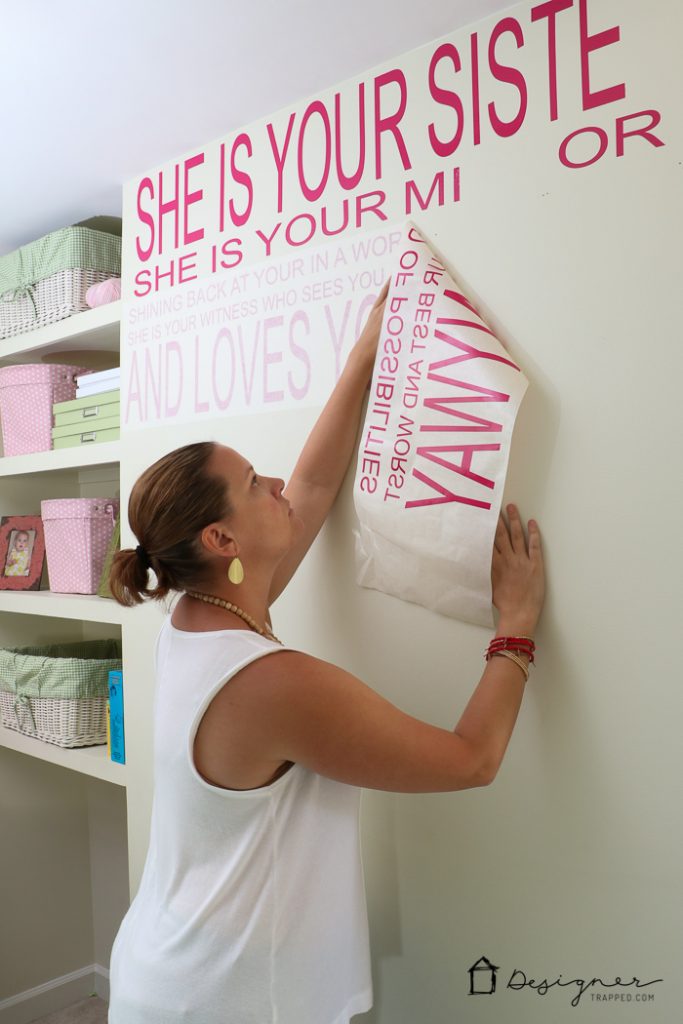 5) The last step to make your own decals is to slowly peel the transfer paper off the wall. If you reach any spots where the letter is not sticking to the wall, just use your scraper to improve the adhesion and keep peeling.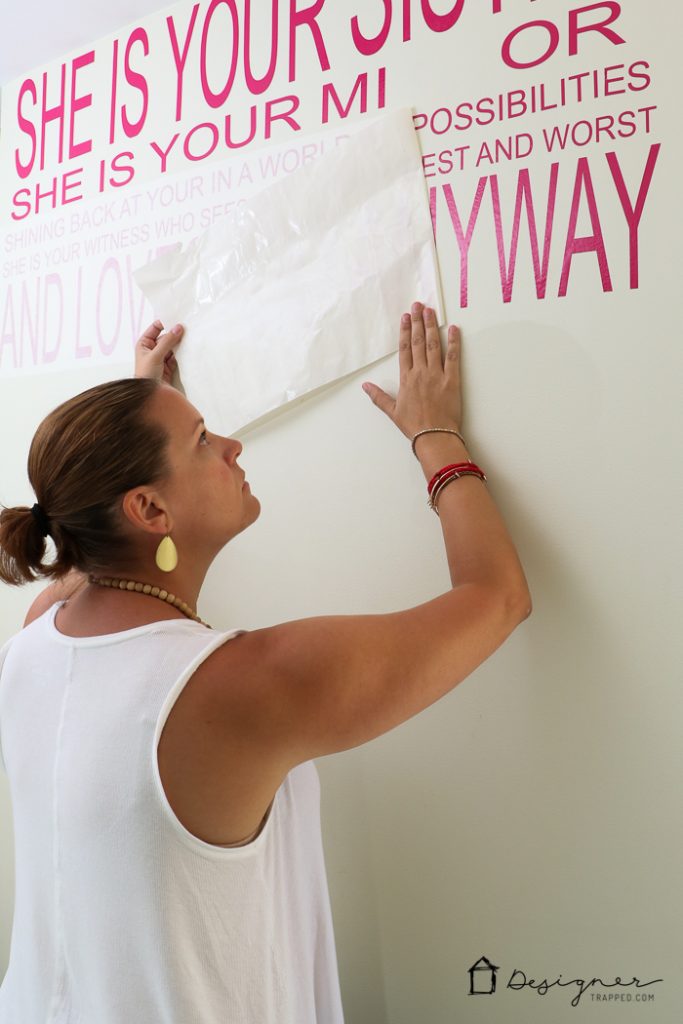 Repeat all steps until your wall is complete. Check out the finished project. WE LOVE IT!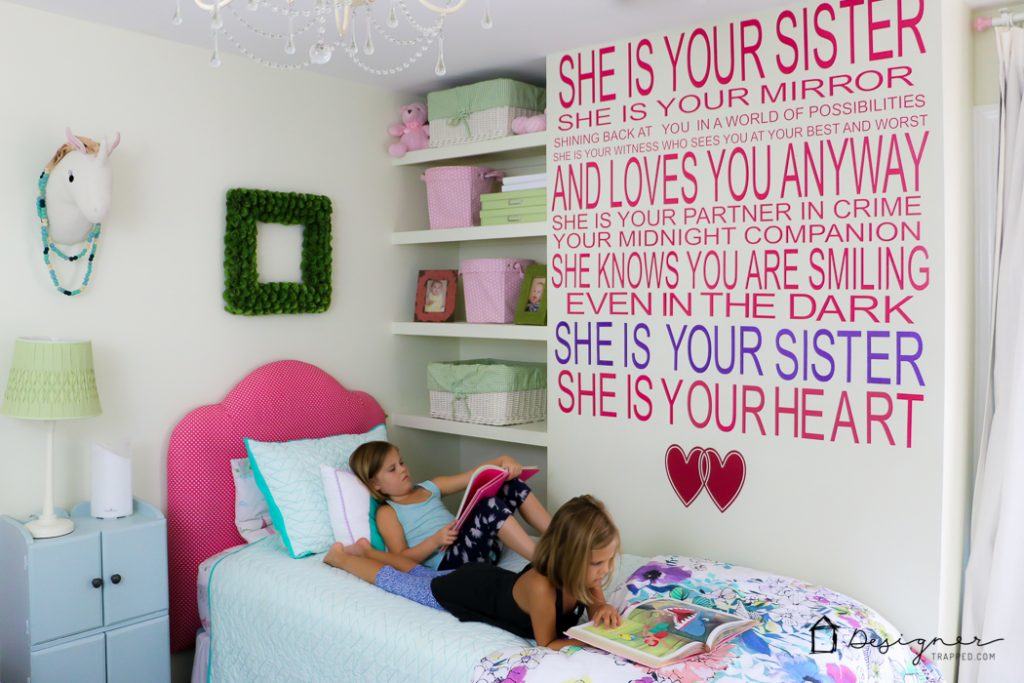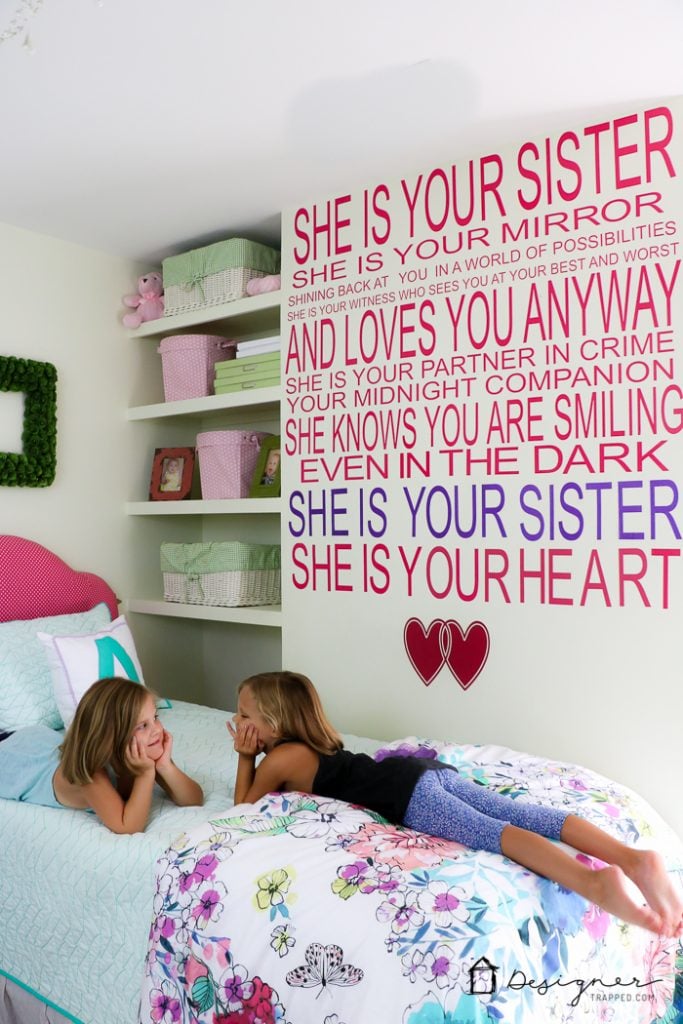 One of absolute favorite things about the fact that you can make your own decals with vinyl is that you can make mistakes without stressing out about it! If I had hand painted this, it would be a mess. But when you make your own decals with vinyl, if the spacing of something looked off or crooked, all you have to do is slowly peel it off and reposition it. Vinyl adheres incredibly well (that's code for my daughters won't be able to peel this stuff off like the washi tape), but it also peels off without damaging your walls at all. WIN!
In just a few hours, this project was complete. My girls, who are reading now, love the quote on their wall almost as much as I do, though I'm sure they don't totally comprehend the significance of it…yet. Though they absolutely drive each other crazy sometimes, they really are best friends and I am so, so grateful for that.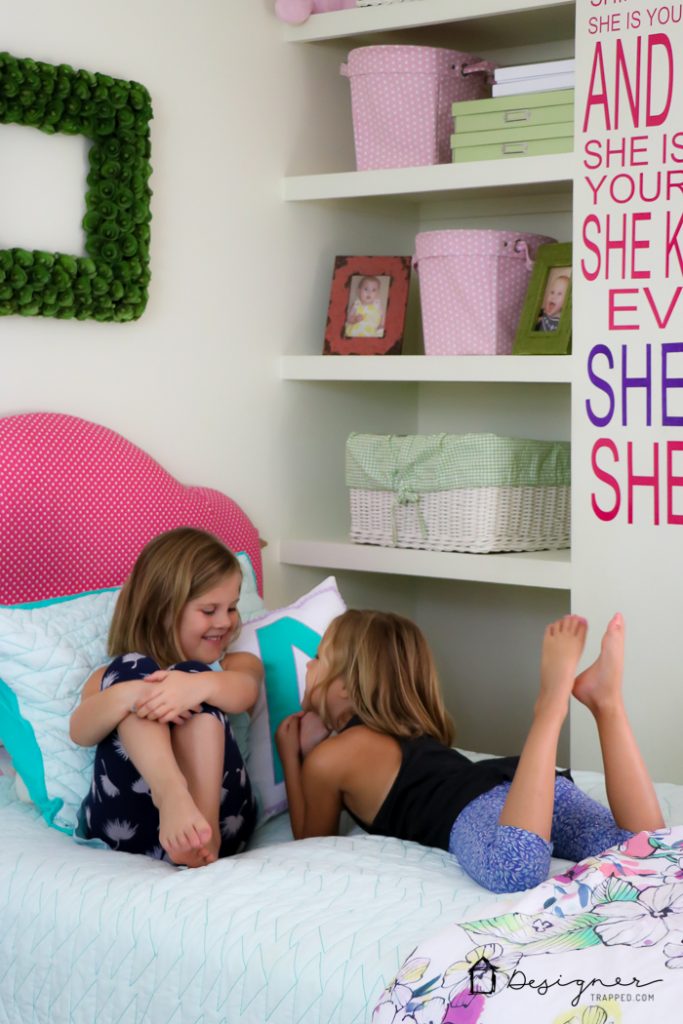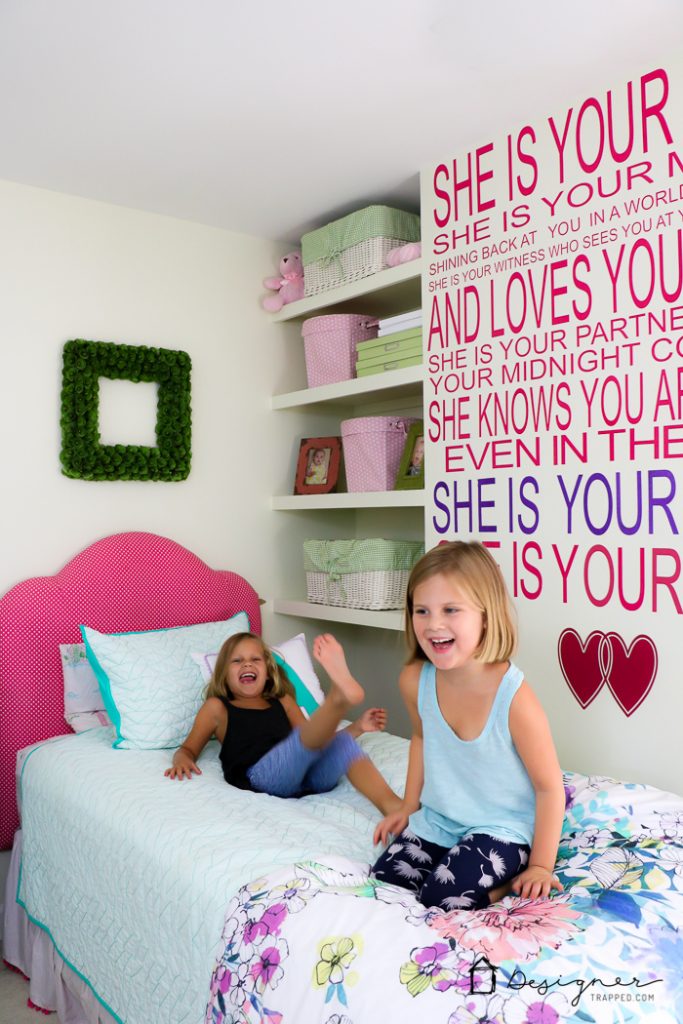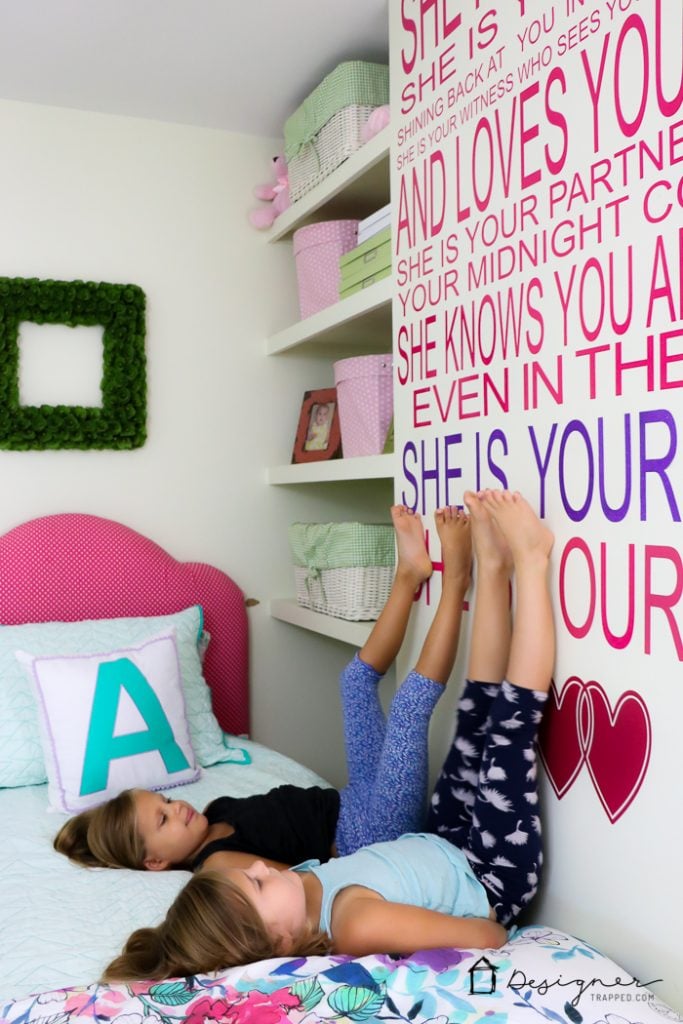 More updates in our girls' room will be coming in the following weeks. You can already spy two of them. Those fun quilts, initial pillows and gorgeous floral duvets that the girls helped pick out (what can I say, they have great taste). For now, here's a source list of what you can see in these photos.
Source List:
Click on any of the images below for details on the product. Click here to see the DIY headboard tutorial and click here to see the DIY floating shelves tutorial.

​
​
​
[mv_create 1 11 200 2016 key="1″ type="list" title="Most Popular Projects" thumbnail="</span><a href=" https designertrapped com wp content uploads diy home decor projects blog jpg target="_blank" a span]​