We are FINALLY taking the time to finish up our master bedroom. Come check out our colorful master bedroom design plans. I am so excited to get this done!
Oh, friends… If you have followed my blog for a while, then you know that our master bedroom has been a very, very slow work in progress over the last 4 years or so. Several years ago we replaced the carpet with beautiful new floors. Then we added some amazing skylights. After that, we finally put colorful artwork up on the walls. And most recently we added this DIY fireplace to the sitting area.
But the fact is that we have never taken the time to really finalize our master bedroom design until now. And y'all, I am so looking forward to finally getting our master bedroom done. Working on it in spurts here and there was driving me nuts. So, let's take a look at the master bedroom design plans, shall we?!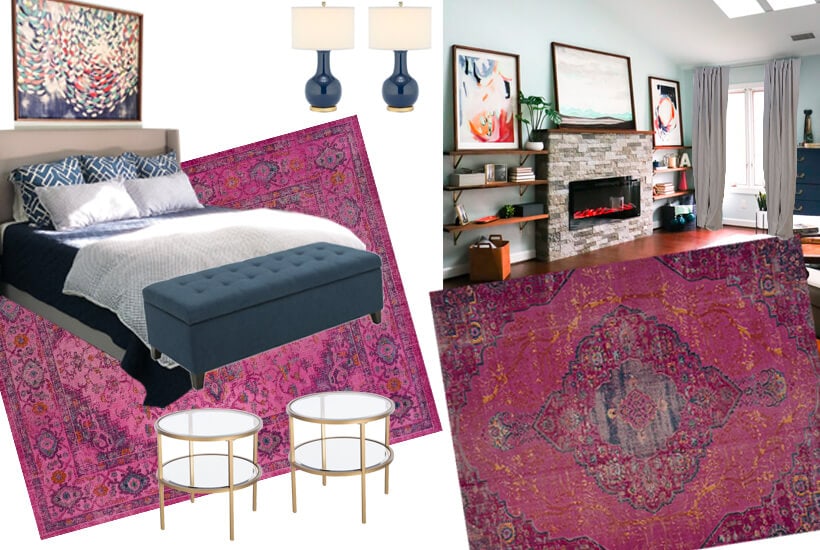 Ahhhhhh…. I get happy every time I look at it. Now, for the record, I have to admit that when I created this mood board I felt certain Joe would veto the pink rugs. But he didn't. Like, he didn't even balk. Sorry ladies, he's taken :) I don't think it's that he loves the pink rugs, but I do think he has learned to trust me AND feels like there are enough masculine colors and features in the room, like the fireplace and raw wood shelves, to balance the super feminine rugs.
The items are slowly arriving and I'm hoping to reveal the new master bedroom design to you within the next 6 weeks or so. For now, you can find the complete source list below.
Master Bedroom Design Source List
Just click on any of the images below for full product details.

Before you head out, be sure to subscribe to my newsletter so you can get my free guide that will teach you exactly how to design a room you love :)
​
​