Our Pink and Navy Master Bedroom Reveal
Last Updated on March 3, 2022
We have finally, finally completed our pink and navy master bedroom retreat. After years of living in a half-finished master bedroom, it feels so good to have it done! Check out the big reveal in this post.
Like so many people, we neglected the design of our master bedroom for the nearly 5 years we've been living in our home. Sure, we've tackled projects here and there in our master bedroom like the DIY frames we made for all that art, our DIY fireplace, the installation of our gorgeous skylights, but it's been very piecemeal. We decided it was finally time to really FINISH the space. We partnered with Hayneedle for our family room design and makeover, and I'm so excited to show you how it turned out!
Now for fun, let's take a look back at what this room looked like 5 years ago when we bought this house. Prepare yourselves. It was VERY boring and VERY beige… with the world's tiniest ceiling fan.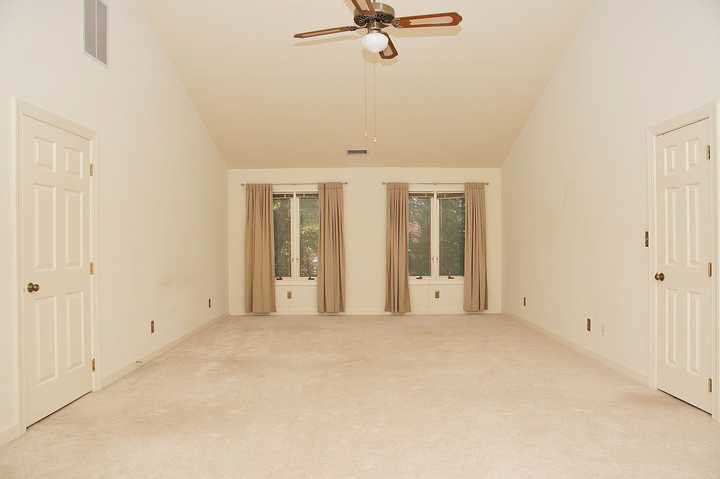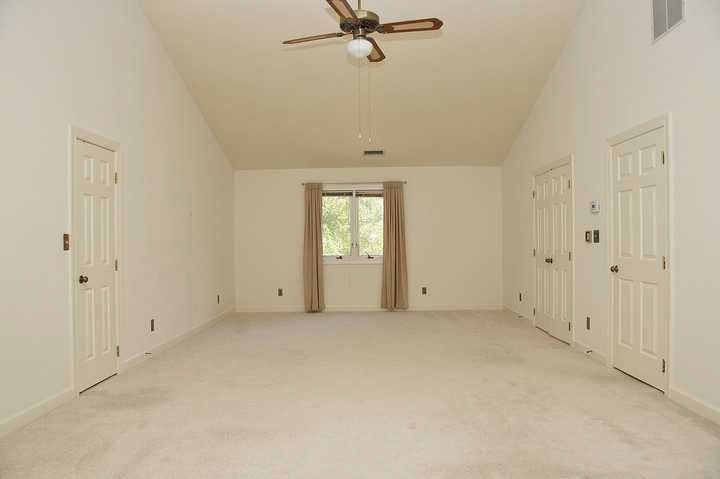 Told you it was boring, lol. Well, it's not boring anymore! Check it out now :)
For all the product details, CLICK HERE to head over to the Hayneedle blog and check out my style board.
The bed seemed like an obvious place to start. After living with a headboard we had built ourselves over 15 years ago, we finally upgraded to a wingback upholstered bed. Its clean lines and structure make it feel masculine, which was necessary because the stunning pink rugs we chose to anchor our bed and the separate sitting area are definitely feminine :)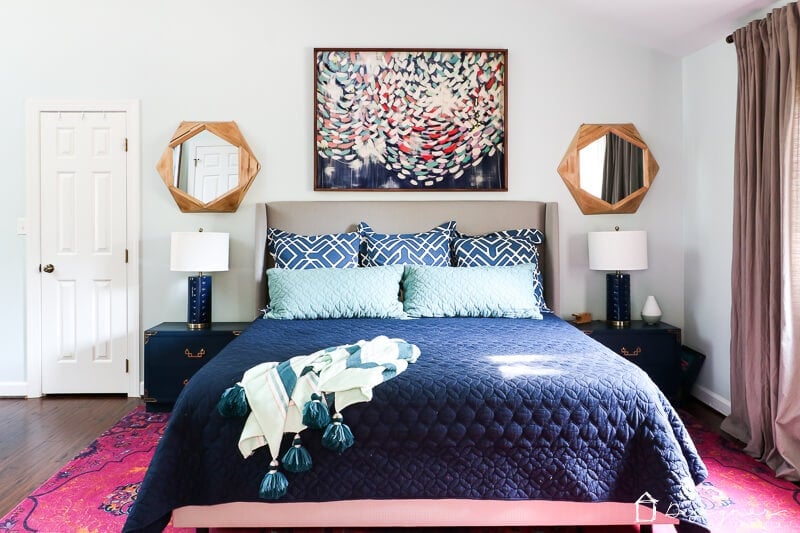 One of the things I was most excited to address in our master bedroom were the window treatments. Our old curtain rods were outdated and were flimsy. The new curtain rods and finials are much more substantial and the new, lined cotton curtain panels help keep out the morning light.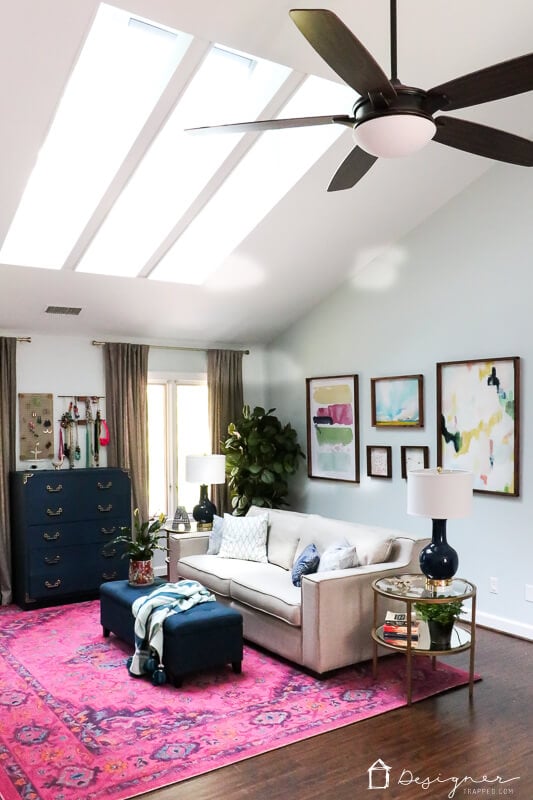 The sofa and upholstered bench give us a comfortable place to enjoy our DIY fireplace. And the round glass tables and navy blue lamps on either side of the sofa really make the seating area feel complete.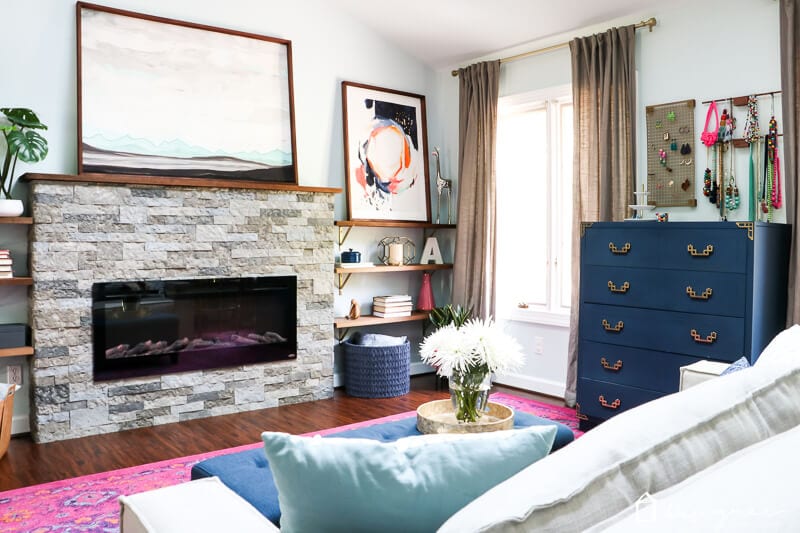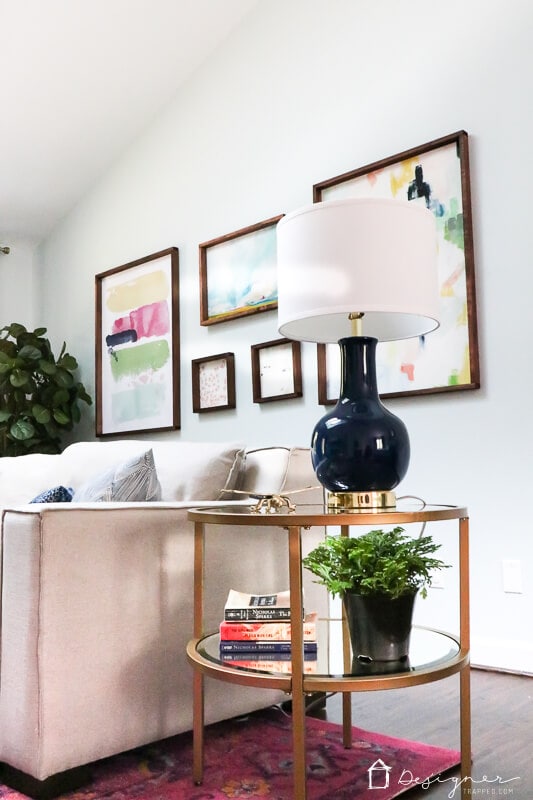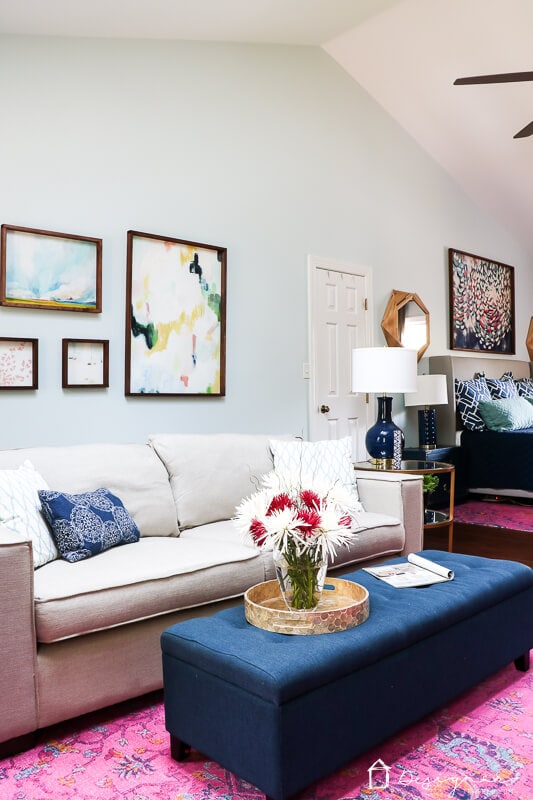 And then, of course, there are the finishing touches. I have started trying to bring more plants into our home, but I'm not great at keeping them alive, so when I found that gorgeous artificial fiddle leaf fig tree, I had to have it. It's so nice to have so much greenery in our bedroom without having to worry about my black thumb.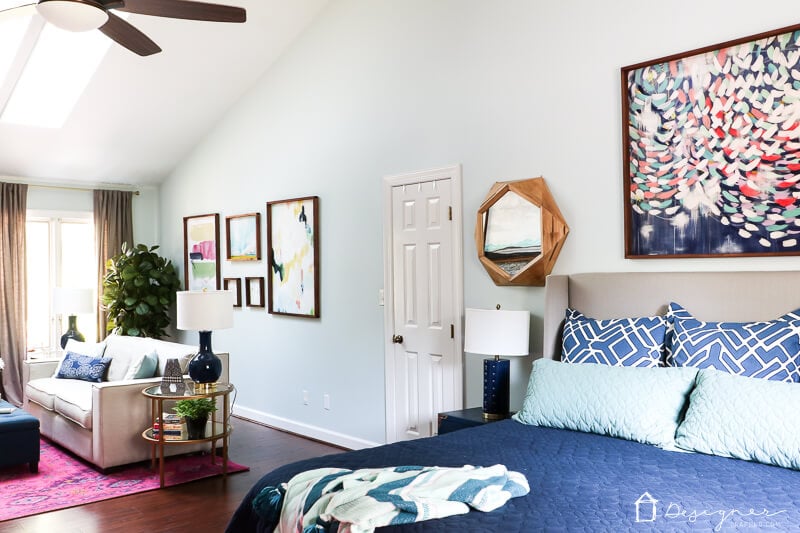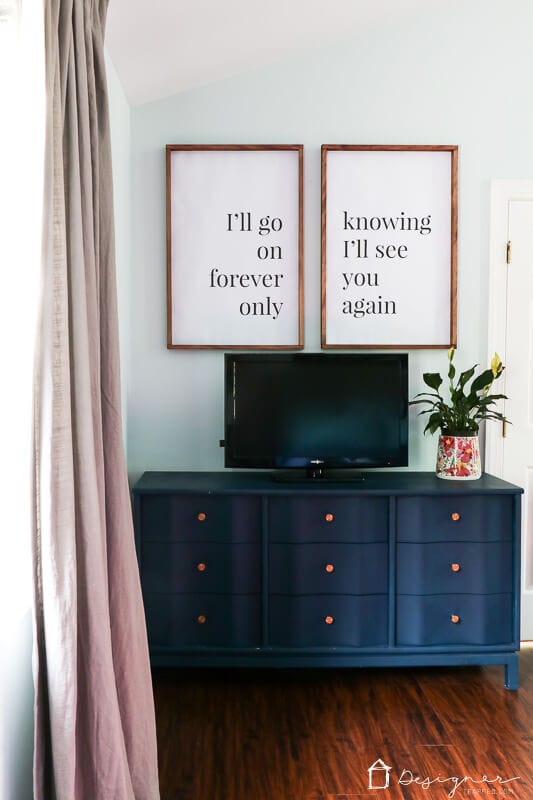 We are so happy we finally took the time to really FINISH our master bedroom. We are absolutely loving our new space! For more details on the choices we made for our master bedroom and to see even more great options, click here to check out my style board on Hayneedle's blog!
Before you head out, be sure to grab one of my free design guides and check out some of my most popular posts.
​
[mv_create key="3″ type="list" title="Room Reveals" thumbnail="false"]​