8 Practical Refrigerator Organization Tips for Busy People
Last Updated on August 10, 2021
These refrigerator organization tips will help you maximize space and function for your busy life. In this post you will find simple refrigerator storage ideas and the best fridge organization containers to keep food fresh longer AND keep your fridge clutter-free.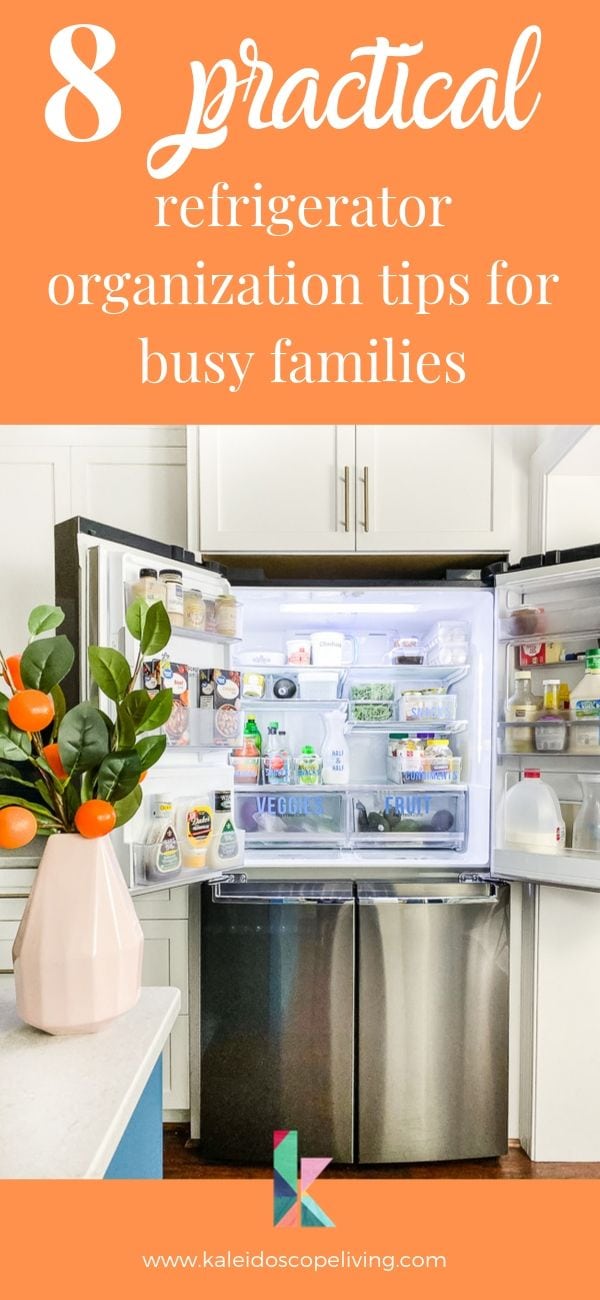 Is anyone else kind of sick of the refrigerator organization tips that you see in magazines and online? You know the tips and articles I'm talking about, right? The ones that have color-coded everything to perfection with foods and drinks we all know were purchased just for the photo opp because those of us with average lives and families know what a realistic fridge looks like? Well, this post about refrigerator organization is the opposite of that. Because I'm not interested in learning organization tips that will only work in an imaginary version of my life, and my guess is you aren't either!
Thank you to The Container Store for gifting us with products to complete this project. I am honored to be a brand ambassador for The Container Store!
Our Refrigerator: The Before
We have been loving everything about our huge kitchen renovation that we finished earlier this year, including our new refrigerator. But now that we've settled into our kitchen and fully understand how we are using it, it's time to implement some better organization in a few areas. Our first priority was to get our refrigerator organized.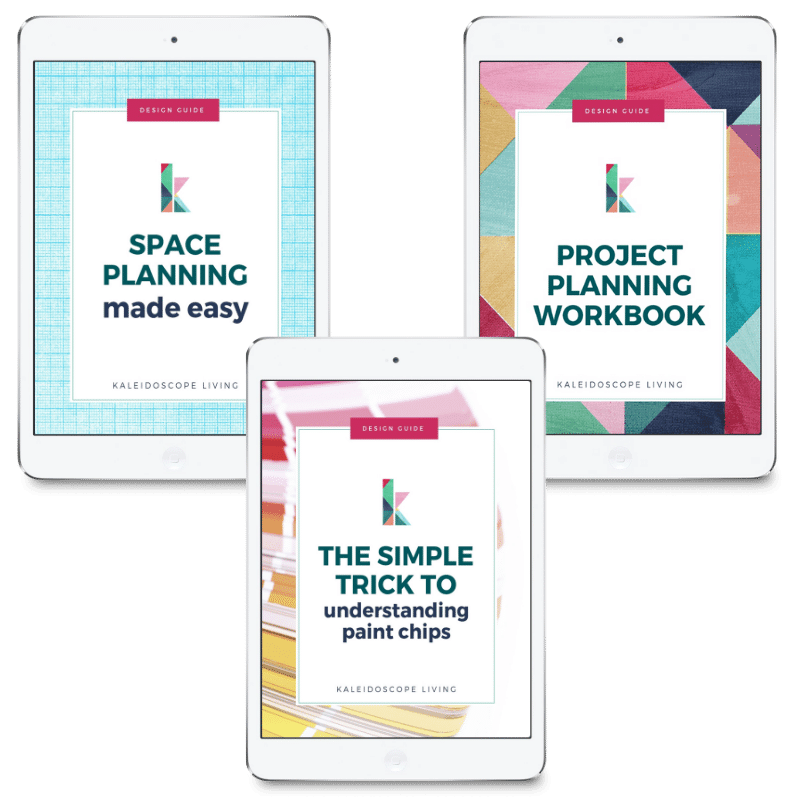 Get my FREE design guides when you subscribe!
First I have to admit that this feels a little bit like showing you the inside of my underwear drawer. It feels a little private. But that's okay, I trust you not to judge me too harshly.
I realize it may not look that bad to many of you, but it was pretty dysfunctional. The large white bin on the lower left side of the fridge was a good idea in theory, but it was too big and we wound up shoving anything and everything into it. We even stacked things on top of other things. In other words, it was totally defeating the purpose of housing like items to make them easily accessible. We needed smaller containers and more of them to really organize things in a way that made sense.
Refrigerator Organization Containers
I'm OVER THE MOON excited to share that I'm a Brand Ambassador for The Container Store this year. If you aren't familiar with The Container Store, it is the best place to go for any and all things organization. Seriously. If you have something to organize, you will find what you need there. If you are into organization, it's a pretty sublime experience to walk up and down the aisles. They have thousands of kitchen products designed to maximize space and make the most of your home.
Sadly, our closest store is over an hour away, so I don't get to visit in person often. I ordered all of my supplies for my refrigerator organization project online. This post contains some affiliate links for your convenience. Click here to read my full disclosure policy.
We chose these items for our refrigerator organization project:
And you are in luck. Now through November 10th you can take advantage of their kitchen sale going on to get all the refrigerator organization products you need! Just click HERE to check out all the incredible kitchen storage and organization products The Container store offers.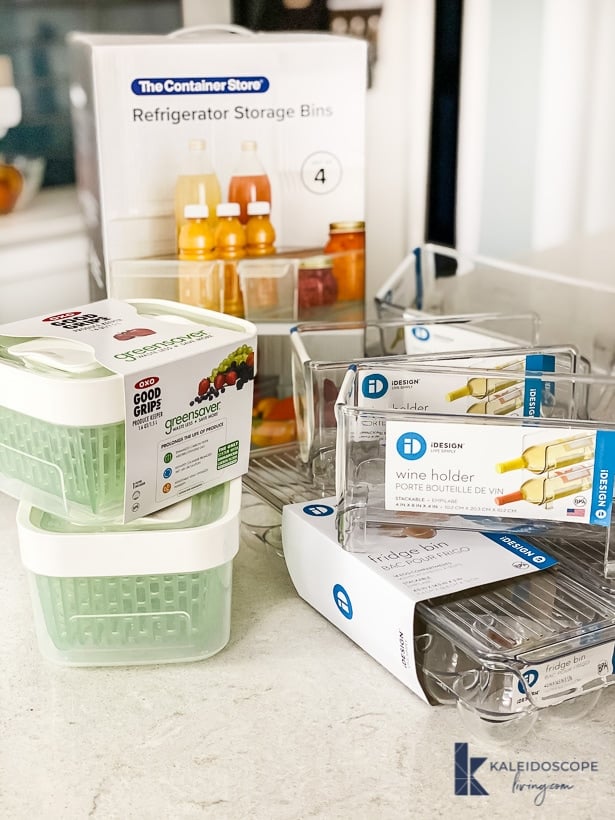 8 Practical Refrigerator Organization Tips
I spent about 1-hour cleaning and organizing our refrigerator. These are the tips I think are worth passing along:
Tip 1: Start by tossing out anything that is expired or you can no longer recognize (yes, that may have happened to me).
Tip 2:Remove everything that is left even if you plan to keep it. Then wipe down your entire fridge. You may be surprised how many little spills and other mystery sticky areas you will find after your fridge is empty. Just take care of it. It's fast and easy, pinky promise.
Tip 3:Before you decide what to put back, think about whether it should stay in its current container OR if it would be better to transfer it to something else. I decided to use the carafes I ordered for our coconut milk, almond milk and half and half. You can write the expiration date on the carafe with a permanent marker (don't worry, it will wash off). But I didn't do that because those items NEVER expire before we finish them. I know my family, lol.
Tip 4:Transfer your produce into the amazing Greensaver containers. YES, they really do help keep produce fresh longer. We go through a lot of berries and using these containers for them has been a game-changer.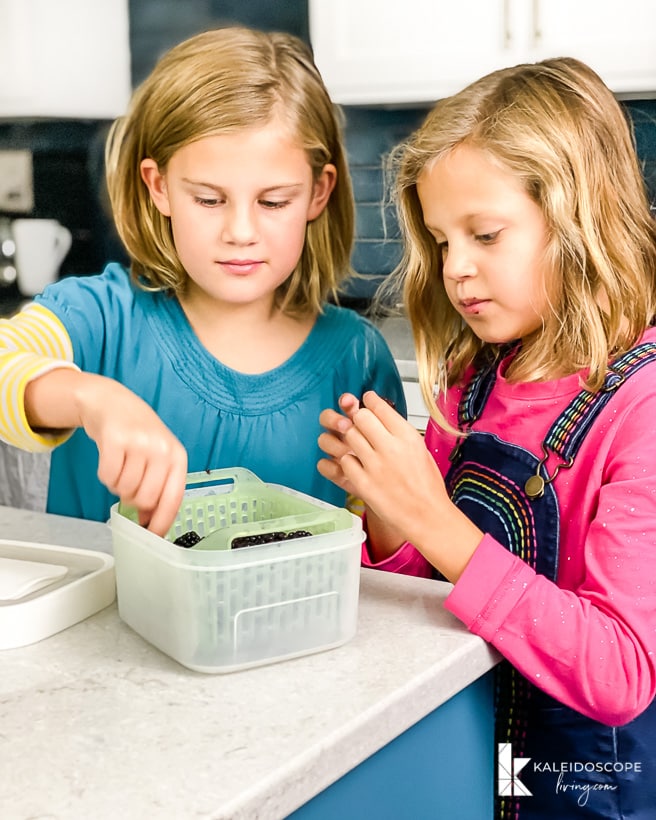 Tip 5:Remove items from excess packaging (the cardboard container butter comes in, for example).
Tip 6:Transfer your eggs into the egg holders. This may seem weird to some people but we almost always have at least 2 dozen eggs on hand and we hard-boil eggs in bulk, so it's nice to use one egg container for hard-boiled eggs and the other one for fresh eggs. I LOVE that they stack on top of each other because it saves quite a bit of space.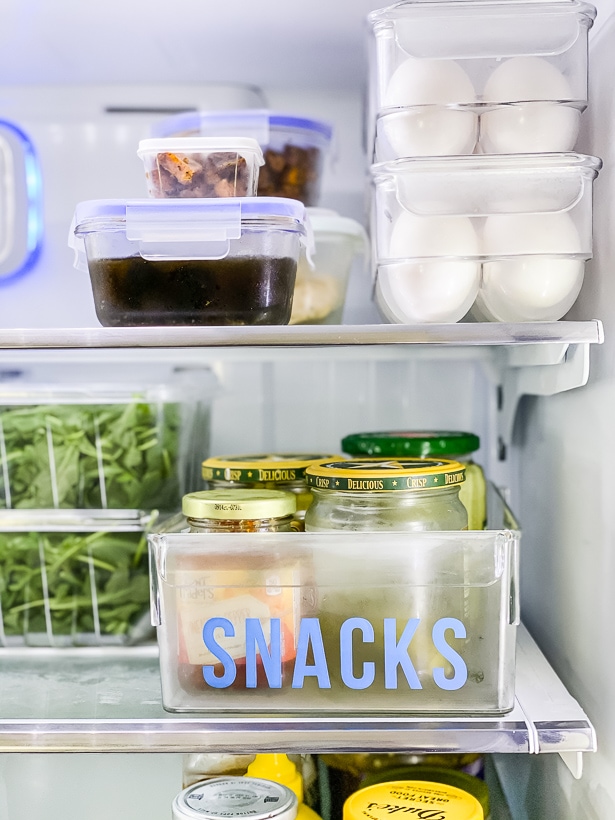 Tip 7:Place like items together in bins. We have two bins for sauces (think BBQ sauce, salsa, soy sauce, etc) as well as a couple of snack bins for things like applesauces and pickles. We also have a dedicated bin just for condiments. Having MORE containers that are smaller actually works. Bigger is not better when it comes to storage containers for your refrigerator.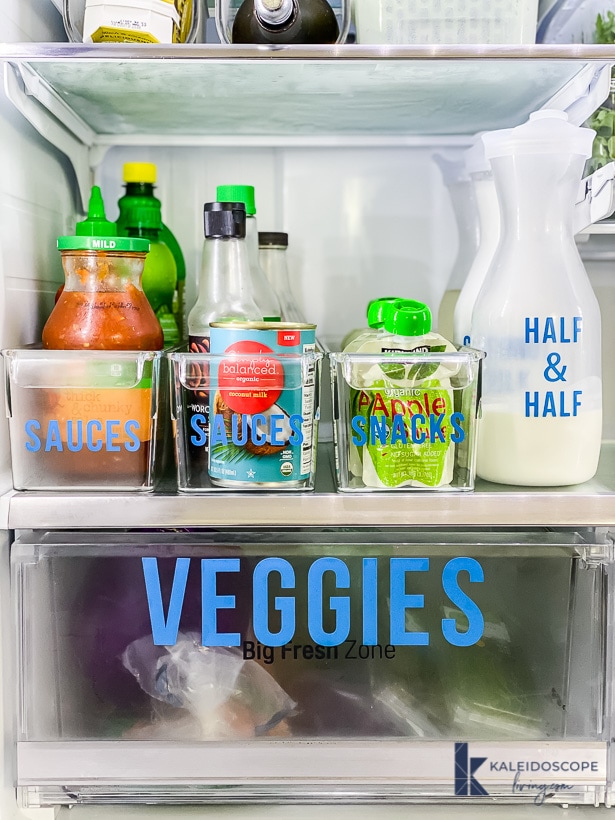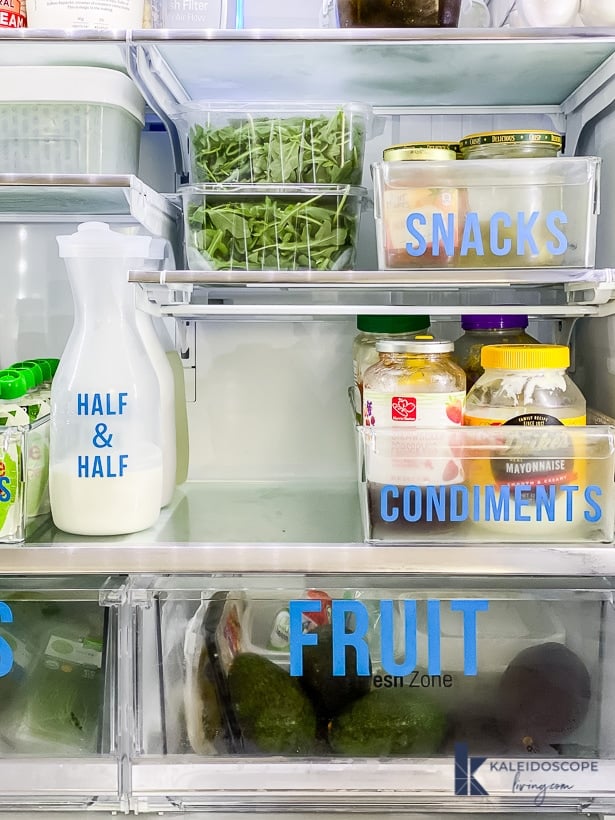 Tip 8: If you have young kids, try to keep the items they need to access within their reach AND give them a "tour" of the refrigerator so that they understand where everything belongs. Chances are, they will be HAPPY to follow the new system. It's easier for everyone when there's a place for everything.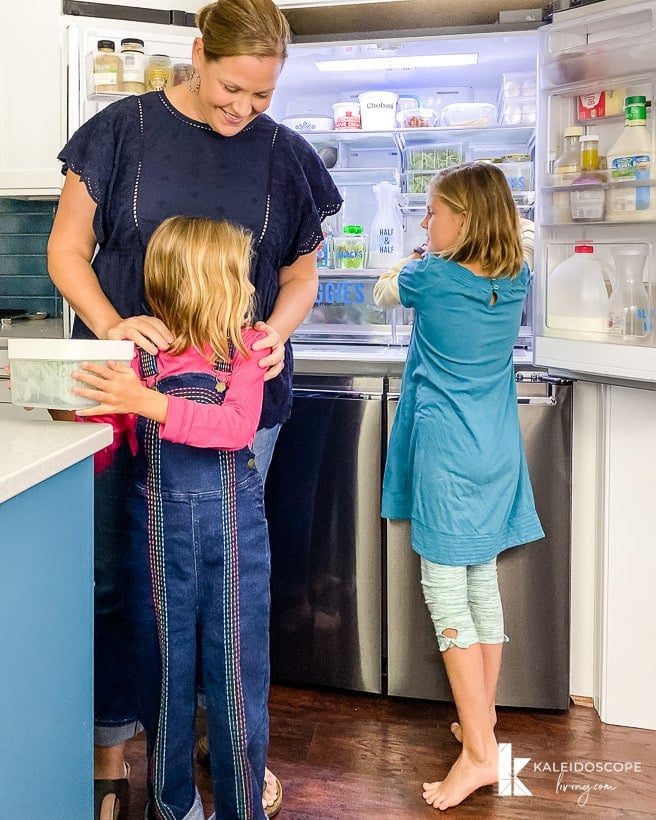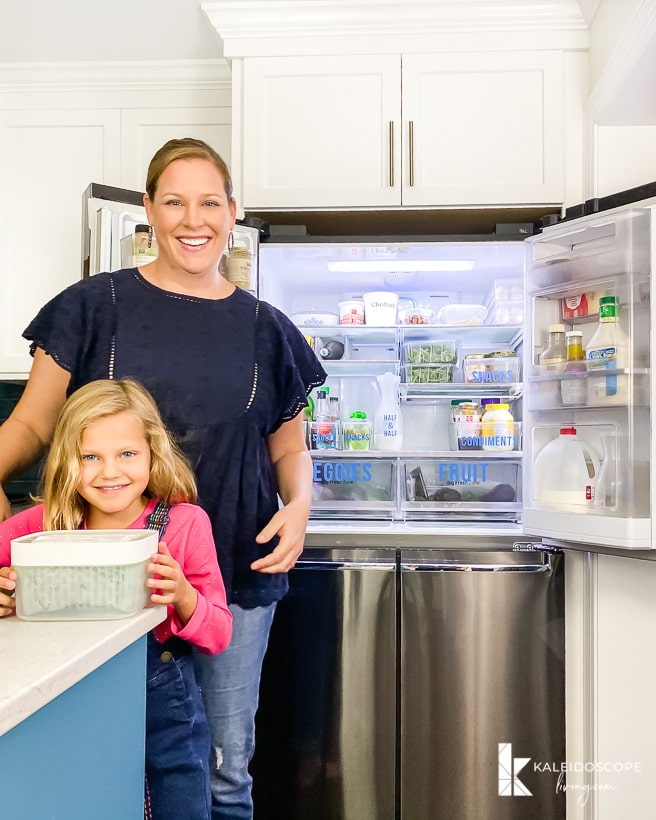 Our Refrigerator: The After
So there you have it. With the right refrigerator organization products and an hour of time, you can totally transform your refrigerator to make it more functional. Here's a side-by-side comparison of our refrigerator before and after I tackled this project.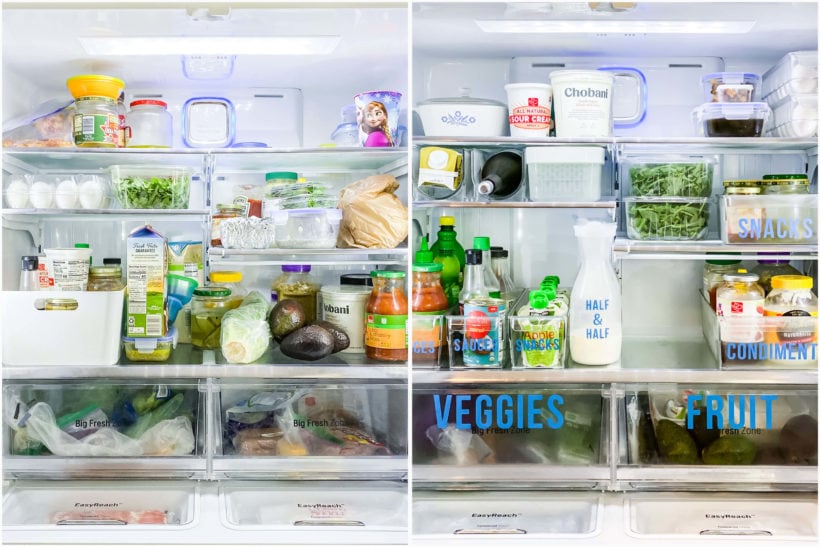 You can find even more refrigerator organization tips and ideas HERE and HERE. And I also feel like this refrigerator organization video is full of some really good tips you might enjoy!


[mv_create title="Most Popular Projects" key="1″ type="list" layout="circles"]