Last Updated on March 3, 2022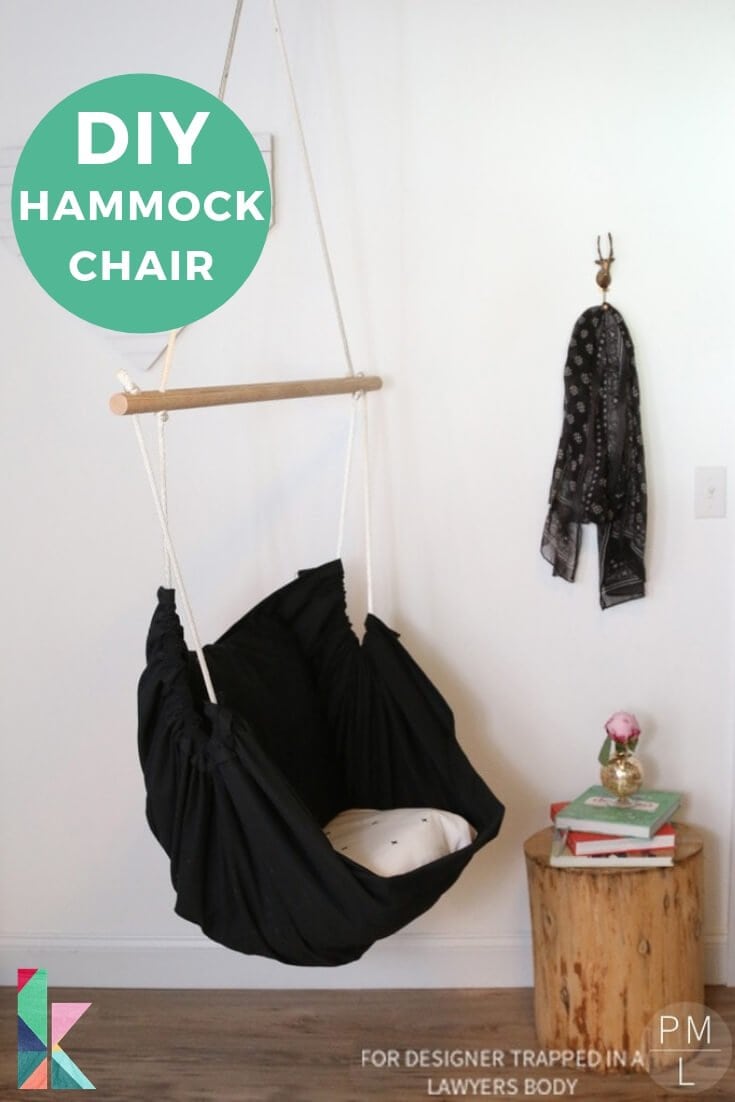 Hello! My name is Karisa, I'm the gal behind the blog Petite Modern Life, and I'm so excited to be sharing on DTLB for the second time!

Back in October I shared my tutorial for How to Paint Shower Tiles White. You can check that out here if you missed it. Today I'm excited to share with you a favorite addition to our recent office makeover, a DIY Hammock Chair! This post contains some affiliate links. Click here to read my full disclosure policy.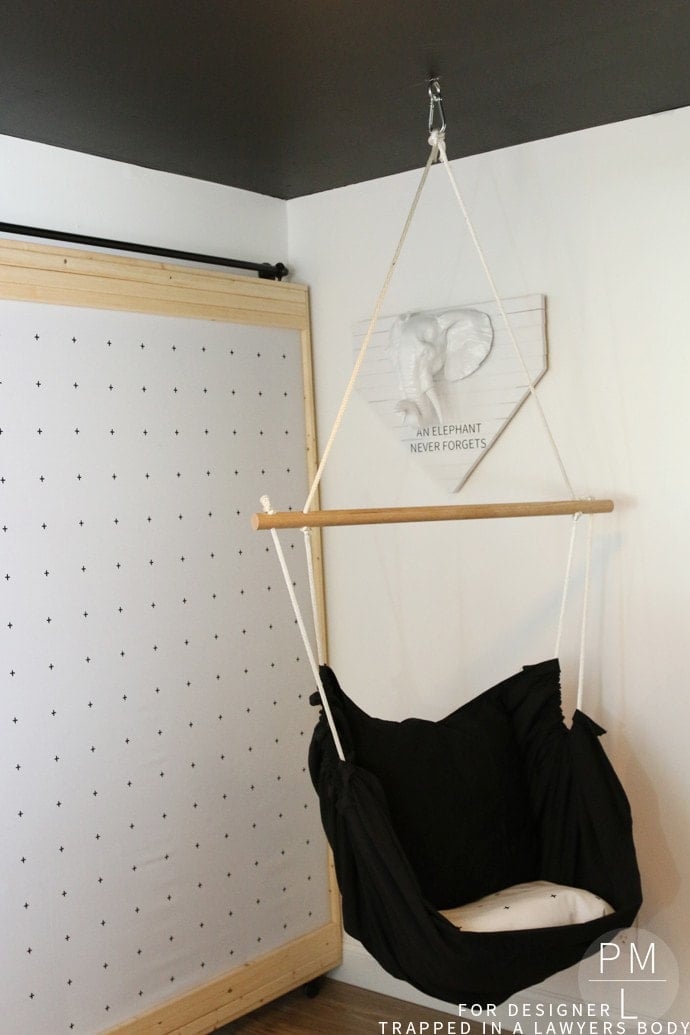 Isn't it so fun?! Here's what you need to make your own.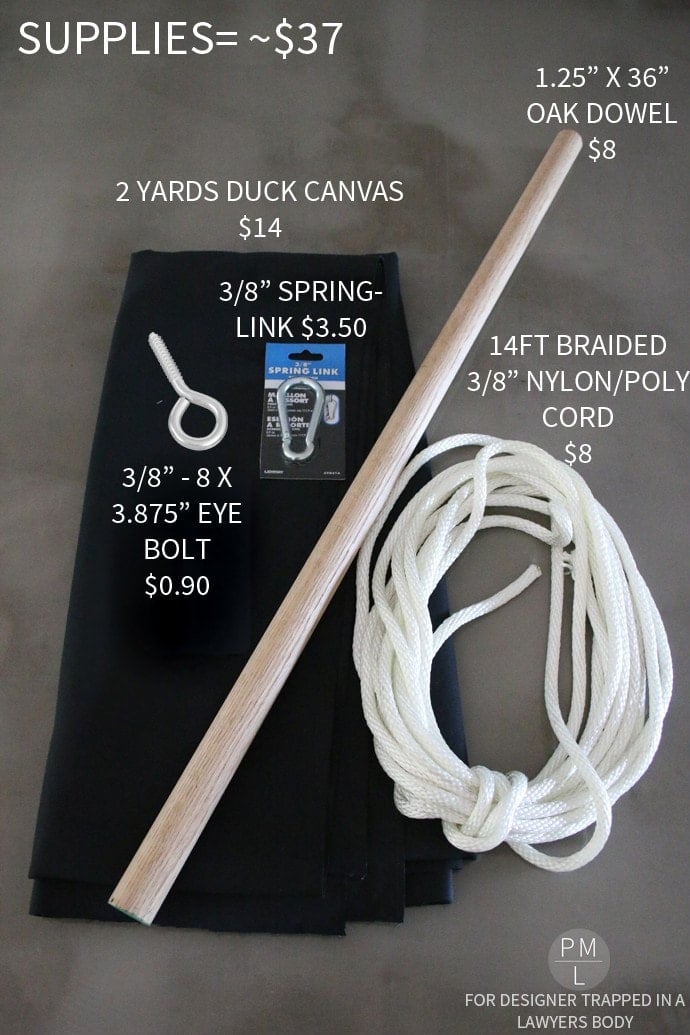 SUPPLIES:
**So it is important to note that while this hammock can hold children and adults, the weight bearing capacity depends on your eyebolt. We could have bought a stronger eyebolt, but this was what we felt comfortable screwing into our ceiling beam.**
Now that you have your supplies it's time to start cutting the fabric. I'm a novice seamstress, so I like to have a clear idea of what the sewing outcomes are supposed to be. I've made some diagrams to help you visual (non spatial) folks follow along.
Here's what your goal is.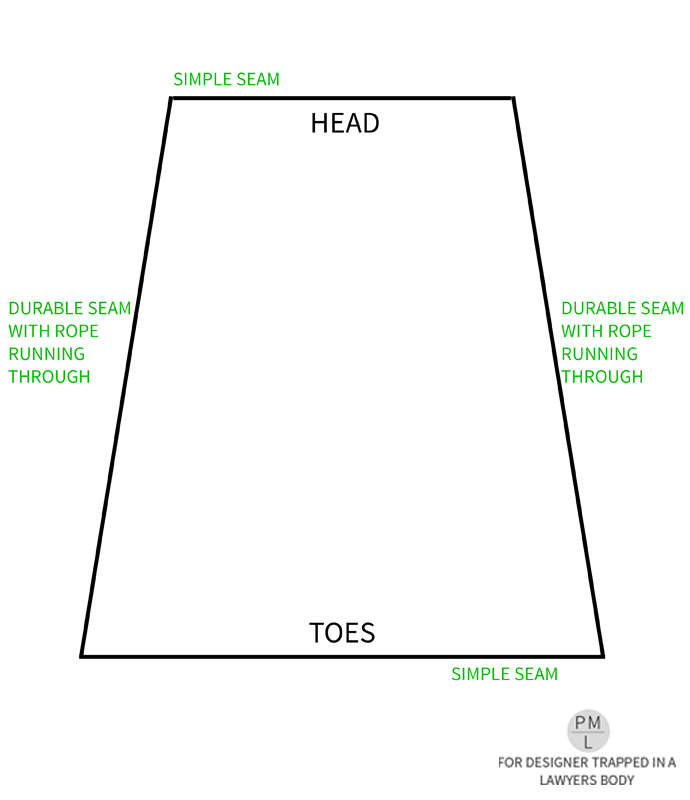 You want to cut the fabric folded, at an angle, so the head portion is smaller that the toes portion. This will help your hammock hold it's shape at the top rather than flop around. I made the mistake of making mine too big at the top and had to help shape it with pillows and a few pins. N ow, fold the fabric in half "hot dog style" and measure in about 40″ from the fold and mark it with chalk Note: Usually fabric stores send you home with a little more fabric than you asked for, so if you ask for 2 yards, you get a few extra inches. If you can't measure out a full 40″, that's okay! This isn't a really precise project and the difference between 37″ or 40″ should not affect the outcome!
Continue marking down at an angle to the bottom, just shy of the corner. It might help to open up the fabric and judge how much fabric you want at the top before marking! The bottom will cinch up together, so it doesn't really matter if you have "too much."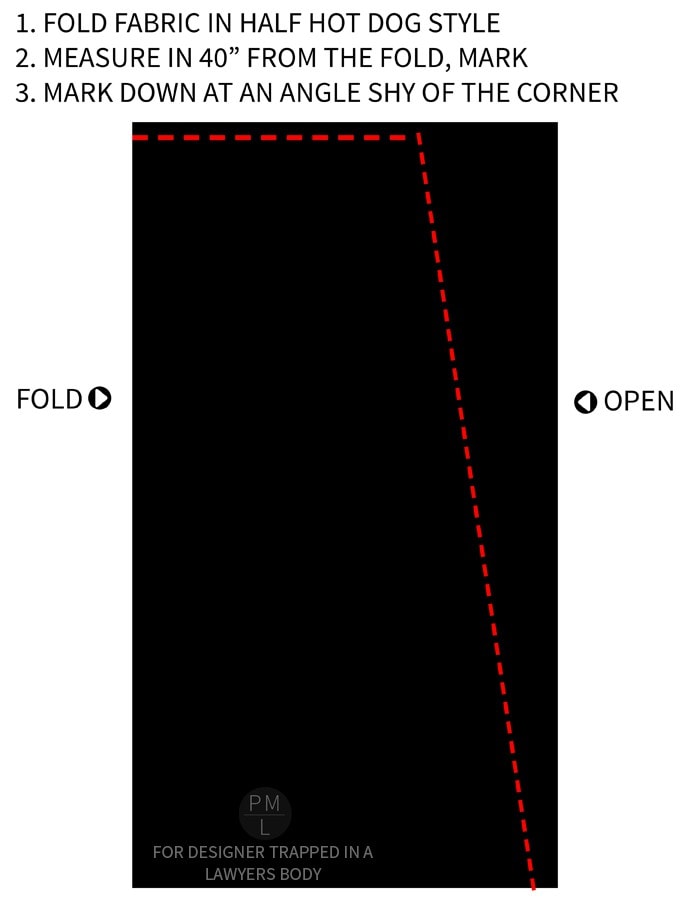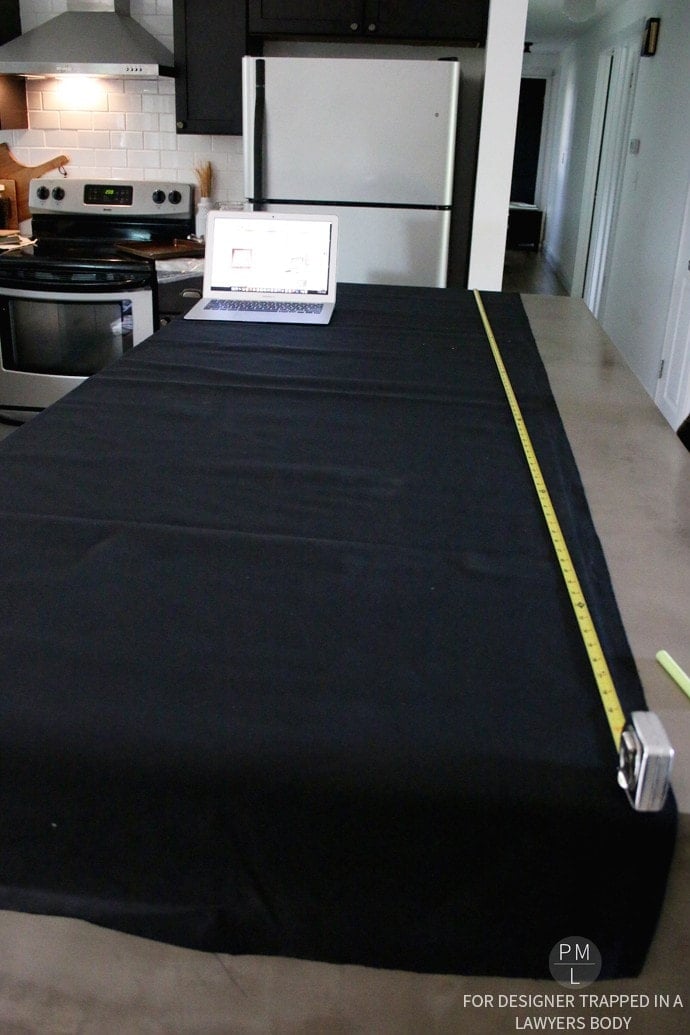 I'm lucky to have this extra large concrete island to work with so much fabric!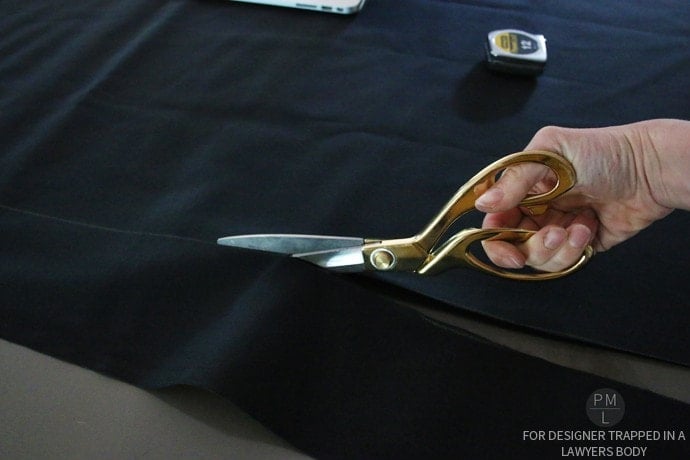 Once you've shaped the fabric it's time to open it up and make your top and bottom seams. Heat up your iron and press your top fabric over .5 inches. Fold and press again, then sew across creating a clean seam. The top and bottom seams will not be load bearing, so you're just trying to clean them up and make them look nice.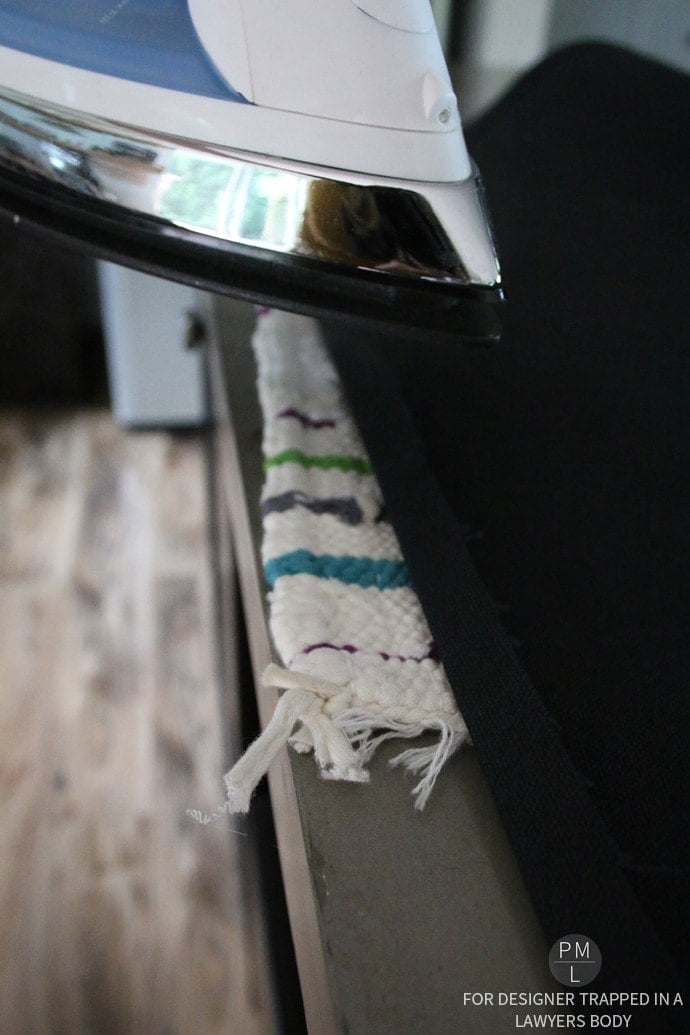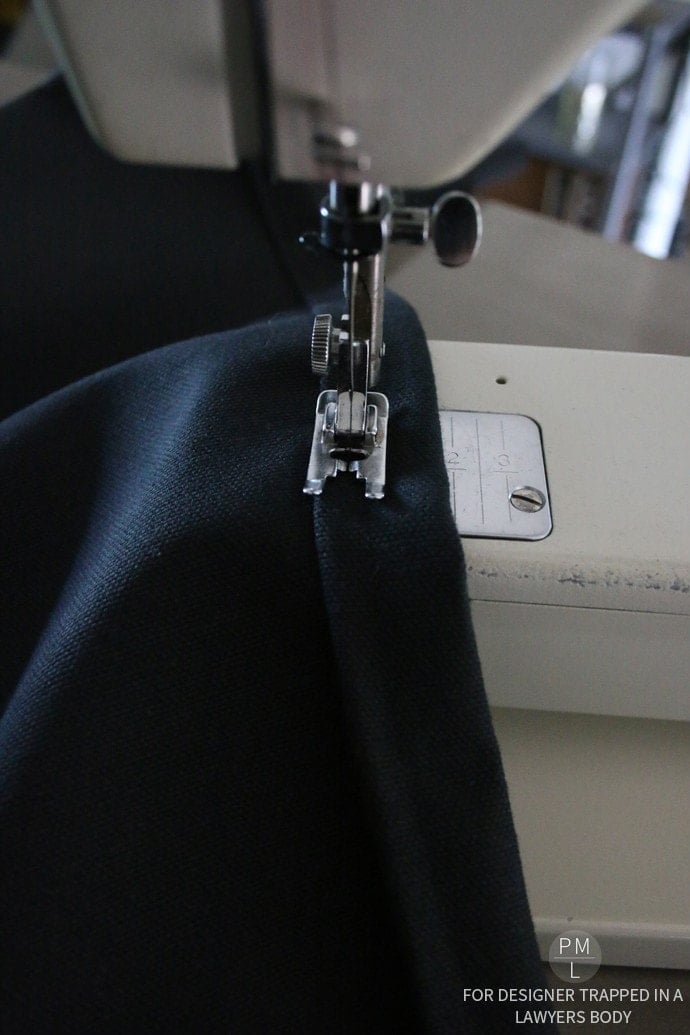 For the side seams, you'll need to create a seam that has a pocket large enough to fit your rope through and something to guide it to the other side. I was hoping to simply sew around the rope, but the machine was having some difficulty (or user error, either way frustrating!) You might have better luck! Double over your seam and sew down well.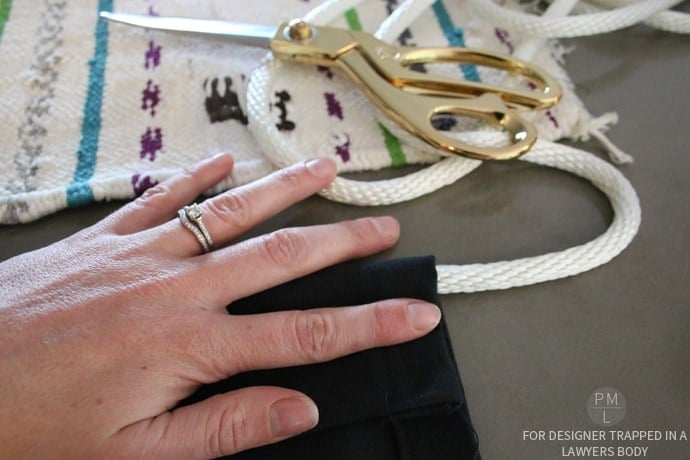 Next, you'll need a drill bit that is slightly larger than the thickness of your rope and drill 4 holes in your oak dowel. Like this: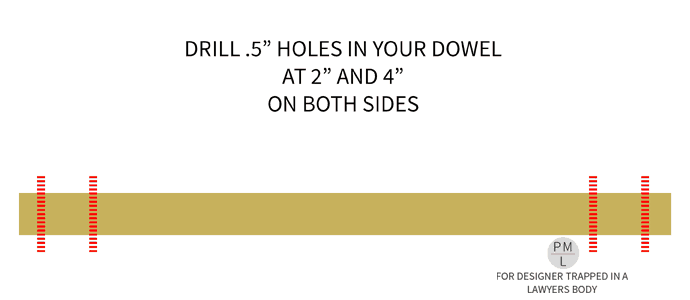 Now for the rope. Don't cut your rope (like I accidentally did), instead pull it through in the direction . If you don't cut it, its easier to make a loop knot at the top to hook to the ceiling. If you do cut it, you'll just need to make a secure, no-slip, knot at the top. Please don't laugh too hard at these fabulous computer sketches.
Here's the contraption (closet piece?) I used, with tape, to guide my rope through. Super helpful! (Whatever it is…)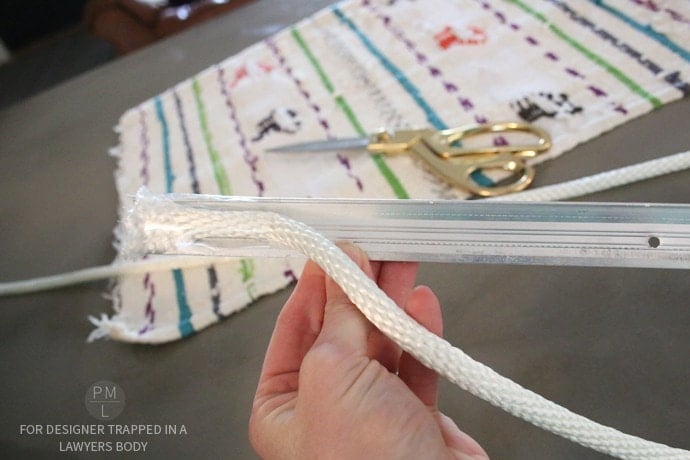 Before you start tying knots in your rope, you'll want to get your ceiling readied. You'll need to use your stud finder to locate your ceiling beam. Drill a hole the size of your eyebolt, in this case a 3/8″ hole, as deep as your eyebolt is tall. Screw in your eyebolt (a wrench might be necessary to get it all the way in). Then hook your spring link onto the eyebolt.
Now determine how long your rope needs to come down and where to secure your knots. It's helpful to mark the knot spots with a marker.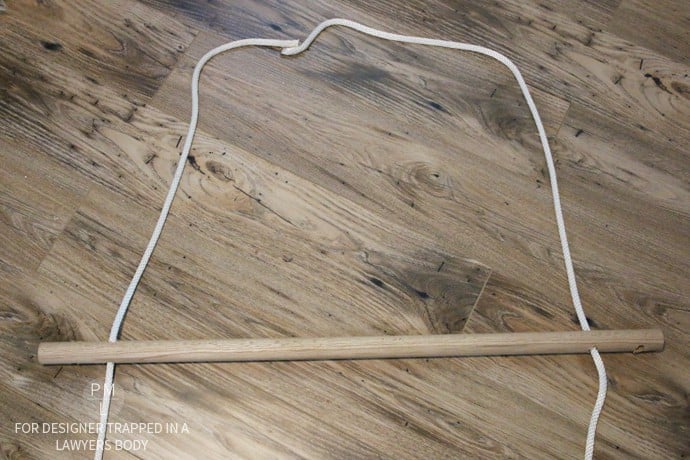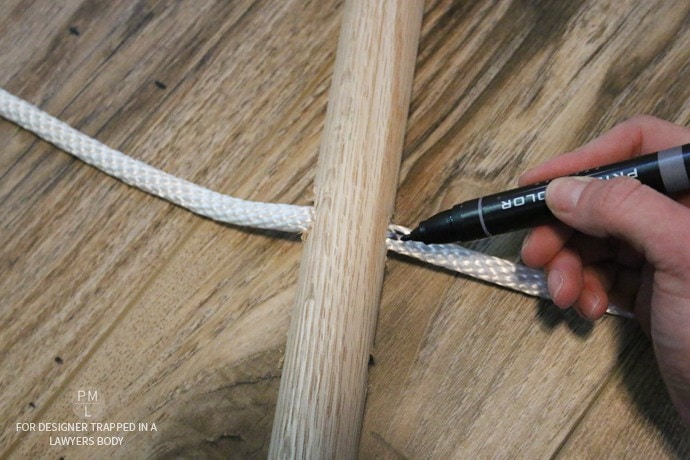 Secure your knots, test that it's hanging level, hook it onto your spring link and you're done!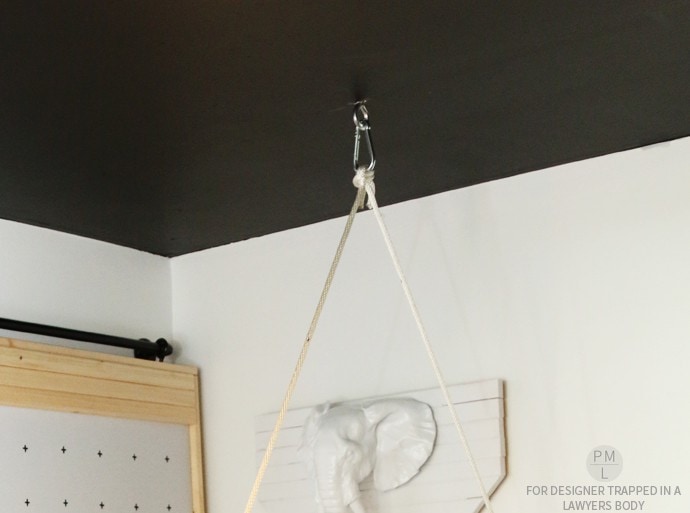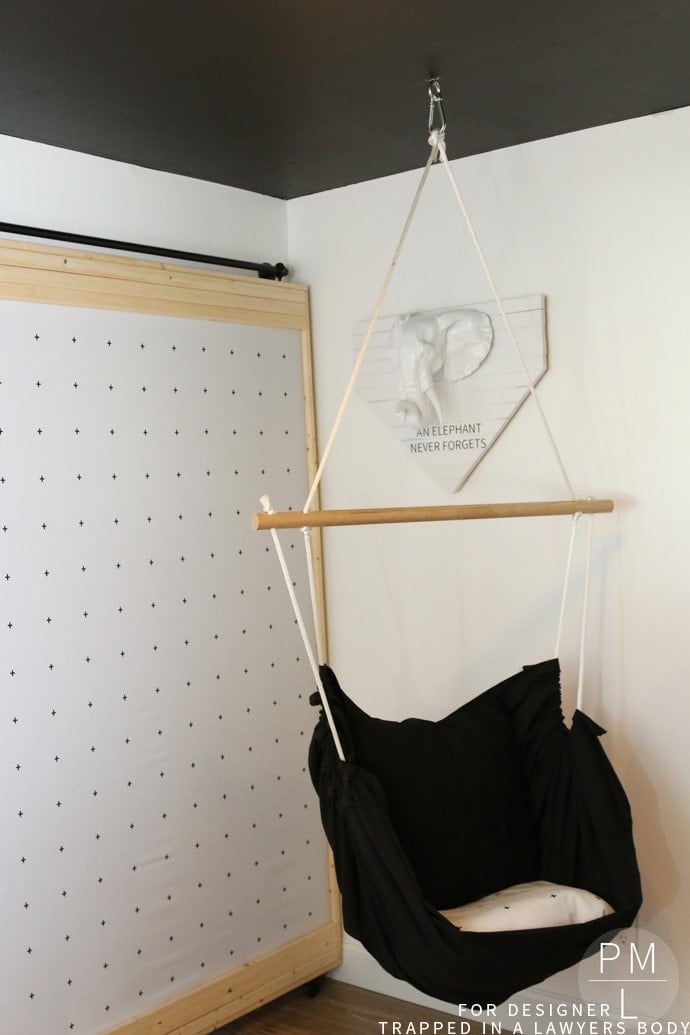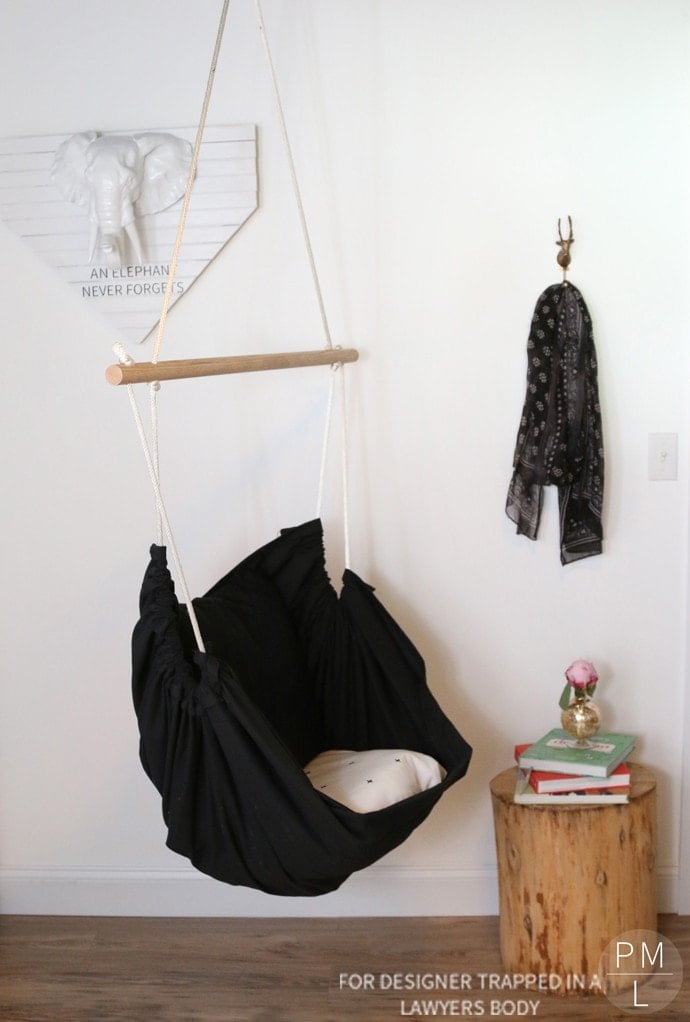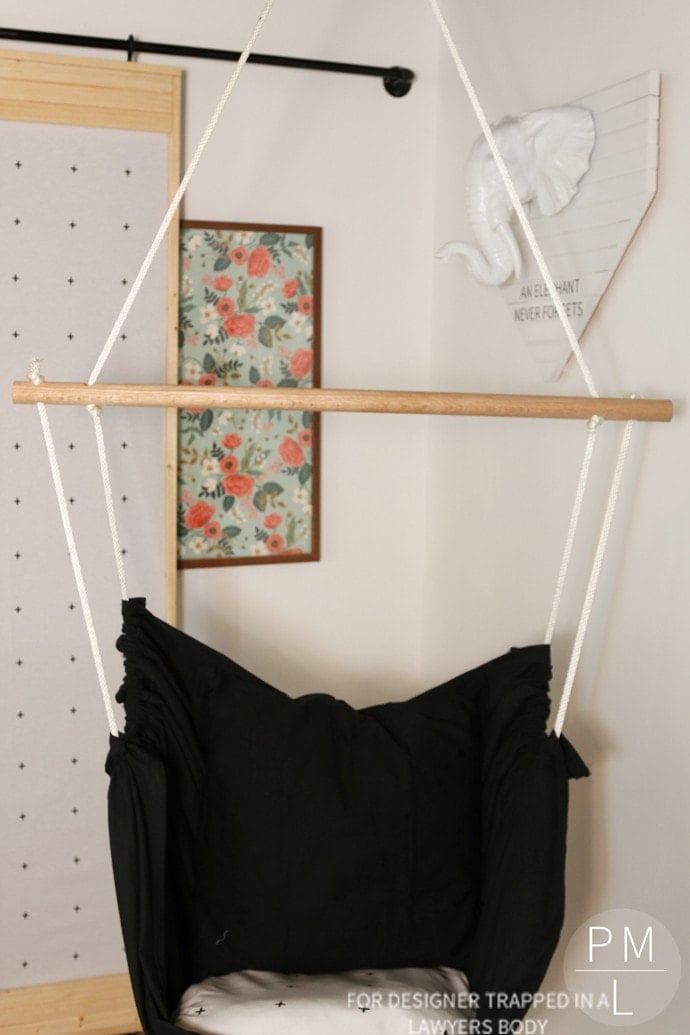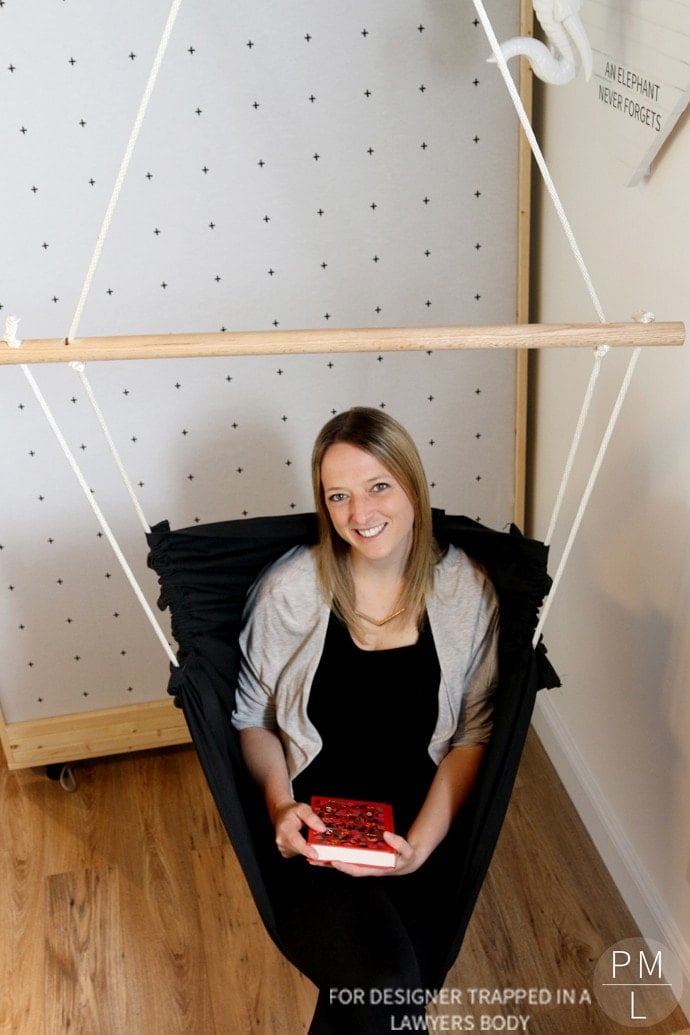 I hope you enjoyed this DIY office hammock tutorial! If you have any questions about it, ask below! If you love the office space, you should check out my whole office reveal here.
[mv_create key="1″ type="list" title="Most Popular Projects" thumbnail="<a href="]