DIY Utility Box Cover That Opens Easily!
Last Updated on August 16, 2022
Learn how to make this DIY utility box cover to hide those ugly utility boxes on the outside of your house. It's gorgeous and functional, opening easily to give access to the utility boxes when needed.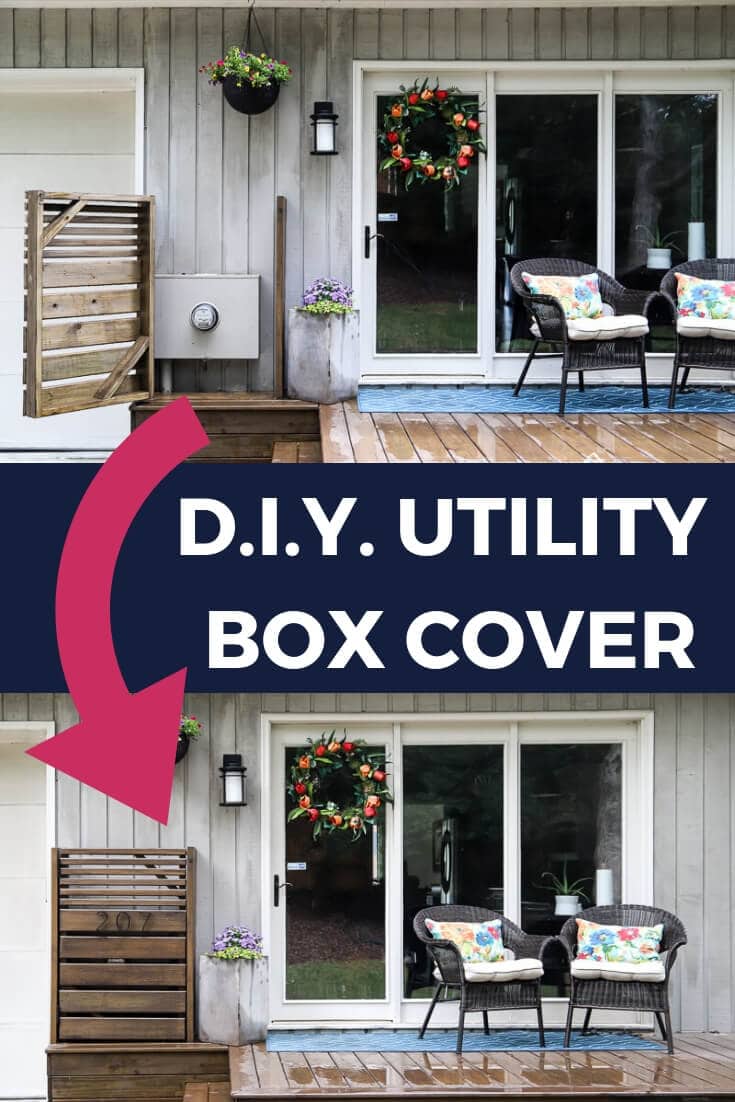 Raise your hand if you have an ugly utility box somewhere on the outside of your house. Yep, we do too. I get that they are necessary, but ugh. They such eyesores. And in our case, ours is right by our back door which we use 95% of the time. This is what we were dealing with.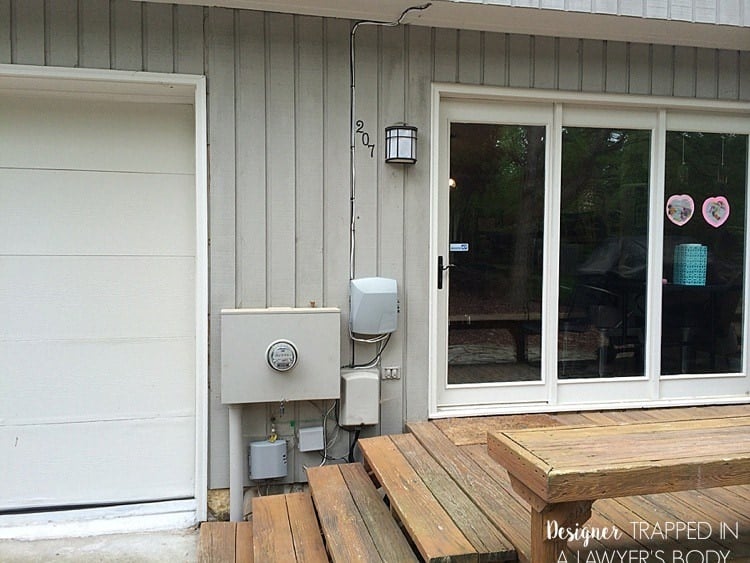 So instead of constantly looking at our utility boxes, we came up with a solution to hide them. Several years ago, we made this screen to cover our utility boxes. It worked GREAT and contrary to everyone's concern, our power company never once complained about an inability to access our electrical meter. But then we completely redid our deck, which meant that our old utility box screen no longer worked because the configuration of our stairs changed slightly.
This time around we made an even prettier utility box cover and made sure that it opens easily (in the off-chance that the power company ever does complain about access). So, if you are sick of looking at your ugly utility boxes, read on to learn how we made this DIY utility box cover that we love! (You'll also notice that we removed the old phone and cable boxes from the side of our house entirely since they weren't active anymore).
Thank you to DAP Products for sponsoring this post. This post contains some affiliate links for your convenience. Click here to read my full disclosure policy.
DIY Utility Box Cover Tutorial
If you would like FREE printable instructions for this project, just click the image below!:)
Materials Needed:
The exact amount and size of the materials you need will depend upon how large you need your screen to be. But here's a list of what we used to complete our project.
Pine deck boards (we used 5/4″ pressure treated that were leftover from when we built our deck)
2″ x 8″ @ 8 feet long (we used pressure treated pine)
2″ x 6″ @ 8 feet long (we used pressure treated pine)
(2) 2″ x 4″ @8 feet (we used pressure treated pine)
Nail gun (this is the one that we have and we looooooove it)
3-inch exterior screws
Putty knife
Stain of your choice
Level
Speed square
Steps:
Because our utility box is located right beside stairs leading up to our deck, we had to start by building a box to provide a surface level with our deck so that the door would be able to open and close. Since this probably won't be an issue for most of you, I'm not going into detail about how we did that part, but I'm including a couple of photos in case you are curious.

1) Measure the height and width of the area that you plan to enclose with your utility box cover.
2) Now you are ready to build your frame. We used 2″ x 8″ boards + 2″ x 6″ boards to give us the depth we needed to clear the utility box. We attached the boards to each other using our Kreg Jig. We also attached them to the side of the house using our Kreg Jig. Be sure to check for level and plumb before attaching the frame to your house.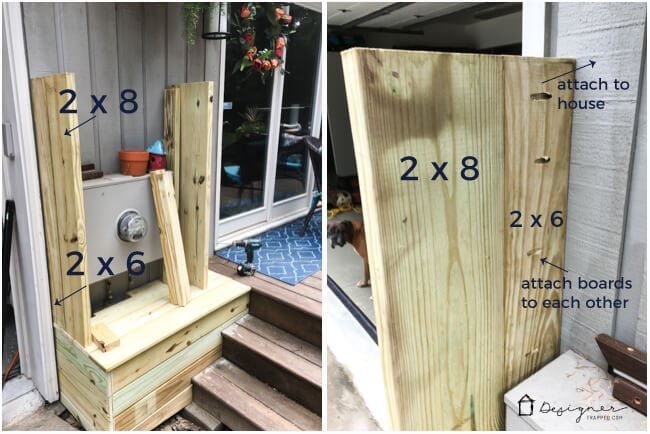 3) Next up, it's time to build your gate door using 2″ x 4″s and the height and width measurements you took earlier. We use our Kreg Jig to attach the pieces of the simple outer frame together. We included corner braces in opposite corners for stability.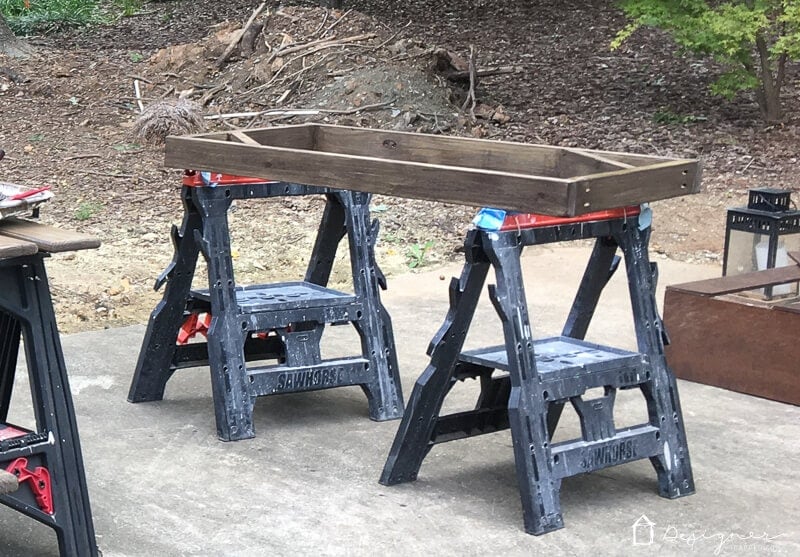 4) Once your frame is complete, you are ready to attach the decorative slats. You can choose any pattern you like. We opted to use our 5/4″ deck boards for the bottom half of the screen. We ripped thinner pieces (1 3/4 ") of the deck boards to create the thinner slats for the top half. (Note: deck boards come with rounded edges, so once we ripped them down, we replicated the rounded edges with a router, but you could use a sander if you don't have a router).
5) I recommend staining at this point, if you plan to. Stain the frame you just installed and the lumber you will be using to make your gate.
6) Next, you attach your slats to the frame of your gate door with a nail gun. We used a spare deck board to act as our spacer as we attached the slats.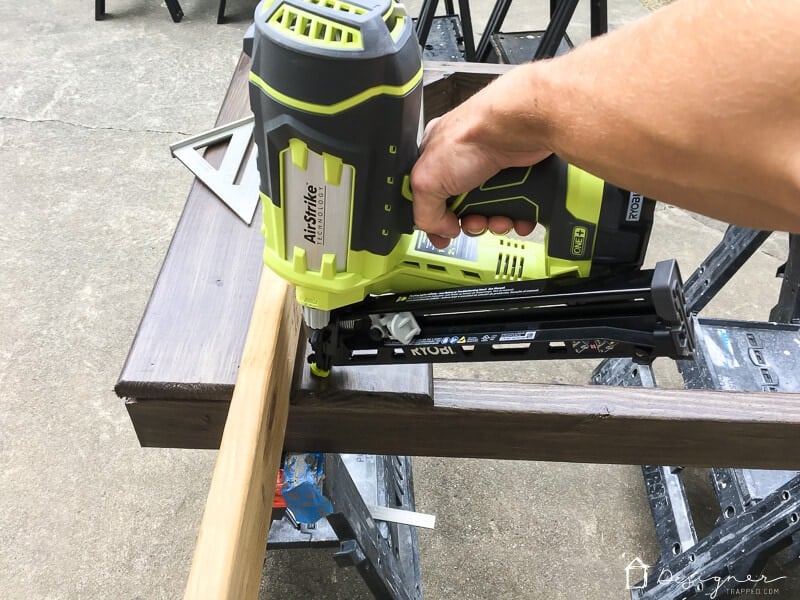 7) Install your heavy duty hinges and hang the gate door from the frame that is attached to your house. Once the gate door is hung and you are happy with the alignment, install your hook and eye latch.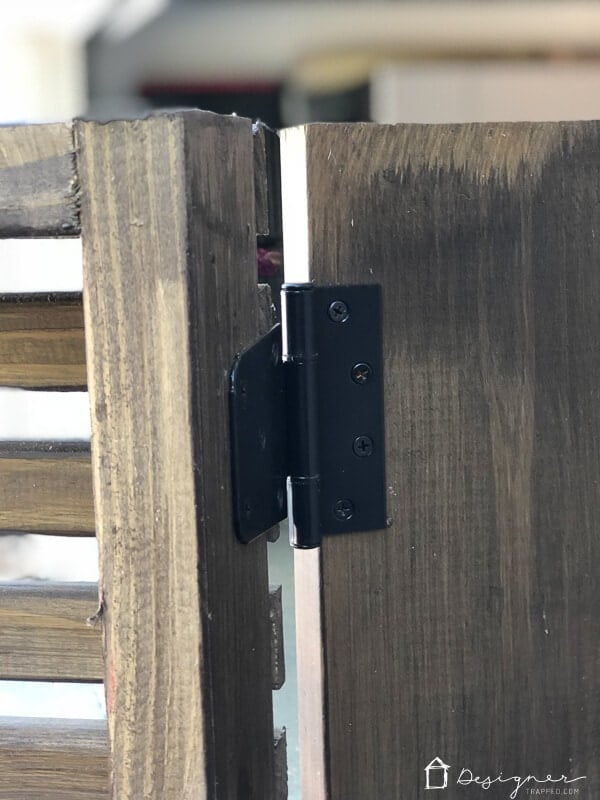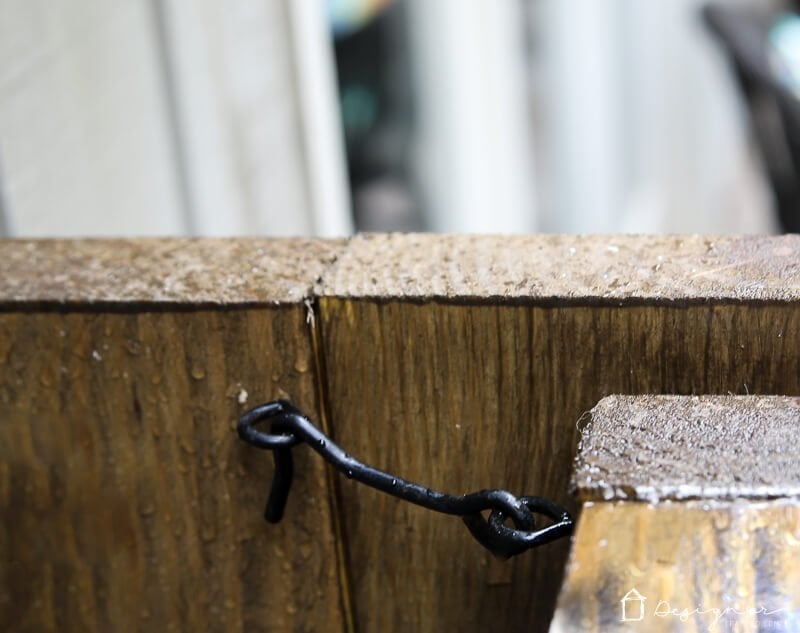 Here's an overhead view of how the hook and latch closure holds the door closed.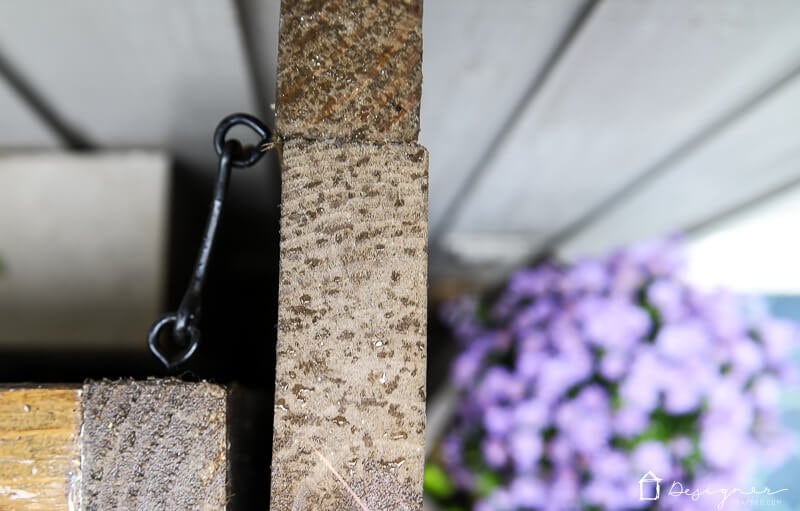 8) The final step is to fill all those ugly pocket holes. Our favorite outdoor patching material is DAP Platinum Patch Advanced Exterior Filler. After the filler dries, lightly sand it and stain the filled areas.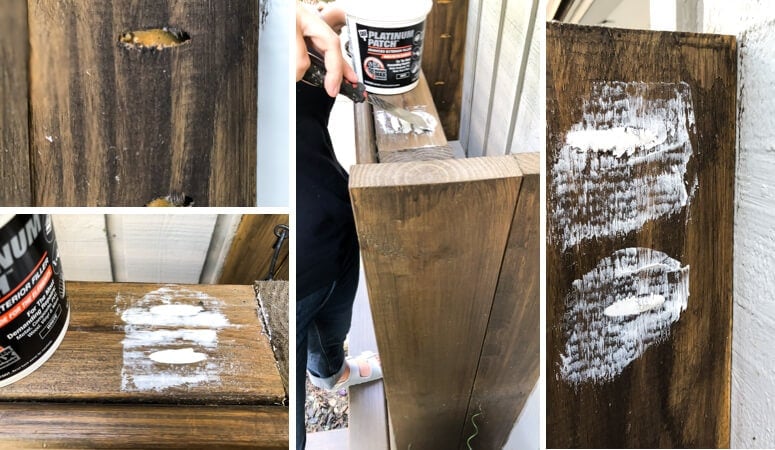 That's it! Stand back and admire your work. This DIY utility box cover is not only pretty, but it opens easily so if you have concerns about your utility box access, you are covered. Here's how ours turned out.
First for the dramatic before and after!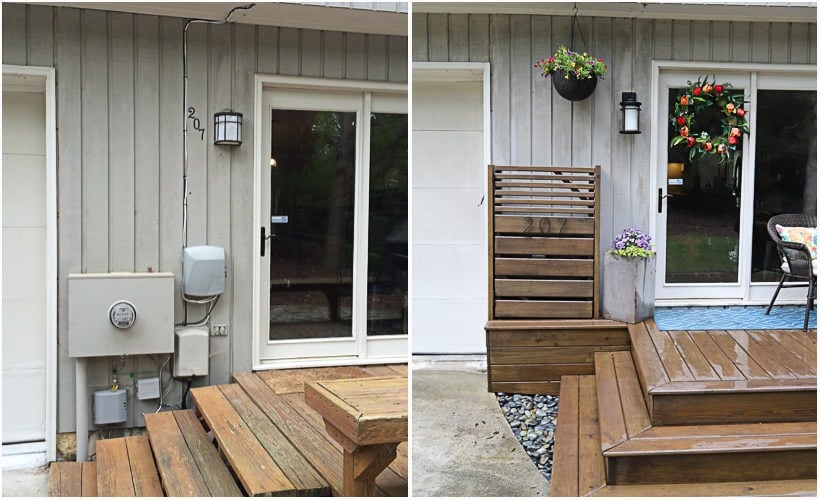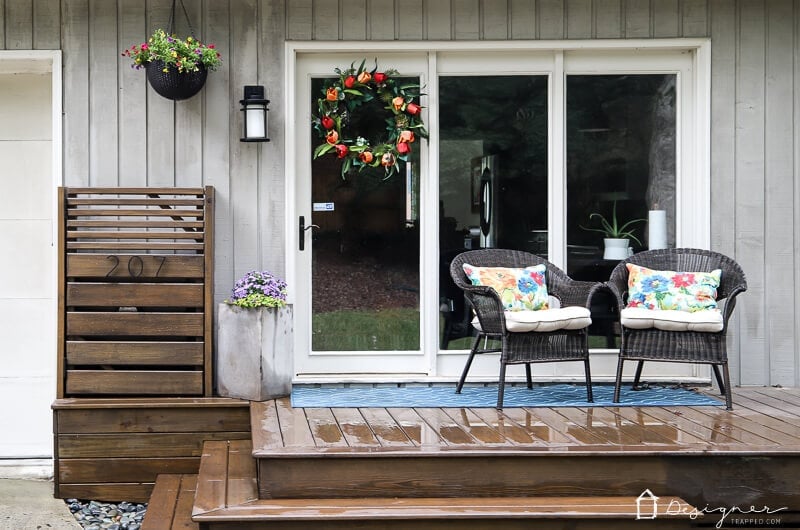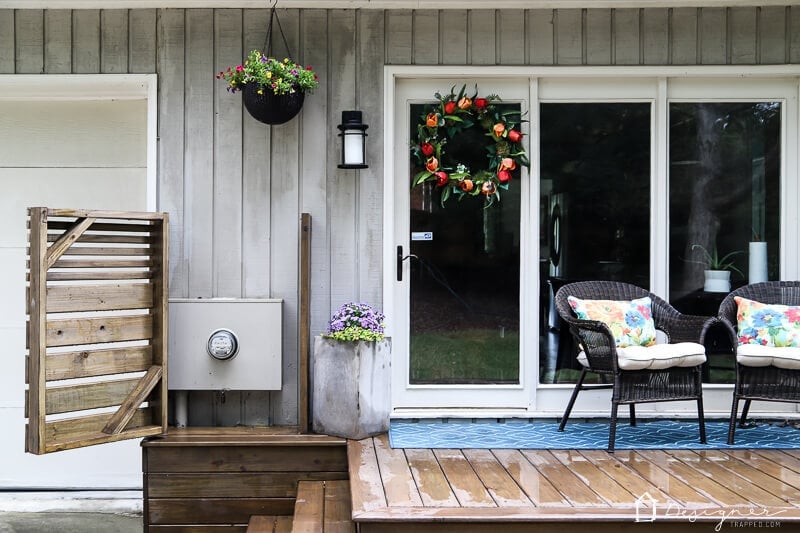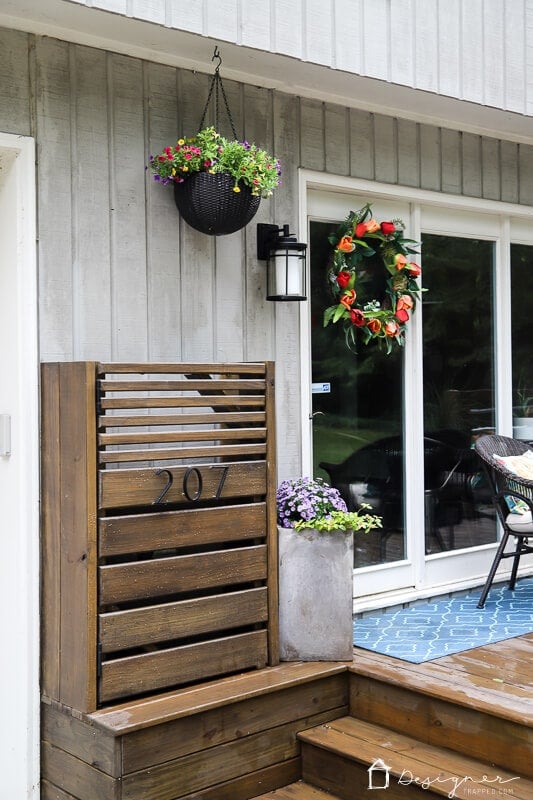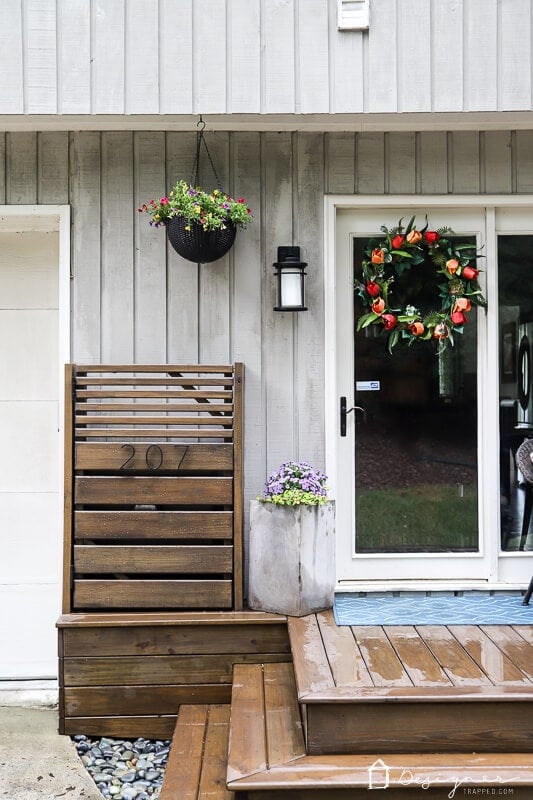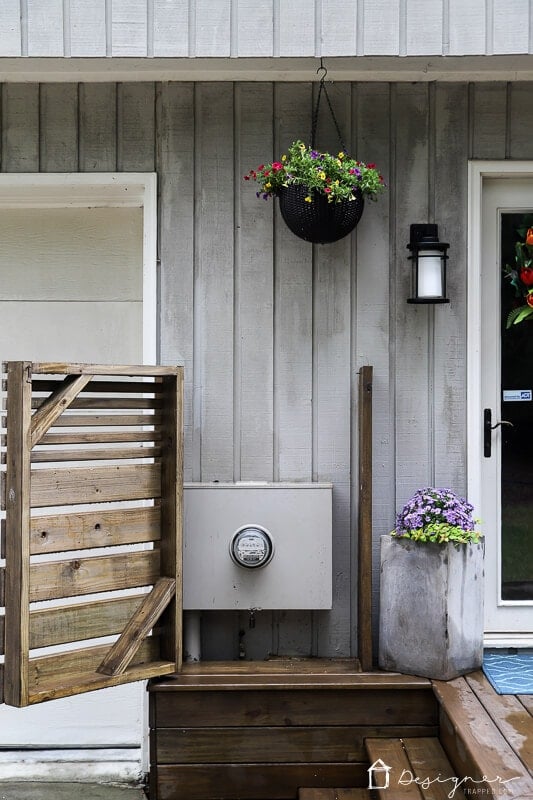 Other posts you may enjoy:
Wondering how I approach transforming rooms and spaces in our home? Check out Designer in a Binder®.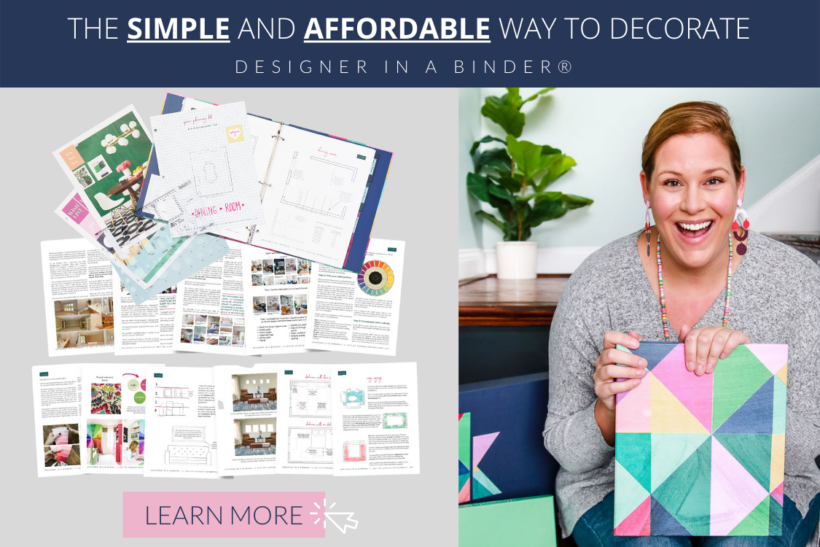 And if you want exclusive content and behind-the-scenes sneak peeks, be sure to subscribe before you head out!